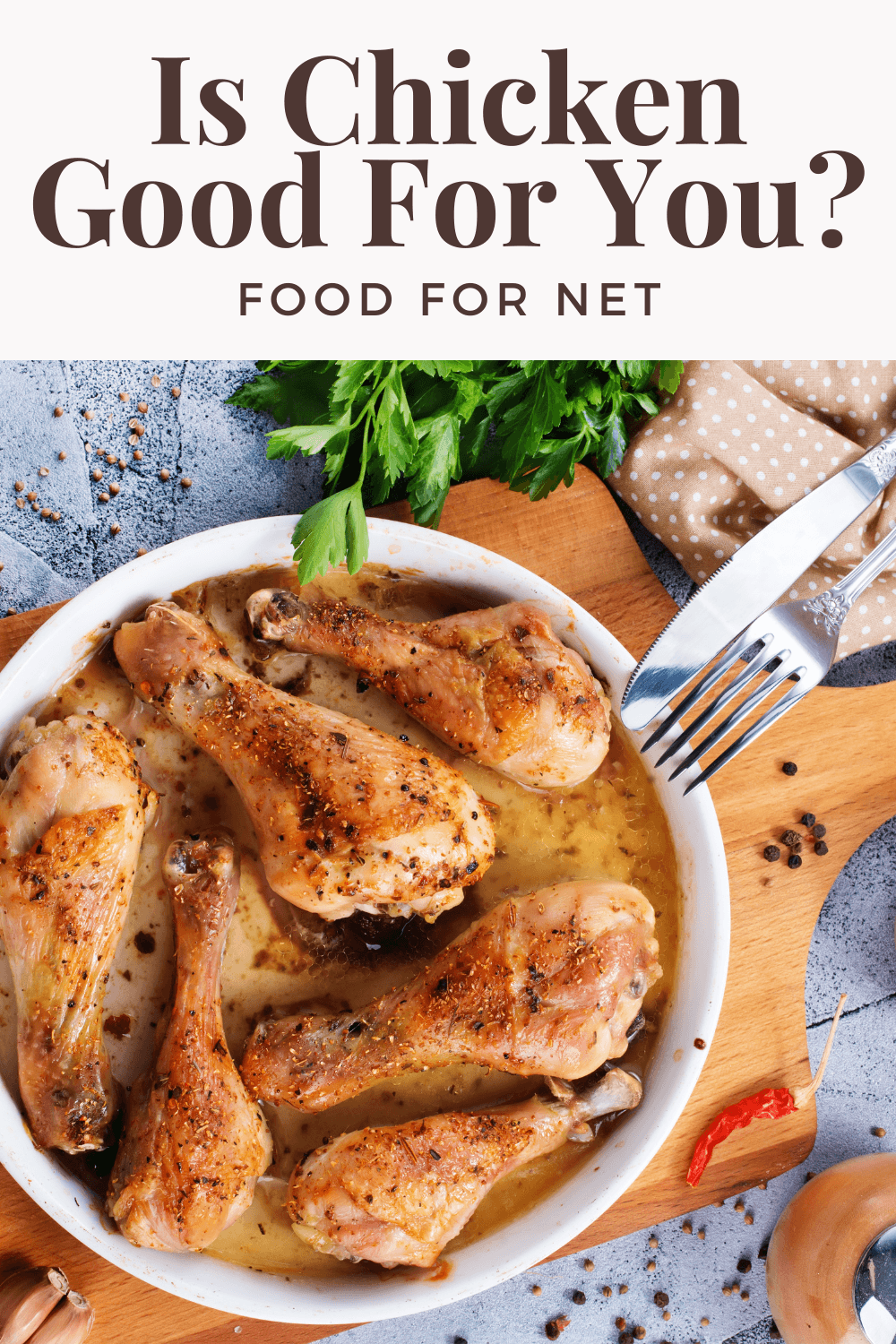 Chicken is often seen as the perfect ingredient. It's inexpensive, is often low in fat, and is an excellent source of protein. It can also be combined with delicious spices and used to make many amazing meals. Plus, chicken hasn't been beset with all the same controversies that we see with red meat.
All these features should make chicken fantastic, right? Well, things are never that clear cut. There are always some people writing the reverse story, claiming that chicken isn't as healthy as all that or perhaps even that you should cut chicken out entirely.
Which is it then, is chicken good for you or not? To answer that question, we're going to take a close look at the nutrients in chicken, how chicken compares to red meat, and some other interesting areas.
Remember though, it's your diet as a whole that influences your health, rather than any single food. This means that you should also think about what you're serving with your chicken and what your overall nutritional needs are.
Is Chicken Good For Your Health?
Benefits Of Chicken
How Chicken Could Be Harmful
Is Chicken Healthier Than Red Meat?
Are Chickens Given Hormones?
Can You Eat Chicken Every Day?
Which Cut Of Chicken Should You Choose?
Should You Buy Organic Chicken?
Final Thoughts
While we don't see chickens much in the wild these days, they are a natural animal. They originally came from Southeast Asia, where they thrived in tropical jungles.
Nowadays, chickens can be found everywhere. They've spread throughout the globe as a testament to domestication and how far we've expanded as a species.
Of course, modern chickens aren't the same as the ones that were first found in Southeast Asia. They've been selectively bred for countless generations, often with the goal of maximizing egg or meat production.
There are now also plenty of breeds with differences in plumage color, behavior, size, and many other areas.
Benefits Of Chicken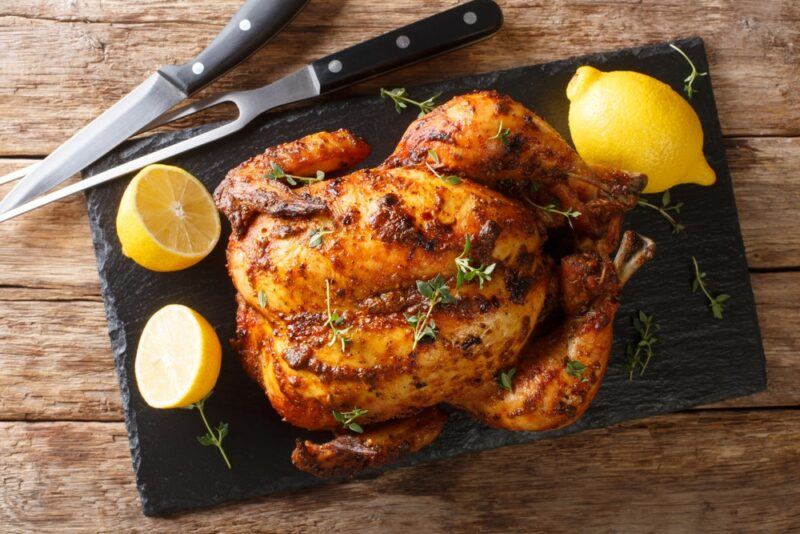 A Lean Source Of Protein
Protein is one of the main reasons for eating meat regularly. This macronutrient is what helps to keep us full and is also critical throughout our bodies. Without protein, we couldn't function. It's as simple as that.
Chicken is excellent as a source of protein because it also happens to be low in fat.
We're also talking about high quality protein, which means that it contains all of the amino acids that your body needs. Getting protein like this regularly helps your body to maintain optimal bone density and develop strong muscles.
Packed With Nutrients
There are plenty of important nutrients in chicken too. Vitamin B12 is a standout one, while others include zinc, iron, copper, and potassium. There are other B vitamins present too, such as niacin (vitamin B3) and vitamin B6.
Each of these nutrients has its own set of roles and benefits in the body. The B vitamins, for example, are important for energy metabolism, while iron is an important part of the hemoglobin in your blood and helps with oxygen transfer.
While all foods contain vitamins and minerals, some are better than others. Chicken is an exceptional choice, as you're getting an impressive selection of vitamins and minerals in a low fat food that's rich in protein.
Chicken Is Inexpensive And Convenient
Chicken tends to have practical benefits as well.
For one thing, chicken is fairly inexpensive. This makes it an excellent source of protein for families on a budget.
The versatility of chicken helps as well, as you can use it in countless recipes, partly because it has such a mild taste and will complement most other ingredients and flavors.
The mild taste of chicken is also perfect when you're dealing with picky kids. Few kids can resist chicken, especially when it's prepared in their favorite way.
Linked To Many Benefits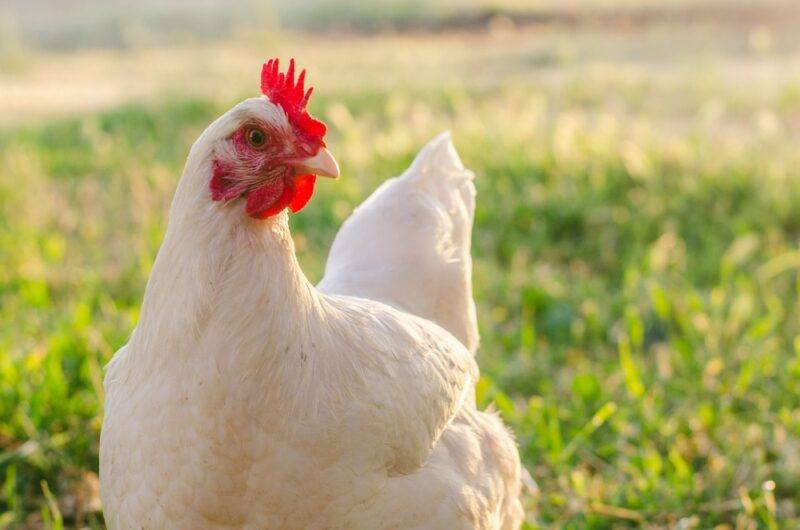 The nutrients and protein in chicken do more than help us to survive, they also have important health impacts.
For one thing, chicken is often used as a weight loss food. It's easy to see why too, as chicken contains plenty of protein and is low in fat.
Chicken also pairs well with healthy ingredients, like vegetables and legumes, giving you a healthy meal that will keep you full for hours. Chicken's popularity as a weight loss ingredient also means that you'll chicken recipes in many low fat cookbooks.
There's also a link between chicken consumption and mood. The tryptophan in chicken may help to promote higher levels of serotonin.
The effects of tryptophan aren't dramatic, so you won't suddenly wake up feeling over the mood. Still, they can be important for keeping your mental health well balanced.
Chicken can also be a useful way to decrease your risk of heart disease and some other health problems. This effect isn't because of chicken itself, but because of a replacement effect. So, when you start replacing fatty cuts of red meat with chicken, you're likely to see significant health improvements.
Free From Carbs
Like most meats, chicken is completely free from carbs. This makes it an ideal choice for low carb and keto dieters, and means that chicken won't spike your blood sugar levels at all.
This effect is important as carbs could be linked to serious health problems, including inflammation and the increased risk of disease.
Besides, modern diets are already overflowing with carb rich foods. It's always good to have some options that don't add to that problem.
How Chicken Could Be Harmful
The Risk Of Food Poisoning
You can get food poisoning from many foods, but chicken is easily one of the riskiest. It can be contaminated by Salmonella, Campylobacter, or Clostridium perfringens bacteria, which can lead to side effects like nausea, stomach cramps, and diarrhea.
These bacteria get killed during cooking, which is the reason that you should always fully cook chicken before you eat it. If possible, use a meat thermometer to make sure the internal temperature reaches 165°F before serving.
It's also important to be careful when preparing raw chicken. Make sure that every surface and item that touches the chicken is quickly and thoroughly cleaned, and that you don't use the same tools for raw and cooked meat.
It's Easy To Have Large Portions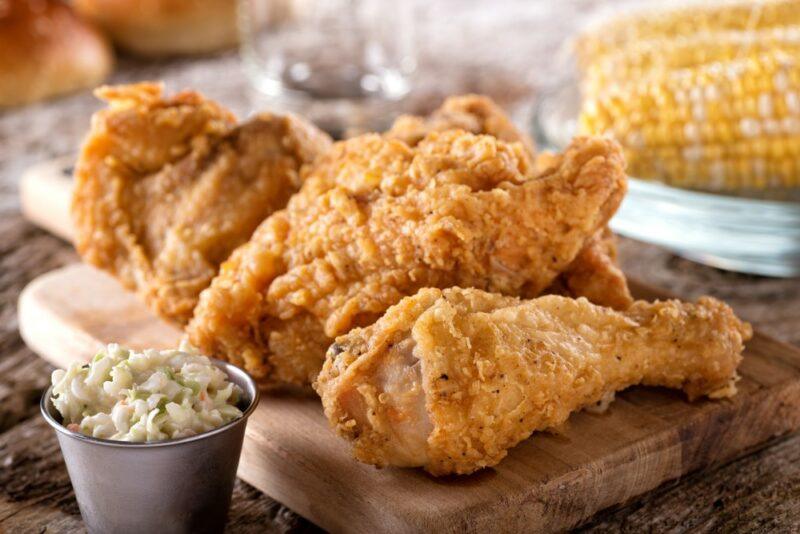 Chicken has an amazing reputation, so it's easy to eat it every day and assume that you're staying healthy. However, it's surprisingly easy to overdo it with chicken.
The recommended serving for chicken is between 3 and 4 ounces. That's roughly the size of a deck of cards. Many of the chicken breasts you see in the store are twice this size, if not larger.
Regularly going above the recommended serving size increases the risk that you'll be eating too many calories. Or, perhaps you won't have enough room for the other parts of your dinner, like the vegetables. Skipping out on plant-based foods is never a good plan, as they contain plenty of compounds that you don't get elsewhere.
Dishes like chicken wings and fried chicken are even worse for health. They're often very fatty and somewhat addictive, so it's easy to eat more than you intend to.
Some Chicken Dishes Are Unhealthy
Talking about chicken wings and fried chicken brings up another important point, some chicken dishes are very unhealthy indeed. Anything deep fried, for example, isn't going to do you any favors at all.
There are also plenty of rich chicken dishes, including ones that use cream as an ingredient. Creamy pasta chicken recipes are just one example.
Such meals might be fine every so often as a treat, but it's important to not see them as healthy choices simply because they rely on chicken.
Can Be High In Salt
Salt is a concerning additive, one that can cause many problems, like increasing your heart disease risk and leading to fluid imbalances. While the sodium in salt is an important electrolyte, many of us are already consuming more than we need.
Chicken seems like a safe choice, as it doesn't naturally contain much sodium at all (especially if you focus on light meat, as this contains less sodium than dark meat).
However, some fresh chicken has hidden sodium. This happens because the chicken is injected with a mixture of water, salt, and additives to make it juicier.
To get around this, look for dependable companies. Organic ones are often fantastic, as they have a strong focus on natural techniques and producing healthy meat.
Don't forget about cooking either.
Chicken has a mild flavor, so many of us rely on salt, pepper, and spices to make the meal more interesting. Even just a teaspoon of salt can make a significant difference if your diet is already high in sodium.
Chicken Products Are Often Processed
Chicken itself is a healthy lean meat, but many chicken products are something else entirely.
In fact, some of the chicken products that you see in the local store barely resemble real chicken at all. They're often a reconstituted mess that is made from low-quality cuts of chicken, along with plenty of additives. Some companies even use artificial colors and flavors to try and make their products look more like the real thing.
Processed chicken products can be found in many places, including plenty of fast food chicken sandwiches and some frozen dinners.
Heavily processed foods come with many problems. For starters, the additives used generally aren't good for you at all. Most of them are seen as safe, when consumed in reasonable quantities, but they still won't provide health benefits.
Besides, eating many processed foods could bring your levels of those additives up much higher than is ideal.
There's also research linking processed meats to an increased risk of cancer. Many of the studies focus on red meat products, including bacon and sausages, rather than chicken. Even so, there's a good chance that processed chicken products increase the risk of cancer as well.
Is Chicken Healthier Than Red Meat?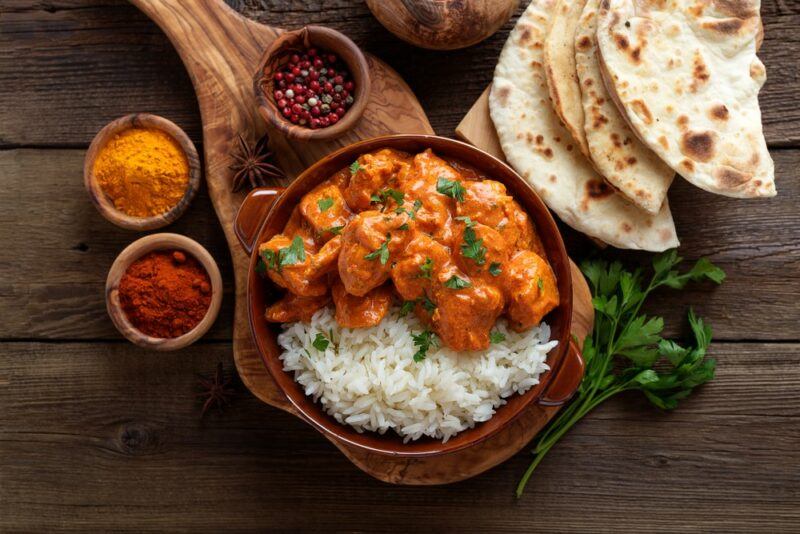 Chicken is often seen as a better ingredient than red meat, as chicken tends to be lower in saturated fat, cholesterol, and calories, while still containing a decent amount of protein. These differences should mean that chicken is much better for your heart and many other aspects of your health.
There's also a growing number of studies that raise concerns about red meat consumption, suggesting that it might increase the risk of cancer, heart disease, and other health problems. The same issues haven't been found for chicken.
Not surprisingly then, health recommendations often recommend cutting down on red meat and eating more plant-based protein, fish, and chicken instead.
Interestingly though, the difference between chicken and red meat depends on the type of red meat we're talking about. While chicken is clearly healthier than fatty red meat, the effects of lean red meat and chicken seem to be similar.
Are Chickens Given Hormones?
Growth hormones are one of the reasons that many people are wary about eating chicken. Who knows that those hormones could do to your body, right?
But, in practice, the use of hormones and steroids in the poultry industry was banned by the FDA back in the 1950s. Modern chickens get their size from improved industry practices instead, including better nutrition in chicken feed.
Some companies might go against the law and use hormones anyway, but that's unlikely. Doing so would be risky, expensive, and there's no need for extra hormones anyway.
Can You Eat Chicken Every Day?
Chicken is the go-to meat for numerous people. Actually, the numbers are pretty incredible. A 2014 estimate found that consumers were eating chicken an average of six times per week. That's an average, which means that some people were eating chicken more often than that.
The risks of eating chicken are low, so yes, most people can eat chicken every day without much of an issue. This is particularly true if you focus on low fat cuts of chicken and avoid heavily processed options.
Should you eat chicken every day? That's a different question entirely.
Many experts suggest that it's worth having at least at least one meat free day each week (for some reason Monday is the day of choice). Doing this is an easy way to increase your vegetable intake and vary up your diet.
Having regular meat free days could even improve your health. Besides, it's much easier to skip meat for a day or two than to become a full vegetarian.
Which Cut Of Chicken Should You Choose?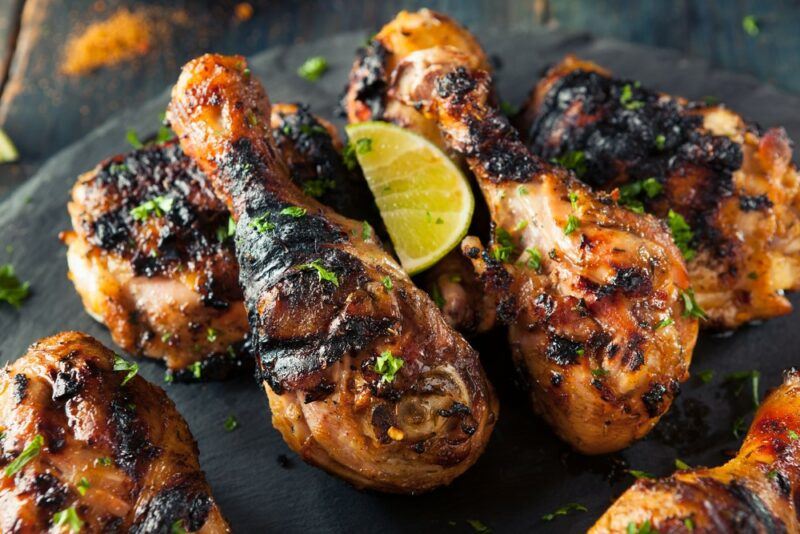 Chicken meat falls into two general categories – white meat and dark meat. The white meat tends to have less fat and less saturated fat, along with a little more protein, while dark meat tends to have more flavor and doesn't dry out as quickly.
There are nutritional differences too. White meat tends to contain more B vitamins, while dark meat is higher in zinc and iron.
Chicken breast is often seen as the healthiest cut, as it is very low in fat and may be perfect when you're trying to lose weight.
Even so, the absolute best choice is to include both types of chicken in your diet. This gives you a better balance of nutrients. Besides, the juicy dark meat isn't that much higher in fat and calories, so it's a shame to avoid it entirely.
Instead of choosing one part of the chicken over another, why not focus on how you're cooking your chicken instead? Look for approaches that don't involve adding much extra fat. These will be the healthiest.
And, not surprisingly, deep fried chicken is never going to be a healthful option.
Should You Buy Organic Chicken?
The other thing to think about is how the chicken was raised. Will paying extra for organic or free-range chicken give you a healthier product?
In many cases, the type of chicken you choose won't make much difference at all. This is partly because rules for organic and free-range are currently incredibly vague. They can be interpreted in plenty of different ways, giving organic farmers plenty of room to maneuver.
Because of this, the conditions for chickens in some organic farms are much better than for chickens in conventional farms. Other times, the organic farm conditions might be much worse or roughly the same.
Plus, there's no guarantee that a healthier and happier chicken is any better for humans than one farmed in a conventional manner.
There are still plenty of reasons for focusing on organic and free-range chickens. Those processes are more humane than conventional farming methods. They can also be better for the environment and have other positive effects.
Just don't make nutrition the only reason for buying organic chicken or you're likely to be disappointed.
Final Thoughts
Chicken is an easy and healthy choice for meat eaters. It gives you plenty of nutrients and protein, while also being less expensive and controversial than many other options.
Let's be realistic though, the question isn't whether you should eat chicken or not, but how you should eat it. Chicken is a healthy choice when you keep to reasonable portion sizes and serve it alongside healthy ingredients, including plenty of greens.
On the other hand, deep fried chicken with mayo-drenched coleslaw, and a mound of mashed potatoes with butter won't do your health any favors at all.