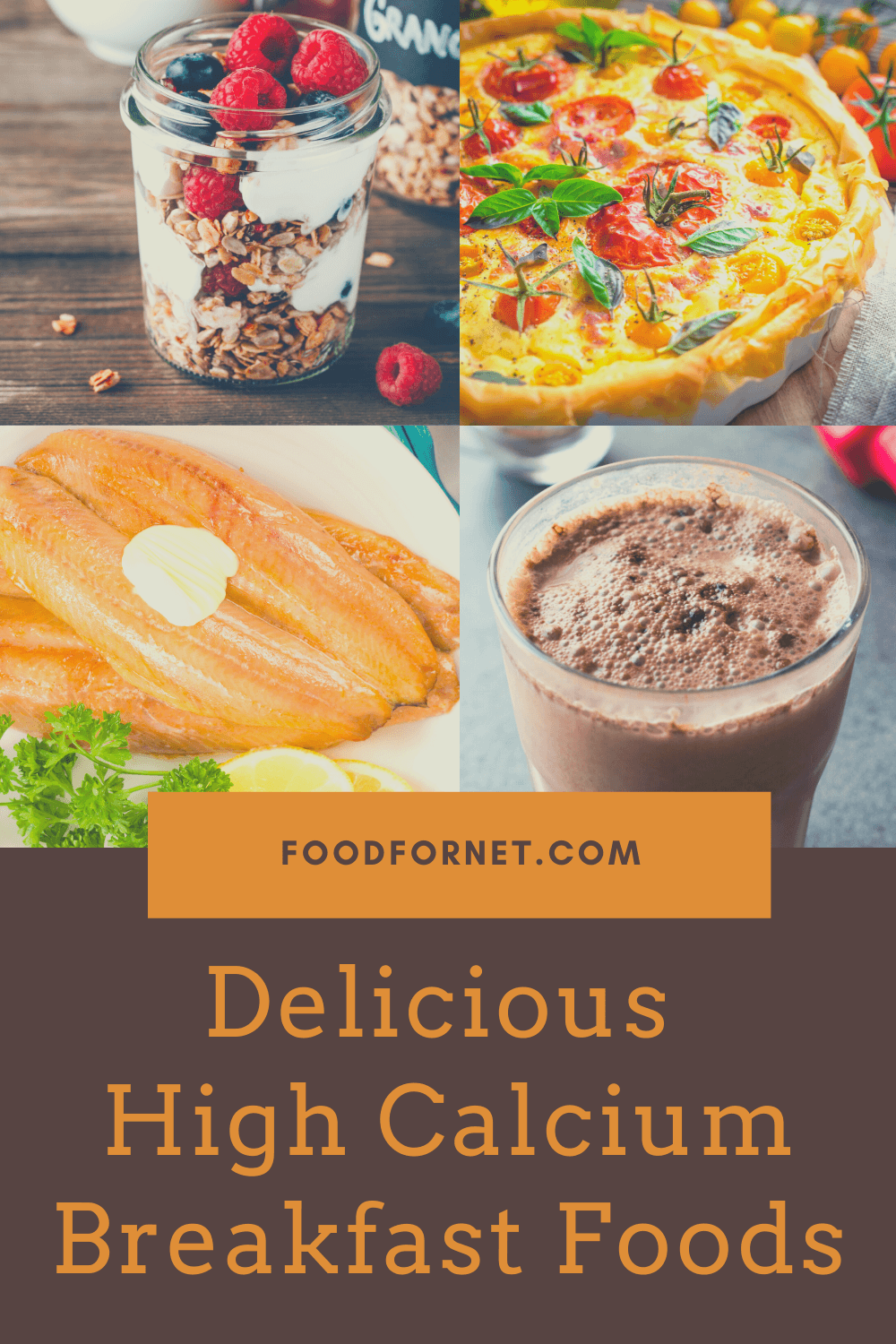 There's no denying the importance of calcium. The mineral plays an essential role in the health of your teeth and bones, and in other systems of your body too. Most of us already know that dairy products are good choices for calcium, but what breakfast foods are high in calcium?
After all, breakfast is still considered the most important meal of the day. The food you eat helps to refill and re-energize you, giving you all that you need to move forward with your day.
People approach breakfast in very different ways. Options like cereal and toast are common choices, often with a cup of orange juice or coffee. Then there are all the traditional foods, which vary depending on where you happen to live. We've talked about many of these in the past, like Scottish breakfasts, Russian breakfasts, and Japanese breakfasts.
It's always worth taking the time to find meals that you enjoy, ones that are also rich in nutrients. And, in this case, meals that contain plenty of calcium. Don't worry if you're vegan, lactose intolerant, or simply don't like dairy, we've included various non-dairy sources of calcium on this list too.
Breakfast Foods That Are High In Calcium
Yogurt
Protein Shake
Breakfast Smoothie
Oatmeal
Overnight Oats
Cheesy Vegetable Omelet
Parmesan Cheese
Calcium Fortified Cereal
Parfait
Milk
Kippers
Sardines
Canned Salmon
Leafy Greens
Oranges
Dried Fruits
Quiche
Nuts
Tofu Scramble
Cottage Cheese
Syrniki
Yogurt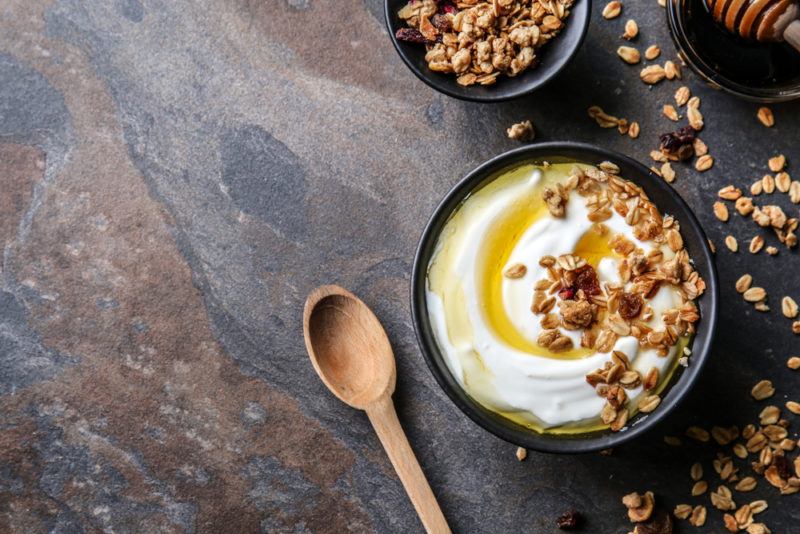 Yogurt is an obvious place to begin. It is a dairy product, after all, so it is naturally high in calcium.
Yogurt also complements many breakfast foods well. You could easily just eat some yogurt on its own or use it as a topping, perhaps for cereal. Mixing in healthy ingredients like cocoa powder, chia seeds, or fruit is an easy way to make your yogurt even better.
There are two important things to consider with yogurt. The first is that some products are healthier than others. Look for brands that focus on whole food ingredients and ones that avoid using too much sugar.
The second thing is that the nutritional profile of yogurt will vary depending on the type that you choose. For example, Greek yogurt tends to be strained. It is higher in protein than regular yogurt, but tends to contain less calcium.
Protein Shake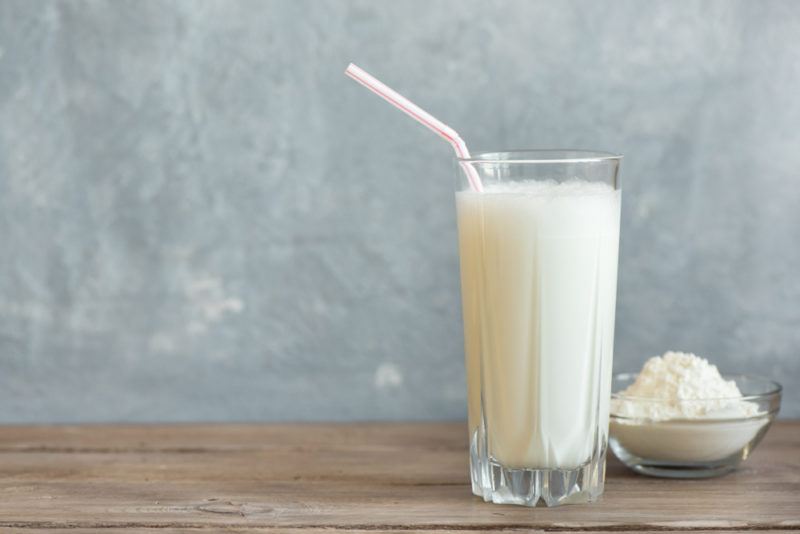 It's not hard to see why protein shakes are popular. They're an easy way to consume a lot of nutrients quickly.
Using dairy milk is the easiest way to make sure you get plenty of calcium in your shake. But, this isn't your only option.
If you're lactose intolerant, you could try lactose free milk instead. This type of milk has been treated with the lactase enzyme, which breaks down lactose. The process means that you can still enjoy the milk, even if your body can't digest lactose itself.
You can also look for calcium-fortified plant based milk, like soy milk or almond milk. Many companies fortify their products with some vitamins, minerals, or protein, so that you're getting similar nutrients to what you would get with regular milk.
Protein powder could be another source of calcium too. Some protein powders focus almost entirely on protein, while others include a selection of nutrients too (these are sometimes called meal replacement powders).
Breakfast Smoothie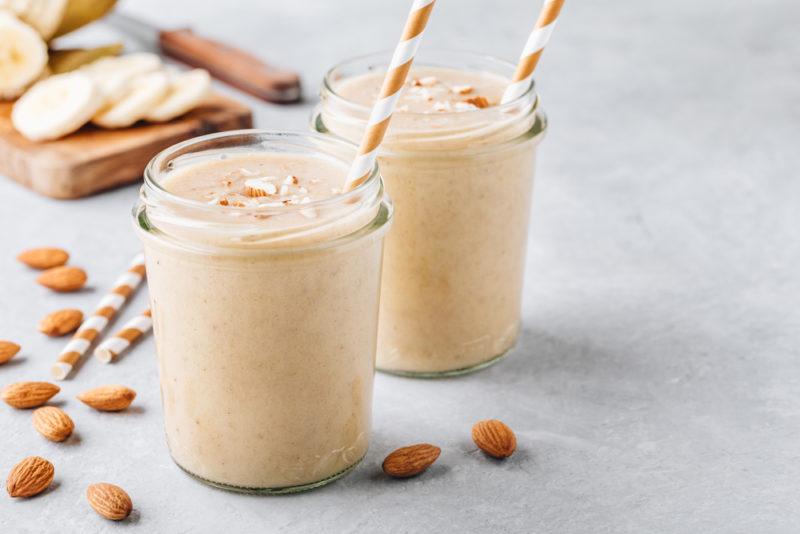 Smoothies follow the same general idea as shakes. However, smoothies tend to be thicker and they'll often include more ingredients. There are many healthy smoothie ingredients that you can focus on, ones that taste good and provide plenty of benefits.
Once again, much of the calcium will come from the milk that you choose and perhaps your protein powder.
Some smoothie add-ins will also offer calcium. Tofu is one surprising choice. Silken tofu works well with some sweet recipes, including smoothies. The tofu is a powerful way to add some protein too. Kale is another useful addition, as is almond butter.
Many of the other ingredients that you use may contain small amounts of calcium too. Even if they're not amazing sources of calcium, every little bit does help.
Oatmeal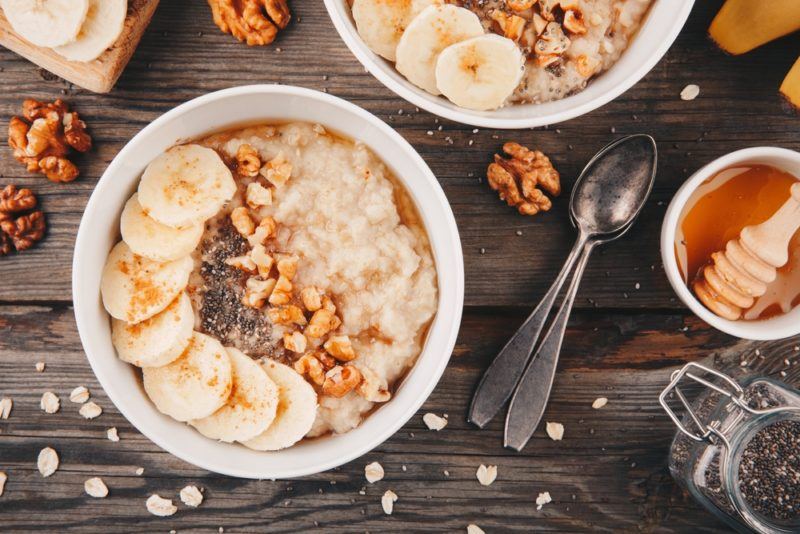 Oatmeal itself isn't high in calcium, but it does contain some of the mineral. You can get more calcium in your breakfast by using a calcium-containing liquid to make your oats.
Milk is the obvious choice, either regular milk or lactose free milk. If milk doesn't work, then you could focus on plant-based milk that has been fortified with calcium.
Overnight Oats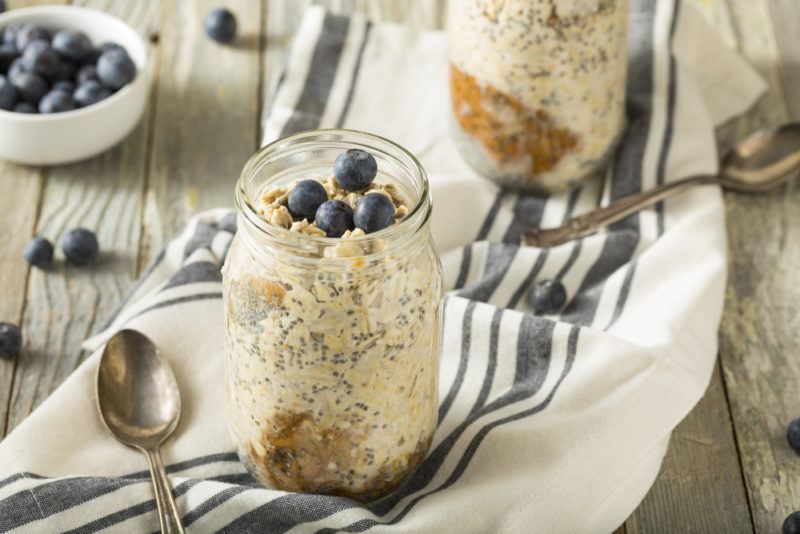 Overnight oats is another easy way to enjoy oats. The idea here is that you're preparing the oats the night before. This involves soaking them in liquid overnight. Once again, dairy milk or plant-based milk are viable options.
You can include other ingredients with your overnight oats too, including ones that contain some calcium. For example, almonds are the best nut for calcium. You could easily use slivered almonds with your overnight oats or even turn to almond butter.
Cheesy Vegetable Omelet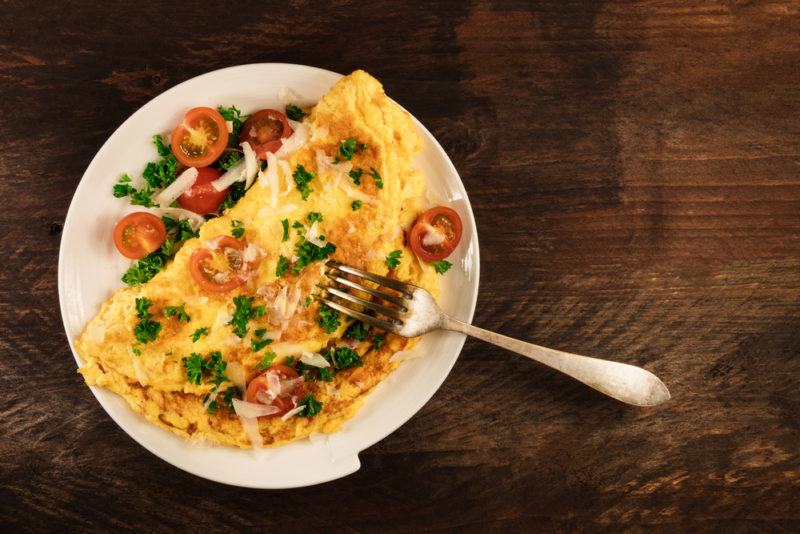 Adding cheese into your breakfast is an easy way to boost the calcium content. While cheese is sometimes considered to be bad for you, it actually contains a decent amount of nutrients. The fat helps to keep you satisfied too.
And, as we're learning more and more these days, fat doesn't make you fat anyway. Fat is simply one source of energy. Carbs are another.
More than anything, being healthy involves having a good balance of whole foods in your diet, particularly ones that are packed full of nutrients.
Making a cheesy vegetable omelet gives you a variety of calcium sources, as you get some calcium from the eggs, the cheese, and from whatever vegetables you choose. Kale is an especially good choice here. Collard greens can work well too.
Parmesan Cheese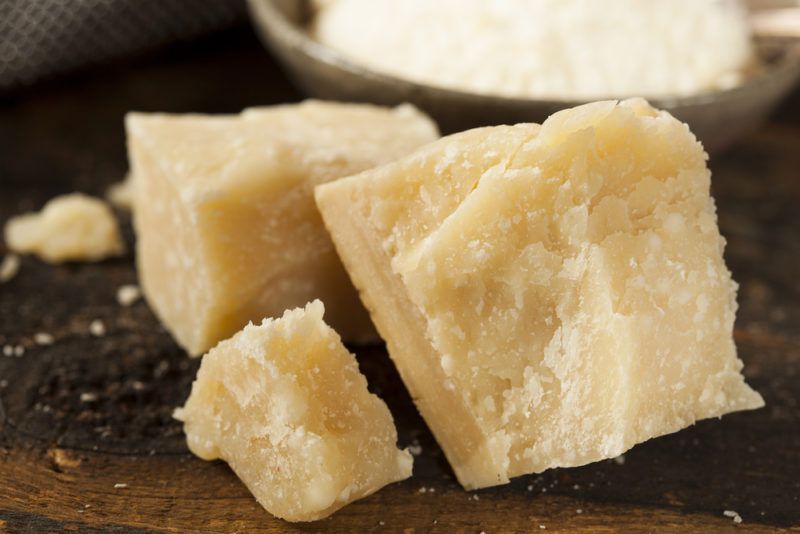 Most cheeses can easily be added to your breakfast and they all offer calcium. However, it's worth talking a little bit about parmesan cheese.
Parmesan is an intensely flavored cheese, there's no doubt about that. You don't need much parmesan to completely change the flavor of your meal.
Parmesan also happens to contain more calcium per gram than any other type of cheese. This is perfect if you're trying to keep your calorie intake low.
Plus, parmesan cheese happens to be almost entirely lactose free. The amount of lactose is so low that most people who cannot digest lactose can still enjoy parmesan cheese.
Calcium Fortified Cereal

Most cereal products won't naturally contain much calcium, but some are fortified with calcium. Some of these will even provide your suggested daily intake of calcium in one go.
That being said, don't skip out on calcium throughout the day just because you get a large amount at breakfast time. There's a limit to how much calcium our bodies can absorb at one time, which means that you can't get all the calcium that you need from a single meal.
You'll also need to pay attention to the cereal that you choose. Many kinds of cereal rely on additives, fillers, and too much sugar, which makes them bad choices for your health. Make sure to check the label carefully and focus on cereals that use whole food ingredients as much as possible.
Parfait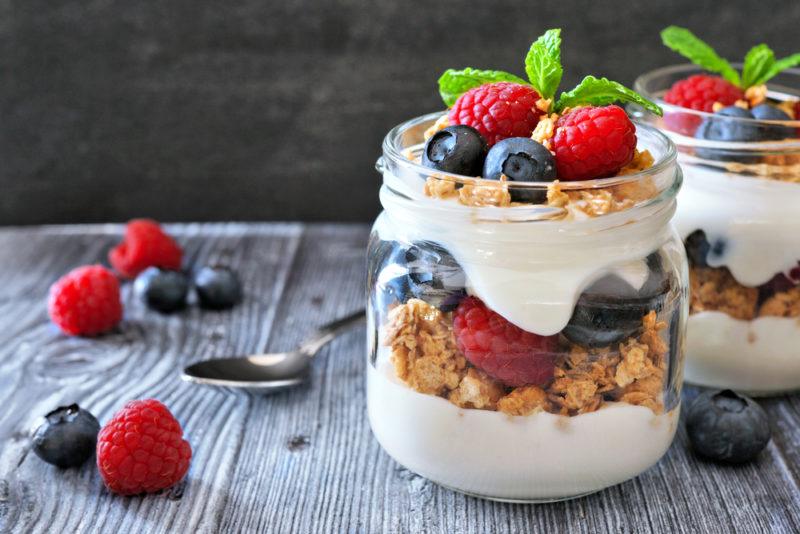 A breakfast parfait is an easy way to combine various sources of calcium. You'll generally be using yogurt as a key ingredient, along with some type of cereal and perhaps some fruit.
The yogurt will give you the most calcium, but the calcium from the other ingredients adds up too.
Milk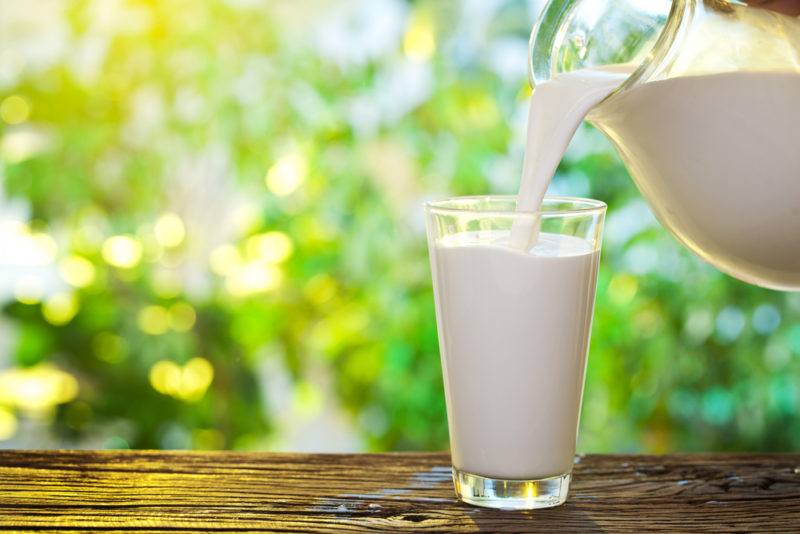 It mightn't be a food, but milk is one of the easiest ways to add calcium to your breakfast. We've already talked about some meals that use milk, like overnight oats, cereal, and oatmeal. There are countless other examples out there. A meal that relies heavily on milk will be a good source of calcium, especially if it uses cheese as well.
You can also simply choose to have a glass of milk with whatever your breakfast happens to be. This way you're getting the calcium you need, without having to think too much about it.
Kippers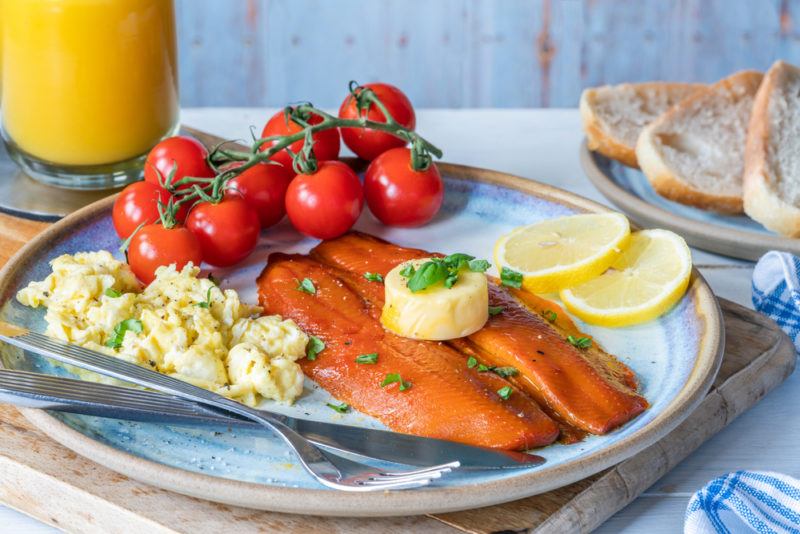 Kippers are a classic English breakfast dish that was unpopular at one point in time, but is now becoming commonplace once again. The dish involves a herring that has been opened flat, brined, and smoked. This creates a smoky flavor.
While kippers are sometimes deboned, they are also often sold with the bones in. These bones are important, as they are small and soft enough to be edible. And, the bones are where you are getting the calcium from.
Having fish for breakfast might sound odd to the uninitiated. Yet, the idea makes sense. You're getting a hearty source of protein and healthy fats in a single meal. What better way to start off the day?
Sardines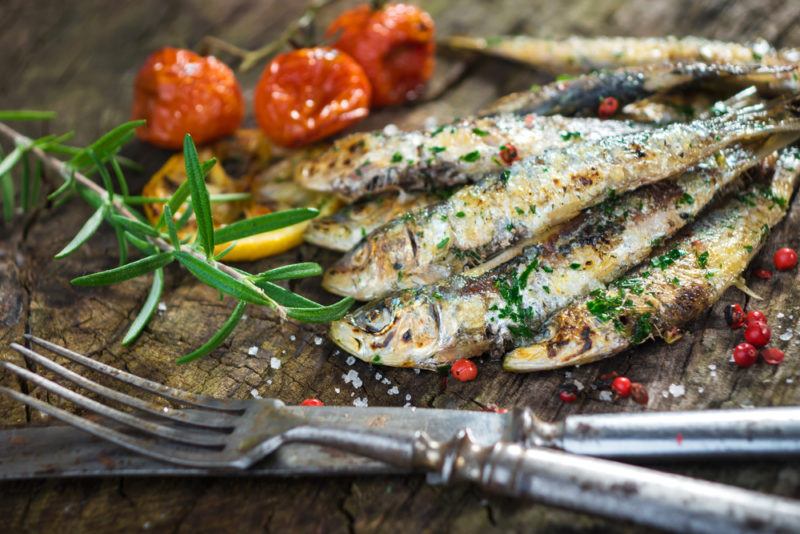 Sardines have the same advantage as kippers – you're getting calcium by eating the bones of the fish. Sardines also tend to be canned, with small and soft bones. This means that you often won't even notice the bones as you're eating them.
One way to enjoy sardines for breakfast is to make sardines on toast. The meal is much more filling than using a fruit spread on toast and it would give you the energy to keep going for hours.
Sardines also happen to be very low in mercury because they feed on plankton. This makes them ideal, as you don't need to watch your intake like you do with other types of fish.
Canned Salmon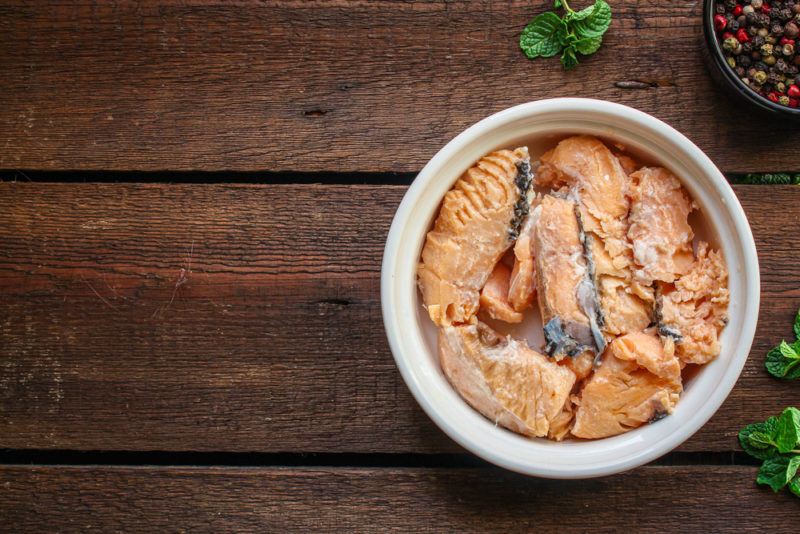 Canned salmon is an easy way to get healthy omega-3 fats into your body first thing in the morning. And, if you choose canned salmon that has bones in it, then you're getting calcium along with all the other nutrients.
Plus, canned salmon has a long shelf life. This makes it much easier than buying salmon and then worrying about eating it in the next few days.
Of course, you will need to pay attention to your serving sizes and how often you eat canned salmon. Salmon is low in mercury compared to many other types of fish, but it does still contain more mercury than sardines.
Leafy Greens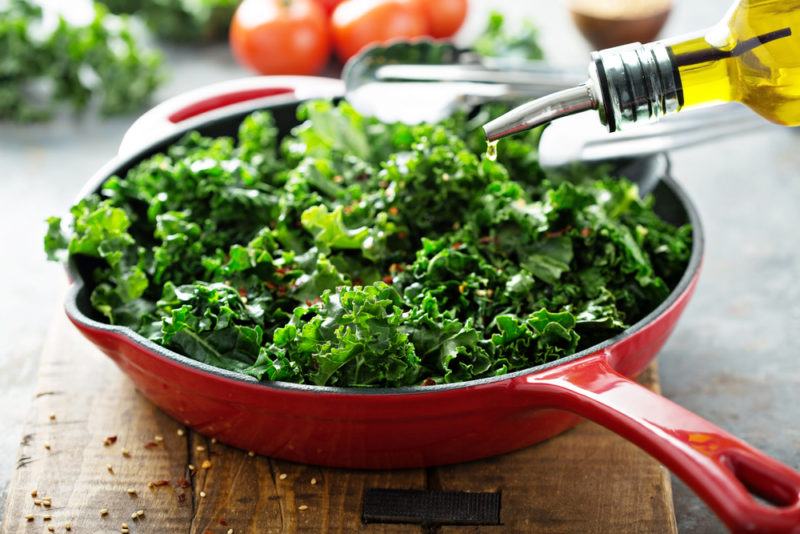 Various leafy greens also provide you with some calcium. Kale is one standout choice, along with collard greens, watercress, and arugula.
While none of these are classic breakfast ingredients, it's pretty easy to incorporate leafy greens into your breakfast. For example, you could include them in an omelet, a smoothie, a breakfast casserole, or as part of eggs benedict.
However, leafy greens do vary in the nutrients that they contain, so you'll need to choose carefully. For example, kale is a decent source of calcium, while spinach isn't.
Oranges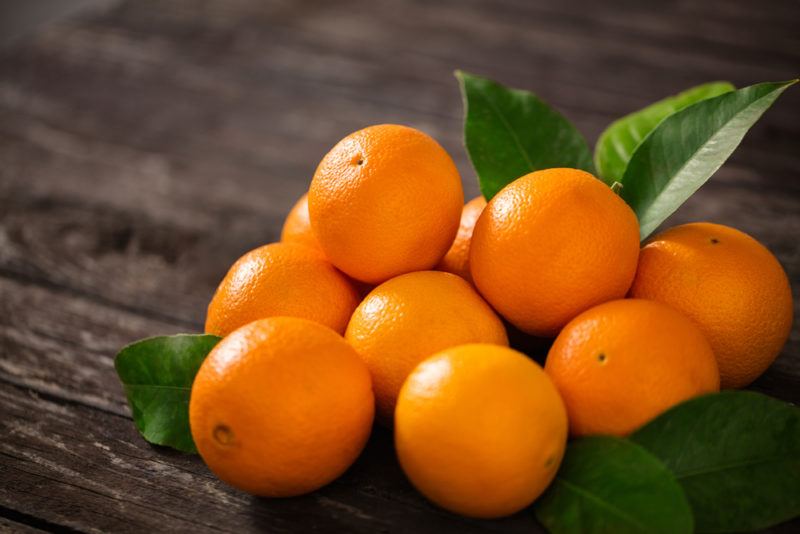 Most fresh fruits will contain some calcium, but the amounts are typically low. Oranges are the standout fruit, offering around 60 mg of calcium for a medium orange.
You can also get some of this calcium by relying on orange juice. Some types of orange juice are even fortified with calcium, which increases the amount that you'll get in a serving.
However, while fruit juice is popular, it isn't a great breakfast choice. A glass of orange juice contains a lot of sugar – and doesn't include all that many nutrients for the number of calories. Focusing on orange juice with pulp is slightly better, but even then, it's best to get calcium from other sources.
Dried Fruits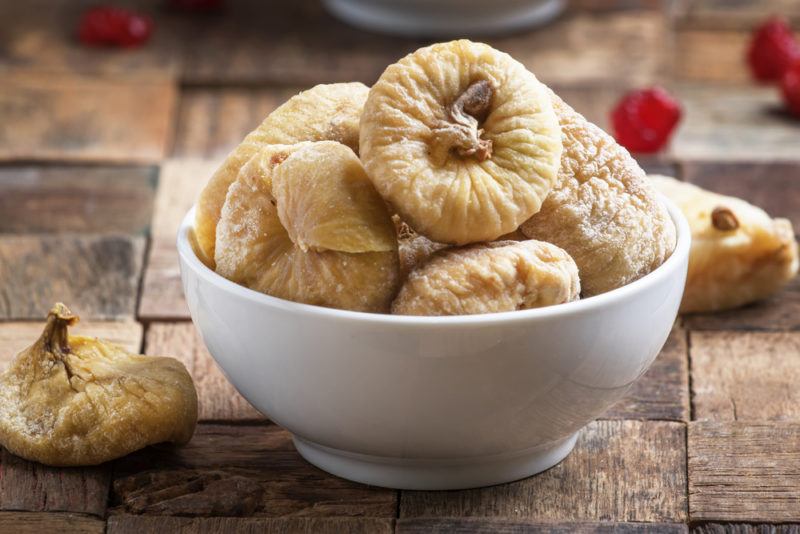 Dried fruits do contain more calcium per gram than fresh fruit. After all, dried fruits have much of their liquid removed, which makes them a more concentrated source of nutrients overall.
Of course, the dried fruit also has more sugar per gram than fresh fruit. You can still rely on the fruit, as long as you're careful with serving size.
If nothing else, dried fruit is an easy way to add more nutrients to your breakfast. You can easily add a little chopped dried fruit on top of a meal or mix it in with granola.
Currants, dried figs, and raisins are the three best choices for calcium content. Dried apricots are worth considering too.
Quiche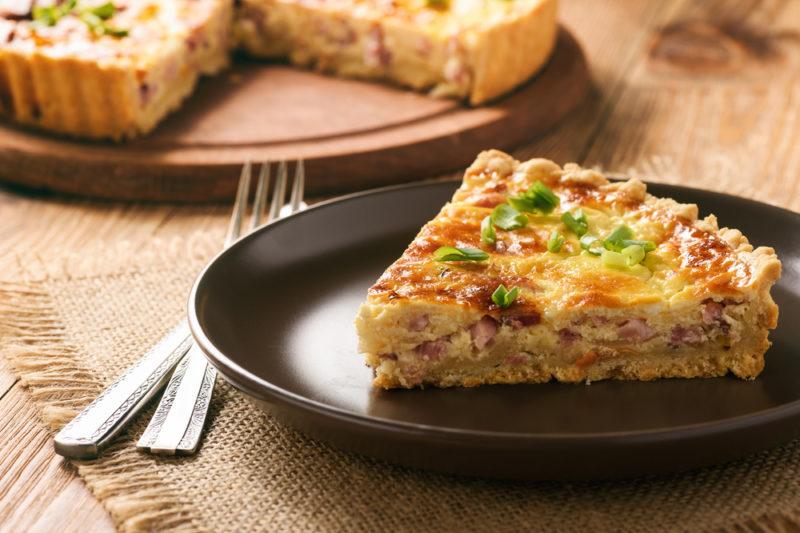 A quiche is an easy breakfast meal, as you're doing most of the work at another time. Plus, a quiche tastes just as delicious hot, warm, or cold. This gives you plenty of options first thing in the morning.
There are countless ingredient combinations that you can use in a quiche. But, even a basic version that largely relies on cheese and eggs will contain a decent amount of calcium. You could also add in some kale to increase the calcium content further.
Nuts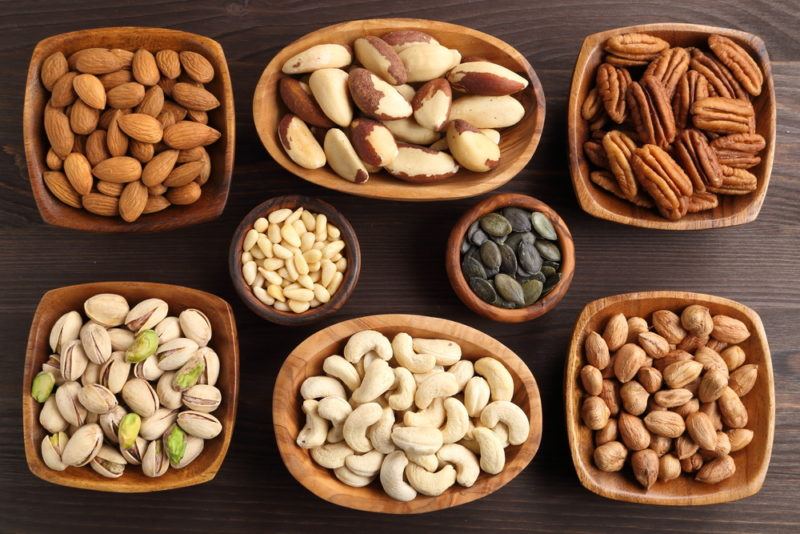 Nuts can be easily added to breakfast, either as the nuts themselves or in the form of nut butter. When it comes to calcium, almonds are by far the best choice. You're getting roughly 75 mg of calcium for a 30 gram serving of almonds. That's not too bad at all.
If the whole nuts are too tough to include in your breakfast, you could try using almond slivers instead. You're getting the same nutrients and flavors, but in a form that's easier to eat.
Tofu Scramble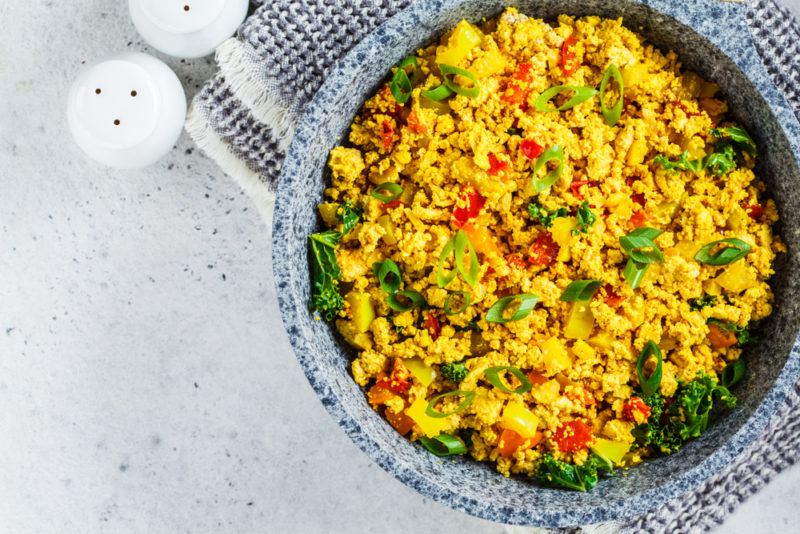 Soybeans are a decent source of calcium, regardless of the form that you eat them in. And, there are plenty of options to choose from.
For an easy, delicious, and healthy breakfast option, a tofu scramble is a good approach to try. The idea is simple. You're making a meal that looks similar to scrambled eggs, but relies on tofu instead.
The end result is a protein packed meal that's high in calcium and happens to be vegan-friendly too. Tofu can be used as an egg substitute in many other recipes too, including frittatas and quiches.
Most of the time you'll be using extra-firm tofu if you're trying to replace eggs. Silken tofu tends to be better for sweet meal, rather than savory ones.
Cottage Cheese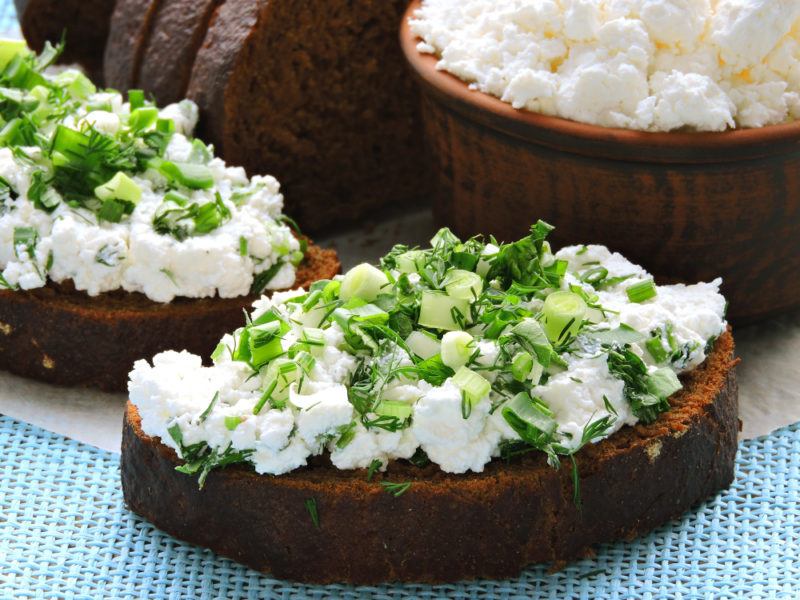 Cottage cheese is a popular protein choice for dieters and it is an easy way to create a filling breakfast. And, because it is dairy based, cottage cheese is a natural choice for calcium.
Cottage cheese doesn't have a strong flavor of its own, so you'll normally want to use some other ingredients or toppings. Adding fruit and perhaps some honey is a simple way to make cottage cheese interesting.
You can also create a cottage cheese protein bowl. This often means that you're using cottage cheese as a base ingredient, then adding in a variety of other nutrient dense ingredients.
We generally eat cottage cheese with sweet ingredients. So, some common toppings include apples, oats, blueberries, cinnamon, nuts, and nut butter.
A savory approach is possible too. I've seen one version that uses cherry tomatoes, eggs, and sliced cucumbers. Why not? The mild flavor of cottage cheese does complement savory ingredients too.
Syrniki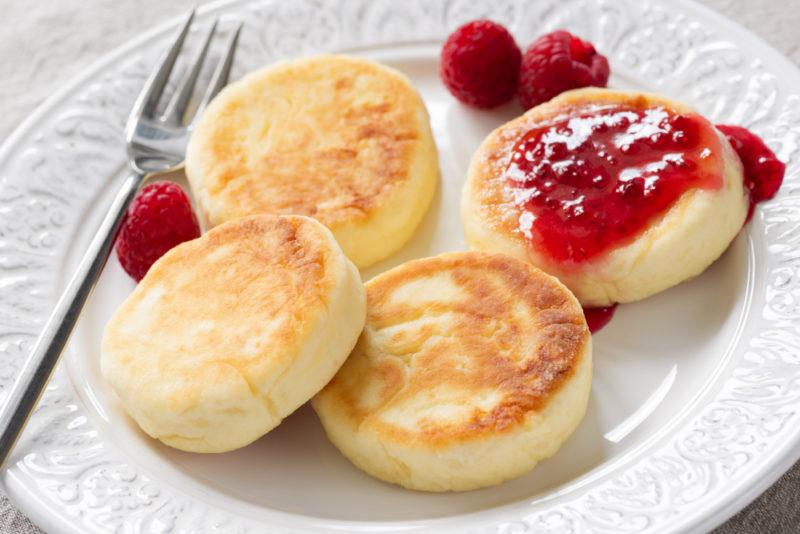 Syrniki is a traditional Russian breakfast choice. The little rounds are basically cottage cheese dumplings. They're not too difficult to make either, so you can quickly prepare them when you want something delicious for breakfast.
The focus on cottage cheese naturally makes this breakfast filling and high in calcium.
If you're going to make syrniki outside of Russia, then you may need to make the cottage cheese by hand first. Syrniki are traditionally made using tvorog, which is similar to regular cottage cheese but isn't quite the same. While you could make syrniki with American cottage cheese, you wouldn't be doing the breakfast justice.