Breakfast is still considered the most important meal of the day, the one that sets you up for everything that lies ahead. Breakfast also plays an important role in history and culture, as each country has its own breakfast foods. Some of these may be common from one place to another, while others are very different indeed. As part of our series on breakfast food, this post takes a deep dive into one specific area – traditional Scottish breakfast foods.
Now, some Scottish foods might seem beyond odd at first glance. Haggis alone is an indication, as this traditional dish involves a mixture of sheep's innards and oats, cooked in a sheep's stomach. Not exactly appetizing. Black pudding is another traditional dish that often seems concerning.
Thankfully, there are more familiar foods too, including a variation on the full English breakfast. There is also an important theme to Scottish breakfast foods. The foods tend to focus on substance and comfort. They're filling meals that are certain to give you energy and set you up for the day.
If you're after a more familiar selection of foods, you could check out our lists of English breakfast foods or American breakfast foods. Or, for something different, how about German or Russian breakfast foods?
Traditional Scottish Breakfast Foods
Finnan Haddie
Arbroath Smokie
Butteries
Scottish Porridge
Scottish Breakfast
Morning Rolls
Tattie Scone
Beans And Toast
Drop Scone
Kippers
Black Pudding
White Pudding
Haggis
Finnan Haddie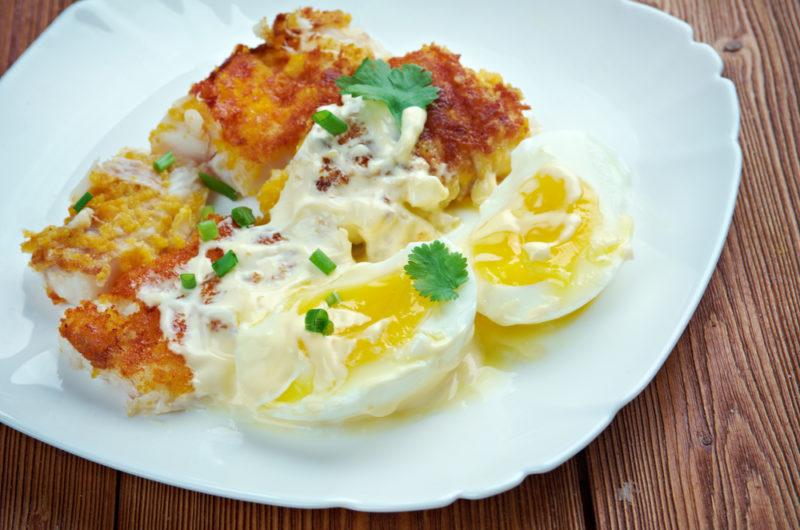 A Finnan haddie goes by a few different names, with Finnan haddock and Finny haddock being two other examples. Not surprisingly, this breakfast dish consists of smoked haddock.
The method of smoking is relevant too, as a Finnan haddie relies on peat and greenwood in the smoking process. This creates a distinct flavor.
When served for breakfast, Finnan haddie tends to be poached in milk.
Arbroath Smokie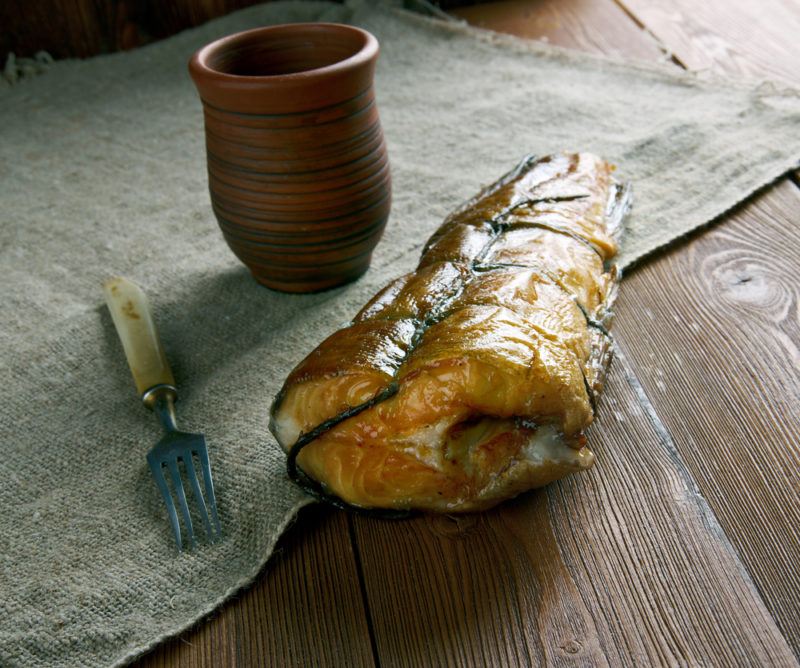 This is another type of smoked haddock, which comes from the town of Arbroath. The smoking process is relatively fast, often taking less than an hour from start to finish.
One unusual feature is that the haddocks are tied together for the smoking and are often served that way too. If you like the idea of fish for breakfast, then the Finnan haddie and the Arbroath smokie are both well-worth trying.
Butteries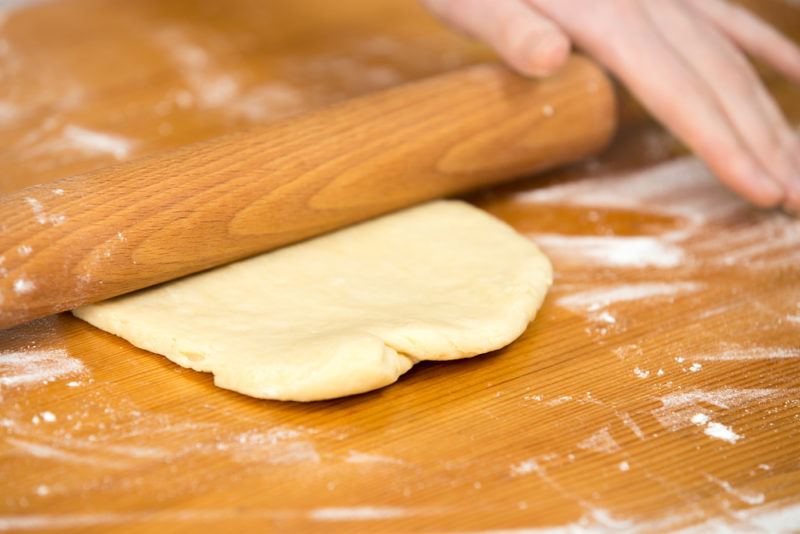 A buttery is a type of savory bread roll that originally comes from Aberdeen, Scotland. They are well named, as the rolls have a high ratio of butter to flour. This makes them very buttery, flaky, and delicious. Some versions use lard instead of butter, or a combination of the two sources of fat.
Butteries are sometimes called flat croissants or roadkill croissants too, as they have some similarities to French croissants, but are very flat and don't have the same appealing structure.
When served for breakfast, a buttery is often toasted and then eaten as-is or with jam or butter. They have become so popular that butteries can be found worldwide.
Scottish Porridge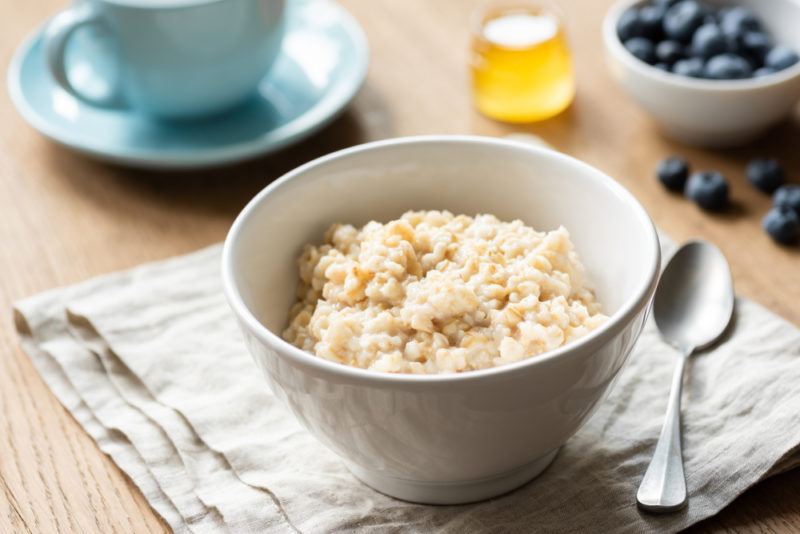 Porridge has been popular for a long time in many different places. In the case of Scotland, porridge was traditionally made with oats. Not surprising, given that oats are a key Scottish crop.
The early process of making the porridge involved creating a paste from oats and water, which could then be cooled and stored. The cold porridge could then be cut in slices and fried or eat.
In modern times, porridge tends to be made at the time and eaten warm. Rolled oats are often used, as these help to create a smooth texture. Even then, there are differences. Scots have come up with many recipes for preparing porridge, which have their own flavors and textures.
Scottish Breakfast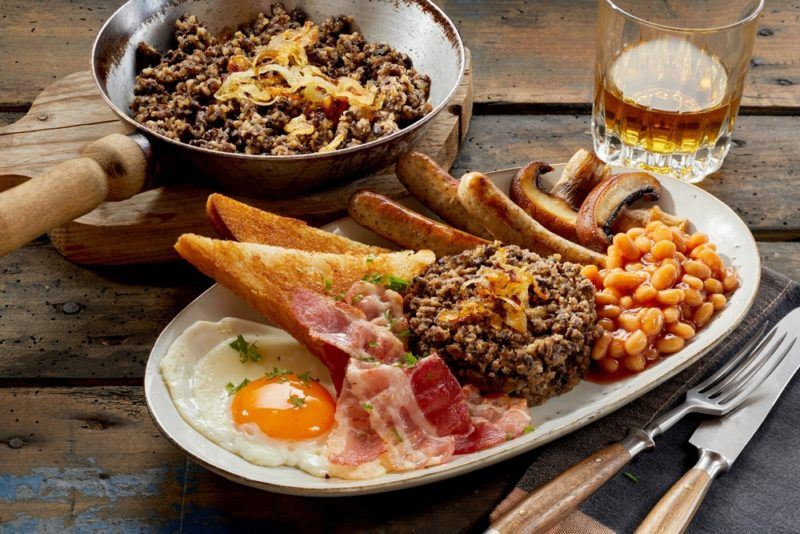 A Scottish breakfast, or full Scottish breakfast is the Scottish version of a full English breakfast (which, given the names, is hardly surprising). This means that most of the ingredients are fried and the calorie content of the meal often runs high.
Many parts to the meal are the same as what you'd find with the English counterpart, including sautéed mushrooms, fried tomatoes, bacon and eggs. There are also some interesting additions, one of which is the tattie scone. This is simply a scone made with mashed potatoes.
A Scottish breakfast may also include Lorne sausage (a square sausage) and, white pudding or black pudding.
Morning Rolls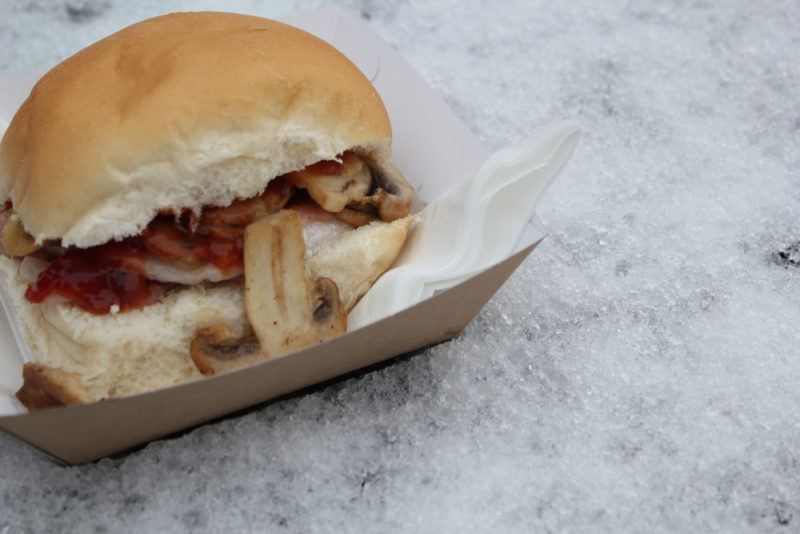 Scottish morning rolls are a common choice when people are eating breakfast away from home, like at work. The rolls consist of an opened up bread roll that may be buttered and has various fillings added.
Sometimes the rolls end up being soft, while others are crispier. Stores that sell this type of roll may have two or more different types of bun to cater for differences in customer preference.
There are even well fired rolls, where the rolls are intentionally burned on the top. The style is an unusual one, but the flavor of the burnt section may be an appealing contrast to the rest of the ingredients.
The fillings might be similar to what Americans might have in a sandwich or a bun at lunchtime. But, there are some distinctly Scottish filling options too, such as a roll that includes a Lorne sausage, a tattie scone, and fried onions. Another version relies on sausages and fried onions.
Tattie Scone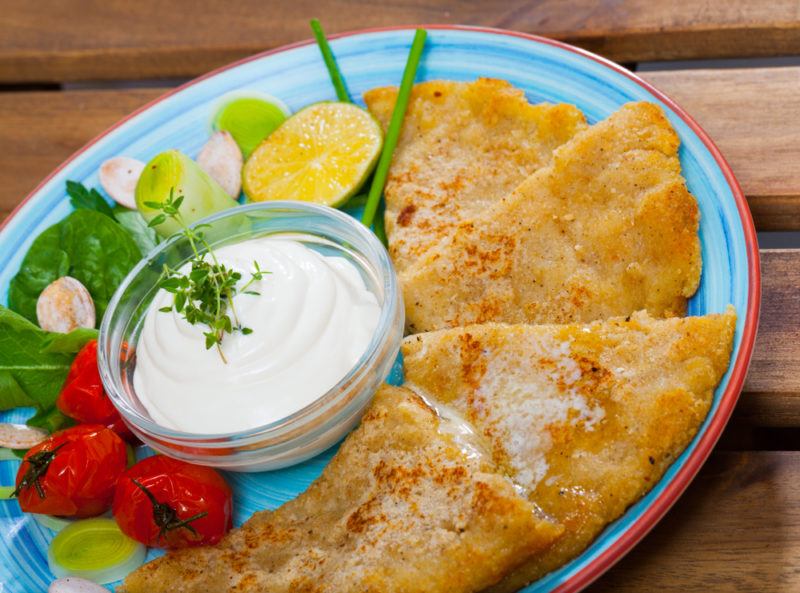 A tattie scone, or potato scone, is generally used as an ingredient in a full Scottish breakfast or perhaps a morning roll, but the scone can be enjoyed on its own too. You could also have other breakfast items on the side, like fried eggs and bacon.
This type of scone is exactly what the name suggests. It is made from mashed potatoes and has been fried on the griddle.
Most of the time, the scone is made using fresh mashed potatoes, rather than leftovers. The distinction is important, as you want the mashed potatoes to still be at least warm when you're making tattie scones.
Beans And Toast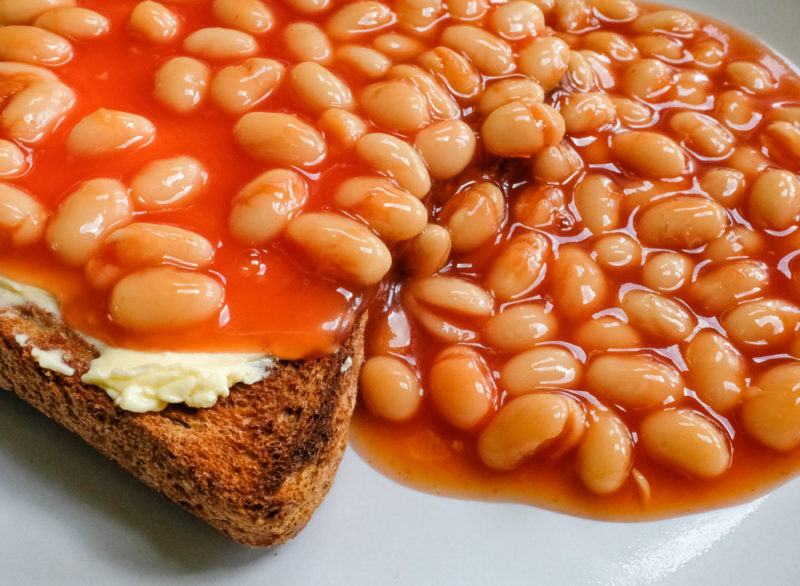 If you're looking for a simpler breakfast, you could consider baked beans on toast. This combination is often seen in England as well, and tastes surprisingly good.
One advantage is that you're getting a savory topping on your toast, rather than something that is sweet and could lead to a blood sugar spike. Beans are also good for you, acting as a decent source of protein and fiber. Plus, if you skip the butter, the breakfast ends up being vegetarian and vegan friendly.
Drop Scone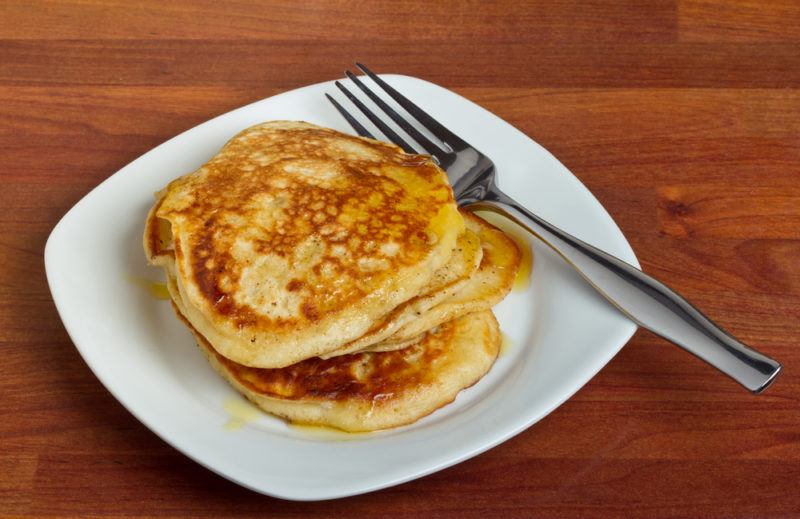 You might see drop scones called pikelets or Scotch pancakes, but you're looking at the same time of food each time. A drop scone is basically a variation on a pancake. The two breakfast choices use many of the same ingredients, which gives them a similar flavor.
The biggest difference is in texture. Drop scones tend to be denser and heavier. Still, because the flavors are similar, drop scones can be eaten with similar toppings to pancakes. Cream and fresh fruit are common options. Syrup can be used too, although you're more likely to see golden syrup accompanying the scones, rather than maple syrup.
Kippers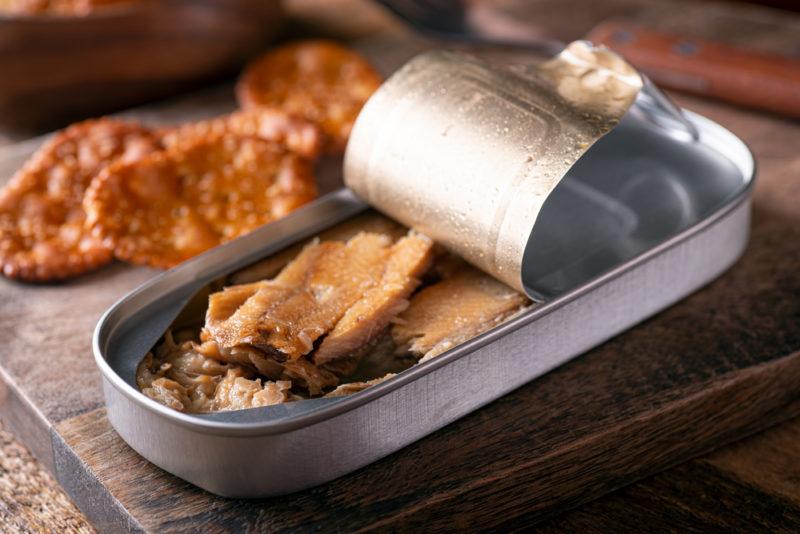 Kippers are traditional as a British breakfast food and you'll often find them on Scottish tables. This dish is a type of herring that has been cured through the kippering process, which includes smoking the fish. Kippers went out of favor at one point, but popularity has surged with a vengeance.
The popularity of kippers can be partly traced to their low price, along with how easy they are to prepare and eat. The fatty fish is also a potent source of omega-3 fatty acids. It contains plenty of protein too, making it a satisfying start to the day.
Kippers can be eaten with other popular breakfast items, such as poached eggs or used as part of a recipe. They're generally served hot. Cooking techniques include sauteing, grilling, or broiling the fish.
Black Pudding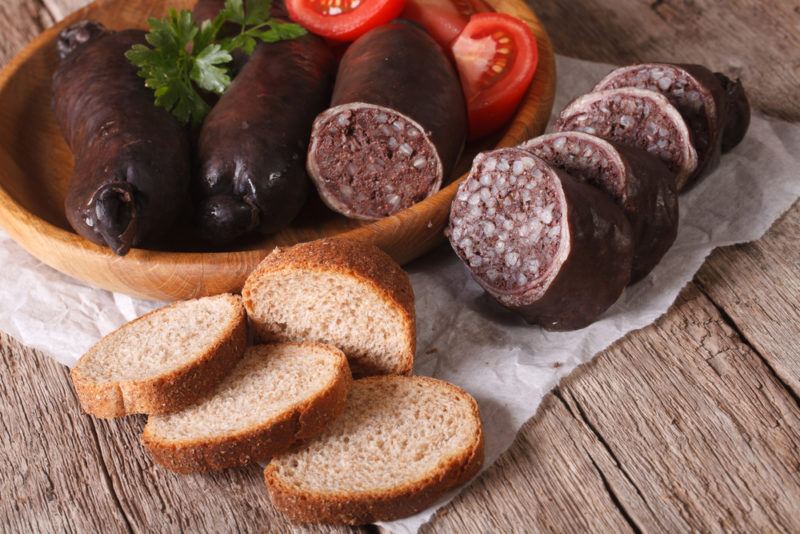 Black pudding is one of the most controversial Scottish foods. It is a type of blood sausage, that tends to use pork blood, pork fat, and some type of cereal grain, like oatmeal. The idea sounds strange and the black sausage-like product doesn't look very appealing either.
Despite this, many people do love black pudding. The dish makes it way into many different Scottish breakfasts and is often served with ingredients like potato scones, fried eggs, and bacon.
Black pudding can technically be eaten as-is, as the ingredients are cooked during the process of making the sausage. Even so, most people choose to slice and gently fry black pudding. This gives it a more desirable texture. Grilling, roasting, or even boiling are other approaches that you can take.
White Pudding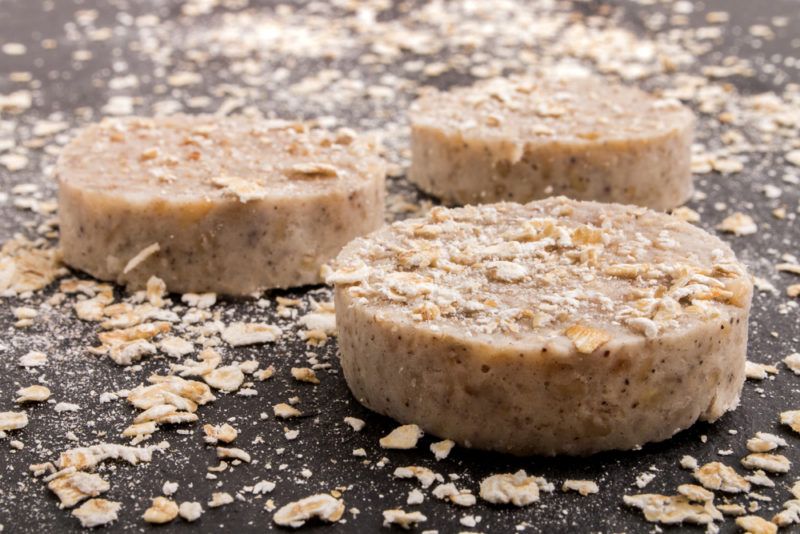 White pudding isn't as common as black pudding, but you will see it in many fried breakfasts. The dish is similar to black pudding, except that blood isn't used as an ingredient. Key ingredients in the pudding include beef suet and some type of cereal grain.
Leeks or onions can also be included in white pudding, These provide an interesting flavor and texture profile. Once again, the pudding is generally sliced and fried before being served as part of breakfast.
Haggis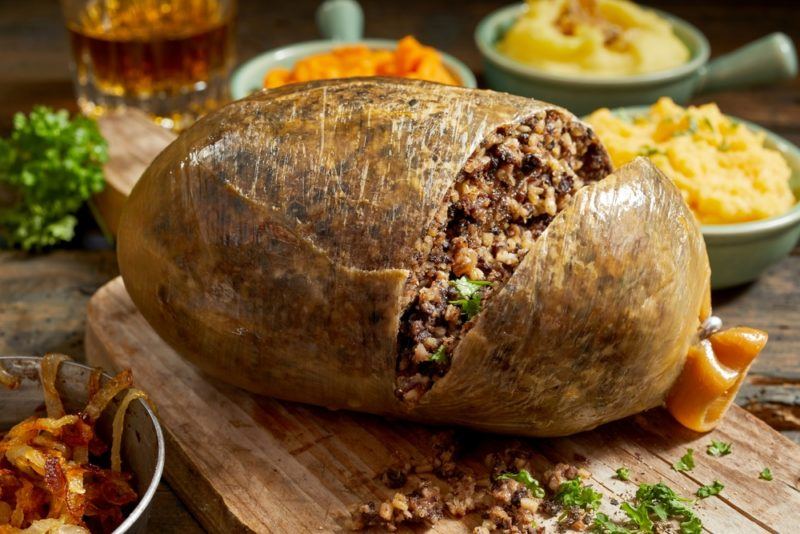 Haggis is another odd food, one that is strongly associated with Scotland and can still be found as part of Scottish breakfasts (although haggis is more commonly served as part of a dinner, rather than breakfast). Haggis is a savory dish, made from sheep organs that have been minced together with ingredients like oatmeal, onion, suet, and various spices.
The mixture is traditionally cased in a sheep's stomach and then cooked. These days, artificial casings are often used instead. There are vegetarian versions of haggis available too. These attempt to keep a similar texture to conventional haggis, while relying on a variety of different types of legumes and other ingredients.