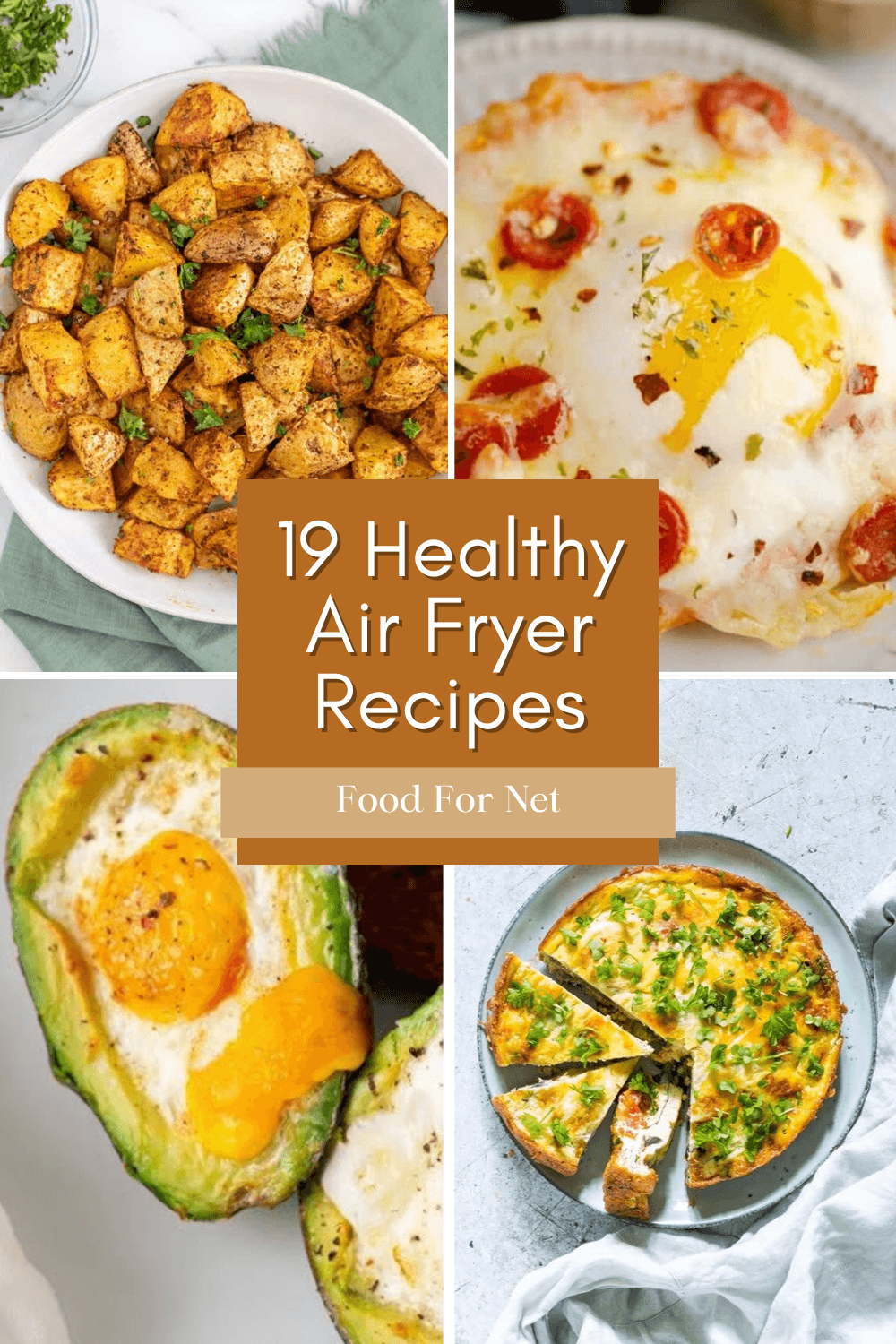 Breakfast gets tricky, doesn't it? There are plenty of dishes to choose from, including protein packed choices and breakfasts for picky kids. You could even try making a breakfast charcuterie board. Yet, somehow our breakfasts end up looking the same day after day. Often that's because we're looking for easy meals, ones that don't take too long. These healthy air fryer breakfast recipes are a fantastic solution, as they're a little different, but are still very tasty.
So, what's an air fryer anyway? The countertop appliances have become exceptionally popular, as they give your food a similar texture to deep frying, while using barely any oil.
Despite the name, an air fryer doesn't actually fry your food. Instead, the tool functions like a small convection oven. This distinction doesn't matter though, as you're still getting the desired flavors and textures.
Air fryers are most popular for foods that are traditionally deep fried, like mozzarella sticks and chicken. Such dishes aren't your only option, though. The air fryer works well for plenty of other dishes too, including some unexpected ones. You'll see what we mean as we go through this list.
Why not break your air fryer out and give these a go? You might make your mornings much more exciting. Many of these treats can be made in any type of air fryer, including small ones and large family sized air fryers.
Healthy Air Fryer Breakfast Recipes
PS. Try these keto dairy free air fryer recipes
Air Fryer Omelet Bites
Eggs are one of the classic breakfast ingredients. It's easy to see why too, as they taste fantastic, while also being nutritious and filling. But, why limit yourself to the classics like poached eggs and scrambled eggs?
Egg bites are an excellent alternative. They're easy to pick up and eat, plus you can pack them with plenty of delicious ingredients. They're also naturally low in carbs, making them useful on low carb and keto diets.
You can bake egg bites in the oven, but Taryn from joyfilledbites.com suggests air frying them instead. Doing so gives you a fast and easy breakfast that doesn't make much mess at all.
English Muffin Breakfast Pizzas
Breakfast pizzas can feel adventurous and fun, but they're also pretty simple to make. These English muffin breakfast pizzas from thecreativebite.com are fast too, taking just 15 minutes to get on the table. This is perfect even on busy week days where everyone is stressed.
My favorite part of this recipe is the egg. This really gives the pizza a breakfast feel. Plus, the recipe is designed to give you a runny yolk, which tastes fantastic when it spills over the other ingredients.
You can make breakfast pizzas in the oven too, but the air fryer makes things so much easier. Besides, if you use an oven, you need to wait for it to heat, which just annoying in the early morning.
Garlic Parmesan Air Fryer Mashed Potato Cakes
Potato cakes are fantastic as a breakfast food. They're like a much healthier version of hash browns and perfectly complement many other breakfast ingredients.
This particular version comes from Irina at dailyyum.com. The use of garlic and parmesan helps to elevate the potato cakes, making them much more delicious.
The recipe also has a section filled with tips for making your potato cakes. These tips help make sure your potatoes turn out perfectly every time.
Healthy Granola
Granola is common on the breakfast table, but it often isn't that healthy at all. Many products are packed with carbs and sugar, and might contain gluten too.
So, why not make your own? This recipe from paleoglutenfree.com helps you to do just that. The finished granola ends up being gluten free and paleo friendly, making it incredibly versatile. Plus, because you're making the granola yourself, you can easily tweak the amount of maple syrup to make the granola sweeter or less sweet.
Once you've made the recipe once or twice, you could start to experiment with the ingredients. You might end up with your own version of homemade granola, one that includes all your favorite flavors.
Easy Ninja Foodi Breakfast
Pizza doesn't need to be a greasy and a dinner meal. You can easily make a healthier version for breakfast. That's exactly what this recipe from masonfit.com does.
The choice of ingredients still gives you a delicious hearty meal, yet the pizza is still surprisingly healthy. There are also some notes at the end of the recipe that tell you how you can make it even lower in fat.
Healthy Air Fryer Bagels
Have you ever made bagels in the air fryer? Doing so works surprisingly well, as this recipe from pinchmegood.com showcases.
The recipe is particularly exciting as the bagels are gluten free. They're unusual too, as there are only a few main ingredients and there's no yeast to worry about. As a result, the bagels are very easy to prepare. You could even make them and eat them the same morning.
Amy includes plenty of extra details in her recipe as well, including how you can freeze and reheat the bagels, plus how you can make a gluten-free version. After all, we all have different needs.
Sausage And Egg Breakfast Casserole
This recipe comes from slowthecookdown.com and features plenty of breakfast flavors. It's a perfect choice for days when you need a little more, as you get a very hearty meal.
Betty describes the recipe as somewhere between an egg bite and a frittata, which should give you some idea of what to expect. This is also a great meal prep recipe, as you can easily prepare it ahead of time and then reheat it in the morning.
It's also an easy dish to adapt. You could add whatever extra seasonings and ingredients you like to tweak the flavor profile and make the dish match your needs.
Air Fryer Breakfast Burritos
These breakfast burritos also rely on sausage and eggs, although you can change the ingredients here as well. The recipe is fantastic if you're looking for food that's easy to pick up and eat.
The recipe itself can be found at meatloafandmelodrama.com and includes detailed instructions for how to roll the burritos before you cook them. This step is important, as you need the burritos to stay together inside the air fryer.
The biggest limitation is that you can only cook a few burritos at a time. This can get a little frustrating if you're serving a large crowd. However, it's not too bad, as the burritos don't take very long to cook at all.
Air Fryer Baked Oatmeal With Protein
Have you ever tried baked oatmeal? This is a great way to make oats more interesting, giving you a different texture than normal.
This recipe comes from haylskitchen.com and it's unusual in that it adds collagen powder in for extra protein. Doing so works well, as oatmeal is normally fairly low in protein, so it mightn't keep you going for as long as you'd like.
The recipe isn't designed to serve a crowd. Instead, it's perfect for one or two people – and is much faster than trying to heat your oven and bake oatmeal that way. Haylee also provides details about how to tweak the recipe and create a vegan friendly version.
15 Minute Baked Avocado Eggs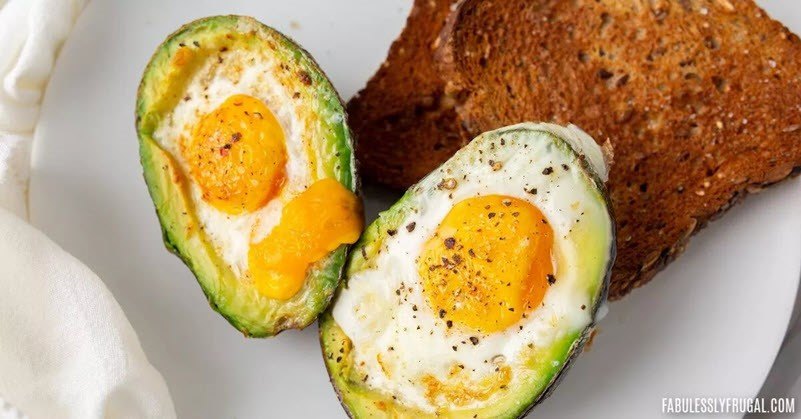 Avocado eggs have become popular as a keto diet dish. The idea is simple – you're just baking an avocado in the oven, with an egg in the hole. If you do so well, then the avocado tastes even better than when it was raw.
This dish is normally baked in the oven, but an air fryer works just as well. It's also a more energy efficient approach, especially if you just want to cook a single avocado.
This recipe, from fabulesslyfrugal.com, gives you all the steps for making perfect avocados every time. It includes details for preparing toast at the same time, in case you want some carbs with it.
Air Fryer Hash Browns From Scratch
Hash browns often feel like an amazing treat, partly because they're often delicious and greasy, but aren't at all good for you. This recipe from thishealthykitchen.com changes things up by giving you a healthy air fryer version.
This is one of the times where using an air fryer is simply amazing. After all, hash browns often require a lot of oil. Using an air fryer cuts down the oil requirement considerably, while still giving you crisp and delicious hash browns. How can you lose?
Air Fryer Breakfast Frittata
Have you ever made a frittata in an air fryer? The air fryer makes the whole process so much easier, giving you a breakfast that takes less than half an hour to prepare.
The recipe itself can be found at recipesfromapantry.com. While you're there, check out the other recipes, including air fryer French fries and air fryer pizza rolls. Those aren't as healthy as this frittata, but they should be just as delicious.
Mini Air Fryer Breakfast Tacos
Breakfast tacos are somewhat unusual, but why not? They're an easy way to combine plenty of breakfast flavors at once, plus they can be easily customized to fit your preferences.
The small size makes them particularly fun and keeps the cooking size low. You can find all the details over at theskinnyfork.com.
Air Fryer Cinnamon Rolls
Cinnamon rolls aren't as healthy as the other breakfasts on this list, but they're still better than heavily processed versions.
Arman, from thebigmansworld.com, provides a recipe for making these from scratch. This means you're preparing the dough yourself, rather than using Pillsbury dough.
However, there are details for making the rolls using packaged dough too, just in case.
Eggs In A Basket
Eggs in a basket is a simple recipe where you're just cooking an egg within a piece of bread. It's an incredibly simple recipe, but sometimes that's exactly what you need for breakfast.
This version comes from airfryingfoodie.com. If you follow the recipe timing precisely, then your egg yolks should still end up a little runny, which is pretty much perfect.
Air Fryer Breakfast Potatoes
These potatoes, from valentinascorner.com, probably wouldn't be served on their own. Instead, they're an excellent breakfast side.
You could easily serve them next to eggs and ham, or perhaps even bacon. Well, honestly, most types of protein would work well alongside them.
Air Fryer Butternut Squash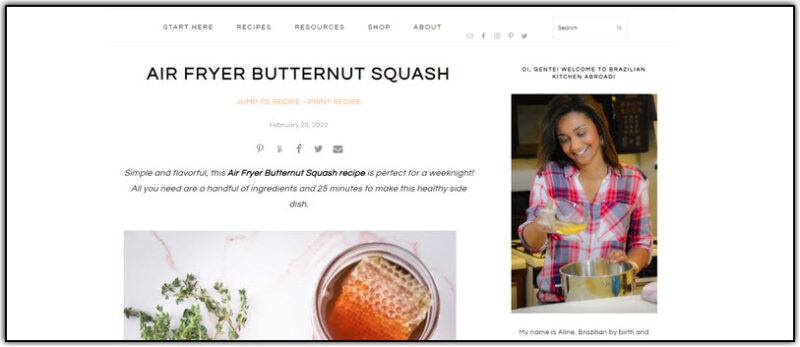 This air fryer butternut squash recipe comes from braziliankitchenabroad.com and is another dish that you probably wouldn't serve on its own. Still, air frying butternut squash like this gives you an amazingly delicious side dish.
You could even just place the squash in the base of a bowl, then top it with an egg or two. Or, why not get a bit more creative? Avocado would pair well with it, as would lean grilled chicken or perhaps even bacon. I'm sure you can think of other options too.
Perfectly Done Heavenly French Toast
An air fryer gives you a way to make delicious French toast that's still pretty healthy. The recipe comes from forktospoon.com and is very easy.
The French toast ends up with a perfect fluffy consistency, with no stress at all.
Air Fryer Scotch Eggs
Scotch eggs aren't well-known in the US, but they're certainly worth trying. The basic recipe is simple – an egg surrounded by sausage meat that's crumbed and then cooked.
The eggs are sometimes deep fried, while other times they're baked instead. Air frying works even better, giving you a fantastic texture with minimal oil.
Plus, Scotch eggs are low in carbs and high in protein. What could be better for breakfast? You can find all the information you need over at leitesculinaria.com.