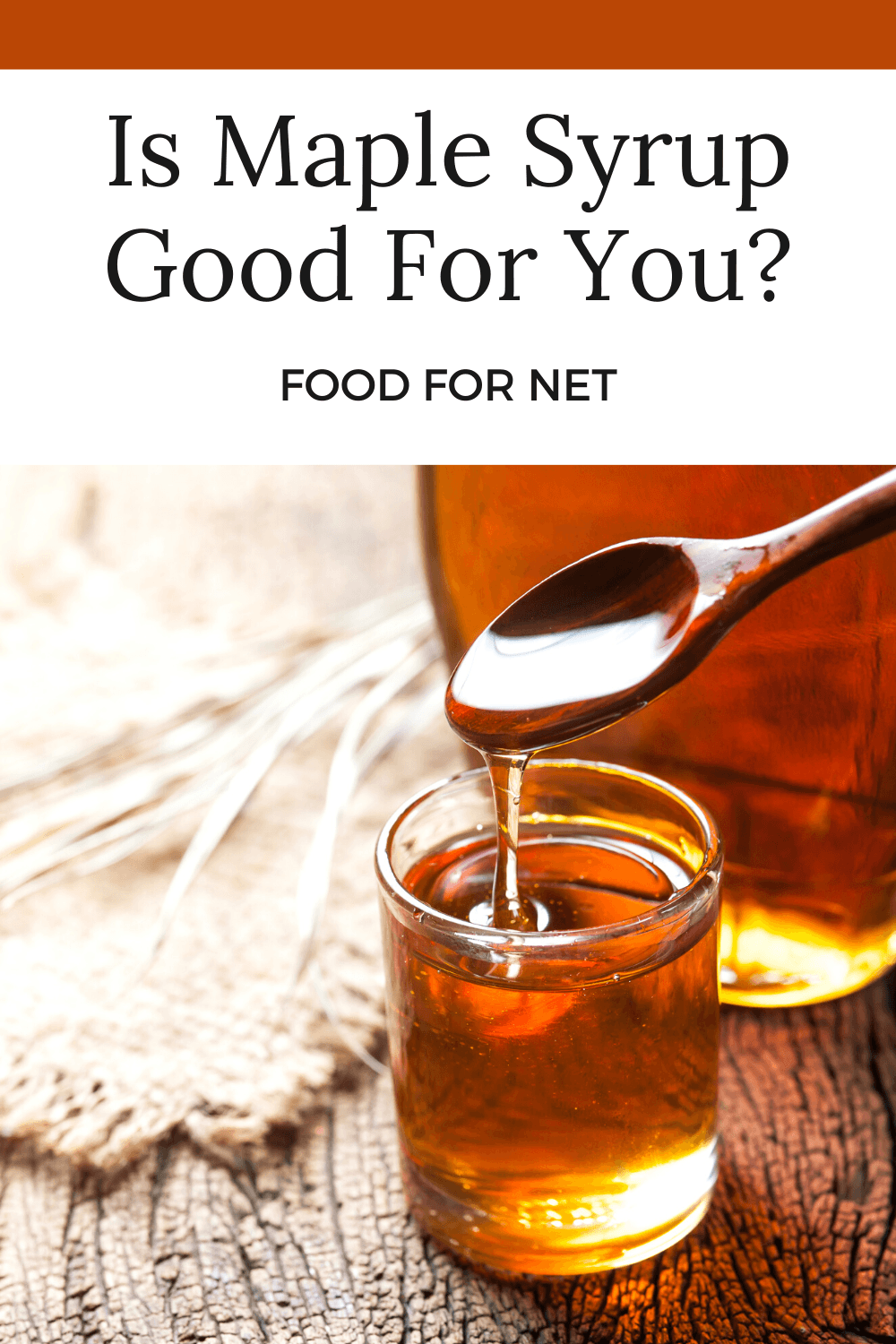 Maple syrup is a sweet treat that we often pour over pancakes or use instead of white sugar when cooking. Maple syrup can have an amazing complex and rich flavor that varies in intensity based on the color of the syrup. The dark varieties taste much like molasses, while the light ones have a milder flavor that's no less delicious. It may taste great, but is maple syrup good for you?
It's not just the flavor we're fascinated by though. There's growing interest in what maple syrup means for your health. I've even seen blog posts that call it a healthy ingredient, one that might boost your health in a variety of ways.
That idea seems incredibly unlikely, so we must ask – is maple syrup good for you?
There are some reasons that it could be, including the antioxidant content and the way it is relatively unprocessed. These patterns are the same reason that honey and dates are often used as sweeteners. Still, maple syrup is mostly sugar. We all know the effects that sugar has on our bodies.
Do the benefits outweigh the risks? That's what we're looking at today.
Is Maple Syrup Good For You?
Benefits Of Maple Syrup
Why Maple Syrup Isn't Healthy
Types Of Maple Syrup
What About Maple Water?
Final Thoughts
Benefits Of Maple Syrup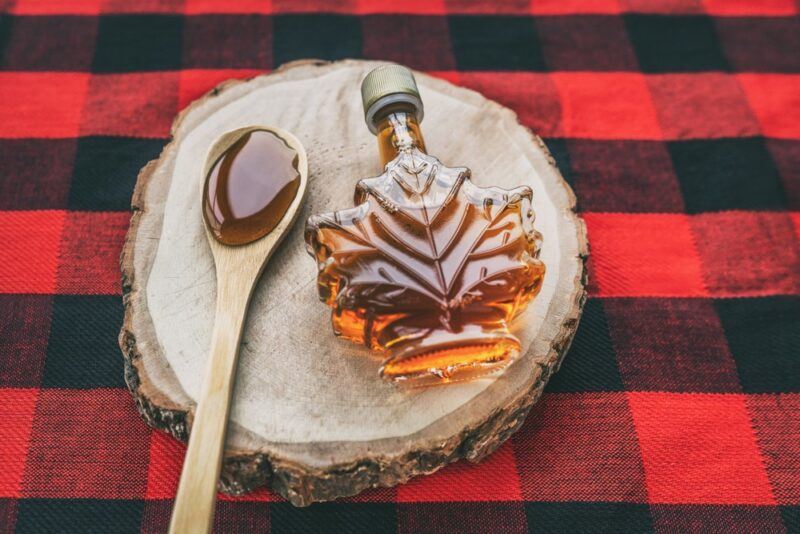 It's A Natural Product
The white sugar we use in cooking and our drinks is highly refined. It comes from sugar beets or sugar cane, then goes through a multi-step process, which involves filtration and chemicals. The processing steps strip away all the nutrient and plant-based compounds, leaving you carbs and little else.
You don't get this type of refinement with maple syrup.
Instead, the syrup is generally just extracted from the maple tree. A hole is drilled into the tree and the sap can then pour down into a collecting container. Once collected, the sap is boiled, a process that removes most of the water and creates the thick syrup that we know and love.
Maple syrup is also filtered, to remove impurities, but it never goes through the chemical processing steps that you see with white sugar. This difference alone should make maple syrup the better choice.
Maple syrup looks even better when you compare it to artificial sweeteners. At least with sugar and maple syrup, we know a lot about the health risks. The same can't be said for artificial sweeteners. We're still coming to understand those and they may have some risks that we're yet to identify.
It Contains Antioxidants
Because maple syrup is minimally processed, it retains antioxidants from the maple tree. Research even shows there are up to 30 different potential antioxidants in maple syrup, including caffeic acid and chlorogenic acid.
These antioxidants are a good reason for choosing maple syrup over white sugar. After all, antioxidants help to protect your body against dangerous oxidation from free radicals.
That oxidation can cause damage to your cells and even your DNA, an effect that may then increase your risk of various diseases. Consuming plenty of antioxidant rich foods should help to protect you from this damage and decrease your disease risk in the process.
There Are Some Nutrients Too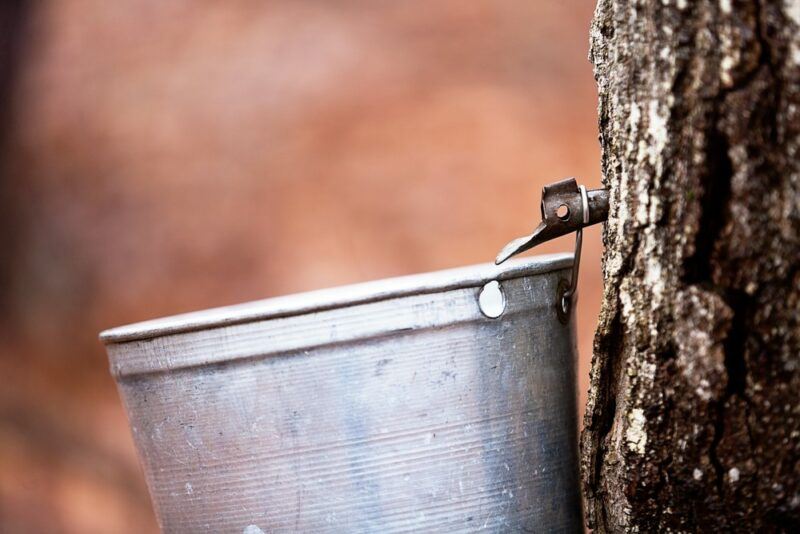 Maple syrup also contains some nutrients, including manganese, zinc, iron, B vitamins, and folic acid. Manganese is the most significant one of these, as you get around 33% of your daily manganese intake from a single tablespoon of maple syrup.
Who can deny that nutrients are important?
They're essential for many functions in our body, helping with muscle growth, energy production, immune function, bone growth, and countless more things. If we don't get enough vitamins and minerals, then our health starts to suffer and we can see any number of side effects.
Lower GI Than Sugar
White sugar hits your bloodstream very fast indeed. It has a GI of 65, so this blood sugar effect isn't surprising at all.
Maple syrup does better, as it has a GI of 54. This should mean it has a lower impact on your blood sugar than sugar does. The effect is good news for anyone with diabetes, making maple syrup a useful alternative to sugar in your diet.
May Have Some Positive Health Effects
There have even been studies linking maple syrup to specific health outcomes, like the ability to decrease cancer cell growth. These effects may come from compounds in maple syrup, including one known as quebecol.
However, this isn't an area to get too excited about just yet. Studies on this topic are often conducted in test tubes and may focus just on the active compound, rather than maple syrup itself.
This approach is incredibly limited. After all, you're never just consuming polyphenols from maple syrup. You're also consuming plenty of sugar, which is well known for having negative health effects.
Which is more powerful, the sugar or the healthy compounds? Research hasn't answered that question yet.
Why Maple Syrup Isn't Healthy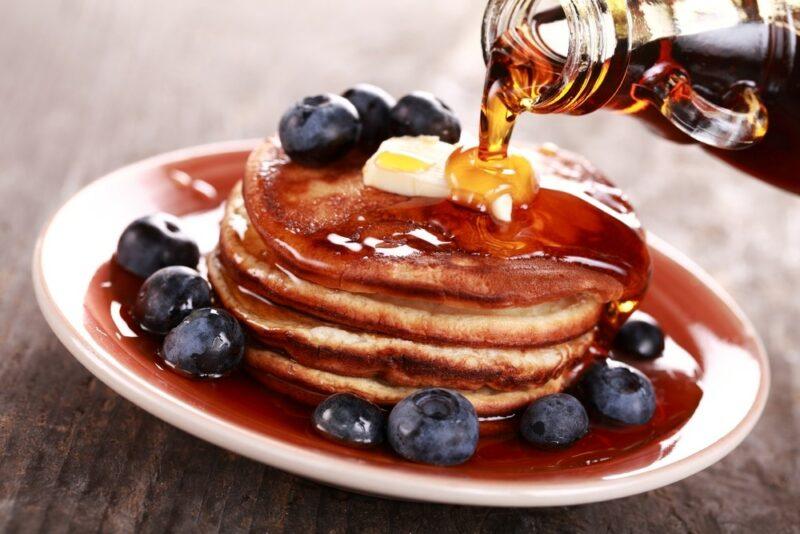 It's Still Mostly Sugar
Maple syrup has some advantages over regular sugar. Even so, it's roughly 66% sucrose (table sugar is 100% sucrose) and is still mostly sugar at the end of the day. In fact, a single tablespoon of maple syrup contains 12 grams of sugar. That's a lot.
Remember, sugar has been linked to many health problems, like an increased risk of cancer, type 2 diabetes, and heart disease, along with higher levels of inflammation and perhaps accelerated cellular aging. These are all concerning effects.
Making matters worse is just how common sugar is in our modern diets. Many of us consume much more sugar than is good for us. To improve our health, we need to cut back our sugar intake considerably and maple syrup doesn't help with this goal.
There Are Better Sources Of Nutrients And Antioxidants
When people call maple syrup healthy, they tend to focus on the nutrients and antioxidants. This isn't unreasonable, as you get these with maple syrup and not with sugar.
But… the antioxidants and nutrients aren't enough to make maple syrup good for you.
For one thing, the nutrient content is pretty low, with a tablespoon of the syrup giving you less than 1% of your daily needs for most nutrients. The levels of manganese are much more notable and you're getting more than 5% of your daily zinc needs too, but those are the only exciting nutrients.
Even the manganese and zinc don't make maple syrup worth it, as you can find these nutrients in plenty of other foods too, ones that are much lower in sugar.
Similarly, why turn to maple syrup for antioxidants when there are so many healthier antioxidant-rich foods out there? Many of those are rich in nutrients and fiber, making them more powerful all around.
Most Of The Potential Benefits Are Hyped
The single biggest issue with maple syrup is all the hype surrounding potential health benefits. Seriously, there are far too many articles that talk about the amazing benefits of maple syrup, while entirely ignoring all the risks.
There are also amazing headlines from time to time, like this one: The Magic of Maple Syrup for Preventing Cancer and Diabetes. Articles on these topics do tend to cite scientific evidence, but they take the research completely out of context and make claims that aren't supported by the original research at all.
Many of the underlying studies were funded by the maple syrup industry anyway, which raises a whole new set of questions.
Presenting maple syrup in this way is extremely misleading. Maple syrup could easily be healthier than white sugar. That much makes sense. But, that doesn't suddenly make maple syrup a type of health food.
You'd see the most benefits from maple syrup by using it instead of sugar and keeping your quantities very low indeed.
It's High In Calories
Not surprisingly, maple syrup is high in calories and can easily lead to weight gain.
This means we're talking about an ingredient that's high in sugar and calories, with low levels of nutrients. Remind me again, how exactly is maple syrup meant to improve your health?
Types Of Maple Syrup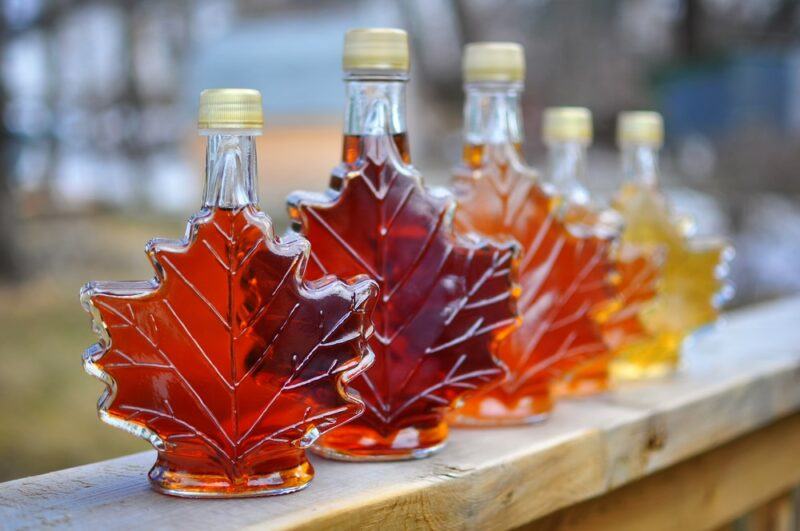 Maple syrup is graded based on color, including Golden, Amber, Dark, and Very Dark. The flavor varies along with the color, where the lighter colored maple syrups have delicate flavors, while the dark ones are strong instead.
These differences are based on when the maple syrup is harvested. You get the light versions early in the season and the darker ones later on.
The grade names have changed somewhat over time. There are also differences in grades and requirements between maple syrup produced in Canada and the United States. Some states, like Vermont, even have their own definitions.
Differences in grading can make things a little confusing. Don't worry though, maple syrup is delicious regardless of the grade. If you get stuck, try simply paying attention to the color of the syrup, this should tell you most of what you need to know about the flavor profile.
There's one other factor too – make sure that you're buying real maple syrup. Some companies produce maple-flavored syrup, which is more refined and may have high fructose corn syrup added to it.
What About Maple Water?
You may also come across maple water. This is simply maple sap itself, before it is boiled down to create maple syrup.
Maple water is often promoted as a hydration aid, similar to coconut water. It can actually be helpful too, as the drink is roughly 2% sugar, so you're getting plenty of water and a delicious flavor, without too much sugar.
Maple water also contains nutrients and antioxidants, including some that don't make it into maple syrup itself.
Some studies do show that maple water can help you hydrate and provides energy. But, we still don't know which type of water is ideal. Coconut water could easily be more powerful, as it contains nutrients too and is lower in sugar. Or, perhaps you get your nutrients elsewhere and just drink plain water.
Still… even if maple water isn't ideal, it will help to hydrate you, is lower in sugar than soda, and tastes good. These factors could be enough of a reason to drink the water regularly, particularly if you find regular water boring.
Final Thoughts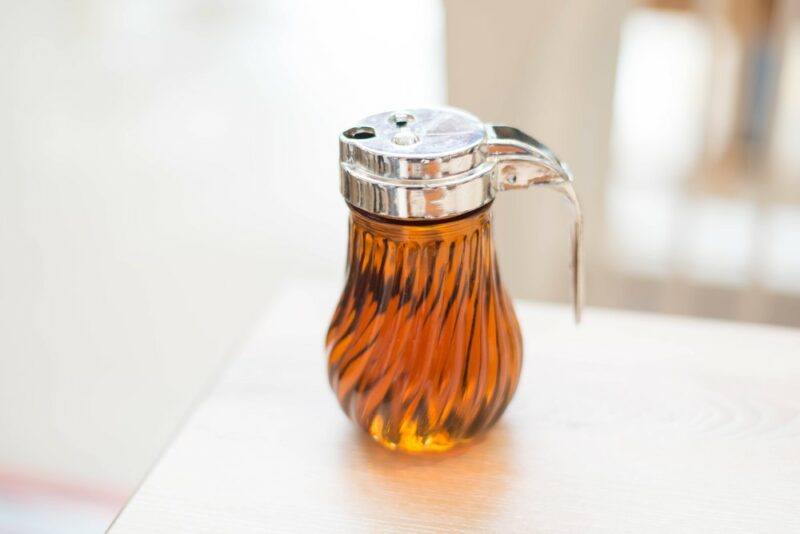 Maple syrup is more natural than regular table sugar. It offers more nutrients and antioxidants too, but it should never be considered a health food.
Seriously, calling maple syrup healthy makes no sense at all. It's a high sugar and high calorie food that is likely to cause health problems rather than helping you at all. As for the nutrients and antioxidants, remember that there are many better places to get these. Vegetables are certainly more powerful options, ones that are much lower in sugar as well.
Frequently Asked Questions
Does Maple Syrup Need To Be Refrigerated?
Unopened maple syrup has a considerable shelf life and can be kept in a dark cool place. However, once opened, the syrup does need to be stored in the fridge – as it can grow mold and often does so.
After all, maple syrup is a natural product and doesn't contain preservatives. This means that even with the high sugar content, it's still sensitive to mold.
Is Maple Syrup Gluten Free?
Maple syrup itself is naturally gluten free. You're not likely to find added gluten containing ingredients in many maple syrup products either.
Still, you'll need to be careful about where you use maple syrup, as most of the foods we traditionally top with the syrup are packed with gluten.
Is Maple Syrup Vegan?
Pure maple syrup is generally vegan friendly, although some manufacturers do still use animal fat to defoam the syrup. Others may include additives, like honey or butter flavors, which aren't necessarily vegan friendly.
Because of these issues, it's best to learn about the company making your maple syrup to make sure you're getting a vegan friendly version.
Is Maple Syrup Better Than Sugar?
Maple syrup has some slight advantages over sugar, including having a lower glycemic index, being less refined, and having a few more nutrients. However, these differences are subtle and maple syrup still has the same issues as sugar and certainly isn't good for you.
Is Maple Syrup Keto?
Traditional maple syrup isn't keto friendly at all. It can't be, as the syrup is mostly just sugar.
However, you can make keto friendly maple flavored syrup by using maple extract, a keto sweetener, and a few other ingredients. This syrup doesn't have all the properties of maple syrup, but is sweet and gives you the right flavor profile.