Honey isn't just delicious. It's often seen as being much healthier than table sugar, giving you some nutrients and antioxidants, while also being a very natural product. But, let's be honest about it, is honey good for you?
The question is an important one, as many companies are now making 'healthier' versions of their products, ones that use honey instead of sugar as a sweetener. Home bakers and cooks are taking similar approaches too, swapping out the sugar for honey and calling the finished product healthy.
So, is this pattern a good one, or are we just fooling ourselves?
Honey itself is popular too. It's delicious, especially when you choose raw honey. You can even find honey of the month clubs, which ship delicious honey straight to your door. What could be better than that?
Is Honey Good For Your Health?
What Is Honey?
Benefits Of Honey
Why Honey Isn't As Good As It Seems
Isn't Honey Healthier Because It's Natural
Types Of Honey
How Long Does Honey Last?
How To Use Honey
Final Thoughts
What Is Honey?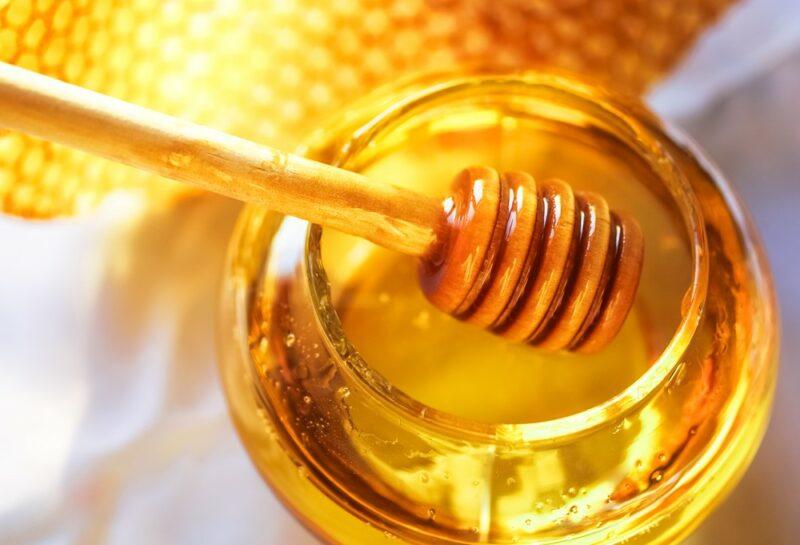 Honey is a sweet syrup produced by bees. The bees first collect and consume nectar. It's then digested and later regurgitated to create honey. There are other steps too, as the honey is stored in honeycombs, so it needs to be gathered and then processed by beekeepers.
While the first part of the process doesn't exactly sound pleasant, honey is delicious enough that most of us are prepared to entirely ignore the nitty gritty of its creation.
There is plenty of variation in the final flavor, texture, and appearance of honey. This is influenced by processing methods and the specific flowers that the bees source their nectar from.
So, if you're interested in honey for its flavor, why not do some experimenting? Try some different types for yourself to see which you enjoy the most.
Benefits Of Honey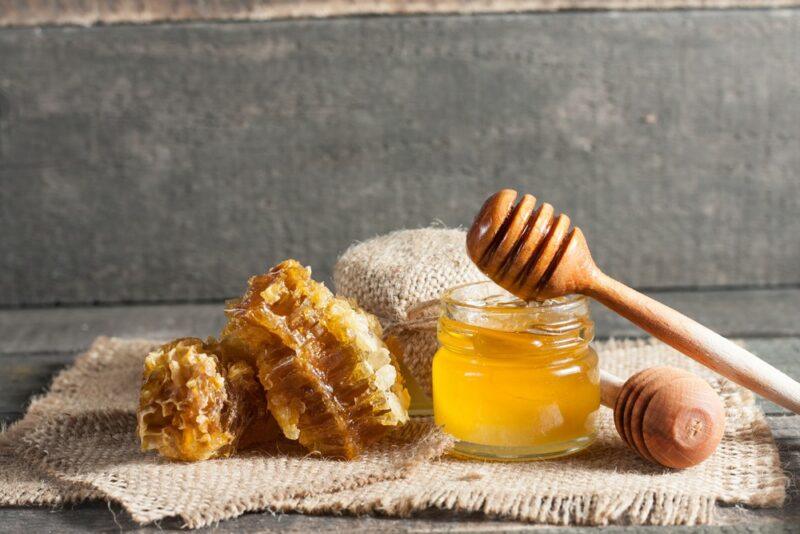 Contains A Variety Of Helpful Compounds
While regular table sugar contains little more than the sugar itself, honey is more complex. It contains small amounts of various nutrients, including B vitamins, calcium, and zinc.
These nutrients come from the soil that the plants grow in, so they vary depending on the type of flowers that a given type of honey uses and may be influenced by how it is processed too. But, as a general rule, darker honey will be more nutritious than pale honey.
That's not all. Honey is also a source of antioxidants. Antioxidants can be important for fighting free radical damage in the body and improving health. Having an antioxidant rich diet might even decrease your risk of some diseases.
Honey Is Sweeter Than Sugar
Honey tends to be sweeter than sugar. This means you can get the same amount of sweetness from a smaller serving, which is helpful when you're worried about calories.
In fact, if you use honey in baking, you'll often be using 1/2 or 3/4 of a cup of honey for every cup of sugar that the recipe originally contained. While the resulting difference in calories and sugar won't be dramatic, it can still add up.
Darker varieties of honey tend to have a more intense flavor. So, if you're using honey for its flavor rather than sweetness, dark honey can be perfect – allowing you to use less honey per serving.
Can Soothe A Cough
Honey is often used to soothe a sore throat or a cough. Even just taking a spoonful of honey can be helpful or you can turn to a soothing drink with honey instead.
This effect isn't just an old wife's tale either. There's even some research that shows that even just a single dose of honey is effective for reducing coughs in children.
Besides this, the flavor and soothing nature of honey make it an easy choice when you're feeling sick.
Choosing a type of honey with high antibacterial properties, like manuka honey, might be more effective when you have a sore throat or a cough. However, manuka honey is expensive and you might not like the flavor. Plenty of people have seen success with other types of honey, so you can choose whichever one you enjoy the most.
May Help With Allergies
Some types of raw unfiltered honey could theoretically help with seasonal allergies. Wildflower honey is commonly recommended for this effect.
However, it isn't the type of honey that is relevant to allergies. It's the pollen that you find in raw honey that may help with your allergies. Basically, the pollen gives you some exposure to pollen without triggering allergies, which could then decrease your sensitivity to airborne pollen.
Just be aware that this effect isn't consistent. While many people are enthusiastic about using honey to help with allergy symptoms, plenty of others haven't seen benefits at all. You'll need to try for yourself to see whether honey is helpful.
Why Honey Isn't As Good As It Seems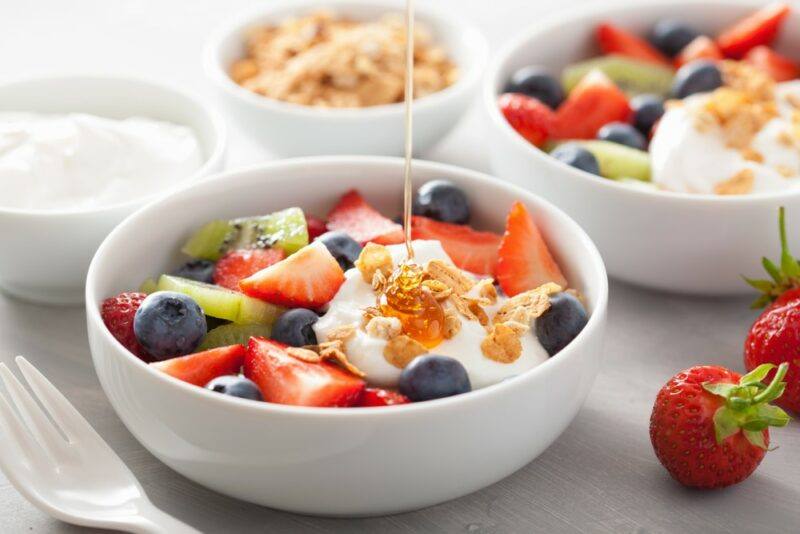 It's Still Sugar
Honey may well be superior to refined sugar, offering a better flavor, more nutrients, and some antioxidants. But, saying that honey is better glosses over one critical fact – that honey still isn't that good for you.
I mean, let's be honest here. A 21-gram tablespoon of honey contains 17 grams of sugar and insignificant amounts of fat, protein, and fiber. Honey really is mostly sugar. There's no way around that,
That sugar might be a little better for you than the refined sugar that's added to processed food, but not by a huge amount. It's still sugar and diets high in sugar are still linked to many health problems, including obesity, inflammation, increased risk of type II diabetes, and countless other issues.
For that matter, when honey is used in a recipe or in processed foods, it's still seen as added sugar.
The American Heart Association recommends no more than 25 grams of added sugar per day for women and 36 grams for men. You're shockingly close to that limit with even just one tablespoon of honey.
There Aren't Many Nutrients
Earlier on, we mentioned that honey contains some nutrients, antioxidants, and other helpful compounds. While this is true, your nutrient intake is still very low.
After all, honey is largely just sugar. You're getting less than 1% of your daily intake for all of the nutrients that are present – and honey certainly won't help you hit any nutrient targets.
You'd need to use a lot of honey for those nutrients to be meaningful. If you did that, you'd be consuming far too much sugar.
Honey Isn't Always All Natural
Some brands of honey are definitely better than others. If you want the most benefits from honey, you'll need to look for brands that are minimally processed and don't use any additives.
Orange blossom honey is a good example of this issue. This type of honey is delicious, with a notable citrus scent and taste. However, many companies add artificial flavors to make the honey seem more citrusy.
When additives are used, orange blossom honey tends to have a perfumed quality. Unfortunately, you won't notice this until after you've opened the container. To get around the issue, look for brands that say the honey is raw and unfiltered.
Some low quality products might not even be pure honey. Some even dilute the honey and add sweeteners to hide the dilution.
It Isn't Safe For Babies
While honey is safe for most people, it should never be given to babies who are less than one year old. This is because honey can contain spores that can lead to botulism and potentially cause severe illness in babies.
Honey tends to be safe once babies have reached 12 months, as their digestive system has developed enough to combat the bacteria.
Isn't Honey Healthier Because It's Natural?
Honey can seem like a healthy choice as it isn't very refined and hasn't been messed around with chemically. It's certainly much more natural than the high fructose corn syrup that you find in many modern foods.
Yet, as some experts point out, this distinction doesn't mean as much as you might think. All calorie-containing sugars are technically natural. They came from a plant at some point or another, even if they've been processed.
This is why honey is still called an added sugar.
If you see health recommendations say that natural sugars (or naturally occurring sugars) are fine, they're not talking about honey, agave syrup, or any similar ingredient.
Instead, they're talking about the sugar found in whole foods, including fruits and vegetables. That sugar is generally a safer choice, as you're getting plenty of fiber and nutrients at the same time. Plus, the amount of sugar is often low compared to other components of the food.
Types Of Honey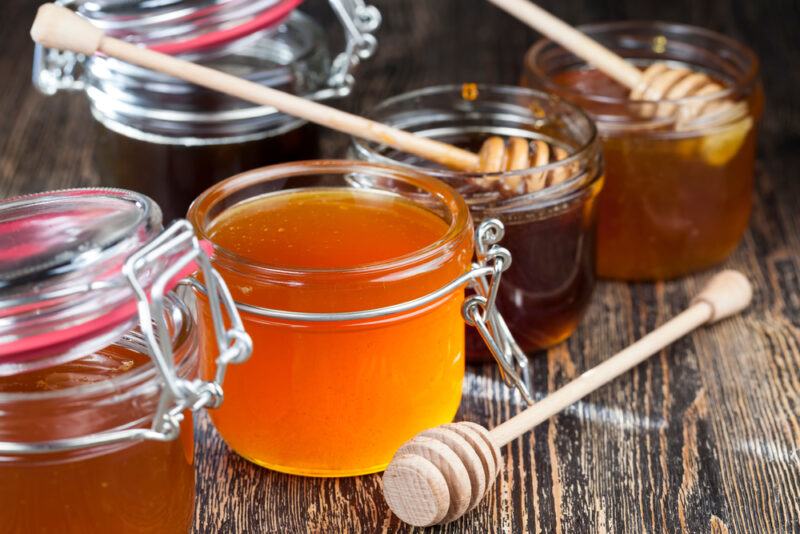 Differences in the flowers used for nectar and in processing methods create the wide range of honey varieties that you see today. Some are healthier than others and there's also variation in flavor.
Knowing the different types and what you're looking for can help you to choose the best honey every time.
Monofloral Honey
This is also called unifloral or varietal honey because it comes from a single type of flower. Such products will normally use the name of the variety somewhere on the name, like clover honey, buckwheat honey, and orange blossom honey.
Manuka honey is probably the most famous honey varietal. It is a dark honey with a rich flavor that's mostly popular for its potential health benefits. The honey is thought to help with wound treatment and decreasing inflammation. It also has distinct antibacterial properties.
However, the fame of manuka honey and the fact that it's generally imported from New Zealand means that the honey is often very expensive. As such, it mightn't be the best choice for your day-to-day honey use.
Clover honey is a popular choice in the United States. It is both light, sweet, and mild enough to be used in almost any situation. Clover honey is also relatively inexpensive, so you can use it regularly without a problem.
Multifloral Honey
You guessed it, multifloral honey uses nectar from multiple types of flowers. This often means that the flavor is less distinct than monofloral honey, which is sometimes appealing.
Wildflower honey is one of the most common multifloral options. It uses nectar from various wildflowers. While the flavor and color varies depending on the specific flowers used, you often end up with a light and sweet flavor.
Also, if the honey's packaging doesn't specify which flowers the honey comes from, you're almost certainly looking at a multifloral product.
Honeydew Honey
This is a multifloral honey, but it's also unusual, as the nectar isn't sourced from flowers. Instead, the nectar may come from sap sucking insects, or from the leaves, bark, and stems of trees that produce nectar.
The honey tends to be darker than regular types of honey. You may also see it called forest honey from time to time.
Raw Honey
Raw honey is simply honey that hasn't been filtered or heat treated. The honey is in its natural state and may be much healthier because of this.
Raw honey is easy to spot, as it tends to be cloudy, will crystallize quickly, and often has bits floating in it. None of these differences are bad. In fact, the extra bits in raw honey include beeswax, propolis, and pollen, all of which could promote your health.
You may also notice the flavor. The lack of processing allows the differences between honey varieties to truly shine. Try a few different types of raw honey and you'll see what we mean.
Some local companies even have samplers that give you small jars of several different types of honey – more than enough to experience these differences yourself.
Grocery Store Honey
Grocery stores stock many different types of honey, so there's plenty of variation here. Some brands, particularly honey that looks clear and beautiful, use ultrafiltration techniques. Filtering the honey in this way makes it much smoother, but does remove even more of the beneficial components.
You'll often find multifloral honeys that have been filtered and pasteurized. That combination of approaches often creates a uniform flavor, which is why one brand of grocery store honey often tastes similar to another.
One of the clearest indications is when the product label doesn't offer any details about the flowers that were used for nectar.
Also, be careful of cheap honey. Paying little for honey might sound like a good deal, but when you're dealing with low quality brands, there's an increased risk that you'll end up with contaminated or adulterated honey. Some companies even go as far as to water down their honey and add sweeteners, so that they make more money.
Creamed Honey
While creamed honey looks processed, this isn't always the case. Instead, many companies take advantage of the way that honey naturally crystallizes.
In essence, creamed honey is just crystallized honey where the crystals are very small. Creamed honey is often soft enough to spread. If it's not, just heat it a little in the microwave or in a water bath. This will soften it enough so you can easily use it.
Honey Blends
Honey has a legal definition. According to the FDA, honey is "a thick, sweet, syrupy substance that bees make as food from the nectar of plants or secretions of living parts of plants and store in honeycombs". Trace amounts of pollen and the like may be present too, but anything else isn't permitted.
So, if the product also contains another type of sweetener, it shouldn't be labeled as honey. You'll sometimes see the term honey blend used instead.
To be on the safe side, check the ingredients label for any product that isn't simply called 'honey'. This way you'll know exactly what you're getting.
Organic Honey
Finally, there's organic honey, where all of the flowers the bees are gathering from are organic. This is difficult in practice, as bees can fly for up to 2 miles in any direction.
Plus, as with other types of organic product, there's no guarantee that organic honey is better for you.
Because bees are so wide-ranging, organic honey isn't often produced in the United States. It tends to be imported instead. Unfortunately, many of those imported honeys are pasteurized or heavily filtrated. To get the most benefits, you'll need to focus on honey that isn't just organic, but is also raw and unfiltered.
How Long Does Honey Last?
Honey is incredibly unusual, as it's one of the few foods that can literally last a lifetime. You don't even need to put it in the fridge.
The only thing that time will do to your honey is crystallize it. Don't worry though. Crystallization doesn't mean that there's something wrong with your honey. It's a natural process, especially in cooler environments.
Making your honey liquid again is easy. You just need to heat the honey up a little and it will go back to normal. You can even do so while it's still in the jar.
How To Use Honey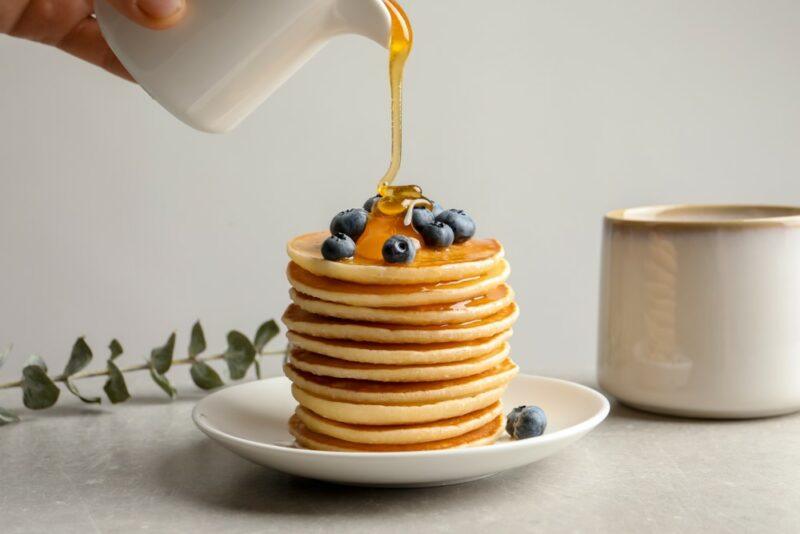 Honey is a popular ingredient in many recipes. However, it can be a little tricky, as honey tends to be sticky.
You can make things easier by buying honey in a squeeze bottle instead of in a jar. However, squeeze bottle honey is more likely to be filtered and pasteurized, and may be of lower quality. If you want raw honey, you'll probably find it in a glass jar instead.
One great trick is to spray your spoon or measuring cup with cooking spray before scooping out any honey. This prevents the honey from sticking and makes your life much easier.
You don't need to focus on recipes that use honey either. You can often substitute the sugar for honey. However, honey is sweeter, has a stronger flavor, and more moisture than sugar, so you won't ever make a 1-to-1 replacement.
Instead, for baking, using 1/2 or 1/3 of a cup of honey for each cup of sugar often works well. You'll also need to reduce the moisture by roughly 1/4 of a cup per cup of sugar in the original recipe. Finally, you may need to decrease the oven temperature and add baking soda.
Because there are so many things to think about, you might need to experiment before you get the perfect result. Or, to make things easier, look for recipe creators that include details about using honey instead of sugar.
Final Thoughts
Honey does have plenty of good features. It's delicious, natural, and contains more nutrients, antioxidants, and other powerful compounds than sugar.
Still, it would be a stretch to say that honey is good for you. The sweet treat is still mostly made up of sugar. Plus, let's be honest, you're not getting that many nutrients for the amount of sugar and calories that you're consuming.
This doesn't mean you need to avoid honey entirely. Instead, it's best to think about it as a treat, one that you might use occasionally. And, whatever you do, don't think of honey as a health food. It contains far too much sugar to earn that title.