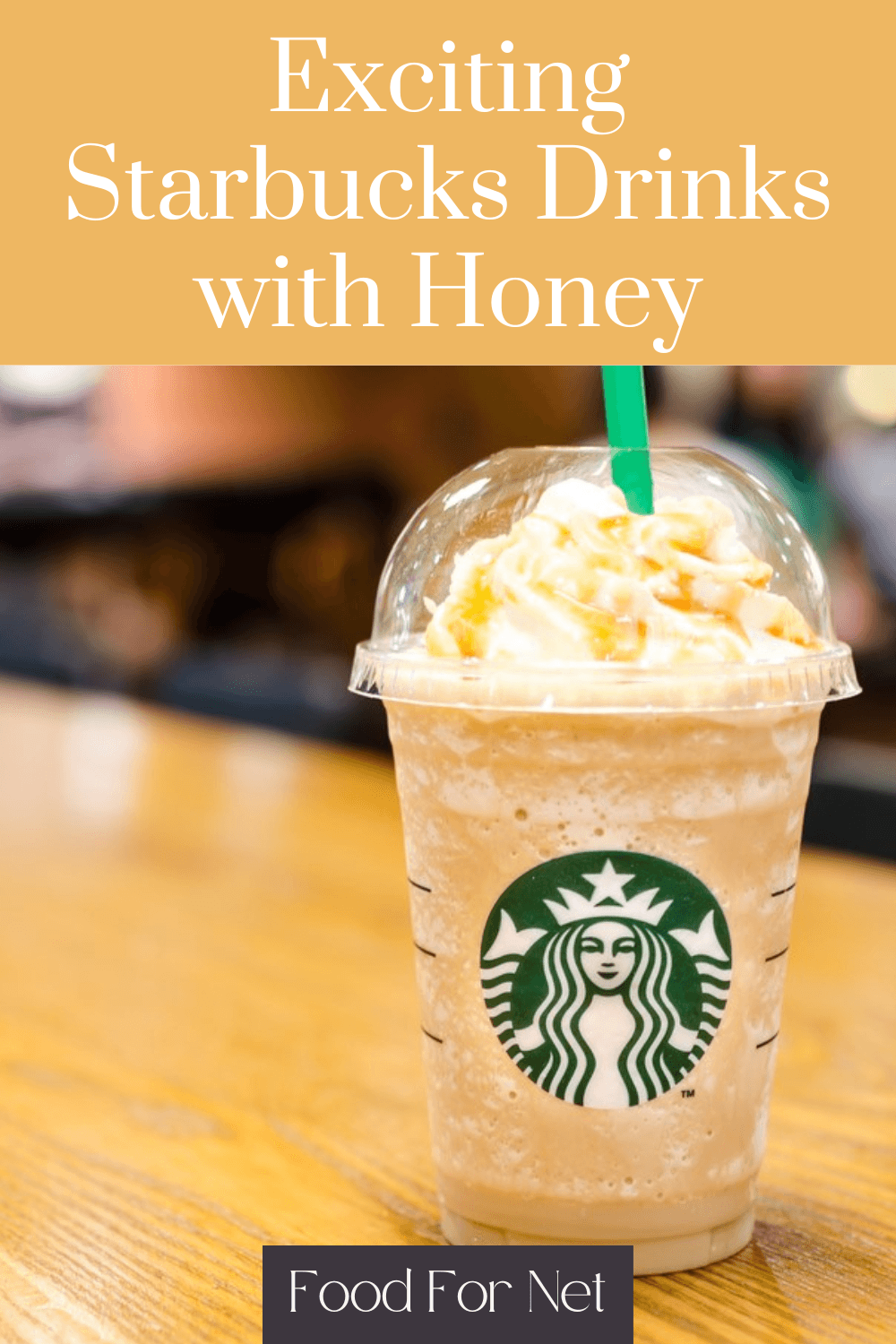 If you want a fancy coffee drink, few companies are more famous than Starbucks. The giant chain typically uses sugar to sweeten their drinks, but there's a surprising number of Starbucks drinks with honey as well. These offer new flavors and could even be a little healthier than their regular entries.
Some of these are official Starbucks drinks that they advertise in stores and on their site. Others are off-menu drinks that customers have designed themselves. There's plenty of variation in complexity too, including some simple and familiar drinks, plus others that are pretty difficult to order.
Don't forget that Starbucks allows for a ton of customization. This makes it easy to tweak any of these drinks or design your own.
If you're customizing a Starbucks order, there are two main honey options. The first is to simply have honey instead of sugar, which will give you the strongest honey flavor. You can even request honey packets. These shouldn't cost anything extra at all.
There's also a honey blend. Unlike the honey packets, this isn't pure honey at all. Instead, it's a honey blend – made from roughly 64% honey plus water and some additives. The extra ingredients change the flavor profile a bit and make the honey easier to use via a pump.
P.S. If you don't find a drink you love on this list, why not experiment with homemade healthy honey drinks? There are plenty of delicious options with different flavors than you'll see in the drinks from Starbucks.
Starbucks Drinks With Honey (Plus Pictures!)
Honey Bee Cold Brew

The Honey Bee Cold Brew is the most famous honey drink that Starbucks currently offers. But, it's not one of their main drinks at all. Instead, it's a customer creation that's become increasingly famous.
The drink is made using the classic cold brew from Starbucks, sweetened with a pump of vanilla syrup and two pumps of honey syrup. That's it for the drink itself, but it's typically then topped with a little almond milk, some vanilla sweet cream foam, toasted honey (if available, as only some locations offer this), and drizzled honey.
There's a ton going on with this drink, yet it tastes amazing. Plus, it's becoming popular, so you might be able to order it just with the name Honey Bee Cold Brew.
Honey AlmondMilk Cold Brew

The Honey Almondmilk Cold Brew is much simpler than the Honey Bee version. It's just a cold brew coffee with a touch of almond milk, ice, and two pumps of honey syrup.
The sweetness of the honey syrup is a great offset to the intensity of the cold brew. But, because this is honey syrup rather than pure honey, the drink isn't sickly sweet. You might even find that the sweetness is almost perfect.
Honey AlmondMilk Nitro Cold Brew

The Honey AlmondMilk Nitro Cold Brew is similar to the previous entry. Well, honestly, it's almost identical. The main difference is that Starbucks's nitro cold brews are higher in caffeine than their regular cold brew coffee.
While both versions of this drink rely on almond milk, you can easily tweak this. Starbucks has plenty of other options, including coconut milk, half and half, heavy cream, oat milk, and more. All these types of milk should taste fantastic with the honey syrup.
Honey OatMilk Latte

If you want a hot drink instead, the Honey Oatmilk Latte from Starbucks could be perfect. The style is obvious from the name alone – it's a latte made using oat milk and sweetened with honey.
Interestingly, this version still uses the honey blend rather than true honey. There are three shots of the honey syrup this time, which gives you a slightly sweeter drink.
Once again, you could easily ask for a different type of milk. The coffee might even be delicious using dairy milk, rather than a plant-based alternative.
Honey Bun Cold Brew

This off-menu Starbucks drink starts off with a large Honey Almondmilk Cold Brew and just adds two pumps of sugar free cinnamon dulce. The cinnamon adds a fantastic flavor tone to the drink, making it taste like a sweet cinnamon roll.
Plus, because the recipe uses sugar free syrup, it's a low calorie drink.
Cinnamon dolce is just one option. Starbucks offers plenty of other syrups as well and each adds something to the drink. Why not experiment with caramel syrup or even hazelnut syrup? You might discover a brand new favorite.
Caramelized Honey Latte

Here's a slightly unusual one. The Caramelized Honey Latte from Starbucks relied on a caramel honey syrup that was mixed with Starbucks espresso, with steamed milk on top.
The combination of honey and caramel is much more interesting than simply honey and coffee. Starbucks doesn't seem to offer this drink in store these days, but they do have a recipe for preparing it at home – using a tablespoon of caramel sauce and a tablespoon of honey.
I can't help but think that this coffee would also be excellent with salted caramel sauce. The salted caramel would add extra contrast to the drink and stop it from tasting too sweet.
AlmondMilk Honey Flat White

This is a pretty obvious drink from the name alone. It combines espresso with steamed almond milk and three pumps of honey blend. The honey blend provides extra sweetness that offsets the intensity of the drink.
This is a fantastic drink if you find that lattes are too milky and want something with a bit more kick to it. Also, because this recipe uses honey blend rather than straight honey, the sweetness isn't too overwhelming.
Iced AlmondMilk Honey Flat White

The Iced Almondmilk Honey Flat White is very similar to the previous entry. The main difference is that it's served as an iced drink rather than a hot one.
This change is perfect in the warmer months, as it's sometimes tough to drink a hot coffee when the weather is scorching. The drink is also a nice riff on a regular iced coffee. The touch of honey is just enough to create a more exciting drink without making it too unfamiliar.
Honey Nut Macchiato

The Honey Nut Macchiato is another entry on the Starbucks so-called Secret Menu. It's basically a Caramel Macchiato that uses chestnut praline syrup instead of vanilla syrup and has a packet or two of honey drizzled on top.
This recipe gives you a very sweet drink, as the macchiato is already topped with caramel. As such, this is a drink best reserved for those with a serious sweet tooth.
The coffee will often be served as a hot drink, complete with whatever type of steamed milk you prefer. However, it's easy to have it as an iced coffee instead. The iced version is just as good, especially when it's sizzling outside in the summer.
Honey Hazelnut Oat Latte

This treat from Starbucks is most common in the U.K., although you may be able to order it closer to home as well. It offers a nice twist on the other drinks, as it includes flavors of oats, honey, and hazelnuts. It's even topped with a caramel drizzle.
The coffee isn't very intense in this drink, so the other flavors really shine through. There's plenty of sweetness, meaning that this drink will be heaven for some people and a poor choice for others.
If the original version is too sweet, you could try making a copycat one at home. Some recipes, like this one from lifestyleofafoodie.com, provide instructions for how you can tweak the sweetness and create the perfect balance of flavor.
Honey Nut Cheerios Frappuccino

This secret menu addition from Starbucks is perfect if you want something decadent – because it truly is an intense drink. It starts off as a Grande Coffee Frappuccino, which then has a packet of honey and a pump of hazelnut syrup.
And, if all that wasn't enough, the drink is topped with whipped cream, caramel crunch topping (if available), and another packet of honey drizzled over the top. It's hard to get more decadent than that.
A few people even suggest having this coffee for breakfast, probably because it highlights those classic Honey Nut Cheerios flavors. You could, but it's a seriously sweet drink that's likely to give you an energy spike, followed by a crash.
On a side note, the honey flavors are more intense in this drink than in most others on this list – as it relies on packets of honey instead of the honey blend.
Honey Citrus Mint Tea

This drink started off as a customer creation called Medicine Ball. It's now become so popular that Starbucks promotes the drink themselves – except they call it Honey Citrus Mint Tea.
The drink relies on two types of tea: Jade Citrus Mint Green Tea and Peach Tranquility Herbal Tea. These are combined with hot water, steamed lemonade, and two pumps of honey blend.
The use of green tea and herbal tea means that this drink is much lower in caffeine than any of the coffee drinks on this list. It could also be an excellent choice if you have a cold (hence the name medicine ball). Also, like many drinks from Starbucks, you can easily order this one hot or cold.
Winnie-the-Pooh Frappuccino

This drink was actually created by a Starbucks barista, although it isn't an official Starbucks drink at all. Instead, the Winnie-the-Pooh Frappuccino starts off with a Vanilla Bean Frappuccino, which then has a pump of cinnamon dolce syrup and honey added.
That's not the end of it, as the drink is also served in a cup with caramel drizzle, that is topped with whipped cream and cinnamon. Not surprisingly, these additions make the drink quite different from the traditional Vanilla Frappuccino.
You might even be able to request this one by name, but don't hold your breath – as only some baristas will know what you're talking about.
Honey Peach Freeze

The Honey Peach Freeze is another secret menu drink that some baristas may know and others won't. It uses Blended Lemonade as the base drink, which is mixed with peach juice and a little guava juice. The drink is also topped with vanilla sweet cream foam, followed by toasted honey topping.
There's one more step beyond all of this – having the inside of the cup striped with agave syrup. This provides even more flavor complexity and makes the drink truly exceptional.
Girl Scout Thin Mint Cookie Frappuccino

This Frappuccino has a lot going on. The flavors are quite close to a Girl Scout Thin Mint in some ways, but completely different in other ways.
Strange as it may seem, the drink starts with a Matcha Green Tea Crème Frappuccino. You then need to add a pump of mint syrup, two of chocolate syrup, some java chips, and honey.
While chocolate and mint flavors dominate this drink, the honey is noticeable too, especially as the coffee relies on honey itself instead of honey syrup.
Honeycomb Frappuccino

Finally, there's the Honeycomb Frappuccino. This is a much simpler drink, as it's just a White Mocha Frappuccino with honey packets.
Interestingly, Starbucks did also produce a pre-prepared Golden Toffee Honeycomb Frappuccino, which appears to include honey flavor notes. While this doesn't have the texture of a Frappuccino, you can freeze the bottle for a few hours to create a frosty version.