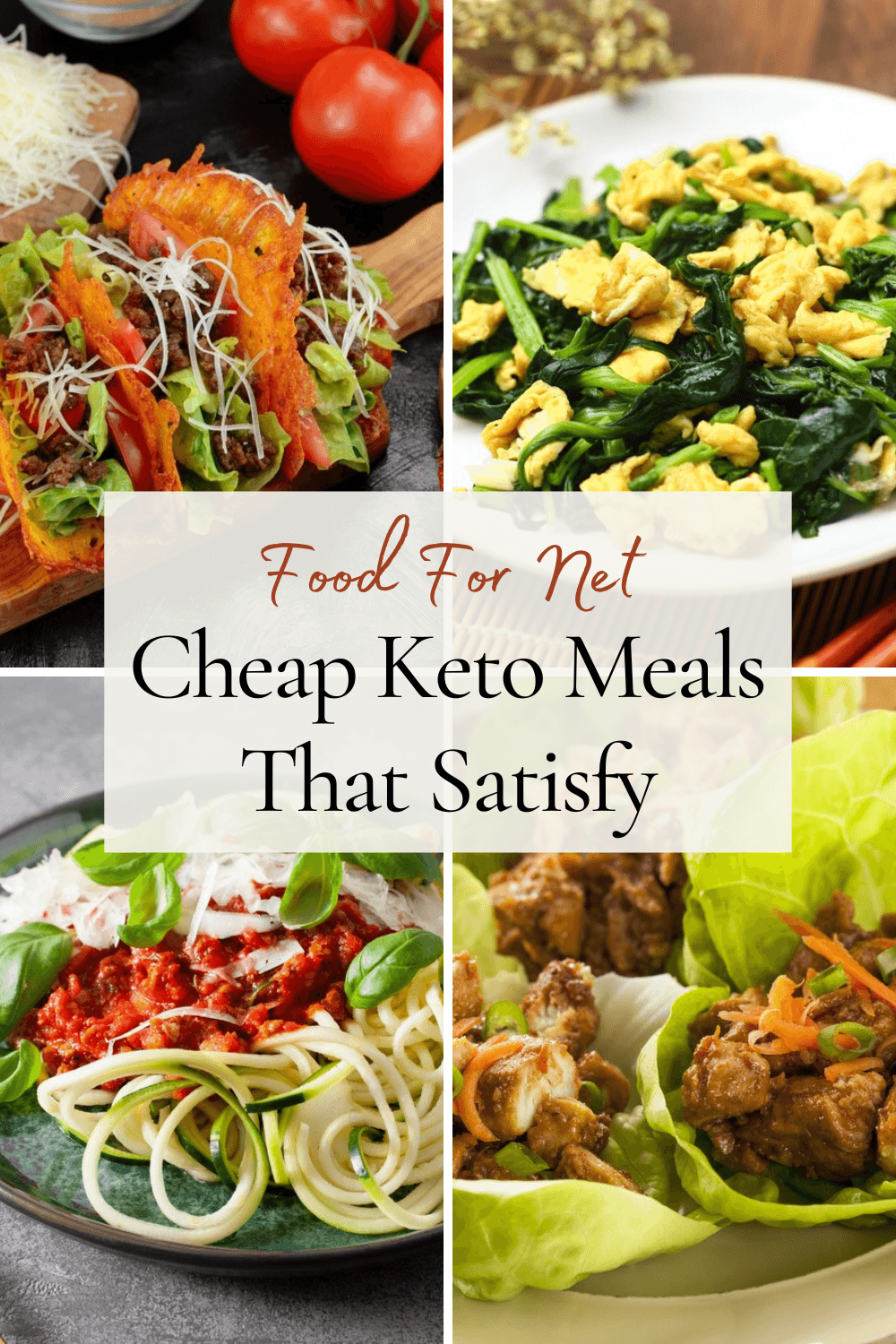 Food prices often make it difficult to eat well, especially when your income is low. Following a keto diet on a budget is even more challenging, as some classic inexpensive ingredients (like beans and rice) won't fit into your macros. So, what are the cheapest keto meals?
Obviously, the price will depend on where you are located, what's in season, and the current specials. Even so, there are plenty of inexpensive meals that you can make a part of your regular routine.
Don't forget that you can also take regular cheap dishes and tweak them to create keto friendly versions.
P.S. If you need meals quickly, why not experiment with meal kits? These aren't as low cost as the meals on this list, but all the planning and some of the work has been done for you. There are some surprisingly cheap meal kits out there, along with keto friendly companies.
Even non-keto meal kits may be viable though, as you can tweak the recipes to make them match your macro needs.
Cheapest Keto Meals (With Pictures!)
Cheese Omelet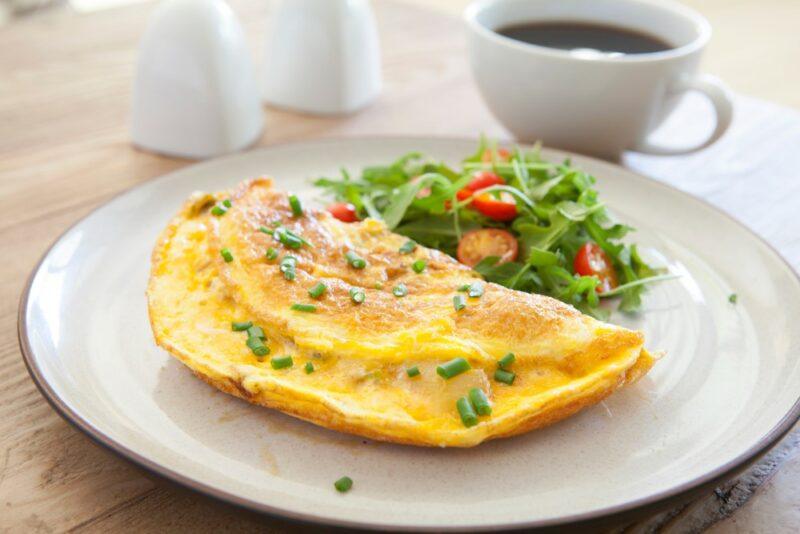 Cheese and eggs. What could be simpler than that? The dish is also excellent for keto dieters, as it gives you a good balance of fat and protein.
In fact, you'll see eggs feature on many low cost keto meals. They're not the cheapest ingredient, but they're easy to use and are exceptional value for money.
Of course, a cheese omelet is just the starting point. You can easily add to this dish. Fresh seasonal vegetables are a great way to add nutrients and flavor to your omelet, without increasing the price too much.
Chicken Keto Fajitas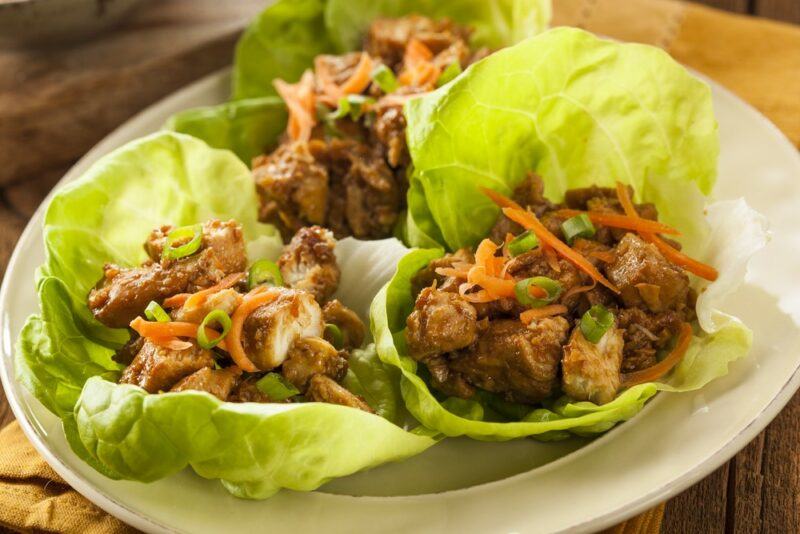 Chicken fajitas are an excellent go-to cheap meal. To include them on keto, you simply need to cut out the tortilla and keep an eye on the other ingredients.
The easiest approach is to simply use a leaf of lettuce instead of a tortilla. The lettuce is excellent with the other ingredients and is very low in carbs. You can use many traditional fajita ingredients or experiment with new additions. Seasonal produce is a great go-to, as it is often inexpensive. You might even grow some of your own.
Meatloaf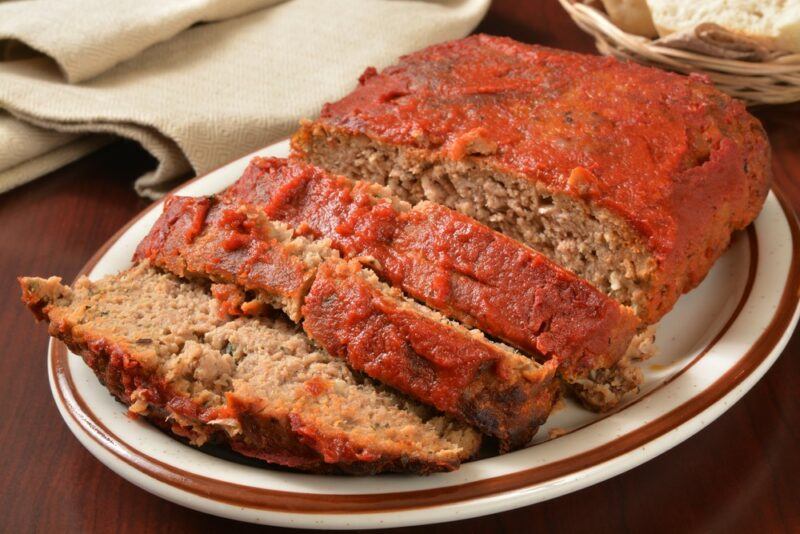 Meatloaf is a classic meal when you're on a budget. It's an excellent source of protein, is pretty cheap to make, and uses familiar ingredients.
The dish works pretty well on a keto diet too. The main change is that you need to drop the classic breadcrumbs and find something to replace them with. Almond flour works well as an alternative, although some people use ground pork rinds instead, which are even closer in texture.
For a full meal, try serving meatloaf with cauliflower rice or another low carb side.
Keto Lasagna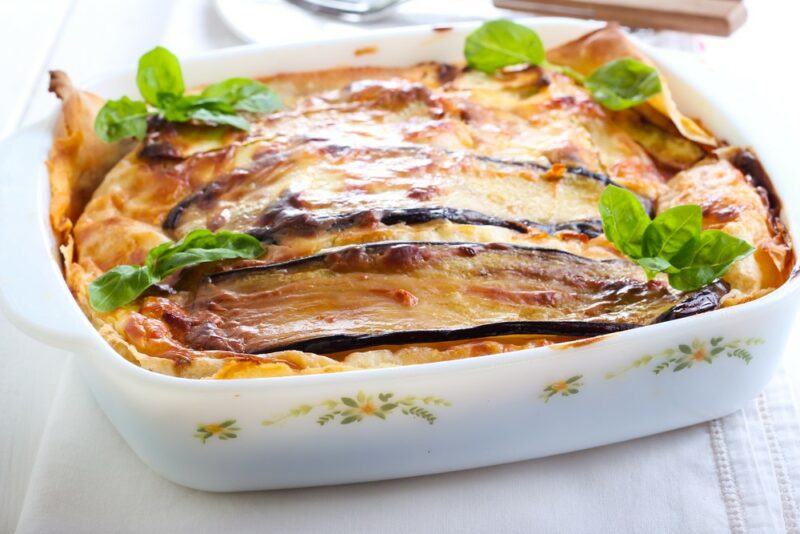 You can make a low carb version of lasagna by using mushrooms mixed in with the meat, then eggplant to mimic traditional lasagna layers. Minced beef works well here, but you can swap this out for minced pork if that's more affordable.
Remember that you can save even more money by buying meat when it's on special. Keep an eye out for deep discounts, like a day or two before the meat is going to expire.
Eggs And Spinach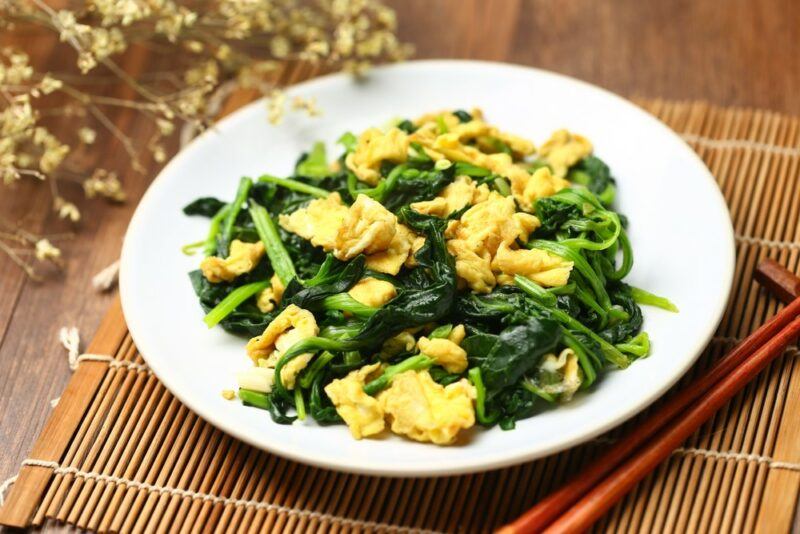 Eggs and spinach is a simple yet effective combination. It's packed with nutrients and you get a decent amount of protein from the eggs as well.
Like most dark leafy greens, spinach is naturally low in carbs and acts as a great source of fiber. The fiber is incredibly important, as it's easy to cut your fiber content down too low when you're following a keto diet.
If you need a little more to this dish, try adding some bacon. You can often find this for a relatively low price, especially if you shop around for specials.
Rotisserie Chicken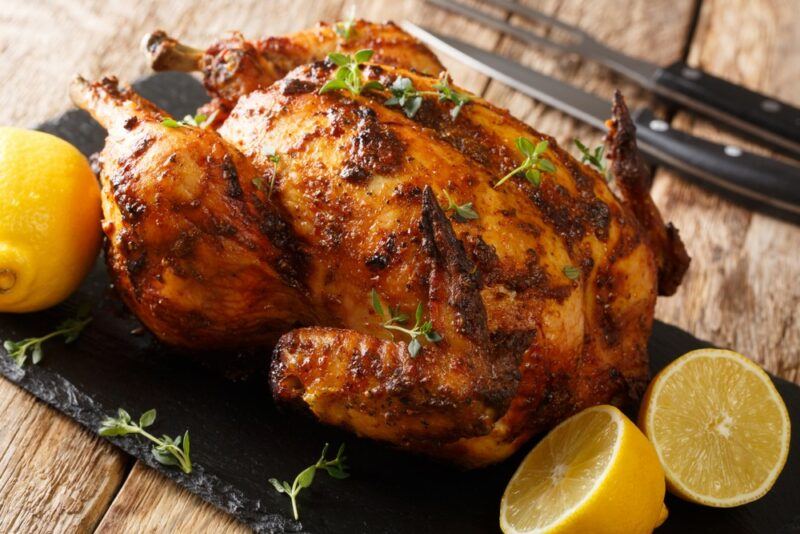 Rotisserie chicken is often sold as a loss leader at grocery stores, so it's often very cheap indeed. Not only does the macro balance work well for keto dieters, but the chicken is also already prepared for you. It's hard to get better than that.
While chicken isn't a meal on its own for most people, it is an excellent starting point. You could easily serve it with a keto friendly side, like a broccoli salad, cauliflower rice, or some asparagus.
Garlic Chicken With Broccoli And Spinach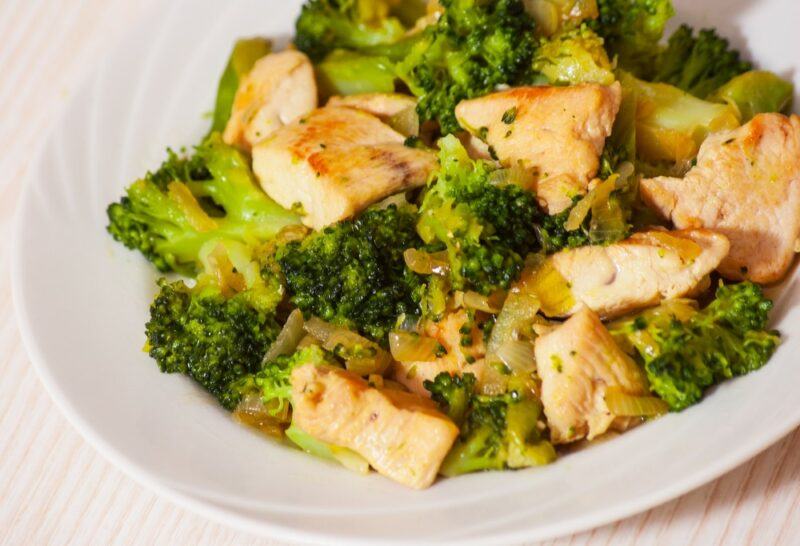 This dish combines chicken with two keto friendly vegetables, plus a little garlic. The garlic adds some extra flavor and brings everything together well.
Most recipes rely on chicken breast or occasionally chicken thighs. However, you could easily make a version using leftover rotisserie chicken instead.
Chicken Mushroom Casserole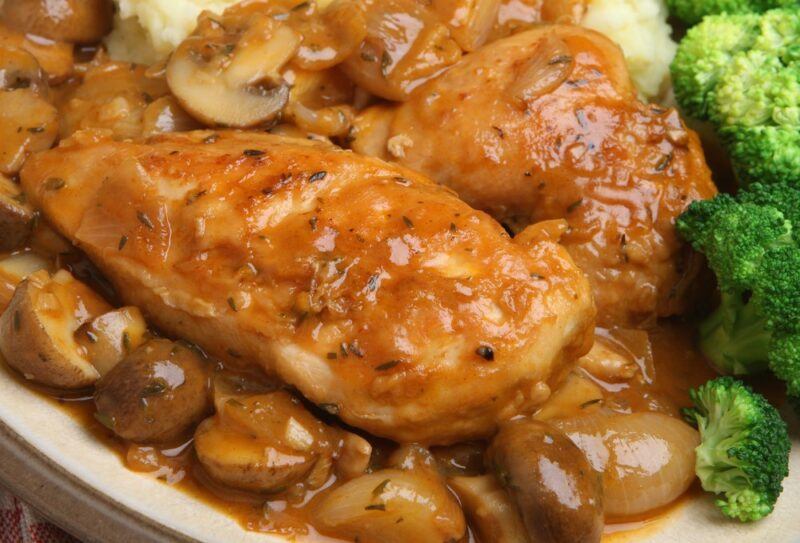 A chicken mushroom casserole is another easy way to use chicken on a keto diet. One approach involves using chicken breasts (or thighs), plus cream, fresh mushrooms, butter, and flavoring ingredients.
However, you could easily cut the costs down by using a different type of mushroom sauce or even relying on canned mushrooms. Why not experiment and see what you can come up with?
Spaghetti Bolognese With Zoodles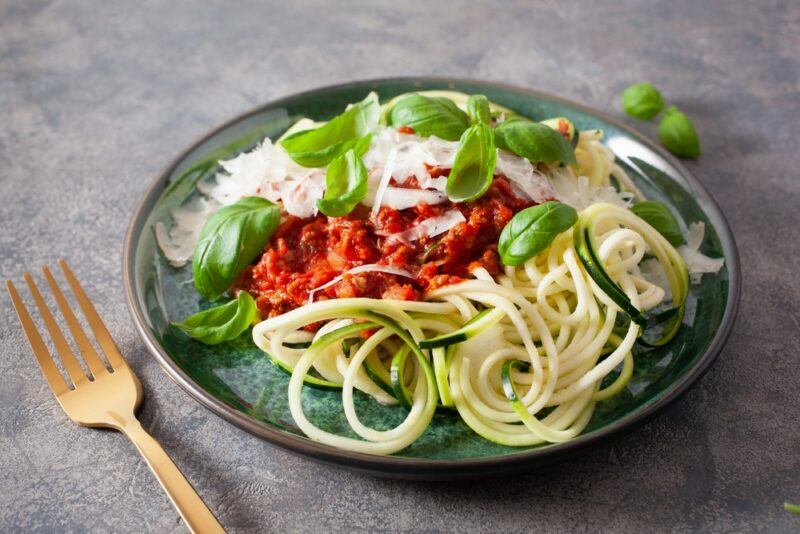 Spaghetti bolognese is a popular budget dish and you don't need many tweaks to create a keto version. The main difference is to swap out the regular noodles for low carb noodles instead.
If zucchinis are in season, you can use these to make zoodles, which are a cheap low carb option. Alternatively, you can turn to a prepared product, like shirataki noodles. While these cost a little more, the pricing isn't too bad at all.
Pulled Pork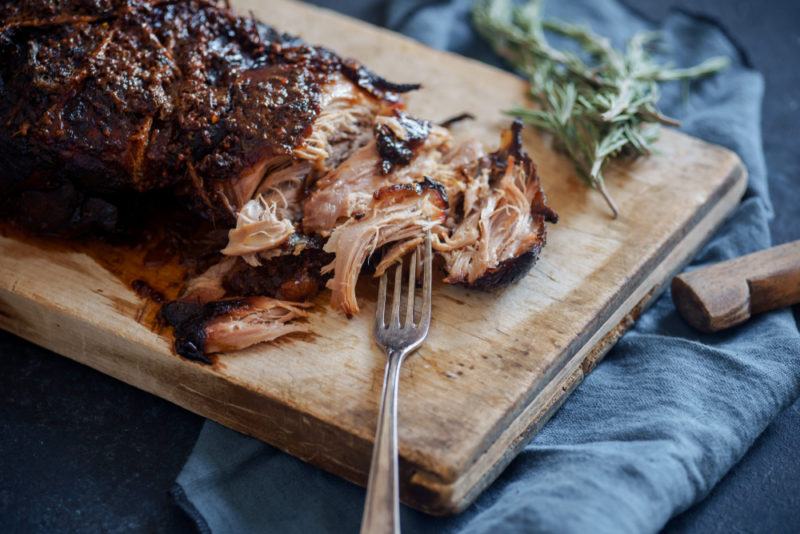 Pulled pork is fantastic, as you can often make it from a cheap cut of meat (ideally one that's on special). Cook it in the slow cooker for long enough and you'll get a tender fall apart piece of meat that tastes wonderful.
You can then use the pulled pork in countless dishes, like making a keto burrito, pairing it with cauliflower rice, or serving it on cloud bread.
Broccoli, Mushrooms, Ham, And Cheddar Bake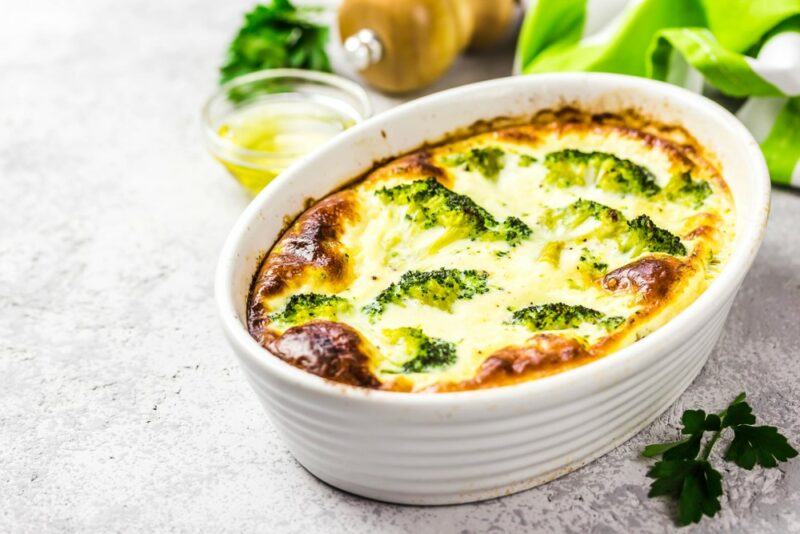 This bake comes from kalynskitchen.com. It sounds complicated at first glance, but it's really surprisingly simple. There are also some amazing ingredients present, including ham, cheese, and eggs for protein, plus broccoli and mushrooms for nutrients and texture.
The cheese on the top of the bake is really what brings it together. Who doesn't love a delicious gooey cheese dish?
Keto Stuffed Peppers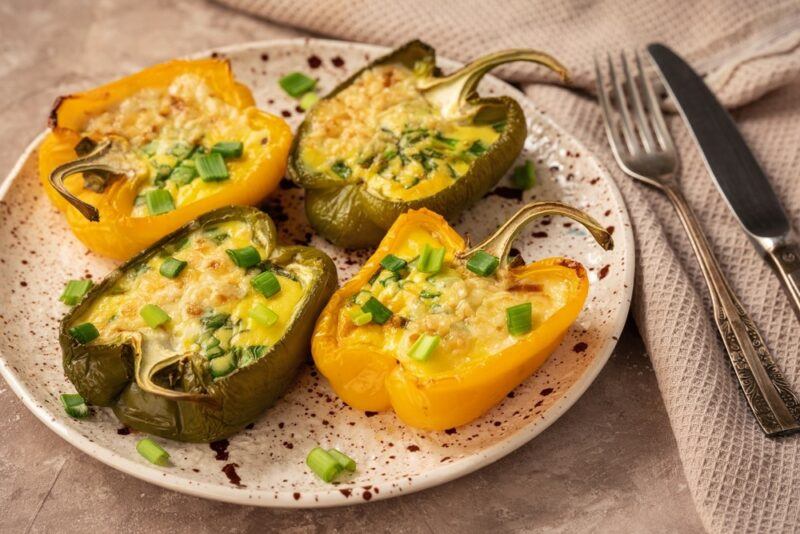 Stuffed peppers are fantastic keto treat and can be stuffed with almost anything you like. A great option is to use ground beef, cauliflower rice, marinara sauce, and a handful of spices.
Then, right at the end of baking, you add some cheese on top. The cheese makes everything better (doesn't it always?). It's possible to make a vegan version as well, if you can find a keto friendly meat substitute (like tofu).
Or, you could try something completely different. The version in the image uses eggs, cheese, and bacon as the main fillings, plus some spring onions as a garnish. These ingredients entirely change up the flavor profile, but should still give you a very delicious meal.
Scrambled Eggs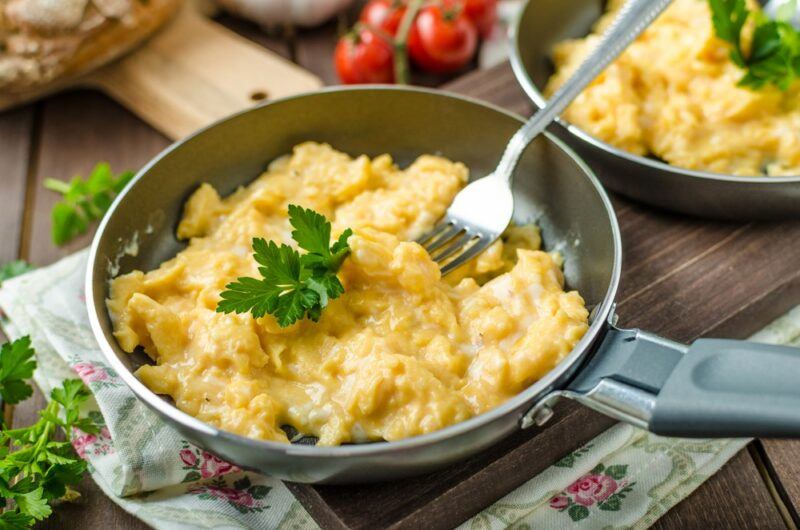 If you love eggs, then scrambled eggs are a simple and tasty option. The easiest version can actually be made using just eggs and a little butter for the pan. That's it – nothing else is required.
Of course, the eggs are much better if you add some seasonings as well, plus a little cream and cheese. The cream and cheese don't just make the eggs taste better, they also make them more filling, which is helpful for your long-term finances.
On a side note – what about pickled eggs? These aren't as popular as scrambled eggs, but they're still delicious.
Lettuce Wraps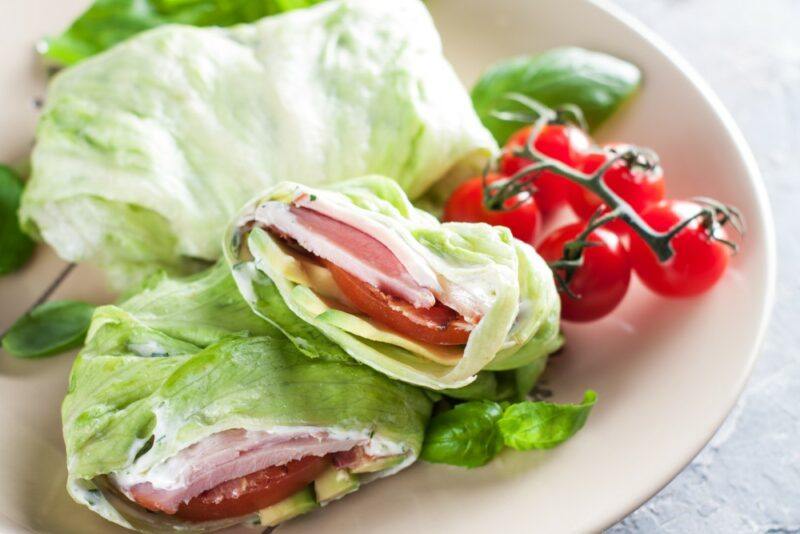 Meals don't always need to be complicated or incredibly filling. Lettuce wraps are a great choice when you want something fairly simple that still tastes good.
These snacks can be as straightforward as rolling together lunch meat, cheese, lettuce, and possibly tomato. The cheese and meat help to create a surprisingly filling snack.
Of course, that's just one combination of fillings. You can take plenty of other approaches as well, based on the ingredients you have on hand. For example, stuffing the lettuce wrap with plenty of shredded chicken will give you a much more filling treat, one that could even work as a full meal.
Capicola Egg Cups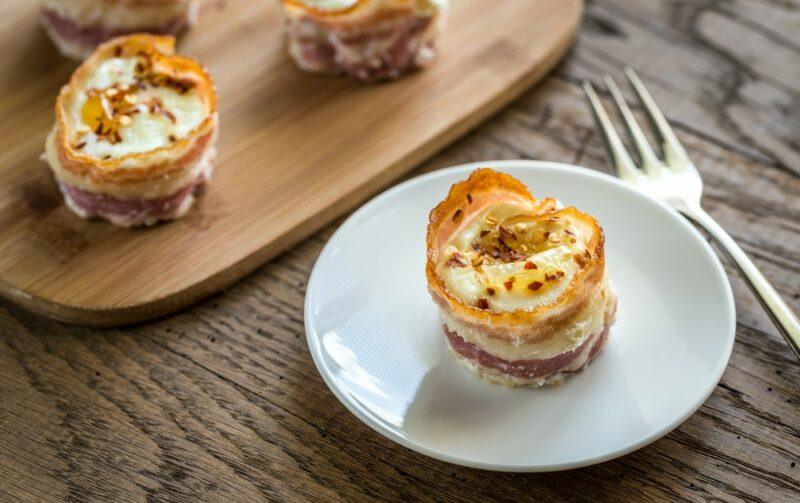 Not surprisingly, these little egg cups are the perfect breakfast food. You can even prepare them ahead of time and serve them cold. What could be better?
The original recipe calls for capicola, which is a type of Italian cold cut meat. However, you could just as easily use bacon instead.
Tacos With Cheese Taco Shells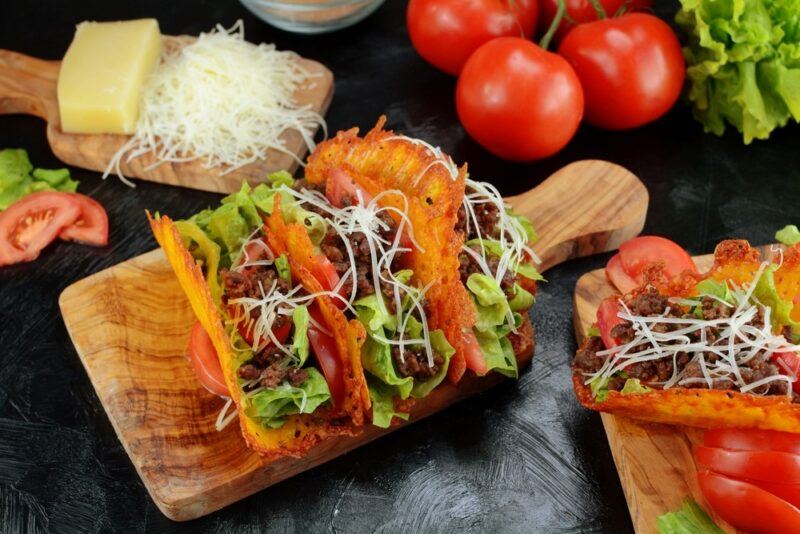 Want tacos on a keto diet? One of the best ways is to make your own taco shells using cheese. There's plenty of work involved, although the end result is well worth the effort. After all, the combination of tacos and cheese really is classic.
As for the fillings, well, there are plenty of options like ground beef, shredded chicken/pork, or even a cheap cut of steak marinated and prepared properly so it's not too tough.
Keto Chili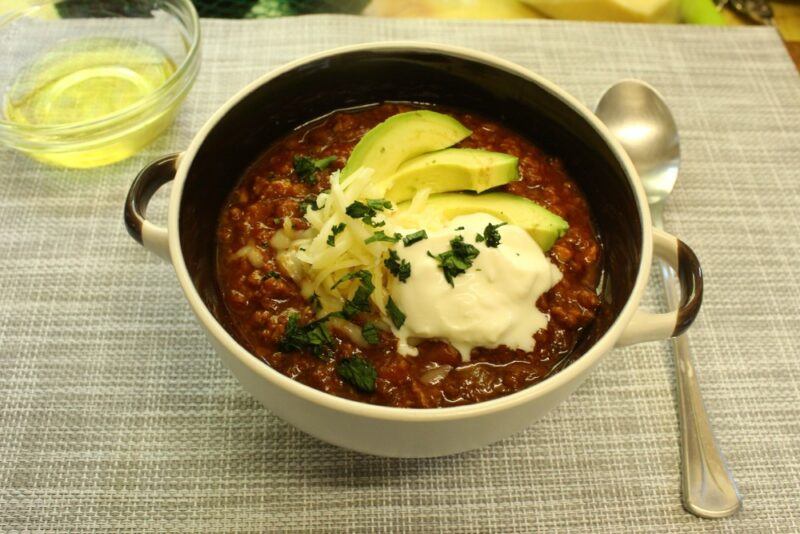 Traditional chili isn't ideal for keto, as it normally contains beans, which makes it too carb heavy. So, why not make a keto version of chili? Doing so is often as simple as dropping out the beans and relying mostly on beef instead.
Skipping the beans makes this dish a little more expensive than traditional chili. However, it's still completely viable, particularly if you buy the ground beef on special. You could even meal prep this dish and throw some in the freezer for a later date.
Mixing up the recipe is an option too. For example, you might include some low carb vegetables in with the chili to stretch the meat further. Doing so adds some texture variation to the chili too, which is often a good thing.
Roasted Chicken Thighs With Veggies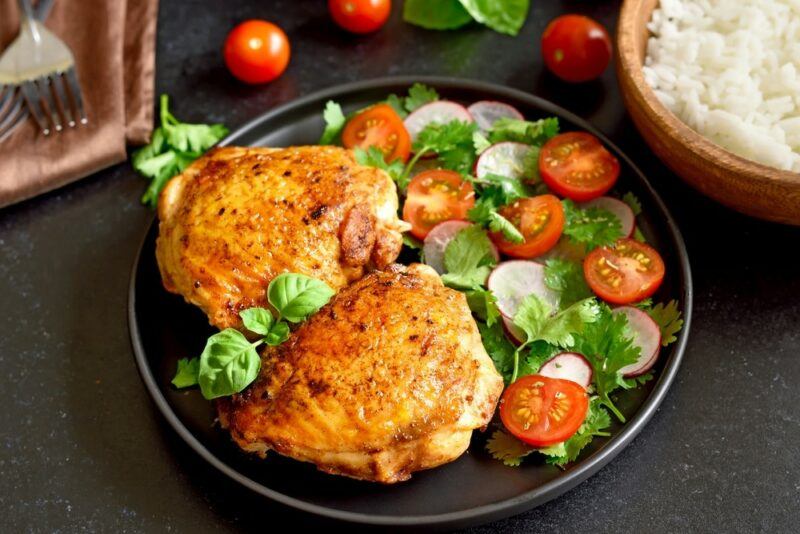 Chicken thighs are one of the cheapest cuts of meat, especially if you find them on sale. These can be prepared in countless ways, including roasted. Once roasted, the chicken thighs have crispy skin that works well with many different sides.
One of the easiest approaches is to serve these with cooked frozen vegetables. You could also experiment with cauliflower rice, green beans, or any number of keto sides.
Vegan Keto Butter Chicken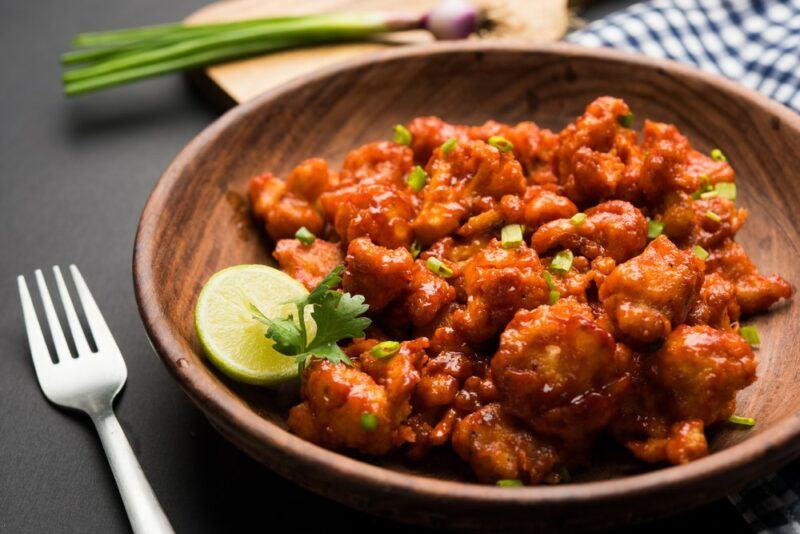 This recipe is a little more complex than many others, but it's worth all the extra effort. The recipe gives you plenty of flavors and get surprisingly close to real butter chicken – despite the focus on cauliflower rather than chicken.
You will notice a few more expensive ingredients in this recipe, particularly coconut oil and extra virgin olive oil. However, you're not using much of these in the recipe and they're classic keto ingredients – you'll be using these over and over again.
Bacon Cheeseburger Casserole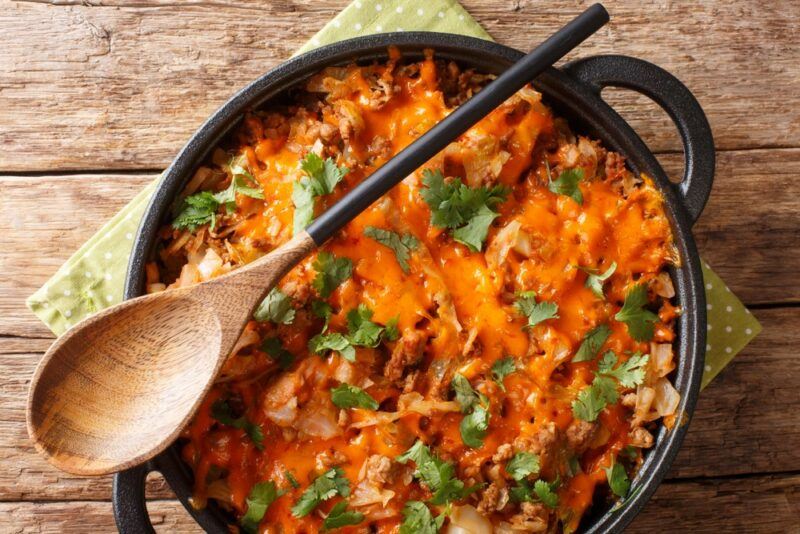 The flavors of this bacon cheeseburger casserole don't need much explanation at all. Not surprisingly, though, it's a delicious treat and a fantastic comforting meal.
Also, because this is a casserole, you're making a decent amount of food at a time. You should end up with plenty of leftovers, which will reheat well.
Cloud Bread BLT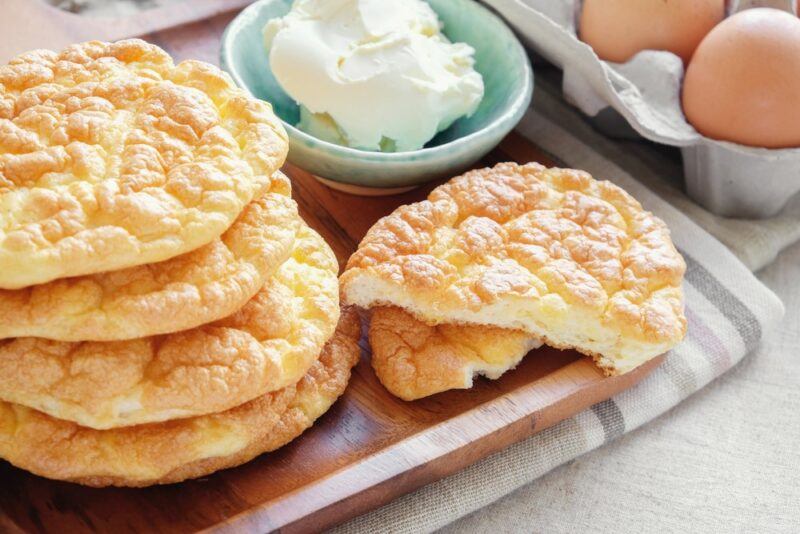 Cloud bread is a classic keto alternative to regular bread. It's also easy and inexpensive, relying on just a few ingredients, like eggs, cream cheese, and cream of tartar.
So, why not use the bread to make your own keto sandwiches? Any combination of keto fillings will work, but a classic BLT is one of the best places to start. After all, who doesn't love bacon, lettuce and tomato? The BLT is famous for a reason and the flavors come together exceptionally well.
How To Keep Your Keto Meals Cheap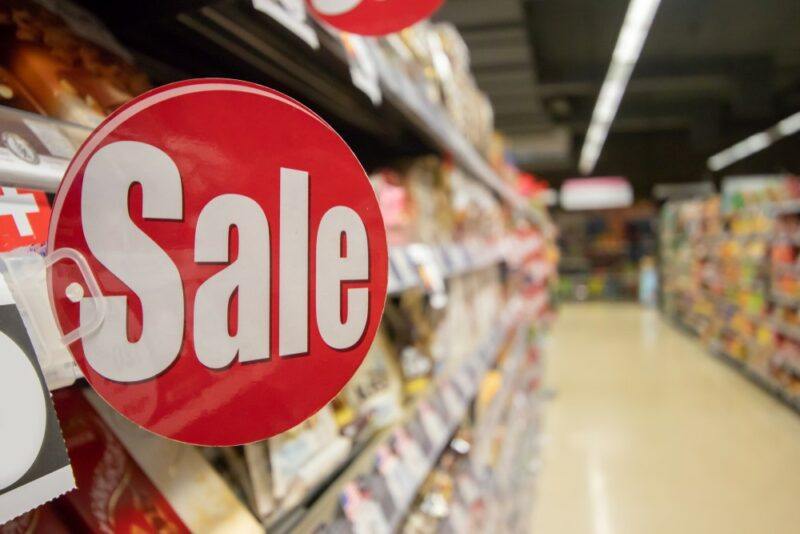 Turn To Inexpensive Cuts Of Meat
There's no need to avoid meat when you're on a budget. It's still a valuable source of protein and nutrients. Plus, meat can be excellent value for money when you choose the right cut.
So, to eat on a budget, stick with the cheaper cuts of meat and prepare them well. This could involve marinating the meat for at least a few hours before cooking it. Or, why not use a slow cooker? This is always a fantastic way to make your meat more tender.
Rely On Eggs
Eggs aren't the cheapest ingredient, so it's easy to overlook them. However, few other ingredients are such good value for money when it comes to protein and nutrients.
Eggs are also incredibly versatile and are a natural fit on a keto diet. Seriously, you probably already know dozens of cheap and simple meals that rely on eggs.
Buy In Bulk Whenever Possible
Buying in bulk is always an excellent way to save money. You get plenty of food to work with at a lower price per pound. The price can be exceptional if the items you choose are also on sale.
However, it's essential to plan in advance and choose well here. Look for foods that you actually use regularly, preferably those that can be frozen.
Chicken breasts are a fantastic example, as these can be used in many meals. You might even cook a few different keto friendly meals with the chicken, then freeze these for later use.
Freezing meals like this means you always have healthy keto meals on hand. This is great for saving money as well, as you're less likely to impulse buy when you have delicious food at home.
Keep Your Meals Simple
Keeping meals simple makes a huge difference as well. The fewer ingredients there are, the lower the cost.
You can also focus on ingredients that you can access at a low price. This includes buying meat when it's on sale and perhaps even growing your own seasonal vegetables.
Get Enough Protein
Protein is often expensive, particularly if you're buying meat. But, it's also essential, as protein is what helps you to feel satisfied.
If your protein intake is too low, then you're likely to be hungry too often and eat more than you mean to. Doing so isn't great for your budget. This means you need a decent amount of protein in your meals, even if doing so involves buying meat regularly.
Skip The Processed Keto Products
Finally, it's best to avoid pre-made keto products. There are tons of them out there now and some are surprisingly healthy.
But, while there are decent products out there, it's almost always cheaper to prepare them yourself. Cauliflower rice and keto protein bars are both examples of this pattern.