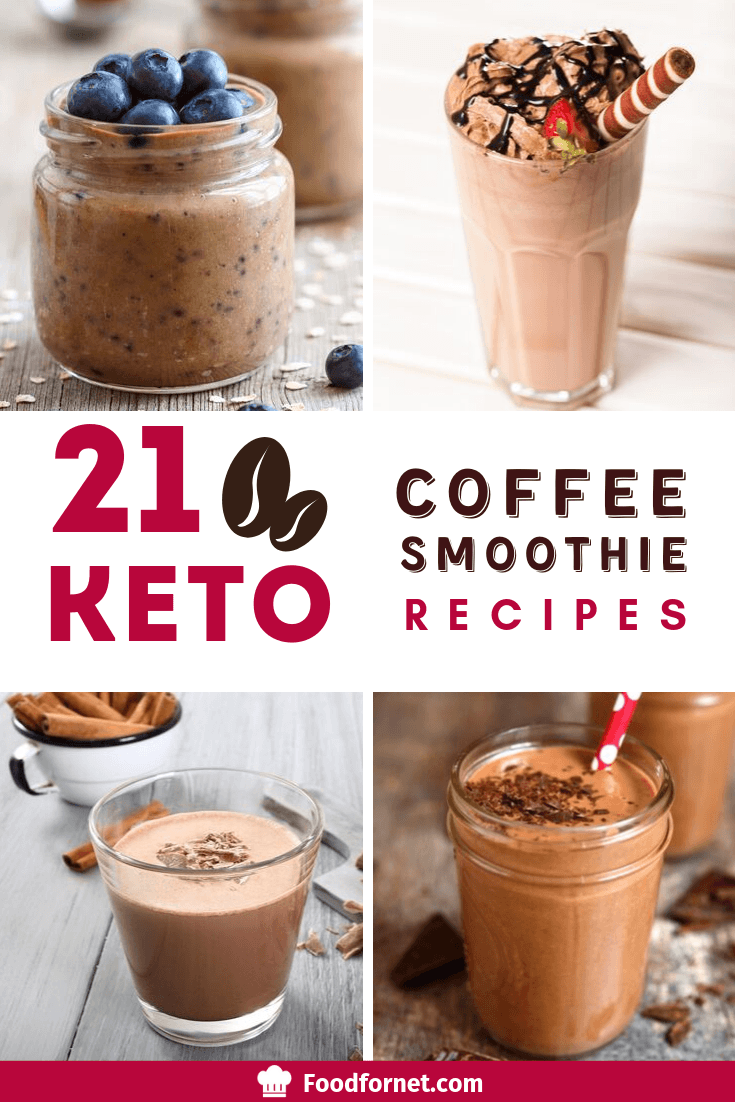 Including coffee in a smoothie is such a brilliant idea. After all, coffee and smoothies are both popular morning choices. Why not save time and energy by having both in the same drink?
The style also means that your smoothie will give you an energy boost, regardless of when you are consuming it. In this list, we're focusing on the best keto coffee smoothie recipes out there.
Some of these taste like something that you'd get at a coffee house or somewhere similar, but they're not packed full of sugar. In fact, many of these recipes contain ingredients that can help to improve your health.
Keto Coffee Smoothie Recipes
PS. You could also consider trying keto chocolate smoothies and adding instant coffee or coffee ice cubes to one of those drinks. Doing so would give you a tasty mocha smoothie.
PPS. There are also many keto breakfast shake recipes. These don't all contain coffee, but they're all good choices in the morning. For example, some of them are high in protein so that they can keep you satisfied for hours.
Cinnamon Dolce Latte Breakfast Smoothie
Here's a fantastic recipe to start the list off. It comes from perfectketo.com and has a fun balance of flavors. The smoothie is a particularly good choice for the morning, as it offers 13 grams of protein and 22 grams of fat per serving.
I love the inclusion of cinnamon in the recipe. The spice offers health benefits and it also tastes great.
Cold Brew Protein Shake Smoothie
As the name suggests, this smoothie takes advantage of cold brew coffee. This means that the coffee isn't just a flavor, you're getting the advantages of a cup of coffee along with your smoothie.
There is also plenty of protein included, so the smoothie can easily be a meal replacement shake. You can find the recipe at peaceloveandlowcarb.com.
Rich Chocolate Smoothie
Chocolate is the main flavor in this recipe from spinachtiger.com. It's a very rich and creamy choice, as the recipe relies on avocado as a key ingredient.
In this case, coffee is an optional addition to the drink. That's not a bad thing. It means that you can have the smoothie with coffee when that suits and skip the coffee when it doesn't.
Rocket Fuel Iced Blended Coffee
This recipe, from healthfulpursuit.com, is promoted as an iced blended coffee – but it is also a type of smoothie. The drink is particularly good if you want coffee to be the main component of your drink, rather than an added flavor.
It's also much healthier than the blended coffees that you will find at local stores.
Vanilla Ice Cream Keto Coffee Smoothie
This smoothie gets its name from the flavor that it offers. As Jessica mentions, the smoothie tastes a lot like vanilla ice cream.
You're also getting a decent amount of caffeine, especially if you use the recommended coffee brand from the recipe. You can find all the details you need on the site, which is forgetsugarfriday.com.
5 Minute Mocha Smoothie
If you love chocolate and coffee, this mocha smoothie is the perfect choice. The recipe (from simplysohealthy.com) balances the flavors well, meaning that neither the coffee nor the chocolate is overpowering.
There is also an avocado included. The avocado helps to give the smoothie its amazing creamy texture.
Green Coffee Shake
Here's a slightly different type of coffee smoothie to consider. It comes from the site healthfulpursuit.com and is basically a variation on a green smoothie.
Because the recipe uses greens in the form of a powder, you end up with a very smooth shake. In fact, Leanne serves the drink over ice, rather than blending the ice in. You could blend the ice if you wanted, which would create a more smoothie-like texture.
Bulletproof Mocha Milkshake
This dairy free shake relies on MCT oil to make it similar to a Bulletproof coffee. There are other healthy fats included too, like avocado and coconut milk. The shake has a mocha flavor, so you're getting the advantages of coffee and chocolate.
That's not all. There are plenty of other interesting ingredients that make the shake stand out. The recipe can be found at the site whatgreatgrandmaate.com.
Sugar Free Mocha Smoothie
Here's another recipe that gives you the flavor of mocha. This time you're using a combination of powdered coffee and chocolate syrup. The smoothie is easy to make.
It's also a great choice, as it doesn't rely on fresh ingredients. As such, you could keep all the components on hand. The recipe comes from thesugarfreediva.com and you can find all the instructions that you need there.
Mocha Cookies And Cream Smoothie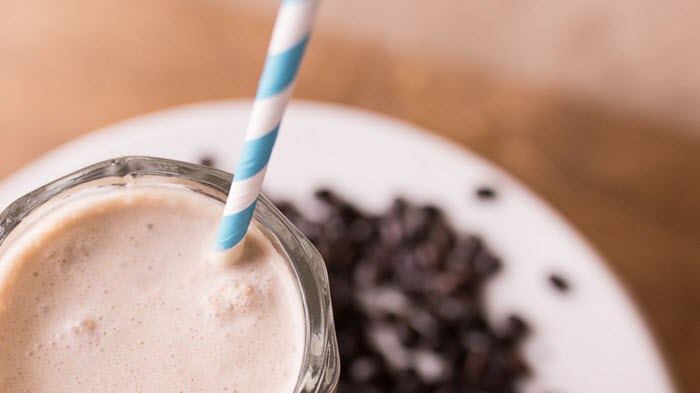 While we're on the topic of mocha, here's a recipe from ketologic.com. This one is a little different, as Brandon uses the flavors of cookies and cream, along with mocha. The combination is great, especially as it is a little different than most of the smoothies.
To make things even better, the smoothie doesn't rely on instant coffee. Instead, you're using strong black coffee. The style means that you're getting as much of a kick as you would from your morning cup of joe.
Creamy Chocolate Keto Coffee Smoothie
Here's a delicious choice that combines coffee and chocolate. It comes from the site kamipentecost.com and simply looks fantastic. As with many keto smoothies, Kami relies on avocado to create a creamy texture in the smoothie.
One difference is that the recipe takes advantage of various It Works products, including the company's coffee, chocolate shake mix and chocolate greens. The chocolate greens feel like the most important addition, as this mix should provide you with plenty of extra nutrients.
The coffee and chocolate mixes just add those flavors into the smoothie. Because the mixes are fairly generic, you could use chocolate and coffee products from another brand if you wanted to.
Chocolate Protein Shake
This drink is a very simple example of coffee in a smoothie and comes from veganatheart.org. It is simply a combination of plant-based milk, chocolate protein powder and ice. Coffee is an optional extra.
Including the coffee will give you a mocha-like drink. As the recipe mentions, you can use decaf or regular coffee.
One interesting aspect is the protein powder that you use. The recipe mentions one from the Garden of Life brand. Their products do seem decent and are vegan, which is often useful.
However, you could use pretty much any keto chocolate protein powder. There are plenty to choose from.
Mocha Smoothie Bowl
This smoothie bowl is dairy free, vegan and a bit unexpected. The most unusual aspect is the inclusion of cauliflower as one of the ingredients. Don't worry, you won't taste it at all.
The cauliflower simply provides a way to add body and creaminess into the smoothie bowl, along with some extra nutrition. You can find the recipe at theroastedroot.net.
Even if you're not certain about the cauliflower, the smoothie bowl is worth checking out. Some of the other ingredients are less common as well, creating a smoothie bowl that would taste simply fantastic.
Peppermint Mocha Protein Shake
If you want a more interesting flavor combination, this is the recipe for you. It comes from the site cookeatpaleo.com and Lisa combines the flavors of coffee, chocolate and peppermint.
The recipe does require a little prep work, as you need to freeze the coffee into ice cubes first. Still, this is easily done and the style works well. Relying on frozen coffee means that you don't have to worry about ice diluting your drink.
Keto Karamel Latte Smoothie
This recipe is another one that offers an interesting combination of flavors. This time you have coffee and caramel. Interestingly, there is no chocolate included at all.
While coffee and caramel isn't the most common flavor combination, the ingredients do complement one another nicely. You can find the recipe at simplygoodfats.com.
It contains just three net grams of carbs per serving, making it a fast and easy keto snack.
Starbucks Copycat Coffee Frappuccino
Frappuccinos from Starbucks tend to be expensive and loaded with sugar. This recipe from maebells.com allows you to enjoy a similar combination of flavors and textures, without all the bad stuff.
That's not all. Annie mentions that the recipe acts as a base recipe for making a low carb frappuccino. This means that you could tweak it by adding flavorings and/or sweetener to make a drink that is entirely your own.
Chocolate Peanut Butter Shake
This shake comes from the site savorytooth.com. Julia highlights two different ways of making it, one that uses a blender and another that doesn't.
Interestingly, the base recipe doesn't include coffee at all. It really is just a chocolate and peanut butter shake.
However, coffee is highlighted as a flavor that you can add. You might do so via instant coffee, brewed coffee or espresso shots – whatever style takes your fancy.
Iced Mocha Shake
This variation on a mocha shake comes from the site ketoconnection.com.au. It contains just four net grams of carbs per serving and consists of more than 60% fat.
The recipe mightn't be what you expect either. Erika takes her own approach to the topic, creating a drink that is certain to impress. You can choose to have the shake as-is or add unsweetened whipped cream onto the top.
Iced Bulletproof Coffee
While this recipe is called an iced coffee, you are basically making a coffee smoothie. As the title suggests, the inspiration for the drink comes from Bulletproof coffee. Of course, this version is a bit different, as it is iced rather than hot.
One of the variations is that the drink skips the butter or ghee that you normally find in Bulletproof coffee. The MCT oil is still present, so you'll get most of the Bulletproof benefits.
Some other ingredients are included too, which add to the final flavor. You can find all the recipe details at sugarfreemom.com.
Iced Keto Coffee
Here's another recipe that focuses on the iced coffee idea. This time the details come from the site ketoconnect.net.
A key difference with the Keto Connect version is that the recipe just tries to mimic keto coffee. This means that fewer ingredients are included to add flavor, although there is a section for optional additions.
You are still blending ice into the mix, so the final texture will be similar to a conventional smoothie.
Low Carb Coffee Milkshake
This final drink follows a different style again. Lisa from lowcarbyum.com takes advantage of low carb ice cream to create a creaminess that you don't often find in a keto smoothie.
The smoothie is also surprisingly fast to prepare, as you don't need to make the coffee ahead of time. The carb content is low too, with less than six net grams of carbs per serving.