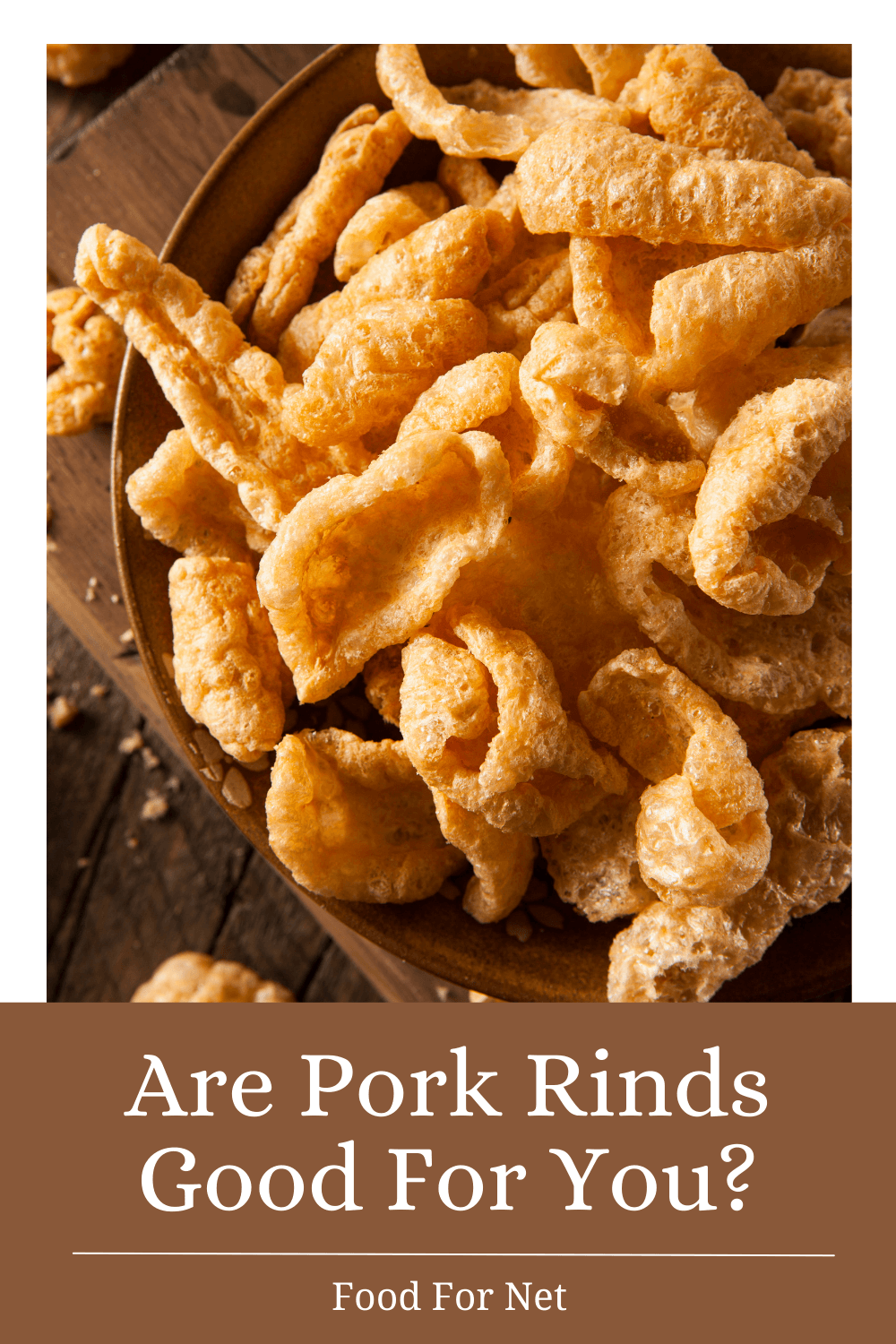 Pork rinds have become surprisingly popular. Not only are they an interesting alternative to potato chips, but they're sometimes promoted as being much healthier.
It's a tough claim to believe, though, given that that pork rinds are simply fried pigskin and tend to be high in fat. It's tough to imagine that they could ever be a healthy choice.
So then, are pork rinds good for you? To answer that question, we need to think a little about what makes food healthy because the answer isn't clear cut. For example, we've long been told that fat is incredibly bad for us.
These days we know that reality is more nuanced. Perhaps under the right definition even pork rinds could be healthy. Let's find out.
Are Pork Rinds Good For Your Health?
What Are Pork Rinds?
The Nutrition Of Pork Rinds
Why Pork Rinds Might Be Healthy
Problems With Pork Rinds
Are Pork Rinds Always Deep Fried?
What About Pork Rinds For Keto?
Final Thoughts
What Are Pork Rinds?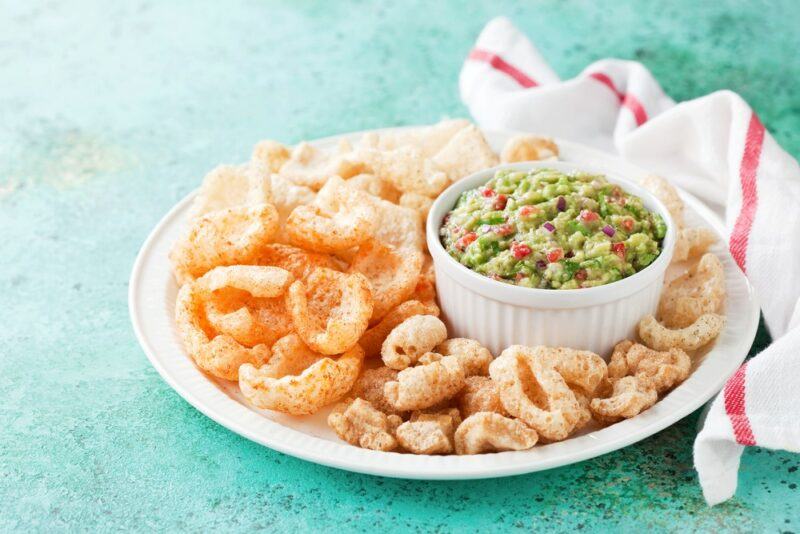 Pork rind itself is simply pig skin, which you also get when you buy a pork roast. However, in this post, we're specifically talking about the dehydrated pork rinds that you find in bags at grocery stores.
These are made from pork skin that is first boiled and has the fat scraped away. The skin is then cut into small pieces, dehydrated, and deep fried. You end up with a crispy snack that can be seasoned in plenty of different ways.
If you're in the UK, you might see the rinds called pork scratchings or chicharrones instead, but it's still the same snack.
That said, there are some variations. Some products are crisper than others or may still have some of the original fat. Such differences change the nutritional profile somewhat, but most of the benefits and risks are still the same.
The Nutrition Of Pork Rinds
Not surprisingly, pork rinds don't have an amazing nutritional profile. An ounce of them contains 160 calories, 18 grams of protein, and 10 grams of fat.
There aren't many nutrients present either, so the pork rinds won't help your health in that way.
Why Pork Rinds Might Be Healthy
Let's flip the script for a minute. Pork rinds have many issues, but most of these are obvious, so let's start with the potential benefits instead.
They're Low In Carbs
Potato chips and veggie chips tend to be high in fat and carbs, while pork rinds don't contain any carbs at all.
This is easily the most powerful feature. While carbs are a source of energy, they're also highly controversial, partly because of how they can raise your blood sugar levels and may promote inflammation.
Some theories even suggest that our carb rich diets are part of the reason that there are so many modern diseases. If this is true, then decreasing carb intake should also help to improve health.
They Replace Refined Carbs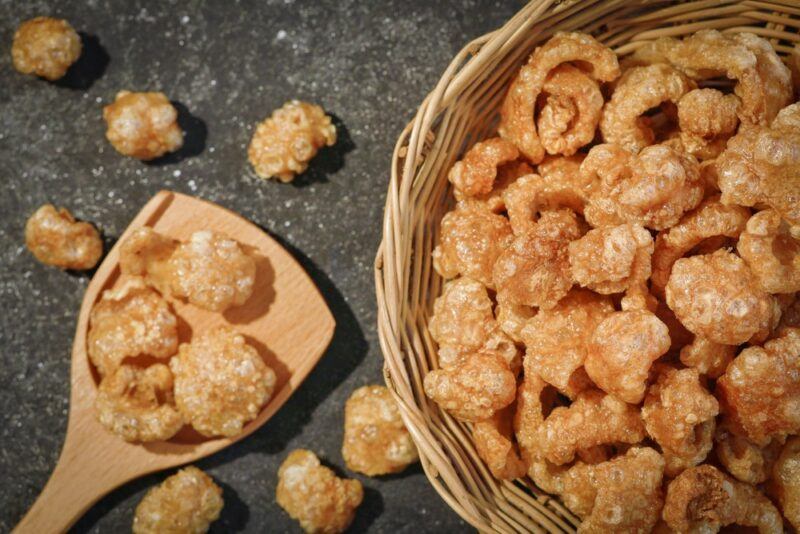 Carbs aren't all alike. Complex carbs in foods like legumes, oats, and whole grains, may be good for health in some contexts, as you're getting plenty of nutrients and plant-based compounds. The fiber content of these foods also helps to slow down any blood sugar effect.
Potato chips don't fall into this category at all. Instead, they're high in carbs and offer little to offset this carb content.
As such, eating carb free pork rinds instead of carb rich potato chips could easily be a healthy swap.
They're An Interesting Source Of Protein
Pork rinds offer something else that potato chips don't – plenty of protein. This makes them a more filling choice and could help you to keep your portion sizes in check. 
There is a decent amount of collagen present, which could help with your gut health, digestion, and offer some other benefits.
Interestingly, pork rinds contain a decent amount of the amino acid glycine. We don't get a lot of glycine in our diet, but it's easy to gloss over the amino acid, as our bodies can synthesize it.
However, getting glycine in our diets might be more powerful than synthesizing it, as our bodies can then use the building blocks from glycine synthesis for other purposes.
They Fit Onto Many Diets
Pork rinds also work well on many diets, including ones where you need to avoid regular potato chips. In particular, keto and paleo dieters can both eat pork rinds and do so regularly.
Pork rinds are actually ideal on these diets, as you'll often end up missing potato chips. Having an alternative can help you to stick to your diet plan.
You're not limited to using pork rinds as snacks either. Many keto dieters use pork rinds as ingredients instead. For example, you can use pork rinds instead of bread crumbs to create keto crumbed chicken or fish.
They Contain Oleic Acid
While pork rinds are high in saturated fat, they do contain some healthy fats as well, including oleic acid. Such fats can offer health benefits, potentially decreasing inflammation and perhaps helping with heart disease risk.
That said, you'll see the most benefits from foods with more monounsaturated fat and less saturated fat.
Problems With Pork Rinds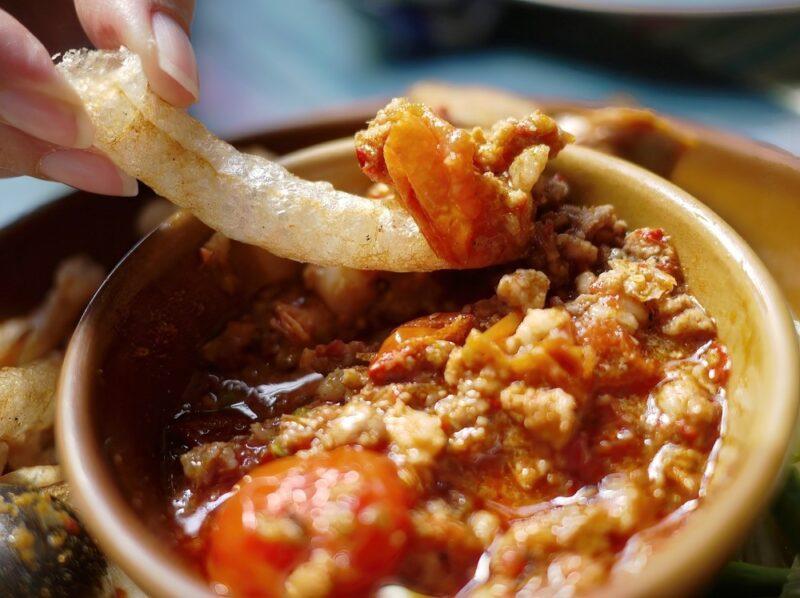 They're Processed
Pork rinds sound like a natural single-ingredient food, but this often isn't the case. Instead, they go through considerable processing.
Some versions even include a decent number of additives, including flavors, preservatives, and even artificial colors. This isn't a good pattern, as modern diets are already far too full of processed foods.
Additives are tricky too, as we don't fully know how they influence our health. Sure, there's been some safety testing, but it's more limited than you might expect.
There's also an extraordinary number of additives used these days and it's almost impossible to know the long-term effects of every single one of these. Such issues suggest that it's best to look for additive-free foods whenever you can.
Thankfully, there are some additive-free pork rind brands, but you'll need to shop around to find them. And remember, whether there are additives or not, the pork rinds will be highly processed either way.
The Sodium Content Can Be Extreme
Sodium has some important roles in the body, but most of us aren't exactly short on the mineral. It's easy to overdo it instead, which can increase your blood pressure, raise your heart disease risk, and lead to other health problems.
Pork rinds don't help this pattern at all, as you're often getting nearly half of your daily sodium needs from a single serving. That's beyond excessive.
Thankfully, not all products are this extreme. Some of them are lower in sodium, perhaps giving you 300 or 400 mg or even as low as 150 mg or so of sodium per serving. However, it's rare to find brands that avoid sodium entirely. 
They Might Increase Heart Disease Risk
We also need to talk about your heart, as pork rinds are very fatty. Not only that, but roughly half of this fat is saturated. That's not a good sign at all.
Saturated fat is still seen as one of the worst inclusions in your diet, as it may increase your cholesterol levels and lead to greater heart disease risk.
Pork rinds are also high in cholesterol, which may not help your blood cholesterol levels either. This combination is exactly what your heart doesn't need.
Now, there are some debates about saturated fat and cholesterol. We're now realizing that the cholesterol in your food mightn't always impact your blood cholesterol as much as we've assumed. Plus, some types might have smaller effects on heart disease risk or perhaps even none at all.
Such patterns mean that some saturated fat rich foods mightn't be as harmful as we expect. Still, this isn't a license to eat as much saturated fat as you can. This type of fat still doesn't offer many, or any, health benefits.
At best, it's just not quite as bad as we once assumed.
Don't forget about the sodium either. This feature of pork rinds isn't great for your heart either, as too much sodium can raise your blood pressure.
So, if you're at all concerned about heart disease, pork rinds aren't a wise snack at all.
It's Easy To Overdo It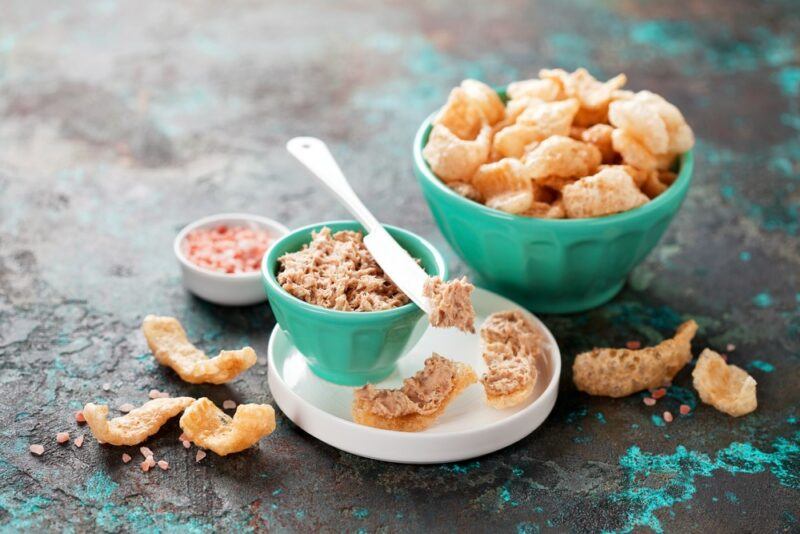 Pork rinds suffer from the same problem as potato chips – it's far too easy to just keep reaching for one after another.
This isn't such a big deal if you have a small bag, perhaps with an ounce of pork rinds. However, if you have a large bag of them, you could easily eat more than you intend to.
This is a serious issue for a snack that's so high in fat and sodium. Regularly over-consuming pork rinds could lead to all kinds of health issues.
They're Low In Nutrients
Pork rinds aren't nutritionally dense. Okay, that's putting it mildly. Pork rinds have barely any nutrients at all.
This isn't a huge problem, as you should be getting plenty of nutrients from the rest of your diet. Even so, the low nutrient content is one more black mark against the snack.
Can Promote Weight Gain
Just like potato chips, pork rinds can easily lead to weight gain. The fat content is a big reason for this effect, along with how easy it is to keep eating the salty snacks.
The amount of processing doesn't work in your favor either. In fact, some research suggests that heavily processed food might lead to more weight gain than the same amount of calories from foods with less processing.
This isn't actually so surprising, as processed foods often lack the nutrients and fiber that you find with whole foods, so they have different effects in your body.
Not A Complete Source Of Protein
Despite seeming like an easy choice for protein, pork rinds are often labeled as 'not a significant source of protein'.
This is because the protein that they contain doesn't have an amazing amino acid profile. It's missing some of the essential amino acids you need to be healthy. This means that if you got all of your protein from pork rinds, then you'd end up very sick.
As a result, you need to make sure you're also eating plenty of complete sources of protein. Meat and eggs are particularly powerful choices here, while soy and quinoa are pretty good if you want something plant-based.
Are Pork Rinds Always Deep Fried?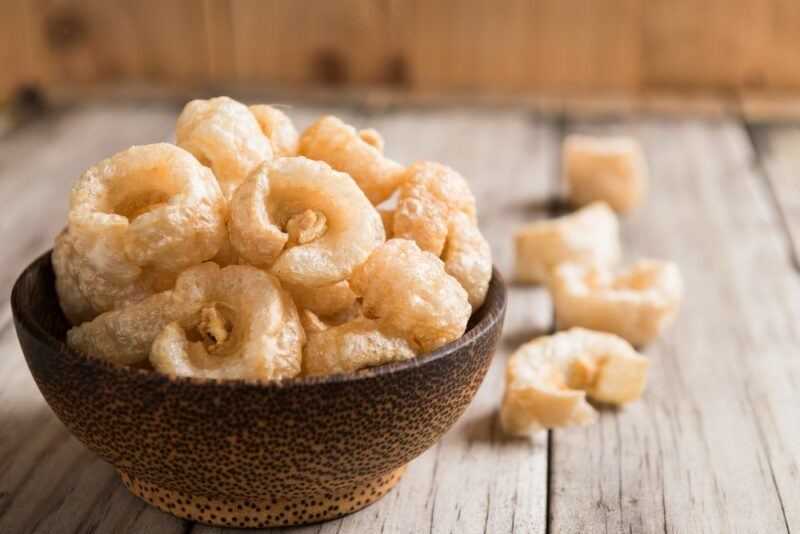 Pork rind isn't exactly healthy on its own, but the deep frying process makes things that much worse. Thankfully, it is possible to make baked pork rinds instead.
Baked versions of pork rinds don't have the same texture as deep fried ones and mightn't be as enjoyable. Still, they are a healthier option and should be lower in saturated fat than the deep fried version.
What About Pork Rinds For Keto?
Pork rinds clearly have many issues and few benefits. However, the equation is slightly different for keto dieters compared to everyone else.
Keto diets involve getting most of your calories from fat, some from protein, and very little from carbs. This unusual balance of macronutrients puts your body in a state called ketosis that can increase fat burning and may offer other benefits as well.
The nutritional profile of pork rinds is a good match for the macros you need on a keto diet. Pork rinds could even help if you're struggling to hit your targets for fat.
Even so… hitting your macros is only part of the story.
To do well on a keto diet, you still need to eat good food. This includes focusing strongly on monounsaturated fats, rather than saturated fat and getting plenty of nutrients. Pork rinds don't help with those goals at all.
Final Thoughts
Pork rinds have two major things going for them: their low carb content and the fact that they contain collagen. However, these features don't even begin to make up for all the saturated fat and sodium, not to mention the amount of processing.
Besides, there are plenty of other low carb foods and sources of collagen that offer more benefits and come with fewer problems.
Seriously. Even if you're following a keto or paleo diet, pork rinds fail when it comes to health. It's much better to see them just as you would potato chips – a treat food you should only have occasionally.
Frequently Asked Questions
Are Pork Rinds Gluten Free?
Pork rinds normally just contain salt and fried pork skins. There's no wheat used at all, so the rinds should be entirely gluten free. 
Be sure to double check the ingredients label though, as the seasoning mix could potentially include gluten. Cross contamination is possible too. If you're highly sensitive to gluten, look for companies that state that their products are gluten free (preferably ones that test for gluten contamination). 
How Many Pork Rinds In An Ounce?
There's no single answer to this question, as pork rinds vary considerably in size, shape, and weight. However, a good estimate is that you get around 6 pork rinds in a half ounce serving or 12 in a full ounce. 
Are Pork Rinds Good For Weight Loss?
Yes and no. Pork rinds could help you lose weight if you're following a keto diet and are very cautious with your portion size. After all, the rinds are low in carbs and are a decent source of protein. 
They're not so good in other contexts though, as pork rinds are high in fat and calories. They're also tasty, so it's very easy to overdo it. 
Are Pork Rinds High In Cholesterol?
A half ounce serving of pork rinds contains between 15 grams and 20 grams of cholesterol, plus a decent amount of fat. While this cholesterol content isn't ideal, it isn't as high as you might expect either (only coming to around 6% of the desired daily value). 
Many other foods are much higher in cholesterol than this, including cheese, eggs, and plenty of processed foods. 
Plus, we're now learning that food alone doesn't define our blood cholesterol levels. Because our bodies produce cholesterol as well, we can actually have high blood cholesterol even when we closely watch the cholesterol we consume. 
Do Pork Rinds Contain Collagen?
Because they come from skin, pork rinds do indeed contain collagen. A serving of the rinds actually gives you an impressive 7 grams of collagen protein.