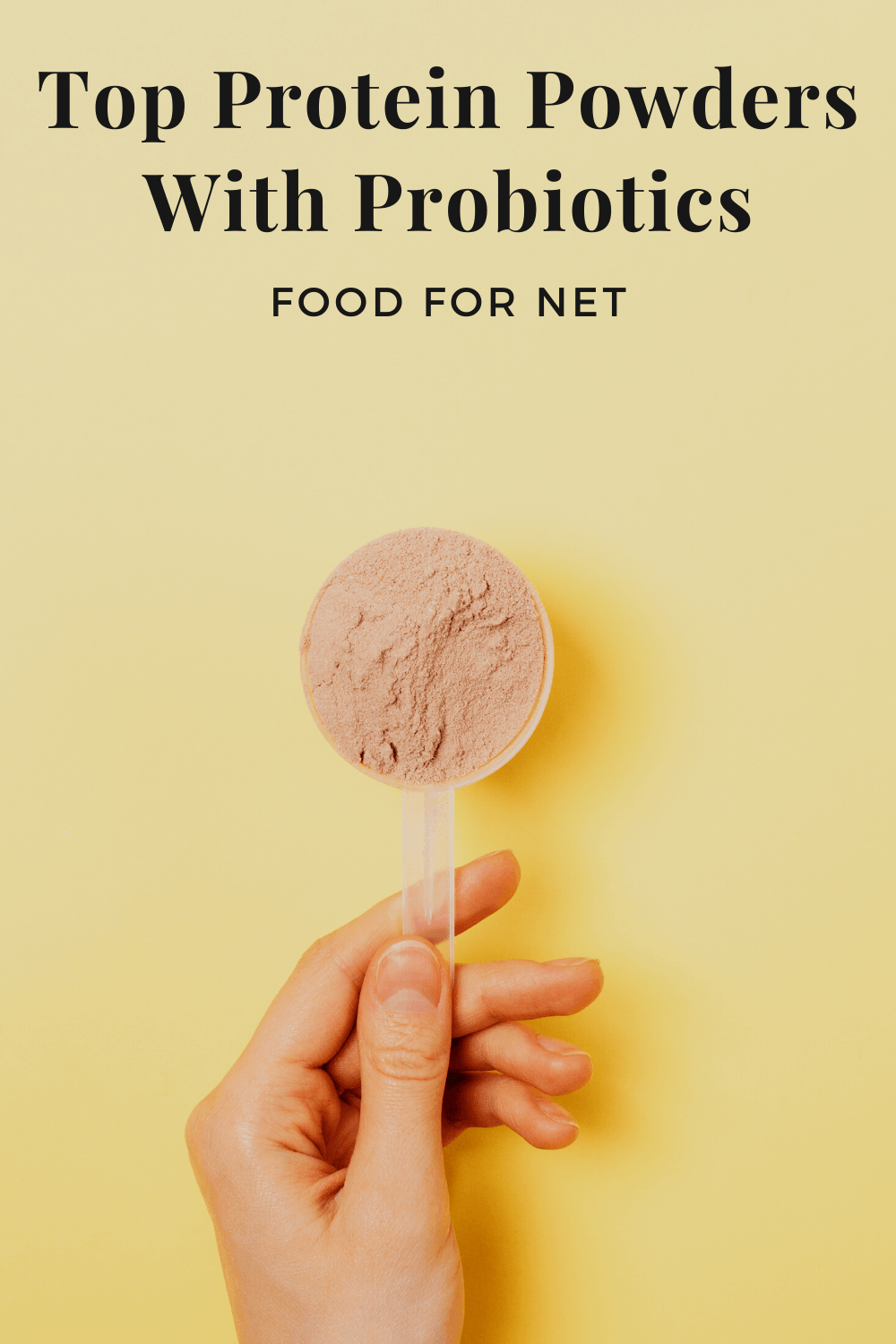 Probiotics and prebiotics can be tricky things to wrap your head around. Everyone says they're good for your gut, but what even are they? Supplements throw around numbers in the billions and it can be daunting to think that they're "alive."
But, understanding probiotics is essential to maintaining a healthy overall lifestyle as the health of your gut is linked to so many other things. Essentially, probiotics are a good form of live bacteria and yeast that live in your body and help keep things in order. It's important to consume enough probiotics either through food or supplementation so that they can not only do their job regularly but take care of any influx of bad bacteria you may experience – like getting an infection.
Thankfully, there are many ways to get probiotics into your body. Many foods contain them naturally, there are plenty of great supplements out there, and you can also get protein powder with probiotics! Protein is a popular supplement for many reasons, and lots of people take it every day. If you're also looking to increase your probiotic intake, then why not do both at once? These are some of the best protein powders out there that also contain probiotics:
The Best Protein Powder Brands With Probiotics
1. Garden of Life Raw Organic Protein

Garden of Life Raw Organic Protein is a clean, powerful, and exceptionally healthy source of complete protein. Not only is it free from unwanted and artificial additives and preservatives but it's made entirely from raw ingredients.
It also makes for an excellent nutrition boost for any diet and at any time of day, and is an excellent supplement to help you build muscle and fuel your workouts. It offers 22 grams of protein per serving along with four grams of branched-chain amino acids. It also has fat-soluble vitamins A, D, E, and K as a healthy bonus.
Lastly, it also has live probiotics and enzymes. This adds even more benefits as these are both good for the gut. Gut health is always important and it never hurts to get more probiotics in. If you're looking for a good source of probiotics but also need a good protein powder, something like this is the perfect solution for both!
Each serving has 130 calories, three grams of fat, four grams of carbs, one gram of fiber, and no sugar.
2. Vega One All in One Shake

The Vega All-in-One Shake is an amazing supplement that works for many different things. The name doesn't lie, it really has a little of everything. It offers 20 grams of plant protein, a dose of vitamin C to support the immune system, a variety of minerals, fiber, omega-3s, and a serving of probiotics!
All of this comes wrapped up in several delicious flavors including vanilla chai, coconut almonds, mocha, chocolate, berry, French vanilla, or unflavored. Each serving has 160 calories, five grams of fat, nine grams of carbs, six grams of fiber, only one gram of sugar, and an impressive list of vitamins and minerals.
Some of the greens and veggies you get in here include spinach, carrots, broccoli, tomatoes, algae, kale, and more. There's also a fruit blend in there for a perfectly well-rounded nutrition profile. All the flavors would do well mixed with some nice, refreshing ice-cold water or blended into a thick and creamy smoothie!
3. Vega Sport Premium Plant-Based Protein Powder

Vega Sport Premium Plant-Based Protein Powder is an excellent product filled with healthy, wholesome nutrition with enough protein to fully support you and your muscles during any training session. It offers a strong 30 grams of protein per serving with a full five grams of branched-chain amino acids as well. It also includes tart cherry and probiotics for extra nutrition, gut health, and the ultimate support.
There are several yummy flavors available including vanilla, chocolate, mocha, berry, and unflavored. All are delicious with either simple water or in a sweet, rich smoothie! The unflavored is even good to bake with if you want some healthy muffins, pancakes, or anything else.
Each serving has 160 calories, three grams of fat, four grams of carbs, and only one gram of sugar. It also has one gram of fiber and some calcium and iron to round it off. It's also NSF certified for sport, meaning it's been certified safe and contains no banned substances so athletes can use it regularly with confidence. The low carb content also makes it keto-friendly!
4. RSP Truefit Grass-Fed Meal Replacement Protein Powder

Truefit Meal Replacement Protein Powder is a fantastic all-rounder that really can replace a meal and not leave anything out. This is great for those looking to lose weight, stick to a certain diet, or who just need something quick and convenient during their busy day.
Each serving offers 25 grams of grass-fed whey, 12 different fruits and veggies, eight grams of prebiotic fiber, 3.5 grams of quality, healthy fat, and 1 billion CFU probiotics. They've got protein, fruits, veggies, vitamins, and minerals covered along with easy digestion and gut health thanks to the fiber and pre/probiotics.
It's also non-GMO, gluten-free, and contains no artificial ingredients at all. All animals involved with the making of this protein are also pasture-raised, meaning you can enjoy this protein with confidence that the cows are happy and healthy. The available flavors include chocolate, vanilla, and a fun cinnamon churro flavor. Each serving also contains 170 calories, 2.5 grams of fat, 14 grams of carbs, and only one gram of sugar.
5. Pure Food Plant-Based Protein Powder

Pure Food Plant-Based Protein Powder is a clean, organic, and nutrient-dense supplement that's perfect for an everyday nutrition boost or some quality support before and/or after a workout. Each serving offers 11 grams of protein and no sugar, fillers, additives, or artificial flavors.
It also helps support your gut health with added probiotics, making it easy on the stomach and easy to digest. 95% of the ingredients are sourced from either the United States or Canada and it meets the requirements/restrictions for all common diets and lifestyle choices such as vegan, paleo, keto, gluten-free, soy-free, and dairy-free.
Each serving has 70 calories, one gram of fat, five grams of carbs, two grams of fiber, and no sugar. The ingredients include organic pea protein, organic hemp protein, organic brown rice protein, organic vanilla extract, organic lucuma powder, and organic stevia extract for a little sweetness.
Natural Sources of Probiotics

While supplementing is a great way to fulfill your probiotic needs, you shouldn't always rely on supplements alone! It's good to get them from a variety of sources. Thankfully there is a nice variety of food that offers probiotics so you can eat them normally on most diets and with most lifestyles.
Yogurt. This is a popular one as yogurt is tasty, versatile, and easily accessible. Add some to your smoothie or make a parfait for lunch!
Kefir. Kefir is another popular one. Many people make it at home as it's not that hard once you get the hang of it. It's also a very potent source of probiotics, containing several different strains of good bacteria. It's also generally well-tolerated by those with lactose intolerance, despite being derived from milk!
Kimchi. This is a fun and often spicy side dish that comes from Korea. It's most often fermented cabbage, though you can theoretically make it with any other veggies. Once fermented, it's mixed with spices and seasonings, often with chili pepper flakes as the main feature. That said, you don't have to make it spicy if you don't have a high tolerance!
Miso. This is a popular seasoning that comes from Japan and is usually made by fermenting soybeans with salt and a certain fungus known as koji. The soybeans can be mixed with other ingredients too, though, such as barley or rye. The resulting paste-like substance is the main ingredient for the very popular miso soup. In addition to probiotics, it's also high in fiber, protein, and many other vitamins and minerals.
Pickles. Pickles are a common food used in many dishes and are often eaten on their own as well. There are a few varieties to suit many tastes. They're also low in calories and high in vitamin C. It's important to note that they're also high in sodium, so don't go too crazy!
Apple cider vinegar. Probiotics are only one of the many superpowers of this amazing ingredient. It has a unique taste that works well in dips and salad dressings, or you can add a spoonful to your smoothie and never even notice it! It can also help control blood pressure, lower cholesterol, and even help improve your skin.
Related Content