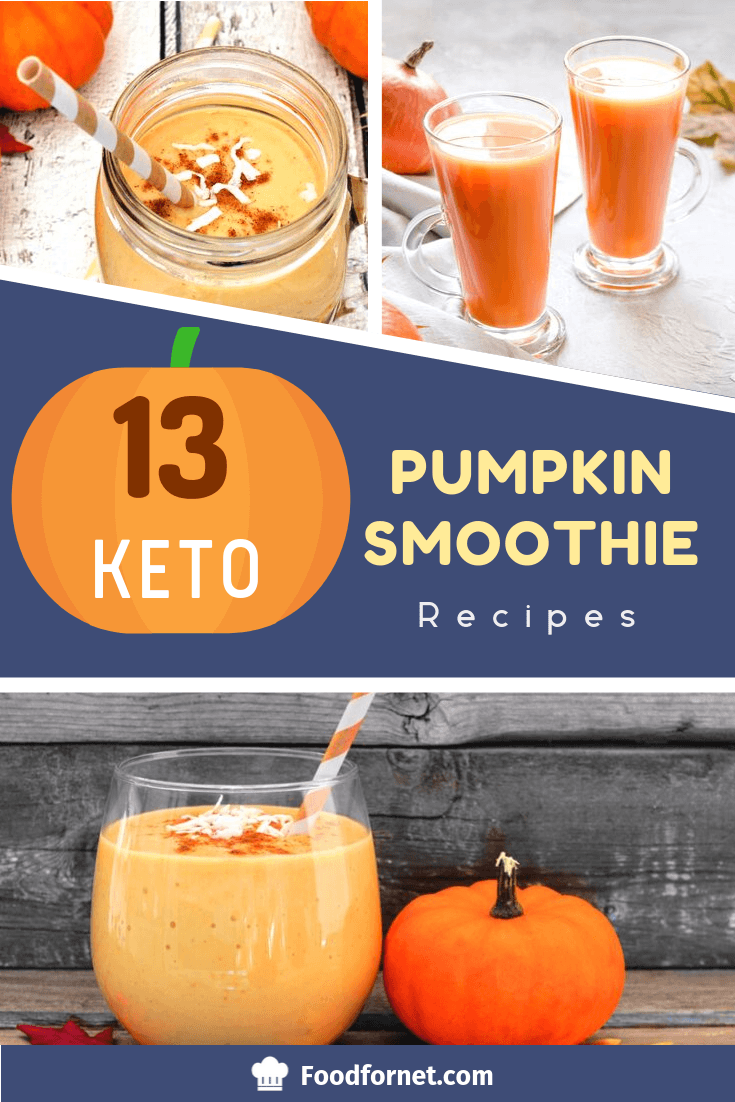 Pumpkin is a popular fall ingredient and you can eat even it all year round if you want to. It also makes an ideal flavor. This is why you will see it in so many different recipes. While pumpkin spice lattes remain many people's favorite drink, there are plenty of other good choices out there too.
These keto pumpkin smoothie recipes are a particularly good alternative to try out. You're making a cold drink, which is perfect for the warmer months.
The smoothies also vary from one another. This includes differences in the combination of flavors, along with the choice of ingredients. It's often worth trying out multiple recipes until you find the perfect choice for you.
Keto Pumpkin Smoothie Recipes
Pumpkin Protein Smoothie
Chai Pumpkin Keto Smoothie
Pumpkin Spice Smoothie
Pumpkin Cheesecake Shake
Pumpkin Spice Keto Smoothie
Pumpkin Spice Breakfast Smoothie
Pumpkin Pie Protein Shake
Pumpkin Pie Milkshake
Caramel Powder Keto Pumpkin Spice Smoothie
Sugar Free Pumpkin Milkshake
Pumpkin Pie Protein Shake
Pumpkin Milkshake
Pumpkin Smoothie
PS. Fans of pumpkin should also check out our list of dairy free pumpkin recipes.
PPS. Pumpkin fat bombs also feature pumpkin and are great ways to increase your fat intake.
Keto Pumpkin Smoothie

This smoothie recipe comes from ketodietapp.com. The site is easily one of the best sources of keto diet information. It includes plenty of information and recipes, along with useful tools. The smoothie itself is especially powerful as a meal replacement option. You're getting around 32 grams of fat per serving and 22 grams of protein, which is seriously impressive.
The combination of ingredients is fantastic too. Martina has focused on creating a drink that tastes great and also offers health benefits. That's a tricky balance to pull off but Martina has managed it well.
Pumpkin Protein Smoothie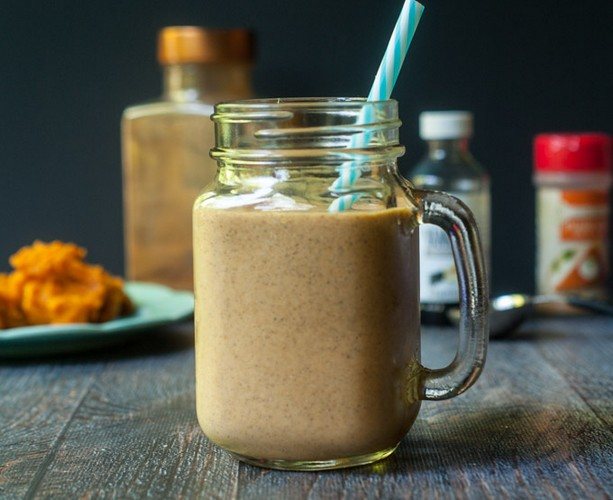 Here's a good recipe for early in the day. The smoothie comes from mylifecookbook.com and it contains 16 grams of protein per serving. This is an impressive amount of protein for any drink. It should keep you satisfied for quite some time. You could even use the smoothie to replace a meal (like breakfast).
The net carb content here is a little under six grams of carbs per serving. This is about typical for a keto smoothie. It should be fine if you are using the shake for meal replacement. If you're not, make sure you pay close attention to your macros for the day.
Chai Pumpkin Keto Smoothie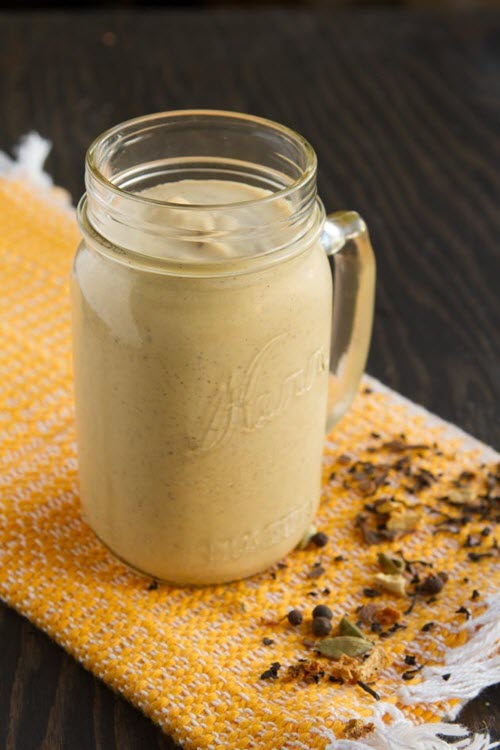 The chai focus is a nice touch, making this smoothie different than most other pumpkin drinks. The final color hints at the flavor complexity. It's clear that the smoothie isn't just going to taste like pumpkin. There will be other flavors in the mix that make the drink taste amazing. Don't take my word for it. You can check out the full recipe at healthfulpursuit.com.
Pumpkin Spice Smoothie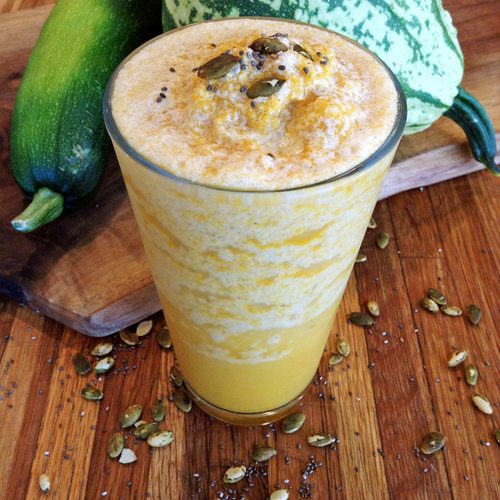 This recipe from tastefulketo.com is a fun choice if you love pumpkin spice lattes. You're replicating the flavor here, using a selection of different spices and canned pumpkin. While the recipe isn't complicated, it does create a tasty smoothie. The appearance of the smoothie is also a treat. The drink simply looks fantastic in a glass, regardless of whether you add on any toppings.
Pumpkin Cheesecake Shake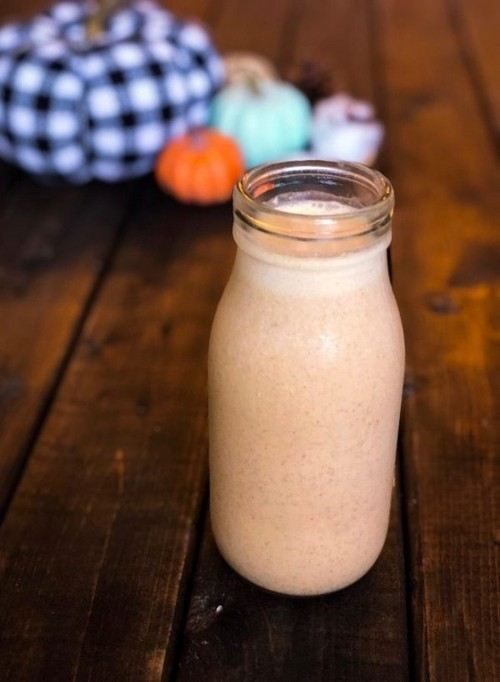 This shake takes the flavors of pumpkin cheesecake to give you a truly delightful treat. The recipe comes from buttertogetherkitchen.com and the cheesecake aspect comes from the use of cream cheese. If you haven't tried it before, including cream cheese in a smoothie might seem a little odd, but the idea works exceptionally well. In fact, cheesecake smoothies are a popular style.
Pumpkin Spice Keto Smoothie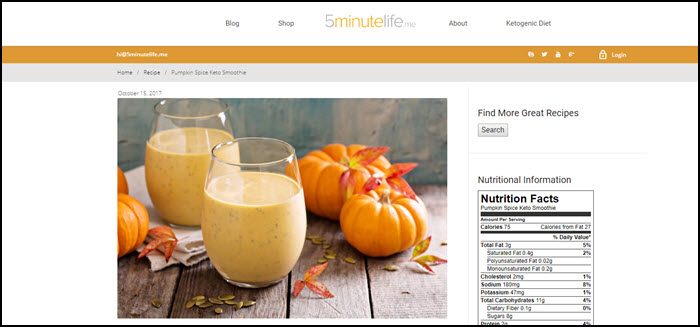 Here's a simple smoothie from 5minutelife.me. The recipe only requires four ingredients. You probably have these all on hand already, While it is a fun recipe to try, be aware that it won't suit everyone. The carb content is relatively high for a keto smoothie, while the levels of fat and protein are much lower than you might expect. As a result, this smoothie is best used as a treat, rather than as a way to improve your macro intake for the day.
Pumpkin Spice Breakfast Smoothie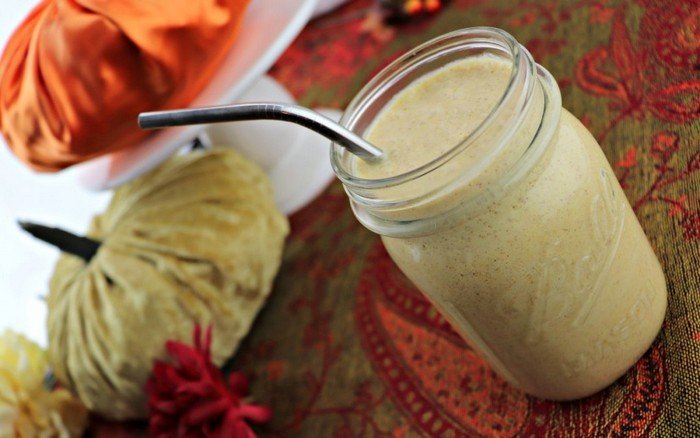 This is another smoothie that would work great as a meal replacement. It comes from explorermomma.com and has just three grams of net carbs per serving. That same serving provides you with 14 grams of protein, which is pretty good. Besides, who wouldn't love the pumpkin spice latte flavor for breakfast?
Pumpkin Pie Protein Shake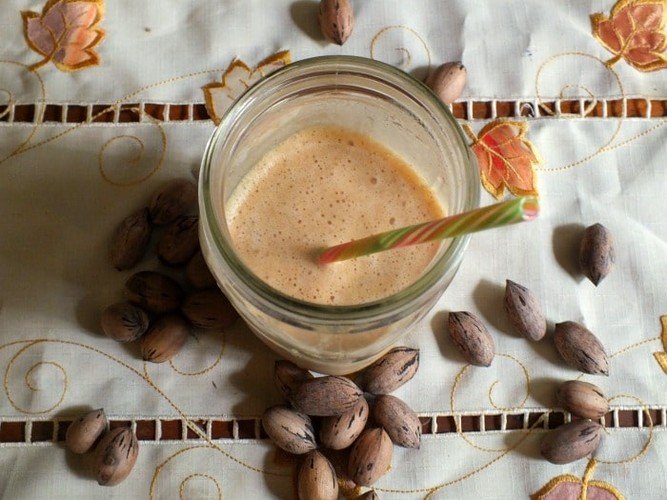 Speaking of protein, here's a recipe from lowcarb-ology.com. Marye even says that the recipe has more than 50 grams of protein if you make it as written. There are also some great flavor ingredients included that help the drink to taste amazing.
Pumpkin Pie Milkshake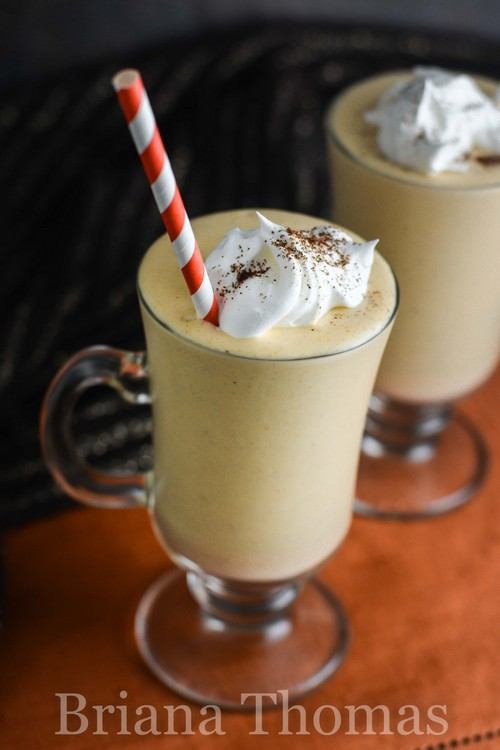 This shake comes from briana-thomas.com and it focuses on the flavors of pumpkin pie. The recipe is slightly unusual, as it contains frozen cauliflower. Don't worry, you're not going to taste the cauliflower at all. It simply adds to the nutrients that you're consuming and the creaminess of the shake. There are some other interesting flavors included as well, which all make the smoothie turn out splendidly.
Caramel Powder Keto Pumpkin Spice Smoothie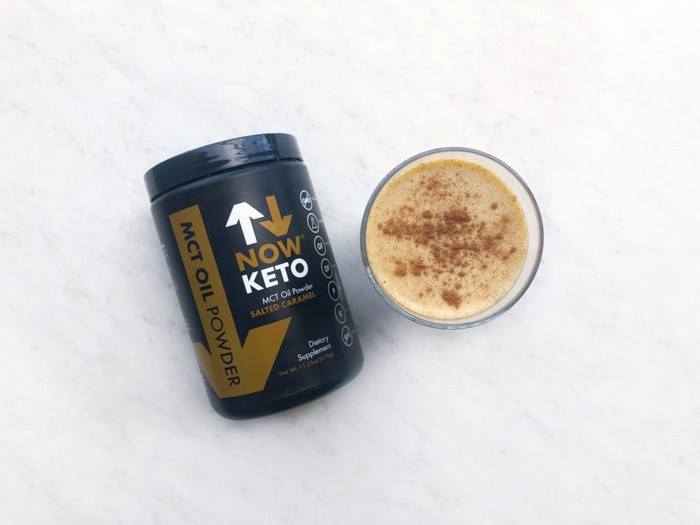 How about caramel and pumpkin for a less common choice of flavors? The combination is exactly what this recipe from oliveyouwhole.com offers. To do so, Caroline relies on salted caramel MCT oil powder. The powder does more than just add in a caramel flavor. The MCTs that it contains may also help you stay in ketosis.
Sugar Free Pumpkin Milkshake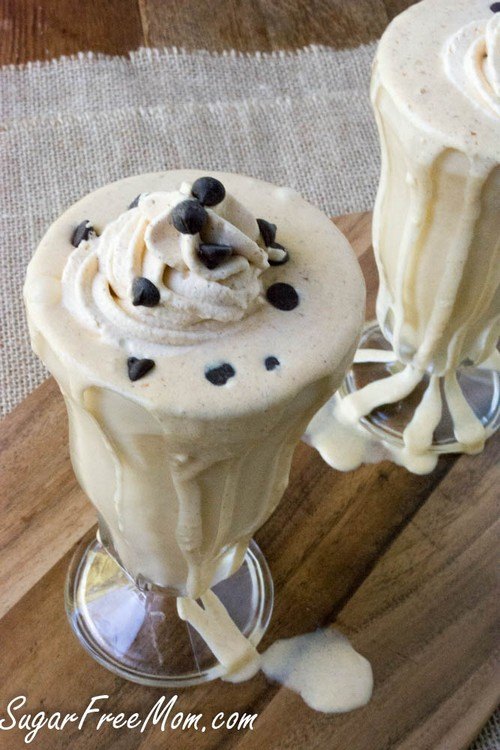 Here's a more common smoothie style to try out. This time the recipe comes from Brenda at sugarfreemom.com. I love the way the drink looks in the photographs. Despite that amazing appearance, the recipe isn't different to make at all. There are only three main ingredients, along with optional whipped cream for the topping.
Just be aware that the carb content is on the high side. The net carb content is 7.2 grams per serving. This amount might still be fine as a treat, but you'd probably need to plan your carb intake around the smoothie.
Pumpkin Pie Protein Shake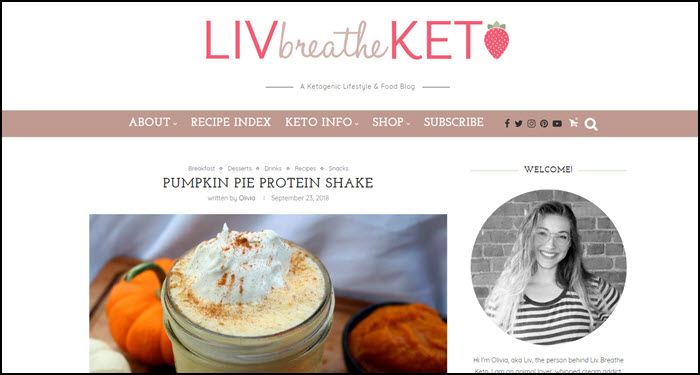 This recipe from livbreatheketo.com is another interesting one to try out. You're getting pumpkin flavor from pumpkin pie spice and also from pumpkin puree. Other ingredients provide the protein content and additional flavors.
Pumpkin Milkshake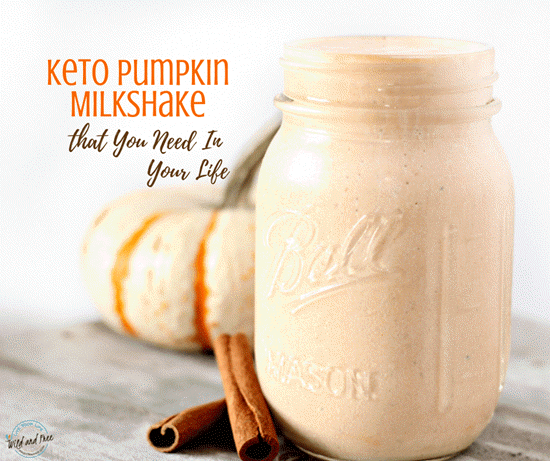 This recipe might look exactly like the other smoothies on this list, but that's not entirely the case. Kristi (from kristitrimmer.com) uses ice cream as a key ingredient. While this isn't a common choice for keto smoothies, the addition of ice cream does work well. The ice cream helps to create a thick texture. You can also leave it out if you would rather not have ice cream for breakfast.
Pumpkin Smoothie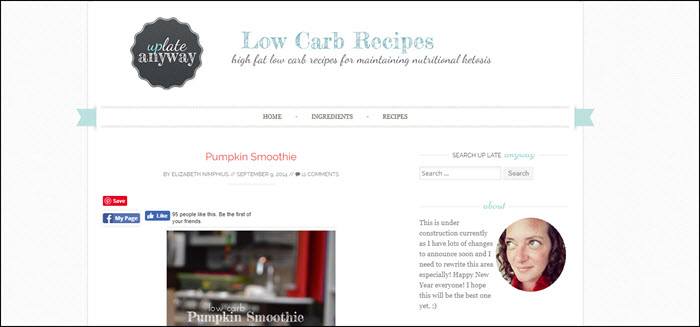 This final item recipe comes from uplateanyway.com. It's a simple choice, just relying on five different ingredients. The small ingredients list helps to ensure that you'll have all the ingredients at hand. In addition, the shake avoids any frozen ingredients. This makes it easy to mix, even with just a stick blender.