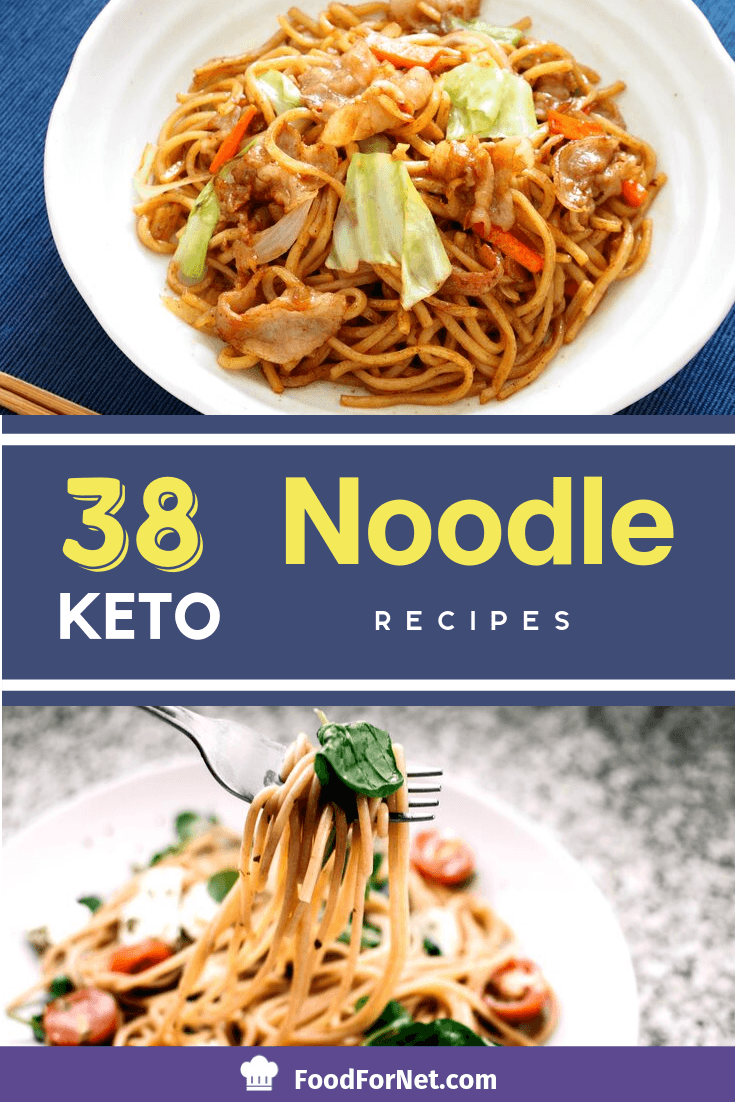 There's no need to avoid noodles just because you are on a keto diet. There are plenty of keto noodle recipes that will fit perfectly within your macros. Many of these are good for you too, boasting an impressive collection of healthy ingredients.
You're not just limited to a single style of recipe either. Keto bloggers are exceptionally creative. They have developed every type of recipe that you can imagine. Some of these rely on low carb noodles that you can purchase in the store, while others focus on noodles that you make yourself.
Either way, you can be certain that the finished dish will taste amazing.
Keto Noodle Recipes
PS. If you want a meal that is a little heavier, you could check out our keto ground beef recipes.
PPS. We also have a list of keto zoodle recipes, where all the recipes rely on spiralized zucchini as the low carb noodle of choice.
Keto Shrimp Scampi
This recipe from ketogasm.com is a great example of keto creativity. The noodles in question are actually made from summer squash, which isn't a common choice. Still, the squash is a perfect addition. It is low in carbs and nicely complements the flavor of the shrimp.
Low Carb Thai Beef Salad Noodle Bowl
Kim from lowcarbmaven.com offers this unusual recipe for you to try out. It is a variation on the power bowl idea, where you have a collection of different ingredients that each offer their own advantages. The style works very well, as you can change out individual items based on your preferences and what you have available.
Even if you don't like the entire bowl, it's worth checking out the recipe for the coconut lime cilantro dressing that it contains. This dressing is designed for the noodles, but you could use it in many other ways as well.
Keto Peanut Butter Ramen
As Idriss from brokefoodies.com makes clear, this recipe isn't your traditional ramen, not by any stretch of the imagination. The recipe is a low carb version that has some unusual aspects, including the peanut butter flavor.
Including peanut butter with ramen is an unusual style, but don't write the recipe off because of that. The flavor combination does work well. On a side note, the recipe is vegan and uses tofu. You can simply switch the tofu for another protein type if you want to.
Low Carb Pho With Zucchini Noodles
Making pho by using zucchini noodles might seem like an odd choice, but Deanna from theharvestskillet.com shows that the style can work well. The noodle choice isn't even obvious at first glance from the image. Besides, zucchini noodles are always a great way to increase your vegetable intake. They even perfectly complement the flavors of the dish.
Healthy Zero-Carb Noodle Alfredo
It's easy to see how this dish from ketodietapp.com would be popular. Alfredo is a common meal anyway, one that offers a great flavor combination. The ability to have the dish on a keto diet is almost too good to be true.
That's not all. This alfredo recipe is everything that you would expect in a pasta dish, including a creamy sauce and a comforting feel. The egg on top is an unusual addition, but simply adds to the appeal of the alfredo.
Spaghetti Bolognese With Zucchini Noodles
Here's a popular type of recipe to try out. It comes from aussieketoqueen.com and makes a meal that suits many different families. This is partly because spaghetti bolognese is so easy to make. It can also be made with inexpensive ground beef, which is another bonus.
While the main focus of the recipe is on the meat rather than the noodles, this is still a good noodle recipe. The cool thing is that you can choose the type of noodles you use. So, you don't have to use zoodles if you don't want to.
Asian Noodle Salad With Peanut Sauce
This noodle salad is a great reminder that noodle recipes don't all need to be hot and creamy. The recipe comes from ibreatheimhungry.com and it incorporates a fantastic peanut flavor that tastes similar to Pad Thai. There are plenty of vegetables included as well, which is always good for your health.
This is also a dish that will suit many people. It is free from eggs and dairy, while still offering a desirable keto macro profile. Mellissa also mentions that you can make this into a vegan recipe by making a simple substitution.
Grilled Chicken Alfredo Celeriac Noodles
This recipe is from beautyandthefoodie.com and it is a little bit unusual. The difference comes from the noodles. These are spiralized much like zoodles, but Stacey isn't using zucchini as the vegetable of choice.
Instead, she's using celeriac noodles. Stacey states that these noodles have the best texture and taste. She also links out to a page that shows you exactly how to make them. Of course, you could use another type of low carb noodle if you would prefer to.
Spaghetti Squash Puttanesca
Here's another choice for a noodle recipe. This one comes from ibreatheimhungry.com and it relies on spaghetti squash as the pasta alternative. The finished dish works exceptionally well on the plate, as you have such a cool contrast of colors.
Pasta aside, the recipe is a great one to try out. There are plenty of great flavor-packed ingredients in the mix, ones that would really bring the dish to life.
Singapore Stir Fry
I love the appearance of this recipe from Gerri at myketokitchen.com. It simply looks amazing and you can't even tell that it is low carb at all. As the name suggests, the dish incorporates plenty of interesting flavors, in a combination that you won't normally find in Western meals.
Vegan Red Curry Zucchini Noodle Bowls
Here's another interesting meal style to try out. It's unusual to see red curry as a flavor in a noodle-based dish, particularly not one that is also vegan and keto-friendly. I also love the choice of ingredients. They create a stunning balance of flavors and colors. The recipe comes from theroastedroot.net. You can find all of the details there.
'Just Like The Real Thing' Low Carb Lasagna
This recipe, from peaceloveandlowcarb.com, really does look like a regular version. Despite that, the dish is very low in carbs. There are two parts to the recipe. One is for the noodles, which are a low carb version of egg noodles. The other part is for the beef filling. Trust me, this recipe is going to be one of your new favorites.
Miracle Noodle Fettuccine With Bacon
Here's another recipe that doesn't look like it is low carb at all. It takes advantage of miracle noodles. These are a fantastic low carb pasta alternative that you can use without much work at all. I also love the inclusion of bacon – it just makes every recipe better. You can find all the details at miraclenoodle.com.
Thai Peanut Sauce Cucumber Noodles
This recipe, from iheartumami.com, is an interesting approach. Instead of using zucchini noodles, the recipe takes advantage of cucumber as the vegetable of choice. As ChihYu points out, this makes the side dish particularly refreshing, especially when combined with Thai peanut sauce. You could also add some type of meat into the mix to make the meal more satisfying.
15 Minute Garlic Shrimp Zucchini Pasta
Layla from gimmedelicious.com provides this fantastic recipe for you to try out. It's a fast and easy recipe to create, taking just 15 minutes to create. I love the combination of zucchini noodles and shrimp. Not only does the meal look amazing – it would also taste good too.
Creamy Cauliflower Noodles With Citrus Basil Sauce
Despite the name, this recipe from thecastawaykitchen.com doesn't use cauliflower to create noodles. Instead, Cristina focuses on Miracle Noodles as the pasta alternative of choice. You could substitute this with another type of low carb noodle if you would prefer.
Regardless of the noodles that you use, the meal is going to taste amazing. Cristina includes a citrus basil sauce that combines perfectly with the cauliflower. The end result will taste as good as it looks.
Sesame Garlic Noodles With Crispy Egg
The most stunning thing about this recipe has to be the fried egg. It brings the dish to an entirely new level, especially once the egg yolk runs into the noodles. The noodles use a simple combination of flavors, but that's not a bad thing. You can find information for the entire dish at modernlowcarb.com.
Steak Stir Fry With Zucchini Noodles
Here's a dish for anyone who loves steak. It comes from diethood.com and is rich in flavors. In fact, this is a good dish for anyone who isn't certain about the idea of zucchini noodles. The recipe comes from diethood.com and includes plenty of notes about getting it right.
On a side note, the dish uses zucchini strips rather than zucchini noodles. Katerina mentions that you can use zucchini noodles instead, but the texture won't be as appealing.
Butternut Squash Noodles With Mushroom Cream Sauce
This recipe relies on butternut squash as the source of noodles, rather than zucchini. The approach creates this brilliant color that contrasts perfectly with the mushrooms. Of course, the butternut squash influences the flavor of the recipe too. The details can all be found at jenniferbanz.com.
Keto Pesto Pasta Using Jonjac Pasta
There are many fantastic recipes on this list, but this is one of the best looking versions. I love the way that the green of the pesto contrasts against the bright red of the cherry tomatoes. This time, the pasta of choice is shirataki noodles, which are made with konjac roots. The recipe comes from Monya at Mud & Love and the Fats of Life.
Pho With Shirataki Noodles
Speaking of shirataki noodles, here's a recipe from killinitketo.com. As the name suggests, it's a low carb version of pho. The dish uses an amazing combination of flavors that you're certain to enjoy. Another cool thing is that the dish uses bone broth. This broth has been linked to various health benefits.
Lemon Garlic Shrimp With Zucchini Noodles
Here's a simple and tasty recipe from lifemadeketo.com. The combination of lemon, garlic and zucchini works extremely well. There are some great tips included with the recipe too. These provide ways that you can change up the flavors or make the dish more filling.
Low Carb Lasagna With Easy Meat Sauce And Cabbage Noodles
This recipe comes from theketoqueens.com. It is a keto version of lasagna and takes advantage of cabbage noodles. The post also includes plenty of details about how you can make the dish taste just as good as regular lasagna. Faith also highlights a selection of ideas for low carb noodles.
Keto Pad Thai
This keto Pad Thai recipe is packed full of color and offers many great flavors too. The green and purple works exceptionally well. The recipe includes information about how to make the sauce, along with the rest of the dish. You can find all of the details at helloglow.co.
High-fat Alfredo Creamy Zucchini Noodles
The first great thing about this zucchini noodles recipe is how creamy the dish is. Meals like this are always popular, especially as you can easily pair them with meat on the side. Another cool thing is the details in the post. In particular, Ioana from lowcarbspark.com, provides images and descriptions about how to use a spiralizer effectively.
Quick Keto Ramen With Poached Eggs
The inclusion of poached eggs in this ramen recipe makes all the difference. The egg yolks add to the flavor of the ramen, making the soup taste that much more interesting. You're getting extra protein from the egg too. Lindsey from allthenourishingthings.com provides all the details, along with information about using shirataki noodles too.
Spicy Beef Ramen
Here's another ramen recipe to try out – from Ali at jamhands.net. The spicy beef flavor is a fantastic choice, making the dish stand out from other ramen meals. The beef also means you're getting plenty of protein, helping to keep you full.
Keto Pad Thai
Pad Thai is always a popular meal, so here is another keto version of the recipe? This one comes from thelittlepine.com and features plenty of bright colors. I particularly love the green and red. It would be a great dish to serve to guests too.
Zucchini Noodles With Tomato-Basil Sauce
This recipe, from paleoleap.com, features some fantastic colors as well. This time the main colors are the green and yellow from the zucchini pasta, which are contrasted against the red of the meat. The appearance of the dish is only part of the story. There are plenty of great ingredients included too, giving you a meal that is both tasty and healthy.
Cold Peanut Noodle Salad With Kelp Noodles
Low carb noodle recipes don't need to be hot. This recipe from resolutioneats.com is an interesting version to try. It's a relatively simple meal, but that's not a bad thing. The meal takes advantage of Asian flavors, including ingredients like ginger and soy sauce. You're also just getting five grams of net carbs per serving, which is simply fantastic.
Sesame Kelp Noodles Recipe With Chicken
Here's a recipe from wholesomeyum.com that is both paleo and keto friendly. It is also a one-pan recipe, so it is very easy to prepare. The dish takes advantage of crisp veggies, along with kelp noodles and chicken. As Maya mentions, the recipe is versatile. You don't need to measure any of the ingredients and you can change up the vegetables as you please.
Kelp Noodles With Avocado Pesto
Liz from meatfreeketo.com offers this noodle recipe that will suit many people. The dish isn't just keto, it is also vegan, gluten free and compliant with the AIP diet. The recipe is even raw as long as you use extra virgin olive oil. Most of the details in the recipe are focused on the pesto, which you could easily use in other ways as well.
Easy Keto Egg Noodles
This recipe is a little different, as the main emphasis is on making egg noodles that you can use on the keto diet. The recipe uses just three ingredients, so it's simple to prepare. Once again, there are many different ways that you could use the noodles. After all, noodles combine well with so many different ingredients. This time, the details can be found at ketoinpearls.com.
Chicken Soup With Egg Noodles
While we're on the topic of egg noodles, here is a recipe that relies on them. It comes from lowcarbsisters.com and includes the instructions for all parts of the meal. This type of soup that you're making is more filling than most, as it includes protein from the egg noodles and also from the chicken.
The only limitation is that the soup is low in fat. A low fat content might be good if you're trying to keep your calorie intake low, but the style isn't normally desired on a keto diet. A simple solution would be to have a fat bomb afterwards as a treat. You could also look for a high fat side dish to accompany the soup.
Cabbage Noodles
Kim from lowcarbmaven.com offers this interesting noodle alternative. While cabbage isn't normally a first choice for low carb noodles, the style can work extremely well. As Kim points out, the recipe is basically just fried cabbage, so it's not the most unique dish out there. Still, you can easily use it as a base for many low carb meals. If nothing else, the cabbage is a nice alternative to zucchini noodles, which can get a little boring after a while.
Asian Noodle Bowl
I'm seriously impressed by the appearance of this Asian noodle bowl. The recipe comes from ketoconnect.net and it doesn't look like it is low in carbs at all. One of the best aspects is the use of marinated Miracle Noodles. This approach is a ideal way to take advantage of those noodles, making them taste much more appealing.
Another cool thing is the combination of flavors, due to the ingredients chosen. The dish is also very nutritious. I particularly like the addition of an egg. This really brings the whole meal together and makes it stand out even more.
Taco Alfredo Chicken Pasta
Alex from castironketo.net offers this recipe that is too good to pass up. Unlike many of the dishes on this list, the pasta doesn't look very exciting – the colors are just too similar. Appearances can be deceiving. The recipe takes advantage of Mexican flavors to make it stand out, creating a meal that you won't soon forget.
Fresh Egg Pasta
This recipe comes from gnom-gnom.com and is surprisingly close to regular pasta. The recipe isn't a fast one, taking around an hour to prepare. However, you can easily make it ahead of time and even freeze some for later use. Paola highlights all of the steps along the way, including details about making the various egg pasta shapes. There are plenty of images to help you out, along with information about cooking the pasta.