The keto diet has become an incredibly popular eating approach, one that many people swear by. It can be hard to stick to, which is why these fun keto snack subscription boxes have exploded in popularity.
It's hardly a surprise that keto is a popular diet, because the low-carb and high-fat diet promotes weight loss while providing many potential health benefits. And all the while, you can eat lots of fatty, delicious foods.
These keto snacks are also a welcome alternative to modern snacks, which tend to be highly processed and full of artificial ingredients.
Despite the benefits, the keto diet can be challenging. You need to cut out many common foods and ingredients. This makes it much more difficult to eat ALL the food that you enjoy, especially if you're short on time or energy. Some people turn to keto meal delivery services or keto meal kits to make things easier, but what about snacks?
It's always good to have some easy and healthy snacks on hand. These can often be the difference between sticking to your ketogenic diet and giving up.
This is where keto snack subscription boxes come in. They contain various snacks (and sometimes ingredients) that make the keto diet much easier to follow. You might even discover some new favorites along the way.
In This Article
In this article, we're going to narrow our focus on the best keto snack subscription boxes for you to consider. These take the decision-making process out of snacking, and make it easy for you to have a quick snack without stressing about breaking your keto diet. These food subscription boxes get sent at regular intervals, so once you sign up there is no more stress.
After we examine the best boxes, we'll dive into your decision making process for these snack boxes, and then give you a quick rundown of our favorite keto snacks.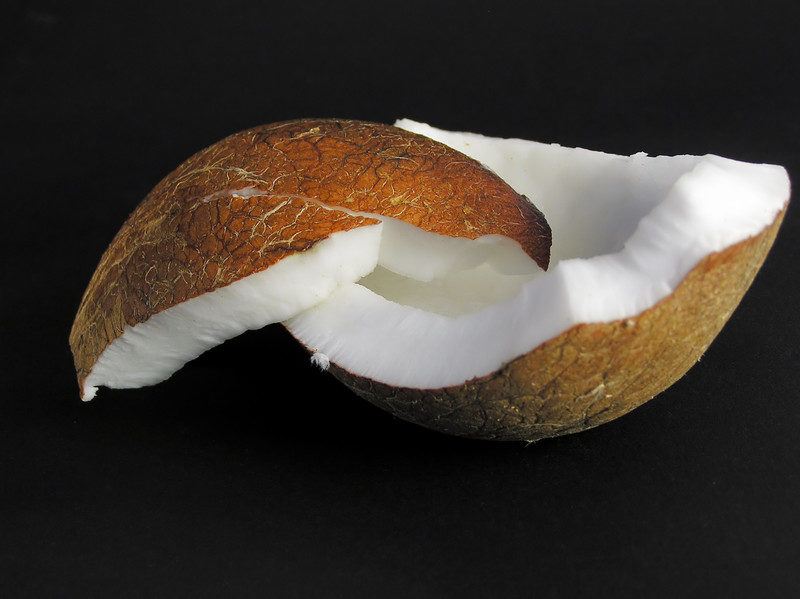 Keto Subscription Boxes
The Keto Box
My Keto Snack Box
Bunny James Premium Low Carb Keto Box
Sugar Smart Box
Stick in a Box
KetoCan
Sleek Treat
Not Pie Keto Subscription Box
KetoKrate
The Keto Box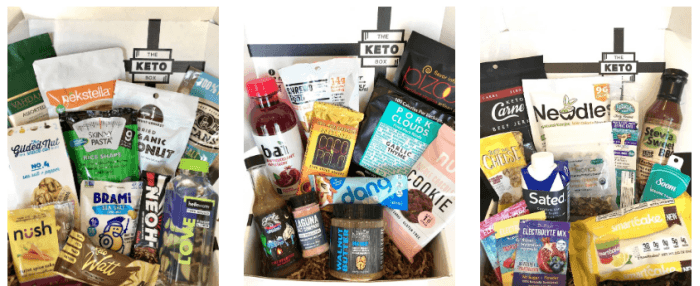 The Keto Box hasn't been in circulation for as long as many of the other examples on this list. It's also another snack box that doesn't specify the carb content that they're aiming for, which is a shame.
Don't let those aspects put you off though. The Keto Box also has some clear advantages. One is their transparency. There are plenty of images of the products you might find in the box. The site even has images of previous boxes. The style gives you a good idea about what you can expect before you sign up for anything.
This snack subscription box also aims to be responsive. While there are currently no customization options, the people behind the site look for customer feedback following each shipment. They use this to guide future boxes. The style helps ensure that the selection is always the best that it can possibly be.
Subscription to the box costs $40 per month. This provides you with between 8 and 11 snacks each month. You can see what I got in my review of The Keto Box.
My Keto Snack Box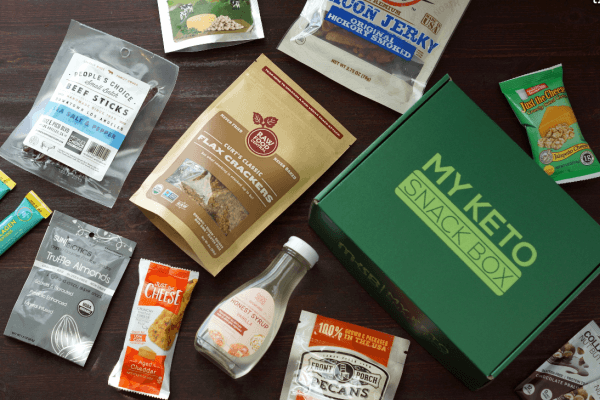 My Keto Snack Box costs $38 per month, with no contract. This gives you the ability to cancel your subscription any time.
Shipping is free in the United States. There is also international shipping as well, but you need to pay extra to do so.
The basic version of My Keto Snack Box has 8 to 11 snacks. Some of these come from keto and low carb brands, while others are conventional snacks that are simply low in carbs. All of the snacks contain no more than 5 grams of net carbs (per serving), so they're perfect for keto.
Here's my personal review of My Keto Snackbox.
Bunny James Premium Low Carb Keto Box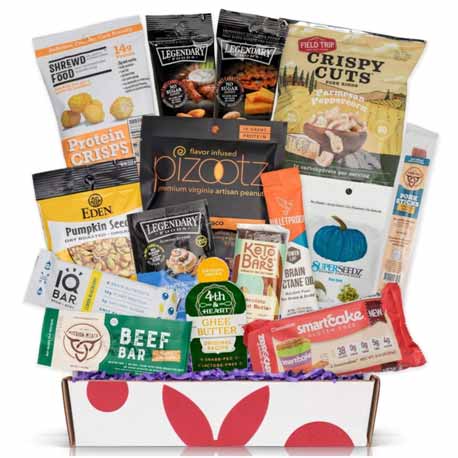 Bunny James is one of the more popular snack box brands out there, and we think that's for very good reason. And as a bonus, they donate a portion of their profits to support the homeless in their community.
The Premium Low Carb Keto Box is a great option for an all-around keto snack box. If you're looking for a box that has a good variety of everything, then this box might be for you. This box is full of all the ketofavourites– things such as protein bars, pumpkin seeds, almond butter, and more.
This box is available as a subscription or as a one-time payment. It costs $54.99 for a one-time purchase, and $44.99 as a subscription. Bunny James even offers gift wrapping if you want to send this box to someone.
Bunny James tries their best to be fully transparent. They provide nutritional information on their website for all of the products within the box. Additionally, each product in the box is listed alongside a carb count. This is invaluable information for someone on a strict keto diet.
Another feature worth mentioning is the appearance of this box. Bunny James packs every box to look like a "miniature garden". Snacks are neatly packed in, and they come with a custom poem, a heartfelt story, and colored grass decorations.
Sugar Smart Box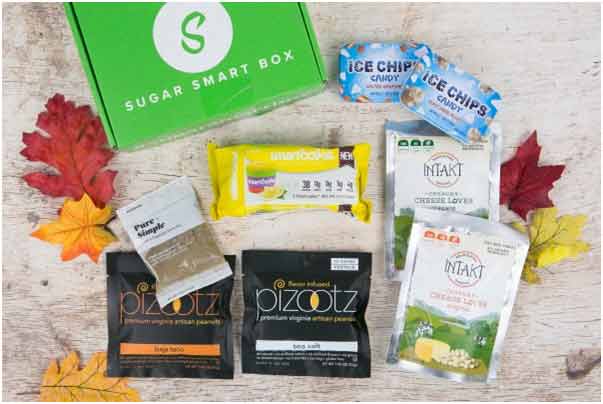 Here's a keto box that might be for you if you want something focused on sugary snacks.
The Sugar Smart Box is a great choice if you prefer your snacks on the sweet side. What's even better is that these sweet treats are all on the healthy side. The Sugar Smart Box picks snacks that are low in sugar and carbs. Possible treats include gummy bears, dairy free chocolate bars, sweet nuts, and much more. This keto snack box ensures that there is less than 5 grams of sugar in every serving.
This snack box has plans which start at $27.95 per month. There is also free shipping to the United States. There are routinely discount codes given on the website which can help you score a great deal.
So if you are looking for a keto box that is specifically focused on healthy, sweet snacks, this could be exactly what you are looking for.
Stick In A Box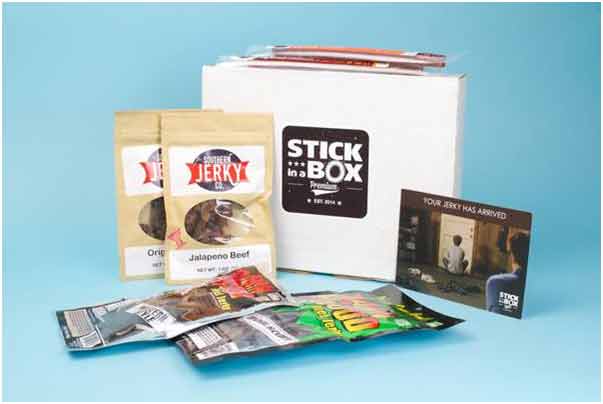 Beef jerky is a popular snack among keto enthusiasts. It is low carb, but also packed with protein, and valuable vitamins and minerals. Also, it tastes great.
If you are a big jerky fan, then Stick in a Box might be exactly the type of box for you. This box contains a selection of jerky and beef sticks from all across the USA, with new varieties being added monthly. Since the box started, they have included over 400 types of jerky in this monthly offering.
You're getting new types of jerky that you wouldn't be able to find elsewhere. This means all types of flavors, but also different types of meats – such as turkey jerky, chicken, bacon, and more.
So if you're a jerky fan, and don't want to go through the trouble of scouring the country for new flavors and varieties, this might be the perfect option for you. Many people use beef jerky as fuel for their active lifestyle, as it is such a great source of protein.
This box comes in smaller and larger options. The "Lite Knight" includes 2 bags of jerky and 1 beef stick, while the "Gladiator" includes 5-7 unique products every month. The Gladiator costs $32 per month, and there is free shipping across the USA.
KetoCan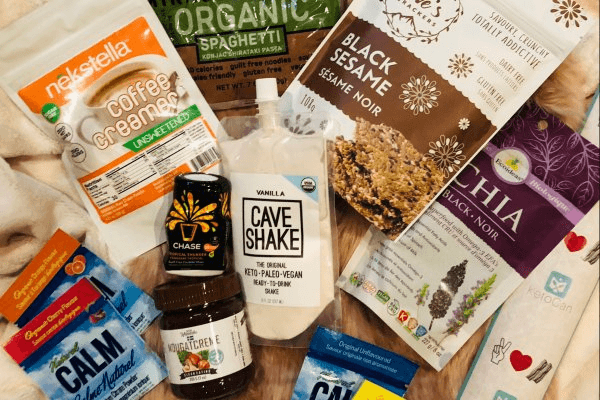 KetoCan gets its name because the box is designed for Canadian residents (although it does ship worldwide). Subscriptions cost $46 CAD every month and they automatically renew until you cancel membership.
The box is a great choice for finding new snacks, as KetoCan focuses on local and Canadian suppliers. There is also an emphasis on including new products from month-to-month. This means that you're not getting the same snacks each time. Instead, there is plenty of variation to keep you interested.
The main limitation is that the company doesn't provide details about the carb content. This could mean that some of the snacks have more carbs than you would like.
Sleek Treat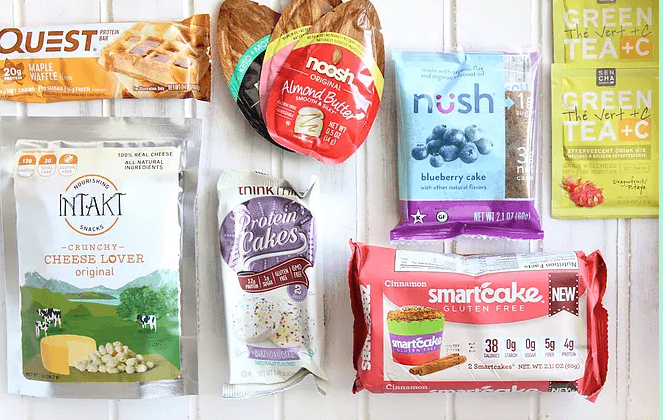 Sleek Treat is marketed as a low carb box, but it is keto friendly as well. The company has a strong focus on health and nutrition overall, aiming to provide natural products that don't contain any added sugar.
There are 2 main versions of the box. Their main one is the Sleek Treat Signature Monthly Subscription. It normally contains somewhere between 7 and 9 different snacks, many of which rely on natural sugar alternatives. The box costs $34.99 per month when ordering month-to-month. You can also pay a little more if you want the box to be frozen before shipping and insulated.
There is also a Sleek Treat Mini. This is a much smaller subscription, just providing 3 to 5 low carb snacks. It costs $14.99 per month. The size and price make it perfect if you just want a little something each month. It can be hard to find affordable subscription boxes, so this might be a great alternative, especially as a gift.
This is another box that doesn't provide details about the carb content of the snacks. Not offering the information is always a slight problem. That's even more true for companies like this, where keto isn't their main focus. It isn't clear whether their version of keto-friendly is going to match yours.
Not Pie Keto Subscription Box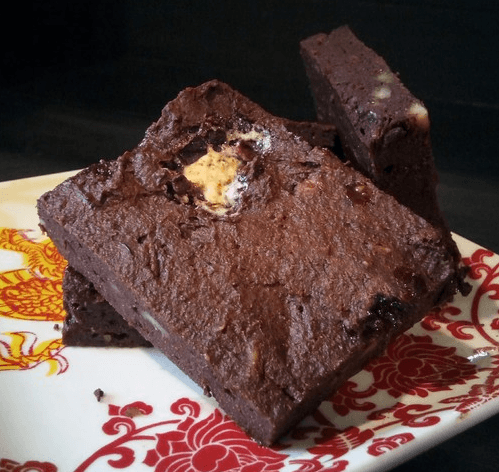 Not Pie is best known for its cupcakes and Cupcake of the Month Club. Those aren't keto-friendly, but the company does also offer a Keto Subscription Box. The healthy treats rely on a specialized sugar alternative, which takes advantage of monk fruit and D-ribose. Other ingredients are carefully chosen to ensure that the cupcakes offer health advantages and have a similar texture to regular cupcakes.
Signing up for a subscription is simple – there's just one option. This is a 3-month membership, which costs $95 for the 3 months. The first month of your subscription will always provide keto brownies, while the second will provideketo chocolate chunk cookies. The third box is a mystery, based on whatever the company dreams up that month.
Just be aware that the company does talk about using cassava flour in their description. Cassava flour is relatively high in carbs and is normally avoided in keto baking. This could mean that the treats aren't as keto-friendly as the company suggests.
Nonetheless, if you want a keto box that focuses on only dessert foods, then this could be your best option. Especially given it is often so hard to eat baked treats and keep to a keto diet.
KetoKrate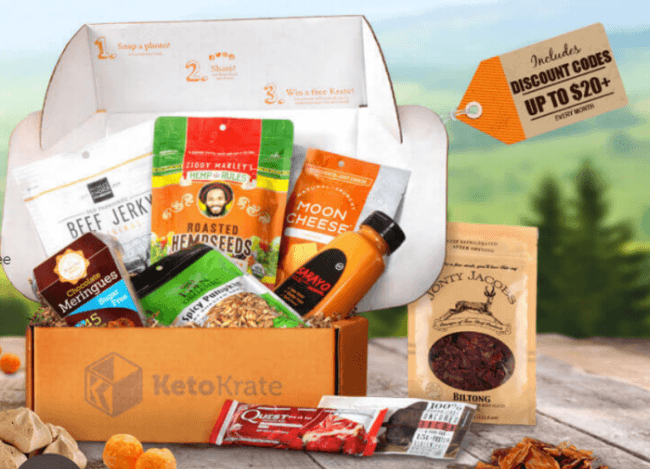 Keto Krate is easily the most well-known keto box out there. The subscription is regularly featured on keto diet blogs, with many people featuring unboxing videos where they highlight the various snacks each month. Reviews tend to be positive, so it's no surprise that KetoKrate boasts a 98% satisfaction rate.
The included snacks never have more than 5 grams of net carbs. Most of the time the carb count is considerably lower. The company also avoids gluten, aspartame and maltitol as ingredients.
KetoKrate is a brilliant way to discover new snacks that you would never have found otherwise. You get at least 8 of these in your monthly box. The company also includes coupon savings, giving discounts if you buy some of the snacks locally.
There are 2 monthly plans to choose from. The first, Nibbler, costs $19.99 per month and provides 4 or more snacks in each Krate. The second, Muncher, costs $39.99 per month. While the price sounds high, Muncher does provide at least 8 snacks, including some unusual choices.
Sometimes the most popular option holds that spot for the reason, and KetoKrate seems to be an example of that. So if you don't want to overthink it and just want to go for a brand with the most satisfied customers, then this could be the best option for you.
Top Considerations for Choosing a Keto Box
You can surely see from the above list that the options are pretty extensive when it comes to monthly subscription boxes. In fact, there is such a wide variety of these tasty snack boxes that you might get overwhelmed just trying to make a decision.
We have made this buyer's guide to help you decide. By considering each of the following factors, you will be able to decide what is most important to you in a keto snack box, and make the decision that best suits your individual preferences.
Variety
Of course, one of the top considerations in any box is what foods are actually inside the box. Each box offers something different, and while you won't always know exactly what the company is going to send, you can get a pretty good idea of what to expect by looking at past examples.
Whether you want basic keto snacks, healthier keto snacks, or even sweet snacks, there are boxes that focus on many different areas of snack food. Try to decide what kind of snacking you like best, and make a choice based on that.
Price
The next consideration that most people have is how much the box actually costs. Let's face it, keto products aren't known to be the cheapest food options on the market. However, there are ways to save money if you're a savvy consumer.
The simplest way to save money on a subscription box is simply to compare options. But looking at the price alone won't give you the full picture. Instead, see how many snacks are included in each box. Often, if companies offer a "small" and "large" snack box option, the larger box tends to have more value for the money.
Transparency of Nutritional Information
One of the most important considerations in a keto diet is ensuring that you stick to low carb foods. So obviously, a keto snack box that delivers these types of foods is a top priority. However, you might be surprised to learn that a lot of subscription boxes aren't up front about the carb content of their snacks.
If this is an important consideration for you, look for a box that is up-front and transparent. Many boxes also make it easy for you and promise to not ship any products that are over a certain amount of carbs. Check the details of the subscription for any nutritional transparency before you make a purchase.
Cancellation Policy
Be sure to get the full details of your subscription box's cancellation policy as well. The ideal box is one that you can cancel at any time without any hidden fees or obligations.
Many of the boxes on our list allow the customer to cancel at any time, but be aware that many of these boxes also automatically renew. Therefore, be diligent in making sure that you aren't receiving any boxes you don't want.
BONUS: Our Two FavouriteKeto Snacks
Before we wrap up this article, we want to talk about our two favorite snacks from these subscription boxes! These are great all-around snacks for anyone on a keto diet, and can be found in more than a few of these subscription boxes:
• Jerky: Beef jerky is a staple in many of the keto snack boxes above. You'll find it is a regular addition to the KetoKrate, My Keto Snack Box, and of course Stick in a Box. Jerky is a keto friendly snack, but there are many other benefits to this snack as well.
We find that jerky gets a pretty bad reputation for whatever reason. On the contrary, beef jerky is loaded with healthy ingredients, including protein, and many vitamins and minerals. Beef jerky is a great source of iron and zinc.
While many assume that beef jerky is packed with preservatives, this is untrue as well. So next time you're thinking of a healthy snack to fuel some exercise, consider jerky.
• Organic Pumpkin Seeds: Another snack option you'll see across many of these boxes is organic pumpkin seeds. You might find these seeds in the or The Keto Box.
Not only are pumpkin seeds delicious, they're full of great nutrients. They are high in protein, fiber, and healthy fats. They're also high in antioxidants. This is a snack that will curb your hunger the right way.
Conclusion
Eating keto can be difficult. From picking the right ingredients, to finding the right recipes, to counting carbs and fats. Sometimes, it helps to keep things simple. We hope that our list of keto snack boxes has shown you an easy, convenient option for snack time.
These snack boxes arrive right at your doorstep, and help to eliminate some of the trouble involved with keeping to a strict diet. They're filled with delicious snacks, and there are many options to choose from. Good luck finding the best box for you!