Cloud bread is a popular keto diet choice. The bread is normally pretty flat, with an airy texture. It ends up being a great choice for sandwiches.
There are plenty of other applications too, like using pieces of cloud bread as a pizza base or to make hamburgers. You'll sometimes find it called oopsie rolls or oopsie bread. The general idea is the same either way.
The original cloud bread recipe includes hardly any ingredients. Eggs are strongly featured, along with cream cheese and cream of tartar. That's about it. You end up with a fairly eggy bread that is easy to make.
The simplicity of cloud bread has left plenty of room for variations. There are now many different keto cloud bread recipes out there, in various styles.
This list highlights some of the most amazing examples from keto bloggers around the web. Go ahead, check them out.
Keto Cloud Bread Recipes
PS. If you're wanting something that resembles traditional bread, you could check out our roundups of coconut bread and almond bread recipes.
PPS. Another interesting style is keto seed bread. These recipes tend to be packed with protein, making them very satisfying.
The Best Cloud Bread
This cloud bread recipe comes from Sommer at aspicyperspective.com. It's a popular one, with more than 250 comments on the original post.
Cloud bread itself is a common style of keto bread and Sommer's version isn't too different than the original. The largest variation is the choice of seasonings.
Adding in seasonings like this brings the bread up to a new level, making it perfect for sandwiches and many other uses.
Easy Cloud Bread Recipe
This recipe from busycreatingmemories.com mostly follows the original concept. The largest difference is the inclusion of protein powder. This makes the bread much more satisfying, so it will keep you full for longer.
Amber also provides additional ingredients for making a sweet or a savory version of the bread. This is a fun idea – giving you the chance to match the bread's flavor to your planned toppings.
Cloud Bread Loaf
This recipe does follow the general idea of cloud bread, but it is a little unusual too. The difference is that Brenda shows you how to make the bread as a loaf or as rolls.
The rolls are good choices for sandwiches or for burgers, while the loaf has plenty of possible uses as well. There are other variations to the recipe too.
Brenda mentions that her family didn't enjoy the cream cheese taste of the original, so she made some tweaks to create something more appealing. You can find all the details you need to make the bread at sugarfreemom.com.
Low Carb Cloud Bread With Greek Yogurt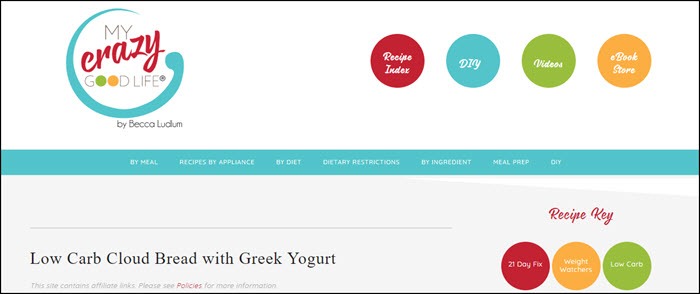 As the name suggests, this recipe uses Greek yogurt in the cloud bread instead of sour cream. Becca (from mycrazygoodlife.com) says that the bread tastes roughly the same either way.
The biggest advantage is that the Greek yogurt version can be considered cleaner. The yogurt is also a good source of protein, helping to keep you satisfied.
Pumpkin Cloud Bread
Here's an interesting cloud bread choice. This one comes from sugarfreemom.com and includes pumpkin as a key flavor. We're not just talking about pumpkin spice either. There is pumpkin puree in the recipe too.
Another notable aspect is that you're making a cloud bread loaf, rather than individual pieces of cloud bread. The loaf style gives you more options about how you serve the bread.
If you use the serving size stated in the recipe, each slice of bread will contain two net grams of carbs.
Rosemary Cloud Bread
This cloud bread is one of the simplest examples on the list. It comes from thebigapplemama.com and mostly follows the traditional cloud bread style.
The main change is the inclusion of rosemary. This makes the bread a little more savory and will complement many toppings.
The recipe is also a good choice if you're just getting started with cloud bread. Irina provides plenty of instructions to make the process easy.
Keto Cloud Bread – Low Carb Burger Buns
This recipe is from Aaron at fatforweightloss.com.au. The main difference is that Aaron promotes the recipe as being a burger bun alternative. He's right too.
Cloud bread works surprisingly well if you're making keto burgers. His version also includes some extra seasonings. These help the bread to stand out somewhat.
Churro Cloud Bread
It's hard not to love this cloud bread version. The recipe comes from brit.co and tastes just like a churro. Of course, this bread is much healthier than a regular churro and isn't loaded with sugar.
For that matter, the recipe only requires five ingredients. This makes it easy to prepare. The bread doesn't even need to be fried (unlike a churro).
Cinnamon Cloud Bread
Here's a second recipe that uses cinnamon as a key flavor. It comes from the site creativegreenliving.com. The approach means that your cloud bread isn't the same light color as normal. Instead, you get something that is a little bit darker.
The color difference simply makes the bread more interesting. You should find that the texture of the bread is similar to the other examples on this list.
The Best Cloud Bread Recipe
Maya from wholesomeyum.com promotes this as being the best cloud bread choice out there. I'll let you be the judge of that.
The recipe isn't vastly different than the traditional cloud bread approach. There is just one ingredient substitution, but the change is pretty interesting.
You end up with cloud bread that is more buttery than usual. That's a great outcome, even if you enjoy the flavor of the original recipe.
Cloud Bread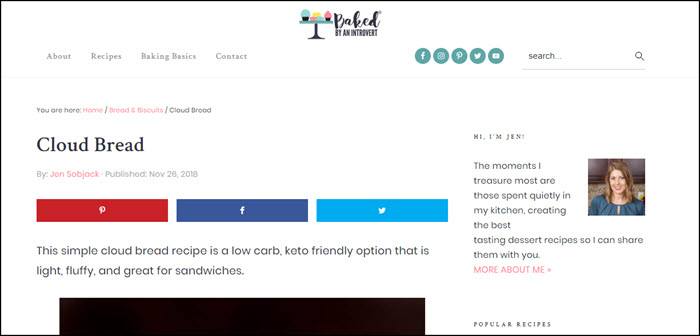 This cloud bread uses the same set of ingredients as another recipe on this list, so it mightn't sound too exciting. Even so, it's worth checking out the recipe over at bakedbyanintrovert.com.
One advantage is simply the beautiful images that are included in the post. The instructions are well-presented too, making this an easier recipe to follow than most.
A final aspect to consider is recipe variations. Jen provides details about a few changes that you can make to create different flavors.
Paleo Cloud Bread
Here's a more unusual approach to cloud bread – from Mira at mypcoskitchen.com. The largest difference is that the recipe is dairy free. There are a few extra ingredients included as well, which make the flavor more interesting.
Mira mentions that she prefers the flavor of the dairy free cloud bread. She also provides an alternative to cream of tartar, in case you don't have any of that ingredient on hand.
Cloud Bread

While this cloud bread follows a typical approach, the post does contain useful details about seasoning the bread and different ways to serve it.
The images are perfect too. These show you what to expect during each step of the bread preparation. You can find the details at cookiesandcups.com.
5-Ingredient Cloud Bread
This recipe comes from mynaturalfamily.com and the post is a little unusual. You end up getting one recipe from the site itself and links to nine other cloud bread recipes. Many of those have been featured on this list.
There are also answers to some common questions about cloud bread, like whether you can freeze the bread and how the bread is stored.
Easy Cloud Bread Without Cream Cheese
Here's a dairy free cloud bread recipe, from foodbymars.com. The recipe itself is surprisingly simple.
Alison was able to create a similar flavor and texture to the original cloud bread recipe with only one ingredient substitution. She also provides details about toppings that you can use to make the cloud bread more interesting still.
Cloud Bread With Dairy Free And Egg Fast Options
This recipe, from ketogenicwoman.com, is another simple one. There are only three ingredients and the steps are exactly what you would expect.
Still, Anita does provide a decent list of ways that you can use the bread. The post is worth checking out just for that information. There are also details for people wanting a dairy free option and anyone doing an egg fast.
Easy Calorie Cloud Bread Recipe
Mirlene started with the original cloud bread recipe and has made some subtle tweaks over time. While the changes aren't dramatic, they have created cloud bread that is even lighter than other recipes. You can find out about her changes at savorythoughts.com.
Mouth-Watering Garlic Cheddar Cloud Bread
If you want a different flavor combination, check out this recipe from realfoodrn.com. Kate uses garlic and cheese to create savory cloud bread. Because cheese and garlic are so versatile, the bread will still be perfect for many uses, such as the bread when you're making a sandwich.
Kate also mentions using the bread as the base for eggs benedict, which sounds like a tasty idea.
Keto And The 'Cloud Bread' Loaf
Anna at thefoodful.com provides this cloud bread loaf recipe. Like most such loaves, the recipe is more complicated than simply making cloud bread.
Still, a loaf does provide you with more flexibility. You can get roughly eight or ten slices of bread from the finished loaf. Anna also offers some suggestions for sweet and savory variations to the bread.
The Perfect Oopsie Cloud Bread
Don't be fooled by appearances. This bread is different than any of the others on the list. Antya (from queenketo.com) uses an unusual flour choice to create the bread.
She talks about the decision in her post. While the recipe might not suit everyone, it is at least a different style that you can try.
Keto Cloud Bread: A Keto Bun Recipe
This recipe from wholebodyliving.com is another interesting variation on the idea of cloud bread. The basic recipe remains the same, but Tara has added in some extra ingredients.
These were included to reduce the 'egginess' of the original version and improve the texture. The end result feels more like bread than most other cloud bread recipes.
Italian Cloud Bread
For the most part, this recipe follows the familiar cloud bread recipe. The difference is in the final flavor. Kendra includes a small selection of ingredients to create an Italian flavor profile.
This is a fantastic choice, as it makes the cloud bread taste much more interesting than it would otherwise. You can find the details at drizzlekitchen.com.
Garlic Bread With Cheese
This recipe is a more dramatic variation of cloud bread. You're basically making cheese and garlic bread, where cloud bread is the base of the recipe. The style works very well.
It also means that you can have delicious garlic bread on a keto diet. How's that for fantastic? The recipe itself comes from thebigapplemama.com and you can check it out there.
Almost Zero Carb Garlic Bread
Here's another garlic cloud bread recipe to try. This time it comes from stepawayfromthecarbs.com. Each piece of garlic bread contains just one net gram of carbs per slice, which is simply amazing.
The bread looks very good on the plate too. This is perfect if you're planning to serve the bread to guests.
Low-Carb Cloud Bread That's Delicious
There are two differences with this cloud bread recipe, which comes from dinner-mom.com. The first is the addition of garlic. This makes it similar to the garlic bread recipes above, except that you're not adding grated cheese.
The other difference is that cream cheese isn't used. Marjory includes a different ingredient instead. This decision changes the flavor of the finished bread. You might find this version more appealing.
Spicy Cloud Bread
This cloud bread recipe is simple, with just one extra ingredient to make the bread more interesting. Even so, you are adding in quite a kick to the bread. This can make it taste so much better.
You can check the recipe out at easyketodishes.com to learn about the secret ingredient.
Cloud Bread Cheese Danish
This recipe, from lowcarbyum.com, combines the idea of cloud bread with a danish. The finished treat looks amazing and tastes much more interesting than regular cloud bread.
Each serving just contains around 1.1 net grams of carbs, which isn't much more than cloud bread itself. If nothing else, the recipe is a great idea for something different.
Avocado Cloud Bread
Here's an interesting idea to consider – avocado cloud bread. The recipe comes from delish.com and simply adds avocado into the mix.
The choice would be perfect for anyone who loves avocado. You are also adding sesame seeds on the top. This is a nice touch that makes the bread stand out even more.
Oopsie Bread
Lindsey at thelittlepine.com offers this cloud bread variation to try. The recipe has some interesting additions that influence the texture and flavor.
Lindsey also spends time talking about different ways that you can use cloud bread, including how the bread can act as a base for other recipes.