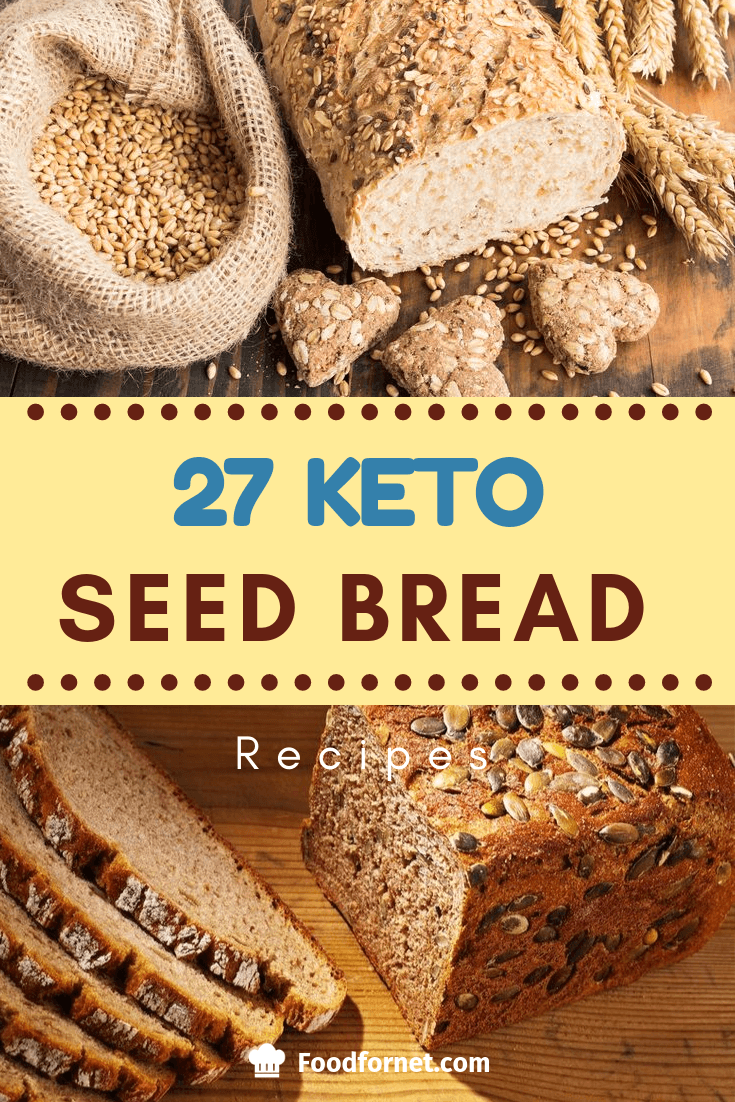 While there are many different keto bread recipes out there, they often end up creating white loaves of bread. The style can be desirable, especially if you're planning to make sandwiches and want the flavor of the toppings to be dominant.
Still, there are times where you want something a little more interesting. That's where these keto seed bread recipes come in. The recipes all use seeds to some degree or another.
The approach means that there are more nutrients present than normal. There is also a greater variety of styles between the recipes. Check the list out for yourself to see what I mean.
Keto Seed Bread Recipes
PS. For more generic recipes, you can check out our lists of almond flour and coconut flour keto breads.
PPS. There are some completely different bread styles to consider too, like cheese bread and zucchini bread.
Nut And Seed Bread
This first recipe that we're highlighting comes from the site ketosummit.com. It features nuts as well as seeds, a combination that makes it especially satisfying.
The recipe doesn't just use a few nuts and seeds either. Instead, it is completely packed with them. This creates a type of bread that should taste just as good as it looks.
Hearty Seeded Keto Bread With Olive Oil And Pink Salt
Here's another recipe that doesn't skimp on the ingredients. This version doesn't have any nuts, but it doesn't need them either. Instead, the bread is bulked out with seeds and would offer plenty of nutritional advantages.
It is a great low carb choice too, containing just two grams of net carbs per slice. You can find the full recipe at withfoodandlove.com.
Flaxseed Wraps
Wraps can still be considered a type of keto bread and this recipe offers a great way to make such wraps. This time, the seeds are included in the form of flaxseed meal.
You can make this meal yourself and Carine provides images and instructions for doing so. Some stores sell flaxseed meal too, just make sure that you get a meal that is fine. If there are still pieces of flaxseed in the mix, your wraps won't work.
The recipe can be found at the site sweetashoney.co along with all of the information you need to make the wraps yourself. There are plenty of images along the way, so you won't have to second guess any of the steps.
Vegan Seed Loaf
This seed loaf just has three net grams of carbs per serving. It's also perfect for many types of diet, including vegan, paleo, keto and gluten free.
The seeds aren't the only nutritious ingredients present. There are many others included too, such as mushrooms and red onion. You can check out the recipe at healthfulpursuit.com to learn more.
Fluffy Grain-Free Sunflower Bread
Despite the name, this recipe actually features a few different types of seeds. The style used means that the bread isn't packed with seeds at all. Instead, there are seeds interspersed throughout.
This creates bread that is hearty without being overwhelming. The recipe itself can be found at ketodietapp.com. It's also a popular one, with more than 100 ratings from users and an impressive average of 4.7 stars.
Irish Soda Bread
Irish soda bread has a distinctive style and flavor. This recipe from sugarfreemom.com gives you the chance to try the bread out on a keto diet.
It's an unusual keto recipe, as you're adding in either raisins or currants. The main seed type this time is ground flaxseed, but there are sunflower seeds included in the mix too.
Honestly, the bread worth trying just because it is different. It's still low in carbs too. There are only six net grams of carbs per serving. That's pretty good for a recipe that includes raisins.
Microwave Keto Bread
Seeds aren't normally included in microwave keto bread recipes, but this recipe shows that they can be. Carine mentions that the bread ends up being rich and dense.
The style might not be what you're expecting, but it is a common approach for European bread. The post can be found at sweetashoney.co and includes details about various sweet and savory spices that you can include.
Sunflower Bread
This recipe, from sugarfreemom.com, is a great choice for anyone who loves sunflower seeds. The seeds make up the bulk of the recipe, along with sunbutter and a small amount of ground flaxseed.
As Brenda highlights, you need to be certain that you use unsalted sunflower seeds. Bread made with salted sunflower seeds won't taste any good.
Easy Almond Flax Bread
As the name suggests, this keto bread relies on almond flour and flax seeds. The combination of ingredients creates bread that has a crunchy crust and an appealing texture.
While the recipe does use eggs, there isn't a heavy eggy flavor present. Instead, Hanna strikes a perfect balance with the eggs. You can find the recipe at healyeatsreal.com and try it out for yourself.
Low Carb Buns With Psyllium Husk
These low carb buns come from the site mypcoskitchen.com. They're designed to taste like multigrain bread – making them much more interesting than white hamburger buns.
The multigrain aspect comes from the use of various seeds, including sesame seeds, sunflower seeds and chia seeds. Other ingredients help to create the desired texture and flavor of the bread.
Keto Seeded Bread
Here's another seed-based recipe. This time it comes from Aaron at fatforweightloss.com.
Aaron mentions that the recipe is similar to his regular keto bread. The main difference is the seeds, which make the finished product taste a bit more like 'real' bread.
The bread ends up being pretty resilient, so you can easily use it for toast or to make sandwiches.
Coconut Flour Bread
While Maya (from wholesomeyum.com) just calls this recipe coconut flour bread, the bread is also packed with seeds. She avoids nuts entirely, creating a type of bread that is ideal for people with nut allergies.
She also mentions that you can choose which seeds you include. You might end up skipping seeds that you don't like or ones that you don't happen to have at home.
Sunflower And Pumpkin Seed Bread
Like many recipes on this list, the bread from lowcarbyum.com contains a variety of different types of seeds. The inclusion of chia seeds works especially well, as this creates an interesting speckled appearance.
If you slice the loaf into ten pieces, then each of them will contain around three net grams of carbs.
Savory Veggie Loaf
I love how this recipe from ketodietapp.com is a little different. As the name suggests, the bread contains more veggies than normal. I'm not just talking about zucchini either. There are some unexpected options included in the mix.
The addition of mixed seeds and various spices means that you end up with bread that is packed full of nutrition and flavor. Even more impressively, there are less than four net grams of carbs in each slice.
Mixed Seed Bread
You can tell that this bread is healthy from a single glance. The body of the bread consists partly of ground seeds, including flaxseed and chia seeds, while whole seeds are used on top of the bread.
This approach creates a great balance of flavor and texture. The bread is also easy to make, requiring just 30 minutes of cooking time. The full recipe can be found at Monya's site mudandlove.com.
Paleo Bread With Hemp Seed Flour
Hemp seeds and hemp seed flour are ideal choices for the keto diet, yet hemp is rarely used. This recipe from eatdrinkpaleo.com.au is a delightful exception to that rule.
The recipe relies on hemp seed flour, along with two other low carb flour choices. The combination creates a loaf of bread that is high in fat and contains a decent amount of protein. Even a single slice should satisfy any hunger pangs.
Seedy Pumpkin Bread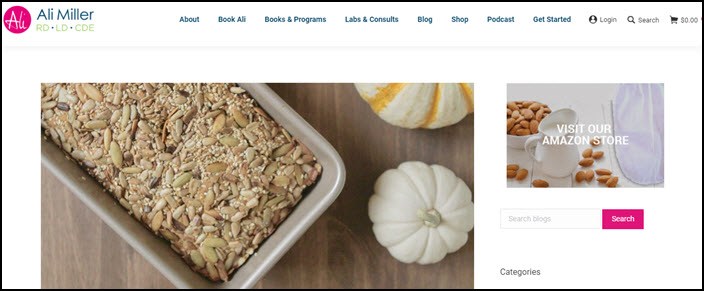 If you love the flavor of pumpkin, here's a recipe to try. Ali (from alimillerrd.com) includes pumpkin spice, pumpkin puree and pumpkin seeds in the mix. The three ingredients provide you with plenty of pumpkin flavor and nutrients.
Sunflower seeds and sesame seeds are also part of the recipe. These help to vary the flavor somewhat, while also providing extra nutrients.
Rustic Bread With Seeds
It's easy to see why Katrin called this recipe 'rustic bread'. The loaf of bread does look like something old-fashioned that you might see at a farm or somewhere similar.
The recipe uses a decent selection of different seeds, creating dense and filling slices.
Katrin mentions that she focuses on thin slices, which still weigh just over 40 grams each. You can find more details on the site sugarfreelondoner.com.
Seed And Nut Sandwich Bread
This recipe comes from the site paleogrubs.com. It's one of the few options on the list that includes nuts as well as seeds. This choice works well, as it makes the bread taste more interesting.
You're also grinding the nuts and seeds, so the bread isn't as dense as you might expect. Many people will find that this style works much better than including only whole seeds in the bread.
Rustic Seed Bread
Here's another rustic bread to consider. This one comes from ketoandmuscles.com. It looks very different than the earlier rustic bread, but both versions would taste amazing.
While Trish mentions that you'll get the best health benefits from sprouted seeds, don't worry if you can't find any sprouted seeds. Non-sprouted ones will still provide plenty of advantages.
Pumpkin Seed Keto Bread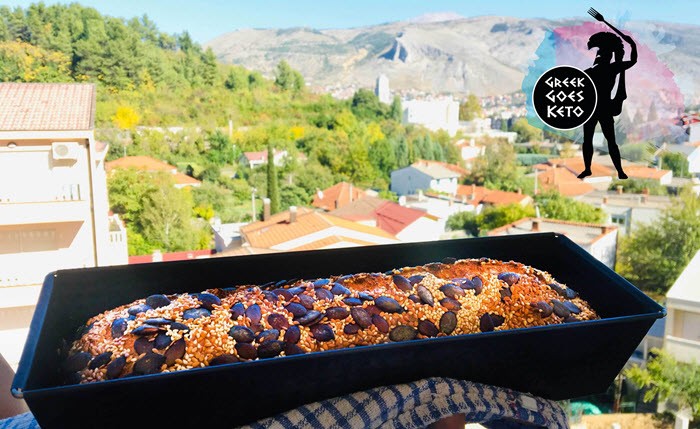 As the name suggests, this recipe takes advantage of pumpkin seeds. This includes the use of ground pumpkin seeds in the bread itself and pumpkin seeds as part of the topping.
There are some other interesting aspects as well. For example, ground pecans or walnuts are used as part of the recipe, which isn't a common choice.
You can find more details from Roberta at greekgoesketo.com.
Keto-Vegan Seeded Bread Loaf
This recipe comes from the site keto-vegan.com. It's another one that contains both nuts and seeds.
Elviira suggests letting these soak overnight before making the bread. Doing so helps to improve the digestibility of the bread.
While the recipe itself doesn't rely on any seasonings, Elviira does mention some examples that you could use if you wanted to.
Gluten Free Multi Seed Bread
I love how this bread looks like something you might buy at a local store. It certainly doesn't seem like a low carb loaf of bread, yet each slice only contains around 2.5 net grams of carbs.
The recipe doesn't contain as many seeds as some of the other examples, but that's not really a bad thing. While bread that is packed with seeds might be amazing nutritionally, it can sometimes seem too dense.
An option like this bread is a great middle ground. The recipe itself can be found at onlyglutenfreerecipes.com.
Nordic Nut And Seed Bread
This recipe from the-consumption.com offers an amazing combination of nuts and seeds. I'm not just talking about the nutrients either. The choice of ingredients means that the bread looks simply stunning, with a nice balance of colors.
The recipe also includes an impressive selection of flavor combinations that you can try. This includes five different sweet choices and six savory ones. It's rare to find a recipe offering so much variation.
Flourless Tahini Seed Bread
This recipe is a little different than most, as it relies on tahini as a key ingredient. For those that don't know, tahini is a paste that is made from sesame seeds.
Kristen's recipe doesn't include details for making the paste, but other sites offer recipes and you can often buy premade tahini.
Another note is that the recipe relies on coconut sugar by default. Keto dieters can simply omit it or replace with a low carb sugar alternative. Either way, you can find out more at the site moonandspoonandyum.com.
Nut And Seed Bread
Here's a bread option from the site twosleevers.com. It's a surprisingly simple recipe that doesn't rely on a large number of different ingredients.
In fact, you're basically just combining a selection of nuts and seeds together with a few other items. With an approach like that, it's not surprising that the bread is so good for you.
Three Seed Bread
As the name suggests, this bread recipe uses three different types of seeds – chia, sunflower and pumpkin seeds. It creates a type of bread that has plenty of nutrition but isn't as dense as some of the other options on the list.
The recipe could be the perfect balance in many situations. After all, bread that is made almost entirely out of seeds won't be everyone's first choice.
If you're interested in the version pictured above, you can find all the details at ditchthecarbs.com.