Fudge is one of many treats that sounds impossible on a keto diet. After all, fudge is laden with sugar. That's partly what makes it so tasty in the first place. There is good news – you don't need to skip fudge on a keto diet.
More importantly, you can create fudge that is low in carbs and may even be good for you. For example, some of the keto fudge recipes on this list act as a good source of healthy fats. They also skip the sugar and rely on alternative ingredients that are healthier all around.
If all of that wasn't enough – there are some fantastic flavors to be had. Creating keto recipes requires a little creativity, so you'll find some ingredient and flavor combinations that you simply wouldn't see elsewhere.
Keto Fudge Recipes
PS. Fans of keto desserts might also enjoy our roundup of keto mug cake recipes.
PPS. There are even some white chocolate recipes out there that are delicious keto choices.
Avocado Chocolate Fudge
Avocado makes its way into many keto dishes, so why not include it in fudge too? This recipe from theharvestskillet.com does precisely that. The end result is chocolate fudge that takes advantage of the texture and flavor of avocado.
As the image shows, you don't need to combine the avocado into the mixture entirely. Leaving chunks of the green flesh makes the fudge look that much more interesting. If that style isn't appealing, you could always mash the avocado in.
Old Fashioned Peanut Butter Fudge
I found this simple recipe on alldayidreamaboutfood.com. Peanut butter is the main featured flavor, which is always a popular choice. Carolyn also highlights that her fudge does not contain cream cheese. Many keto fudge recipes do and people often love them.
As Carolyn points out, that style doesn't really have the same taste or texture as traditional fudge. Her recipe aims to be much closer to what you would normally expect. It's worth checking out for that reason alone.
Almond Butter Fudge
While there are many peanut butter fudge recipes, almond butter variations are much less common. This recipe from ketosummit.com is a good place to begin if you want to try out almond butter fudge. The recipe is easy, taking just five minutes to make. Plus, you only need five ingredients. You probably have most of them on hand already.
Buttery Chocolate Keto Fudge Squares
These fudge squares are the perfect treat for any chocolate lover. They're particularly good because they come from the site wickedstuffed.com. Amanda always develops amazing recipes that manage to be low in carbs but packed full of flavor. That's certainly the case here. The fudge includes multiple ingredients that add nuance to the flavor profile, making it even more interesting.
White Chocolate Peppermint Fudge
Brenda from sugarfreemom.com offers this recipe, which has everything going for it. The combination of white fudge and colored toppings make the fudge look attractive, without seeming too Christmassy (so, you could make it all year around). You could also find sugar free candy of a different color if you wanted too.
Easy Fudge With Cocoa Powder
When she calls this an easy fudge recipe, Maya (from wholesomeyum.com) isn't exaggerating. You only need four ingredients to make the sweet treat. What's more, the prep time is just ten minutes. The addition of sea salt on the top helps to make the treat that much more interesting.
Mocha Cheesecake Fudge Fat Bomb
If you don't want plain old chocolate fudge, what about this mocha version from 730sagestreet.com? The coffee adds an extra depth to the flavor and is certain to be a hit. That's not the only cool thing. The two-layer style of this fudge helps it to stand out.
3 Ingredient Chocolate Fudge
This recipe from healyeatsrealy.com follows the idea that simple is best. The recipe just uses three ingredients – to create fudge that is rich and chocolaty. The sweet snack is suitable for keto, paleo and vegan diets, making it a versatile choice. There is also a list of tips that can help you to get the fudge perfect every time.
Almond Joy Fudge
As the name suggests, this recipe takes inspiration from almond joy bars. The recipe is a little more complex than most, requiring a decent selection of ingredients. Thankfully, the steps are simple. Besides, the finished fudge is well worth the effort. You can find the details that you need to make it at ketocookingchristian.com.
Secret Ingredient Mint Fudge
Many mint flavored recipes use artificial ingredients to create a bright color. That's not the case with this recipe from wholenewmom.com. Instead, Adrienne uses a surprising ingredient to create the green color, without influencing the flavor. The end result keto mint fudge that relies on healthy ingredients. You'll have to check out Adrienne's site to find out what that ingredient is.
Peppermint Hemp Fat Fudge
Speaking of peppermint, this recipe from healthfulpursuit.com also uses it as a flavor. The fudge also uses hemp hearts for the benefits that they offer, along with chocolate. The flavor ends up being mostly a chocolate and peppermint combination, which is always fantastic.
The fudge in the image is such a nice shape because it is made using silicone molds. You could do this with some of the other recipes in this list too. Alternatively, you could skip the molds and make this like any other type of fudge.
Salted Chocolate Fudge
Myra from blenderbabes.com takes full advantage of the trend for adding salt to desserts. It's a good idea. The sharpness of the salt contrasts well with the chocolate. The inclusion of macadamia nuts is a nice touch too, creating an interesting texture.
One thing to mention is that there is some debate over the carb content. This partly depends on the ingredients that you use, so be sure to calculate the net carbs yourself.
Low Carb Walnut Fudge
Here's another chocolate-focused fudge recipe for you to try. This one uses walnuts, which add to the texture (they provide extra nutrients too!). The fudge can even act as a fat bomb, as they only have one net gram of carbs per serving. You can find all the details on the site ketocoachforwomen.com.
Coconut Oil Fudge
Katie, from chocolatecoveredkatie.com, offers this versatile fudge recipe. Well, the term fudge recipes is more accurate. She highlights various flavors that you can make, providing details of the ingredients needed for each option.
Katie mentions that there is a keto option for the fudge, but doesn't provide much more details than that. The basic answer seems to be that you focus on the flavors that only have low carb ingredients, like the pistachio fudge. You can also calculate the carb content yourself to find the best flavors to try.
White Chocolate Coconut Fudge
White chocolate isn't normally a good choice on a keto diet, making recipes like this one powerful indeed. The recipe includes protein powder, which makes it more satisfying than many other keto desserts.
Another advantage is the carb content. A serving of the fudge includes less than two net grams of carbs. That's pretty impressive. The full recipe can be found at theshrinkingviolet.co.nz.
Vanilla Tahini Fudge Fat Bomb
This fudge recipe uses the flavors of vanilla, coconut and tahini. The combination is perfect, creating a treat that you're certain to remember. Like many similar recipes, the fudge is best kept in the freezer. You can also use silicone molds to create specific shapes. The recipe itself comes from thecastawaykitchen.com.
Strawberry Fudge With Vanilla Cream Cheese
Here's another recipe for vanilla fans. This version has two layers, one strawberry and the other vanilla. Each of the layers is easy to make, requiring a small number of ingredients. Check it out at myketokitchen.com.
Vanilla Keto Butter Fudge
This fudge recipe comes from perfectketo.com. It lives up to its name, using vanilla as a key flavor and butter as one of the main ingredients. The end result is a little different than other fudge recipes, but still tastes fantastic. The recipe is also impressive, making 36 pieces of fudge. That's bound to keep you going for quite some time.
White Chocolate Matcha Fudge
I love the flavors in this matcha fudge. Rachel, from killinitketo.com, uses a variety of ingredients to get the flavor combination exactly right. Despite the number of ingredients, the fudge isn't difficult to make. You get 16 squares from each batch of the recipe. These can be stored in the fridge.
Peanut Butter Fudge
Here's a fudge recipe for all peanut butter lovers. It comes from isavea2z.com and is a very creamy type of fudge. It isn't difficult to make either, just requiring five ingredients. You can even change up the type of nut butter that you use. This would let you make almond butter fudge or cashew butter fudge instead.
Sugar Free Maple Fudge
This maple fudge recipe comes from mypcoskitchen.com and manages to avoid sugar entirely. Mira took inspiration from a previous caramel sauce recipe, one that already had a slight maple fudge flavor. The end result of this recipe is fantastic soft fudge that's easy to make.
The Best Keto Chocolate Fudge
I love the choice of hazelnuts on top of this chocolate fudge. They help to make the fudge a little more uncommon, without taking away from the rich chocolate taste. The recipe itself comes from heyketomama.com and it's a must-try for every chocolate lover out there.
Heavenly Cream Cheese Dark Chocolate Fudge
Speaking of chocolate, here's a recipe from lowcarbyum.com to try. While most keto chocolate recipes do use dark chocolate, this one has an even stronger focus on the taste of dark chocolate. The final flavor profile is pretty special too. Lisa mentions that the fudge was as popular as a sugar packed version.
The one limitation to be aware of is that you're making 28 servings, where each serving is two squares of fudge. That amount of fudge is great if you're making the fudge for multiple people. If the treat is just for you, you might find that you're making too much.
Gingerbread Fudge
I always love interesting dessert flavors, like this gingerbread fudge. The recipe comes from ketodietapp.com and it really does have an amazing flavor profile. There are a few more ingredients than normal, including plenty of spices to bring the whole thing to life.
Peanut Butter And Chocolate Fudge
Here's a classic flavor combination – peanut butter and chocolate. I love the way that the fudge ends up being mostly peanut butter focused, with a chocolate topping. The style makes it look great and creates a flavor contrast too. You can find the details you need at mooreorlesscooking.com.
Cake Batter Fudge
This cake batter fudge looks like it should be difficult to make and laden with sugar, but it's not. The recipe only has five ingredients. There aren't many steps involved in making it either. Molly (from whatmollymade.com) also mentions that you can swap out the type of nut butter that you use, giving you the chance to choose your favorite.
Chocolate Walnut Fudge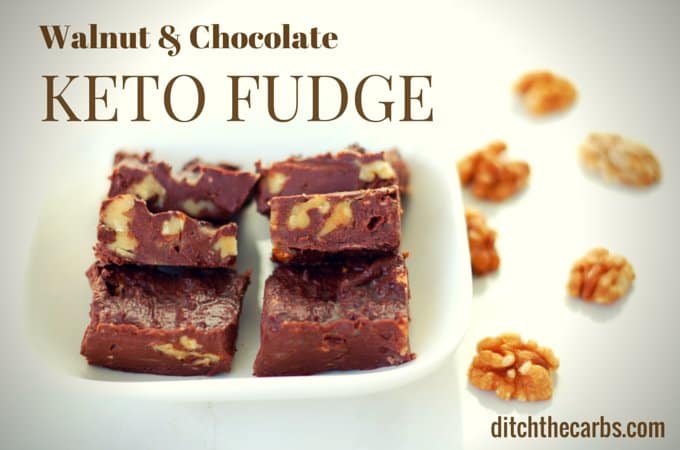 This recipe, from ditchthecarbs.com, is another one that uses chocolate and walnuts as key ingredients. The walnuts are scatted through the fudge, giving it a nice texture contrast. Each serving contains just over one net gram of carbs, making the fudge a very powerful keto diet choice.
Chocolate Mint Fudge
I love the layered approach of this chocolate mint fudge. It's a very nice recipe to try and comes from howtothisandthat.com. This is an especially good fudge choice for beginners, as the recipe includes images for each of the key steps. The style makes it easy to get the fudge exactly right the first time.
Healthy 'Reese's' Freezer Fudge
The swirls on this Reese's fudge make it look so amazing. Emily, from prettypies.com, says that the fudge tastes just as good as a Reese's peanut butter cup. Of course, this version is much better for you. It also uses just six ingredients, so it should be a breeze to make.
German Chocolate Cake Fudge
This fudge is a stunning choice, with more texture than most other recipes on the list. While the fudge looks decadent, each square contains less than three grams of net carbs. This means you could use it as a fat bomb or as a treat, whichever you prefer.
The recipe is a little more complex to make than plain chocolate fudge, but not as much as you might expect. Regardless, you can find the details at theprimativepalate.com.
Berry Matcha Fudge
With the raspberry layer on top, this fudge doesn't look much like a keto choice. Yet, it is. The inclusion of matcha tea powder also means that this is a surprisingly healthy fudge choice. It even looks good on the plate.
The full recipe comes from epicmatcha.com. You can find all the details over at that site. The main limitation is that the site doesn't provide the nutritional details for the recipe. You'll need to calculate these yourself.
Coconut Milk Fudge
This coconut milk fudge is a simple choice, from alldayidreamaboutfood.com. The recipe is a type of chocolate fudge that uses coconut milk as one of the main ingredients. It's an easy recipe to make, giving you 16 servings at a time. The net carbs are 2.4 grams per serving.
Secretly Healthy Coconut Fudge
This recipe earns the name secretly healthy, because it doesn't rely on butter, sugar or condensed milk. Despite this, the fudge ends up tasting just as good as any sugar laden coconut fudge that you might try. This version is even better in some ways, as the lack of sugar means that you can taste the coconut more.
This time the recipe comes from dessertswithbenefits.com. It's another pretty easy type of fudge to make. It also creates 36 pieces at a time, so you'll have plenty to share.
Peanut Butter Fudge
This fudge recipe comes from Julia at theroastedroot.net and it's not as simple as it might first appear. Julia adds in a few extra ingredients to make the flavor profile more interesting. The fudge also uses collagen. This provides extra nutrition, making the fudge an especially healthy choice.
Spiced Orange And Almond Fudge
This recipe comes from butterforall.com and offers an unusual flavor combination for you to try out. I love the inclusion of spices that make up the fudge. Unlike most of the other recipes on the list, this fudge has keto and non-keto variations. As such, you'll need to pay attention to the ingredients that you use to make the fudge meet your macro requirements.
Chocolate Almond Fat Fudge
Tina from ketodietrule.com offers this fudge recipe. She mentions that it tastes somewhat like a brownie, rather than fudge. This isn't a bad thing. As Tina highlights – the fudge simply tastes amazing. The fudge is great for the keto diet too, offering one gram of net carbs per serving.
Chocolate Pumpkin Keto Fudge
Here's a fudge flavor to try out if you want something different. The image looks like just regular fudge, but there is also pumpkin in the mix. Pumpkin and chocolate actually combine surprisingly well. You can check out all the details at divaliciousrecipes.com to try it out for yourself.
Chocolate Peanut Butter Vegan Fudge
This vegan fudge recipe comes from biggerbolderbaking.com and it manages to look spectacular. I love the combination of chocolate and peanut butter on the topping. This is something that you don't see with many other types of fudge.
No Bake Keto Fudge
This final fudge recipe comes from Julia at savorytooth.com. It is a particularly low carb choice, with just half a gram of net carbs for a bar of fudge. Julia describes the treat as being soft, one that will melt in your mouth. It sounds delightful. There are also details about ways that you can vary the fudge to give it a different flavor. profile