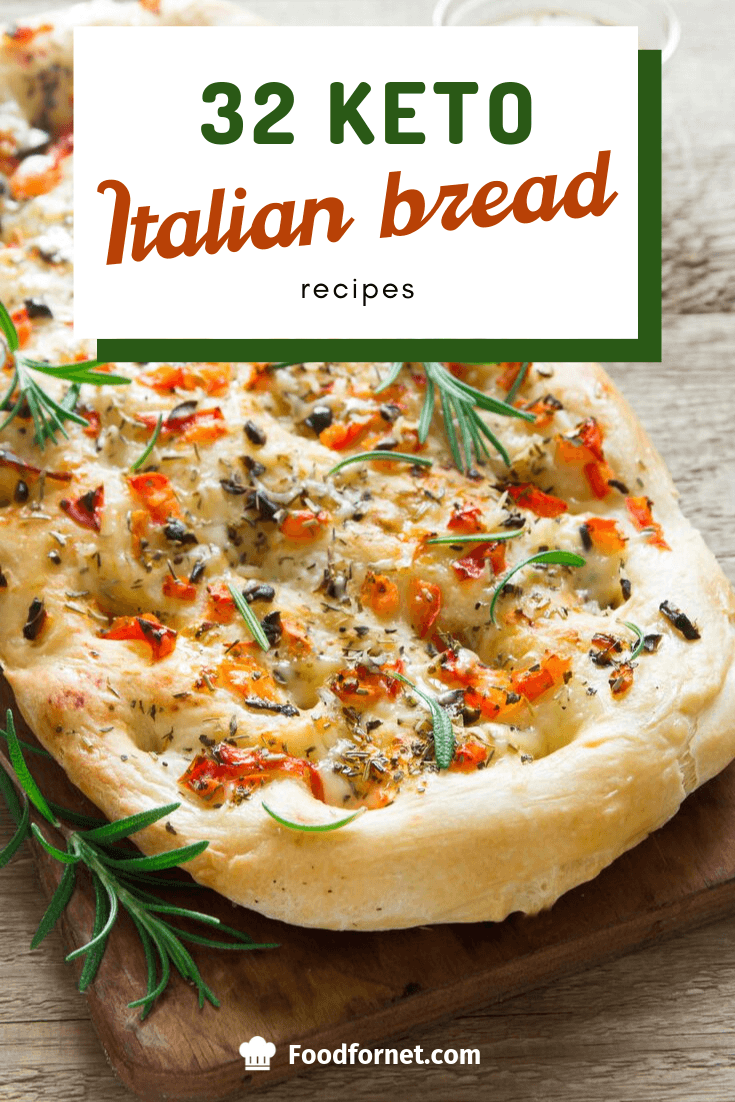 While there are plenty of amazing types of bread out there, Italian bread tends to have something special going for it. The bread simply tastes so good.
It can also have a different texture and flavor than you might be expecting, especially if you're comparing the bread to conventional American fare. There is variation between the styles, but common Italian bread ingredients include water, white flour, salt, olive oil and binding agents.
You'll typically find that the bread has a noticeable crust, along with a soft inside. There are some similarities to French bread, but Italian bread tends to have a softer crust and fewer holes within the bread itself.
As white flour is one of the main ingredients, you're never going to have true Italian bread on a keto diet. Despite this limitation, you can get close.
That's why we're focusing on keto Italian bread recipes in this list. The most common examples are ciabatta and focaccia bread, but there are some other types too.
Keto Italian Bread Recipes
PS. For a more specialized approach, you can check out our list of focaccia bread recipes.
PPS. There are many other styles of bread to choose from too, including some unusual examples like cauliflower bread and zucchini bread.
Keto Focaccia Bread
This first recipe comes from familyonketo.com. It is a surprisingly easy recipe to make and there are plenty of images on the site to guide you along the way.
I love how the recipe uses many of the traditional ingredients that you would expect, including olive oil and black olives. The entire recipe contains around 30 net grams of carbs.
This averages out to just over three net grams of carbs per serving. That's pretty good for a keto bread recipe.
Rosemary Focaccia Flatbread
Here's another focaccia bread recipe. This one comes from the site fearlessketo.com. The style is a little different, as you're making a focaccia-style flatbread.
While the bread doesn't have the same rise and softness that you would normally expect from focaccia bread, it does keep the characteristic flavors. You end up with roughly three net grams of carbs per serving, just like in the previous recipe.
Focaccia Bread With Thyme And Onion
The best thing about this focaccia bread is how traditional it looks. You end up making a loaf of bread that could have come from an artisan bakery. It will taste delicious too.
Despite this, the bread is low in carbs and is perfect for a keto diet. The recipe comes from Jessica at primaledgehealth.com. Another feature is that the bread can be made nut-free.
This is relatively unusual, as many keto breads rely on almond flour. Being able to avoid nuts in the recipe is ideal for anyone who has a nut allergy.
Ciabatta Yeast Bread Rolls
This recipe from resolutioneats.com gives you the chance to make keto ciabatta bread in the comfort of your own home. The recipe does contain some sugar, but don't worry.
That sugar is there as a food source for the yeast. None of it will remain after the fermentation process.
The inclusion of yeast is important, as this is what gives the bread the taste and texture that you're looking for. The bread ends up containing around five net grams of carbs per slice.
Ultimate Keto Breadsticks
These breadsticks follow the Italian style as well. They come from the site ketodietapp.com. That site is always a good place to find keto recipes, so you can be confident that these breadsticks will be tasty.
Martina says that the breadsticks end up having a soft inside, while being crispy on the outside, which is exactly what you would expect. She also gives baking instructions for anyone who is looking for the Italian grissini breadstick texture.
Regardless of how you bake them, each breadstick contains a little over four net grams of carbs.
Fat-Burning Paleo Focaccia Bread
Bread doesn't normally help you to burn fat, but that's the claim being made for this bread recipe. The appeal of the bread is easy to see.
It has the same type of golden chewy crust that you would expect from a loaf of Italian focaccia bread. The internal texture is similar too and is ideal for mopping up sauces.
The fat burning aspect is linked to the fact that the bread contains MCTs, along with plenty of fat and fiber. You can find out all of the details at healinggourmet.com.
Rosemary Focaccia Bread
This focaccia bread recipe comes from queenketo.com. It relies on rosemary, which is an herb that you'll often find in traditional focaccia bread recipes.
One useful feature is that the recipe provides the measurements in grams rather than by volume. This approach offers a much more accurate way of measuring ingredients and is especially important for keto baking.
Low Carb Focaccia Bread
Speaking of focaccia bread, here's another recipe that follows the style. This one is from divaliciousrecipes.com and it includes sundried tomatoes and olives as key ingredients.
The addition of sundried tomatoes is an especially good choice. These tomatoes provide an amazing burst of flavor that compliments the focaccia bread well.
The recipe itself makes nine squares of focaccia bread. Each of them contains roughly 5.5 net grams of carbs.
Almond Flour Focaccia Bread
Most bread recipes take time to prepare and to bake, which can sometimes be frustrating. This focaccia bread is a great solution, as it can be ready in just 15 minutes.
There are also just four steps to follow, making this recipe a good choice for beginners and experts alike. Each serving of the bread contains just one net gram of carbs.
There are six servings in the recipe, so you could even eat the entire thing without too many problems. The recipe can be found at pinchmegood.com.
The Keto Ciabatta Bread
This ciabatta bread comes from the site cookingwithralph.com. It takes the unusual approach of including almond butter as one of the ingredients.
This may be one reason that the bread is darker than you would expect for ciabatta. Regardless, it should taste amazing and is a nice alternative to focaccia bread.
Ralph states that the entire loaf contains less than eight grams of carbs, but you will need to calculate the precise nutritional details yourself, as they're not provided on the site.
Rosemary And Kalamata Olive Focaccia
This recipe from ketocookingchristian.com is another low carb version of focaccia bread. It uses the common ingredients of kalamata olives and rosemary to create bread that looks very traditional.
An unusual feature of the recipe is the use of oat fiber. This fiber helps to create the final texture of the recipe and it won't increase your net carb intake – so there's nothing to worry about.
Keto Breadsticks
If you want variety, take a look at this recipe from ruled.me. It offers three different types of breadsticks that you can make.
These include cinnamon sugar, Italian style and extra cheesy. There is even information about sauces that you can use for dipping each type of breadstick.
The Italian aspect of this recipe mostly refers to the flavoring, so the breadsticks don't have the same texture as Italian breadsticks. This doesn't stop them from being enjoyable.
Easy Keto Sesame Breadsticks
Here's another type of Italian breadstick recipe to try. This one comes from queenketo.com. There are only four net grams of carbs for five breadsticks, which makes these absolutely perfect as a keto snack.
The recipe is a simple one. There aren't a large number of steps involved and every aspect of the recipe is explained well on the site.
Cast Iron Pan Focaccia Recipe
This recipe comes from castironketo.net and focuses on making focaccia bread in a cast iron pan. This is another version that uses rosemary and olives as the main flavor ingredients.
The combination isn't too surprising, as those ingredients are common Italian choices as well. Some other flavor choices are listed on the site as well, so you could try one of them if rosemary and kalamata olives do not appeal to you.
Flaxseed Focaccia
Leanne from healthfulpursuit.com offers a slightly different approach to focaccia bread. She uses roughly ground flaxseed as the flour of choice. This changes the color and the texture of the finished bread.
While the end result isn't as traditionally Italian as the other items on this list, it would still taste good. The recipe is also nut free and dairy free, making it a good choice for many different diet types.
Low Carb Focaccia Bread
Speaking of flaxseed, here's a second recipe that uses it as a flour choice. This time you're using one cup of flaxseed meal and one cup of almond flour.
This creates a loaf of focaccia that looks more familiar, while still containing some of the graininess that flaxseed offers. You can find the full recipe at ruled.me.
Italian Breadsticks
These breadsticks some from ketocookingchristian.com and they're somewhere between Italian breadsticks and garlic rolls. This means that you're not going to get the traditional texture and flavor of Italian breadsticks, but you will still get an enjoyable snack.
The recipe is a great one to check out, as there are images for each step of the process. This makes the recipe easy to follow for beginners and experienced keto bakers.
Low Carb Italian Breadsticks
While these breadsticks aren't quite in the Italian style either, they are another approach that you can check out. I'm particularly fond of how they are twisted.
The idea would be perfect for when you're dipping the breadsticks in sauce. This time the recipe comes from bakingoutsidethebox.com. You're making 24 breadsticks with the recipe and each of these contains less than one net gram of carbs.
Garlic And Herb Focaccia
This recipe is one of my favorite examples of keto focaccia bread. It comes from the site inspectorgorgeous.com and simply looks stunning. The bread is also easy to prepare, taking just 30 minutes from start to finish.
One particularly nice touch is the flaky salt that is used on top. You could use any type of rock salt, of course, but the highlighted brand perfectly complements the focaccia bread.
Rustic Italian Yeast Bread
As the name suggests, this bread contains yeast- while still remaining low carb. As the author points out, low carb flours don't normally contain yeast and yeast is a key reason why bread tastes as good as it does.
Adding in yeast is a powerful way to resolve the challenge for anyone not on a gluten free diet. The recipe itself comes from resolutioneats.com. You end up with an Italian-style loaf that has just three net grams of carbs per serving.
Rosemary And Sea Salt Focaccia Bread
Here's a recipe that uses the classic focaccia bread flavors of rosemary and sea salt. Paola, at gnom-gnom.com, mentions that the focaccia has a great taste.
It also ends up being soft and chewy – exactly as it should be. The bread also avoids some of the common keto baking issues, like the bread tasting too eggy or being gummy.
This is another recipe that involves yeast, which is a key reason that it tastes so good.
Italian Breadsticks With No Almond Flour Or Coconut Flour
This recipe is unusual, as it manages to avoid both almond flour and coconut flour. Doing so is no easy feat, as those are the two most common types of flour on a keto diet.
We're not talking about cauliflower breadsticks either. Instead, this recipe ends up having a similar taste and texture to traditional Italian breadsticks.
They even look like the real deal and only contain 1.2 grams of net carbs each. You can find the recipe at aketokitchen.com.
Fauxcaccia
This variation on focaccia bread comes from ketochristina.com. It uses coconut flour and almond flour, but the more notable ingredients are yeast and mozzarella cheese.
Christina mentions that you can choose the shape of the finished bread. You can also mix herbs and spices into the dough. Doing so is a great way to change the flavor of the finished bread and add in a little more variation.
Focaccia Bread With Garlic And Herbs
Here's a great recipe if you want to make focaccia bread quickly. The baking time is only around 15 minutes. This is partly because the bread is smaller than many of the other examples.
Each serving ends up containing roughly 4.3 net grams of carbs, along with plenty of fat. The style means that you could easily top the focaccia bread with whatever ingredients you want to. All of the details can be found at ketovale.com.
Low Carb Focaccia
This focaccia bread recipe uses a variation on the common fathead dough style. This means that you end up with satisfying bread that has an appealing texture.
Each square of the focaccia contains three net grams of carbs, giving you the chance to choose what fillings you want. The recipe comes from healthyrecipesblogs.com.
It uses rosemary and salt on top to provide flavor, but you can switch these out for other herbs if you want to.
Herbed Focaccia
Here's a version of focaccia bread that would work well for dipping into sauces. It comes from the site joyfilledeats.com. The recipe is an interesting one, as it uses three different types of low carb flour.
This approach often provides a fantastic combination of texture and flavor. The recipe provides details for making the focaccia itself and also for the herb butter topping.
This topping is really what makes the focaccia bread stand out. The recipe is worth checking out for the butter topping alone.
Low Carb Focaccia Bread
This focaccia bread recipe comes from ditchthecarbs.com and is a popular choice. The recipe is a simple one, relying on just six main ingredients. Those ingredients are all common to keto baking, so you don't need anything unusual to prepare the bread.
This time the net carb content is 16 grams. While that sounds like a lot of carbs, the measurement is for the entire loaf of bread. You can choose how many servings you break it down into.
Rosemary And Olive Focaccia Bread
Gerri from myketokitchen.com offers this flat keto bread recipe. It includes rosemary and olives, so you're getting all the classic Italian flavors.
Gerri uses almond flour as the main low carb flour, so it isn't a good choice for anyone with nut allergies. You end up making ten servings of the bread, each of which contains three net grams of carbs.
Focaccia-Style Almond Bread
This recipe is considered to be in the focaccia style, rather than being true focaccia bread. Even so, it follows similar patterns to the other recipes on this list.
One of the best features is the inclusion of parmesan, sundried tomatoes and olives. These ingredients are present in the bread itself and also as a garnish.
Doing so is a fantastic way to add in bursts of flavor and to make the bread taste amazing. You can find more details at thefoodbible.com, along with the complete recipe.
Olive And Herb Focaccia
Lauren from ketodietapp.com showcases another recipe that relies on traditional Italian flavors. She mentions that you can use the bread in many different ways, such as using it to dip into oil, to make croutons or to simply eat as-is.
The recipe is an easy one to create too. You can make it within 30 minutes. Lauren even mentions some alternative flavors that you can try.
Low Carb Focaccia And Olive Oil Dipping Sauce
While this focaccia bread looks amazing, the most interesting aspect of the recipe is the olive oil dipping sauce. Most recipes don't include details about making a sauce, which is a shame.
Making the dipping sauce at the same time as the bread is a great way to ensure that the flavors pair well with one another. If you follow the recommended serving size for the bread and oil, you end up with three net grams of carbs per serving.
This time the full recipe comes from lowcarbmaven.com.