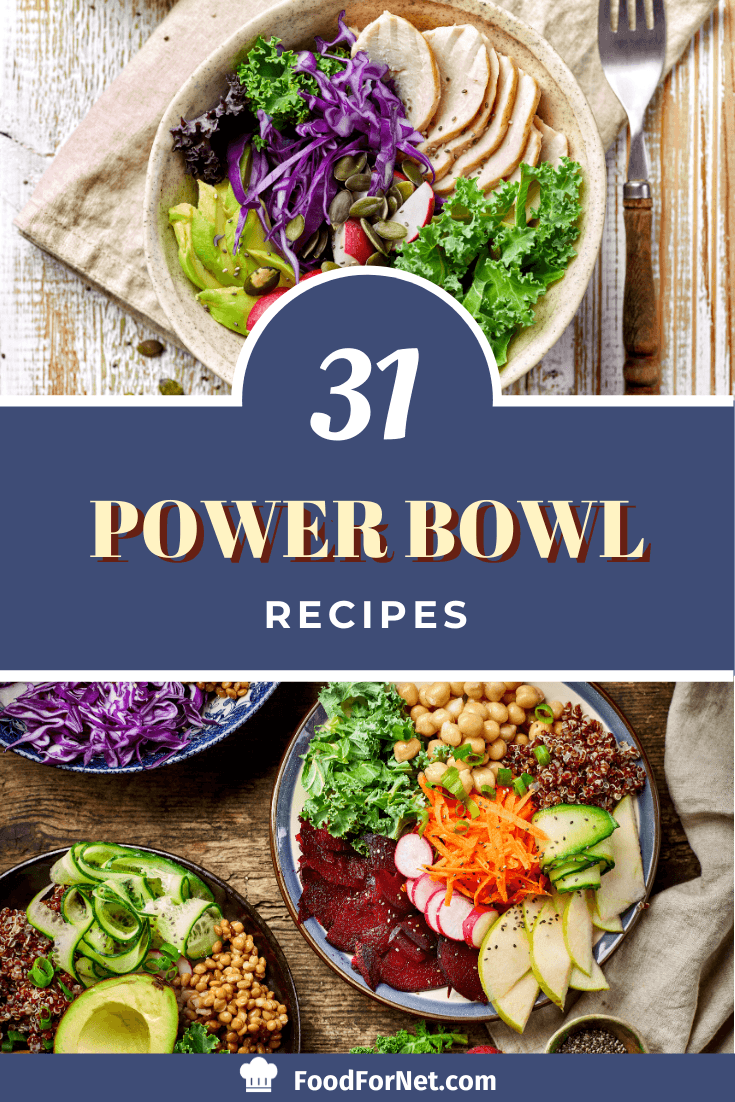 In this generation of Instagram foodies, there has been a strong focus on food that is healthy, but also looks great. After all, if you're going to share images of your food, you want it to taste as good as it looks, right? Well… okay, the concept does seem a little silly. But, regardless of what you think the trend towards pretty food, you have to admit, the food itself can be pretty amazing.
One of the newest entries to this trend is power bowls and these come in all shapes and sizes. We've got a list of some pretty awesome power bowl recipes to try, and if you want more, you can try one of these 34 smoothie bowl recipes too!
Basically, power bowls are basically a combination of protein, whole grains and vegetables, served in a bowl. Essentially, this is a more interesting way to get a filling meal that is packed with nutrients. Putting the whole thing in a bowl might seem a bit weird, but doing this does make it easier to add dressing or just mix it up.
Have a look at this selection of power bowls. Personally, I think they look amazing. You'll notice a lot of them are vegetarian or vegan. If that's your jam, then check out these vegan subscription boxes for awesome vegan snacks shipped to your house monthly.
Power Bowl Recipes
31. Nourishing Power Bowl
This power bowl comes from createnourishlove.com and it's a great example of the difference between power bowls and salads. For one thing, power bowls will often taste better and they also tend to be much more filling.
With this bowl, you get protein from the cooked chickpeas, while you are also getting lots of nutrients and healthy fats from the other ingredients. This is a great option if you like the idea of salads but find that they simply do not fill you up.
30. Vegan Burrito Bowl
This power bowl is a little bit different because it gets inspiration from a burrito and also manages to be a vegan option. I particularly love the way this one looks in the bowl and the choice of ingredients works together well.
It is worth noting that this bowl is a bit different than most in that some of the ingredients are actually cooked. Information about all of the ingredients and steps for this bowl can be found at hungryhealthyhappy.com.
29. Spicy Salmon Sushi Bowl
This power bowl is from heathercristo.com and, as you can see, it gets inspiration from sushi. This bowl relies on rice to bulk it up and as an energy source, so it has fewer ingredients overall. But, that doesn't stop it from being a good option, especially if you aren't interested in other types of power bowls.
28. Chipotle-Inspired Vegan Burrito Bowl
Here's another power bowl that gets its inspiration from Mexican food. But, at the same time, the bowl still contains many of the same components that you find in other power bowls.
For example, the tofu in the bowls acts as a source of protein, while the avocado is a source of healthy fats. The combination of flavors in the bowl is also pretty fun and perfect for anyone who is a fan of Mexican food. You can find all of the details at karalydon.com.
27. Quinoa Power Bowl
With this power bowl, from mommyrunfast.com, the emphasis is on the dressing just as much as it is on the ingredients. That's not a bad thing though because the dressing really sounds amazing.
Once again, the bowl is packed with sources of protein and healthy nutrients. Personally, I find the bowl much more appealing than a traditional salad and the dressing would be an effective way to convert people who don't typically eat these bowls.
26. Curried Chickpea and Sweet Potato Quinoa Bowl
This power bowl highlights some of the key ingredients that you see repeated in many different power bowl recipes. Those ingredients include chickpeas, quinoa and avocado. These are all ingredients that have become popular recently as health foods in their own right. But, you can also see other ingredients in this bowl, which comes from adashofmegnut.com, and those ingredients help to make this bowl a little different.
In this case, I think the use of curried chickpeas is a nice touch, especially if you find plain chickpeas a little boring.
25. Sweet Potato Chickpea Buddha Bowl
A Buddha bowl seems to be another name for a power bowl. As Dana from minimalistbaker.com explains, the term refers to a bowl that is packed full of ingredients, to the extent that it is rounded on the top.
This is a great way to describe a power bowl in general. This is another power bowl that is designed to be served warm, so it might be a nice choice in the winter or on an especially cold day.
24. Vegan Thanksgiving Power Bowl
Power bowls seem like a good option for anyone following a specific diet, like for people who are vegans. After all, you can tailor the individual components of the bowl to make sure you can eat everything in it.
Regardless of your diet, there are multiple different options for sources of protein, nutrients and healthy fats. This particular power bowl example comes from feastingonfruit.com and takes flavor inspiration from Thanksgiving dinner. But, this protein bowl certainly isn't limited to Thanksgiving and it would be a great option for any time of the year.
23. Sesame Power Bowl
As you can probably tell, sesame is a pretty significant ingredient in this power bowl. That's also what makes the bowl stand out because there aren't that many power bowl recipes that use sesame.
I love the choice of ingredients and this is also a power bowl that is designed to be eaten warm. So, it's a good light way to warm you up on a winter's day. You can find all of the ingredients and additional information for the recipe at allgoodeats.co.
22. The Big Vegan Bowl
Here's another vegan power bowl option and this one comes from ohsheglows.com. I really like the way this one is set out in the bowl and you have this kaleidoscope of colors going on.
To me, this seems like a good way of highlighting just how colorful food can be (and of course, it makes for a good Instagram photo). The hummus in the middle is an interesting choice but it does mean that you could choose to eat the dish with a spoon or dip the various ingredients into the hummus.
21. Grab-n-Go Sweet Potato Power Bowl
Visually this bowl from blissfulbasil.com uses the same approaches as the previous bowl in the list, but the end result is quite different. In this case, you have five main components. But, three of those components are things that you cook beforehand.
The basic idea is that you make containers of these and just scoop them into the bowl when you are ready to eat, then quickly prepare the last two components. It's a nifty trick that lets you get fresh food with minimal effort.
20. Southwest Shrimp Quinoa Power Bowl
This power bowl might look a bit different than many of the others on this list, but that isn't really a bad thing. In this case, the bowl gets flavor inspiration from burrito bowls but is designed to be a healthier and fresher alternative.
The recipe would work well for anyone who loves seafood. This would also be a good introduction to power bowls because in many ways the recipe still resembles a normal dinner. I found the recipe over at chelseyrosehealth.com and you can find all the details about it over there.
19. Sweet and Spicy Power Bowl
Combining sweet and spicy flavors is becoming a popular approach and its easy to see why. In most cases, sweet and spicy recipes tend to have much more flavor than conventional recipes. They're also pretty appealing, even to people that don't normally like spicy food.
Taking this approach with a power bowl is quite clever because there is always a risk that a power bowl will end up being a little bland. Sophia, from veggiesdontbite.com, does also say that you can leave out the hot sauce when making the bowl if you don't especially like spicy food.
18. Vegetarian Burrito Bowl
This bowl is another fun one if you like lots of colors in your food. I love the way the different components are so evenly separated out in the bowl. I don't think I could manage to do that if I was making the bowl, but I doubt that would affect the taste.
In this case, the beans offer the main source of protein for the dish, while there are lots of different components that give nutrients. The bowl is also a good one if you don't want much preparation. After all, the rice and the beans are the only things that are cooked. As always, you can check out all of the information at the site the recipe came from, which was theliveinkitchen.com.
17. The Protein Power Bowl
Most of the power bowls I've mentioned have one source of protein and multiple sources of nutrients. That isn't the case here. Instead, this is the perfect bowl for athletes or others that want to get a lot of protein in their meal.
In fact, this bowl would be one of the best bowls for dinner out of the ones on this list. After all, the bowl does have both salmon and egg, so you're getting a lot of protein and nutrients from those alone. You can check out the recipe for this one at athletefood.com.
16. Chicken, Quinoa and Veggie Power Bowl
This power bowl follows a similar theme to many of the others on the list, but seasonaldelish.com has done a great job of making the bowl look interesting on the plate. In some ways, the dish looks like a salad but the ingredients make it more complex than a salad and more tasty as well.
This is a dish designed to be served warm and the recipe itself makes enough for four people. So, this is one power bowl that you could actually serve for dinner if you wanted to. I'm sure it would be quite popular.
15. Chia Yogurt Power Bowl
Power bowls tend to be savory and meal-like, but they don't have to be. This power bowl comes from fitfoodiefinds.com and, as you can see, it is focused on the flavors of breakfast. In fact, the recipe itself is a variation on a yogurt parfait.
Personally, I think this dish would be quite fun to eat and it looks great in the bowl. The ingredients used are also really healthy, including the quinoa and the use of kefir. The end result is a great breakfast option that is quite different than what you might normally eat.
14. Bacon and Sweet Potato Power Bowl
I found this recipe at basilmomma.com and I was fascinating by the combination of ingredients and colors in these bowls. Plus, I love bacon. There are a few interesting things about this recipe. One is how it is served. In the original post, Heather made this power bowl more like a salad and served small portions.
That approach was necessary because she was serving it at a home show, but you would probably make larger portions if you were cooking this for yourself. Either way, the recipe looks amazing and it's a great warm option for a power bowl.
13. Vegan Quinoa Power Bowl
As the name suggests, this power bowl is targeted at vegans. Like most power bowls the recipe is also gluten free. That makes the bowl a good option for a wide range of diet types. This time, the recipe came from avocadopesto.com and it has a few different choices than other power bowls.
I especially like the combination of asparagus, sweet potato and beets. Not only would those ingredients make the bowl taste really good, but they really make it stand out in terms of color. The recipe also includes information for an avocado dressing, which would be a key source of healthy fats and a great complement to the rest of the recipe.
12. Chicken Power Bowls with Garbanzo Beans
This recipe, from iowagirleats.com, is definitely a protein-rich example of a power bowl. I mean, some power bowls end up looking a bit like salads, but that certainly isn't the case here. The bowl does have some greens, but they're kind of buried under all of the other ingredients.
That protein is great though, as it means that the bowl really will keep you full for ages. Kristin also notes that the cooked components of this power bowl can easily be made ahead of time. So, you could end up with a dish that you just need to throw together when you're hungry.
11. Oatmeal Quinoa Power Bowl
This power bowl recipe is from camillestyles.com and it's another one that is designed as a breakfast. The recipe itself is actually fairly simple and the bowl is essentially a variation on oatmeal. I do love the choice of ingredients though, especially the way that the colors work together.
As with any power bowl, you could also switch out some of the toppings for ones that you found more appealing. For example, I might try to fit sliced almonds in there somewhere if I made this one for myself.
10. Sweet Potato Power Bowl
Without a doubt, this power bowl would be a great option for anyone who loves sweet potato, because sweet potato is the main ingredient. As power bowls go, this one is a fairly simple recipe, using just four ingredients plus the garnishes.
That's not a bad thing though. After all, simpler recipes tend to be easier to make and easier to eat. Plus, you're more likely to have the ingredients on hand without needing a trip to the grocery store. If you want to try this one, you can find the recipe at thewanderlustkitchen.com.
9. Southwestern Power Bowl with Massaged Kale
If the name for this power bowl didn't give away the flavor inspiration, the choice of ingredients probably will. This particular power bowl comes from theconscientiouseater.com and it is a fun combination of ingredients and flavors. Personally, I think this recipe would also be a great option for anyone who isn't sold on the idea of a power bowl.
After all, it kind of looks like a deconstructed taco, even though the ingredients aren't exactly the same. The use of salsa is a great idea and it would help to bring together all of the different flavors.
8. Spinach Barley Protein Power Bowl
This power bowl is a bit different than many of the others on this list, but don't knock it until you have tried it. I really love how simple this bowl is and it would also be extremely easy to make.
Unlike many other protein bowls, most of the ingredients for this recipe are mixed together. So, you would end up with a complex and appealing combination of taste and texture. You can check out the recipe for this particular power bowl over at init4thelongrun.com.
7. Crunchy Quinoa Power Bowl
I love the idea of this power bowl. For one thing, it's partly a power bowl and partly a salad, and seems to do a great job at both of those roles. The combination of flavors in this power bowl works really well, especially as the recipe includes directions for an almond butter dressing.
That dressing would tie the whole thing together nicely and honestly, the dressing sounds pretty amazing in its own right. If you're interested, you can find directions for the recipe (and the dressing) at makingthymeforhealth.com.
6. Easy Black Bean Burrito Bowl
Here's another power bowl that takes its inspiration from burritos. In fact, this one is even called a burrito bowl and it comes from veganricha.com. I'm including it in the list because there really isn't any difference between a burrito bowl and a power bowl.
After all, both types of bowls include healthy ingredients, sources of nutrients and sources of protein. This one is even designed like a typical protein bowl. Beyond all of that, the recipe also looks like it would taste fantastic as it has a great combination of ingredients.
5. Chipotle Burrito Bowl
While we're on the topic of burrito bowls, here is a second one. This time, the recipe comes from wellplated.com and the chosen ingredients are quite different. The recipe also differs from most burrito bowls because it uses quinoa as a base, rather than rice.
You also see that pattern with power bowls in general. Quinoa really has become popular recently and it's not surprising, as quinoa contains more protein and fiber than rice does. I do suggest checking out this recipe if you are a fan of power bowls or of burrito bowls.
4. Green Power Bowl
This power bowl relies more on vegetables than most other power bowls and less on protein. However, I can think of many people that would prefer this option.
It's a particularly great choice for vegetarians or for anyone who needs to get more greens into their diet. After all, collard greens are an amazing source of nutrients in general and most of us probably don't consume enough of them.
3. Vegan Superfood Power Bowl
At first glance, this power bowl option looks fairly simple as it just involves four ingredients. But, that isn't actually the case and there is some complexity in the recipe.
The recipe also offers a great combination of healthy ingredients and the colors are also pretty fun on the plate. Personally, I've always loved dishes that combine sweet potato and some type of green vegetable, just because those colors contrast so well. If you're interested in this recipe, you can find all the information you need at theprettybee.com.
2. Black Bean Burrito Bowl
Speaking of colors, here's another recipe that has a lot of fun with contrasting colors. It is actually another burrito bowl recipe, although you could probably tell that by the image and the choice of ingredients.
The addition of sauces is a great way to tie the whole dish together and that approach also adds to the bright colors of the dish. This particular recipe came from veganyumminess.com and as the site name suggests, the recipe itself is vegan.
1. Kale and Miso Power Bowl
So, to round this all off here is one more power bowl to add to the list. The unique thing about this power bowl is the use of miso, which you don't typically find. Beyond this, the power bowl is also a good source of nutrients and protein, as any good power bowl should be.
The recipe comes from delishknowledge.com and it's another vegan power bowl. Realistically though, it would be easy to make almost any power bowl vegan with just a few simple substitutions.