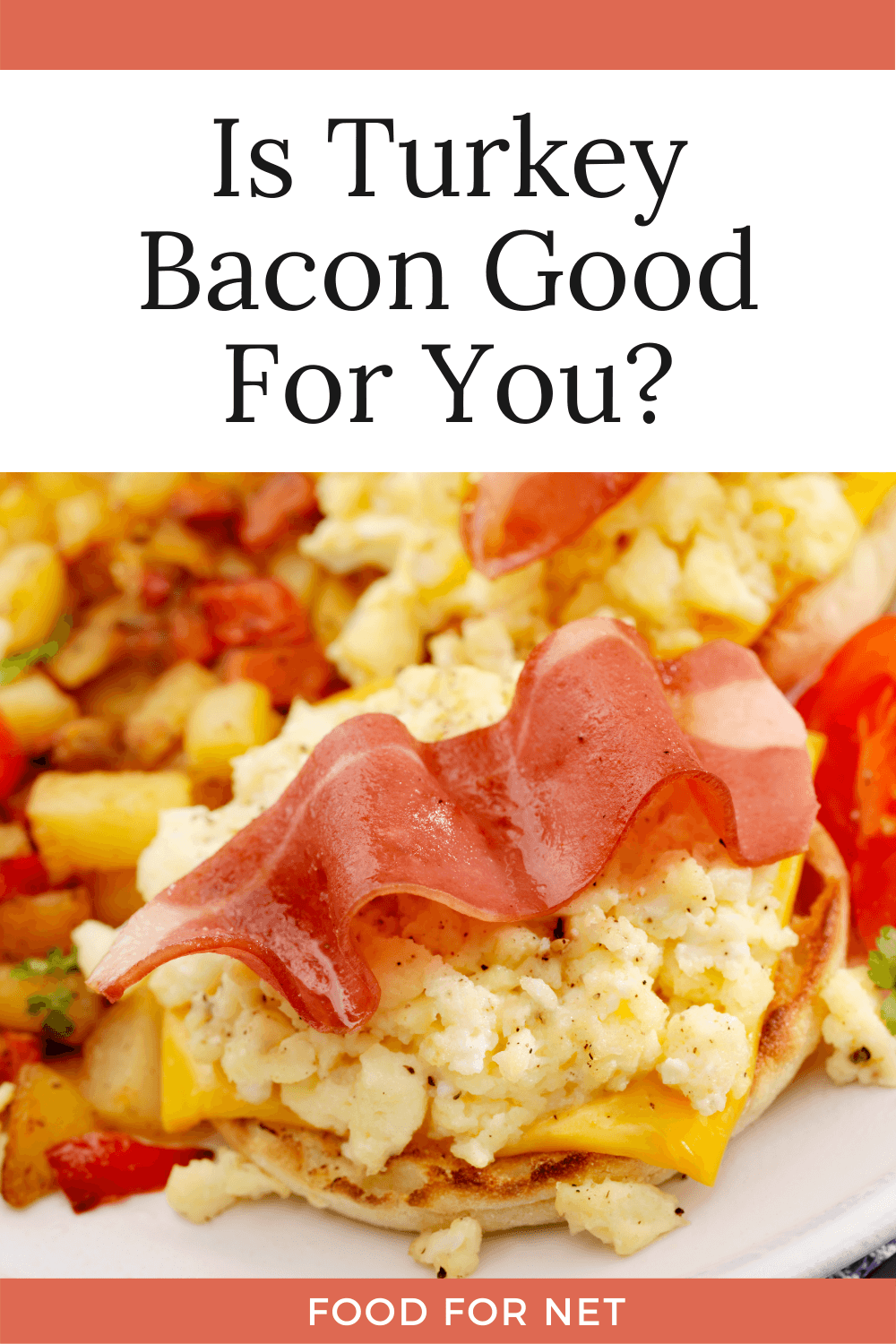 Bacon has a horrible reputation these days. Not only is it high in calories and saturated fat, but it could even increase the risk of cancer.
Turkey bacon seems like a much healthier choice, giving you a familiar texture and flavor, yet without the same health hazards. At least, that's the theory, but let's get real, is turkey bacon good for you?
To answer that question, we can't just look at whether turkey bacon is healthier than regular bacon. While that's an important question, it's not the whole story. We also need to think about how turkey bacon stands on its own. Does it provide health benefits or is it an ingredient to be cautious with?
Is Turkey Bacon Good For Your Health?
What Is Turkey Bacon?
Benefits Of Turkey Bacon
How Turkey Bacon Could Be Harmful
Does Turkey Bacon Taste Like Bacon?
Should You Use Turkey Bacon?
What About Plant-Based Bacon?
Final Thoughts
What Is Turkey Bacon?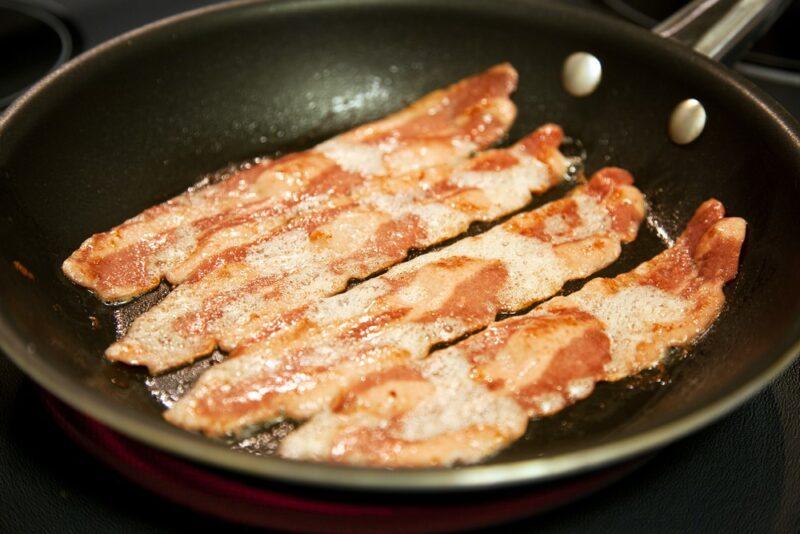 Regular bacon is pork, generally cut from the pig's belly or sometimes from its back. The pork is salt cured and sometimes goes through other steps, before it is ready to be fried and eaten. The end result is a crispy and salty ingredient that many of us can't get enough of.
Turkey bacon is an attempt to satisfy the same craving in a healthier way. It relies on turkey meat that has been cured, smoked, and seasoned. The bacon is shaped so that it looks and cooks much like regular bacon (although the lower fat content means that turkey bacon doesn't crisp up in quite the same way as regular bacon).
Benefits Of Turkey Bacon
Contains Protein And Nutrients
Like other types of meat, turkey bacon provides you plenty of protein and some nutrients as well. In fact, a cup of cooked turkey bacon pieces may provide more than 24 grams of protein, along with nutrients like vitamin B6, vitamin B12, iron, zinc, and selenium.
It's easy to see how why these nutrients are so important. They're involved in many reactions throughout our bodies, helping to keep us fit, healthy, and doing well. The protein matters too, as this is critical for muscle growth and development. It keeps us satisfied between meals as well.
It's Relatively Low In Fat And Calories
The big selling point of turkey bacon is that it contains less fat than pork bacon. For example, three slices of bacon may contain around 12 grams of fat, while a similar serving of turkey bacon contains 6 grams of fat instead. 
The difference in fat content is excellent if you're following a low fat diet. The calorie content is lower too, with a single slice of turkey bacon only containing around 25 calories.
It Doesn't Contain Pork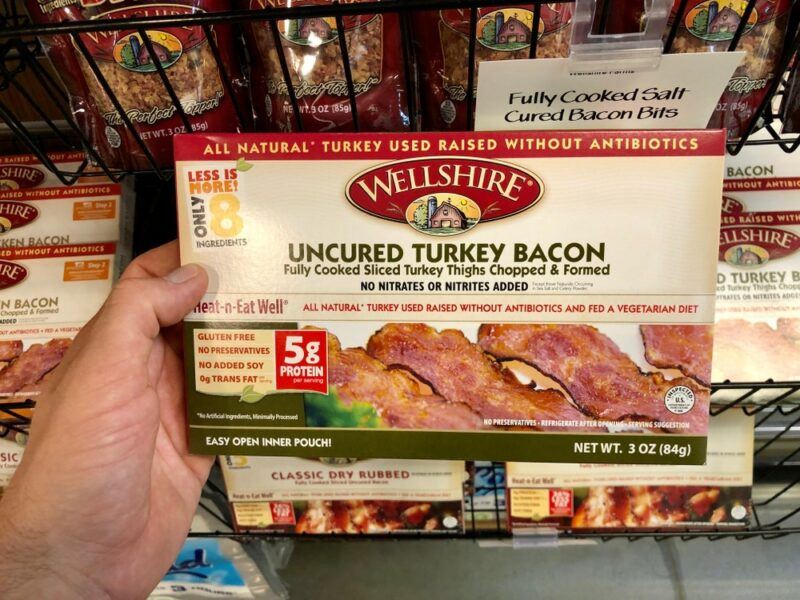 Pork is a controversial type of meat, one that is actually prohibited in some religions, while pigs themselves are often seen as unclean as well. Turkey doesn't share the same controversies.
So, if you don't like pork or can't eat it, turkey bacon is an ideal approach, giving you most of the flavor you're looking for, with none of the concerning features.
It's Often Less Expensive Than Bacon
Turkey bacon sometimes costs less than regular bacon too. This is helpful when you love the taste of bacon, but can't afford it often.
If you can't stand the idea of replacing all your bacon with turkey bacon, you could try cooking some rashes of turkey bacon alongside real bacon. The grease from the bacon should make the turkey bacon taste closer to the real thing. Of course, doing so introduces more fat into the mix, which isn't ideal for health. 
Low In Carbs
Like real bacon, turkey bacon is naturally low in carbs. This is useful, as we're starting to realize that too many carbs can be a problem for our health, increasing inflammation and perhaps even making some diseases more likely.
However, if you're following a keto diet, be sure to check the ingredients label of the turkey bacon. Some brands may contain half a gram or so of carbs per serving, which could be too much.
How Turkey Bacon Could Be Harmful
Turkey bacon is healthier than regular bacon. That much is clear. It's also not the question we're focusing on. We're interested in whether turkey bacon itself is healthy.
As it turns out, there are plenty of reasons why turkey bacon isn't that good for you at all.
It's Highly Processed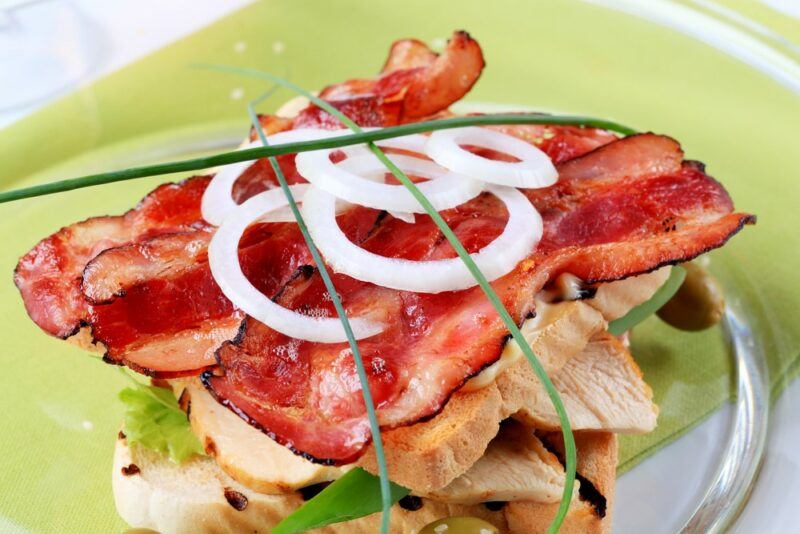 To get turkey bacon, turkey needs to be ground up, colored, flavored, and shaped to get it looking like bacon. These steps give you a highly processed product, one that no longer looks like real turkey at all.
Processed foods are a serious problem in our modern diets. They're everywhere and aren't great for health. The processing steps strip out much of the natural goodness from food, leaving you with something that contains fewer healthy compounds than whole food ingredients.
Companies often use additives as well, to create the desired texture and flavor. For turkey bacon, these can include sodium nitrate, potassium acetate, potassium diacetate, natural flavors, and more.
Additives are all tested for safety, so they shouldn't cause harm. At least, that's the theory. In practice, there's plenty that we don't know about how additives impact health. Many of them may have subtle negative effects that add up over time.
Could Still Increase Cancer Risk
Much of the concern about bacon focuses on how it can increase your risk of cancer. If this is the reason that you're interested in turkey bacon, then I have some bad news – turkey bacon may have similar effects.
Indeed, the warning about cancer risk applies to all types of processed meat, not just bacon. Turkey bacon is also processed with some of the same additives as regular bacon, including sodium nitrate, and is cooked at a similar temperature.
These patterns mean that turkey bacon might be just as bad as bacon for cancer risk.
The Sodium Content
While sodium content varies from brand to brand, turkey bacon does tend to contain less sodium per serving than regular bacon.
However, the decrease in sodium content isn't enough to make turkey bacon healthy. It isn't guaranteed either, as some turkey bacon brands actually contain more sodium than regular bacon.
In fact, you're sometimes getting 150 mg of sodium or more in a single slice of bacon. That's 7% of your daily sodium intake in one go – and many of us eat more than one slice of bacon at a time.
This is an important area, as too much sodium increases our blood pressure, which can then raises our risk of heart disease. Most of us need to cut back on sodium anyway, making it important to watch your serving size when eating turkey bacon.
You can look for low sodium turkey bacon too, which decreases the amount of sodium. Remember though that low sodium doesn't mean no sodium. For example, Original Turkey Bacon from Butterball contains 135 mg of sodium in a 2 slice serving, while their Lower Sodium Turkey Bacon contains 80 mg of sodium instead.
It's Still High In Saturated Fat
Turkey bacon contains less saturated fat than regular bacon, but it's not fat free. You may still be getting a gram of saturated fat per slice or perhaps even more, along with some unsaturated fat.
The fat content varies from brand to brand, so you can shop around to find low saturated fat products. This could be particularly important if you're concerned about your heart or are following a low fat diet.
Contains Nitrates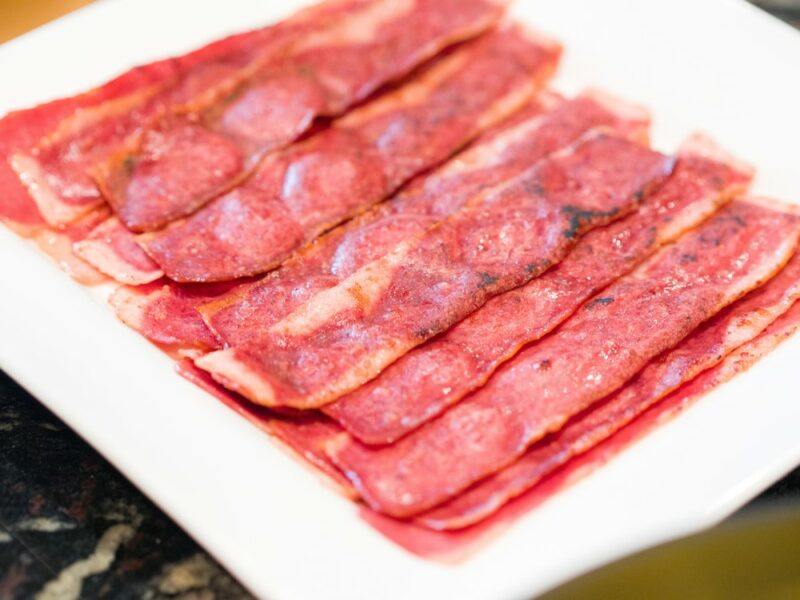 Just like regular bacon, turkey bacon contains nitrates. These preservatives help to give bacon its characteristic salty flavor and protect against bacteria, but they're also highly controversial.
While naturally occurring nitrates appear to be good for us, the ones that are added to our foods may not be. More research is needed before we fully understand the effects of nitrates. Still, for the moment, there are enough concerns to suggest caution when eating nitrate-containing foods like turkey bacon. 
Does Turkey Bacon Taste Like Bacon?
Turkey bacon doesn't taste exactly like bacon, but the flavor profiles are closer than you might expect. In fact, if you don't tell people that they're eating turkey bacon, they might assume they're eating regular bacon.
This similarity works best if you're including turkey bacon in a dish, rather than eating it on its own. The other ingredients help to mask the differences in taste and texture still further.
That said, there are enough differences that some people don't enjoy turkey bacon at all, particularly true bacon lovers.
You'll notice some differences when you cook turkey bacon as well. Because the strips are lower in fat than traditional bacon, they don't shrivel up as much, nor do they get as crispy. Turkey bacon is easier to burn too, so you'll need to pay close attention when you're cooking with it.
Should You Use Turkey Bacon?
If you love the taste of bacon and don't want to give it up, then turkey bacon is a healthier choice. It doesn't taste quite the same as regular bacon and doesn't get as crispy, but the flavor and texture are surprisingly close.
The catch is that turkey bacon still isn't that good for you. It's heavily processed, still contains a decent amount of sodium and saturated fat, and could still increase your risk of cancer.
You can still use turkey bacon from time to time. The most important thing is to simply recognize that turkey bacon is healthier than bacon. That doesn't make it healthy in its own right.
What About Plant-Based Bacon?
Plant-based bacon is an interesting alternative to regular bacon and turkey bacon. Like other plant-based meats, this type of product is entirely meat free and relies on plants instead.
There are plenty of options at your fingertips, including bacon made using mushrooms, eggplant, soy, beets, rice paper, or even coconut. Many of these bacon alternatives can be made at home and a few are sold in local stores as well.
Most of the time, you'll be relying on flavoring ingredients like garlic powder, liquid smoke, and onion powder to make the finished product taste like bacon. Not surprisingly, the taste and texture are only an approximation of the real thing. You might find that plant-based bacon works well enough, but you still miss the real thing.
Even so, plant-based bacon has plenty of advantages. It will often be low in fat and saturated fat. It's also naturally vegan friendly, making it suitable for a much wider range of people.
Plus, even when heavily processed, plant-based bacon isn't likely to raise your cancer risk in the way that regular bacon might. That cancer risk is specifically related to the compounds in meat, particularly processed meat, at high heat. You don't get the same effects with plant-based alternatives. 
Final Thoughts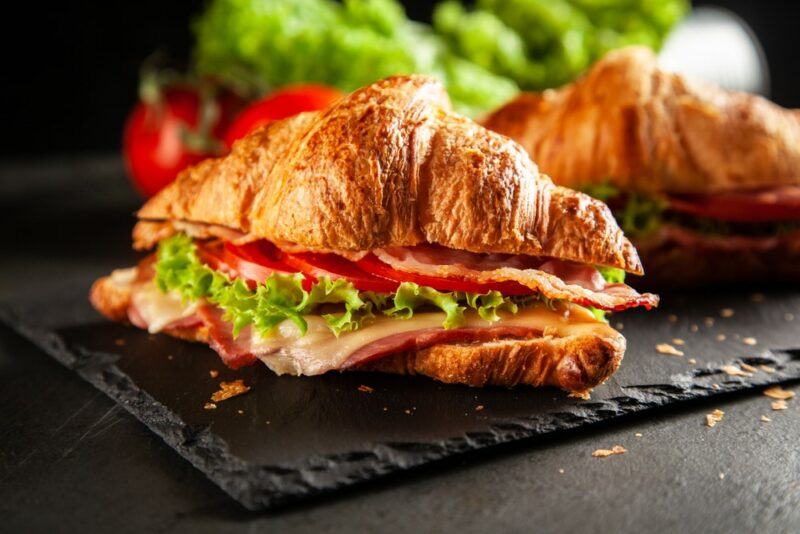 Turkey bacon is healthier than regular bacon, but that doesn't make it a healthy ingredient. It still comes with plenty of issues, including the sodium content and the amount of processing.
Does this mean you need to avoid it?
Not necessarily. Staying fit and healthy isn't really about having an optimum diet, where you only eat incredibly healthy foods and skip anything that's subpar (eating that way would be highly stressful anyway and not good for your mental health at all).
Instead, a healthy diet is all about balance. Sometimes this means that you're having a treat, like turkey bacon or some ice cream. The trick is to be wise. Pay attention to your overall diet and the amount of energy you need, then choose your foods accordingly. 
If you are going to use turkey bacon, choose the product carefully. Look for ones that are minimally processed, ideally ones that are low in sodium. For example, Applegate Organics Turkey Bacon only uses turkey, water, sea salt, celery powder, and onion powder as ingredients. It avoids the additives that other brands offer. It is, however, high in sodium, so it won't be the best choice for everyone.
Frequently Asked Questions
Is Turkey Bacon Already Cooked?
Unlike regular bacon, turkey bacon tends to be fully cured and is often pre-cooked. Because of this, the product often just needs to be heated, rather than completely cooked.
Still, it's important to check the packaging carefully, as this isn't the case for all turkey bacon products. Some may need extra time in the pan to make the bacon safe to eat.
Is Turkey Bacon Keto?
Turkey bacon isn't as popular as regular bacon for keto, partly because it's lower in fat. But, this doesn't make it unsuitable. A slice of the bacon often contains just 0.5 net grams of net carbs, so the bacon easily fits onto a keto diet.
How Much Protein Is In Turkey Bacon?
A 2-ounce serving of turkey bacon contains roughly 17 grams of protein. That's only a little lower than pork bacon, which contains 20 grams of protein for the same serving.
Is Turkey Bacon Halal?
Turkey itself is halal and there aren't any problematic additives, so turkey bacon is halal as well. This is great news, as turkey bacon can be used instead of pork bacon in many dishes.
Is Turkey Bacon Better Than Regular Bacon?
Turkey bacon does have some benefits, as it's lower in calories than bacon and often has less fat too. However, it's still processed and could potentially raise cancer risk in the same way as pork bacon.
So, while turkey bacon may be a touch healthier than pork bacon, it's not as amazing as many people assume.