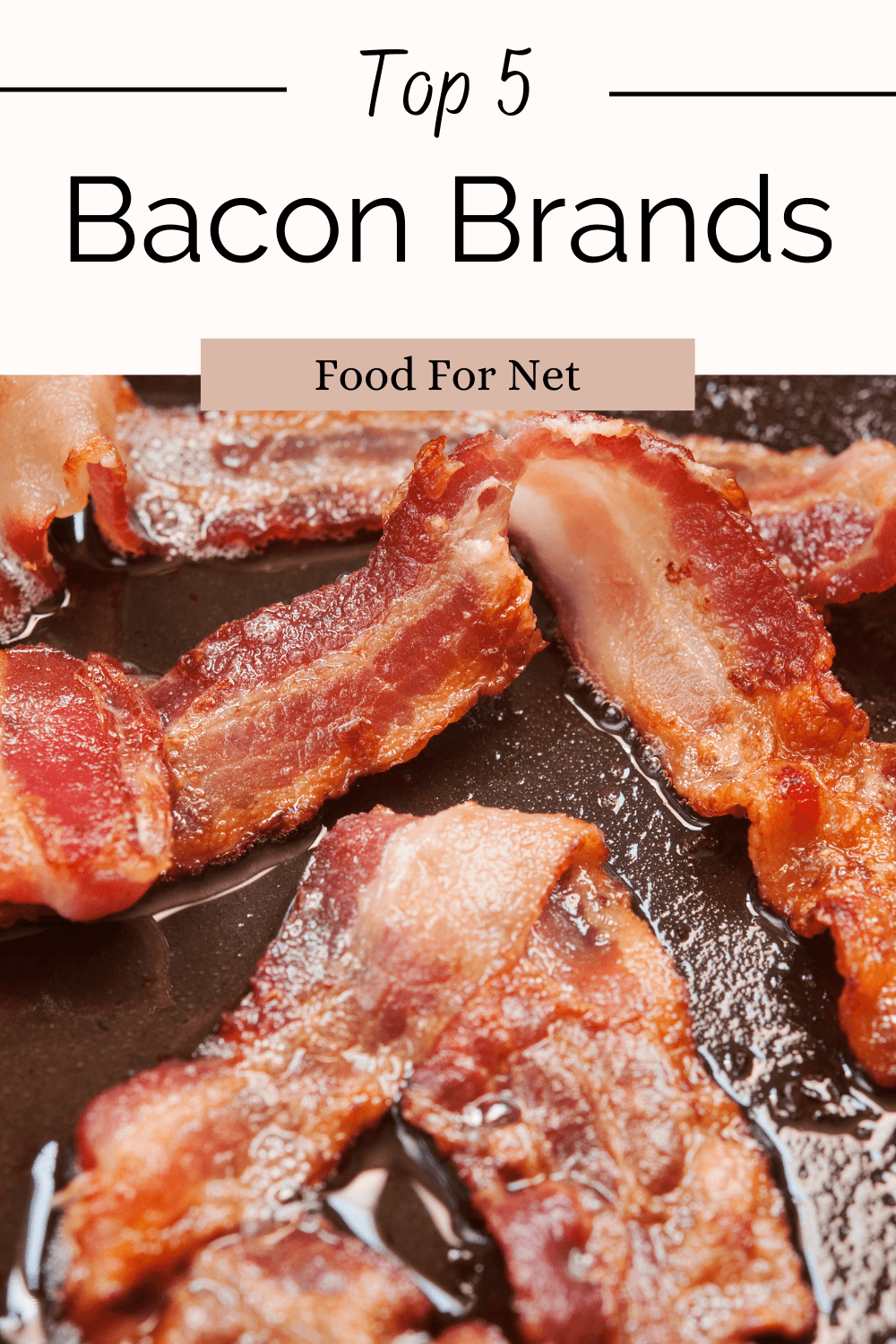 Bacon, in all its salty, crispy deliciousness seems to be everywhere you turn. It's offered as a side to almost every breakfast dish found in restaurants and almost every vegetable has been wrapped in it at some point. There are a few different bacon variations but the fact remains: it's one of the most popular foods in Western culture. The best bacon brands available to buy capture this desirable flavor and texture flawlessly.
Its popularity can be good or bad depending on where your bacon comes from! Like all meat, a lot of highly commercialized bacon from the shelves at the grocery store is heavily processed. Often, there are so many preservatives in there and so much salt that it negates any nutritional value it may have. But the truth is that organic, ethical, and minimally processed bacon has many health benefits.
The best bacon brands produce high-quality meat that's high in protein, high in fats, and extremely low in carbs. This makes it particularly popular with the keto crowd, but lots of healthy eaters are all over it. It also offers a long list of nutrients such as potassium, selenium, and phosphorus. Selenium in particular is highly depleted in our soil these days, making deficiencies more common than you might expect.
When consumed in moderation, bacon is a great addition to a healthy diet which is good news for enthusiasts everywhere. The key is to get good-quality bacon that's made with only the good stuff and none of the bad stuff.
The Best Bacon Brands
1. Benton's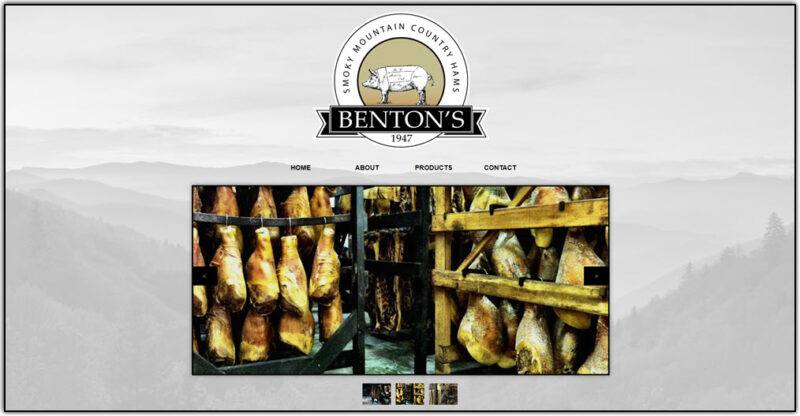 Benton's began in 1947 and was founded by a man named Albert H. Hicks. He was originally a dairy farmer who began curing and selling hams – turns out he was pretty good at it. Today's owner Allan Benton has worked hard with his employees to perfect the art of dry-curing ham and bacon. Their products are so delicious that they have transcended basic breakfast foods into truly gourmet dishes.
Their hickory smoked country bacon is a delicious staple, hand-cured with salt, brown sugar, and black pepper – a simple but timeless combination. Once finished, it's also packed by hand only a few meters away from where it was smoked. It doesn't get much fresher and more authentic than that. Since it's dry-cured, smoked, and vacuum sealed, the finished product is shelf stable and can be shipped unrefrigerated to anywhere in the world!
In addition to their bacon, they have a few varieties of ham to choose from with various cuts and flavors. These are made with the same care and attention to detail as the bacon.
2. Applegate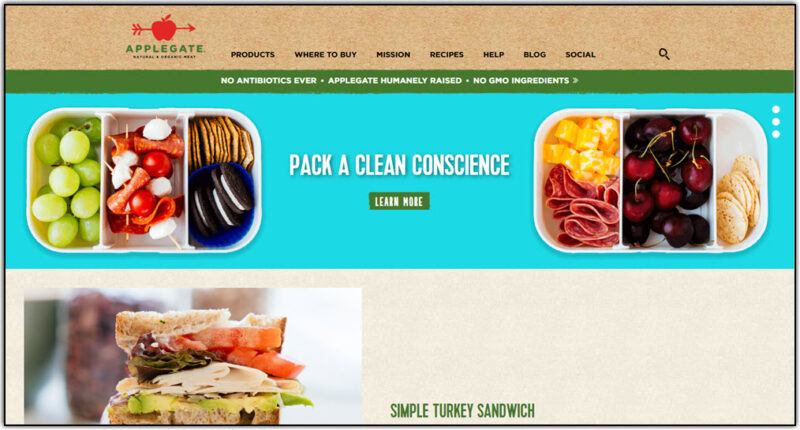 Applegate has been producing natural and high-quality meats, cheese, and other frozen products for more than 30 years. They focus on real, healthy ingredients, safe processes, and non-GMO foods. Meat is sourced directly from farms where animals are treated with the utmost care and respect. They're also allowed to grow naturally and at their own rate, meaning there are no residual hormones in your meat.
Their bacon is uncured and most types come with no sugar added. There are several varieties to choose from, including turkey bacon, Sunday bacon, and thick-cut bacon. Their basic no-sugar bacon is hardwood smoked, dairy-free, casein-free, gluten-free, and of course sugar-free. One serving contains 70 calories, five grams of fat, and six grams of protein.
If you love their bacon, you can get plenty of other essentials from them, including cheese, deli meat, sausages, chicken, hot dogs, meatballs, snacks, and more. They're not only passionate about maintaining ethical practices and humane animal care but they want to provide food that's beneficial and nutritious to all their customers.
3. Nueske's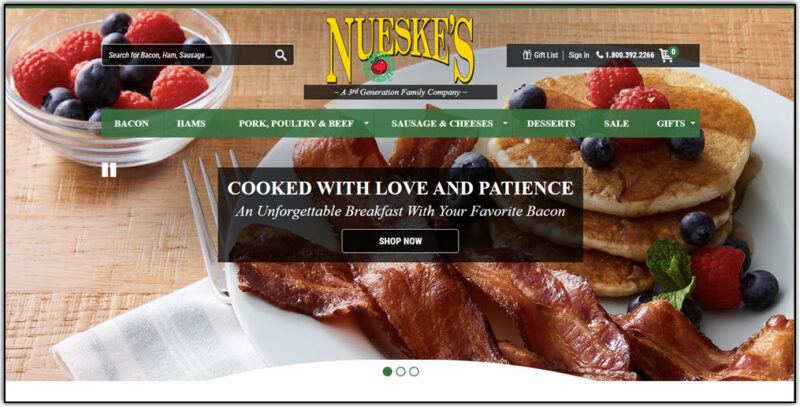 Neuske's is a third-generation family company that has much to offer in terms of delicious and nutritious food. It all began in Washington in 1882 when the Neuske family came from Europe, bringing with them traditional skills and plenty of recipes. They spent many years continuing to perfect the craft.
It was in 1933 that the business officially began when founder R. C. Neuske couldn't find smoked meats to buy that were as good as his family made. He began selling his smoked bacon, ham, and poultry to friends and neighbors. This quickly took off as people started recognizing the value and flavor of his meats.
He taught his two sons the art of selecting the perfect meats and curing them well. Today, the business still thrives within the family. Their bacon comes in many varieties, including uncured, smoked slab bacon, smoked Canadian bacon, smoked peppered bacon, and more. You can get gift boxes and variety packs if you want to try a few flavors at once.
Their basic Applewood smoked bacon has 60 calories per serving with 4.5 grams of fat, only one gram of carbs, and five grams of protein. It's also fairly low in sodium at just 280mg.
4. Tender Belly

Tender Belly has set out to create the best bacon they possibly can – even if that means doing things the hard way. Not only do they use no sugar but they use no water. Relying on sugar and water is a common practice but they believe it creates an inferior product. Instead, they rub the bacon with their freshly ground spices and let the rub soak in for several days before smoking.
The result is meatier bacon with more protein and less shrinkage once it's cooked. Ultimately, this gives you more value for your money. In addition to their top-notch practices, they also raise their pork responsibly. This means the animals live a good-quality, crate-free life with a healthy diet and no antibiotics or hormones ever.
They have a few options to choose from, including their signature dry-rubbed uncured bacon, no-sugar signature bacon, and a habanero dry-rub flavor. They also offer uncured, dry-rubbed bacon slabs, both sliced and un-sliced.
The signature dry rub bacon contains 90 calories per serving, seven grams of fat, and five grams of protein. Also available are ham and sausage as well as two keto and paleo-friendly options!
5. Hormel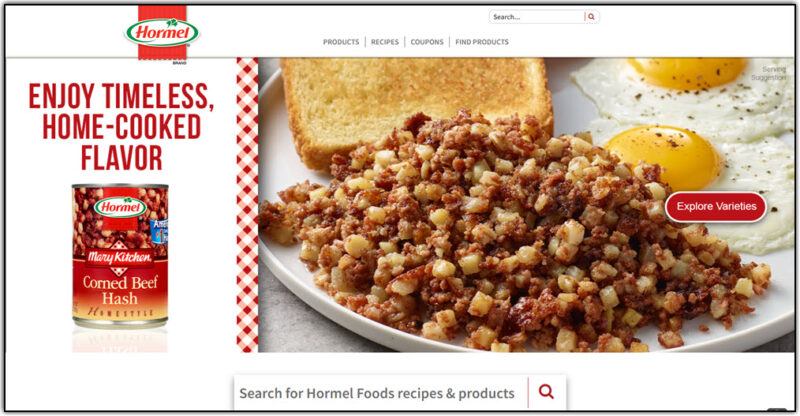 Hormel has the largest selection of premium-quality, great-tasting bacon. You can choose from different flavors, styles, cuts, and even smoking methods. Unlike the traditional hickory smoked flavor, they offer pecan wood or cherrywood smoked. The bacon is smoked naturally for eight hours to create bold, vibrant, and unique flavor profiles that you won't find anywhere else.
Choose from different cuts, or even get a slab of unsliced bacon to do with what you desire. If you want the experience and taste of their exceptional bacon but don't have a lot of time, they have a few more convenient options for you. They offer both microwaveable bacon as well as fully-cooked bacon that's ready to go whenever you are. This is perfect for making quick, easy, and healthy burgers.
Hormel has a long line of other products as well as an impressive catalog of recipes. They've got something for breakfast, lunch, dinner, and snacks. Browse the collection and you can find something new to try every day for ages! These recipes are a great way to get inspired and find new ways to use old, favorite products.
Creative Bacon Recipes
Though popular, bacon is often eaten in a handful of classic ways – on its own as a side, on a sandwich (including a BLT!) or burger, or wrapped around fish, meat, or vegetables. These are no doubt delicious and nutritious, but bacon is so much more versatile than people realize. 
There's a reason salted caramel bacon smoothies exist – bacon is a great contender for sweet and salty! Try one of these fun and unique bacon recipes and see for yourself.
Bacon Chocolate Bark
Right off the bat, this recipe almost doesn't sound right! Rest assured it's a crowd pleaser, though. You'll need dark chocolate, pomegranate seeds, macadamia nuts, extra-crispy bacon, and flaky sea salt. You can substitute the fruit and nuts for something more to your taste if you like.
It's a simple method with only a few steps, and you may be surprised by how much you like it.
Candied Bacon
There are many classic candied treats, but bacon is a highly underrated one. The mix of sweet, salty, and crispy is just perfect. It's a great treat on its own or you can crumble it and add it to other dishes or even drinks!
This recipe takes a simple approach, though there are many ways to make it. Here, you need brown sugar, maple sugar, black pepper, and cayenne pepper in addition to your choice of bacon. You can change up the spices if you want or go even heavier on the cayenne for even more of a kick.
If you can handle it, the intense spicy flavor adds yet another delicious layer to this sweet candied treat. Try it with a few different spice combinations, and put it on your next burger for a versatile and unique new meal idea.