It has to be said, bacon is amazing. Enter: bacon of the month clubs!
It's often considered the best type of meat, partly because it smells so fantastic when it is cooking. The scent and flavor can even be enough to break the willpower of some vegetarians (That's why they're always trying to make fake bacon from tofu!)
Bacon is easy to find, simply head down to any grocery store or butchers. Quality bacon, well that's a different story. Some of the best bacon comes from small-batch produces, who often focus on sales in their local area. Much of the best bacon isn't distributed far, as the creators don't have the resources.
Bacon of the month clubs offer curated boxes that feature many different types of bacon. The process often includes searching far and wide for unusual flavors and the best possible bacon. You'll get amazing bacon in these boxes that you simply wouldn't find elsewhere.
Personally, I my favorite club from below is the Amazing Clubs Bacon of the Month Club. I like that they focus on delivering bacon from a variety of artisan butchers from around the US, and not just "fun flavor" bacon. Flavored bacon is good, but personally, for my subscription boxes, I like to same different companies and styles!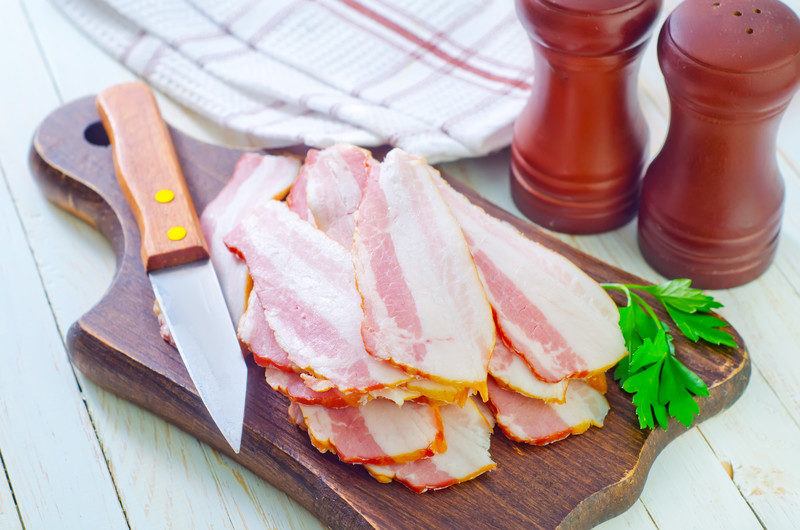 Bacon Of The Month Clubs
Amazing Clubs Bacon Of The Month Club
Bacon Freak
Monthly Bacon Subscription
Tender Belly Bacon Of The Month Club
Zingerman's Bacon Club
Pig Of The Month Club
Bacon Of The Month Club (from iGourmet)
BAM Food
Bac'n Bacon Of The Month Club
Heritage Foods Bacon Subscription
Butcher Box
PS. Bacon people are great people. That's why I'd like to share with you these other amazing food of the month clubs like cupcakes, ice cream, or keto snacks.
PPS. One last thing. If you're into bacon, you'll love our meat of the month club list too. Those subscription boxes often come with smoked meats, sausages, cold cuts, or even steak and pork chops.
Amazing Clubs Bacon Of The Month Club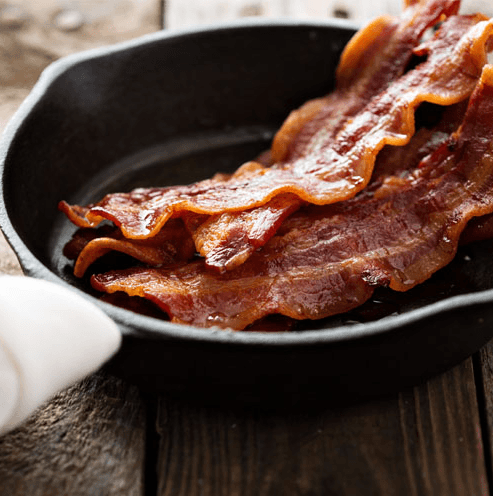 Amazing Clubs seems to have every type of club that you can imagine, including a Bacon of the Month Club. Subscription provides you with 2 different types of bacon each month – 1 pound of each type. The site lists the choices for each of the previous months, so you can easily see what you have to expect.
While Amazing Clubs doesn't specialize in bacon, they clearly know what they're doing. Most of the reviews for the club are positive. Many people say that they enjoy the variety and the different bacon flavors.
Club membership costs $48.95 per month. You can save a little monthly if you order for 6 or 12 months at a time. This might seem like a lot to pay for bacon, but you are getting a decent amount in each order.
Bacon Freak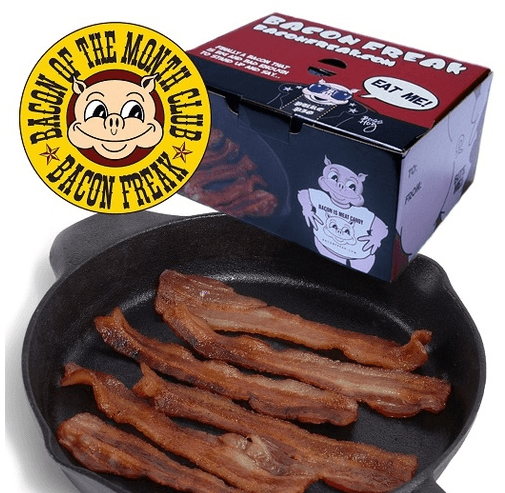 How can you go wrong with a company that calls itself Bacon Freak? As you can probably guess, Bacon Freak sells everything bacon-related, including clothing, novelties, food, seasonings and bacon itself.
They have multiple Bacon of the Month Clubs to choose from too. Their main offering is a Bacon is Meat Candy subscription. There are multiple types to choose from, including regular, nitrate free bacon, no pepper bacon, gluten free bacon and even a wedding version. Each of the clubs also comes with a Bacon is Meat Candy t-shirt.
The options differ depending on the type of club, but you can normally sign up for either 3, 6 or 12 months. The average price is around $50 per month. That's not too bad, as you're receiving 2 packets of bacon for that price.
There is also a set of Swine & Wine clubs. These only come with 1 packet of bacon per month, but you also receive a bottle of wine. You're paying a little more than $50 per month and can choose between a white wine, a red wine and a cabernet version.
Monthly Bacon Subscription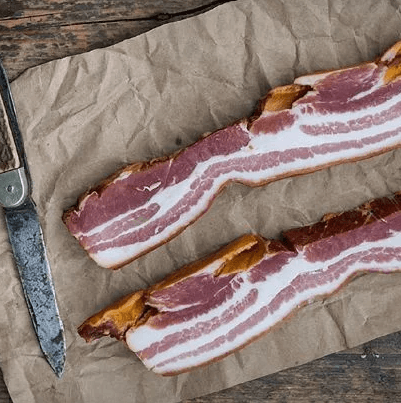 What about this Monthly Bacon Subscription from Goldbelly for another bacon club? Goldbelly doesn't just focus on a single type of bacon. The company keeps things interesting by including options like spiced, thick stripped or double smoked. There are no details about how many packages of bacon or their size. However, each box will contain enough bacon for 6 people.
While the lack of information is a little frustrating, the approach gives Goldbelly much more flexibility. This may mean that you get larger packets of bacon some months and extra packets other months.
Tender Belly Bacon Of The Month Club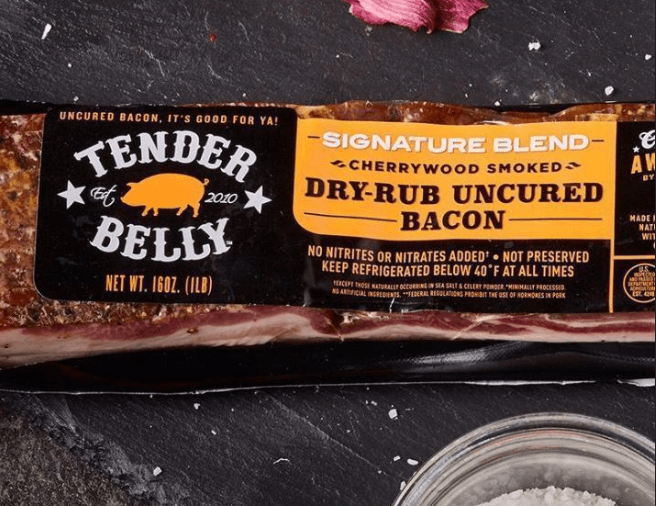 The Tender Belly Bacon of the Month Club doesn't provide meat from a selection of manufactures. You receive bacon produced by Tender Belly itself, in one of their signature flavors. The style provides you with consistent quality. You don't have to worry that some shipments will be better than others.
The club even allows you to choose the type of bacon that you receive every month. In most cases, you'll be getting 4 packets (1 pound each) of bacon, which are all the same flavor. If you choose java rubbed bacon or no sugar bacon, the packets will be 12 ounces instead.
With this club, you're paying between $59 and $69 per shipment, with free shipping. The price might be higher than most clubs, but you're receiving up to 4 pounds of bacon each month. That's an impressive amount and it's bound to keep you satisfied.
Zingerman's Bacon Club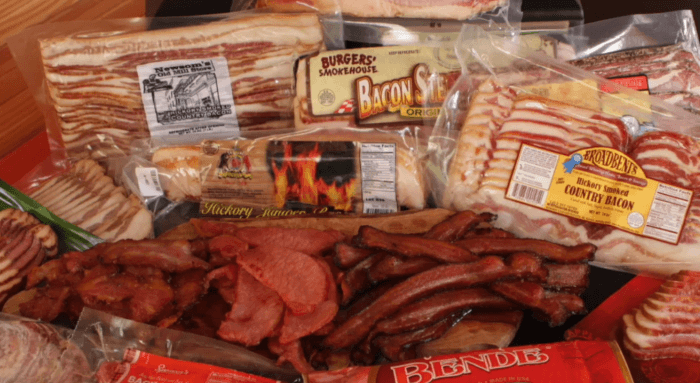 The Zingerman's Bacon Club is another interesting choice. You can order it for 3, 6 or 12 months at a time and the price averages out to around $33 per month. Each monthly shipment contains between 12 and 16 ounces of bacon. You're not just getting bacon either. There are bacon recipes, histories and stories included. The first month even comes with a pig magnet and a keepsake primer.
There is one other area to mention. Most clubs pick the items you receive near the time of shipment, giving you a surprise each time. Subscriptions from Zingerman's are different. The site lists what you will get each month. For example, you'll always get Kentucky Dry Cured Bacon in the second month and Arkansas Peppered Bacon in the third month.
Pig Of The Month Club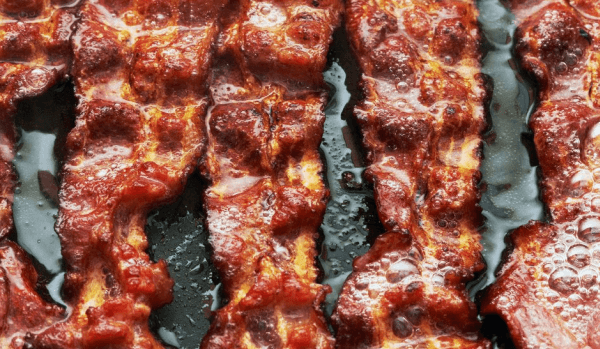 If you like flavored bacon, then this subscription from the Pig of the Month Club is for you. It provides 2 pounds of bacon each month, with 1 pound of each flavor. The bacon comes from the company itself, so you can always be certain that it is high-quality. In many ways, this is more appealing than getting bacon from different manufacturers each month.
The website also offers a flavor guide. This provides details about the planned flavors each month. It includes examples like Lavender Honey Bacon, Chile Margarita Bacon and Chipotle Spiced Bacon.
The subscription averages around $75 per month. The monthly price varies slightly depending on whether you choose a 3, 6, 9 or 12 month membership, but the difference isn't dramatic. Unfortunately, there is no month-to-month subscription to try. If you sign up, it needs to be for at least 3 months.
Bacon Of The Month Club (from iGourmet)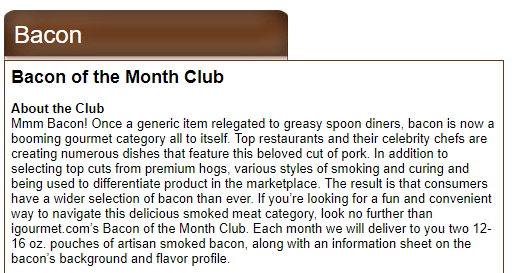 iGourmet can be an amazing choice for gifts and subscriptions, simply because the site has so many of them to choose from. Their Bacon of the Month Club is just one example. The subscription provides you with 2 packets of bacon each month. These always come from artisan producers and are between 12 and 16 ounces in size.
A particularly cool part is the information. The club provides you with a detailed newsletter. This offers many details about the bacon that was chosen for the month, including the company that made it and the techniques that they use.
There are 3 subscription lengths to choose from: 3 months, 6 months or 12 months. The shorter 2 versions cost $42.99 each month. The 12-month options provide a 10% discount, leading to a cost of $38.69 per month.
BAM Food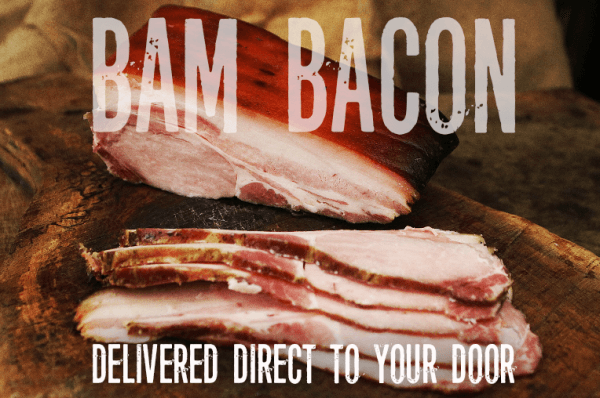 BAM Food is another subscription choice. This one is located in the UK, so it won't be suitable for everyone. Of course, for those in the UK, it could be a better choice. BAM focuses on hand-cured, hot-smoked and air-dried bacon, where there is a strong emphasis on flavor.
The hot smoking process is especially interesting. This is a different style than most other companies and BAM states that it creates an amazing flavor, which can't be found elsewhere.
There are 3 versions of the subscription, depending on how much bacon you want. The I Like Bacon subscription costs £5.95 per shipment and sends a packet of bacon. The I Love Bacon version costs £10.70 per shipment, giving you 2 packets of bacon. Finally, the I Can't Live Without Bacon version costs £14.30 and provides (you guessed it!), 3 packets of bacon.
In each case, you get to choose the type of bacon that you receive. You're also able to select whether you receive the subscription weekly, every second week or monthly.
Bac'n Bacon Of The Month Club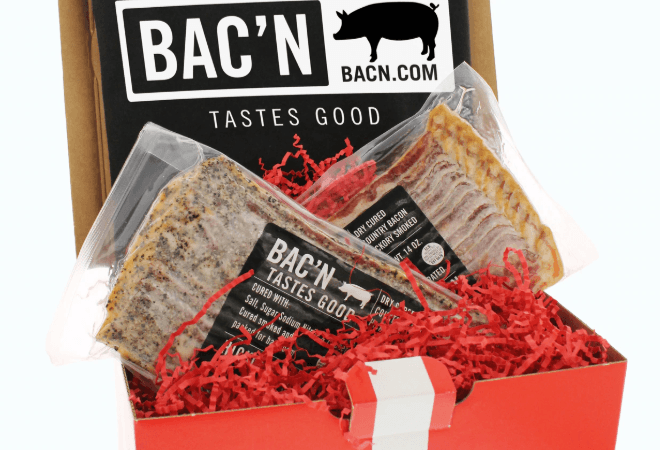 The Bacon of the Month Club from Bac'n isn't as well-known as some of the other choices. That doesn't stop it from being amazing. In fact, the company produces the bacon itself, making this a particularly good choice.
The club provides you with 2 packets of bacon each month. These are chosen from the company's flavor selection. Bac'n has a total of 12 bacon flavors, so there is plenty of variation between months. The first shipment is also special, coming in a gift box with a BAC'N Tastes Good t-shirt.
You can sign up for a 3-month subscription (for $145.95), a 6-month subscription (for $269.95) or a 12-month subscription (for $475.49). The 3-month version allows you to choose between regular, nitrate free and no pepper bacon.
Heritage Foods Bacon Subscription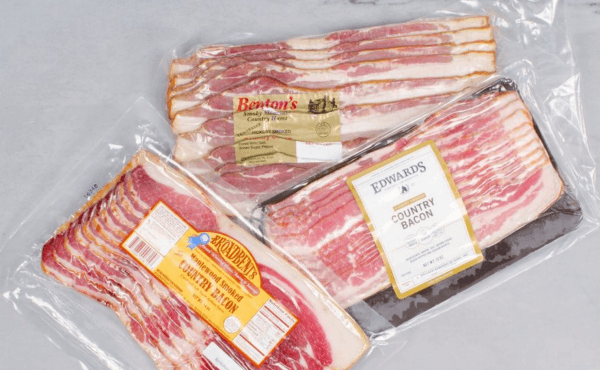 If you're looking for a little more bacon each month, the Heritage Foods Bacon Subscription is an interesting choice. The club can only be joined on a month-to-month basis, at a cost of $59 per month. You can choose to cancel any time, making it an easy subscription to start and stop as needed.
With this club, you receive 3 packets of bacon each month, totaling roughly 3 pounds. That's 3 pounds of mouth-watering bacon per month. How can you go wrong?
The bacon is chosen from different artisans throughout the United States. Some of these are new to the field, while others are well-established. This style works very well, as each producer has their own approaches, leading to strong differences between their products. By getting bacon from multiple producers, you have the chance to experience the differences first-hand.
Butcher Box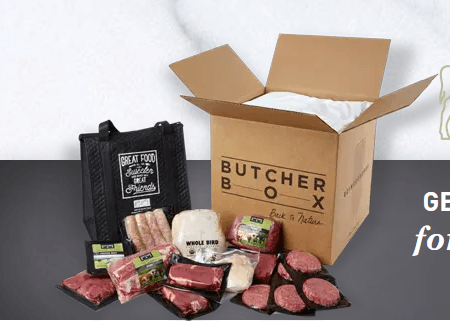 Butcher Box offers one of the best raw meat subscriptions. It can provide you with high-quality grass-fed meat that is delivered to your door regularly. The subscription is also powerful, as there are plenty of choices about the meat that you will receive.
The customization is how Butcher Box can be used as a bacon subscription. When signing up, you are able to choose a Custom Box, where you select the meat that is included. There is a Classic Box version for $149, which contains 9 to 14 pounds of meat, or a Big Box version for $270, with 18 to 26 pounds of meat.
To create a bacon subscription, you just need to choose bacon as the only cut of meat in your box. That's all there is to it. The meat will be the same each month, so you won't receive different flavors or bacon from various producers. The style could be appealing if you're just looking for good bacon each month.