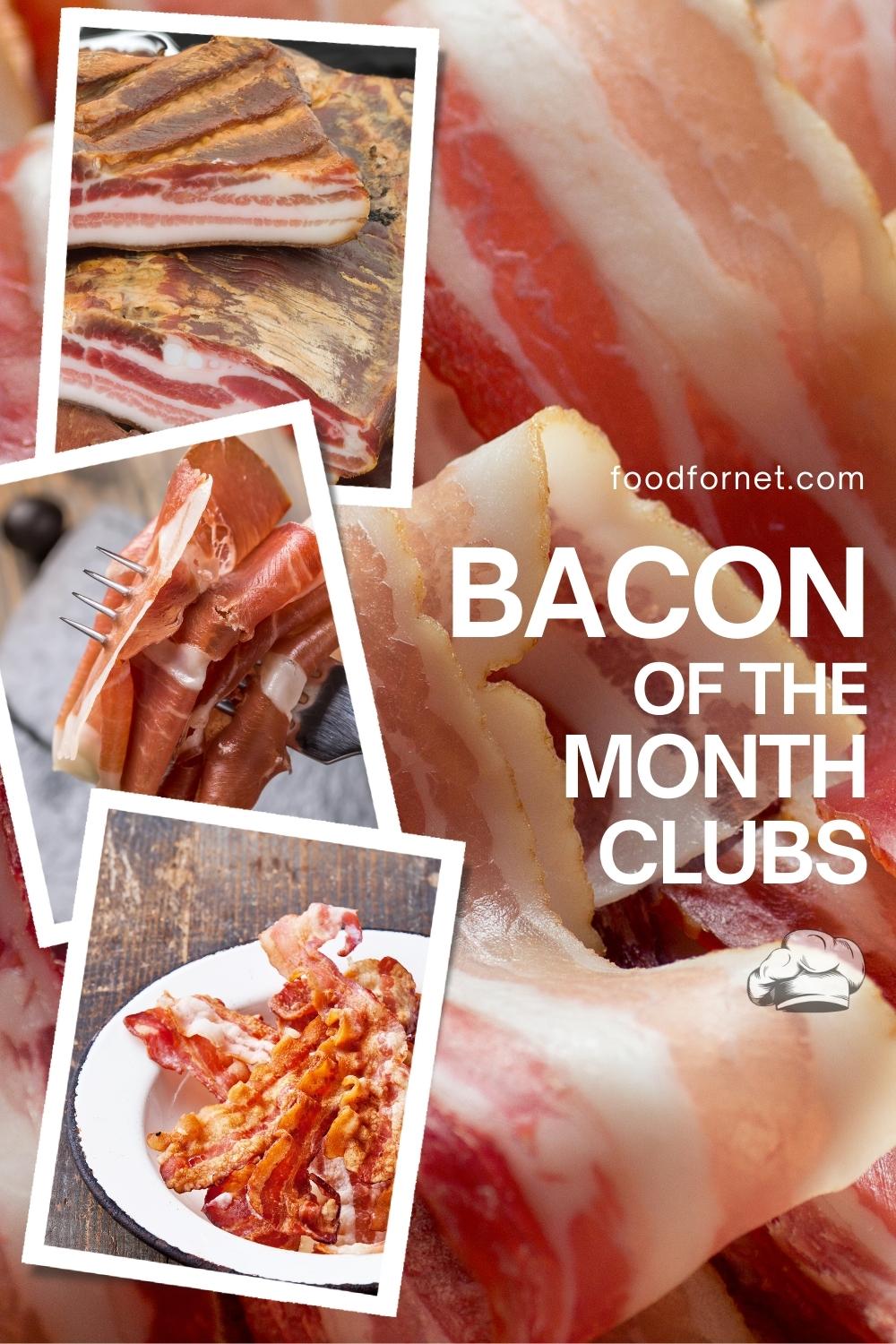 It has to be said, bacon is amazing. Enter: bacon of the month clubs!
It's often considered the best type of meat, partly because it smells so fantastic when it is cooking. The scent and flavor can even be enough to break the willpower of some vegetarians (That's why they're always trying to make fake bacon from tofu!)
Bacon is easy to find, simply head down to any grocery store or butchers. Quality bacon, well that's a different story. Some of the best bacon comes from small-batch produces, who often focus on sales in their local area. Much of the best bacon isn't distributed far, as the creators don't have the resources.
Bacon of the month clubs offer curated boxes that feature many different types of bacon. The process often includes searching far and wide for unusual flavors and the best possible bacon. You'll get amazing bacon in these boxes that you simply wouldn't find elsewhere.
Personally, my favorite club from below is the Amazing Clubs Bacon of the Month Club. I like that they focus on delivering bacon from a variety of artisan butchers from around the US, and not just "fun flavor" bacon. Flavored bacon is good, but personally, for my subscription boxes, I like to same different companies and styles!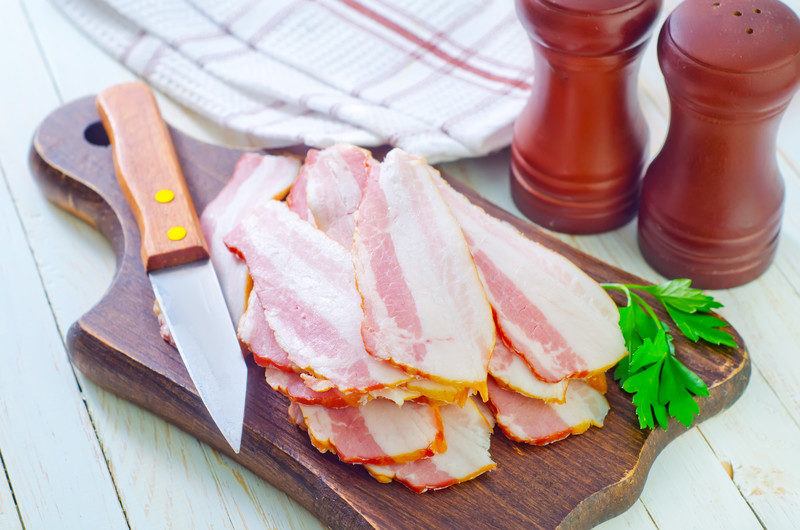 Bacon Of The Month Clubs
PS. Bacon people are great people. That's why I'd like to share with you these other amazing food of the month clubs like cupcakes, ice cream, or keto snacks.
PPS. One last thing. If you're into bacon, you'll love our meat of the month club list too. Those subscription boxes often come with smoked meats, sausages, cold cuts, or even steak and pork chops.
Amazing Clubs Bacon Of The Month Club

Amazing Clubs seems to have every type of club that you can imagine, including a Bacon of the Month Club. Subscription provides you with 2 different types of bacon each month – 1 pound of each type. The site lists the choices for each of the previous months, so you can easily see what you have to expect.
While Amazing Clubs doesn't specialize in bacon, they clearly know what they're doing. Most of the reviews for the club are positive. Many people say that they enjoy the variety and the different bacon flavors.
Club membership costs $59.95 per month. You can save a little monthly if you order for 6 or 12 months at a time. This might seem like a lot to pay for bacon, but you are getting a decent amount in each order.
Bacon Freak Bacon of the Month Club

How can you go wrong with a company that calls itself Bacon Freak? As you can probably guess, Bacon Freak sells everything bacon-related, including clothing, novelties, food, seasonings, and bacon itself.
They have multiple Bacon of the Month Clubs to choose from too. Their main offering is a Bacon is Meat Candy subscription. There are multiple types to choose from, including regular, nitrate-free bacon, no pepper bacon, gluten-free bacon, and even a wedding version. Each of the clubs also comes with a Bacon is Meat Candy t-shirt.
The options differ depending on the type of club, but you can normally sign up for either 3, 6, or 12 months. The average price is around $50 per month. That's not too bad, as you're receiving 2 packets of bacon for that price.
There is also a Bacon of the Month Club: Wedding Edition which contains two different packages of gourmet bacon, 14-16 oz. each. The price for the 3-month subscription is $169.75, $322.75 for 6 months, and $559.75 for 12 months. If you're gluten-free, you can try Bacon of the Month Club – Gluten Free which costs $159.75 for 3 months.
Goldbelly Monthly Bacon Subscription

What about this Monthly Bacon Subscription from Goldbelly for another bacon club? Goldbelly doesn't just focus on a single type of bacon. The company keeps things interesting by including options like spiced, thick stripped, or double smoked. There are no details about how many packages of bacon or their size. However, each box will contain enough bacon for 6 people.
The bacon subscription is available in 3 and 6 months lengths costing $65 per month. Some of the bacon that you may receive each month includes Nashville's Iconic Loveless Cafe Southern Bacon Sampler, Famed NYC Butcher Schaller & Weber's Double Smoked Bacon, Celeb Chef Favorite Snake River Farm's Kurobuta Thick Cut Bacon, and Brooklyn's Legendary Peter Luger's Extra Thick Cut Bacon.
Zingerman's Bacon Club

The Zingerman's Bacon Club is another interesting choice. You can order it for 3, 6, or 12 months at a time, and the price averages out to around $38 per month. Each monthly shipment contains between 12 and 16 ounces of bacon. You're not just getting bacon either. There are bacon recipes, histories, and stories included. The first month even comes with a pig magnet and a keepsake primer.
There is one other area to mention. Most clubs pick the items you receive near the time of shipment, giving you a surprise each time. Subscriptions from Zingerman's are different. The site lists what you will get each month. For example, you'll always get Kentucky Dry Cured Bacon in the second month and Arkansas Peppered Bacon in the third month.
Pig Of The Month Bacon of the Month Club

If you like flavored bacon, then this subscription from the Pig of the Month Club is for you. It provides 2 pounds of bacon each month, with 1 pound of each flavor. The bacon comes from the company itself, so you can always be certain that it is high-quality. In many ways, this is more appealing than getting bacon from different manufacturers each month.
The website also offers a flavor guide. This provides details about the planned flavors each month. It includes examples like Lavender Honey Bacon, Chile Margarita Bacon, and Chipotle Spiced Bacon.
The subscription price for the basic plan is $43 per month. The monthly price varies slightly depending on whether you choose a 3, 6, 9, or 12-month membership, but the difference isn't dramatic. Unfortunately, there is no month-to-month subscription to try. If you sign up, it needs to be for at least 3 months.
iGourmet Artisan Bacon Subscription

iGourmet can be an amazing choice for gifts and subscriptions, simply because the site has so many of them to choose from. Their Bacon of the Month Club is just one example. The subscription provides you with 2 packets of bacon each month. These always come from artisan producers and are between 12 and 16 ounces in size.
A particularly cool part is the information. The club provides you with a detailed newsletter. This offers many details about the bacon that was chosen for the month, including the company that made it and the techniques that they use.
There are 4 subscription lengths to choose from monthly, 3 months, 6 months, and 12 months. The subscription price per month is $57, $56, $55, and $54 respectively. The monthly subscription lets you pause or cancel at any time.
Heritage Foods Bacon of the Month Club

If you're looking for a little more bacon each month, the Heritage Foods Bacon Subscription is an interesting choice. The club can only be joined on a month-to-month basis, at a cost of $59 per month. You can choose to cancel at any time, making it an easy subscription to start and stop as needed.
With this club, you receive 3 packets of bacon each month, totaling roughly 3 pounds. That's 3 pounds of mouth-watering bacon per month. How can you go wrong?
The bacon is chosen from different artisans throughout the United States. Some of these are new to the field, while others are well-established. This style works very well, as each producer has their own approaches, leading to strong differences between their products. By getting bacon from multiple producers, you have the chance to experience the differences first-hand.
Butcher Box Meat Delivery Subscription

Butcher Box offers one of the best raw meat subscriptions. It can provide you with high-quality grass-fed meat that is delivered to your door regularly. The subscription is also powerful, as there are plenty of choices about the meat that you will receive.
The customization is how Butcher Box can be used as a bacon subscription. When signing up, you are able to choose a Custom Box, where you select the meat that is included. There is a Classic Box version for $169, which contains 9 to 14 pounds of meat, or a Big Box version for $306, with 18 to 26 pounds of meat.
To create a bacon subscription, you just need to choose bacon as the only cut of meat in your box. That's all there is to it. The meat will be the same each month, so you won't receive different flavors or bacon from various producers. The style could be appealing if you're just looking for good bacon each month.
Bacon Scouts Bacon of the Month Club

Bacon Scouts was established in 2013 by Jon Jakoblich who is a self-confessed bacon lover. He partnered with the finest butchers in the industry to bring customers the best high-quality bacon and select smoked meats. Their meats are made by meat-crafting experts with not only decades of experience but who are also state, national, and international awardees as well.
They will prove to you that the best high-quality meats are not made in the factory, that they're not supposed to shrivel when cooking, and that they're full of flavor and not just plain salty.
Their exclusive gourmet bacon of the month club membership is available in 3, 6, or 12 months or in quarterly options. Members will receive two packs of world-class bacon – 1 unique gourmet bacon flavor and 1 classic style like hickory or applewood smoked bacon for instance.
Previous bacon flavors included Raspberry Chipotle, Chipotle Lime, Maple & Apple Cinnamon, and Buttery Prime Rib.
Bacon Swinery Bacon of the Month Club

Bacon Swinery's name originated from the owner's love for bacon and his dream to one day start some sort of a 'bacon winery' where people could visit and try different varieties of flavored bacon just like you would in wineries. For now, they're offering their amazingly flavored bacon to be delivered right to your doorstep.
For them, bacon should have that hint of some other amazing flavors and not just punch-in-the-face flavor that usually is just, well, salty. Their bacon offerings include Applewood Smoked Maple Bacon, Apple Pie Bacon, Old Fashioned Bourbon Bacon, Bacon Al Pastor, Everything but the Bagel Bacon, and Cholula Bacon.
Joining their Bacon of the Month Club will get you a box of four bricks of bacon. You can choose from either sweet or savory flavors, or you can let them curate your box for you. You can have them delivered monthly, every other month, or even for a one-time purchase if you just want to try them first. Membership costs $37.99 per month.
North Country Smokehouse Bacon of the Month Club

North Country Smokehouse is already an institution with 100 years of existence under its belt. Their authentic charcuterie features traditional cure recipes that use only the best hand-selected and natural ingredients. These meats undergo a small batch smoking process using local hardwoods.
North Country Smokehouse has been voted America's Top 10 Best Bacons by Men's Journal, New England's Best Meat by Yankee Magazine, and The Best Bacon in America by Food & Wine.
Their Bacon of the Month Club cost $279 for the 6 months subscription and $539 for the 12 months subscription. You can choose from 1 lb Applewood Smoked Bacon, 1 lb Applewood Smoked Peppered, 1 lb Cob Smoked Bacon, and 12 oz Fruitwood Smoked Uncured Bacon (this one has a sugar-free version).
They also have a number of gift baskets available, one of which is the Tailgate Grillmaster Bacon Bundle for $124.99. The basket's content weighs a total of 10.5 pounds.
Ted's Butcherblock Bacon of the Month Club

Ted's Butcherblock owner, Ted Dombrowski was inspired by his grandparents who were butchers. To honor the Dombrowski's commitment to hard work and customer service, the company offer quality products and knowledgeable service to customers. They make sure that every meat, seafood, prepared food and other item purchased at Ted's Butcherblock is the best product available.
Their Bacon of the Month Club will get members a monthly supply of hand-selected bacon from small smokehouses from around the country. Subscriptions are available in 3, 6, and 12 months options with prices starting at $85.
Aside from artisanal bacon, they also have pork, beef, chicken, seafood, and sausages, as well as local pasta and housemade sauces.
High on the Hog Catering Bacon of the Month Club

High on the Hog is founded by Chef Brett Stephen. They offer catering services for corporate parties like morning buffets or luncheons, weddings, special gatherings like birthdays or anniversaries, and wine club parties. They are extremely proud of their house-made bacon – the Cocoa Chipotle Bacon and the Pumpkin Spice Bacon.
For $30 a month, you can avail of High on the Hog's Bacon of the Month Club that recurs monthly until you chose to cancel it. Each month, members will receive a minimum of 2 lbs of High on the Hog's cured and smoked bacon – you can choose the thickness (1/8″ or 1/4″) of the slices. You can also adjust the quantity of your monthly bacon between 2 to 6 lbs, each pound of bacon is priced at $15.
They also have the Gift Subscription which is available for 3, 6, 9, or 12 months. It's a perfect gift idea for your bacon-lover friends or families.
Grandad's Bacon Monthly Club Subscription

Grandad's Bacon offers the best 'old fashioned' bacon that took years to be refined – he made sure that the flavor, thickness, sizes, and cuts are just about right. This gave him the confidence that they are providing customers with only the best bacon.
They use high-quality small farm pork and natural and simple ingredients with no added nitrites, erythorbate, or phosphates. The bacon is all hand-made in small batches – slowly marinated, smoked over a wood fire, and then cut lean with the perfect size and thickness.
Grandad's Bacon monthly club membership costs $24 per month for the 2-pack each month subscription or $46 per month for the 4-pack each month subscription. Either is available in 3, 6, and 12-month options.
Some of their bacon flavors include Spicy Pepper & Garlic, Bourbon BBQ, Maple Syrup & Brown Sugar, Espresso, Hot & Spicy, and Stout Beer.
Tender Belly Bacon of the Month Club

Tender Belly prides itself with #CrazyTasty pork offerings – bacon, sausages, and hams. They use responsibly raised heritage pork (from sustainability-focused farmers), freshly grounded spices, and other premium ingredients.
Their pork products are all gluten-free. The No Sugar Dry-Rub Uncured Bacon and No Sugar Added Signature Pork Jerky are even Paleo and Keto Certified. Their bacon contains no nitrites or nitrates added, except for naturally occurring in celery powder.
Tender Belly's Bacon of the Month Club gets you nine 12 oz packages of bacon per shipment. You can choose from Signature Blend Dry-Rub Uncured Bacon, Habanero Dry-Rub Uncured Bacon, and No Sugar Dry-Rub Uncured Bacon. The club membership is currently sold out as of this writing (must be really good, right?) but you can click on "Notify Me When Available" so you'd know when they're back.
Baker's Bacon of the Month Club

Baker's Bacon was established in 2011 by Chef Tony Baker. He uses his artistry and technique in making small-batch and top-quality dry-cured and double-smoked bacon using only heritage-breed pork.
He'd won awards including the United Fresh Produce Excellence in Foodservice award in fine dining, the Chef of the Year title in 2018 from the American Culinary Federation, and was named Chef of the Year as well by Edible Magazine.
Their Bacon of the Month subscription box contains:
• five packages,12 oz each, of Thick-sliced Double Smoked Bacon
• two packages, 12 oz each, of Thick-Sliced Uncured Back Bacon
• an additional surprise cut e.g. slab, sous vide
• a seasonal recipe in each shipment
Pricing starts at $95 with subscription length varying from 1 to 6 months. Each shipment is designed to last for 2 months.
The Baconarium Bacon of the Month

The Baconarium is founded by Tim, the Chief Baconator, in 2016. They offer handmade bacon in small batches using only the finest of ingredients, no added chemicals, diligently slow cured and cold smoked with hardwood, and are never frozen. They only go for organic, pasture-raised pork, heritage breed pork, American Bison, Angus beef, Wagyu beef, or wild boar sourced from farms across America.
Their Bacon of the Month Club can be availed of upon checkout – you have to explicitly select recurring order for 'Box of the Month' – otherwise it will default to a one-time order. Upon signing up for a subscription, you'll receive two emails – one standard order confirmation and one with the subject "Your recurring order purchase confirmation from The Baconarium"
Pricing starts from $27.75 to $61.05 – that is with the 7.5% savings for club members. The bacon selection includes Heritage Breed Pork Bacon, Pasture Raised Pork Bacon, Wild Boar Bacon, Angus Beef Bacon, Bison Bacon, and Wagyu Beef Bacon.
Dorothy Lane Market Bacon of the Month Club

Dorothy Lane Market is a company of gourmet supermarkets that is originally founded by Calvin Mayne and his partner Frank Sakada in 1948. They first started selling mostly fruits and veggies along with some meat and groceries. Today, among their many product offerings include DLM Signature Uncured and Thick Cut Bacon.
Dorothy Lane Market's Bacon of the Month Club is available in 2, 4, and 6 months subscriptions costing $100, $200, and $300 respectively. Members will get to enjoy bacon made from humanely raised hogs sourced from duBreton. Their signature bacon does not contain MSG, lactose, nitrates, nitrites, or gluten.
Some of the bacon that your box may contain includes DLM Hickory-Smoked Uncured Bacon, Nueske's Applewood-Smoked Bacon, DLM Peppered Uncured Bacon, DLM Hickory-Smoked Thick Cut Bacon, North Country Charcuterie Coffee Bacon, and Beeler's Peppered Bacon.
Frequently Asked Questions
Is The Bacon Flavored?
While some bacon subscriptions focus on regular salted bacon, others provide a variety of flavored types instead. Bacon Swinery even includes Apple Pie Bacon and Everything But The Bagel Bacon in their selection, while Bacon Scouts has Chipotle Lime and Buttery Prime Rib flavors.
Some clubs give you a packet of regular bacon and one of flavored bacon, so you get the best of both worlds. Don't worry if flavored bacon sounds unappealing. Plenty of the clubs on this list stick to the traditional style and don't flavor their bacon.
Does Bacon Feature In Meat Of The Month Clubs?
Meat of the month clubs are perfect for variety, as they can feature many types of meat. Some of them focus on quality, while others are more gimmicky.
Bacon is incredibly popular, so yes, it makes its way into some meat subscriptions. Zingerman's Cured Meats Club is one example. This sends you bacon, salami, ham, meat-based spreads, and related products. You can sign up for either 3 or 6 months, but only one of these months ships out bacon.
There's also the Carnivore Club. Their Snack Box, Classic Box, and Complete Box all provide a combination of cured meat and meat snacks, and may include bacon. While you're not guaranteed to receive bacon every month, there's a fantastic selection of meat, so you won't be bored.
Are Bacon Clubs Worth It?
Bacon clubs have two huge things going for them – convenience and quality. What could be easier than having your meat shipped straight to the door? You don't even think about the type or amount you want. The company does all that for you.
Then there's quality. The best bacon clubs focus on bacon from artisan suppliers. This is often much better than anything you can buy in the local store. The right club will give you an utterly amazing experience that you won't want to pass up.
Plus, the clubs give you the chance to support small companies, rather than large corporations. What could be better than that?
Is There Any Nitrate Free Bacon?
Most companies on this list still use nitrates when processing their bacon. The Tender Belly club is an exception, as they offer uncured smoked bacon. No nitrates or nitrites are added, aside from those naturally found in celery powder.
The Dorothy Lane Market is another option. You can sign up for a 2-, 4-, or 6-month membership. Each version ships out 2 packages of bacon every month. Just be cautious, as some of the bacon comes from other brands, like Nueske's Applewood Smoked Bacon. Bacon from other brands could still contain nitrates.
What's The Cheapest Bacon Subscription?
Bacon clubs often cost around $50 or $60 per month, but there are some cheaper options out there. Grandad's Bacon is one of these, which comes in at $24 per month. The monthly shipments give you two 8-ounce packs of flavored bacon.
Ted's Butcherblock also has a cheap club. Theirs starts at $85 for 3 months, which calculates to around $28.33 per month. The monthly shipment gives you a pound of bacon each month from smokehouses throughout the United States.