These days you can buy jerky in stores or order jerky of the month clubs online. But, did you know that jerky has a very long history?
It was first created during the Cro-Magnon era about 40,000 years ago. Jerky was initially dried using the sun and wind, but later, the process evolved to use other preservation methods.
The American Indians and Incan tribes in South America also made jerky, though they used a more evolved technique. The American Indians used to smoke the meat to dry it, rather than using the sun, eventually creating the first smokehouse in a teepee. But back then, it was not beef jerky that they made, instead, jerky was made from wild animals like deer, elk, and turkey.
Drying meat was the perfect way to preserve food to avoid spoilage, store it for the future, and eat it when traveling. Jerky retains its nutrition but loses its water content leaving behind a lightweight compact yet nutrient-dense food.
Since the advent of jerky making, many people now use beef to create this delicious treat. Though jerky is no longer the critical staple, it was long ago; it is still a traditional travel snack.
For the same reasons as the American Indians, the people of today choose jerky to bring along when hiking and camping because it is easy to pack and doesn't require refrigeration. Plus, it is an excellent source of protein.
But jerky has become a lot more than a functional food. Instead, it is a favored snack, among many. Plus, jerky comes in an endless number of flavors and meat varieties. For those who love the chewy, salty taste of jerky, you will enjoy trying one of the many jerky of the month clubs.
Plus they make the perfect gift for the jerky-loving carnivore in your life, especially if you send out another type of snack subscription at the same time.

Jerky of the Month Clubs
Craft Jerky Co. Beef Jerky of the Month Club

Craft Jerky Co. specializes in bringing together jerky lovers with craft jerky every month. Though the Craft Jerky Co. doesn't make their jerky, they scour the country looking for the best small-batch artisan jerky they can find.
Craft Jerky Co. specializes in jerky subscriptions only and does not sell individual packages of jerky. Their jerky subscription can include a note if you are sending it as a gift.
The Craft Jerky Co. has been featured in several publications such as Readers Digest, Yahoo!, Entrepreneur, and MSN.
There are six different jerky of the month subscription options available in 1, 3, 6, and 12 months with pricing ranging from $18 to $59:
Beef Jerky Subscription
Hot & Spicy Beef Jerky Box
Booze Infused Beef Jerky Box
Keto-Friendly Jerky Box
Gluten-Free Jerky Box
Paleo Jerky Subscription Box
After placing your order, you can choose whether The Craft Jerky Co. will ship immediately by choosing 'Ship Now' or at a later date by setting it in 'Custom Ship Date.'
LOL Jerky Monthly‌ ‌Gourmet‌ ‌Jerky‌ ‌ Subscription‌

LOL Jerky, founded in 2014, searches for high-quality hand-crafted jerky to include in their monthly subscription box. They have tested over fifty varieties, but only the best will ever be included in your monthly jerky subscription.
Not only does LOL Jerky pride itself on sourcing premium jerky, but they also are working to educate the public about the value of supporting local farmers. And LOL Jerky doesn't just talk about supporting farmers; they show their support with every subscription by donating a portion to struggling family farms to help keep their business going.
LOL Jerky is a subscription-only company and does not sell individual packages or make their own. There are four jerky of the month club options:
1 bag for $13/month
2 bags for $22/month
4 bags for $34/month
8 bags for $63/month
The four duration options available include month-to-month, 6 months, and 12 months prepay choices.
Each month the recipient receives hand-selected artisan jerky, and sometimes you may find a surprise sample with your delivery. Some of the varieties you may see in your jerky subscription box are Righteous Felon, True Jerky, Dried and True, and Think Jerky.
Jerky Subscription Monthly Jerky Club

Jerky Subscription, finds and delivers unique craft jerky from all over the country.
Every month you or the gift recipient will receive a box of hand-selected flavorful jerky from craft jerky makers. The jerky subscription boxes are packed with flavors containing jerky options like smoky truffle, aloha teriyaki, spicy barbecue, mango habanero, and sriracha honey.
Jerky Subscription offers four club options with free shipping:
2 bags for $20/month
4 bags for $32/month
6 bags for $45/month
8 bags for $56/month
Each month, members will receive reviewed and selected jerkies by their carnivorous team. These subscriptions can be canceled at any time.
They also have Gift Jerky with prices ranging from $75 to $183.
The Herbivorous Butcher Vegan Jerky of the Month Club

The Herbivorous Butcher is by far the most unique jerky company on this list. It was founded by Aubry and Kale Walch, a sister and brother team headquartered in Minneapolis, Minnesota.
Aubry and Kale, along with many friends and family members, enjoy a vegan or vegetarian lifestyle, and one of their favorite conversation topics is food. And, one evening on a whim, Aubry announced they should open a vegan butcher shop. Though at first no one, including Aubry, took the idea seriously, but then after a minute or two, they realized it wasn't such a crazy idea.
Today, the Herbivorous Butcher now partners with markets and restaurants all over the Twin Cities while still managing their Minneapolis butcher shop and food truck. They make all of their vegan products from the freshest ingredients in small batches.
The Herbivorous Butcher offers a wide variety of meatless meat products such as steak, bacon, chicken, ribs, and more. Plus, they have many cheese-free cheese options.
They also offer jerky, sold in individual packages, or a monthly subscription. Their jerky of the month boxes ship mid-month and include the cost of shipping in the price of the subscription. The jerky of the month club is available in three options (1, 3, or 12-month subscriptions), and you get 15% off the 12-month option.
Plus, Herbivorous Butcher is passionate about saving farm animals from neglect, cruelty, and abuse, which is why they opened Herbivorous Acres.
On a side note, there are other vegan subscription boxes out there too, if vegan jerky isn't quite what you're looking for.
Jerky Snob Club Subscription

Jerky Snob was created when the founders were unable to find excellent quality jerky that wasn't full of nitrates, nitrites, and high fructose corn syrup. So, they started ordering a variety of artisan jerky made with only the best ingredients.
Soon friends and family were asking the couple if they could get them some of the same jerkies the next time they ordered. After ordering jerky for friends and family, the two realized they weren't alone and created Jerky Snob, an online jerky store that specializes in jerky subscriptions.
There are three jerky club options available:
Two bags, $15.99 – $191.85
1/2 a pound (4 bags), $27.99 – $335.88
Full pound (8 bags), $54.00 – $638.00
With the 1/2 pound and full pound subscription options, the recipient will also receive a card with details of the jerky varieties, including information about that month's jerky preparation methods and techniques.
After selecting the quantity of jerky, you can choose your subscription duration from month-to-month, 3, 6, or 12 months.
Some of the jerky varieties you may find in your box include Righteous Felon, Aufschnitt's Teriyaki, and Long Beach Jerky – Gramps' Original.
Jerky subscriptions ship out between the 22nd-24th of each month but are billed on the 11th. Plus, the Jerky Snob ships outside of the US.
JerkyGent Beef Jerky Subscription Box

JerkyGent, based out of Los Vegas, specializes in sourcing gourmet artisan jerky. The inspiration for JerkyGent came from discovering small-batch artisan jerky at their local farmer's market. After concluding that there had to be more gourmet jerky options available, the owners set out to make it easy for jerky lovers to "polish up their snacking" with premium quality options.
With more than 100 great flavors, it is hard not to find a jerky you will love on the JerkyGent website. JerkyGent sells individual bags, gift boxes, and jerky subscriptions. Their jerky of the month subscription boxes are available in three options:
2 bags for $16/month
4 bags for $28/month
8 bags for $55/month
There are two choices of spiciness for the jerky – mild/medium or hot/spicy. And two options for flavor – traditional or non-traditional. Traditional flavors include things like BBQ or teriyaki, whereas non-traditional flavors consist of Mojo, Buffalo, or Truffle.
The jerky subscription is month to month and can be canceled or paused anytime. All of the jerky boxes come with special "subscriber" pricing, and the eight-bag option includes free shipping. On orders where shipping is not included, it is a flat rate of $4.95.
The first jerky subscription box goes out immediately, with subsequent boxes shipped on the 10th of each month.
SumoJerky Monthly Gourmet Beef Jerky Delivery

SumoJerky was founded in 2014 by Ryan Leudecke and was then sold to Wayne Enterprises in 2017. Despite the shift in ownership, SumoJerky continues to focus on high-quality delicious jerky. You're getting more variety than with many other companies too, as SumoJerky sources the jerky from throughout the world, rather than just from the US.
There are club sizes to choose from:
3 bags for $23/month
6 bags for $44/month
12 bags for $80/month
You need to pay shipping with the first option, while the other two come with free shipping. The bags vary in size from 2 ounces to 4 ounces, depending on the specific products that are included.
Amazing Clubs Jerky of the Month Club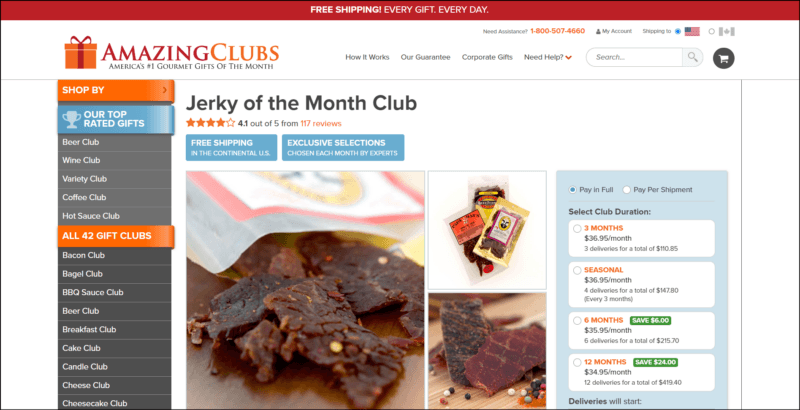 It's no secret that Amazing Clubs is quite our favorite when it comes to club memberships and that includes their Jerky of the Month Club that you can pay in full or pay per shipment.
Club duration ranges from 3 months, seasonal, 6 months, and 12 months – with additional savings for the 6 and 12-month subscription:
3 Months, $36.95 per month with 3 deliveries that costs $110.85 total
Seasonal, also $36.95 per month with 4 deliveries that costs $147.80 total
6 Months, $35.95 per month with 6 deliveries that costs $215.70 total
12 Months, $34.95 per month with 12 deliveries that costs $419.40 total
Each month subscribers will receive 3 new and different varieties of hard-to-find, artisan-style jerkies from gourmet, boutique producers across North America.
Club Jerky Beef Jerky Subscriptions and Gifts

Club Jerky has been delivering high-rated, best-tasting, craft jerky since 2014. They constantly search the country to procure great-tasting jerky that they can deliver to their members.
They curate jerky that is sweet, hot, spicey, peppered, tangy, and even uniquely flavored ones to share with their customers. You can also opt to gift the club membership.
You can choose from 2 three-month memberships:
2 Flavors of Jerky Each Month, costs $20 month to month
4 Flavors of Jerky Each Month, costs $35 month to month
Subscribers of the 2-bags a month will receive a total of 6 bags of jerky while those who opt for the 4 bags a month will receive a total of 12 bags of jerky. Shipping is free and auto-renews every 15th of each month.
Jerky.com Jerky Of The Month Club

Jerky.com has been providing premium jerky, meat snacks, and gourmet snacks since 2008. Their great selection of products coupled with excellent services ensures that customers will have a positive experience.
Their Jerky of the Month Club Subscription will allow members to enjoy 3 bags of jerky that includes one bag of their exclusive and limited-time Flavor of the Month. The subscription is recurring each month and costs $23.97.
You can also gift the subscription Jerky of the Month and choose from a 3, 6, or 12-month membership with a price starting at $83.79.
Aside from jerkies, they also have peanuts, licorice, pretzels, and sunflower seeds.
Billy Franks Jerky Club

Billy Franks started making their craft British beef and turkey jerky in 2011 and has since been providing intensely flavored jerky. They use only the best British meat and natural and plant-based ingredients.
Billy Franks Jerky Club is available in 3 different subscriptions:
Taster Box (4 Bags), for £10.08
Jerky Lover Box (6 Bags), for £15.12
Jerky Fiend Box (12 Bags), for £30.24
Members can choose the frequency of the delivery, from every week to every 7 weeks, or every 1 to 7 months.
There is also a Monthly Jerky Gift Subscription of either 4 or 6 bags each month. You can choose how long it will last – 6 shipments for £75.84, or 12 shipments for £143.64.
Climax Jerky's Jerky of the Month Club

Climax Jerky was founded in 1999 and has since been carrying only the freshest and finest beef, elk, and venison specialty jerky. Aside from their physical stores, they also have their online stores to better serve their clients.
Their gourmet Colorado jerky is smoked to perfection – juicy, tender, and made from whole muscle (and not chopped or formed). It also doesn't contain MSG and no nitrates.
Their Jerky of the Month Club is available in 3 months program at $49.95 per month with free shipping. Each month, members will receive:
two 4 oz beef or 3.25 oz smoked beef, turkey, or salmon
two 1.7 oz game
two 1 oz sticks of buffalo, elk, or venison
You can also choose to get all beef or all game if you prefer that.
Jerky Dynasty Exotic Jerky Club Membership

Jerky Dynasty is an online distributor for exotic jerky that ranges from alligator meat to kangaroo from the outback to delicious venison meat. They also offer gourmet jerky, bacon jerky, and jerky subscription boxes.
Their Exotic Jerky Club Membership is priced at $29.99 per month and is available in 1, 2, 3, and 6 months subscription lengths. Each month, members will get 3 bags of exotic, gourmet, and old-fashioned jerky – these are mainly exclusive products that they don't usually have in their shop.
All of their products are made in the USA, 100% all-natural, and come from responsible sources
Keeno's Jerky Monthly Club Subscription

Keeno's Jerky is inspected and certified by The State of Texas – both kitchen and products have been inspected so customers can rest assured that they provide not just delicious but healthy beef snacks. To test for pathogens and moisture content the jerky samples are submitted to Analytical Laboratories.
Keeno's Jerky is able to nail that fine balance between flavor and moisture which makes their beef jerky tasty but soft and easy to chew – which is one of their biggest selling points.
By joining their Jerky of the Month Club for $30, you'll be getting new flavors of jerky each month. It's available for 3 months, 6 months, and 12 months subscriptions.
Big John's Beef Jerky of the Month Club

Big John's Beef Jerky has been around for over 25 years now. They offer time-tested classic strips which are uniquely processed jerkies that are thin, easy to eat and taste delicious of course. They also now have Thick Slabs which they call the "jerky steak" which comes in 2 oz each (1/8 Lb) and over 1/4″ thick.
The Jerky of the Month Club subscription is available in 3, 6, and 12 months options. With prices ranging from $96.99 to $274.99. Each month members will receive a 1 lb bag of jerkies with the flavor of their own choosing for the first month. Then after that, you'll get 1 of 7 different flavors for the succeeding months.
Their jerkies, aside from the Original one, are avaialble in many flavors including Black Pepper & Garlic, Teriyaki, BBQ, Fiery Hot, Sriracha, Old Bay, Mango Jalapeno, Ghost Pepper, and Korean BBQ.
Cratejoy Jerky of the Month Club

Cratejoy is a marketplace that features gifts and subscriptions from all around the world and for all sorts of things so you can conveniently shop in one place. From entertainment to self-care and well things to food and drinks – they have it for you. And that includes gifts and subscriptions for jerkies.
Their Jerky of the Month Club features high-quality artisan jerkies from around the US. They have an exclusive selection of hard-to-find craft jerky that you can even personalize the gift message for.
It's avaialble in 1, 3, 6, and 12 months subscriptions and in 4 different sizes – 2 bags, 4 bags, 6 bags, or 8 bags per month. Pricing starts at $15 per box.
JerkyGent Beef Jerky Subscription Box

JerkyGent was born with the philosophy that anyone can 'polish up their snacking' – that is of course with their great-tasting craft jerky. They scout the country for the best artisan jerky that they can feature in their monthly jerky subscriptions.
Each month, they'll send out jerky based on your preferred flavor and spiciness. You can choose from the three plans:
JerkyGent Mini, 2 bags per month for $16
JerkyGent Classic, 4 bags per month for $28
JerkyGent XL, 8 bags per month for $55
You can specify your spiciness preference from Mild/Medium to Hot/Spicy and choose whether you want the Traditional or Non-Traditional flavors – of course, you can also opt to just try them all.
Manly Man Company Jerky Subscription Box

Manly Man Company is a veteran-owned business, which first offering was the "Man Bouquets" – sticks and sheets of jerky carved into the shape of flowers and roses. This according to the owner, Greg, is close to equivalent to the ladies' bouquet of flowers. Soon after, they started offering other unique and custom-curated gifts including Meathearts™, Meat Card™, Bacon Roses, Manly Scented Gift Wrapping Paper, and Manly Gift Boxes.
One of their meaty offerings is the Jerky Subscription Box which is available monthly, every 2 months, or every 3 months subscription. You can also choose between mild and spicy and indicate what size you prefer:
Sample Size, 3 to 4 bags for $25.99
Classic Size, 4 to 5 bags for $31.99
Man Size, 7 to 9 bags for $59
Each box contains a rotating selection of their favorite jerky or other meat snacks (such as biltong, bacon, and pizza jerky).
Jerky Crates
Man Crates

Man Crates started in John Beekman's small apartment, more than six years ago. The company quickly gained momentum soon growing out of John's apartment and into a warehouse.
And it's no wonder they became one of the fastest-growing companies in the country. Man Crates offers a fantastic selection of unique gift crates focused on what men want. They have everything from grilling, to sports, and drink crates, all of which are carefully crafted and with a variety of themes.
If you are looking for that special one-time jerky gift, then Man Crates has you covered. They offer several jerky gift crate choices:
Grand Jerky Heart
Chef's Choice Jerky Crate
World Tour Jerky Crate
Exotic Jerky Tool Box
Premium Jerky Ammo Can
Booze-Infused Jerky Crate
Spicy Jerky Ammo Can
Jerky Tie
And these jerky gift crates are only a sample of their jerky gifts; check out the Man Crate website to see all of their jerky crate options.
Fake Meats

The website for Fake Meats isn't that exciting. However, their jerky of the month club is interesting, as it focuses on vegetarian and vegan jerky. The club costs $15 per month and can be ordered month-to-month or as a 3-, 6-, or 12-month gift.
Each monthly shipment includes 5 to 6 jerky products from companies like Primal Spirit Foods and Lumen Soy Foods. Members also get sneak peeks at releases from the company and may sometimes get extra treats.
Dollar Jerky Club

The Dollar Jerky Club focuses on American-made jerky from many different companies. Their Small Box subscription contains 3 to 5 jerky products, including bags of jerky and jumbo sticks. It costs between $15 and $16 per month, depending on your subscription length.
Next is their Medium Box. This is larger, offering 5 to 8 jerky products, plus occasional swag. This time, the subscription costs between $28 and $35 per month. If you want to go all out, there's the Large Box. This contains an impressive 8 to 15 jerky products. Members get a selection of swag and samples as well.
The subscriptions always contain jerky from many companies, giving you plenty of variety.
House Of Jerky

House Of Jerky aims to provide high-quality jerky that tastes exactly how 'jerky is supposed to taste'. That's a bold claim, but the company seems to deliver. They also have a huge selection of jerky, including more than 50 combinations of flavor and meat.
Their first subscription club costs $105.50 for a 6-month subscription. Each month gives you a 1/4 lb. pack of a different flavor, with possible flavors including sweet & spicy, natural, black pepper, and hot and black pepper brisket jerky.
There's a second club too. This one is much more unusual, as it focuses on exotic jerky, including shark, kangaroo, and duck. You pay $142.25 and get some exciting jerky for that price.
Cattaneo Bros

Cattaneo Bros offers 3 high-quality jerky subscriptions, all featuring products from Cattaneo Bros. The first is The OG Club. This costs $85 per month and sends out 8 packets of original flavor sugar free jerky (3 ounces of jerky per packet). That's a lot of jerky per month, yet the club seems to be very popular.
Then there's the Range Club. This one sends out 7-ounce packets of premium thin cut grassfed beef jerky. The subscription still costs $85 per month, but this time you're getting 7-ounce packs of jerky. The flavors are the same each month: sea salt, black pepper, chile cayenne, and chipotle.
Their final club is The Family Snack Pack. This features 30 sea salt jerky strips and 20 original smoked beef sticks each month for $130. While the clubs don't offer much variety, you are getting plenty of delicious jerky each month.
Frequently Asked Questions
Is There A Vegan Jerky Of The Month Club?
The Herbivorous Butcher is a small-batch vegan company that focuses on delicious plant-based meat and cheese alternatives. Their jerky of the month club follows this theme, offering 6 ounces of vegan jerky each month. However, wheat and soy are used as ingredients, so the jerky might not work for everyone.
Fake Meats also has a jerky subscription. This ships out 5 to 6 pieces of jerky each month from various companies. You can choose between a vegan jerky subscription and a vegetarian one.
Is There An Amazon Jerky Subscription?
A few companies do feature their jerky boxes on Amazon. Jerky Snob is one of these and allows you to buy a 2, 4, or 8 bag subscription through Amazon. This should be roughly the same as ordering through their site.
LOL Jerky has boxes on Amazon as well, including 2-, 4-, and 8-piece subscriptions. These are mixed subscriptions that feature jerky from different companies, including Field Trip and Think Jerky. Interestingly, the subscription options and prices are different on Amazon than on the Lol Jerky site.
There are some subscriptions on Amazon too, along with gift boxes that could be ordered individually or via Amazon's Subscribe & Save program. These subscriptions are all created and maintained by the individual companies, not by Amazon itself. As such, the quality can vary, sometimes dramatically.
Thankfully, Amazon has an excellent review feature. This makes it easy to see whether a subscription is worth bothering with.
Is There An Exotic Jerky Of The Month Club?
Jerky Dynasty is one of the few companies that provides an exotic jerky subscription. Subscribers receive 3 bags of jerky each month. Some of these are exotic, while others are gourmet or old fashioned instead. Their exotic styles include alligator, kangaroo, venison, and elk jerky.
Another option is House Of Jerky. This 6-month subscription sends out a different exotic jerky each month. You get some truly unusual ones in the mix, including shark, camel, duck, and kangaroo.
Amazing Clubs also occasionally sends exotic jerky. But, these are limited to venison, buffalo, and elk, and aren't sent out very often.
Carnivore Club is another option. They don't have an exotic club, but do have an exotic jerky bouquet. This is packaged like a bouquet of roses and includes 5 sticks each of elk, buffalo, mild venison, and hot venison jerky.
Is Jerky Healthy?
The health impacts of jerky are interesting. On one hand, the snack is high in protein and low in carbs, making it fantastic for low carb dieters. You're getting plenty of important nutrients too and not many artificial ingredients.
There are problems though. One is the sodium content. Some products even get up to around 20% of your daily sodium recommendations in a single ounce. Plus, jerky is a type of processed red meat. This is concerning, as processed red meat can raise the risk of cancer.
These issues suggest that it's not wise to go overboard with jerky. However, having a little every so often could easily be good for you.