Succulent of the month clubs are the ideal gift for a loved one or yourself. Not only are they easy plants to take care of, but they also offer some health benefits like improved memory, focus and mood, along with better air quality.
Succulents themselves are long-living plants that come in a variety of shapes, sizes, and colors. They require very little water and care, so they don't need too much of your time to keep them happy and healthy.
Succulents are a variety of plant that stores water in their leaves, making their leaves thick and fleshy. Though succulents are similar to cacti, they are in a different family.
And if that isn't enough to get you signed up for a monthly subscription, succulents are ideal for people who lack a green thumb. They are known for the heartiness and ability to thrive in various soils, including low-quality soils. These plants thrive in warm, dry climates.
Also, because succulents come in a variety of sizes, they make the perfect decor accent for the home and office. They can be displayed in decorative artistic pots or more a functional plant and phone holder. But if you lack counter or desk space, they look excellent in hanging baskets.

Succulent of the Month Clubs
Succulents Box
Succulent Studios
Succulents Monthly
The Succulent Source
Leaf and Clay
Succulent Lovers
Mountain Crest Gardens
Succulent Gift Boxes
Lula's Garden
Harry & David
Succulents Box

Succulents Box specializes in all things succulent. They carry over 200 varieties of succulents, both common and rare. Some of the more unique types they offer are:
Albuca Frizzle Sizzle
Graptoveria Bashful
Royal Flush
Graptoveria 'Fred Ives'
Baby Toes Fenestraria
Argyroderma pearsonii
In addition to having a multitude of options, they also have different plant sizes. The size option depends on the plant itself, though many are available in 2-inch and 4-inch pots. Plus, you have the choice between clay or plastic container.
In addition to succulents, they also offer accessories like:
Pots
Gardening Tools
Hanging Macrame Pot Holders
Heat Packs
ID Cards for the Plants
Gift Boxes
And of course, they offer succulent subscription boxes. There are five different memberships to choose from:
1 Succulent per month: $14.25
2 Succulents per month: $28.50
3 Succulents per month: $42.75
4 Succulents per month: $57.00
1 Airplant per month: $14.25
The prices listed above are based on a month to month payment plan; discounts are available on different payment schedules.
Each box includes care instructions and an ID card. Plus, each package is gently wrapped in bubble wrap. The plant size will determine how the succulent is packed if it is either in a plastic pot or barefoot.
Succulent Studios

Succulent Studios, based in California, operates its fulfillment center in Longbeach. Succulent Studios not only sells and ships their plants, but they also grow their own plants.
Succulent Studios' plants are organic, and their company operates plastic-free. What that means is their plants are potted in biodegradable pots, plus they only use 100% plastic-free packaging.
Succulent Studios offers one subscription option that includes two 8-week old organic succulents. The plants are potted in 2-inch biodegradable pots in coconut coir.
The succulents come pre-trimmed and are tenderly packed in special boxes to ensure your plants' safety. Shipments usually get sent out within 2-3 days after the order is processed. Once your succulents are on their way, you will receive an email with the delivery details.
The pots are suitable for a couple of weeks, but the succulents will require re-planting when the original container softens. The benefit of the biodegradable pots is that they can be planted directly into the new pot. In addition to the plants, each box includes care instructions and an ID card for each succulent.
Succulents Monthly

Succulents Monthly is a succulent subscription company. However, they do offer a few extras in addition to their different monthly memberships, such as:
50 assorted hens and chicks
A plant and cell phone holder
Aloe t-shirt
Gardeners soap
Air plants
There are two primary succulent clubs:
Succulents with Style – 1 succulent per month

Month to Month: $18.95
3-month: $54.95
6-month: $107.95
12-month: $208.95

Premium Mix Collection – 2 Plants per month (succulents and/or air plants)

Month to Month: $28.95
3-month: $84.95
6-month: $164.95
12-month: $318.95
Both memberships include
Decorative Containers
Care Instructions
Succulent Soil
Fun Extras
Shipping for both clubs is an additional $8.95/ month.
Each box is carefully packed to guarantee the safety of your plants, pots, and other goodies.
And don't worry if you or the recipient is new to growing succulents, Succulents Monthly's website offers information on both succulent and air plant care. The information includes proper light, water, and what to watch for to ensure your plant remains healthy.
The Succulent Source

The Succulent Source is a fourth-generation family-owned company that specializes in providing succulents for various events like weddings, showers, and other celebrations. The Succulent Source has been in business for about 15 years.
Though they are located in Southern California, they ship all over the US. The Succulent Source offers more than just succulents, like:
Cactus
Favor tags
Pail stickers
Succulent bouquets
Succulent hair pieces
Succulent boutineers
Various pots and containers
Succulent to go boxes
Succulent books
In addition to providing succulents and cacti for events, they also offer a Succulents of the Month Club. The membership includes:
Five 2.5 inch handpicked unique succulents
No two plants are the same
ID Cards
Care Instructions
The succulent subscription is available for month to month, as well as 3, 6, and 12-month options. The month to month membership costs $30 per month and includes shipping. The longer pre-pay plans offer discounts between 5%-10%.
Leaf and Clay

Leaf and Clay offer a variety of cactus and succulents. They offer both classic and "weird" succulent species. Some of their more interesting plants include:
Corpuscularia Lehmannii
Hatiora Salicornioides aka Dancing Bones
Crassula aka Baby Necklace
Crassula Ovata Undulata aka Wave Jade
Echeveria aka Allegra
Echeveria aka Afterglow
Leaf and Clay have over a hundred different succulent and cacti options. So if you are considering several different plant species choosing one of their many variety packs might be just the right choice for you.
However, if you are interested in growing your garden slowly, they have three different subscription boxes. The plant mail club comes in three different time durations:
Month to Month starting at $19.95
3 Months starting at $53.85
6 Months starting at $95.70
Each month the recipient receives three-hand picked 2.5-inch plants. Also, each month's selection will contain different plants so you will never get bored.
Depending on where you choose to have the plants shipped, you may opt to include a heat pack with each shipment to keep your plant warm and healthy. Heat packs come at an additional charge but can be selected when choosing your plan.
Succulent Lovers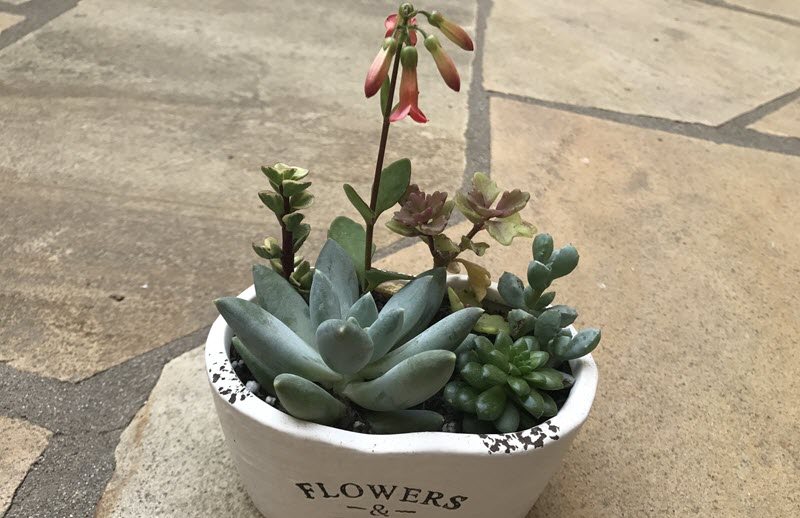 Succulent Lovers isn't as well-known as some of the other items on this list, but the company has some cool subscription choices, including a Succulent Arrangement Planter, a Potter Plant and Cuttings With Planter.
Each of these is a monthly subscription where you're getting different succulents and planters each month.
The Succulent Arrangement Planter is probably the most interesting subscription. You get at least 2 types of succulent each month in a concrete or ceramic planter. The arrangement varies from month to month.
This subscription is surprisingly inexpensive, costing just $22 if you pay each month. Paying for 3, 6 or 12 months at a time decreases the monthly cost a little.
Mountain Crest Gardens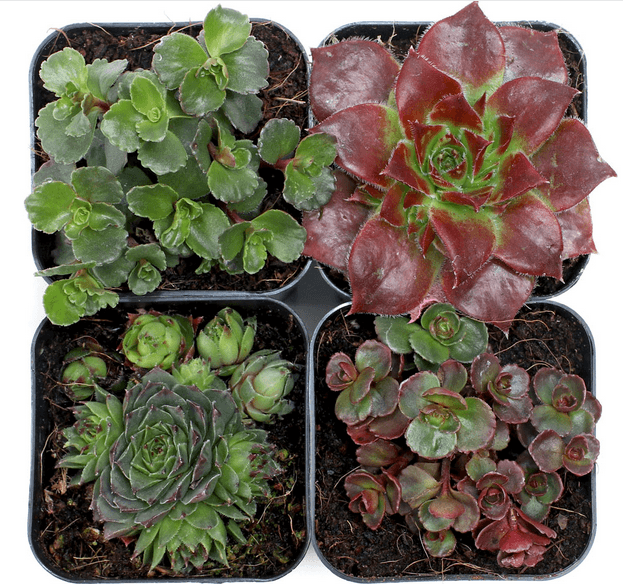 Mountain Crest Gardens offers a single monthly subscription box for $19.95 per month. Members receive 4 unique potted supplements every month, along with a mystery bonus plant.
Collectible plant info cards are included too, along with a care guide. The first box also comes with a foliage cleaning brush. Mountain Crest Gardens guarantees that there will be no repeats for years, so you can be certain that you'll get plenty of variety.
A heat pack can be added on for $3.75 per month to protect plants in the colder months.
Each month of the club follows a theme. For example, the theme for December was Low Light Lovers, while February's theme was Pretty in Pink.
Succulent Gift Boxes
Lula's Garden

Lula's Garden, located in Los Angeles, California, was founded by Liraz Birnbaum. Lula's Garden focuses on helping others give unique, elegant, sophisticated gifts in the form of succulents.
The succulents used in their garden gifts are all sourced from local gardens. Gifts range from a single plant for $25 to more elaborate small gardens for $125.
One of their premier gifts is the Lush Garden, which contains an assortment of succulents ranging in size from small to large. The garden holds 11 plants in total and is set in a wooden 15″ x 6″ x 6″ planters box.
In addition to the plants, the Lush Garden includes a care kit to help your new garden thrive. If the garden is shipped to a chillier region, heat packs are available for an additional $2.95.
If you are looking for something just a bit smaller, they have the Urban Garden, featured above in the square pot. The Urban Garden is 7″ x 7″ x 5.5″ and contains four small and three medium succulents. This garden also includes a care kit.
If either of those gardens is bigger than what you had in mind, they offer four small garden options, two medium gardens, and four moderate-sized options.
Harry & David

Harry & David, the store we all know and love, is one of the best gift companies in the country. Though when people think of Harry & David, they usually think of food such as gourmet snacks or premium fruits, the company does offer so much more than food.
Harry & David has a beautiful, elegant succulent garden, which makes the most wonderful sustainable gift. Not only are succulents gorgeous in their uniqueness, but they also bring health benefits to the recipient.
The Reclaimed Wood Succulent Centerpiece contains a variety of succulents in different colors, shapes, and sizes. And don't worry if the recipient doesn't know anything about succulents, as there is an easy-care sheet included.
The succulent assortment may vary based on plant availability, but it will always be artfully arranged in the hexagon planter.