Because cacti and succulents are so closely related, cactus of the month clubs are a bit on the rare side since cacti are often included in succulent of the month clubs. However, there are a couple of cactus subscriptions, and several cactus gift options available, ideal for any cactus lover in your life.
And honestly, the idea is well worth the effort. Cacti are one of the most unique plants in the world. There are more than 2,000 different cactus species in the world. They come in an array of shapes and sizes, ranging from few inches tall to more than 30 feet high.
Cacti are native to the Americas and not naturally found in Africa, Europe, or Australia. However, the first one in history dates back to 50 million years ago in the Utah area.
Cacti are a subfamily of succulents. What separates cactus from other succulents is that they must possess areoles. Spines of the cacti, hair, leaves, or flowers grow from these are small mounds that are round and cushion-like. Areoles are specific to cacti, and no other succulents have them.
However, though all cactus are succulents, not all succulents are cacti. Additionally, there are some botanists and horticulturists that categorize cacti separate from other plant groups, including succulents. Ultimately, it is safe to say that regardless of which way you look at them, cacti are a distinct plant group.
Cacti have grown in popularity and are often known as a charming, easy plant to grow in arid climates. Their unique ability to thrive in dry desert-like conditions as well as store water in their stems, leaves, and roots, make these plants quite desirable. Many cacti varieties produce beautiful vibrant flowers, adding to their general overall appeal.
Though these plants are known for their hardiness, they do have a weakness when it comes to humid areas or climates of excessive cold. However, an artificial environment can be created to allow cacti to flourish in any home.
But what makes cactus especially desirable is their multifunctional abilities, such as acting as food for humans, feed for animals, construction material, medicine and drugs, oils, and cosmetics.
So then, let's take a look at some cactus clubs that will deliver these amazing plants straight to your home.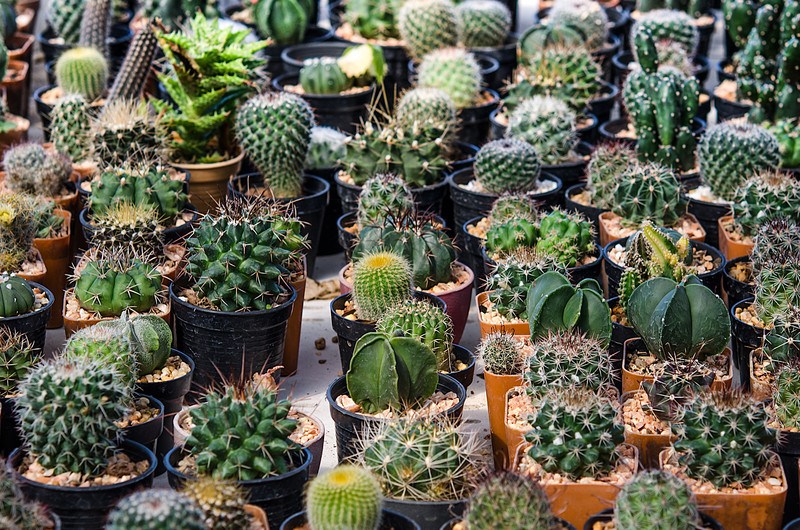 Cactus of the Month Clubs
Succulents Box
The Succulent Source
Articulture Designs
Gift Options
The Plant Farm
Wild Earth Studio
1-800 Flowers
Succulents Box

Succulents Box is your home for every imaginable succulent you can think of, including a large variety of cacti. The founders of Succulents Box love these plants' natural "elegant beauty" and affordability.
Succulents Box is a community-conscious company that prides itself in sharing their success with others. The founders have set aside 2% of their online orders to be donated to a variety of charities. The most current charity they are aiding is the CDC foundation.
The Succulent Box offers more than 200 kinds of succulents, including everyday varieties to the less common succulent species. But some of their most spectacular plants are their cacti options, which includes:
Golden Barrel
Peruvian Old Man
Britton and Rose
Angel Wing
Pachycereus Marginatus Mexican Fence Post
Bishop's Cap
Thimble Cactus Mammillaria
In addition to having an array of options, they also offer their cacti in a variety of different pot sizes 2, 3, or 4-inch depending on the type, plus you may choose to have a clay pot included.
As well as cacti, they also offer accessories like hanging macrame pot holders, heat packs, ID cards for the plants, gift boxes, pots, and gardening tools.
Plus, Succulents Box offers five different monthly plan subscriptions. Though they do not carry a cactus specific option, they do allow for custom orders, which can be requested through their customer service center.
The five clubs they offer are:
1 Succulent per month: $14.25
2 Succulents per month: $28.50
3 Succulents per month: $42.75
4 Succulents per month: $57.00
1 Airplant per month: $14.25
The prices are based on a month to month plan. However, if you commit to a longer program, they do offer discounted rates.
Additionally, they do have a cactus pack option for a one-time purchase. It comes in five different size options: $11 for a 2-pack, $22 for a 4-pack, $33 for a 6-pack, $44 for an 8-pack, and $55 for a 10-pack.
All of the cactus are 2-inches tall and come in a plastic pot with soil. The cacti will be shipped carefully wrapped in bubble wrap to ensure their safe arrival.
The Succulent Source

The Succulent Source is a four-generation family-owned and operated business that has been growing and selling a variety of succulents for almost 15 years. Current owners, Darren and Lora, are based out of southern California, where they live with their five boys who are always happy to help pick, pack, and ship your succulents.
The Succulent Source sets itself apart from other succulent nurseries by specializing in special events such as weddings, showers, and more. They ship 1,000s of plants each week all around the country all year-round.
The Succulent Source offers a variety of plants and accessories such as succulent bouquets, hairpieces, and boutonnières, succulent-to-go box favors, favor tags, pail stickers, various pots and containers, and succulent books.
In addition to providing a variety of succulents and cacti for various events, they also offer a few different subscriptions, including a cactus of the month club.
This club offers five 2.5 inch handpicked unique cacti. With over 30 different cacti varieties you will not need to worry about duplicates. Each cactus is carefully labeled with its name and specific care instructions.
The cactus of the month subscription is available in either three or six-month options. And if you choose to prepay for your membership, you will receive a 5-10% discount. Plus, the cactus of the month club is relatively flexible, giving you the ability to cancel or skip shipments as needed.
Your cactus is shipped mid-month, and shipping is included in the pricing. Month to month pricing is $30, plus delivery.
Articulture Designs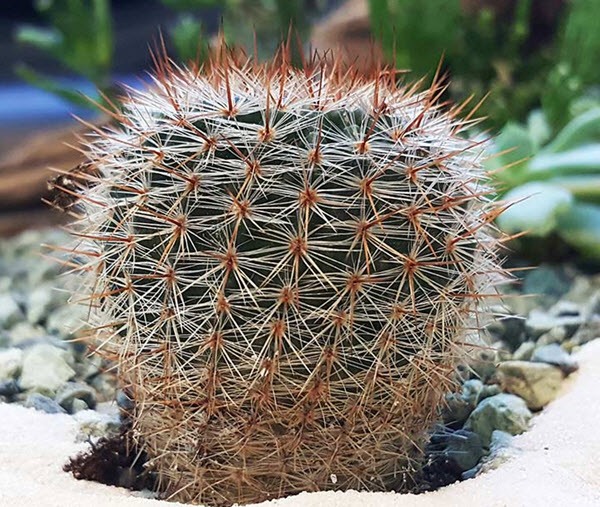 Articulture Designs is a company that focuses on the intersection between plants and art. They have a boutine and nursery in Austin, Texas.
Their Cactus of the Month Club can be shipped through the mail or picked up at curbside if you're in their local area. The club provides one or two cacti every month. These may be two-inch or four-inch varieties.
The club costs $49.50 for three months or $90 for six months. Orders that exceed $50 are eligible for free shipping.
Gift Options
The Plant Farm

The Plant Farm is an all-inclusive online garden center that believes "life is better in the garden." They carry a vast array of flowers, vegetables, and other top-quality plants. Additionally, they also have a wide variety of gift options and garden accessories to make your life easier.
Many of the plants sold online are grown on sight at their parent company, Creach Greenhouse. In addition to being a top of the line greenhouse, they also provide gardening classes and workshops on topics such as succulent dish gardens, fairy gardens, seed planting, begonia growing, how to prepare your soil, urban gardening techniques.
Plus they host different events such as tours, festivals, and other seasonal fun activities.
However, for those of us looking for that unique gift, their Cactus Lovers Gift Box for $24.99 is a perfect choice. This fun gift box contains a cozy cotton cactus t-shirt, a two-inch cactus, and a cactus charm bracelet.
But if you would rather not buy all three items, you can choose to omit either the bracelet or t-shirt.
And they also have a cactus gift box that comes in four different sizes, containing either 3, 6, 12, or 15 cacti.
Shipping varies depending on the season, but spring and summer deliveries are sent out five days a week, with three different shipping method choices. You may choose from first-class, Priority Mail, or standard ground USPS.
During winter months, it is recommended you purchase a heat pack to ensure your plants arrive in optimal condition.
Wild Earth Studio

Wild Earth Studio offers a unique cacti gift, Cactus Cutting Variety Box Sonoran Desert Succulents Box, for the person with a green thumb. Unlike most cactus gift boxes, this one offers cuttings rather than whole plant options. However, even if the recipient is new to gardening, this gift box is perfect since cactus is one of the easiest plants to grow.
All of the cuttings are native Arizona species harvested from the owner's ranch. Each box contains ten to eleven distinct varieties, all carefully packed before shipping. The cactus varieties included all produce either flowers or edible fruit. Due to supply changes, the box now contains two chollas and two Santa Ritas instead of the Indian Fig, which is no longer available.
Some of the cactus come in fun colors such as the Santa Rita Prickly Pear, which is a bright purple. Or the Pencil Cholla, which changes to a reddish hue in the summer months. And the fuzzy white Pincushion cactus produces vibrant magenta flowers that later produce red fruit in the shape of chili peppers.
In addition to the cactus cuttings, each gift box includes care and planting instructions. The gift box costs $22.99, plus shipping.
1-800 Flowers

1-800 Flowers, founded in 1976 by Jim McCann, started as a small flower shop that later evolved into the world-renowned corporation it is today. 1-800 Flowers is an industry leader in the gift-giving business. Though they started just with flowers, this company has expanded into other gift markets such as gourmet treats, fruit, wine, and keepsake items.
And to ensure they are providing premium selections, they have partnered with other industry leaders such as Harry and David, Shari's Berries, Simply Chocolate, Cheryl's Cookies, Wolferman's Bakery, Fruit Bouquets, and Stockyards.
But if you are looking for a gift for that cactus lover in your life they offer a cactus dish garden in three different sizes. Small costs $39.99, medium costs $49.99, and large costs $59.99.
Each one offers an assortment of cacti varying in color, type, and size. Plus, each dish contains hard soil with dry redwood bark to add to the overall aesthetics of the gift.