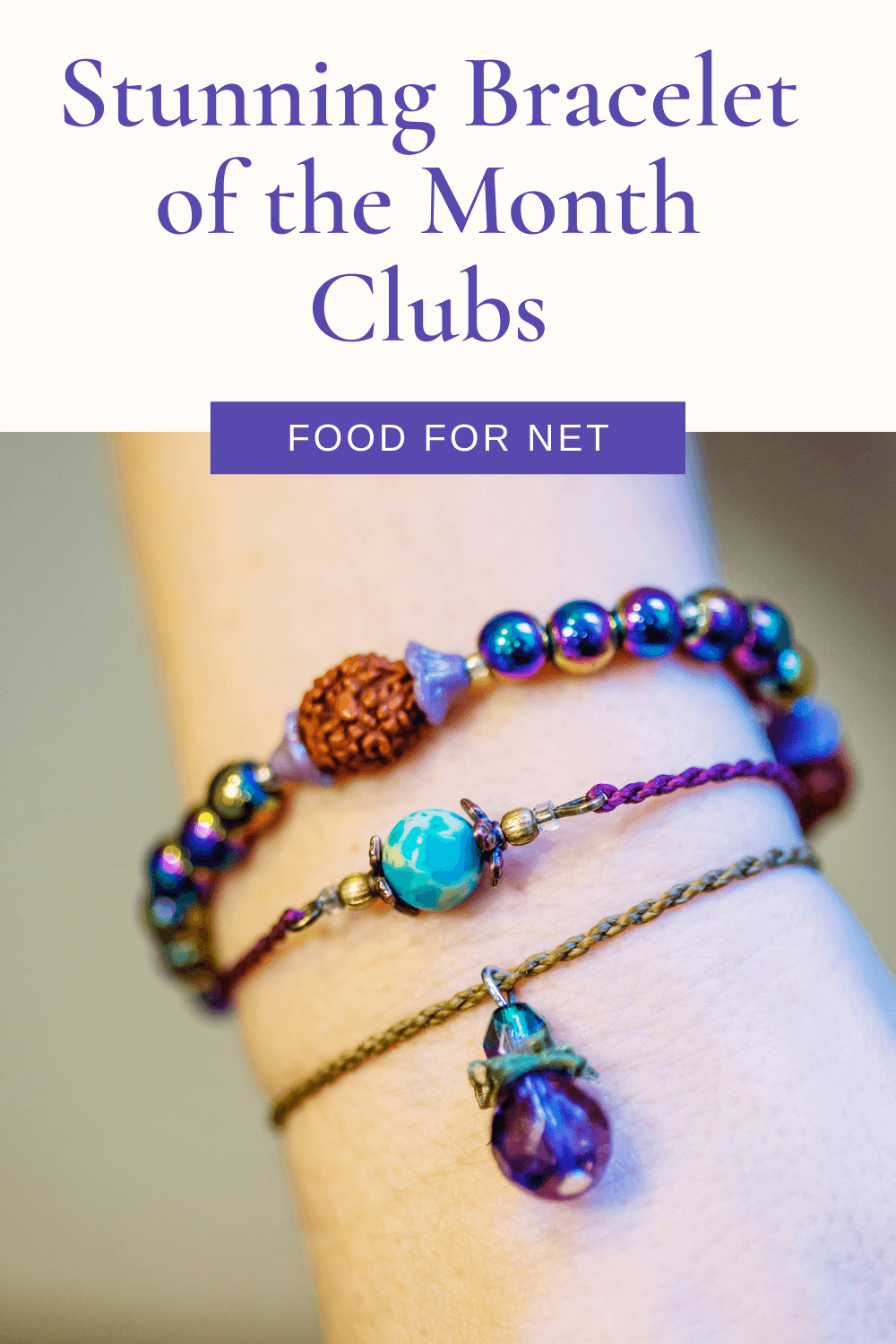 Whether you wear bracelets for fashion, to help remind yourself of something you treasure, or help improve your good vibes, a bracelet of the month club is the ideal subscription box for you. Bracelet of the month clubs are about so much more than just jewelry.
All of the clubs below offer bracelets that will help enhance your life far beyond just fashion. Some of the clubs provide bracelets that promote personal well-being through the use of specific crystals and stones. You can also use these bracelets in combination with crystals to enhance the overall effect.
Other bracelet of the month clubs use media from various locations on the planet to help remind us to stay humble and hopeful. Plus, most clubs use fair trade practices and help provide gainful, safe, and dignified employment to artists in third-world countries struggling to survive.
Additionally, most of the companies donate money to various charities in addition to helping provide global employment. So if you have a charity close to your heart, whether it's to save manatees, help fund research for cancer, or clean up the environment, there is a bracelet of the month club for you.
A bracelet of the month club membership also makes a fabulous, thoughtful present. Have a friend that loves Sea Turtles? Sign them up with 4Ocean, giving them a monthly gift that saves the lives of turtles. And bracelet of the month clubs don't have to be a gift for someone else; they are a great gift to ourselves and an excellent way to accessorize. You could even join one of these and pick another type of club at the same time, like a nail polish subscription or one for beads, so that you can make your own bracelets.
Bracelet of the Month Clubs
LOKAI

LOKAI isn't just any bracelet company; it is one founded on the balance of staying humble and hopeful. Each bracelet is carefully crafted with a white and black bead.
The white bead has water from Mount Everest, the highest point on earth, and is a reminder to stay humble. The black bead, which sits opposite the white one, contains mud from the Dead Sea, the lowest point on earth, and acts as a reminder to stay hopeful.
Steven Izen founded LOKAI after his grandfather was diagnosed with Alzheimer's. Izen wanted to create a symbol to help remind him to stay hopeful while also staying humble, and thus LOKAI was formed.
In addition to the unique contents of the bracelet, LOKAI also sets itself apart with its many charitable contributions. 10% of all net sales are donated to various charities, and to date, LOKAI has donated $8 million. Some of the things LOPKAI has accomplished include:
Rescuing animals
Building schools
Digging wells
Planting trees
Supporting mental health programs
Making wishes come true
LOKAI has different bracelet styles such as beaded, wrapped, and a combination of stone and metal. Plus, they have various collections like Marvel, causes, Disney, Star Wars, and more.
Bracelets range in price starting as low as $18. But if you are looking to create a LOKAI collection or even share LOKAI bracelets with others, the bracelet of the month club is the best option.
When you sign up for their bracelet of the month club, you will receive:
An exclusive LOKAI member bracelet
Flexibility to swap the upcoming bracelet for another item
10% off LOKAI items
Access to the Member Shop to purchase limited designs
The LOKAI membership costs $20 a month, and bracelets ship out on the 4th. Memberships are flexible and can be canceled or paused after two months.
Pura Vida

Pura Vida started in 2010 after two college friends, Griffin Thall and Paul Goodman, took a trip to Costa Rica. While on vacation, the two stumbled upon two artisans, Jorge and Joaquin, selling handmade bracelets though they struggled to make enough money to get through the day.
After talking it over, Griffin and Paul decided to purchase 400 bracelets to help Jorge and Joaquin out. Returning home, the two began selling the bracelets firsts to family and friends and then to local boutiques. The bracelets were a hit, and that's when Griffin and Paul began to get the idea to start Pura Vida.
The concept behind Pura Vida, helping people in 3rd world countries make a decent living in safe conditions, began to grow. And since the plan worked well with the first two artisans, Pura Vida started adding more and more artists to their company.
Today, Pura Vida works with people worldwide in various countries such as India and El Salvador, employing more than 800 artisans.
Pura Vida started with bracelets but now offers a wide range of boutique-style items like backpacks, rings, earrings, and clothing. Over the years, Pura Vida has not only helped provide reliable, equitable employment, but they have also started to donate to a variety of charities.
When browsing on the Pura Vida website, you can choose to shop based on the charity of your choice, so you can select where your money goes. Some of the options include Animal Awareness, Environmental Causes, Humanitarian Causes, Health Awareness, and Cancer Awareness.
Plus, Pura Vida offers a bracelet of the month club. When you sign up for the Pura Vida Club, you will receive:
3 exclusive bracelets
A monthly sticker
Early access to sales
Free shipping
The Pura Vida Bracelet Club comes in 4 different options:
Monthly for $14.95
3 months for $33 prepay
6 months for $75 prepay
12 months for $132 prepay
Each month there are 2 different bracelet packs to choose from, so you will always know what you will be getting before it arrives.
Wanderer Bracelets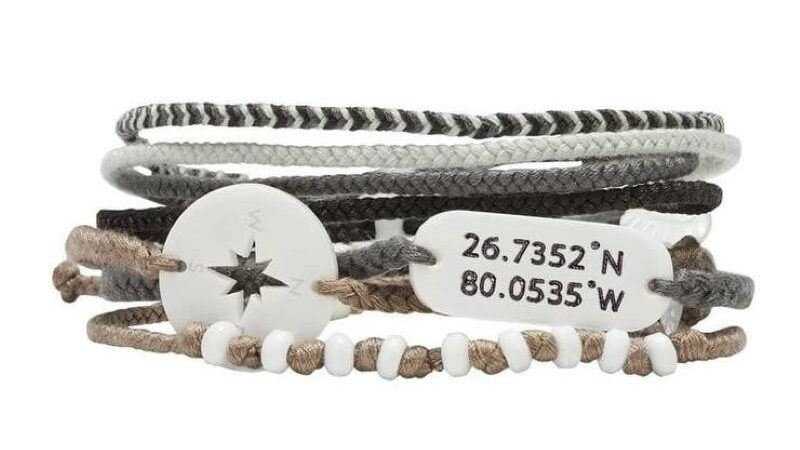 Wanderer Bracelets started in 2014 when Ben, the founder, lost his way in Bali. While traveling through the jungles, Ben found himself unexpectantly in a small village of struggling artisans. While there, he decided to have a few bracelets commissioned for friends.
Upon returning home from his time in Bali and sharing the handmade bracelets with others, he realized the interest and opportunity of starting Wanderer Bracelets while also helping the struggling village.
Today, this Bali village is a thriving community with more than 150 villagers employed by Wanderer Bracelets.
The town's artisans carve the pendents for the bracelets from water buffalo bone, using the same techniques as their ancestors. Additionally, the decorative bags bracelets are sold in are screen printed and sewn by hand by these same artists. And the boxes with the ceramic inlay are made from fast-growing local trees and are carved by the local artists.
Plus, when you purchase from the Wanderer Bracelet company, you can feel good that you are not only helping your global community in Bali, but are also helping to aid wildlife. A minimum of 10% of the Wanderer's sales is donated to one of four charities: Loggerhead Marinelife Center, Tusk, Dolphin Communication Project, or Save the Manatees.
The Wanderer Bracelet online store has more than just bracelets, too; they also sell canvas flags, totes, wooden jewelry stands, stickers, and key chains. Plus, many of their items can be purchased as part of a set.
The Wanderer's bracelets come in a variety of styles, including woven and beaded bands. And you can shop their boutique by collection, meaning, or custom items.
The Wanderer's monthly bracelet club is an excellent option for those who want to receive a new bracelet every month. The bracelet of the month club includes:
1 exclusive members only bracelet design
2 accent bracelets
New sticker
1 surprise accessory
Bracelets are shipped soon after your place your order, and shipping takes 7-10 days. All future bracelet shipments are based on the date of your original order.
There are 3 billing options:
Month-to-month for $24
3 months prepay for $66
6 months prepay for $120
Your bracelets will arrive in a hand-sewn bag unless you choose to upgrade to one of their hand-carved keepsake boxes.
Fair Trade Friday

Fair Trade Friday is a faith-based company focusing on "empowering women worldwide through dignified jobs." Fair Trade Friday is part of Mercy House Global working to help women in Jesus' name. In conjunction with 40 other faith-based non-profit organizations, Fair Trade Friday helps to employ women in more than 30 different countries.
Not only does Fair Trade strive to help empower women through employment, but helps give these same women a sense of worth and value. Some of the groups they've partnered with include:
Hands Producing Hope
Airship Coffee
Have Hope
Karama Collection
Equal Exchange
Purpose Jewelry
Fair Trade Friday is a subscription box company that offers a few different product of the month clubs, such as the original box with a variety of items, the earring of the month club, the candle of the month club, the Grace Case club, and the bracelet of the month club.
Each month the recipient receives a unique handcrafted bracelet. Plus, when you purchase the Fair Trade Friday bracelet subscription box, you can be confident that 100% of the proceeds go to the artists.
There are four payment options to choose from:
Month-to-month for $14.99
3 months prepaid for $37
6 months prepaid for $72
12months prepaid for $142
Bracelet boxes ship out on the 17th of each month. And the cost of shipping is in addition to the prices listed above.
Moxie Malas

Moxie Malas is an online jewelry boutique that uses crystals and aromatherapy in their jewelry to help you in being the best you, you can be. Their motto is "to live peacefully untamed," which means to live within your truth and personal power without boundaries.
The owner and founder Jessica Hoch is a yoga instructor and apparel designer, which has made her the ideal fit to start an accessories company that promotes inner peace through fashionable jewelry. All of Moxie Malas strives to put out to others and the universe the message of beauty, endurance, and perseverance. Even the flower in their name represents strength and the ability to thrive in less favorable conditions.
In addition to jewelry, Jessica also offers workshops such as:
Intention and Bracelet Making Workshop
Yoga – Both private and group classes
Retreats – Like the Anandamaya Fall Retreat
Moxie Malas sells an array of bracelets using a variety of crystals and stones. Each of the stones and crystals used has a specific meaning, like mahogany obsidian which aids in relieving tension or orange agate which helps to reduce fear and anxiety. Plus, many stones and crystals can be used with a corresponding essential oil to enhance the overall healing effect.
For those who can't choose just a single bracelet, there's the Moxie Monthly Bracelet Club. Each month you will receive:
An exclusive bracelet with a different intention
A corresponding stone or crystal that will promote the same energy as the bracelet
A guide to help you create monthly intentions
And you can choose from 4 different plans:
Month-to-month $34.95
3 months prepaid for $89.95 (1/2 price off the first month)
6 months prepaid for $179.95 (First month is free)
12 months prepaid for $359.95 (First 2 months are free)
Shipping is an additional $5 per month.
4Ocean

4Ocean is an online jewelry company committed, on many levels, to improving our world. 4Ocean was founded in 2015 by two friends, Alex Schulze and Andrew Cooper, after a vacation surfing in Bali. On this trip, they both realized how much plastic was polluting our oceans and beaches around the world.
After their trip, the two decided to create 4Ocean, a company that would work 7 days a week working to pull plastic from the ocean a pound at a time. In addition to removing plastic from the ocean, 4Ocean also employs people, primarily women, from around the world in impoverished communities.
So, in addition to cleaning up the oceans, they are providing jobs to artisans in small villages and helping the people prosper. Some of the communities they have been able to help are in countries such as Bali and Guatemala.
And if that is not enough to inspire you to buy from 4Ocean, many components in their jewelry come from the plastic they remove and recycle. For example, many of the woven bracelets use recycled plastic for the bracelet's band. And the blue pendant that's hung from a sterling chain is made from recovered blue plastic suspended in epoxy.
In addition to bracelets, 4Ocean also offers necklaces, masks, and mask frames. And, of course, all of their products use as much recycled material as possible. But if jewelry isn't your thing, you can always purchase a pound or more of plastic to be pulled from the ocean on your behalf.
And the 4Ocean bracelet of the month club is an opportunity to get a fun bracelet each month. There are 3 different bracelet of the month clubs to choose from:
Beaded Bracelet: $20 per month and removes 2 pounds of plastic
Braided Bracelet: $20 per month and removes 2 pounds of plastic
Beaded and Braided Bracelets $40 per month and removes 4 pounds of plastic
Their 1-year warranty covers all bracelets, so if your bracelet breaks within the first year, they are happy to replace it.
Dorsal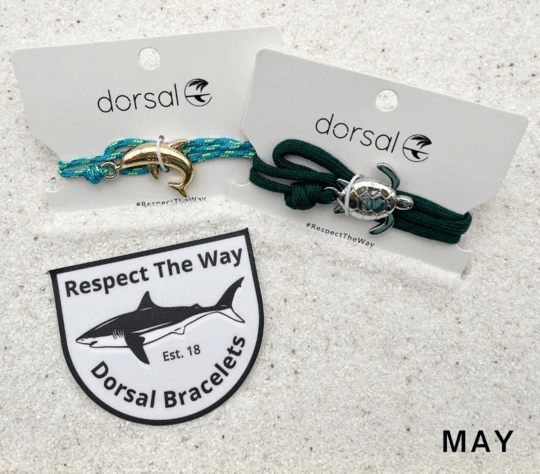 Like 4Ocean, Dorsal focuses on the marine environment. Regardless of whether you join their bracelet of the month club or purchase jewelry individually, every purchase removes 1 pound of plastic from the oceans, funds coral restoration, and promotes ocean conservation in other ways as well.
Their bracelet of the month clubs provides you with 2 different bracelets and a sticker. (with a value of up to $41). The bracelets are on the simple side, but they're still very appealing and can be fun.
There are 4 membership options for the club:
Month-to-month for $18
3 months for $52
6 months for $102
9 months for $148