Bra and panty subscription boxes are a fun way to spice up your underwear drawer. But, the history of the garments might not be what you expect. In fact, women wore bras before they wore underwear. Bra-style garments date back to 2500 BC, when Mihoan women athletes competed in sporting events. Though women didn't wear bras outside of competitions, it was the first time they made an appearance.
It wasn't until 735 BC that the women of the Roman Empire started wearing mamillares, a garment that fits around the torso to compress the breasts. As time moved on, bras transformed into the dreaded corset, which appeared in the 1500s, and became more severe in the 1800s with the advent of the laced corset. The laced corset could be fit even tighter, ultimately causing significant health issues such as deformed ribs, digestive conditions, and back issues, all in the name of fashion.
Thankfully, by the late 1800s, new garments were being fashioned, such as the first bra made by Marie Tucek. Tucek's bra was made from cardboard and metal to help lift a women's breasts. However, due to the obvious discomfort, this style never gained ground.
Finally, in 1910, Mary Phelps Jacobs created the first cloth bra made from handkerchiefs and ribbon. Jacobs needed an undergarment that would allow for clean lines under her dress, so instead of wearing the corset, she created a bra. It went through a few revamps, and in 1914 Jacobs pattened the bra style we are familiar with today.
From 1910 to today, the bra underwent many transformations, including compressing, torpedo, and enhancing.
Unlike the bra, panties were considered scandalous, and only the most risque of women wore them, at least until Queen Victoria. During the Victorian era, the queen was intrigued by this undergarment that men had been wearing for centuries. Once it was known that Queen Victoria wore underwear, all women of means had to wear them too, and by the early 1900s, any woman who could afford to do so wore underwear.
Like the bra, panties saw years of transformation, especially in the last 100 years. Just looking back to 1925, when the step-in chamise was the popular undergarment. The chamise combined a camisole and panties into one garment. Ten years later, women wore French knickers, which looked a lot like bike shorts, high wasted with the bottoms reaching down to the mid-thigh. And as time wore on, underwear got shorter and snugger and eventually branched out into the nine different styles most are familiar with:
Boy Shorts
Classic Briefs
Hipsters
Thongs
French Cut
G-String
Control Briefs
Seamless
Brazilian Brief
Today, many see bras and panties as more than just functional pieces of clothing; instead, they are often pretty and part of today's fashion. Whether you are looking for cute, sexy, comfortable, or all of the above bra, panty, and bra and panty set subscription boxes are a convenient and fun way to bring some pizzazz to your undergarment drawer.
Bras and panties aren't all you can order either. There are also subscription boxes for other clothing items, like socks and women's activewear.

Bra and Panty Subscription Boxes
VAVA Lingerie
Birdies
Bootay Bag
Panty by Post
Oooh La La Panty Company
Burgundy Fox
Underclub
VAVA Lingerie

VAVA Lingerie is owned and operated by Alyssa D Woods in Northern Oregon. Woods was inspired to start VAVA Lingerie for a few different reasons. First, she was looking for a career where she could work with her hands. Second, she loved lingerie but always struggled to find something that fits well. And third, she wanted to do something that would help improve the world.
Woods has put a lot of effort into finding ways to create lingerie responsibly and not add to global waste. One of the most impactful things she does is use deadstock from larger companies to source most of her synthetic material. Deadstock is the surplus from larger companies that would have otherwise gone to waste in a landfill.
In addition to using deadstock to reduce wasted material, VAVA makes custom lingerie, which means customers will get comfortable lingerie and reduce the waste created when making clothes.
VAVA also uses minimal packing and packaging materials, all of which are made from recycled material. Moreover, Woods donates 10% of the profits to organizations that help improve the world.
Plus, for those who can not afford the standard VAVA pricing, Woods offers limited sliding scale discounts for those who don't have the economic means to pay full price. Woods uses the honor system and trusts in her clients to not abuse the system.
VAVA Lingerie is all carefully crafted by Woods and is all custom-made, so the average turn-around time is 3-6 weeks for most orders. However, Woods is flexible and understands that things come up, so if there is a reason you need something sooner, she is always happy to accommodate if she is able. One of the aspects of the business she loves best is working with her clients directly.
In addition to the many lingerie lines available for sale on her website, she also offers 3 subscription options:
Lingerie of the Month Club starting at $648
Bralette of the Month Club starting at $420
Underwear of the Month Club starting at $252
The Bralette and Underwear of the Month Clubs are each available in 3 different durations: 3 months, 6 months, or 12 months.
Each month you will receive a new custom handmade bralette or pair of underwear; the styles include those from her website and limited-edition options. After signing up for your subscription, you will receive an email to get your sizing information and any style preferences.
Birdies

Birdies has a brick-and-mortar shop in Kansas City, Missouri, that offers an array of lingerie and other undergarments. In addition to their physical store, they also have an online store. Birdies specializes in undergarments that will frame and showcase your body and help you to see your natural beauty.
Though Birdies does not have their own brand, they do curate a collection of premium global brands and elite artisan designers to bring you the best and most flattering lingerie imaginable
Their online store offers undergarment subscriptions. Though they do not sell any of their items individually online, their subscriptions are flexible and user-friendly. The 4 monthly subscription boxes available are:
Panty du Mois for $30 per month
Manty du Mois for $25 per month
Bra of the Month Club for $100 per month
Sock of the Month Club for $15 per month
Their Panty and Bra of the Month Clubs include one carefully wrapped bra or pair of panties each month sent via post.
Bootay Bag

Bootay Bag is an online subscription underwear company owned and operated by women who understand what women want and need. The goal at Bootay Bag is to make buying underwear more affordable and convenient.
The Bootay Bag starts as low as $10 a month for a single pair, or you can upgrade to 2 pairs for $18 per month. They offer panty sizes from XS-XL and have 3 subscriptions to choose from: Always Thong, Never Thong, and Mix it Up. After choosing your flexible monthly subscription, you are given the option to add a bralette or 2 to your first order. Signing up for the Bootay Bag takes less than 5 minutes; it's just that easy.
Unfortunately, you can not purchase Bootay Bag underwear unless you sign up for a subscription. But, their subscriptions can be paused or canceled anytime by logging into your online account.
In addition to your monthly underwear delivery, the Bootay Bag members receive exclusive deals on other Bootay Bag products.
Panty By Post

Panty By Post, founded in 2008, is a panty subscription club that ships top name brands and designer luxury underwear conveniently to your door.
Panty By Post has been recognized in several different media venues, including being voted one of the best holiday gift ideas on Cityline. Other media groups that have recognized Panty By Post are Glamour, Self, Dragon's Den, People, and more.
Though you can not purchase their bras and underwear individually, the subscriptions are flexible and can be adjusted, paused, or canceled anytime. Plus, Panty By Post offers a happiness guarantee, so if you are dissatisfied with your delivery, you can contact them, and they will do what they can to put a smile on your face.
Panty By Post offers five monthly subscription options:
Everyday Basics for $13.68 per month

Comfy and stylish underwear

Signature Line for $16.72 per month

Includes popular styles and patterns

Premium Luxe for $26.60 per month
Bra & Panty Matching Sets for $36.48 per month

Matching stylish bra and panty set

Naughty but Nice for $18.24 per month
All of the subscription boxes all you to select between briefs only, thongs only, or surprise me. The underwear sizes they carry include XS-XL. Panty By Post includes shipping for all of their subscriptions shipped in the US. Your monthly subscription will arrive in the Panty By Post's beautifully designed box unless you specify otherwise.
Oooh La La Panty Company

Oooh La La Panty Company is an online bra and panty subscription company. They offer 4 subscription choices:
Panties Every Month – starting as low as $10 per month

1 pair each month (S-XL) or (1X-5X)
3 pairs each month (S-XL) or (1X-5X)

Bra Set Every Month – Includes 1 bra and 1 pair of panties – starting as low as $25 per month.

Cup size A-D
Cup size DD-K

Lingerie Every Month – starting as low as $35 per month

1 Sexy Lingerie Set (S-XL) or (1X-5X)

Alternating Packages

Alternate between Bra Set and Panties each month starting as low as $20 per month.
Alternate between Bra Set and Lingerie starting as low as $30 per month
Prices vary based on size, quantity, and plan, and the prices listed above do not include the cost of shipping. If you ever want to change or cancel your plan just email Oooh La La Panty Company and they will take care of you.
Burgundy Fox

Burgundy Fox features lingerie from a variety of luxury brands, including Addiction, Blush, Cosabella, and many more. They sell products individually through their site and also offer curated lingerie boxes. The company has been featured in many publications, including Forbes, Brit+Co, and Entrepreneur, making it a reliable choice.
While you can buy the lingerie directly from the site, there are also subscription boxes to sign up for.
Seasonal Lingerie Box for $109.00 every 3 months. Provides $99 worth of lingerie and a self-care item.
Gift Box for $129.99. This is a one-time purchase that provides $119 worth of lingerie.
3 monthly boxes for $229.00. This provides you with 3 boxes (a box each month). Each contains $79 worth of lingerie.
Underwear box for $64. This box ships out every 3 months and gives you 5 pairs of lingerie.
The company provides the value for each box, as you're basically buying full-priced lingerie and paying a $10 stylist fee per box. This isn't a bad thing, as the stylist ensures that your lingerie selections match your needs. To begin with, you fill out a style profile that asks questions like how adventurous you want your underwear to be, the style (e.g. lacey & romantic, simple & understated, or classic & cosy), the types you like, and desired sizes.
You can also review each box. This helps your stylist find better matches for you each month.
Underclub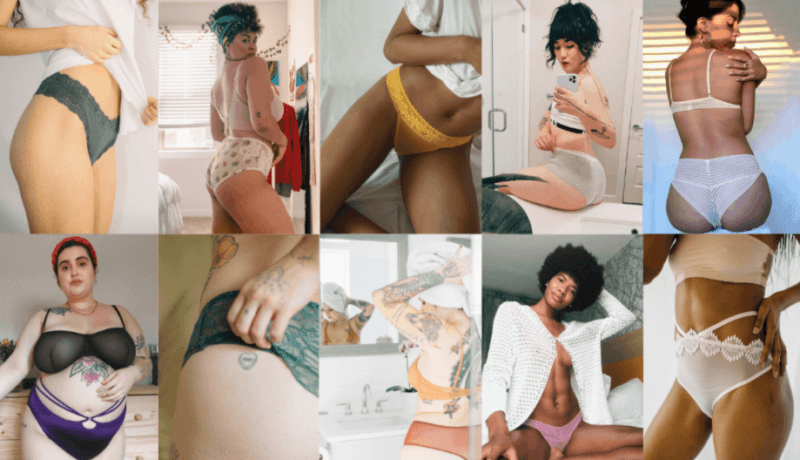 Underclub focuses on providing stylish underwear for every body type. They use a detailed profile to make sure that the products you receive match your preferences. The profile includes details about your preferred color, cut, style, and size.
The club is also popular. It often receives 5-star reviews and has been featured in publications like InStyle, Allure, and Cosmopolitan. Once you sign up for the subscription, you're also able to get exclusive store discounts for underwear that you buy individually.
There are 2 clubs to choose from:
Luxe Plan. Designer underwear that's valued between $28 and $55 per pair.

$21 per month for 1 pair
$35 per month for 2 pairs

Signature Plan. Designer underwear that's valued between $18 and $28 per pair

$15 per month for 1 pair
$28 per month for 2 pairs
Plans are month-to-month only. They automatically renew, but you can cancel at any time.