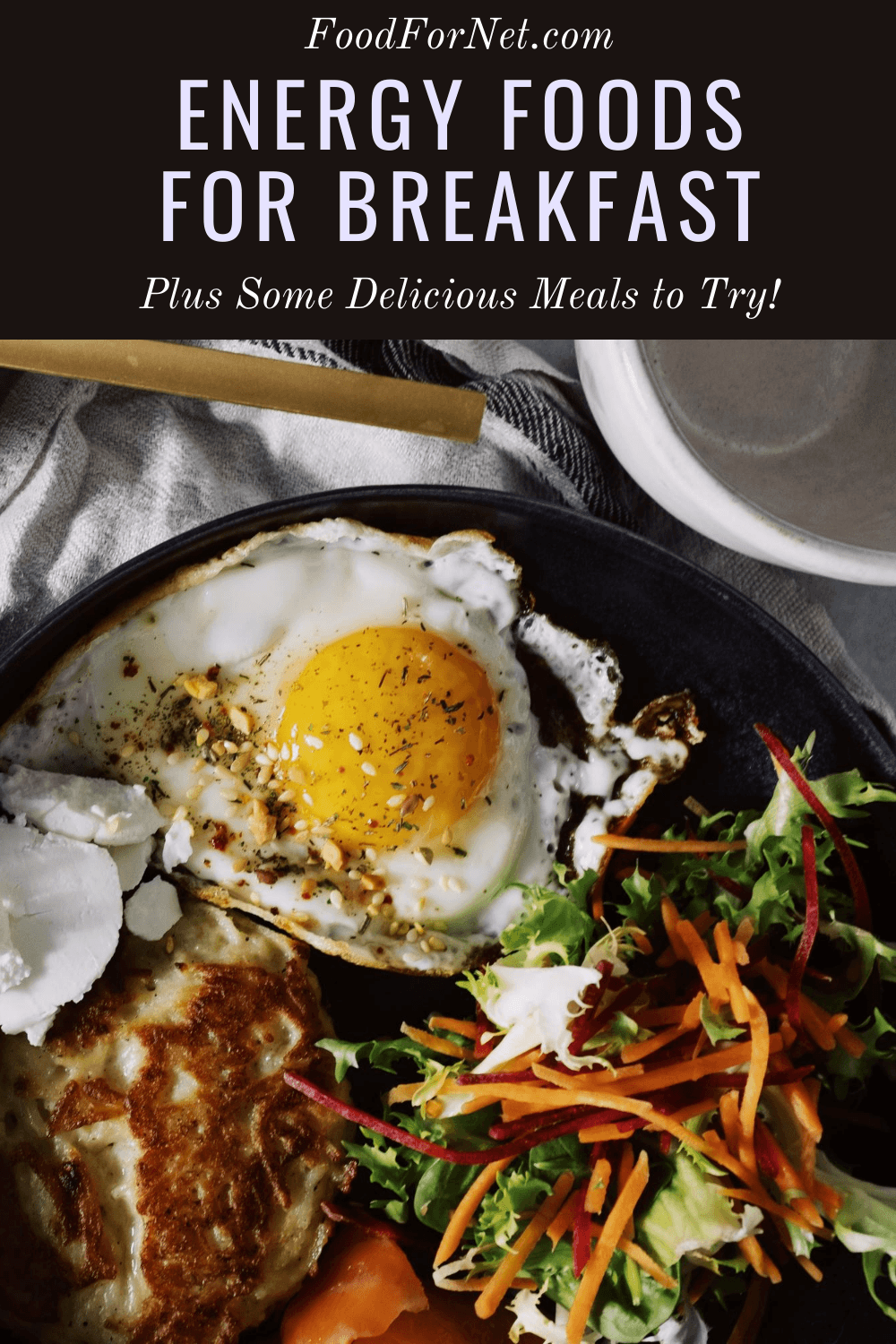 I've yet to meet a person who doesn't wish that they had more energy, especially at the beginning of the day. It's often very difficult to get going, even if you had a decent night's sleep. The effect isn't too surprising either, as we do use energy while we sleep. Replenishing those energy stores first thing in the morning is one of the best ways to get us on our feet and rolling. That's precisely why we're talking about energy foods for breakfast in this post.
But, before we do, let's make one thing clear.
You're not going to see energy drinks, pastries, or black coffee featuring on this list at all. Those foods can provide you with a strong energy boost, but this energy isn't sustainable. Instead, you often get a blood sugar spike when you eat and a crash not long afterward. The crash is sometimes bad enough to offset any initial energy benefits.
It's much better to focus on good food from the beginning. We're talking about foods that give you plenty of energy and do so sustainably. This way you're able to keep going with your day, without worrying about your energy spiking and then dipping.
There are countless good energy breakfast options out there. Some are simple, while others are more complex. We're not going to try and cover every option here. That would be impossible. Instead, we're focusing on some of the most powerful choices and also some unusual options.
Once we've talked about energy foods, we're going to highlight a few powerful energy breakfasts that you can try. These take advantage of multiple energy-packed foods, so you're getting a lot of bang for your buck.
Plus, let's not forget that coffee is the ultimate energy filled breakfast food 😉
Energy Foods For Breakfast
Eggs
Greek Yogurt
Nuts
Seeds
Oats
Fruit
Cottage Cheese
The Right Cereal
Salmon
Avocado
Whole Grains
Eggs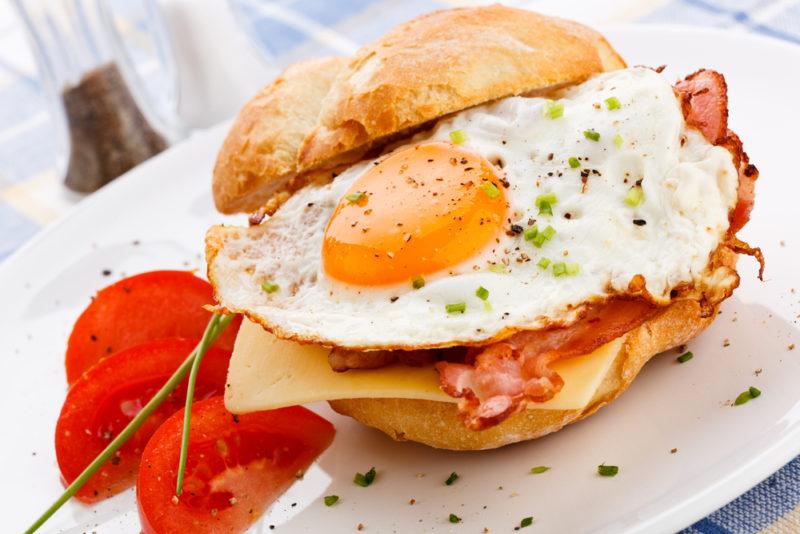 It's hard to get much more classic than eggs for breakfast. And, eggs truly are a good source of energy, due to their protein and fat content. There are many ways to eat eggs too, like eggs benedict, an omelet, scrambled eggs, poached eggs, frittatas… and the list goes on.
There is, however, some controversy surrounding eggs. They were considered unhealthy for quite some time, with fears that eating eggs increases blood cholesterol levels and heart disease risk.
These days we know that the relationship between food, blood cholesterol, and heart disease risk is much more complicated than that – and that eggs are much more beneficial for health than they are harmful.
Greek Yogurt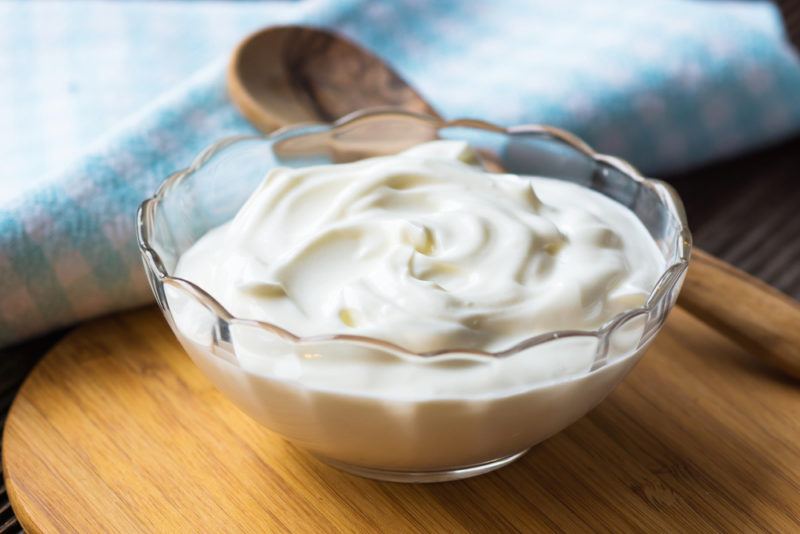 The easiest way to think about Greek yogurt is as a healthier type of yogurt. The main difference is that Greek yogurt tends to be strained, which gives it a thicker texture and a higher protein concentration than other types of yogurt.
Finding healthy versions of Greek yogurt is relatively easy, as many of the brands out there do focus on quality and offer at least one non-flavored product. By healthy, we mean products that don't contain an excessive amount of sugar or artificial ingredients.
In fact, it's often best to buy plain Greek yogurt and add any flavoring that you want yourself. Stirring in cacao powder or even a little espresso powder is a no-sugar way to make your yogurt taste good.
Nuts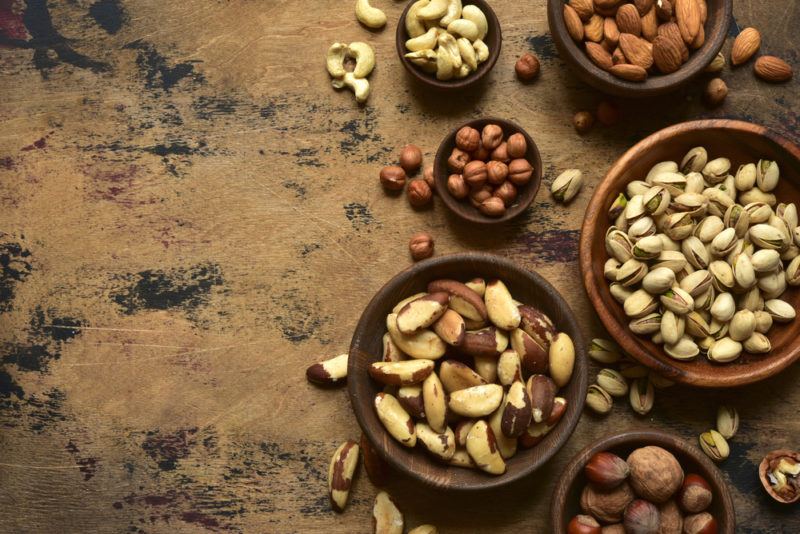 Nuts give you a lot of nutrition in a small package, which is often exactly what you need. Almonds are one of the best choices due to their exact balance of nutrients. But really, any type of nut will do fine, even peanuts.
While peanuts aren't technically nuts at all (they're legumes), they do still have a similar nutrient balance and many of the same nutrients that you find in other types of nuts. Peanuts also happen to be much cheaper than most nuts. That could be a deciding factor in some situations.
Of course, you shouldn't just have nuts for breakfast. It would take a lot of nuts to fill you up, which would get expensive fast (and wouldn't be that good for you anyway!). Instead, nuts are best used as additions to your breakfast.
For example, high-quality granola may use whole nuts. You can also make your own energy bars using nuts. These can be healthy, as long as you keep the sugar content low.
Seeds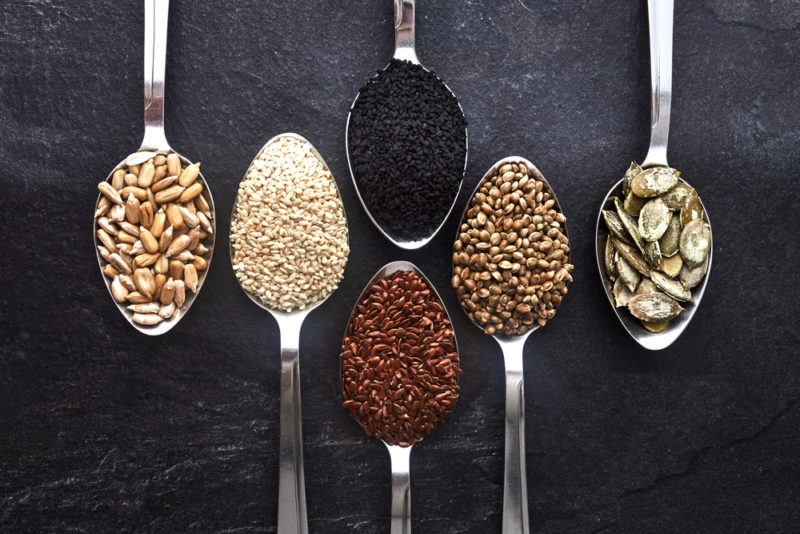 Seeds have many of the same advantages as nuts. And, just like nuts, there are many types to choose from. While there are differences in nutrients from one type of seed to another, most seeds are high in protein, fiber, and healthy fats.
Seeds are a natural choice for breakfast too, as it is easy to simply scatter seeds on top of whatever meal you're eating. This is particularly true if you're having oatmeal, a smoothie, or granola, as the flavor and crunch of the seeds will complement your meal nicely.
Sunflower seeds, pumpkin seeds, sesame seeds, and poppyseeds are the classic choices, but there are other options out there too, including hemp seeds and chia seeds. Both of those types have some distinct advantages.
Oats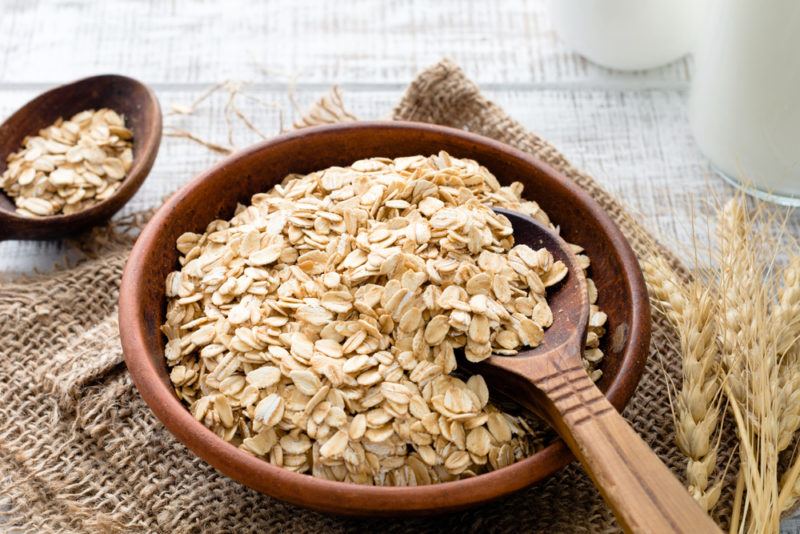 Oatmeal is still recommended as a healthy breakfast choice. This is hardly surprising, as oatmeal is high in soluble fiber, which is highly relevant for your heart health, bowel function, and weight loss.
Just be careful with oatmeal that comes packaged in single-serving bags. This approach is meant to make the oatmeal fast and easy to prepare, but many of the products contain extra sugar and artificial flavors.
And, of course, oatmeal is just one way to enjoy oats. Many recipes use oats in other ways, such as making overnight oats or energy bars. Any oat-based recipe could be a good source of breakfast energy, but make sure that you pay attention to the other ingredients and the quantities.
After all, there are far too many meals out there that sound healthy, but are actually high in sugar or fat and offer very few nutrients.
Fruit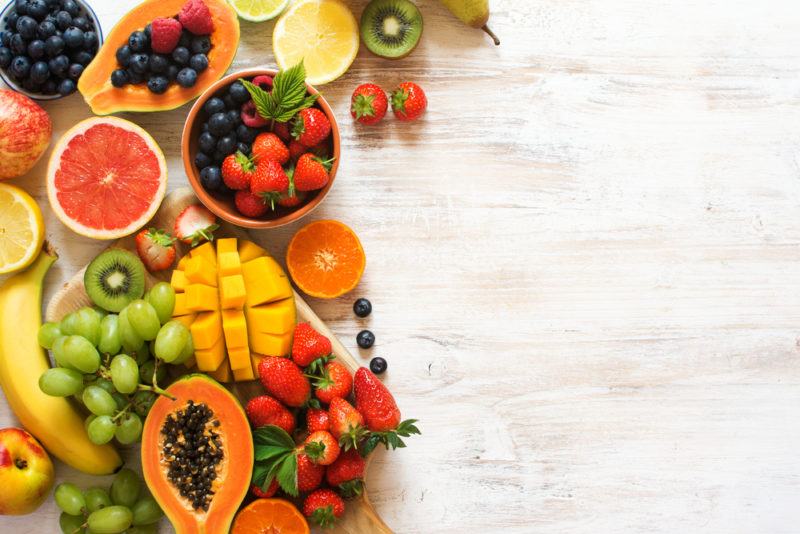 There's no doubt that fresh fruit will give you energy – it contains sugar. But, more importantly, fresh fruit has a good balance of sugar and fiber. The fiber stops the sugar from hitting your bloodstream too quickly.
Fruit also contains some powerful phytonutrients. Many of these act as antioxidants and can promote your health in various ways.
Even so, please don't just have fruit for breakfast. It's healthier to get sugar from fruit than from processed foods, but you're still eating sugar either way. Too much sugar isn't a good thing for your body, so enjoy fruit in moderation.
Slicing up fruit on top of your cereal or yogurt is an easy way to get the benefits of fruit without eating too much.
Cottage Cheese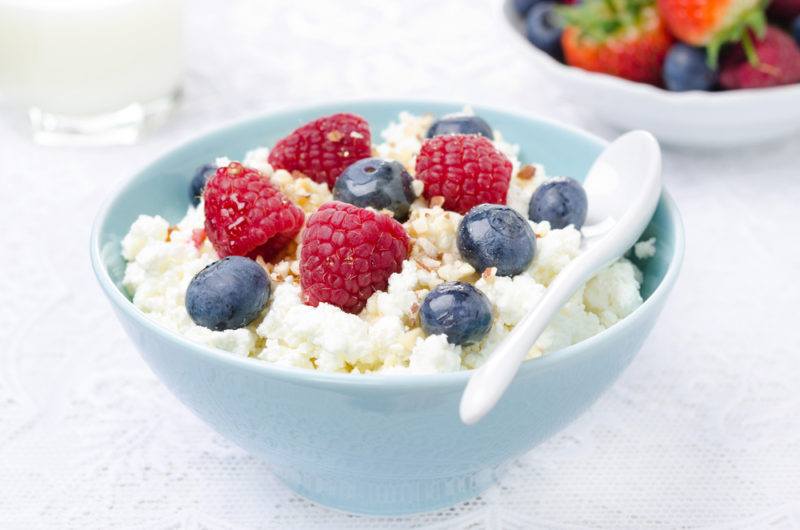 This dairy product is often a dieter's choice, as it is a decent source of calcium and protein, but is relatively low in calories.
Cottage cheese has a subtle flavor, so it isn't all that appealing on its own. Thankfully, you can easily add toppings to create a filling and easy meal. For example, a combination of fruit, nuts, and seeds could work well.
The Right Cereal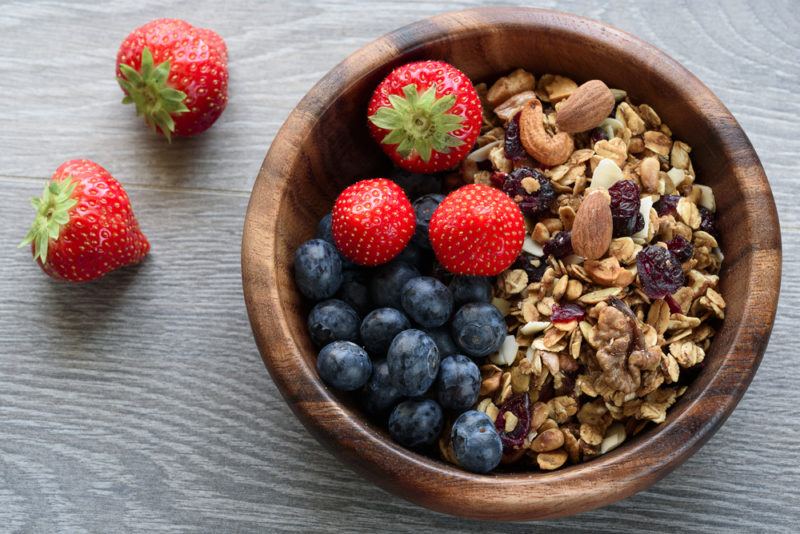 Cereal is a tricky type of breakfast food. While this can be a healthy way to start the day, most types of cereal are high in sugar and processed carbs. Many brands use artificial colors and flavors as well, not to mention fillers and who knows what else.
If you're going to rely on cereal, then you need to choose the brand very carefully. Pay close attention to whether there are any added sugars and look for products that rely on whole nuts and seeds. You could also keep an eye out for anything marketed to a paleo or keto audience, as both of those diet types tend to limit processed food.
Making your own cereal is another option. But, you'll still need to look for a good recipe, as some homemade cereal recipes will use more sugar than you may want.
Salmon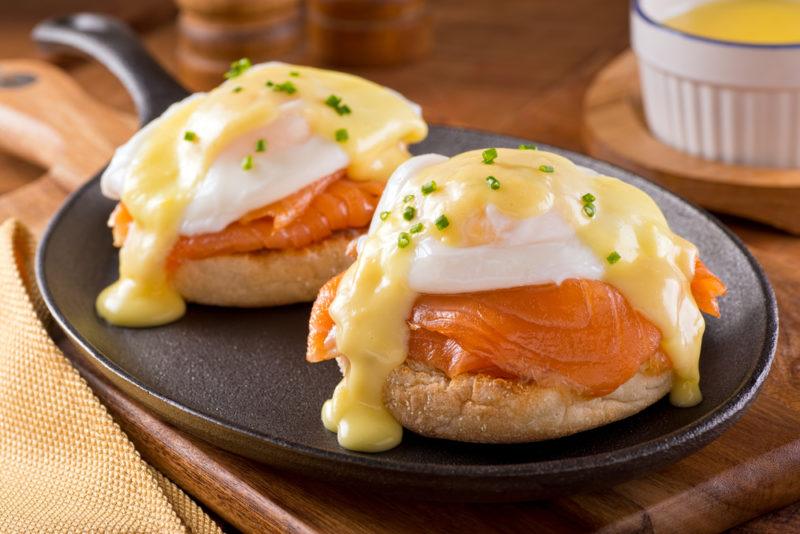 Why not have fish for breakfast? Traditional breakfasts in many countries do exactly that, like kippers in Scotland. Smoked salmon is an easy way to enjoy fish at the start of the day. You might try smoked salmon on a whole grain bagel with some cream cheese, or perhaps on a whole grain cracker.
Smoked salmon is sometimes used to create a version of eggs benedict too. That could be ideal if you want a very hearty and healthy breakfast.
Avocado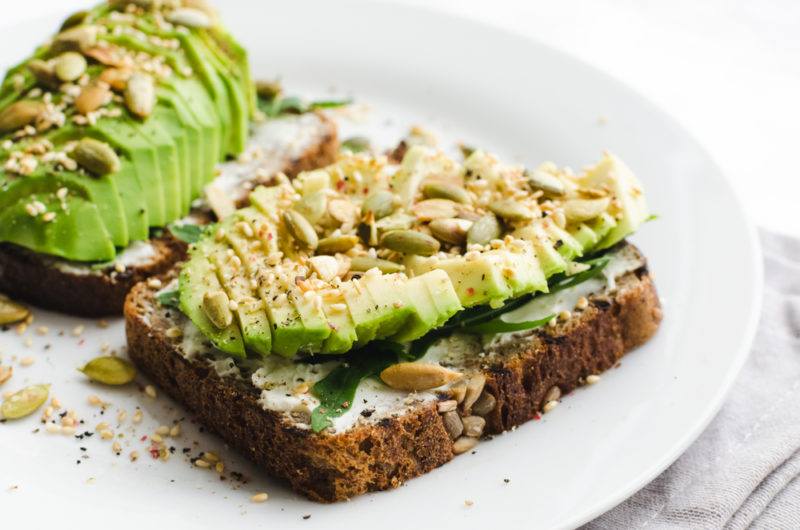 The popularity of avocados really can't be understated. And honestly, the fruit does have a lot going for it. It is delicious and creamy, while also being a source of healthy fats. The nutrient balance means that the energy from avocado tends to be absorbed slowly.
So, avocado on toast is going to give you more consistent energy than jam on toast.
Avocados are surprisingly versatile too. Did you know that you can use them in a smoothie to make the drink exceptionally creamy? You can even bake them in the oven. Stick a raw egg in the avocado's hole and bake them both for 15 to 20 minutes. You'll be surprised at the final flavor and texture.
Whole Grains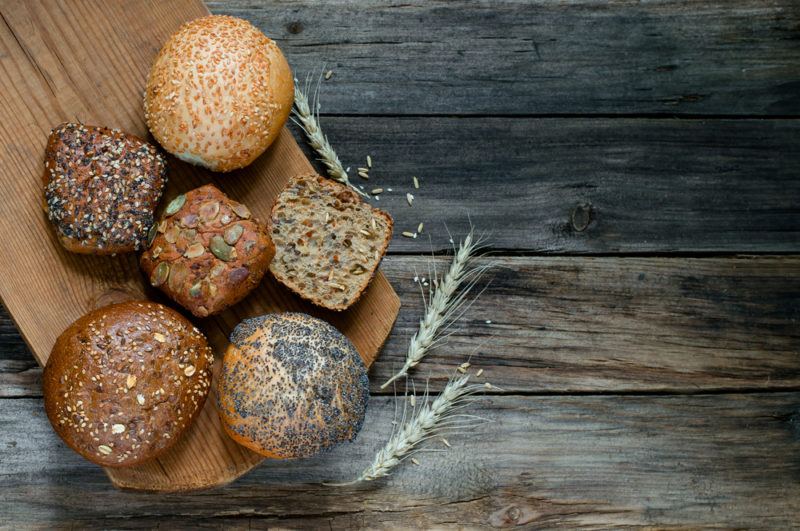 The term whole grains simply refers to any time where you're eating the grain in its entirety, rather than just part of the grain like you do with white bread. Whole grains include oats, quinoa, and brown rice (even though quinoa is technically a pseudocereal). You can also find whole grain bread, pasta, and many other products.
While there is some debate about the proportion of nutrients that we absorb from whole grain foods compared to other types, there's little harm in adding some more whole grains into your diet. The higher fiber content should mean that energy is released more slowly than with foods like white bread.
Interesting Energy Meals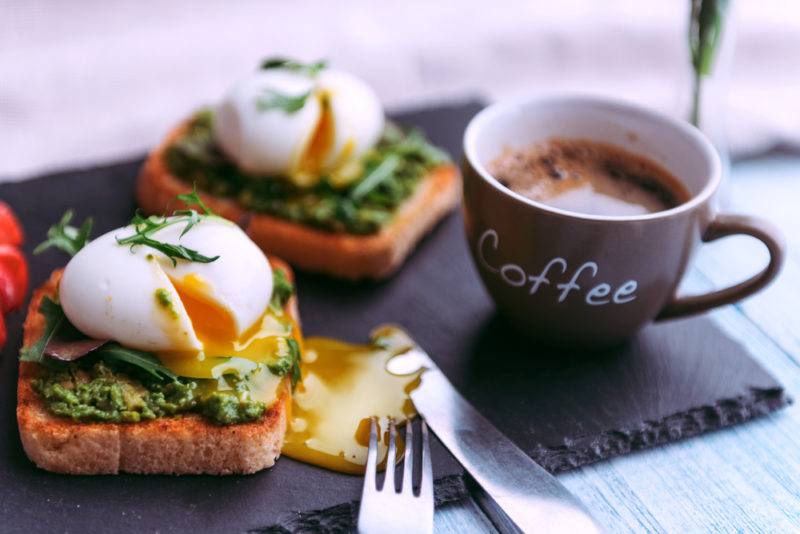 You can probably already imagine various ways to combine these different energy foods. Indeed, classic breakfast dishes already rely on these ingredients.
Finding good meals is important, as simply having energy foods isn't enough. You also need to consider your breakfast as a whole. For example, if most of your breakfast consists of highly processed carbs with just one or two healthy ingredients, you're not going to end up with sustainable energy.
In case you get stuck for ideas, the next section highlights a handful of interesting energy meals. These are options that contain a number of important ingredients, ones that are likely to keep you energized for quite some time.
Eggs Benedict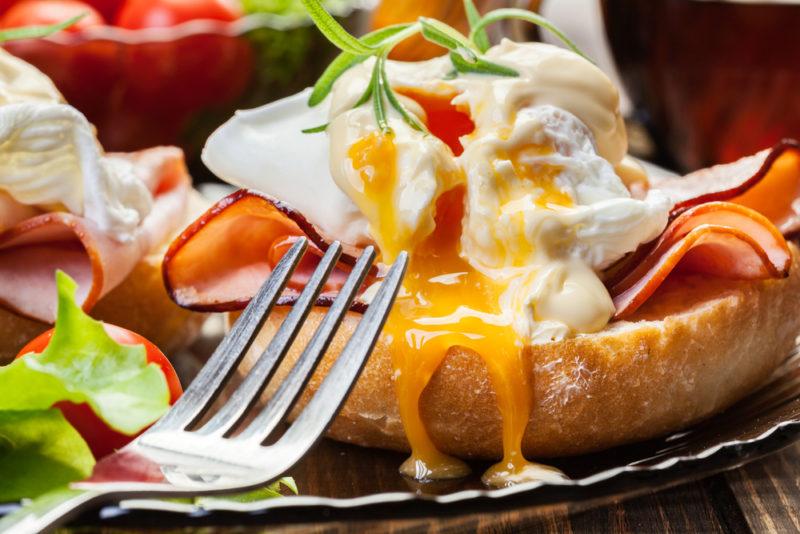 Eggs have so much going for them, which is why they feature in so many different breakfast recipes. After all, they're easy to prepare, can be included in countless recipes, and offer an amazing balance of nutrients and protein. They even taste good too.
Of all the ways to prepare eggs, eggs benedict is an especially appealing choice. The dish tends to consist of an English muffin or toast, with a poached egg, some meat, and hollandaise sauce. This gives you a perfect balance of protein, flavor, and carbs, all within a single meal.
The biggest challenge is getting the hollandaise sauce right, as this can easily separate during cooking. Thankfully, there are simple recipes that give you similar flavors without all the effort. You could even use a different type of sauce instead, perhaps one that you can prepare ahead of time.
You could also consider variations to eggs benedict, if you're wanting some different flavors. For example, eggs hussarde involves a red wine reduction, while eggs sardou uses a base of creamed spinach and artichoke hearts. These are both popular New Orleans breakfast foods.
Then there is a more familiar dish – eggs florentine, which uses spinach instead of meat. Or, eggs royale, which relies on smoked salmon.
Overnight Oats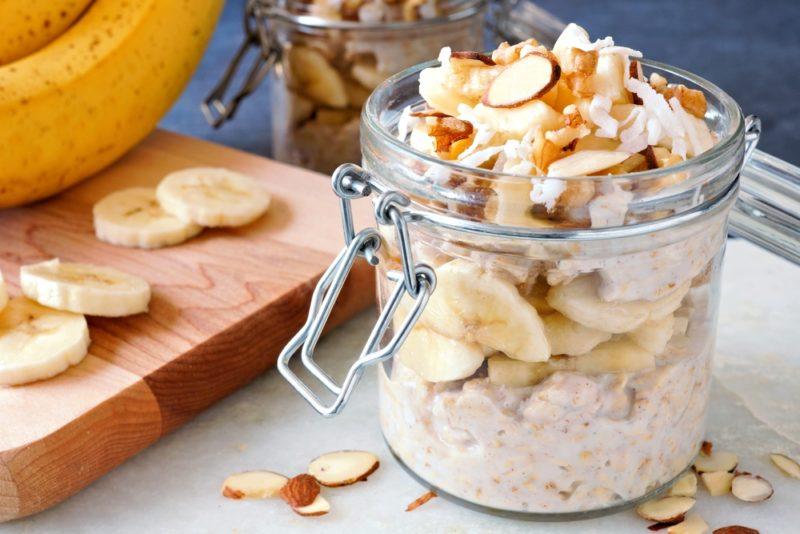 Oatmeal is often recommended for breakfast, as it is minimally processed and is a good source of whole grains. And, as long as you steer clear of the flavored oatmeal packets, this recommendation is a good one.
Still, these benefits come from the oats themselves rather than from oatmeal. You can get the same advantages by using oats differently, like in overnight oats.
The name overnight oats really says it all. You're doing most of the prep work the night before and then leaving the oats in the fridge overnight. You're not cooking the oats either. Instead, you're soaking them in some type of liquid.
This process gives your breakfast a pudding-like consistency. Plus, you can just take the meal and eat it on the run. Overnight oats don't even need heating. You can eat them cold or warm them up slightly so that they're closer to room temperature.
Here's the fun thing – overnight oats can taste amazing. There are many flavoring ingredients to play around with, like cacao powder, espresso powder, extracts, and even eggnog. Then there are all the other possible ingredients, which often add in interesting textures.
Chia Seed Pudding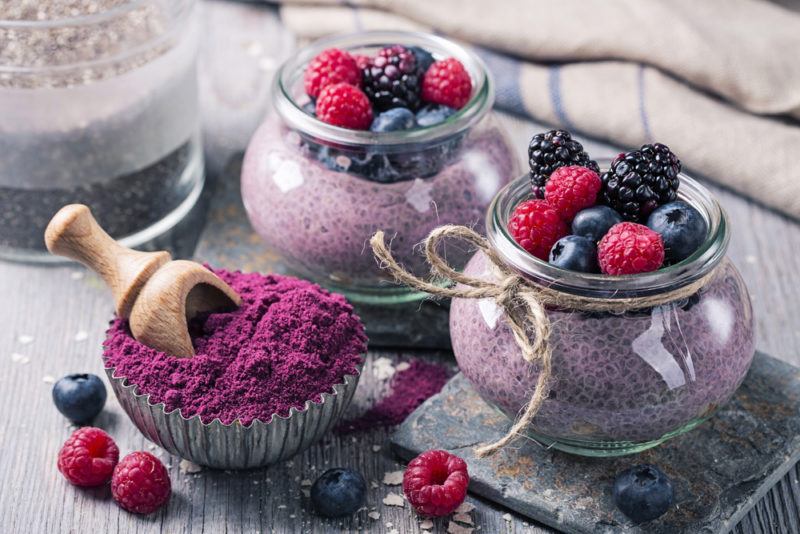 Chia seed pudding is another fairly modern breakfast choice. As the name suggests, the dish uses chia seeds as the main ingredient. But, the term pudding is slightly misleading, as you end up with a healthy breakfast rather than a decadent dessert.
You make chia seed pudding in a similar way to overnight oats, as you're mixing together the seeds and some type of liquid. A ratio of four tablespoons of chia seeds to one cup of liquid will give you a thick pudding, while three tablespoons to a cup will make the pudding more liquidy.
The mixture is then typically left for a few minutes, stirred, and then placed in the fridge to set. You're able to mix various flavoring ingredients into your chia seed pudding too, such as cocoa powder, vanilla extract, or maple syrup. Toppings are another angle to consider, like sliced fruit and seeds.
In fact, many of the same add-ins that you would use for overnight oats are perfect for chia pudding too.
There's only one potential problem with this breakfast – the texture. Chia seeds become gelatinous when they're soaked in water. This is where the thickness of the pudding comes from, but the texture can seem weird.
If you don't like the pudding as-is, you can get around the problem by running the finished pudding through a blender. This will give you a smoother texture, without compromising your nutrient intake at all.
Power Bowls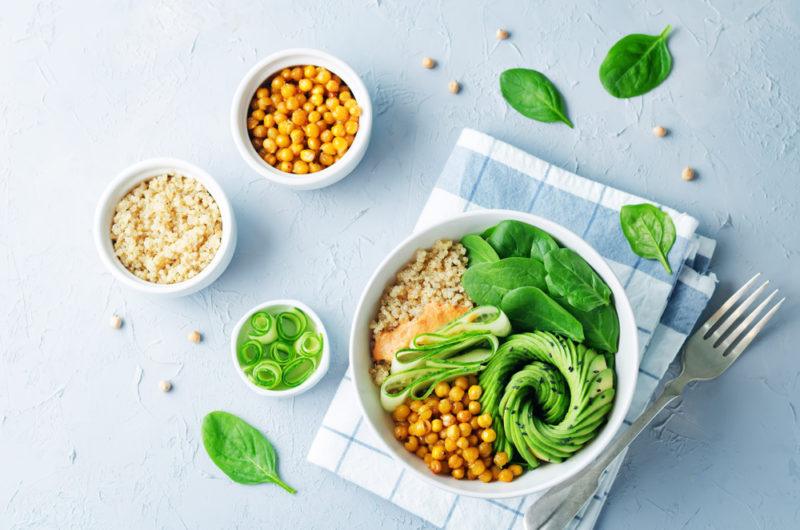 This type of meal goes by a few different names, including power bowl, protein bowl, Buddha bowl, and occasionally poke bowl. Regardless of what you call them, the bowls can look amazing. They also tend to be packed full of nutritious ingredients, many of which are high in protein.
Most of the time, the bowl will use some type of carb as a base. Grains and pseudograins are common choices, like rice or quinoa. You might see other options used too, such as buckwheat noodles or even zucchini noodles.
Other ingredients are then added on top, often in their own discreet sections. Chopped or sliced vegetables are almost always present, although fruit can be used too.
The bowls will often contain at least one decent source of protein, if not more. If you're making a vegan bowl, you might rely on legumes like beans, along with tofu and perhaps edamame. If you're not worried about being vegan-friendly, then chicken breast or another type of meat could work well too.
You've probably noticed that most of these ingredients don't sound much like breakfast foods. If this is a problem, then you could make a bowl that uses breakfast ingredients. Chia seed pudding or oatmeal are both good options for the base.
But honestly, who says that breakfast foods need to have breakfast flavors? In many ways, the savory nature of these bowls is just what you need at the beginning of the day. You don't have any sugar spike to worry about either.
Smoothies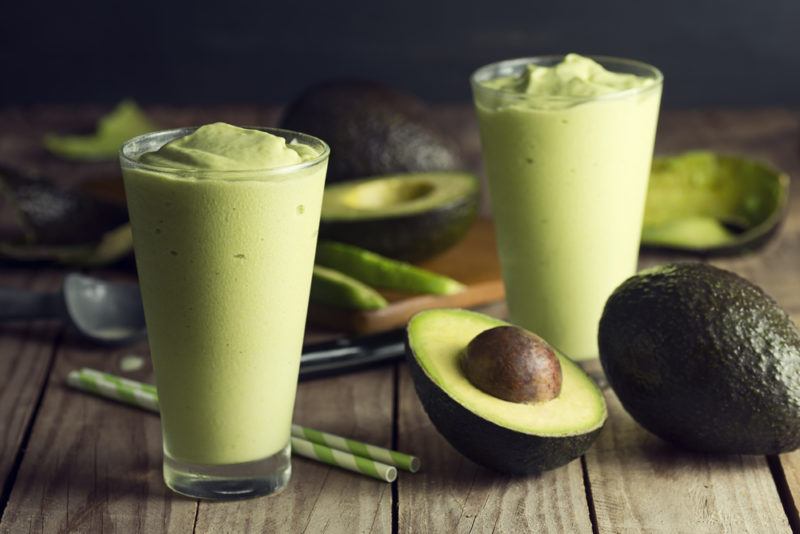 If you follow a good recipe, a smoothie (or a smoothie bowl) offers plenty of nutrients, protein, and healthy fats, all in a single drink that is easy to enjoy. Smoothies are one of the simplest ways to get nutrients from many different foods all in one place.
Unfortunately, it's easy to make a smoothie badly. For example, some recipes use fruit juice as a key source of liquid. Fruit juice doesn't contain many nutrients anyway and is a sure-fire way to increase the sugar content of your smoothie.
Using too much fruit can also be a problem. I've seen smoothies that call for one or two whole bananas, not to mention berries and other types of fruit as well. You don't need to skip out on fruit entirely, but be wary about the fruit that you choose and the quantities. This is particularly true for bananas, as their balance of sugar versus fiber isn't very appealing at all.
Protein powders are one good way to adjust the nutrient balance in a smoothie. You can also turn to healthy smoothie add-ins, like matcha powder, chia seeds, cacao powder, and many more.
Try A Japanese Approach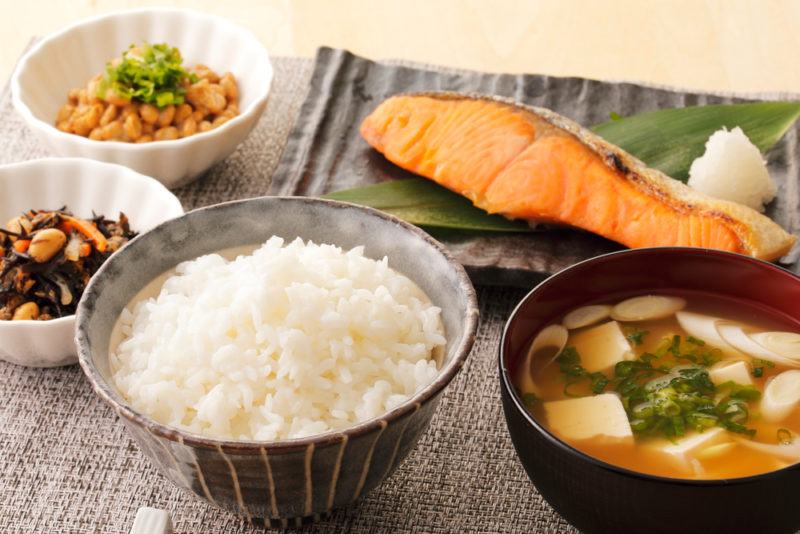 Japanese breakfasts are interesting. They're a little like bento boxes, as you're eating small portions of various foods.
The foods themselves are ones that you might expect for lunch or even dinner. For example, you'll often see rice, vegetables, fish, and soup
While this style of meal might be unfamiliar, it does work well. The biggest limitation is that there is more prep work than with many other breakfast options. Still, you could do some of that prep the day before.
Eating breakfast in this way makes it easy to get the nutrients that you need and to control your portion sizes. You don't need to stick to Japanese foods either. You could easily make your own bento-style breakfast that uses foods you already love.