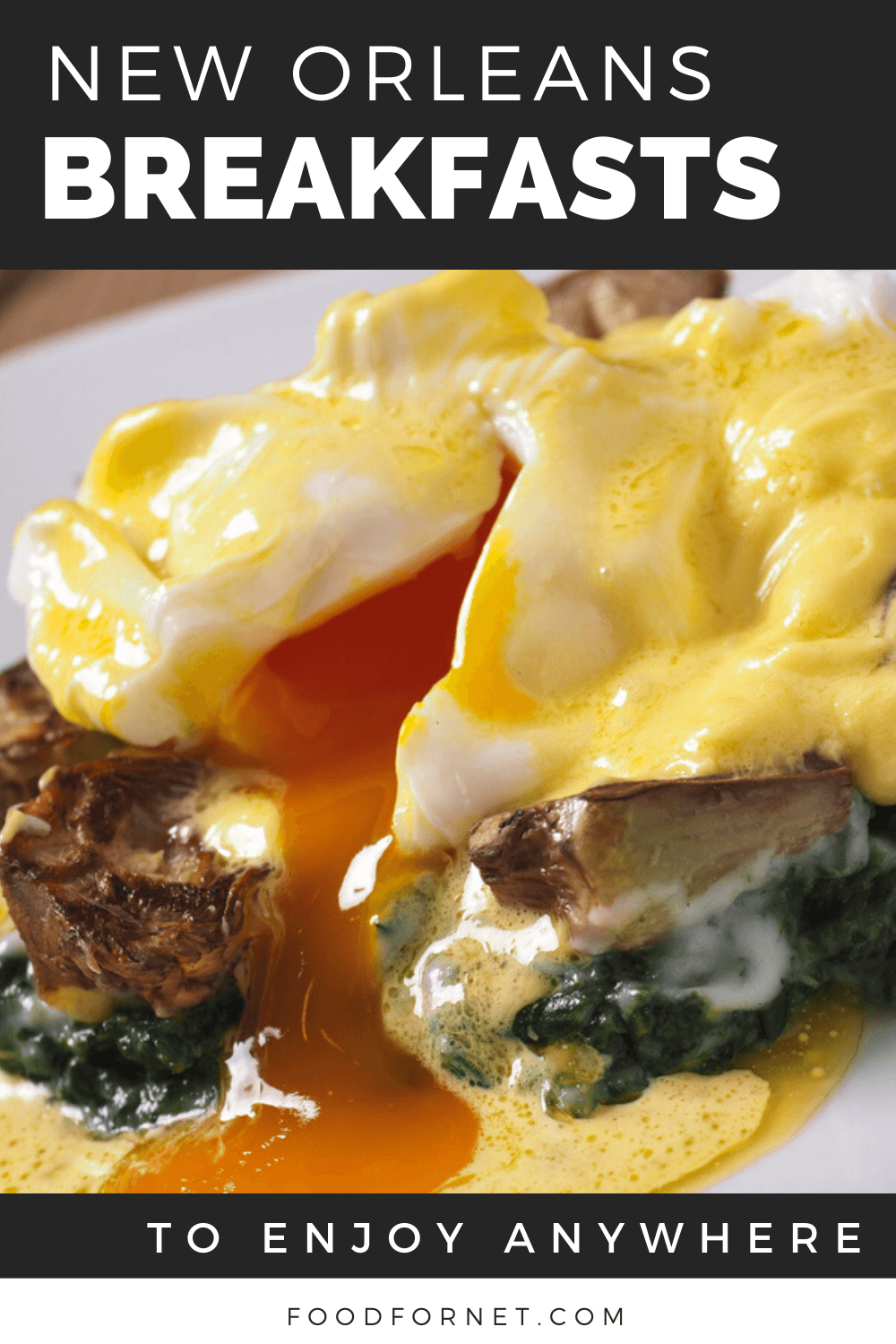 Looking for breakfast in the Big Easy? There are many different New Orleans breakfast foods to choose from. Some of them are traditional Southern breakfast foods, while others are inspired by Creole cooking or other ethnic flavors. Classic American breakfasts can be found too, including cereal, eggs, and many others.
So, in this post, we're going to run the gambit. We'll show you just how varied breakfasts in New Orleans can be, giving you many options for your own meals.
Because, as they say, breakfast is the most important meal of the day. While some people might debate the idea, others know that the food they choose can influence their entire day.
A hearty breakfast that is packed with protein, for example, can give you energy for hours. This type of breakfast can reduce sugar cravings too, so you're less likely to reach for unhealthy snacks.
On the other hand, a sweet breakfast that is high in carbs may raise your blood sugar, then lead to an energy crash within an hour or two. This style doesn't work well if you have a long day ahead of you. Thankfully, many healthy breakfast choices happen to taste good too.
New Orleans Breakfast Foods
Eggs Hussarde
Eggs Sardou
Biscuits And Gravy
Chicken And Waffles
Grits
Grits With Shrimp
Grillades And Grits
Pain Perdu
Banana Foster French Toast
Eggs
Pancakes
Boudin
Beignets
Cereal
Toast And Spreads
Waffles
Breakfast Burrito
Fried Foods
Breakfast Sandwiches
Croissants
Porridge
Calas
Eggs Hussarde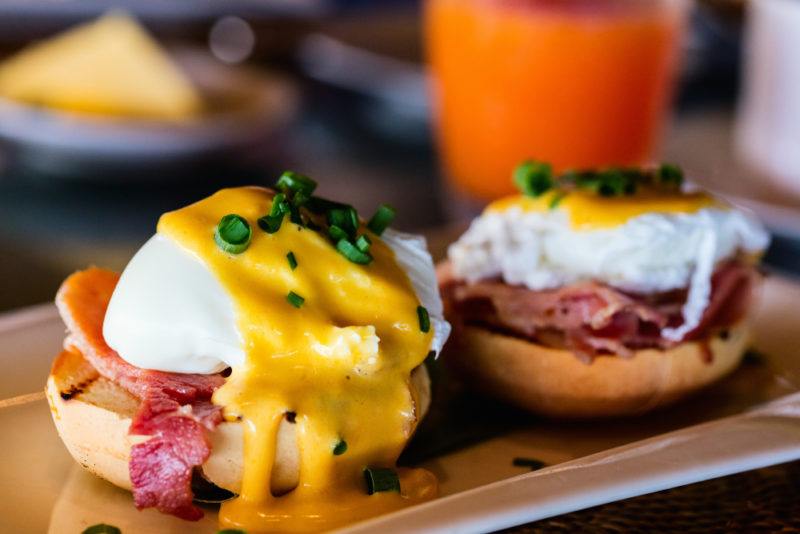 Eggs hussarde is a variation on eggs benedict. The dish still uses eggs, bacon, and hollandaise sauce. Originally, eggs hussarde used Holland rusks, then a red wine reduction sauce, then the bacon, eggs, and hollandaise sauce.
Nowadays, English muffins tend to be used instead of rusks, making this an easy dish to prepare. The red wine reduction is an amazing way to jazz eggs benedict up. Seriously. You won't want to go back to regular eggs benedict after trying eggs hussarde even once.
Eggs Sardou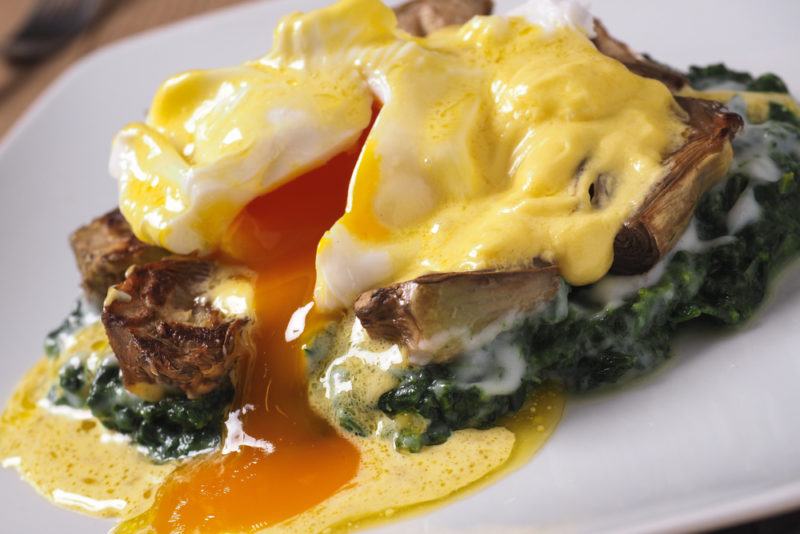 Eggs Sardou is another New Orleans variation on eggs benedict. This time, the meal uses a base of creamed spinach and artichoke hearts. That base is then topped with poached eggs and hollandaise sauce.
It is a more complex recipe than regular eggs benedict, as you have the hollandaise sauce, eggs, and creamed spinach. It takes some practice to make each of these well and then you need to get them ready all at roughly the same time. Still, the finished meal is delicious.
Some versions use toast as well, while others skip the toast. Either style works, although cutting out the toast does bring down the carb content of the meal.
Biscuits And Gravy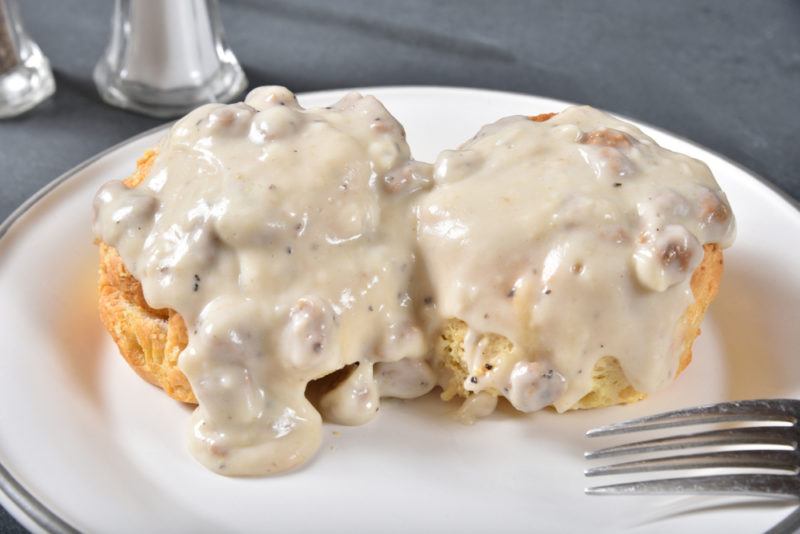 Buttermilk biscuits and white sausage gravy is a very popular Southern breakfast, so seeing it in New Orleans shouldn't be much of a surprise at all. The meal offers some scrumptious flavors and also happens to be a hearty dish.
A word of warning though, biscuits and gravy can easily be an unhealthy meal that is high in saturated fat. There are no greens to be seen, plus sausage is often heavily processed.
You can make a healthier version by relying on high-quality sausage and preparing the gravy yourself. Making the gravy at home gives you the chance to avoid additives, you can also use low fat milk to decrease the fat content. Try adding a salad as well. This helps to stretch the meal out a bit and could make it easier to stick to a reasonable portion size.
Chicken And Waffles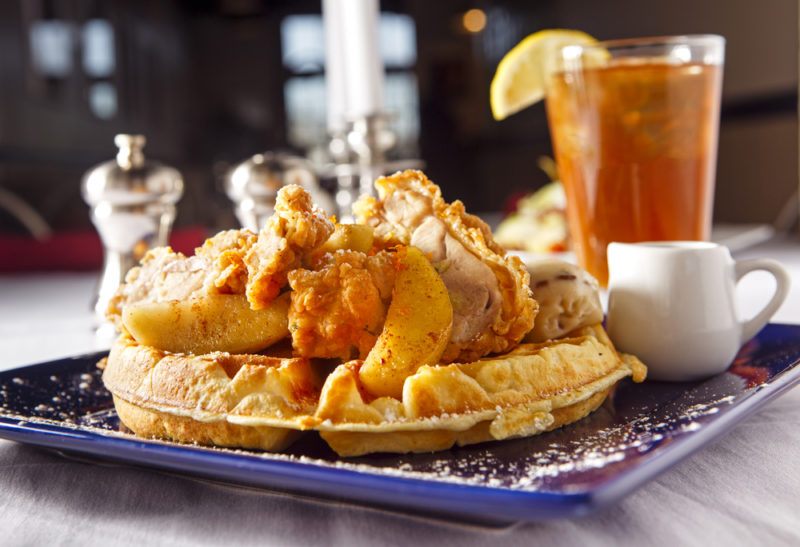 Here's another traditional Southern choice that might seem strange if you're from a different part of the world. The meal is literally what the name suggests, breakfast waffles, topped with fried chicken. Maple syrup is often used as well.
The meal ends up being an interesting combination of sweet and savory, light and hearty. And, as we all know, sweet and savory flavors often balance each other out well.
Combining fried chicken and waffles isn't as strange as it sounds either. Many meals rely on a combination of bland starch and savory protein. Doing so prevents the meal from being too heavy and balances the flavors well. The crispy bready nature of the waffles also helps balance the greasiness of the chicken.
Grits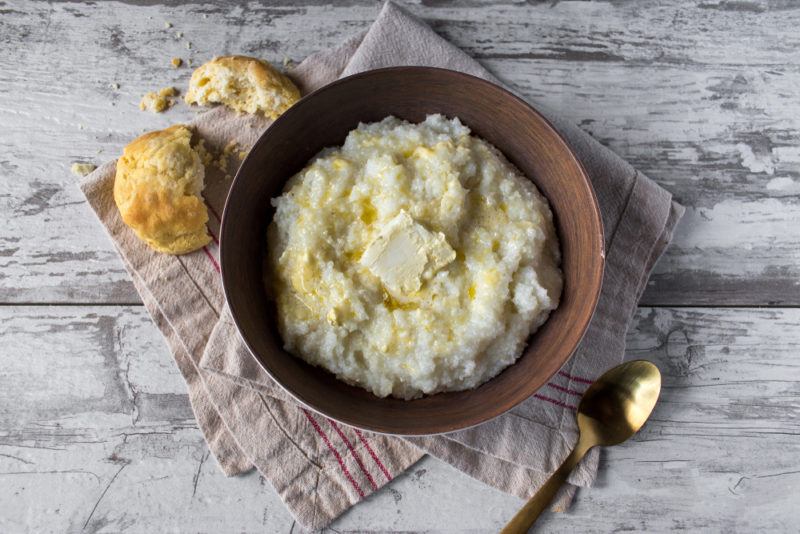 On their own or as part of another meal, we can't go past grits. Grits are produced from corn and the meal involves making a type of porridge out of the grits. The finished dish is distinctive and is popular in many parts of the United States.
Grits can be prepared on the stovetop or the slow cooker. Water, butter, and the grits themselves tend to be the main ingredients, although you may use some seasonings too. Some variations use milk or a plant-based milk instead of the water, which creates a richer meal.
Other ingredients can be added in, depending on the dish you're trying to make. Some versions, for example, use cheese to create a comforting savory meal.
Despite the popularity of grits in America, you often can't find them in other countries. This can be frustrating for expats, who may need to import grits to enjoy this breakfast.
Grits With Shrimp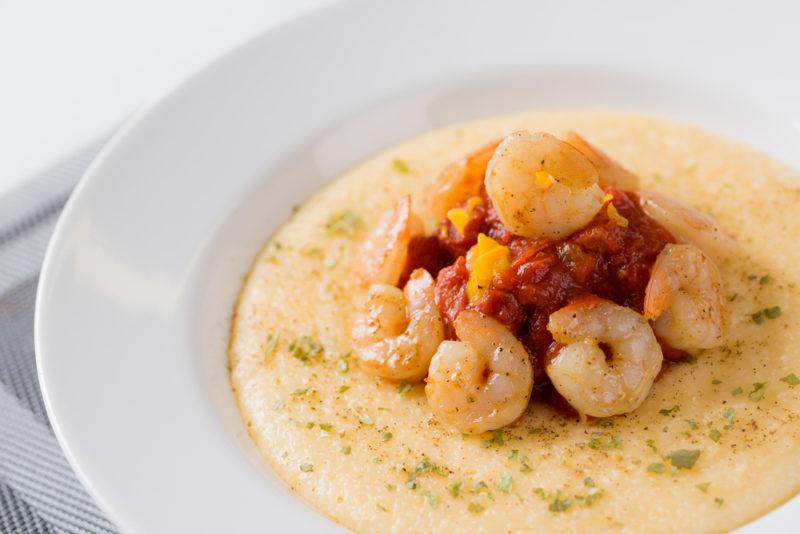 Not only is shrimp and grits a popular combination, but this dish is commonly enjoyed for breakfast in the South. Using shrimp makes this a much heartier meal than simply having grits on their own.
Many versions of the recipe call for cheesy grits. The cheesiness complements the other ingredients perfectly, giving you a comforting dish that you won't forget.
And finally, this is a surprisingly fast dish to prepare – often just taking around half an hour from start to finish. That's a fantastic outcome for a cooked breakfast that doesn't rely on eggs.
Grillades And Grits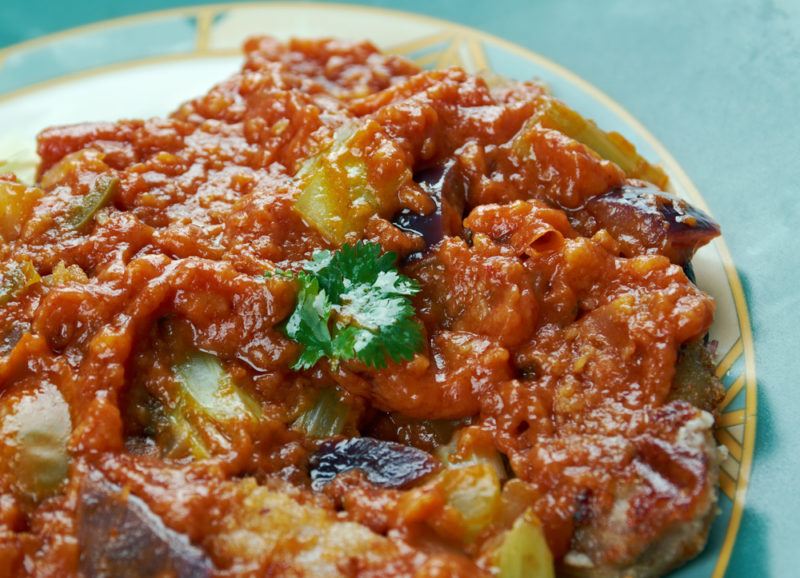 While grillades and grits might not look like traditional breakfast fare, this New Orleans dish remains common as a breakfast or a brunch choice. The grillades are made from steak, which has been slowly cooked in a rich sauce (despite the name, this part of the meal is slow cooked rather than grilled).
Not surprisingly, grillades and grits ends up being a hearty breakfast meal. The high protein content means that you won't get hungry anytime soon. It is also a warming dish, making it ideal for cold mornings.
The way the grillades are slow cooked makes this dish hard to prepare first thing in the morning. However, you could make the grillades the night before and simply reheat them in the morning.
Pain Perdu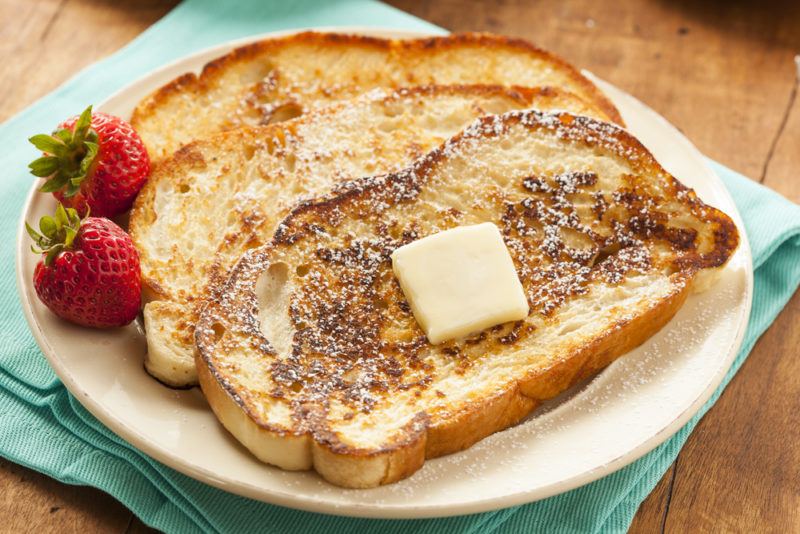 Pain perdu literally translates to lost bread, as the breakfast is often made from bread that would be thrown out otherwise. The dish should look familiar, as it is simply French toast.
The dish is cooked just like it would be in any other part of the country – and is always an easy breakfast meal. French toast is sometimes considered unhealthy, as it is fried and is made out of bread.
While there are healthier breakfasts out there, French toast does have some advantages. For one thing, the recipe relies on eggs, so it contains various nutrients and plenty of protein. It's certainly more satisfying than a bowl full of sugary cereal.
Banana Foster French Toast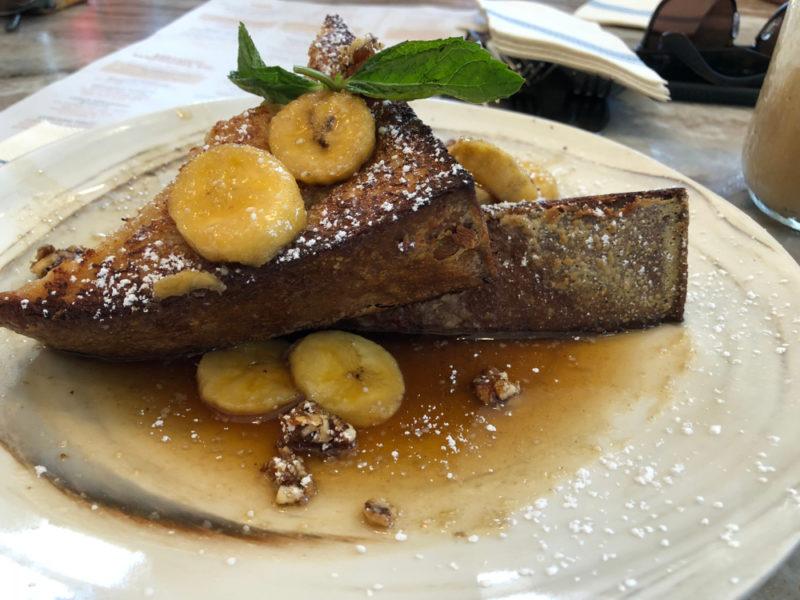 This breakfast treat is similar to the previous example, except that it also involves bananas and sweet ingredients as a topping. The term banana foster refers to a dessert that was originally created in New Orleans and uses ingredients like butter, brown sugar, cinnamon, and vanilla ice cream. Banana liqueur and dark rum are often included too.
If you're having banana foster on French toast, then you'll probably be skipping the ice cream. And, at breakfast time, you might be giving the alcohol a miss too.
Eggs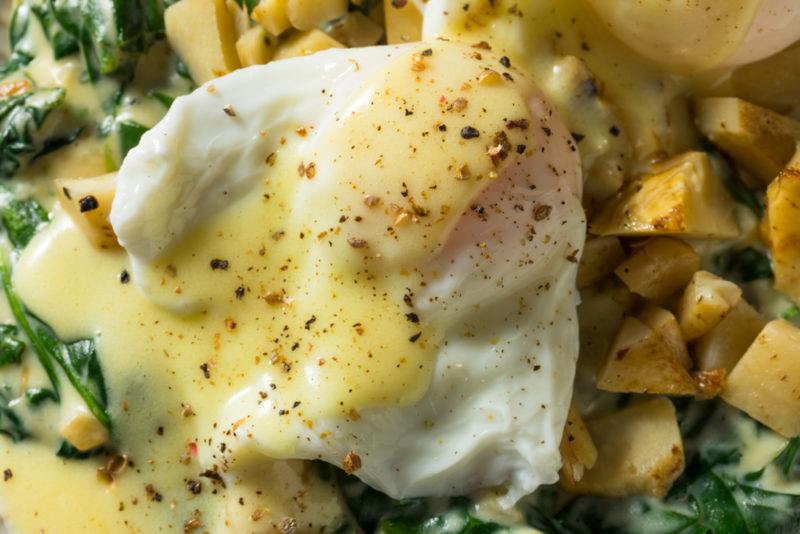 Breakfasts in New Orleans feature eggs just as much as the breakfasts in other parts of the country. This is hardly surprising, as eggs often seem like the perfect breakfast food. After all, they're high in protein and nutrients. Modern research even suggests that they don't raise cholesterol like we once thought.
There are also countless ways to prepare eggs. Poached eggs, fried eggs, hard boiled eggs, and scrambled eggs are the beginner options and you can expand from there. Omelets are often popular for breakfast, as an omelet can easily include many other ingredients. The same is true for frittatas and egg-based breakfast bakes.
Eggs benedict is a classic choice if you want something a little more upmarket – and this dish can be varied in a range of different ways (like the eggs hussarde and eggs sardou approaches mentioned earlier in this list).
You'll also find various egg-based meals with a Creole spin on them, which leads to a different combination of ingredients and spices than you might expect.
Pancakes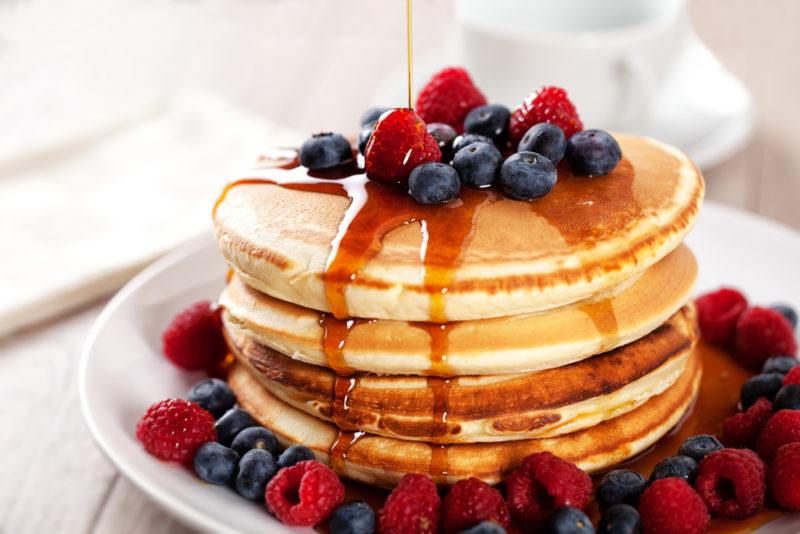 We can't forget pancakes. They're a classic breakfast food in the United States (and in many other parts of the world too!). And really, what's not to love? Pancakes can taste amazing, especially when they are stacked with toppings.
Some combination of nuts, berries, and syrup is an especially common choice, regardless of whether you're making pancakes at home or ordering them out.
Boudin

Boudin is a type of sausage, typically made with pork scraps and rice. Blood is sometimes included too, in which case, the sausage tends to be called either boudin rouge or red boudin.
Blood or not, the boudin ingredients are stuffed into a casing. The casing is chewy and somewhat difficult to eat if the sausage is boiled. If it is smoked or grilled instead, then the casing ends up with a gooey texture that can be appealing.
While boudin isn't a type of breakfast in its own right, it is often included with some of the other breakfast choices on this list, like grits or eggs. You'll also see versions that rely on Cajun spices. These spices add to the New Orleans feel of the meat.
Beignets

Beignets are squares of fried dough that are generally sprinkled with powdered sugar. Think donuts and you're most of the way there. In fact, beignets may have been the precursor to donuts.
Just like donuts, beignets aren't a healthy way to start your day, but that's not enough to stop people from enjoying them. The treats pair perfectly with a hot cup of coffee.
Cereal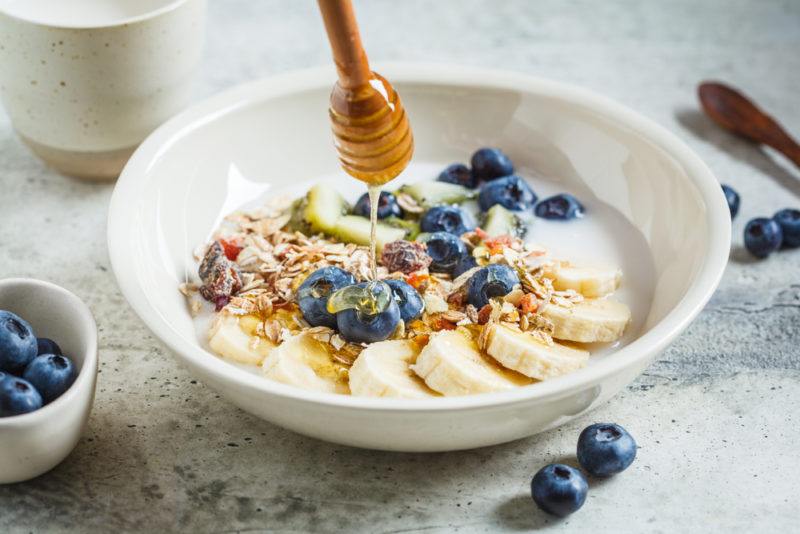 Cereal might not be linked to much history in New Orleans, but the breakfast choice is still popular here, just like it is elsewhere in the United States. It's hard to argue with the convenience of pouring a bowl of cereal, adding in some milk, and then your breakfast is all ready to go.
Most of the other breakfasts on this list, as delicious as they may be, take more work to prepare. The time and energy needed can be frustrating first thing in the day, especially if you have little time or are still waking up.
Toast And Spreads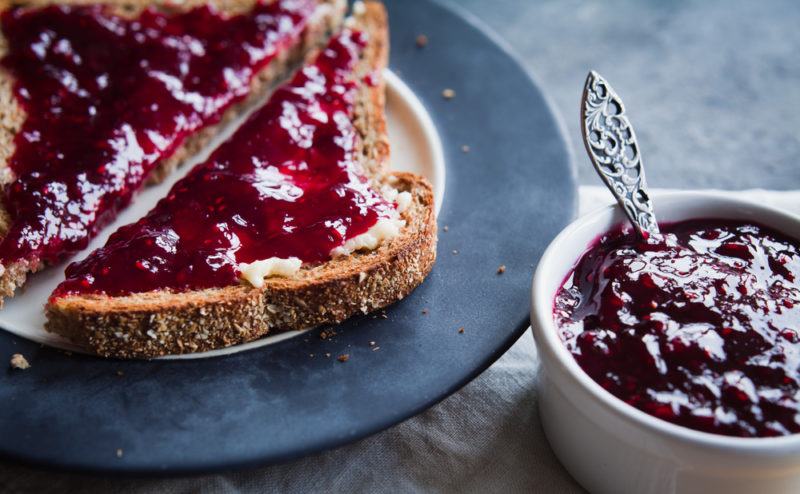 You can't get much simpler than some type of spread on toast (or even just butter!). Toast takes barely any time to make at all – and you even don't need to babysit the toaster while it is going. Using just butter or jam is one of the easiest approaches.
The problem is that you're getting a fast release of energy that doesn't stick around. Having just coffee and toast for breakfast can mean that you're hungry in just an hour or two. You might end up shaky from the sugar crash too.
Choosing your bread and toppings carefully can help. Nut butter, for example, tends to give you more sustained energy, as it is high in protein. You could add extra toppings too, like chia seeds or sliced fruit.
There are more complex topping choices too, like mashed avocado, scrambled eggs, or eggs benedict. A good general rule is that if you're going to have toast, try to make sure that at least one topping has a decent amount of protein. Choosing whole grain bread or sprouted bread over white bread might be helpful too.
Waffles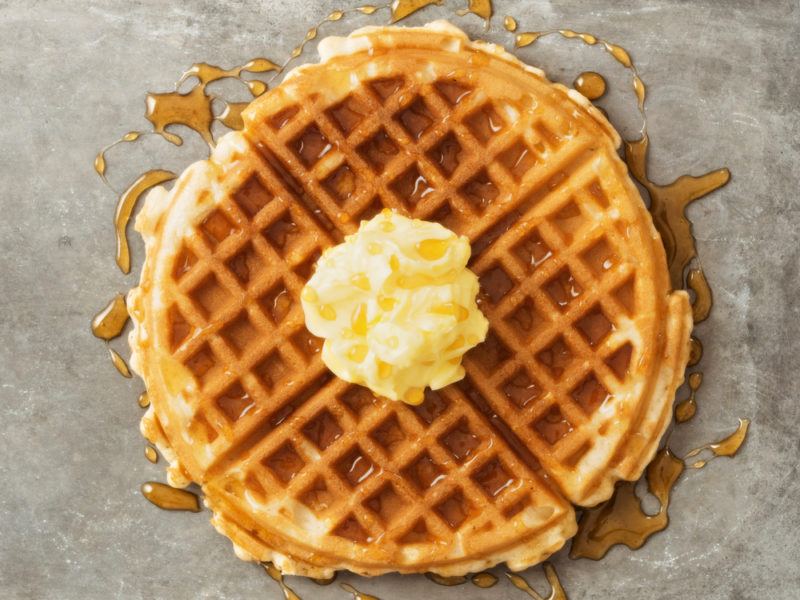 If fried chicken and waffles don't sound all that appealing, don't worry, waffles can be enjoyed on their own as a breakfast food too. Topping choices are often similar to what you would have on pancakes, such as berries, nuts, and/or syrup.
While waffles and pancakes are similar, there are distinct differences too. Waffles tend to be crisper, so they don't get soggy as quickly and they hold toppings well.
Breakfast Burrito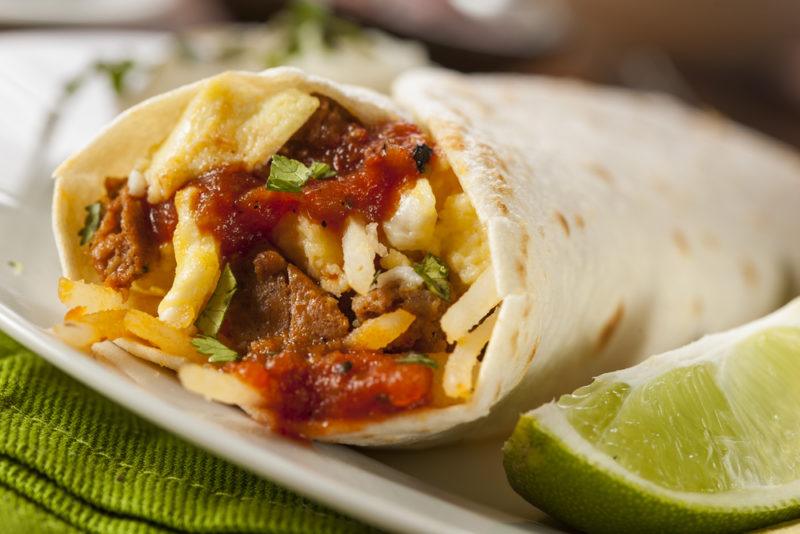 For a savory breakfast option, a breakfast burrito is hard to beat. The style should be a familiar one. You're essentially making a regular burrito, except that the fillings tend to be breakfast-focused.
There are countless variations to choose from. Some, for example, use minced beef, potatoes, eggs, cheese, and salsa, while others may be more heavily focused on greens. Another style relies on bacon, eggs, and hash browns.
The fun part is that you can choose your ingredients based on what you have at hand. There are no rules for how you make your breakfast burrito, so you're free to experiment and find your own versions.
Fried Foods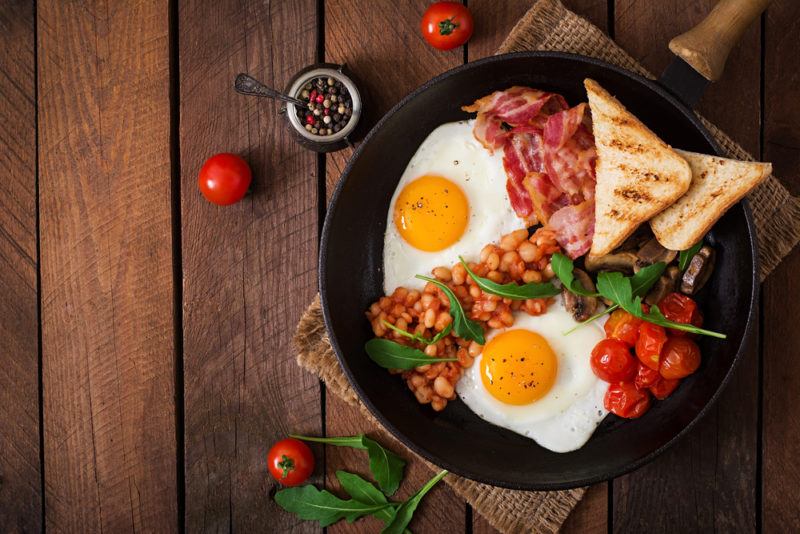 Whether you're eating at home or in a restaurant, fried foods are a familiar breakfast sight. Bacon, eggs, hash browns, onions, mushrooms, and sausages are all common examples. Bacon and eggs remains one of the simplest approaches and is perfect for people who are pressed for time.
You'll often want at least one source of carbs along with the fried foods, just to stop the meal getting overwhelming. While this could be the hash browns, many people add another choice too, like toast, waffles, or even grits.
The biggest problem with fried foods is, of course, the fat content. Any negative impacts can be decreased somewhat by choosing your foods well and using a healthy cooking oil.
Breakfast Sandwiches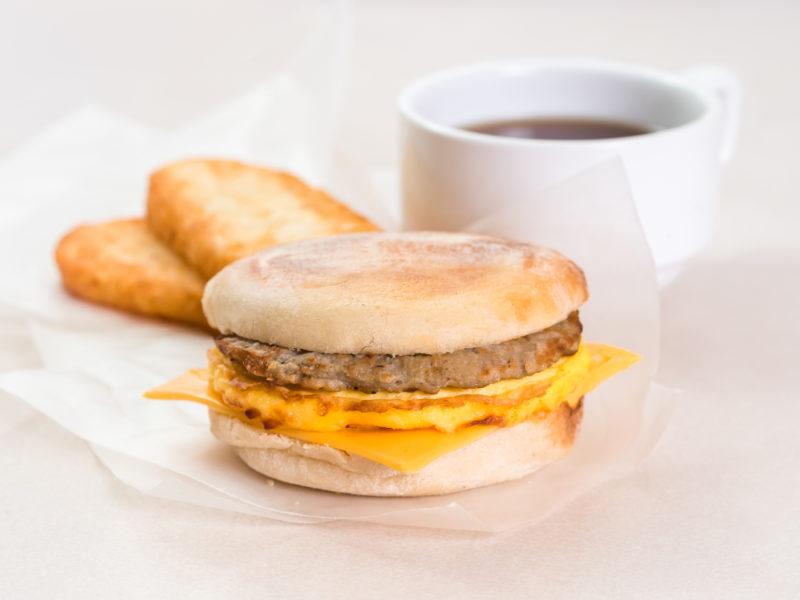 Breakfast sandwiches can be made in any number of ways. They might be made with regular bread, but English muffins, ciabatta buns, and buttermilk biscuits are more common choices.
As for the ingredients, you're normally looking at classic breakfast flavors, like eggs, sausage, and bacon. Other possible ingredients include hash browns, cheese, avocado, mushrooms, and onion.
Breakfast sandwiches can be very healthy, especially if you make them at home. But, this isn't always the case. Versions that you buy in the store tend to be laden with saturated fat and are often highly processed.
Croissants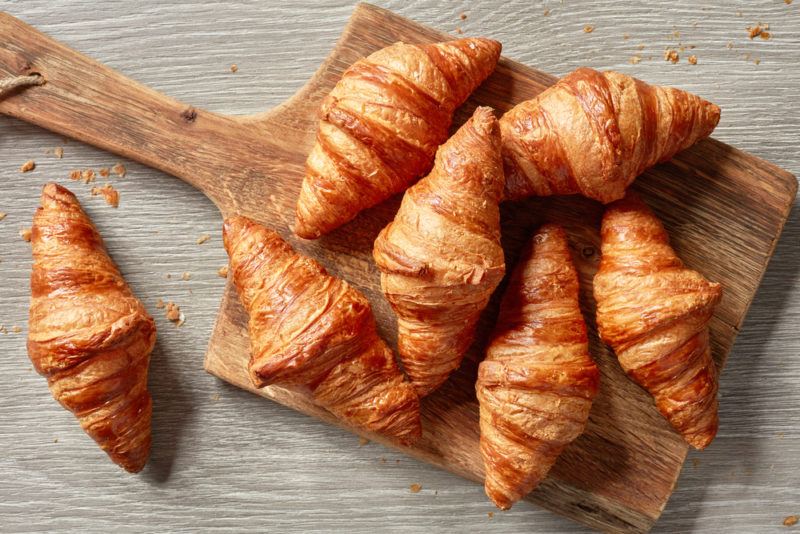 New Orleans has French heritage and croissants are one way that this is still kept alive and well. Buttery and flaky, croissants are a delicious start to the day. They're especially good if you're not at home, as countless bakeries and other stores in New Orleans sell hot fresh croissants.
There's not a lot of substance in a croissant, so don't expect this breakfast to fill you up for long. Having just a croissant and a coffee at the start of the day is likely to give you an energy boost and then a crash. Still, some people in a hurry do turn to croissants, as they're at least getting something to eat.
Other times, croissants are included as one part of a more complex breakfast. You can even make breakfast sandwiches using croissants. If you did so, the nutrients from the fillings would give you a much more sustainable source of energy.
Porridge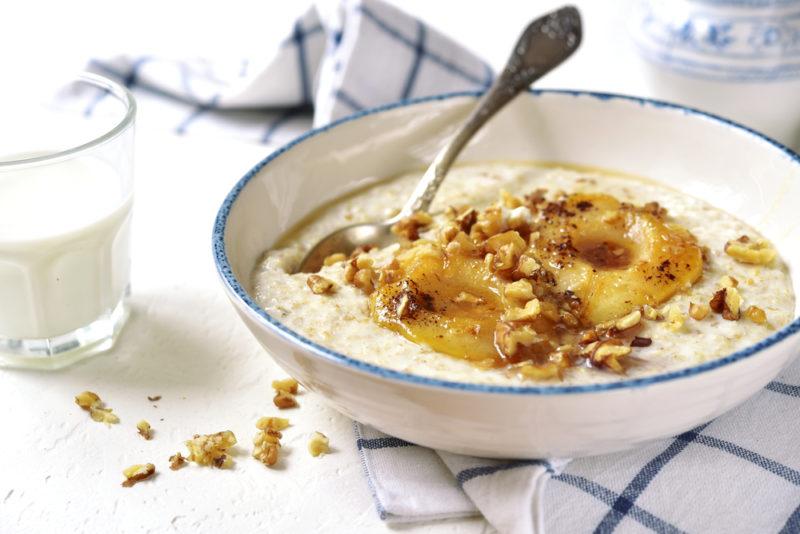 To put it simply, porridge is a hot cereal that is generally made from grains (although it can be made from some types of vegetables, pseudograins, or even legumes). Porridge is a common breakfast choice in many parts of the world, including Russia and Scotland. However, the type of porridge may vary.
Oatmeal is easily the most popular type of porridge in the United States. It is a staple at many breakfast tables.
The advantages are easy to see. Not only does oatmeal taste good, but it is also one of the few breakfast choices that is healthy, hearty, fast-to-prepare, and doesn't involve eggs.
Calas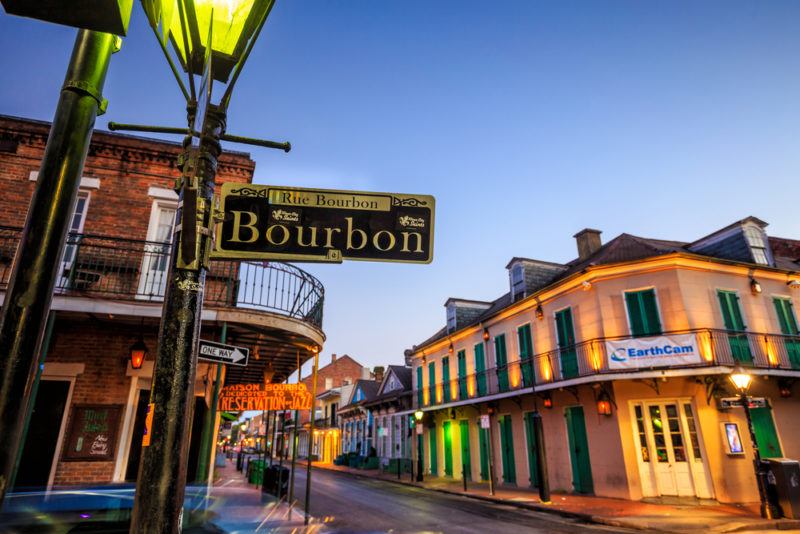 Calas can be considered a type of dumpling or breakfast fritter. They are made using cooked rice, spices, sugar, and flour, and are deep fried. The dumplings were once commonly sold in the French Quarter of New Orleans by street vendors.
While this practice has largely disappeared, the dumplings are still sometimes made at home, often from leftover rice. Calas can also be found on the menu of some restaurants, as there have been attempts to revive interest in the once-popular treat.