Eating the right foods is always important for your health. Doing so as a diabetic is even more critical, as good foods can help you control your blood sugar levels and prevent any serious complications from the condition. In this post, we're showcasing diabetic breakfast foods. After all, breakfast gets you started for the day, giving you the energy that you need to keep going with whatever lies ahead.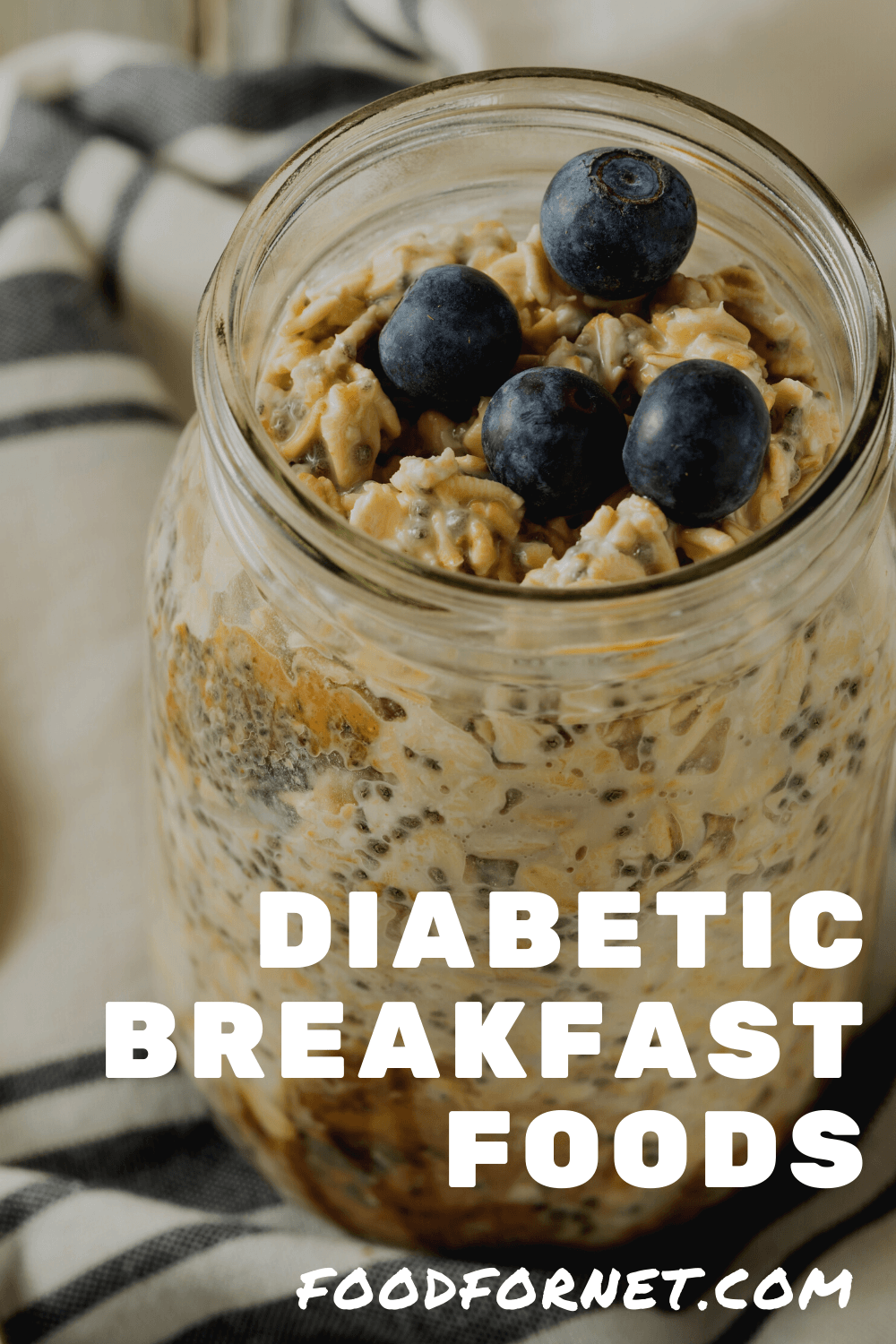 While diabetes might seem scary, a diabetic diet isn't actually that strict. Most people won't need to cut out any food groups, unless they are sensitive to a particular allergen. You can even have treats, as long as you don't do so too often and keep the portion sizes down.
One important goal is to watch your carb intake. Diabetics try to avoid spikes in their blood sugar levels, as these can be problematic. Focusing on food that releases energy slowly can help in this area – and has the added bonus of keeping you full for longer.
Maintaining a healthy weight is important too. Losing weight may even send type 2 diabetes into remission and can also help with symptoms.
These patterns mean that people with diabetes, particularly type 2 diabetes, largely need to focus on a healthy diet. That being said, some foods are better for you than others, so in this list, we're highlighting the best choices that you can rely on regularly.
Diabetic Breakfast Foods
Eggs
Smoothies
The Right Cereal
Oatmeal
Overnight Oats
Greek Yogurt
Other Healthy Yogurts
Avocados
Sprouted Bread
Breakfast Bowls
Nut Butter
Avocado And Egg On Toast
Yogurt Parfait
Cottage Cheese With Fruit
Vegetable Omelet
Breakfast Burritos
Balanced Energy Bites
Egg Muffins
Shrimp And Grits
Breakfast Hash
Chia Seed Pudding
Eggs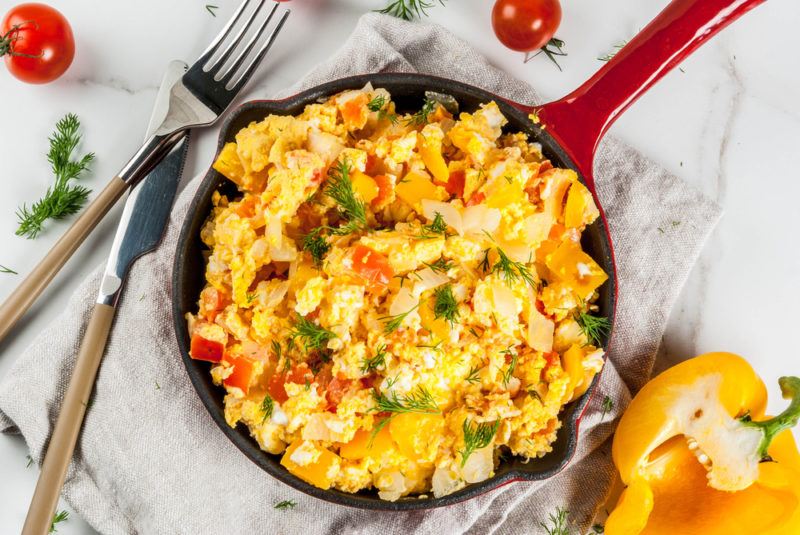 Seeing eggs on this list shouldn't be surprising. Eggs are one of the most powerful options for breakfast, giving you a large amount of protein and nutrients all at once.
Eggs can also be prepared in countless ways, so it should take you quite a while to get sick of them. Then there are all the breakfast recipes that rely on eggs too, like egg muffins, sheet pan breakfasts, and some other savory muffins. You can even break an egg into the hole of an avocado and bake the combination in the oven.
Now, eggs do have a complicated history. They were thought to be very unhealthy at one point, contributing to increased heart disease risk and higher cholesterol levels. Many people tried to cut down their egg intake or avoid eggs entirely due to these ideas.
Such claims have been largely disproven with recent research. In fact, eggs may help to promote health, especially due to all the nutrients that they contain. Having eggs for breakfast regularly aids in weight loss too, partly because the protein reduces cravings and stops you from getting hungry again too soon.
Smoothies

Meal replacement shakes and smoothies are popular for many diets. You can enjoy them as a diabetic too, as long as you pay close attention to the ingredients. There are many good recipes out there that you can rely on. The trick is to read them carefully first, rather than simply assuming that the smoothie is a healthy one.
In particular, you want to make sure that your smoothie contains plenty of nutrients and isn't too high in sugar. This means that you avoid using fruit juice as an ingredient. You'll want to skip out the banana too, as bananas are higher in sugar than most other fruits. Or, if you still want some banana, try to use no more than half a banana in your smoothie.
Fiber is important for diabetics and can be easily included in a smoothie. Adding oats or seeds is one way to do this. Just don't add more than a handful or so of oats a time, or the texture of your smoothie won't be that great.
Fat and protein can be helpful too. Protein even helps to slow down the absorption of carbs, which is exactly what you want. Adding some Greek yogurt is an easy way to increase your smoothie's protein content. Nut butter or protein powder is another approach to take.
You could also consider avocado. While avocados are high in calories, they do offer plenty of healthy fats and useful nutrients. They give the smoothie a delectable texture too.
The Right Cereal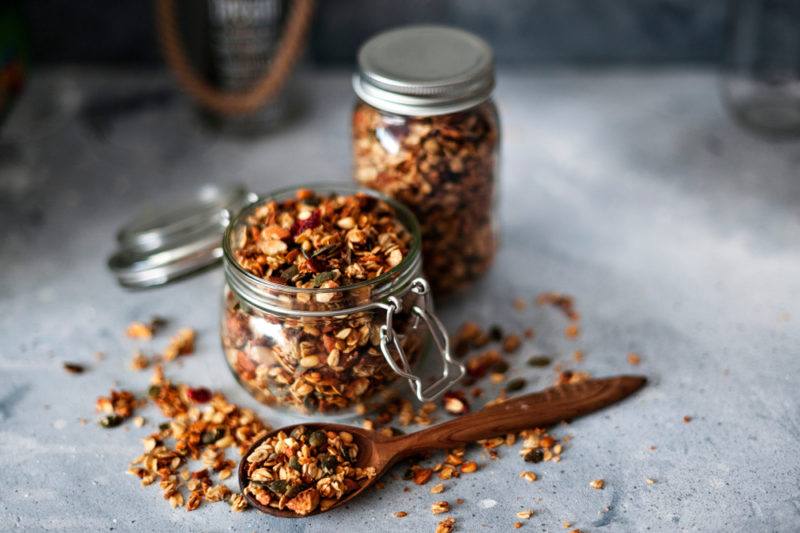 Like smoothies, cereal is a hit and miss product. Cereal is, after all, high in carbs and can easily lead to a blood sugar spike. Many brands are highly processed too, which often means that they rely on fillers and artificial ingredients.
To get the most benefits, you need a product that is high in protein and fiber – one that doesn't have many added sugars. This type of cereal will often strongly rely on nuts and seeds. Some use ancient grains as ingredients too.
Thankfully, there are many good cereal brands out there. You'll just need to pay close attention to the ingredients labels to find them. One trick is to look for anything marketed towards paleo or keto dieters. Both diet approaches tend to focus on whole foods, which often leads to better quality products.
Oatmeal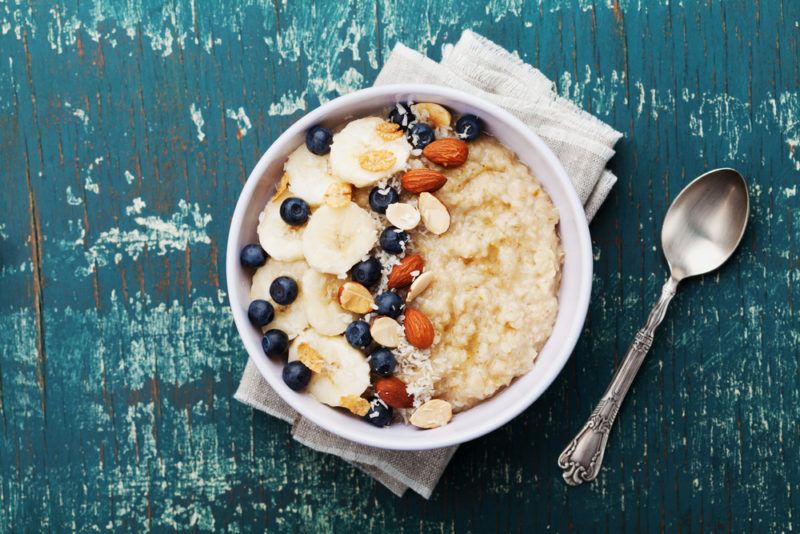 Oats have long been promoted as a healthy breakfast. They release energy slowly and keep you full. Oats are also inexpensive and fast to prepare, making them one of the easiest ways to have a satisfying breakfast.
While oats are high in carbs, they also contain a decent amount of fiber. This means that the carbs are absorbed more slowly and you shouldn't get a blood sugar spike from oatmeal.
That being said, the type of oatmeal that you use matters.
Many stores sell packets of oatmeal that can be quickly prepared in the microwave or on the stovetop. These products often contain additives and more sugar than you need. Even the unflavored versions may have extra sugar, so be wary.
Here's one more thought – oatmeal doesn't need to be sweet. You can choose to focus on savory toppings instead. For example, lean sliced chicken, some hard boiled eggs, tomatoes, and spinach could all be used on oatmeal, giving you a risotto-like meal. Many other toppings would work too and you could experiment to find some personal favorites.
Overnight Oats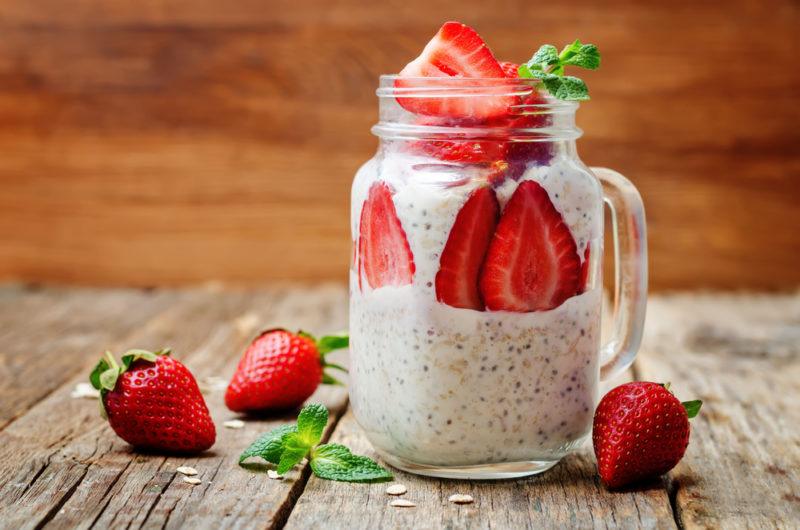 Overnight oats is an easier way to enjoy oats, especially if you're rushed in the morning. With this approach, you're doing most of the work the night before. The oats are soaked overnight in the fridge with various flavor-containing ingredients.
Countless ingredient combinations can be used with overnight oats. Many people include berries and some spices, like cinnamon. Nut butter can be an appealing addition too, one that provides flavor, nutrients, and protein.
Soaking the oats overnight can also make them easier to digest. This can provide you with more nutrients from the oats than you'd get otherwise.
Greek Yogurt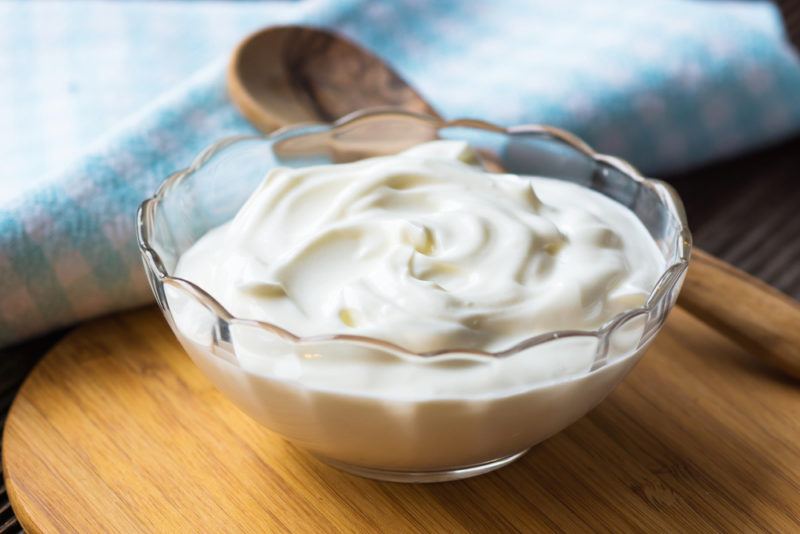 If you're not sensitive to dairy or lactose, then yogurt could be an appealing breakfast choice. Once again, some products are better than others.
Low fat flavored yogurt has become the most common variety in grocery stores, but this type of yogurt tends to use artificial flavoring and excess sugar. Cutting the fat out of dairy products isn't necessarily good anyway, especially not when that fat is being replaced with sugar.
Greek yogurt tends to be healthier than other types of yogurt, as it has a different balance of nutrients. It tends to be thicker and higher in protein. Some Greek yogurt products do use artificial ingredients or too much sugar, but many others don't. So, you'll still need to shop around to make sure that you're choosing healthy Greek yogurt.
Other Healthy Yogurts

Greek yogurt isn't your only option either. There are other types of strained yogurt, like skyr, that have a similar nutritional profile. Skyr can even be more appealing in some situations as it often does not have the same sharp flavor that you often find with Greek yogurt.
Full fat yogurt is another option. This yogurt has more fat than most other types, which often means that it will be higher in protein and lower in sugar too.
The extra fat does mean more calories too, so the yogurt won't be suitable for all situations. As always, you'll need to think about your diet as a whole and work out which foods are best for you.
Avocados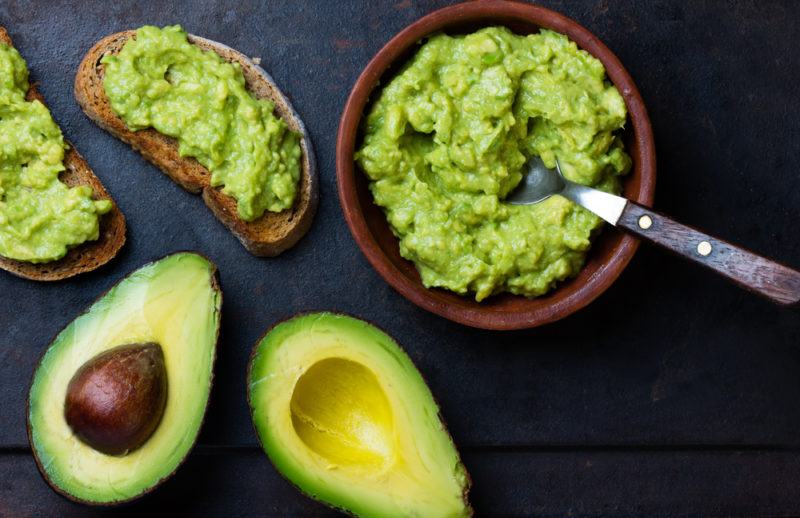 The healthy fats in avocados can make them powerful for health. The fruit is a good source of fiber too and doesn't contain much sugar. In fact, avocados are arguably one of the healthiest fruits.
Of course, avocados are often chosen for their flavor and creaminess just as much as their health benefits. You can certainly use avocados to make many delicious breakfasts, such as having mashed avocados on toast or adding a few slices of avocado to eggs benedict.
Avocados are, however, high in calories. For example, you're getting 240 calories in a cup of avocado. The calorie content may be too high for someone who is trying to lose weight. Having just a little bit of avocado as part of your breakfast could be a middle ground, giving you some of the benefits from the fruit, without too many calories.
Sprouted Bread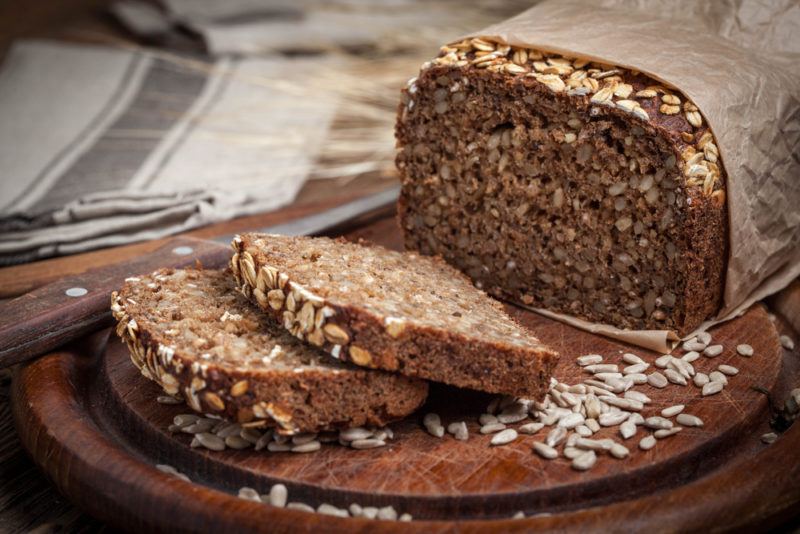 Regular white bread is generally a poor choice for health. The carbs can quickly lead to a blood sugar spike. Besides, white flour doesn't offer that many nutrients.
Whole grain bread may be better for you, as whole grain flour uses all parts of the grain, which means that there are more nutrients. But, the grains are still ground into flour, so you can expect that same blood sugar spike.
Besides, it's not even certain that our bodies can absorb the extra nutrients in whole grain bread.
Sprouted bread is an interesting alternative. This is made from sprouted grains and many brands try to keep most of the grains whole, rather than grinding them to create flour. The sprouting process should make the grains more digestible, giving you more health benefits from the bread.
You can also simply look for any bread where the grains are visible. This means that at least some of them haven't been ground up into flour. Breads like this should give you the slowest release of energy.
Breakfast Bowls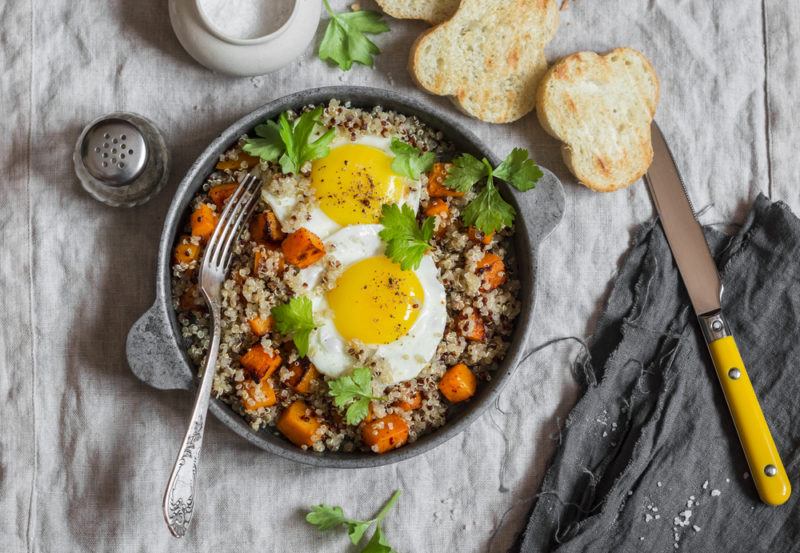 Bowl-based meals have taken off as an alternative way of eating. These give you the chance to combine a variety of ingredients that don't normally go together in a single meal. Many such bowls rely on protein rich ingredients, which helps to make them satisfying.
This type of meal is also very flexible. You can easily swap out one ingredient for another. Doing so in a conventional cooked meal is much more complicated.
As for the ingredients you choose – let your imagination go wild. Most bowls focus on nutritious additions that are filled with protein, fiber, and healthy fats, but there are no hard and fast rules.
You don't even need to rely on traditional breakfast foods or flavors. Why not branch out a little and try something new? Many bowls would taste just as good at breakfast or dinner time.
Nut Butter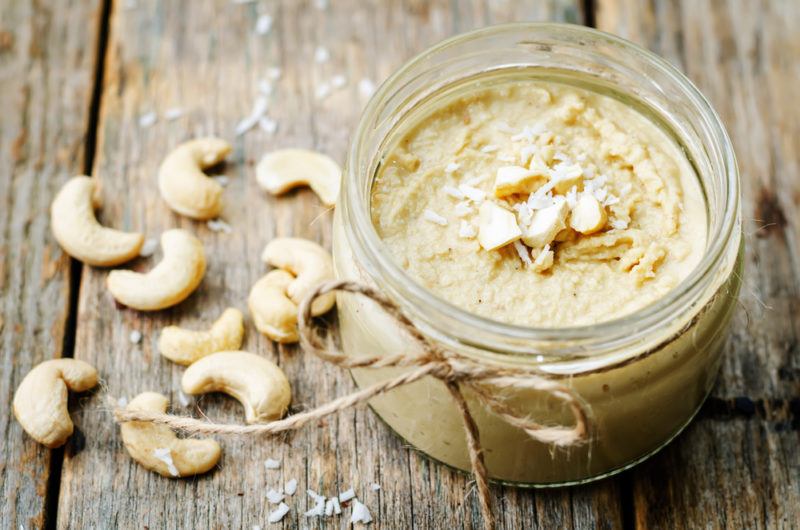 The benefits of nuts are rarely disputed. They're a fantastic source of healthy fats and protein. They offer a variety of important nutrients too.
Peanut butter on toast is one of the classic ways to enjoy nuts for breakfast. This can still be healthy, but choosing your bread carefully is important. As we mentioned before, sprouted bread is ideal. If you're going to use a more conventional loaf of bread, make sure the fiber content is high.
While peanuts aren't technically nuts (they're legumes instead), their nutritional profile is similar to other nuts. This means that you'll get many of the same benefits. But, if you can, almond butter is an even better choice.
Avocado And Egg On Toast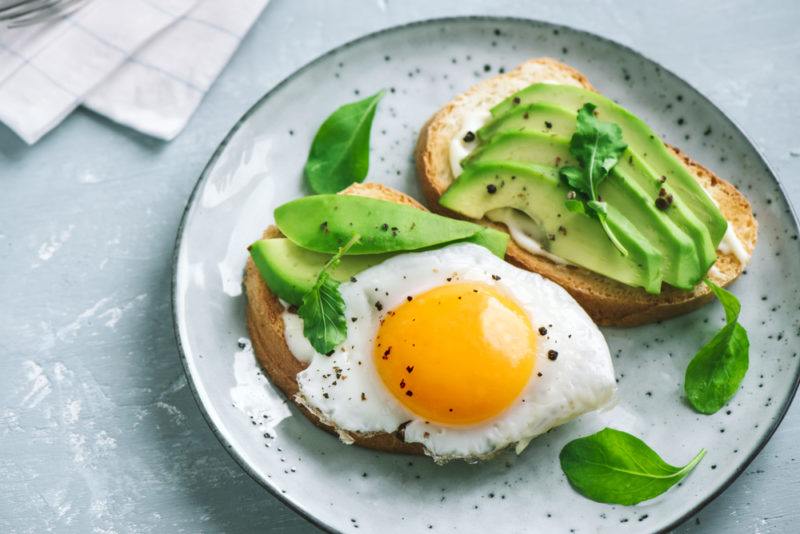 Rather than having a sweet spread on toast, opt for something heartier instead. Using an avocado or an egg on toast is an easy way to do this. Having them both together is even better.
After all, avocados and eggs do have different advantages. Avocados are most well-known for their healthy fats and creaminess, while eggs are an easy source of protein.
Once again, sprouted bread will be the healthiest option here. You could also turn to whole grain bread. If you do so, look for a product that includes some entire seeds or grains too, rather than processing everything down into flour.
Yogurt Parfait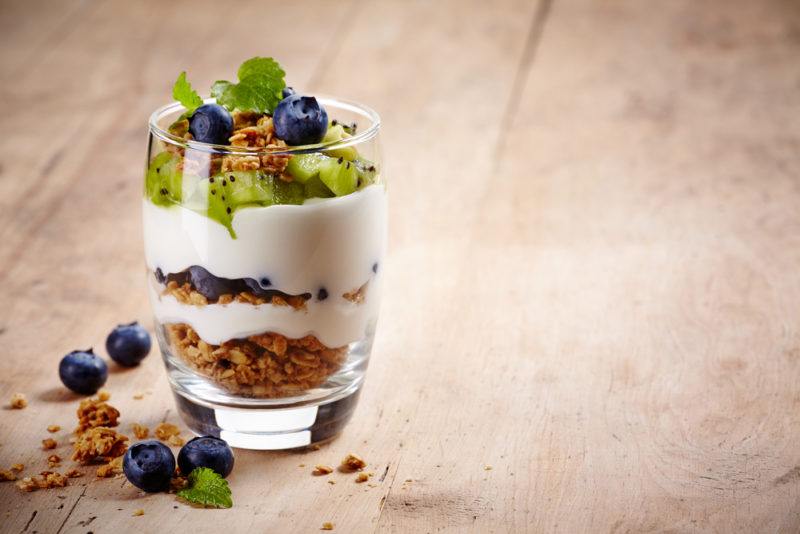 A yogurt parfait can be a good way to combine multiple healthy ingredients. Start with Greek yogurt (or another type of strained yogurt), then include seeds and nuts, along with fiber rich berries. You might throw a few handfuls of oats in too for extra benefits.
You could even layer the ingredients together in a container and use the meal as a breakfast to eat on the go. Sitting down for your meal is better, of course, but if this isn't an option, then eating something healthy as you're moving much better than skipping breakfast or grabbing greasy from a local store.
Cottage Cheese With Fruit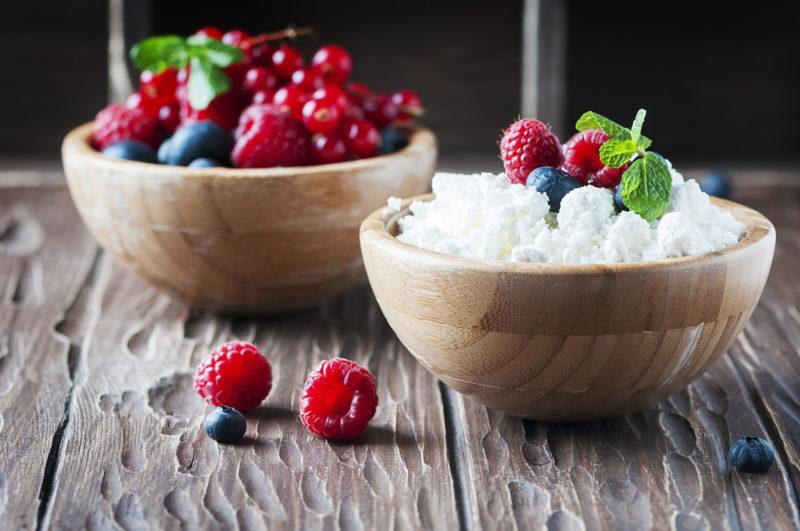 It's hard to go wrong with cottage cheese. This dairy product is high in protein and low in calories, making it a common weight loss choice.
An easy way to use cottage cheese is to serve it in a bowl with fruit and nuts. You get fiber from the fruit and healthy fats from the nuts, not to mention all the nutrients that are present too.
The mild flavor of cottage cheese means that it will work well with whatever toppings you choose. Just try to stick to high fiber fruit, like berries, rather than options like bananas where the ratio of fiber to sugar is much less appealing.
Vegetable Omelet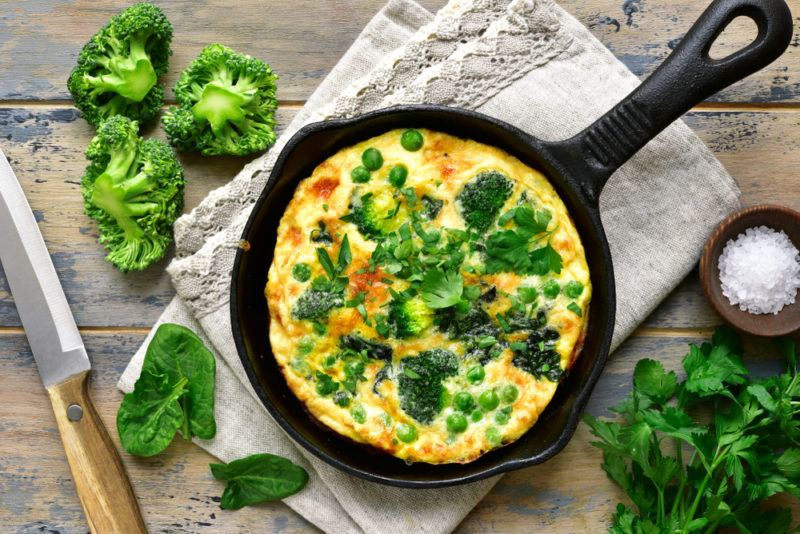 This is another way to enjoy many healthy ingredients at once. Focus on vegetables that are low in starch, such as kale and spinach (both of which taste good with eggs anyway). Throw a few fresh tomatoes in the mix too for vibrancy.
Cheese is always a good choice in an omelet, as it complements the eggs perfectly. You could include some meat too or skip this entirely. If you do use meat, it's best to avoid bacon and sausage, as these are often high in sodium and sausage is often more processed than other types of meat.
Breakfast Burritos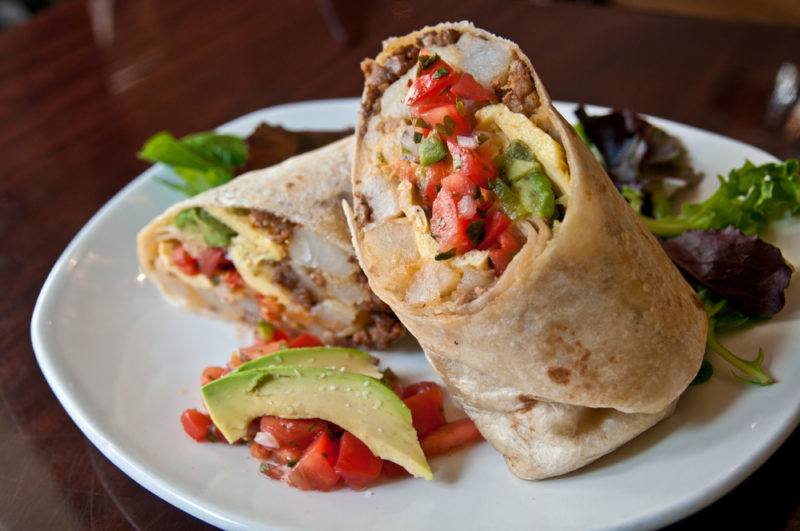 Breakfast burritos can be healthy or unhealthy, depending on how they are made. Begin by making the dish at home, rather than buying something prepared from a store. Most premade versions will heavily rely on processed ingredients and are likely to be high in calories and salt.
When making the burritos, focus on wholesome and hearty ingredients. Scrambled eggs work well here, as do beans. Salsa and avocado are other possible additions, along with whatever spices you need.
It's normally best to go with whole wheat wraps for your burritos rather than white ones, but go with what feels right for you. After all, the fillings make up the bulk of this meal.
Balanced Energy Bites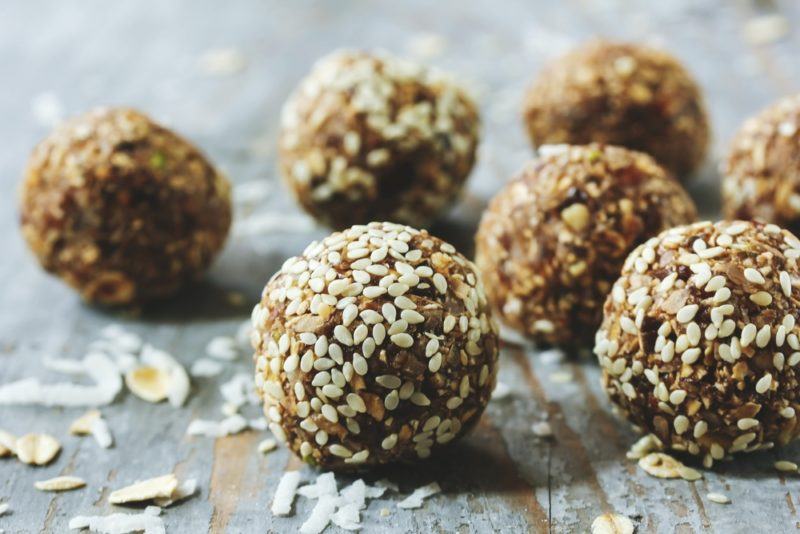 If you're in a hurry, then an energy bite or a protein bar might sound like a good idea. At least you're getting some food into you, which should help to keep your blood sugar balanced, right?
While the idea is sound, many products are little more than a well-marketed candy bar. Many energy bites and protein bars are highly processed and contain lots of sugar. There may be useful nutrients present too, but the products simply aren't worth it.
The best way around the problem is to make your own versions. Look for recipes that use whole food ingredients like nuts, seeds, oats, and berries. Nut butter is another common ingredient – one that ups the protein content of the bars and improves the flavor too.
Egg Muffins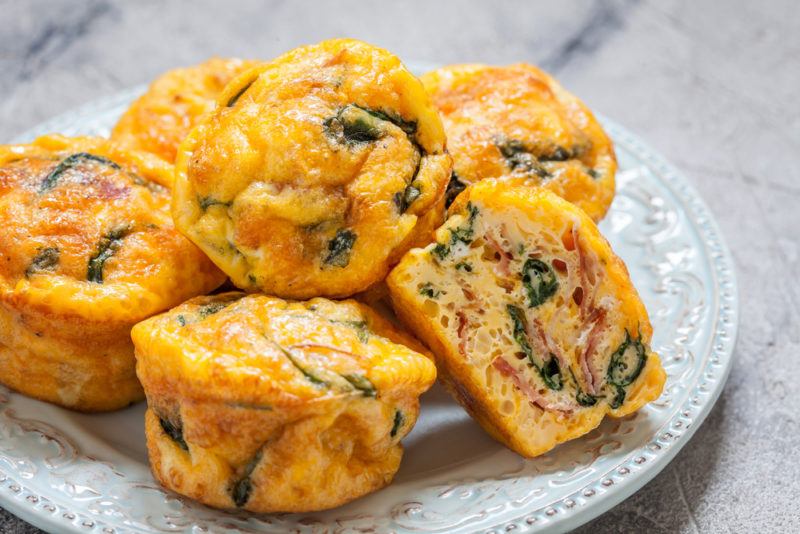 Egg muffins are basically mini frittatas. You're making them in muffin tins with an egg and a few other ingredients. Spinach is a common addition in egg muffins, but you might find ingredients like spinach, chopped ham, onions, or mushrooms too.
The versatility of these treats is one of their biggest advantages. You can choose the ingredients that sound the best to you – and countless flavor combinations work well.
Egg muffins are a healthy choice for anyone, but they're ideal for diabetics, as they are naturally high in protein and low in carbs. The muffins are also convenient, as you can simply pick one up, take it with you, then eat it hot or cold.
Shrimp And Grits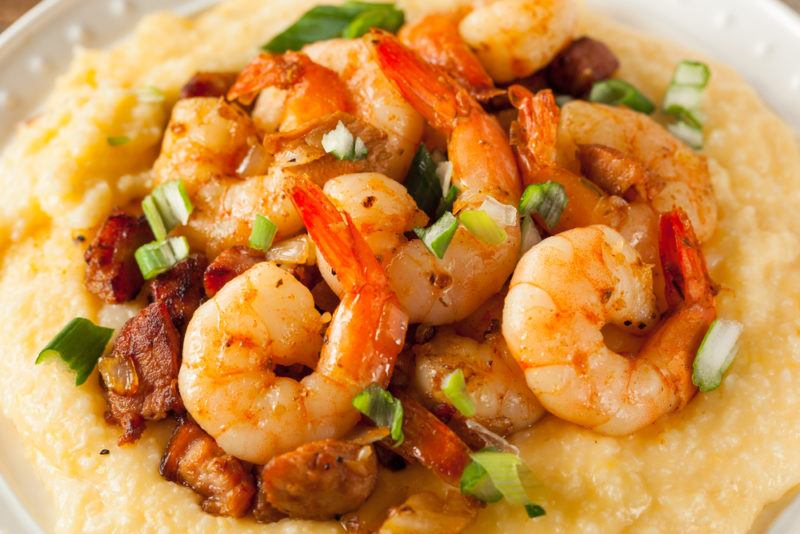 Shrimp and grits is a southern breakfast meal, one that is nutritious and tastes amazing. While there are carbs in this dish, there is also a decent amount of protein and fiber too.
If you don't have grits or aren't fond of them, you could swap these out for something else. Quinoa is an easy substitute. Not only will the flavor of quinoa complement the shrimp perfectly, but quinoa is also high in protein.
Breakfast Hash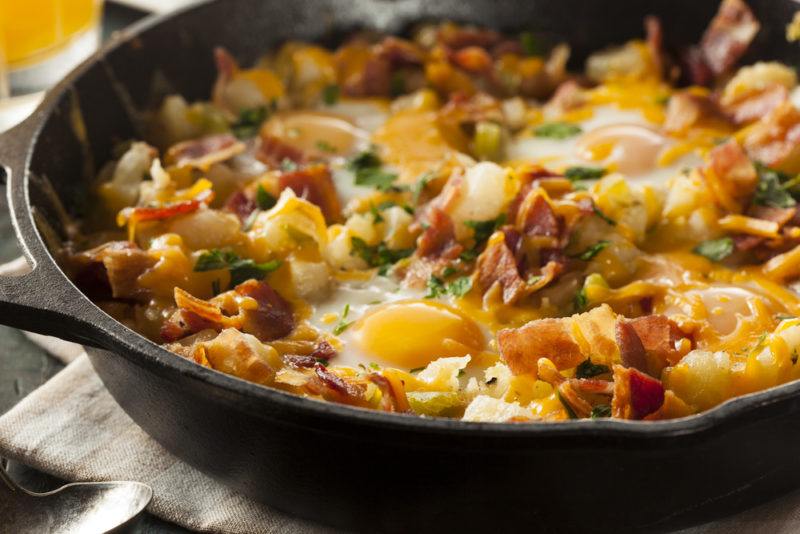 This meal is basically a scramble of eggs, potatoes, and vegetables. You don't need much oil to fry the ingredients, so you can easily end up with a healthy meal. Vegans could swap out the eggs for tofu and get a meal that is just as satisfying. Or, if you're not vegan, you could add some meat to the combo too.
The inclusion of potatoes in this meal might seem surprising, as they are fairly high in carbs. Still, you need some carbs every day and potatoes are much healthier than you might expect.
Keto Breakfasts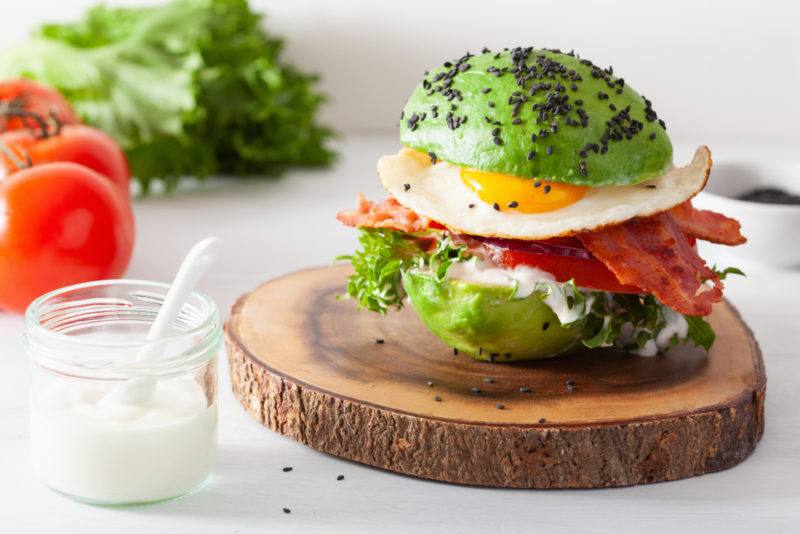 The keto diet follows a very low carb eating pattern, where most of your energy comes from healthy fats and protein. The approach is contradictory to traditional diet advice, especially as keto dieters are often eating high fat meals.
Still, the keto diet might be just as healthy as a regular diet, provided that you are eating whole foods and are keeping your calorie intake in a reasonable range. The process of ketosis, which occurs if your carb intake is low enough, may even promote weight loss.
Keto foods can be highly relevant to people with diabetes, as the low carb content ensures that energy is released slowly. But, if you're planning to follow a keto diet seriously, make sure you talk to your doctor first. You need to be sure that following the diet will be safe for you.
Chia Seed Pudding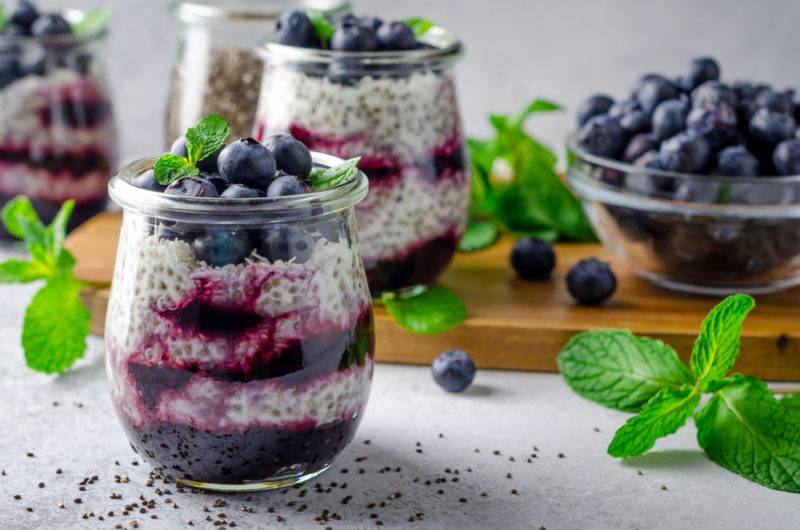 If you want something different, a chia seed pudding might be just the ticket. This modern breakfast has become incredibly popular, as it is rich in nutrients and is very flexible.
The idea is simple. You're mixing chia seeds, some liquid, and flavoring ingredients together and then letting the combination sit. This process works because chia seeds react unusually to liquid. They become gelatinous, which is what creates the distinct texture of a chia seed pudding.
The liquid you use here is completely up to you. Many people turn to plant-based milks, although dairy milk is completely viable as well. The same is true for flavoring ingredients. Common additions include nut butter, cacao powder, fruit (particularly berries), shredded coconut, and nuts.
As long as you're not too heavy handed with fruit, chia seed puddings really are perfect for diabetes. The seeds themselves are a powerful source of fiber. They offer other nutrients too and are pretty low in calories. It's hard to go wrong when you're starting off with an ingredient this good for you.