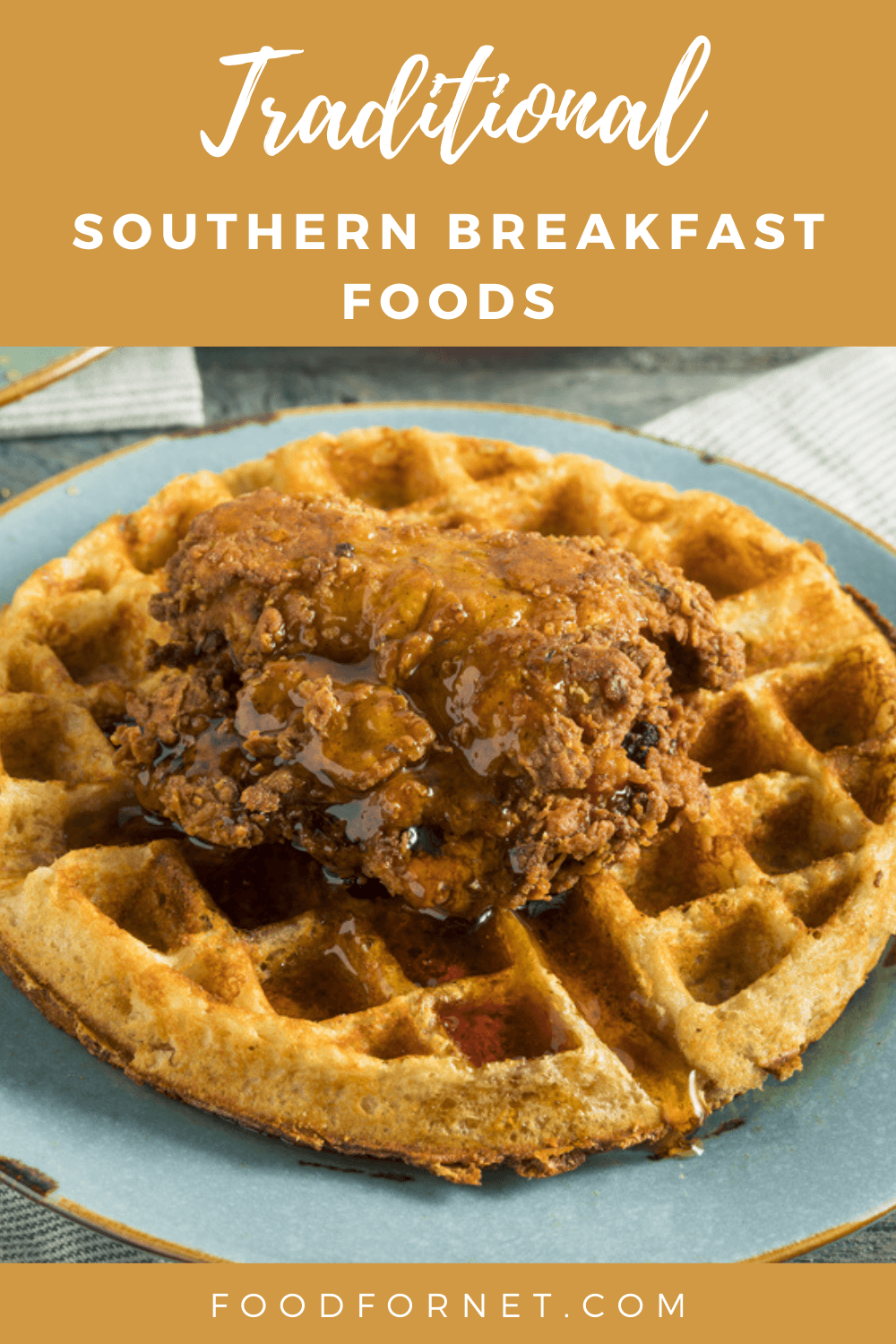 Sometimes the south can feel like a completely different world and the food is one reason why. Southern food is often comforting and hearty. Fried food is common, but not all southern food is fried. As part of our ongoing series on breakfasts, this post is taking a close look at traditional southern breakfast foods.
All of the foods featured on this list are classic breakfast choices in some parts of the south. Some of them have become popular throughout America and even into other countries, while others may only be found in fairly small geographical areas. Of course, it doesn't matter too much if you're not in the right place to buy the foods locally, there are countless recipes online that will help you to make these breakfast dishes at home.
Because we're focusing on southern foods, this list does miss out on some classic American breakfast foods.
Traditional Southern Breakfast Foods
Biscuits And Gravy
Jam On Biscuits Or Toast
Sweet Milk Waffles
Fried Chicken And Waffles
Kolaches
Country Fried Steak And Eggs
Fried Potatoes
Grits
Shrimp And Grits
Fried Green Tomatoes
Bananas Foster Pain Perdu
Fresh Biscuits
Cornbread And Buttermilk
Country Ham
Eggs
Biscuits And Gravy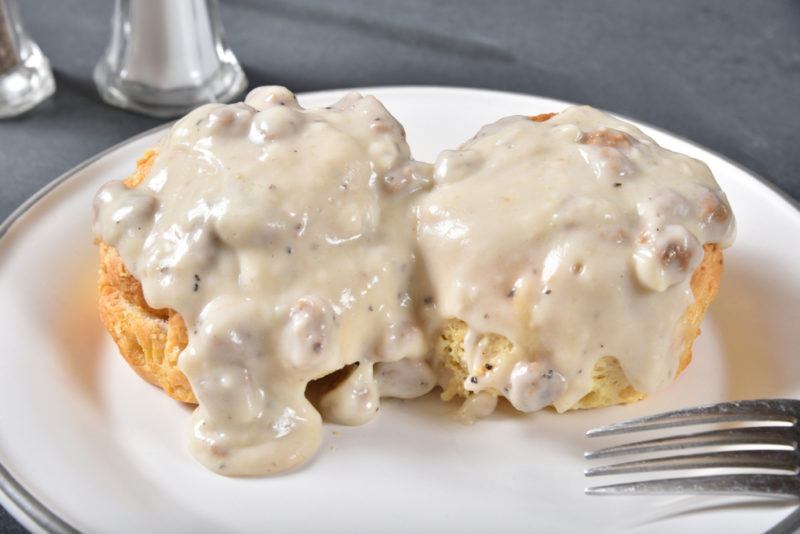 Biscuits and white gravy are an iconic American breakfast dish, one that you'll often see on a southern breakfast table. The biscuits here are a type of small baked roll with a crumbly interior (which is completely different than an English biscuit. Those are more akin to American cookies and crackers, and aren't often found on an English breakfast table).
The white gravy is often made using pork sausage crumbles and dairy-containing ingredients, like butter and heavy cream. This creates a rich and hearty savory breakfast that has become a classic.
Jam On Biscuits Or Toast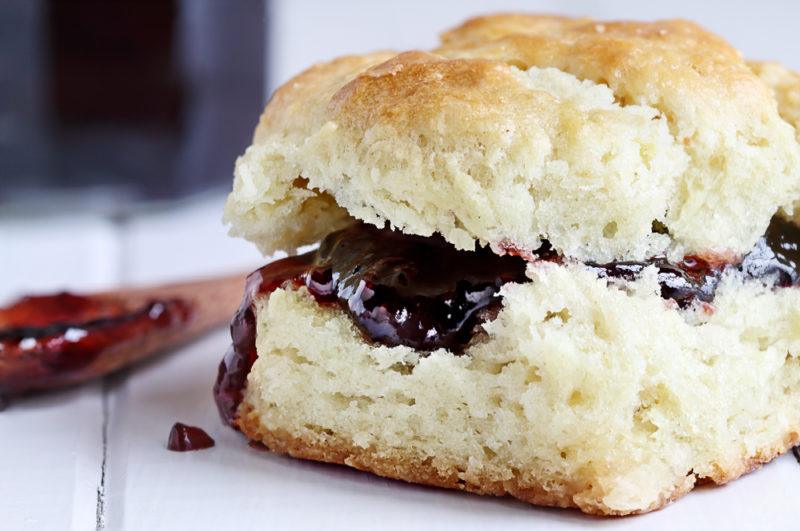 Jam, particularly homemade jam, is another popular topping for biscuits. And, of course, jam on toast is a breakfast that has stood the test of time. Jelly on toast is another popular choice.
For those confused, the terms jam and jelly refer to slightly different things in the United States. Jam tends to include whole pieces of fruit or blended fruit, while jelly is simply made from thickened juice. The way that jam uses fruit makes it the healthier option of the two, although both taste good, which is often the deciding factor.
Sweet Milk Waffles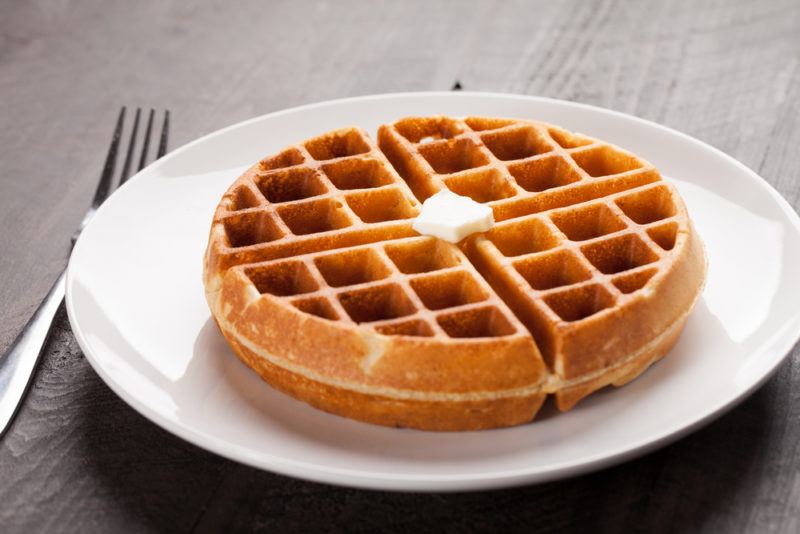 This breakfast is one that you might order at a diner or make at home. As the name suggests, these waffles have a sweet flavor to them and use sugar as part of the recipe.
They taste amazing on their own, but you can also use toppings to make the breakfast even more interesting. Some melted butter is a good place to begin or perhaps syrup.
Fried Chicken And Waffles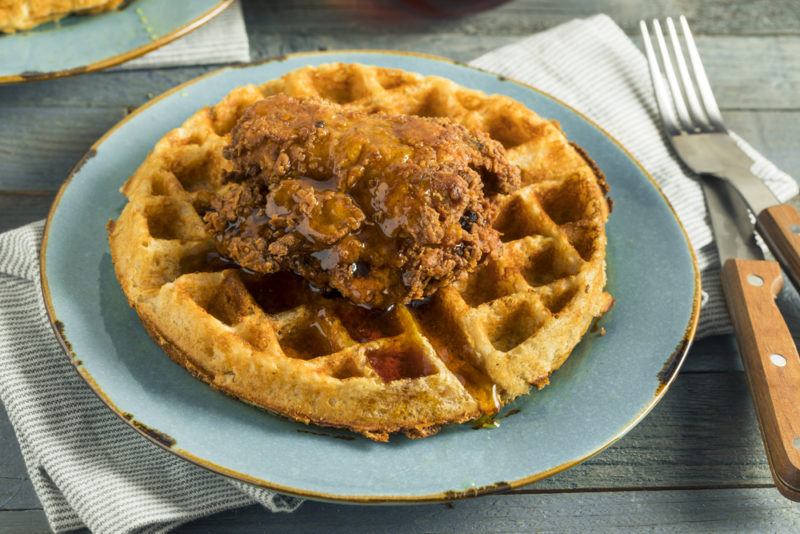 Speaking of waffles, this soul food breakfast is an unusual combination that you won't find in many other parts of the world. As the name suggests, you literally are eating fried chicken and waffles as part of the same meal. Often, and perhaps surprisingly, maple syrup might be used on top of the waffles and chicken.
The waffles can be made in various ways. Some recipes call for savory waffles, while others use sweet waffles instead, similar to the waffles we talked about previously.
Kolaches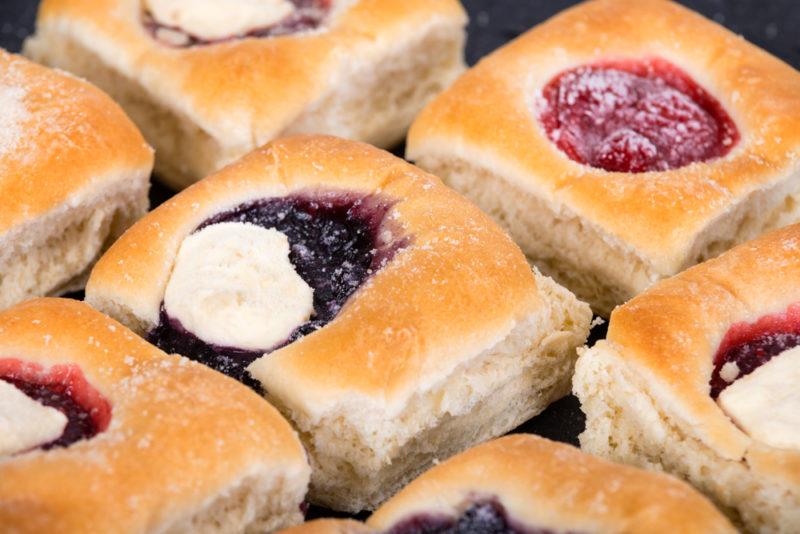 Kolaches are a treat that is often found in some parts of Texas, although you might get lucky and pick up kolaches in other parts of the country too. These bready bites use a type of brioche dough that is generally shaped into a circle and has a sweet filling.
Some versions keep the dough the same but use a savory filling rather than a sweet one. Sausage is a common choice in the savory version of this treat, creating something that looks a little similar to a British sausage roll, but with a completely different texture and flavor profile.
Country Fried Steak And Eggs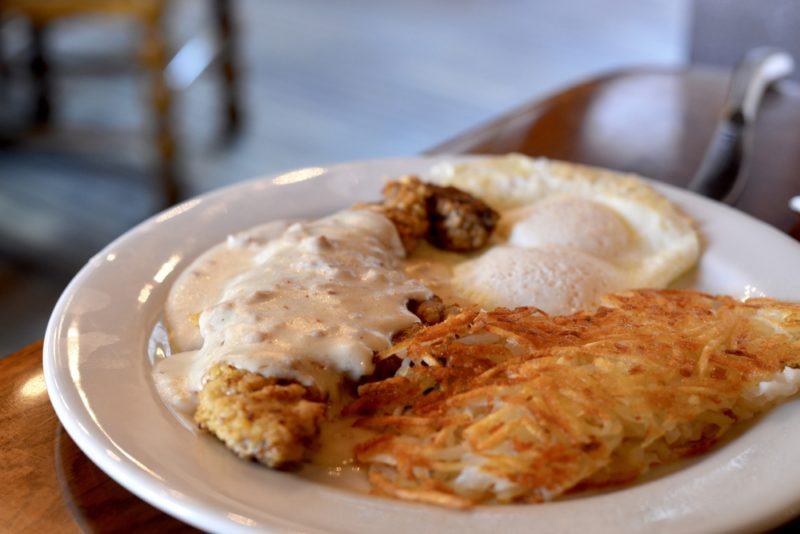 Southern breakfasts are often savory and filling, and country fried steak and eggs fits both of those categories well. Country fried steak is, as the name suggests, a type of steak. It is dusted with flour and then pan fried.
This type of steak can be found in many southern diners and can be served as part of a lunch or dinner. Even so, pairing a country fried steak and eggs still works well for breakfast. Imagine starting a long day off with something this hearty, you'd have the energy to get through whatever came your way.
Fried Potatoes

If you're looking for a savory option, it's hard to go past fried potatoes. These are often fried in butter or perhaps oil, and various herbs may be used as well. The dish can be easily customized to suit your preferences. You can eat the meal on its own or use fried potatoes as a side dish for other breakfast foods, like sausages.
You'll sometimes see fried potatoes called hash browns too, especially in the south. This is another case where words mean different things, as you can also find hash browns that are slivers of potatoes that are fried or ones that are in the form of a potato patty that you fry.
Grits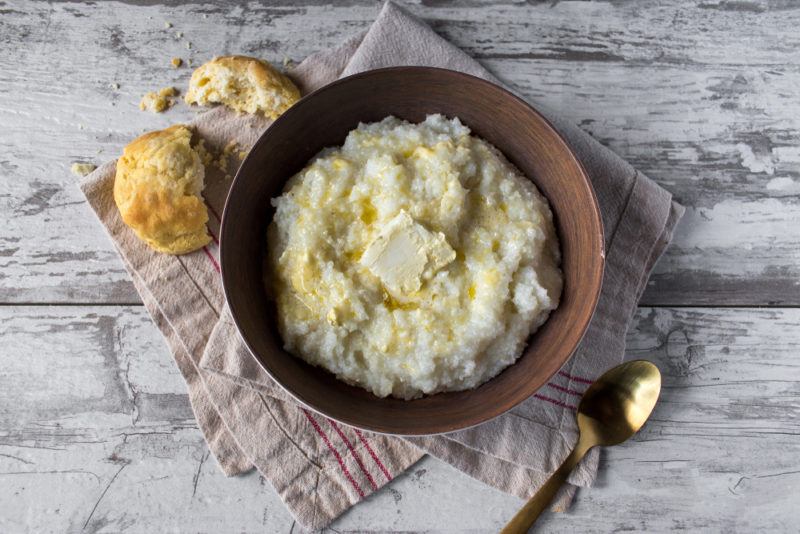 Grits are a popular American breakfast choice that isn't common elsewhere in the world. They're made from stone-ground cornmeal. This makes them similar to polenta, but there are distinct differences between grits and polenta.
When cooked slowly, grits create a creamy porridge-like dish. Southern style grits are often finished with creamy ingredients, like butter and heavy cream, to make the dish richer still.
Some people stick to savory toppings for the grits, while others might use sweet options instead. You can even add crumbled sausage or fried egg on top of your grits if you want a satisfying breakfast.
Shrimp And Grits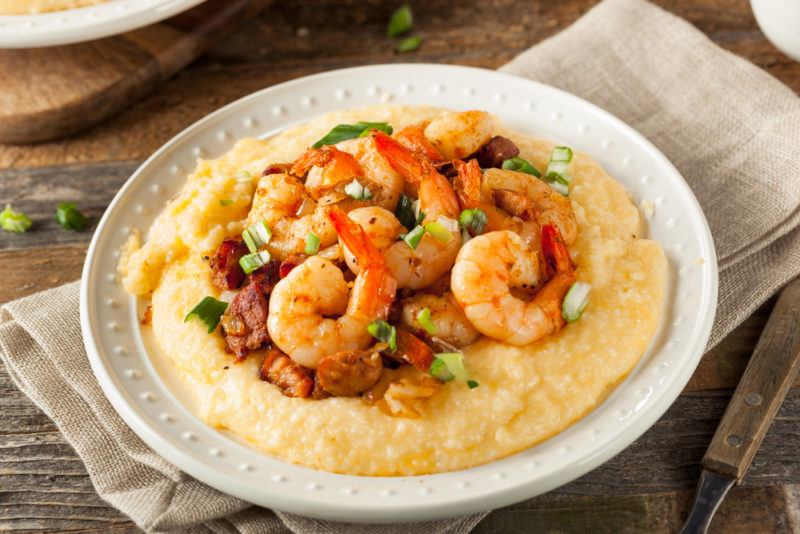 A notable use of grits is shrimp and grits, which is a classic southern dish. You'll often find it served at breakfast cafes and the meal is something you can easily make at home.
One key aspect is that the grits should be creamy and cheesy, while the shrimp should be fresh. Seasonings tend to be used as well to make the whole meal pop.
Cheese Grits Casserole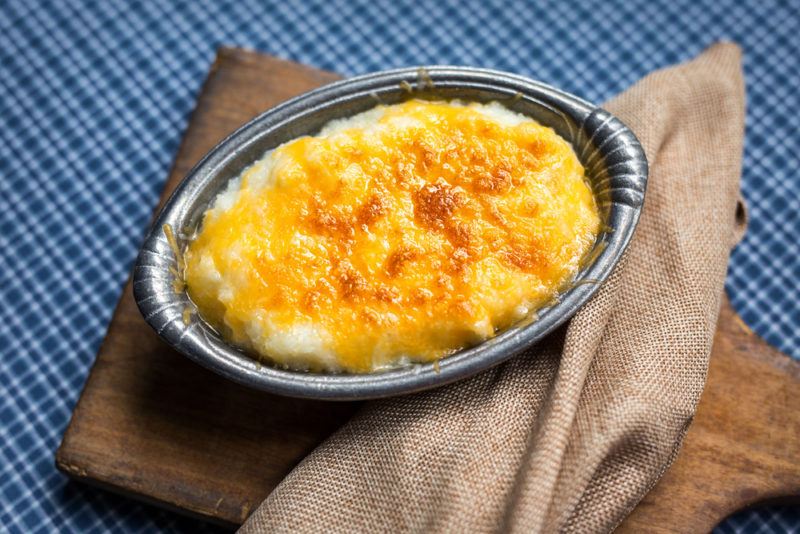 Cooking and serving grits like porridge isn't the only way to eat them. Some people choose to make a type of casserole instead, which can then be served alongside other breakfast foods (like bacon!).
A grits casserole will often be cheesy. Other flavors may be included too, as a way to broaden the dish out, but this isn't always the case. After all, sometimes simple really is best.
Fried Green Tomatoes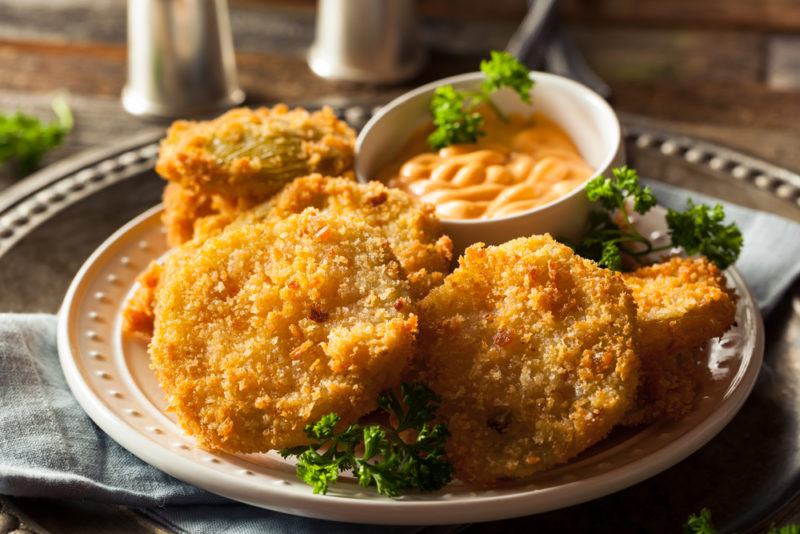 Fried green tomatoes aren't always used for breakfast. They can be fried up at any time of the day and may be served alongside other foods to make a meal.
The idea is that you're coating the green tomatoes in batter and then frying them. Recipes for the batter differ, but flour, cornmeal, and breadcrumbs are all possible inclusions.
One popular approach is to serve the fried green tomato with an egg benedict. This gives you all the nutrients from an eggs benedict, plus the extra flavor from the fried green tomato.
Red tomatoes can be fried in the same manner. If you do so, choose your tomatoes carefully. Tomatoes that are too ripe will end up mushy once fried. And, of course, there are flavor differences between using green tomatoes and using red ones.
Bananas Foster Pain Perdu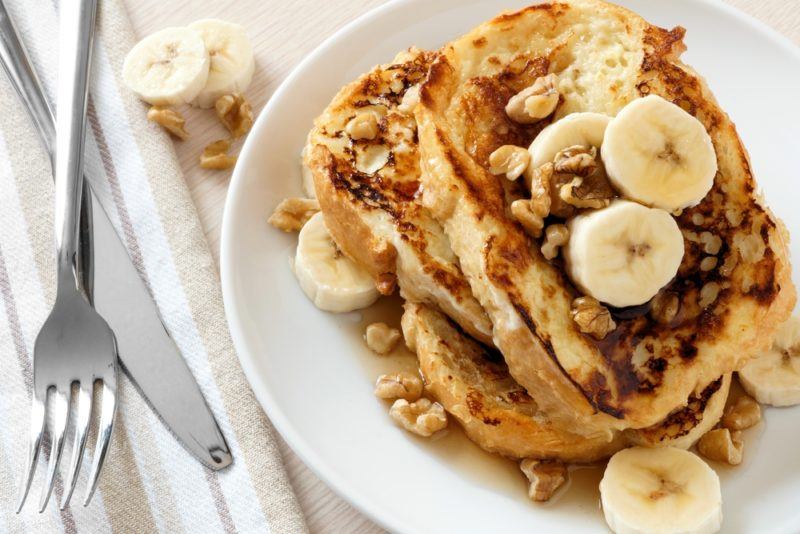 This breakfast is one that you will easily find in New Orleans, but might have more difficulty finding in other parts of the south. The breakfast is a variation on French toast and the name pain perdu refers to bread that would have otherwise been lost or, more accurately, thrown away.
The bananas foster part of the breakfast is the bananas, along with some sweet ingredients like brown sugar and rum. On a side note, some versions of this breakfast use a little rum too, just to keep things interesting.
Fresh Biscuits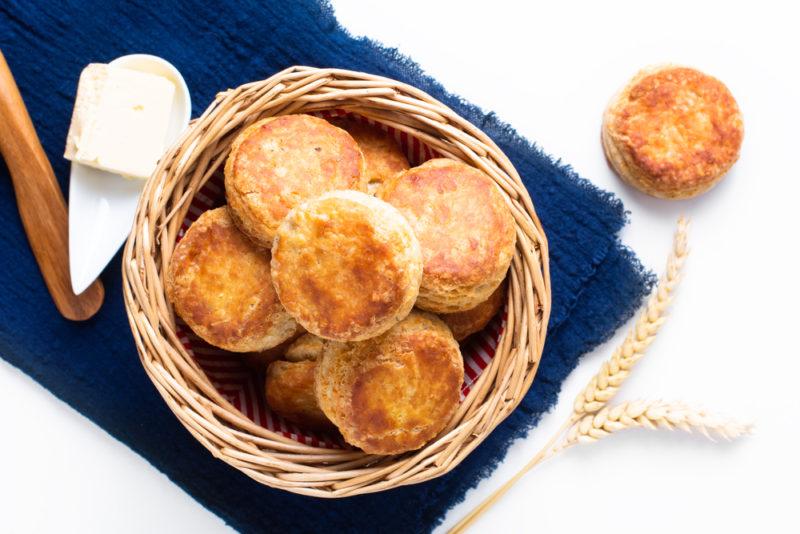 Biscuits and gravy isn't the only time that you'll see biscuits on a southern breakfast table. Biscuits can be eaten with many other breakfast foods or even just warm with a little butter.
Some people have even worked out tricks so that they can have fresh biscuits on the day without too much work. Doing so involves some prep the night before and means that you're storing the dough in the fridge overnight. Even then, the end result would be well worth the effort.
Cornbread And Buttermilk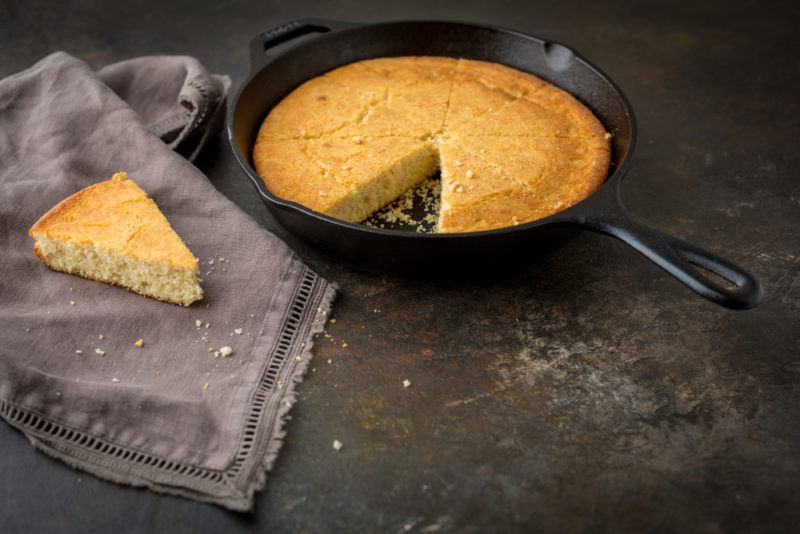 Cornbread is generally reserved for the end of the day rather than the beginning, with the curious exception of cornbread and buttermilk. This dish is exactly what it sounds like – crumbled cornbread in a bowl with buttermilk dumped over it.
Some people add sugar on top, which helps to balance the sourness of the buttermilk. Even then, this is a breakfast that you either love or hate. The flavor and texture combination is certainly unusual. The meal isn't especially filling either, which could be a problem in some situations.
Country Ham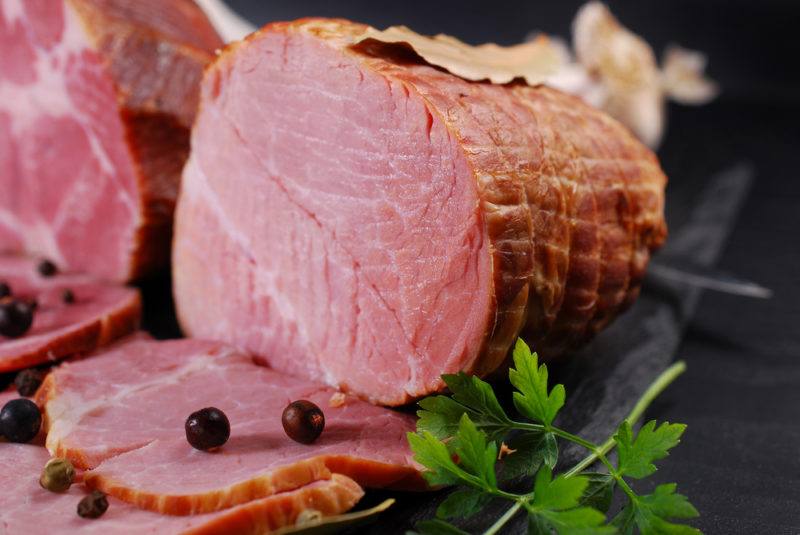 Country ham isn't a breakfast in its own right, but you'll often see it included in southern breakfasts. Thick slices of the ham are often preferred, which gives the intense flavors a chance to shine.
Eggs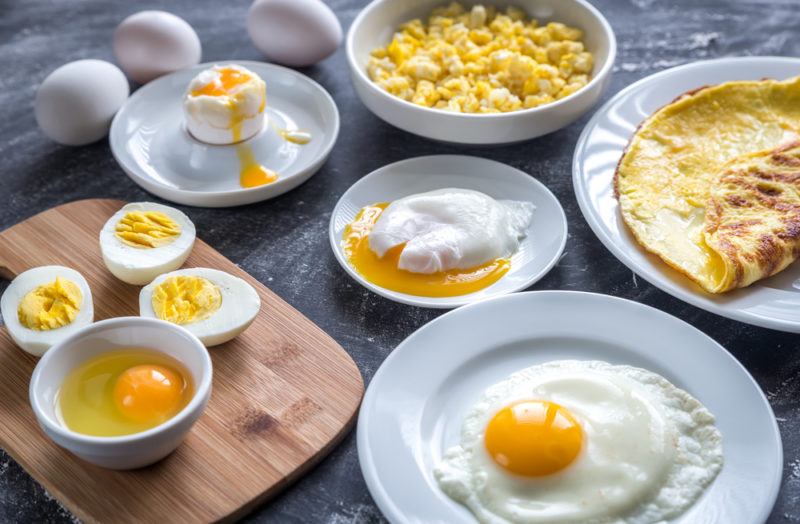 Just like with ham, eggs make their way into the breakfasts of many different cultures, including southern breakfasts. Scrambled eggs are an especially common style in the south, partly because they combine so well with other breakfast additions.