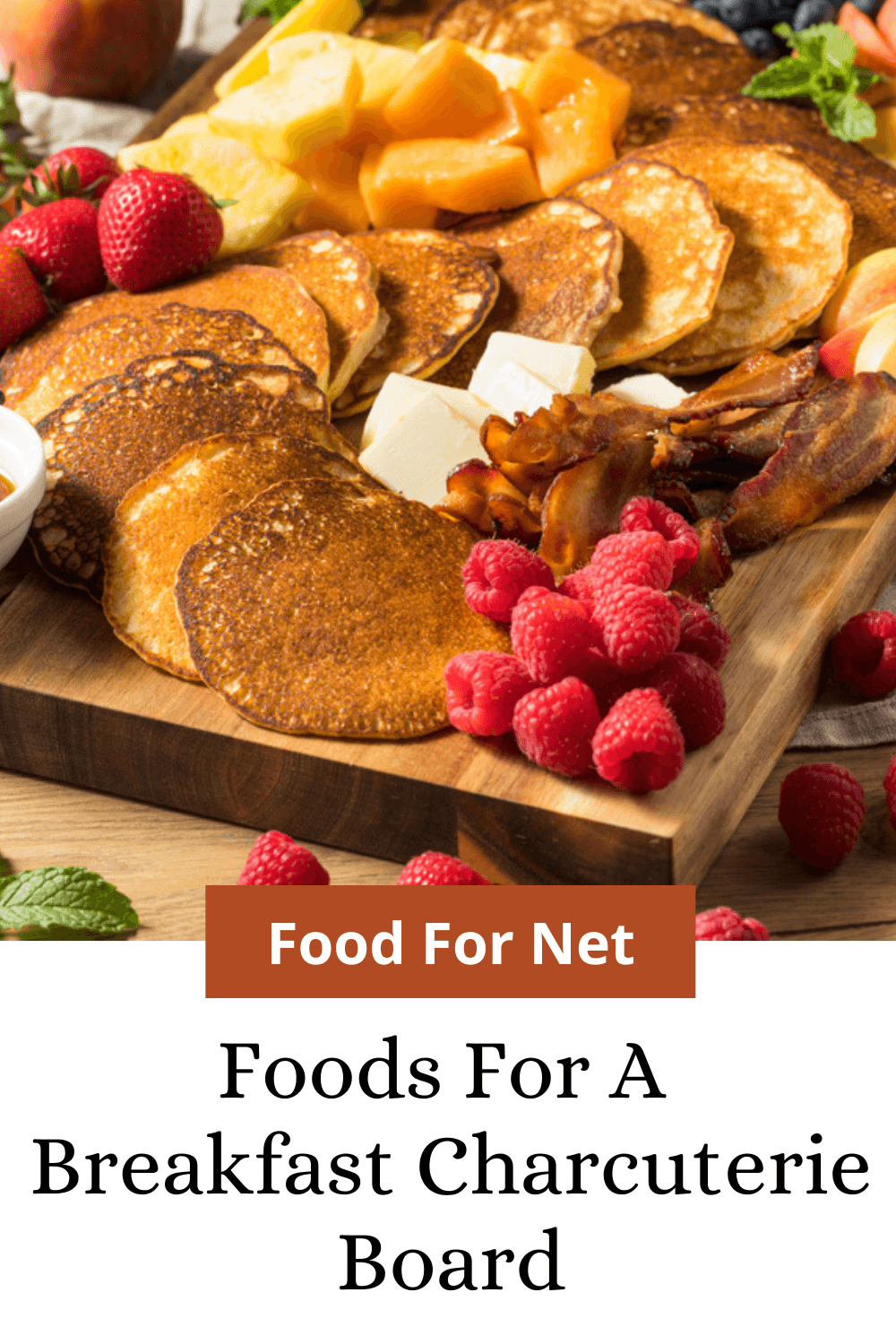 Charcuterie boards are incredibly popular. They seem to feature at every picnic and at most parties, partly because they're so versatile. The boards can be pretty exciting too, especially if you include some craft ingredients from charcuterie of the month clubs. A breakfast charcuterie board takes the same idea, for a different time of day.
Most charcuterie boards focus on lunch foods. They include ingredients like cold cut meat, cheeses, fresh fruit, spreads, and more. So, how do you make a board for a different meal? In particular, what should you put on a breakfast charcuterie board?
As you can probably guess, some of the components will be the same as a regular charcuterie board. But, others are going to need to be changed to fit your breakfast theme.
Perhaps the most important thing to remember is that the food on your board won't stay hot for long. This means you'll need to focus on foods that still taste good when they start to cool.
Foods For A Breakfast Charcuterie Board
Bacon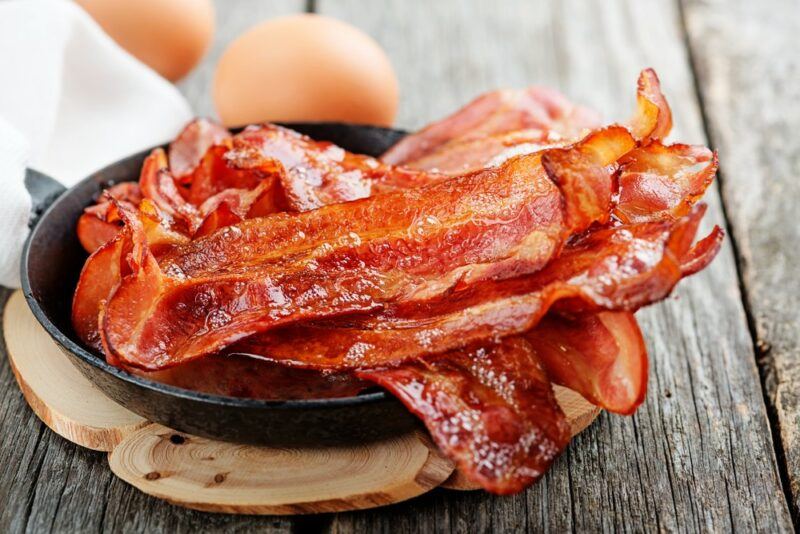 It would be almost sacrilege to write a breakfast board list without bacon, right? Even the smell of bacon can be enough to drive people wild. Besides, bacon is so popular that you're likely to disappoint guests if you leave it out.
Bacon is also pretty flexible. It complements plenty of other ingredients (including sweet and savory ones) and is just as delicious cold as it is hot.
You could experiment with candied bacon or even chocolate covered bacon. Honestly though, even regular bacon is going to be a hit.
And, if you're not a fan of bacon, you could run with turkey bacon or even vegan bacon. These are very delicious on a breakfast board as well.
Sausages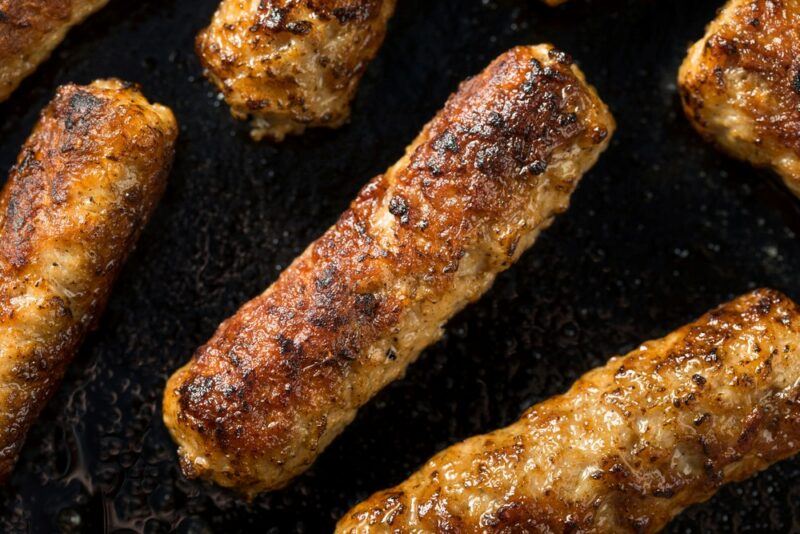 We can't forget about the sausages either, right? They're a breakfast classic just like bacon and are just as tasty.
Sausages also pack a decent protein punch. This is perfect, as you want guests to have a satisfying breakfast. It's no good if they're hungry an hour or two later.
Sausages are wonderful hot or warm, but they're not that good cold, so it's best to make them one of the last additions to your board.
You could even use a hot plate in the middle of your board to keep your food warm for longer.
Small Pancakes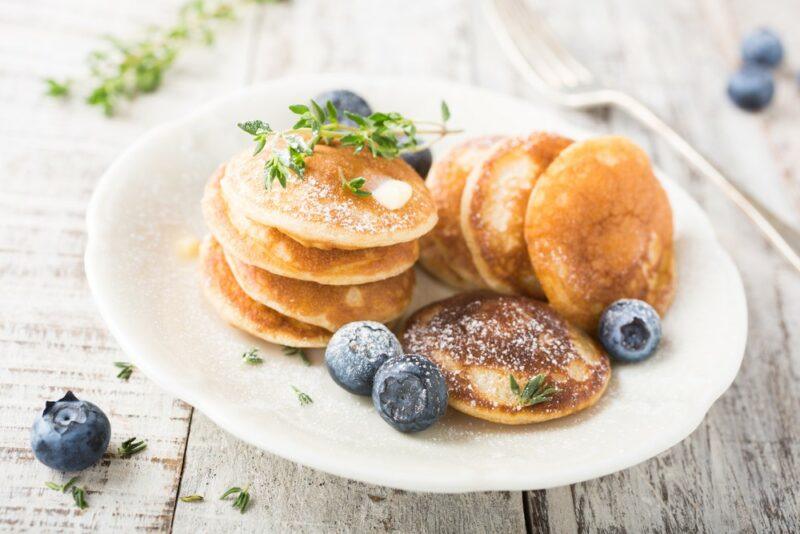 Pancakes are almost essential on a breakfast board, as they provide a source of carbs and contrast the heaviness of many other ingredients. Their mild flavor is useful too, as this allows them to pair well with most other ingredients.
You can use them to create shapes on your board as well. This is a great way to keep the whole plate looking interesting and break thing up. These little pancakes would be amazing for picky kids too.
Waffles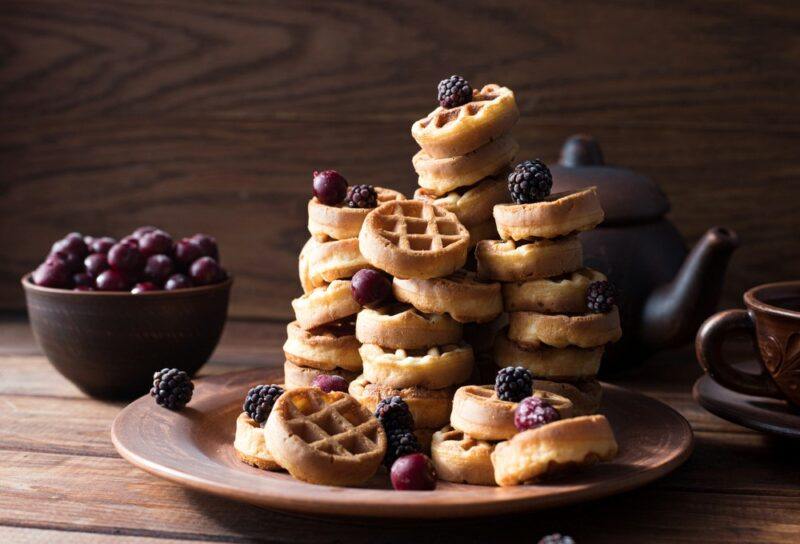 If you're not making pancakes, then you'll need some other source of carbs for your board. Waffles are an excellent choice here.
Like pancakes, waffles are pretty mild and can be the vehicle for many delicious ingredients. You can even include some spreads and a jug of maple syrup to complement the waffles.
Smaller waffles work the best, as you'll have plenty of other ingredients on your board. Honestly though, whatever works. It's your creation.
Cultural Foods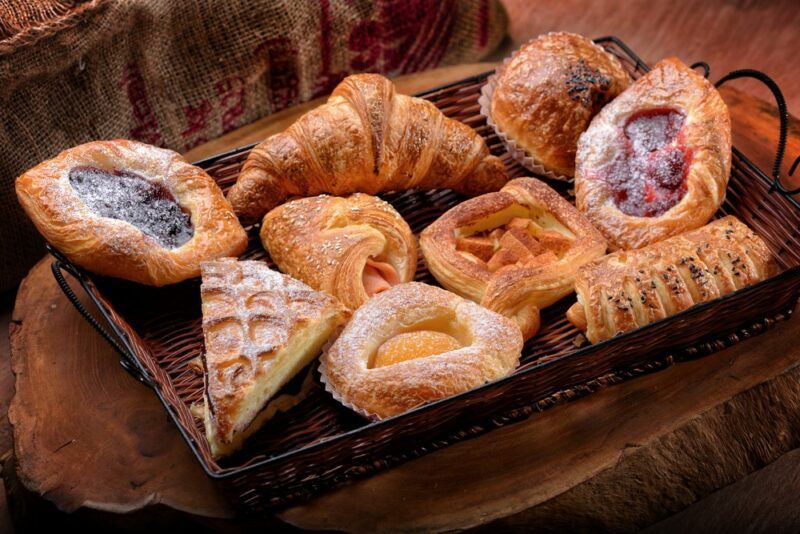 You can also embed a bit of culture in your board. Think about what the favorites are in your country or in a country you admire. Some of these could easily make your board much more exciting.
It's always fascinating to see just how distinct the breakfast foods from different countries are. Breakfasts from the Middle East, China, and Italy, for example, barely look like they're the same meal.
Small Bagels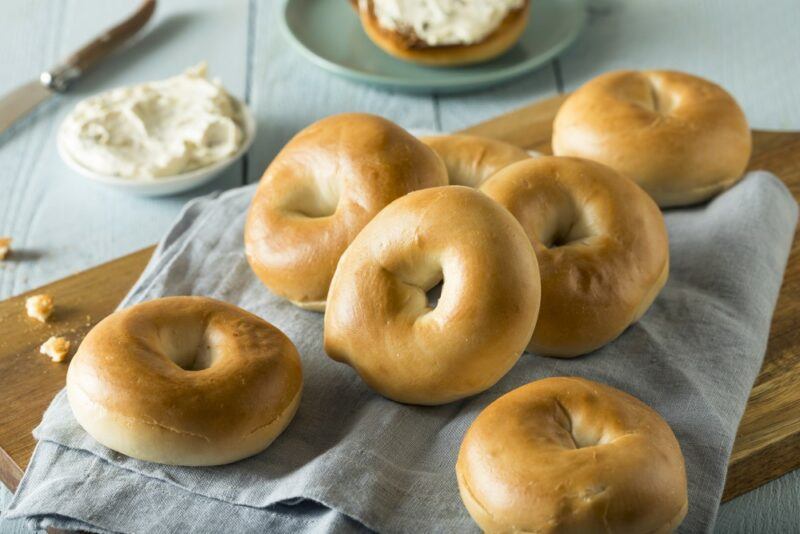 Bagels also work well as a source of carbs. However, you'll probably want small bagels, so that your board doesn't get too cluttered.
Bagels are slightly tricky, as they pair with different ingredients than pancakes and waffles. You'll need to have some complementary ingredients on your board, like cream cheese, jam, and perhaps even some waffles.
That said, bagels are very popular and can easily be purchased from the store. This is much easier than having to prepare waffles or pancakes the morning of your event.
Hard Boiled Eggs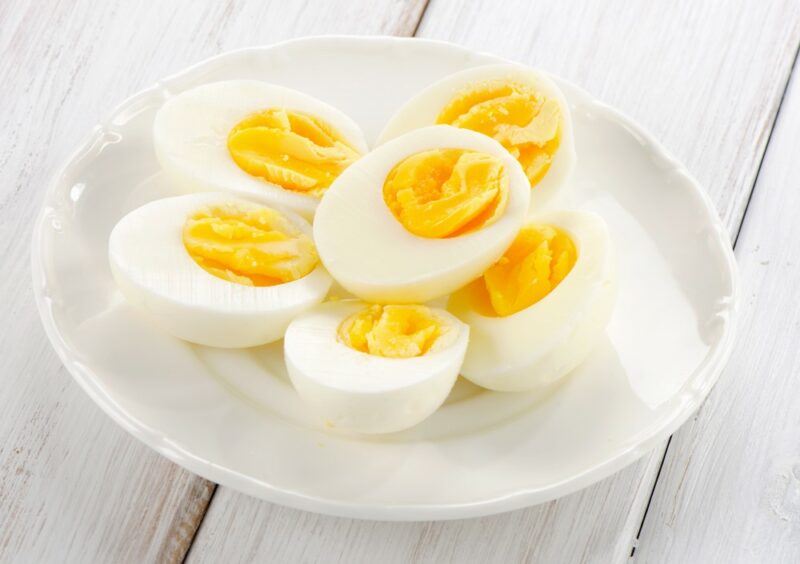 If you're going to include eggs on your board, hard boiled is the way to go. Other approaches, like scrambled eggs or poached eggs, only taste good when they're hot. That's a problem, as it's hard to keep them hot for long enough.
In contrast, hard boiled eggs taste good at any temperature.
If you cut them in half, then you also get spots of bright yellow on your board. These help to keep your board looking interesting.
Other types of eggs are possible, but you'll need to serve them piping hot and make sure they're eaten quickly. While doing so is possible, the whole process is often more effort than it's worth.
Cheese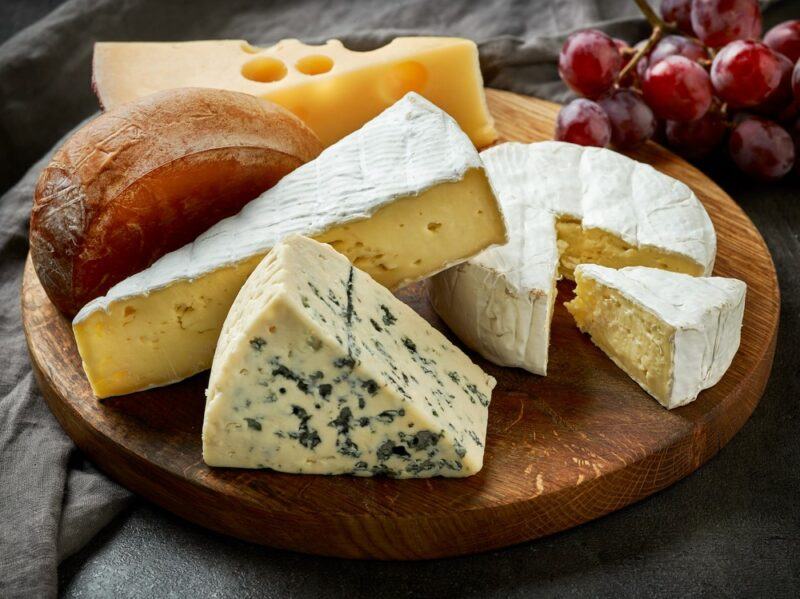 Cheese isn't a classic breakfast food like some of the other options, but it still works really well on a breakfast board. The combination of cheese and fresh fruit is simply exceptional.
The creaminess of cheese is also an excellent contrast to the saltiness of the meat.
You can use any type of cheese you like. Smoked cheddar is always a hit. So too are soft cheeses, like brie and camembert.
A small container of cream cheese would go down a treat too. This is ideal if you're serving any type of bread or bagels, but works well even if you're not.
Smoked Salmon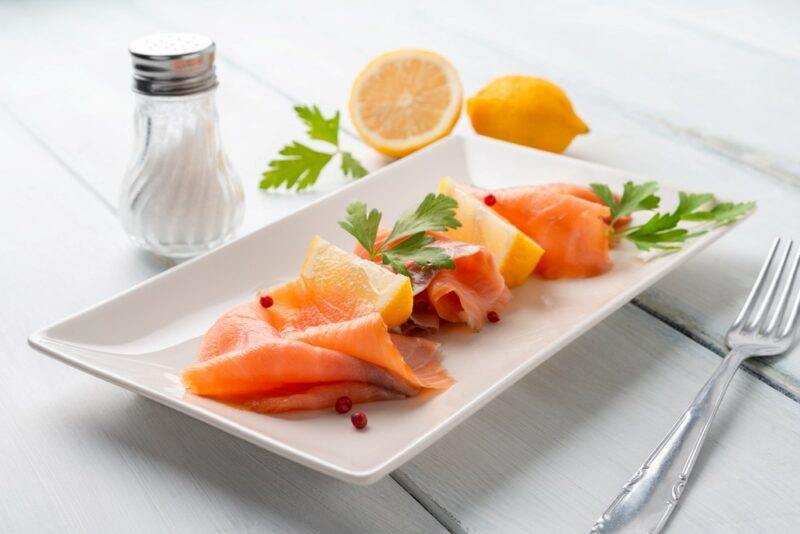 This entry might be unexpected as salmon isn't normally a breakfast food. Honestly though, if you're going to serve bagels on your board, then smoked salmon is all but essential.
Besides, the flavor of smoked salmon is an excellent contrast to the heavier meats on your board, including sausages and bacon.
Fresh Fruit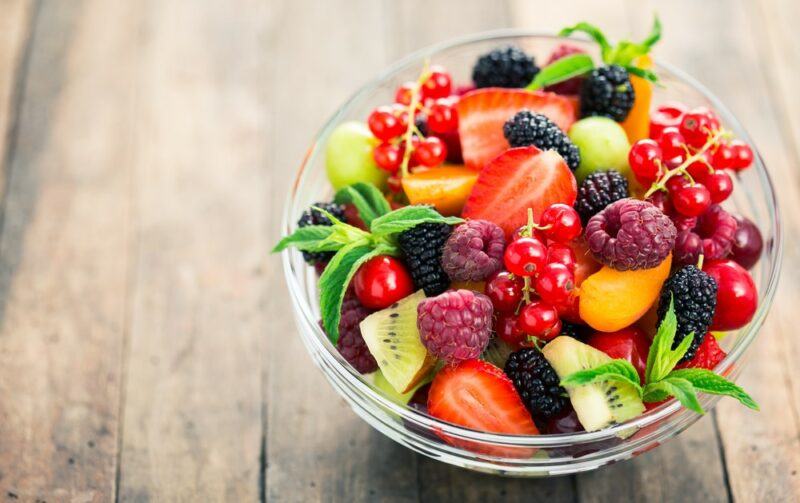 Breakfast boards tend often rely heavily on fatty and rich foods. You'll need some tartness to balance these foods out. What could be better than fresh fruit?
Berries are a particularly good addition. Not only do they taste amazing, but their bright colors help to make the whole board pop.
Other options include orange wedges, fresh grapes, and sliced bananas. All of these are delicious and will complement your other ingredients well.
Fruit is also useful because it helps to fill out your board. You can easily fit clusters of fruit in any empty space. This is perfect if you're serving the board at an event and want it to look amazing.
Sweet Pastries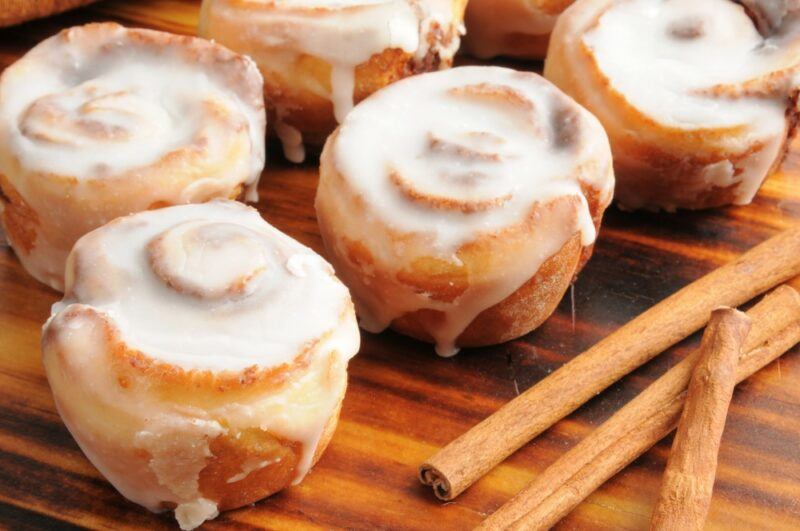 Some type of sweet pastry is an excellent contrast to the other flavors and textures on your breakfast board. Mini cinnamon rolls are an easy choice here. You could buy these from a local store or even make them yourself.
Anything else sweet will work well too, like donut holes or a sweet muffin. You could even try cutting up a fruit Danish or a pain au chocolat to make the board more interesting still.
Nut Butter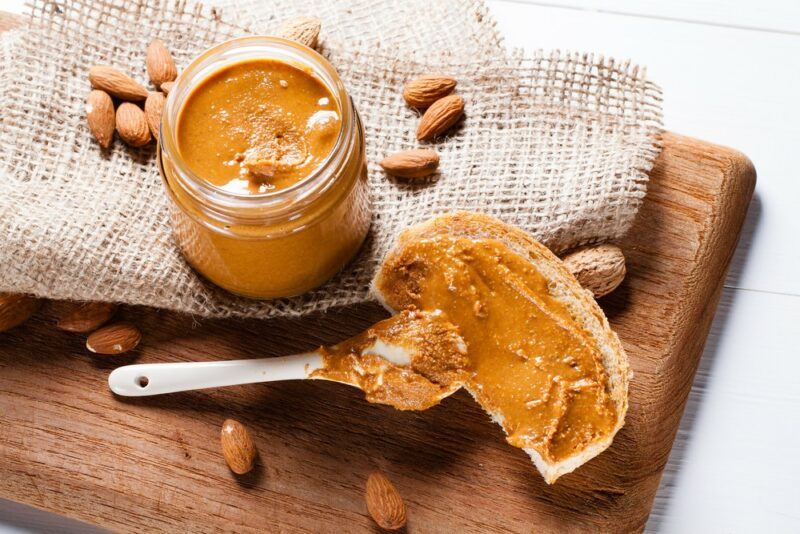 If you're including any type of bread or pastry on your board, you're going to want some type of spread as well. Peanut butter is an easy choice, as it's inexpensive, delicious, and packed with protein.
There are plenty of other nut and seed butters too, like almond butter, cashew butter, and pumpkin seed butter. Each has its own benefits and distinct flavor.
Fruit Jam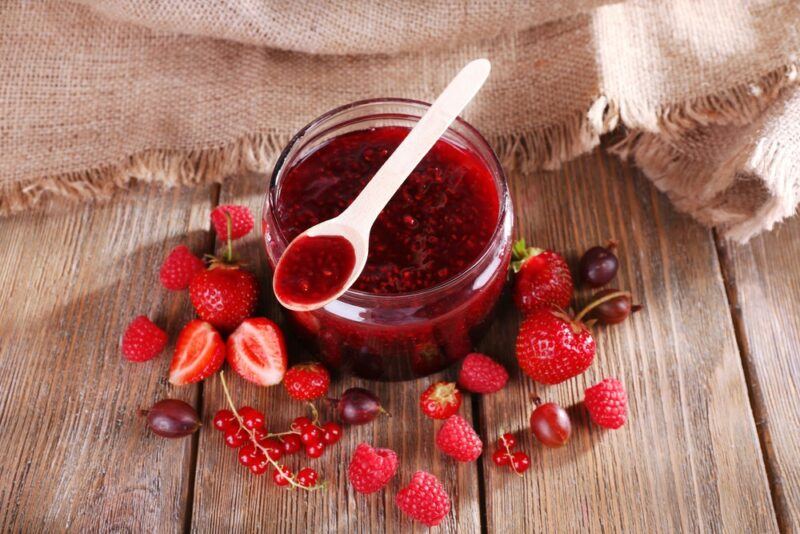 Jam is another popular spread. It works well on bread, bagels, and pancakes, making it a winner all around.
You might even have multiple types of jam on the same board. Be careful here though, as it's easy to overdo it and end up with more food than anyone can eat.
Other Spreads And Sauces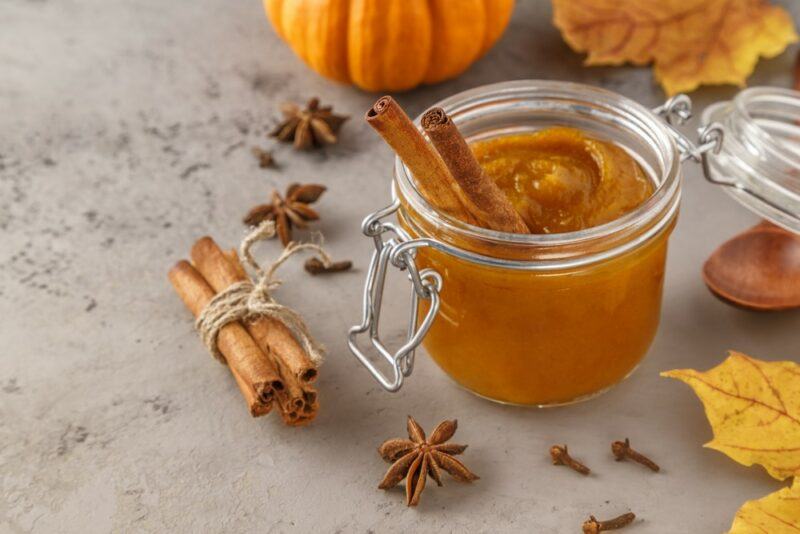 Don't forget about other popular breakfast spreads and sauces. Nutella is a popular addition if you're serving kids (although you could easily leave it off for an adult-focused board).
Honey is another excellent addition. Don't forget about regular butter either, as this is a classic for a reason.
You can experiment with unusual versions of some of these spreads too. For example, pumpkin spice butter is an excellent addition during the fall. There's spiced honey too, which is completely different than you might expect.
You may also want additions like maple syrup, particularly if you have pancakes on the board.
The best way to approach spreads and sauces is to think about the other parts of your board. What foods are you adding? What spreads and sauces are needed? For example, if your board doesn't include bagels, you probably won't need cream cheese.
Yogurt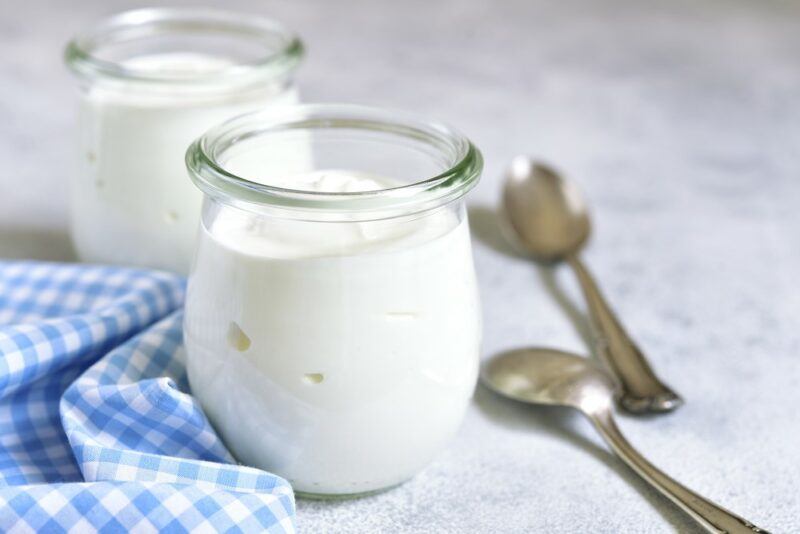 You can also add a small container of yogurt onto a charcuterie board. This complements the other ingredients well, particularly the fruit.
The biggest problem is that yogurt gets a bit messy. You might need some spoons to serve the yogurt well, which adds a bit more complexity to the entire board. Whether yogurt is a good choice or not will depend on your other ingredients and the amount of effort you want to go to.
Granola Clusters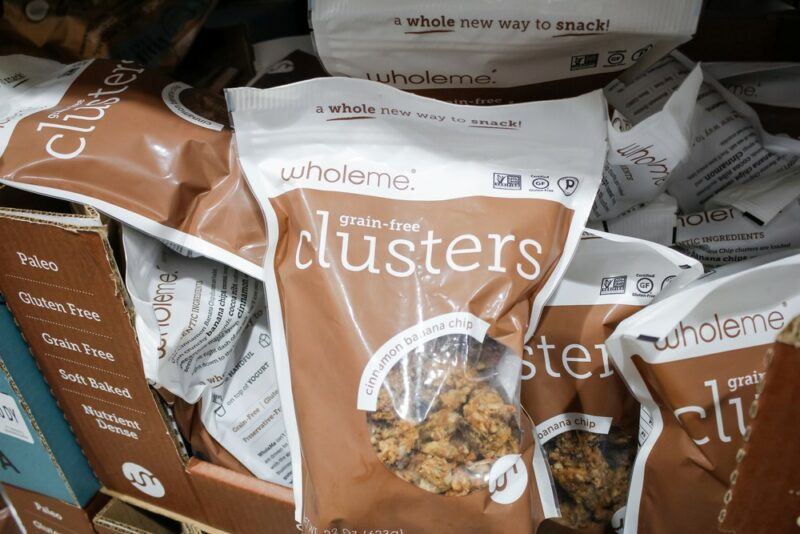 You can include a bowl of regular granola on a breakfast board, but that doesn't work so well. It's best to focus on granola clusters instead. This way guests still get the flavor of granola, in a snack that they can pick up with their hands.
Some companies produce granola clusters, so you easily buy these to save yourself time. That said, granola clusters aren't difficult to make at home. They're also much tastier than anything you buy in the store.
Plus, making granola yourself gives you control over the ingredients. You can choose how sweet to make the cereal and whether you want to include protein rich ingredients, like seeds.
Cold Cut Meat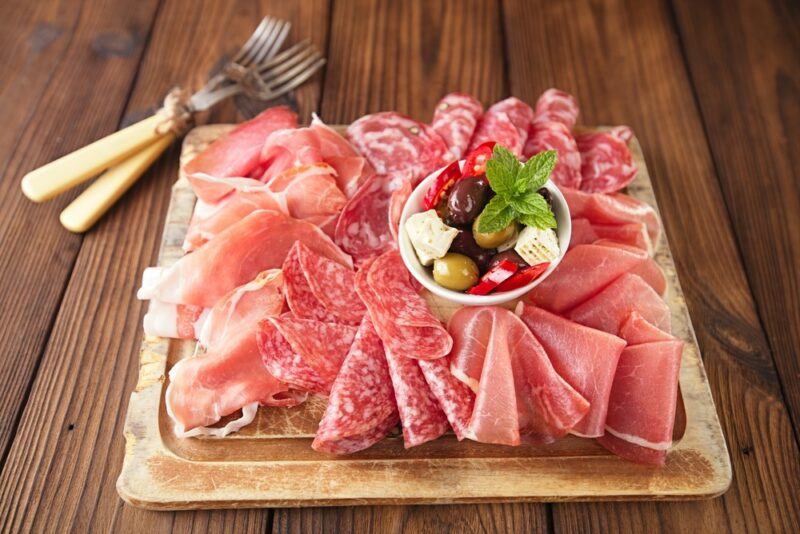 Cold cut meats, like salami or lunch meat, aren't typical breakfast food, but they're still excellent on a breakfast board. After all, they naturally complement the other ingredients we've been talking about, particularly the cheese.
Besides, your breakfast board doesn't need to entirely focus on breakfast foods. You could easily include some more traditional charcuterie ingredients in the mix. Why not?
Tater Tots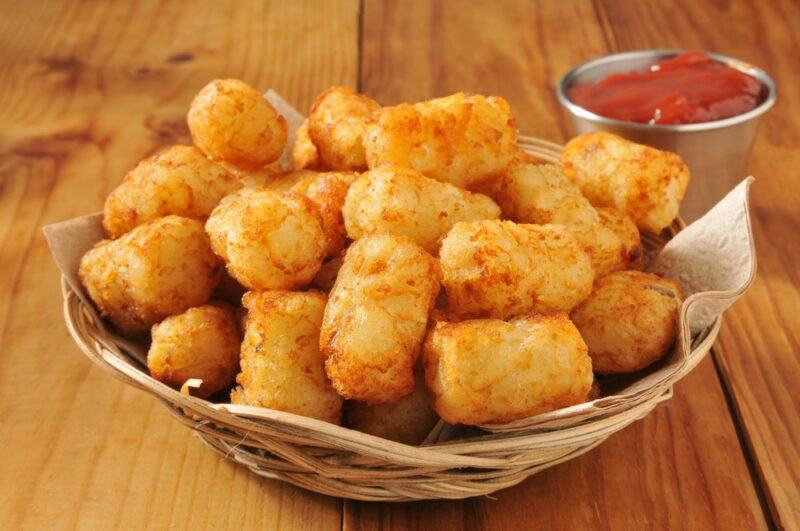 If you're going to serve your breakfast board piping hot, you can include ingredients like tater tots. These are always popular and add a delightful contrast to your board.
You might focus on other hot ingredients at the same time, like scrambled eggs, hot sausage, and even biscuits and gravy.
The trick is to time everything well. Most items won't stay hot for long, so you need people to start eating almost as soon as the cooking is done. Needless to say, focusing on hot food will work well for some situations and not for others.
Croissants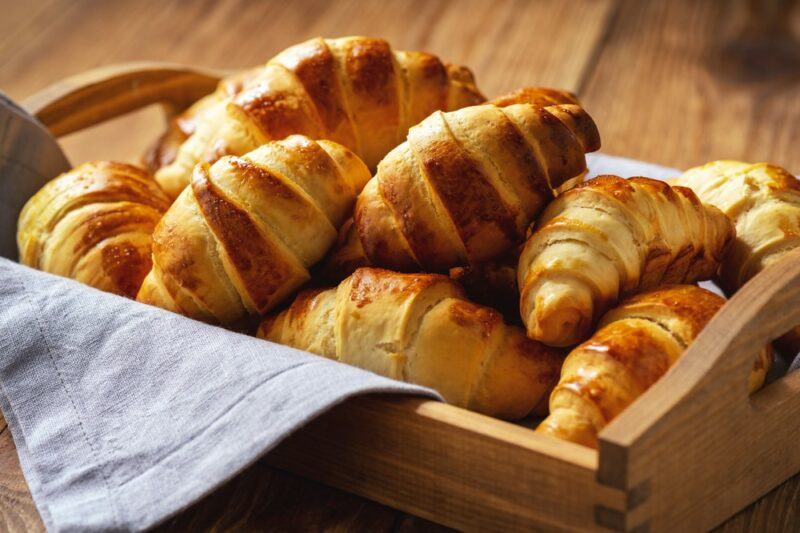 How about croissants for a breakfast board? Mini ones would be ideal, but you could easily use full sized ones as well.
Croissants may even be better than pancakes, waffles, and similar ingredients, simply because they're such a treat. They also complement many of the other items on your board, particularly meat and cheese.
Muffins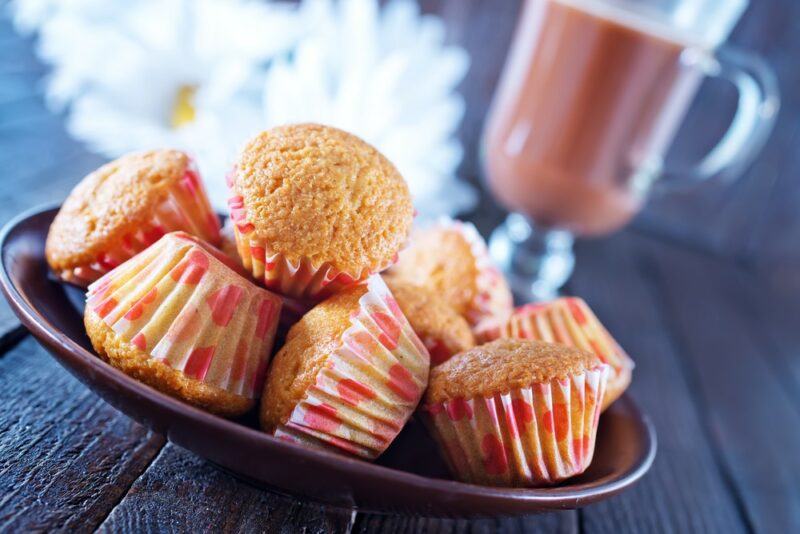 Small fruit muffins give your breakfast board some much needed sweetness. You're also spoilt for choice here, as there are so many types of muffins and endless ways to tweak the recipes.
Alternatively, you could try savory muffins. These often rely on cheese and ham, so they perfectly complement your breakfast flavors.
Tomatoes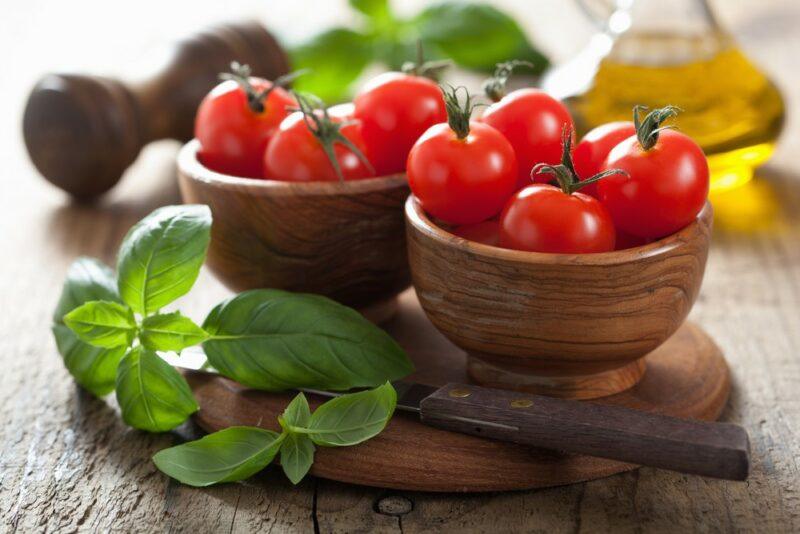 Tomatoes add a vibrant color to your board and a fresh acidity that you're going to need. You have plenty of options with them too.
Sliced fresh tomatoes is one approach. These would be delicious when paired with croissants or bagels. You could also try cherry tomatoes, which can be eaten as-is.
Or, if you're focusing on a hot food board, you might try grilled tomatoes (perhaps even fried green tomatoes).
Avocados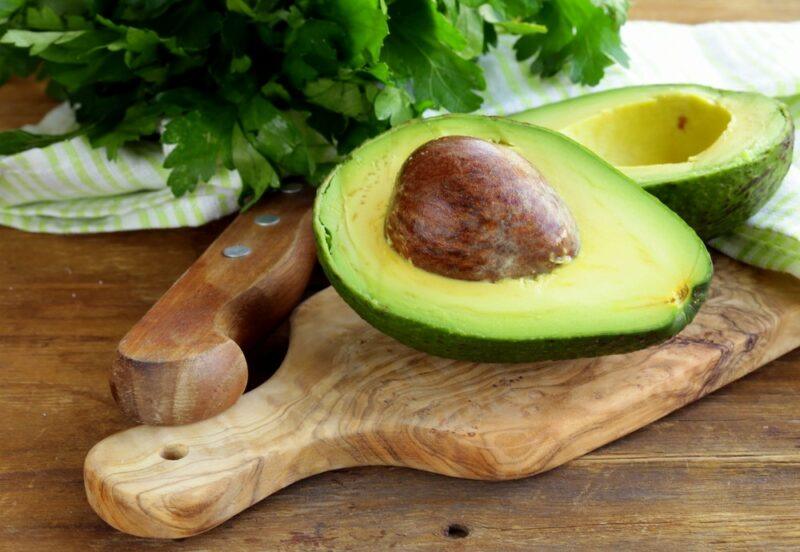 Avocados are delicious, creamy, and decadent. They're also perfect for breakfast, especially as they complement so many other breakfast ingredients.
Try adding a sliced avocado or two to your breakfast board and watch how fast it disappears.
Toast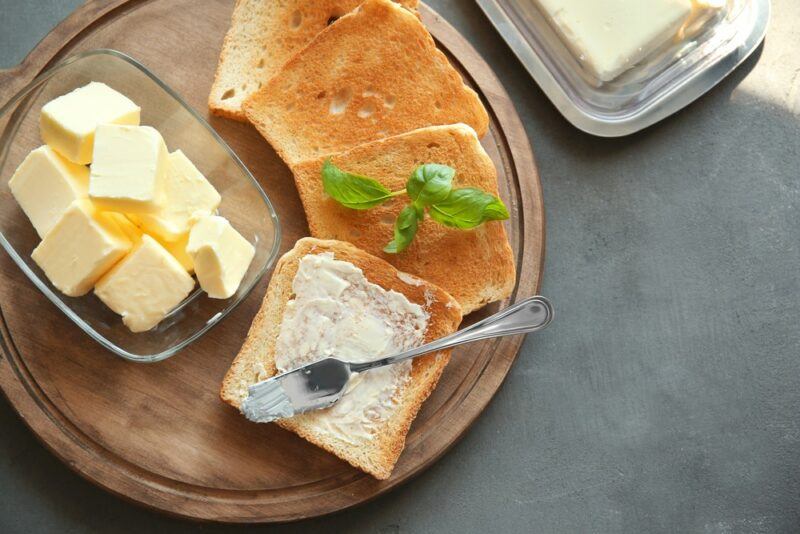 We've talked about a few carb rich options, but here's one more to round off the list – toast. This could involve serving regular toast (perhaps cut up into quarters) or perhaps sourcing some artisan bread instead.
Ingredients like butter, jam, avocado, bacon, cheese, and even smoked salmon are all delicious on toast.
If you want to get more creative, why not include French toast on your board? It's a delicious treat and isn't too difficult to make. You could even turn to frozen French toast if you're not keen on preparing it yourself.
How To Make An Amazing Board
Food is only part of the equation for a charcuterie board. You also need to think about how you're going to arrange things.
Variety is key here. Too many similar-looking things too close together gives you a boring board or one that simply looks like a mess.
Having blocks of different colors helps to add variety. For example, you might have multiple small piles of sausages, along with different sections of fruit, and some pots of jam.
Some people create shapes with their ingredients, like a line of pancakes separating the halves of the board. You can play around with other ideas too. The main idea is to have as much contrast as you can.
We're not just talking about a contrast in colors either. Texture and taste are also important. For example, boards filled with just meat and fatty food don't tend to work well. You're going to want some refreshing fruit on there too, along with some carbs.
Finally, think about your audience. A charcuterie board for keto dieters is going to be very different than one for vegans. Similarly, kids are drawn to different foods than adults.