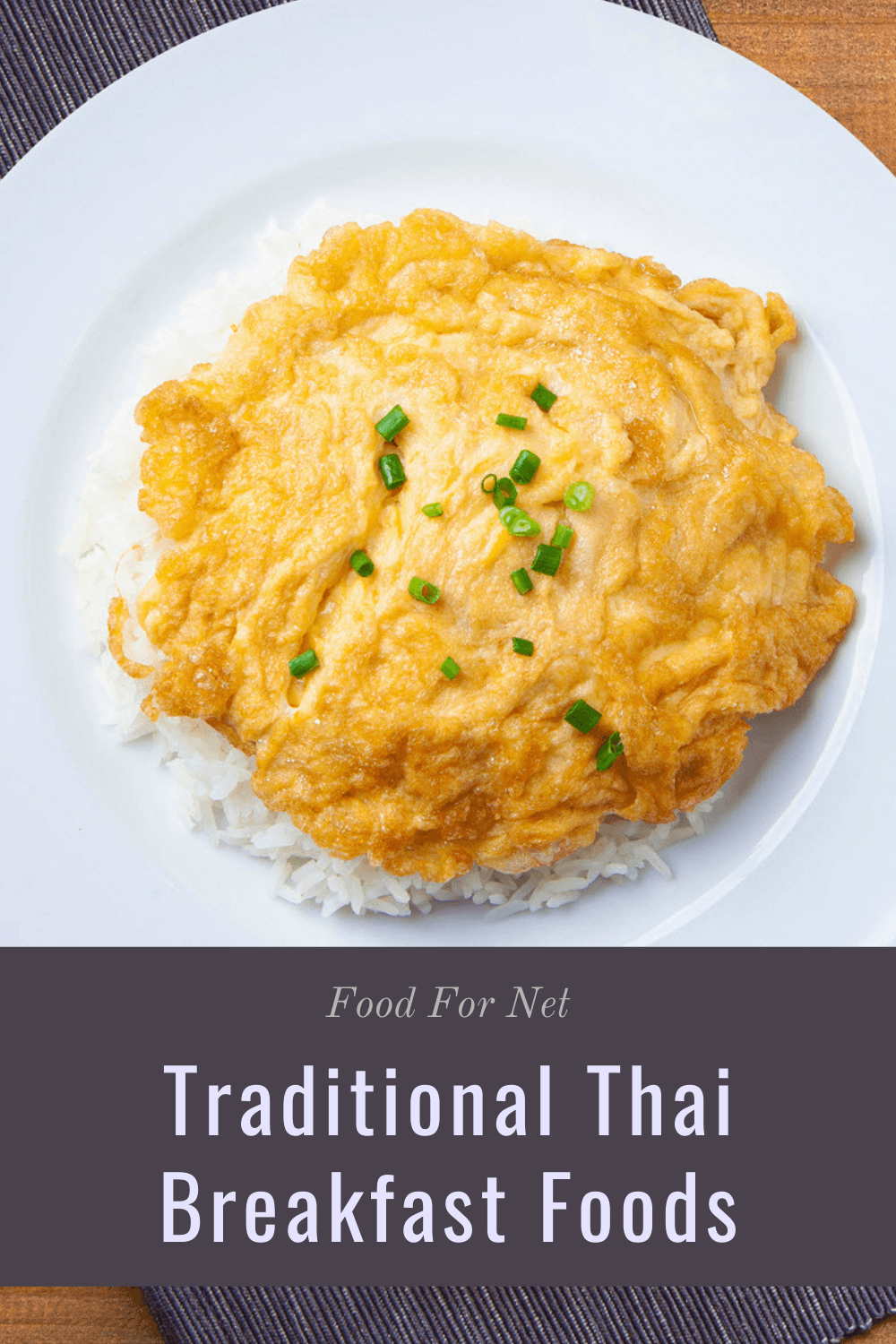 Breakfast is such a fascinating meal. It gets us started for the day and gives us the energy we need to move forward. But, the types of food we eat can vary dramatically. For some, breakfast is a chance to wake up slowly and eat something substantial. For others, breakfast is a much faster affair. There are many cultural differences too. That's why today we're talking about traditional Thai breakfast foods.
We've highlighted traditional foods on this blog before, including French, Japanese, Chinese, American, and English breakfasts. The differences in styles and approaches can be stunning.
For those of us in Western countries, breakfast can involve ingredients like eggs, toast, bacon, sausages, cereal, or oatmeal. Yet, these aren't the only options. As you'll see on this list, breakfast can end up looking completely different.
Traditional Thai Breakfast Foods
Donuts
Khanom Krok
Khao Tom
Tom Luad Moo
Joke
Grilled Meats
Fresh Fruit
Omelet and Rice
Dim Sum
Salapao
Roti Canai
Soy Milk
Khao Neow Sang Kaya
Khao Rad Gaeng
Khao Yam
Donuts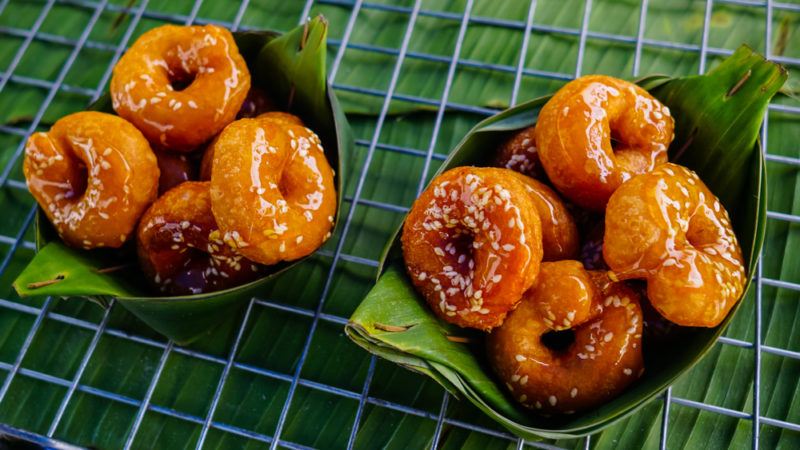 First things first, Thailand doesn't have many foods that are only served for breakfast. Instead, most Thai breakfast foods will be eaten at many points during the day.
These deep fried donuts are one example. They're called pathongko and can often be found in the morning.
The donuts should seem familiar, as they're made with yeast flour and are then deep fried. Sugar is a popular topping, although you can also find the donuts served with pandan custard and condensed milk.
While this might not be the heartiest breakfast choice, there's no denying that the donuts are delicious. Try enjoying them with fresh coffee. You won't be disappointed.
There are some slightly different donuts as well, which tend to be savory rather than sweet. This approach can work well and is a tasty alternative to the conventional donuts.
Khanom Krok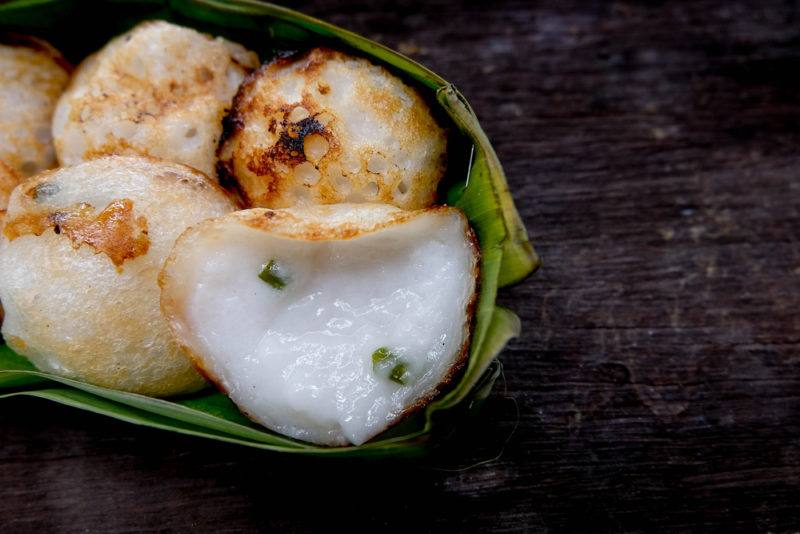 This is another street food that makes a light breakfast. It can also be an easy snack or a type of dessert, partly because it tastes so good.
Khanom krok is challenging to explain to anyone who is unfamiliar with the dish. In general, you're looking at a small gelatinous treat made from coconut milk and rice flour. Fillings are often included too and these can be savory, like chives or spring onions.
Like donuts, khanom krok is easy to pick up and eat. This makes it a delightful early morning choice for anyone in a hurry.
Khao Tom

This hearty dish is a popular Thai meal during many parts of the day – and is a filling breakfast choice. It is basically rice soup, although pieces of chicken or pork are often included too, along with various herbs.
Khao tom is also a fairly mild dish. It doesn't have the same intense flavors that many other Thai foods have. This can be an excellent thing first thing in the day, as many of us won't have the stomach for strong spices.
There are many variations of this dish, where the choice of vegetables and protein might change dramatically. You can even find very plain versions that are served alongside stir fried foods.
And, like most of these breakfast choices, you'll often see khao tom served at other times of the day too. It can be just as good at the end of the day, when you're looking for something satisfying that isn't too overwhelming.
Tom Luad Moo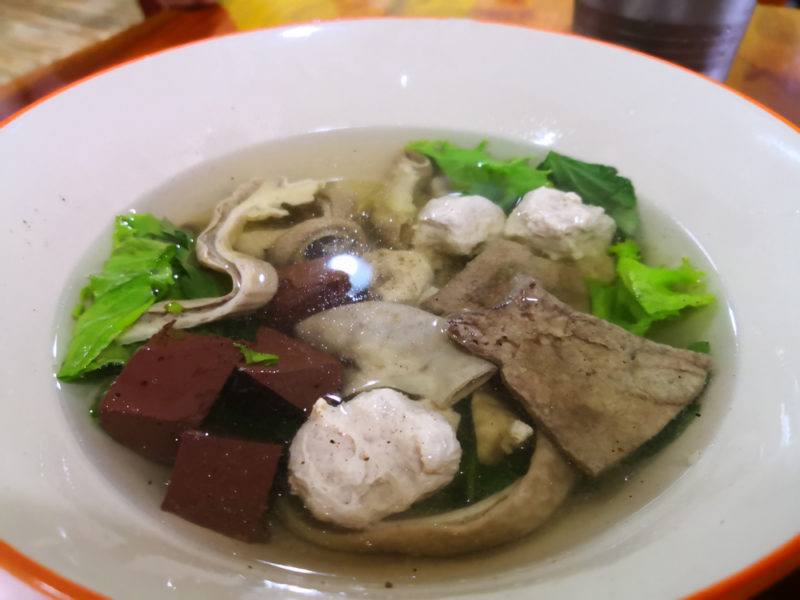 While this meal is popular with Thais, it's not one that many tourists turn to. It's another type of soup, but one that is served with rice, rather than using rice as an ingredient.
Some seasonings might be used too, such as soy sauce, chili flakes, or fish sauce. However, for the most part, the soup is on the bland side.
The blandness isn't the reason that many tourists avoid this soup. The problem is that the soup relies on offal and congealed pig's blood. Other pork ingredients may be included too. The combination can be unappealing at the best of times. The idea of having them for breakfast might seem simply horrible.
Joke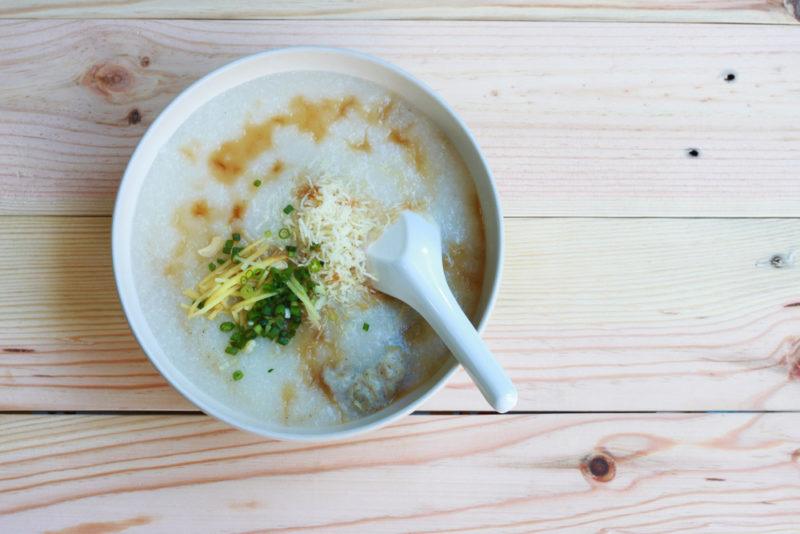 Joke is a little similar to khao tom, as this dish is a type of rice porridge, while khao tom was a rice soup. Joke ends up being much thicker and mushier than khao tom, partly because the rice is soaked until it starts to break down.
It's very similar to the Chinese congee in this sense, although there are some differences in the toppings and seasonings used between Thailand and China.
The seasonings and toppings used here are different than for kaho tom too. Some people might even eat joke on its own. Serving a poached egg on top is a common option and this provides an extra hit of protein. Other additions include minced pork, slices of ginger, cilantro, and perhaps some liver.
Grilled Meats

If you want something substantial, then grilled meat is the way to go. You can often find this sold at street food stands. The meat will generally be already cooked and skewered on a stick. This makes it incredibly easy to eat.
There are plenty of types to choose from, including meat that has been seasoned, plain meat, and meat served with different sauces. You'll often get a bag of sticky rice or a salad at the same time, which gives you a full meal.
One version of this is khao neow moo ping, which is a skewer of grilled pork. The skewers can easily found from street vendors throughout Thailand. The pork is often sold in a little bag of sticky rice, so you have a breakfast that's easy to eat on the run.
You'll find gai yang, which is grilled chicken. The idea is similar here and both types of meat are tasty choices.
Fresh Fruit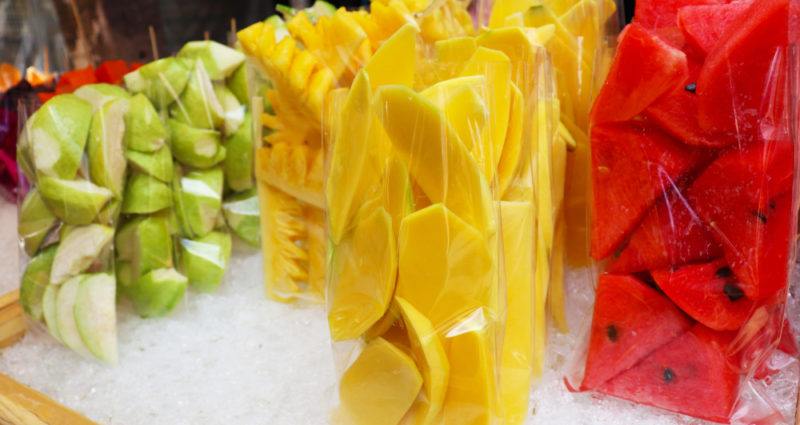 Whether you're eating at home or while you're out, fresh fruit is a popular choice in Thailand. This is hardly surprising, as there are so many delicious tropical fruits to choose from.
Options include mango, pineapple, jackfruit, guava, and plenty of others. These might not be what you'd traditionally serve at breakfast, still, they're delicious choices.
If you want fruit for breakfast from a roadside vendor, you might be given some thick dipping sauce along with the fruit. These often use a combination of sweet and spicy flavors. Sauces like these elevate your fruit to an entirely new level.
Omelet and Rice

You might be met with a surprise if you order an omelet in Thailand, as the dish is quite different than how we make it locally. For one thing, omelets tend to be deep fried. This gives them a crisp exterior and a soft fluffy interior. Pork is the most common filling, although there are plenty of other choices, including vegetables.
Omelets are mostly served over rice and may be accompanied by sweet chili sauce.
While this might seem more like a dinner meal than a breakfast choice, plenty of people do love it. And, if you're not so convinced about rice for breakfast, you could always skip that part and just have the omelet on its own.
Dim Sum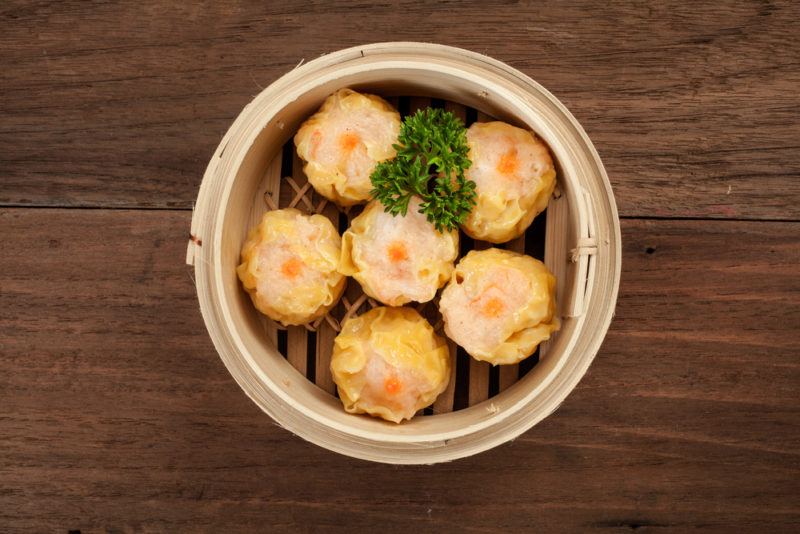 While dim sum comes from China, you'll often see it as a Thai breakfast too. Dim sum focuses on a variety of small dishes and appropriate dipping sauces. Fried and steamed dishes are often featured, including small steamed dumplings.
In China, pork is a popular filling for the dumplings. This filling is much less common in Thailand, although you will find some pork dumplings. Thankfully, there are plenty of other fillings to choose from, like steamed chicken, tofu, and shrimp. Vegetarian versions can be found too, giving you even more options.
However, dim sum isn't the expansive affair that you find in China. Street vendors will often only sell a few types of dim sum. To get a broader selection, you'd need to look for a Thai restaurant that specializes in dim sum.
Salapao

This breakfast is similar to the steamed buns (baozi) that often feature in Chinese breakfasts. However, Thai versions tend to be a little smaller and there are fewer options for fillings.
While salapao might not be as amazing as baozi, they're still a popular breakfast choice. This isn't so surprising. Just like the Chinese version, salapao makes for an easy breakfast that you can simply pick up and eat.
Roti Canai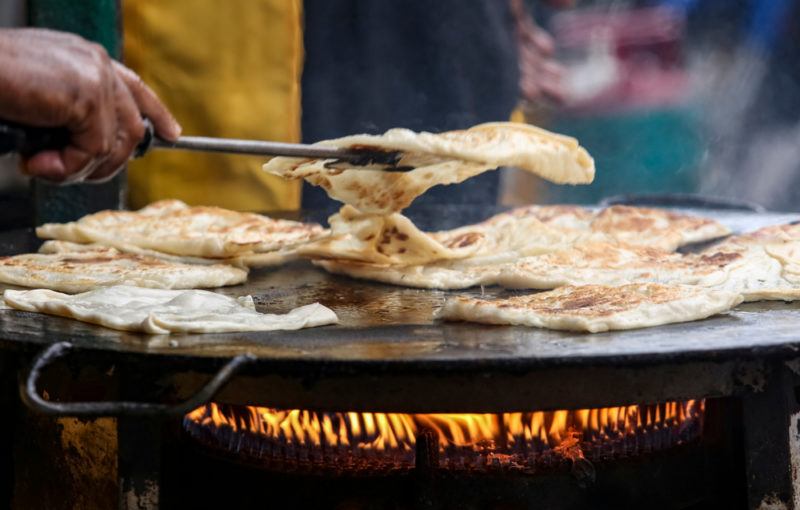 Here's a delicious choice for anyone with a sweet tooth. Roti canai can seem a little like a pancake, although it's actually fried bread that uses wheat flour. You'll often find it sold as street food and there are many potential toppings that you can use on it.
One of the best to try is chocolate spread and condensed milk. That's an odd combination, we know, but it's popular for a reason. Egg, banana, and condensed milk is another surprisingly common choice. Don't knock that one until you try it.
Soy Milk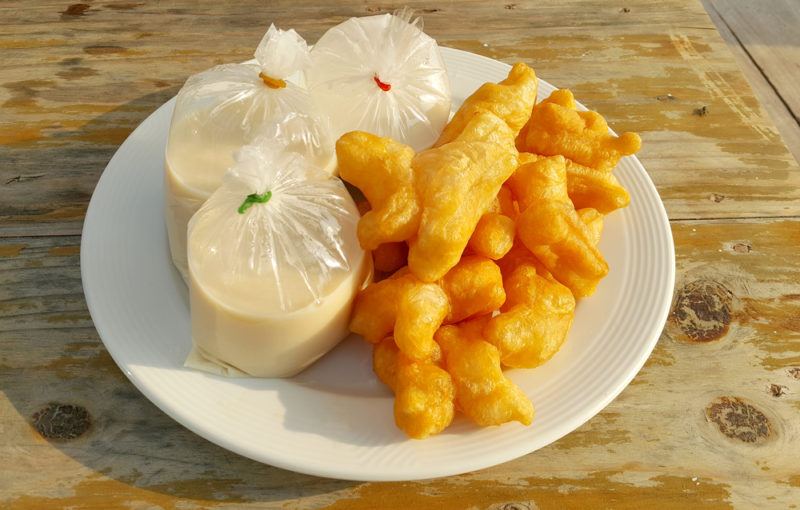 Many street vendors sell fresh soy milk, which is known as nam tao hoo. This dish might be quite different than you expect, as it is often served more like a soup than like a drink.
For example, when you order nam tao hoo from a street stall, it will often be hot, packaged in a plastic bag and have a few other additions, like jelly ingredients and sugar.
This ends up being a delicious and soothing breakfast, even if it isn't very filling.
Khao Neow Sang Kaya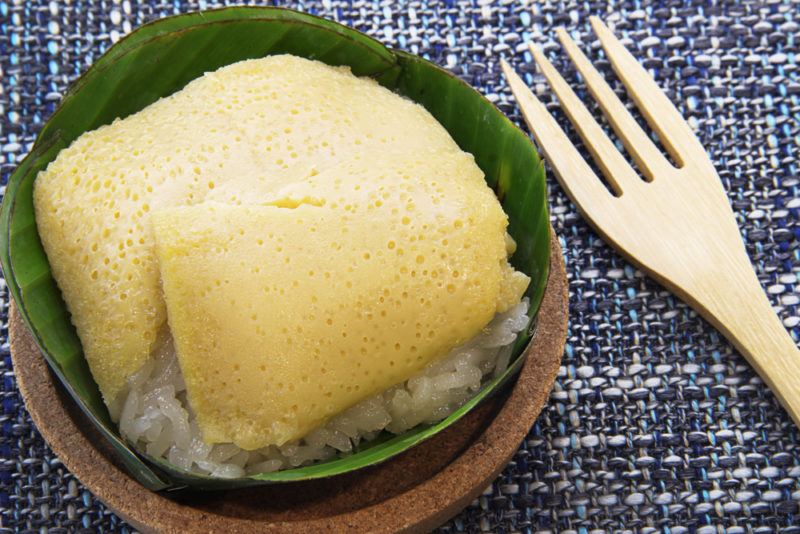 Here's another interesting breakfast choice. Khao neow sang kaya starts off with sticky rice. There is then a slice of custard on top of it and the combination is wrapped in a banana leaf. The rice is slightly sweet, making this a delectable breakfast.
Some vendors even focus on versions that use black sticky rice rather than white rice. Changing the rice alters the flavor profile too, creating an even even tastier meal.
And, of course, you'll see differences in this breakfast from one vendor to the next.
Khao Rad Gaeng

This meal is simply a type of Thai rice and curry. It's a fantastic choice if you're looking for a filling start to the day. And, surprisingly, this is a meal that you can easily buy from street vendors if you don't feel like making it at home.
While eating curry first thing in the morning might sound odd, the idea is a powerful one. You're getting a delicious and filling meal that offers plenty of flavors. This is much better than a breakfast that leaves you hungry a few hours later.
Khao Yam

If you live in the south of Thailand, then khao yam might be an easy breakfast choice. The dish is basically a rice salad, where your rice is topped with ingredients like bean sprouts, chilies, vegetables, and a dressing (which is often tangy).
This gives you a vibrant and healthy meal that isn't nearly as intense as other dishes.