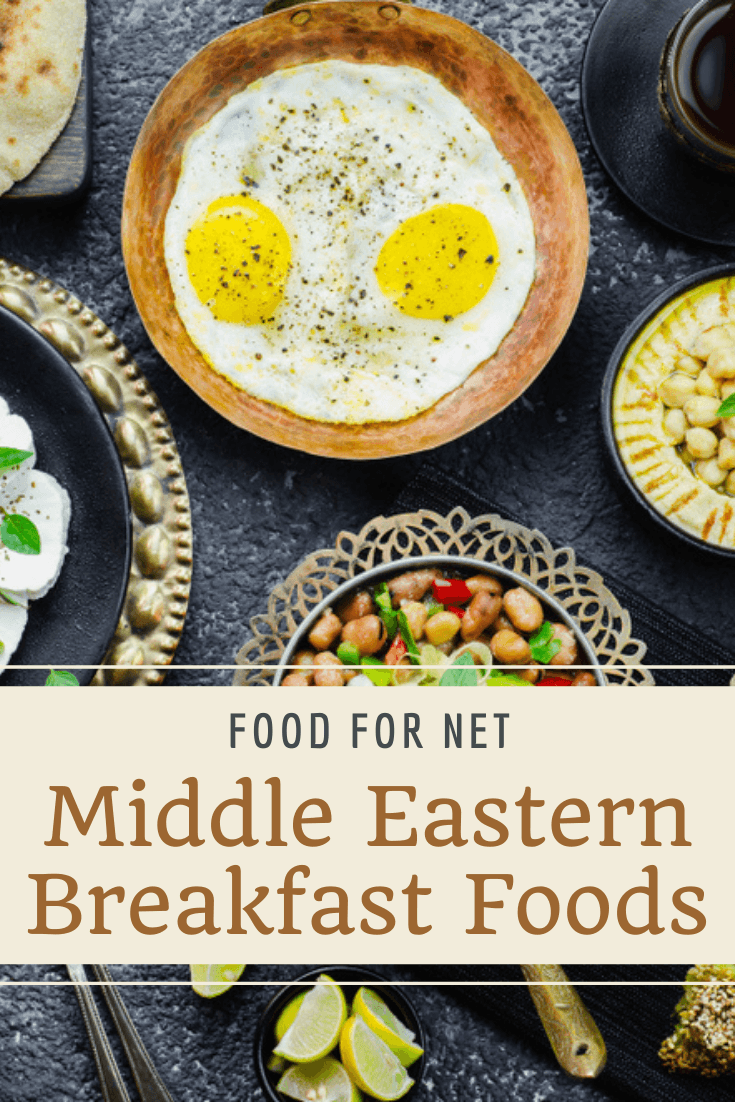 What will you have for breakfast? It's a simple enough question, but there is no end of possibilities out there. What you choose to eat will depend on your preferences, the food you have on hand, whether you're eating at home or going out, and where you live. The last category is what we're focusing on today, in this post on traditional Middle Eastern breakfast foods.
Why talk about the topic at all?
Well, breakfast foods are always fascinating. They can be very different depending on where you live. It can also be fun to get a sense of how each culture approaches food.
You never know, you might get inspired to try out some Middle Eastern breakfast foods for yourself. Many of them could easily be made at home, although you might need to make a few tweaks if you can't find all the ingredients.
If you're interested in breakfasts throughout the world, take a look at our other posts on the topic. We've covered a variety of countries now, including China, Italy, and France.
Traditional Middle Eastern Breakfast Foods
Fool
Hummus
Falafel
Fresh Ingredients
Zaatar Man'ouche
Samoon
Pita Bread
Shakshuka
Falafel Sandwich
Pan Seared Liver
Awarma
Medames
Persian Omelet
Fool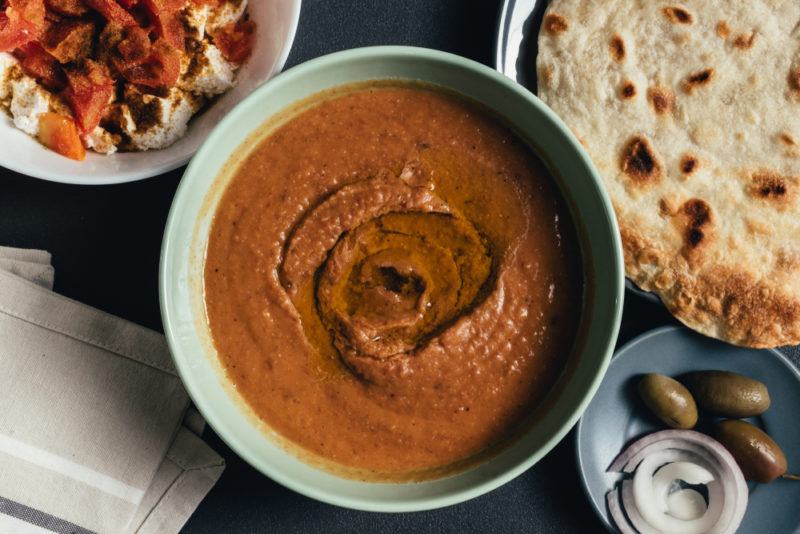 First things first. Breakfasts in the Middle East often use a combination of dishes, so you might be serving multiple items from this list at the same time.
Fool is the perfect place to begin our discussion, as the dish is a popular breakfast choice. It is often served with hummus and falafel.
It's surprising that fool isn't well-known in the Western world, as we're very familiar with hummus and falafel. Fool is just as delicious as these. The word itself simply refers to fava beans. When fool is served for breakfast, you're often looking at a dip made from fava beans.
One of the simplest approaches is to cook and mash the fava beans, then include a little lemon juice and olive oil with them. Of course, that's just one option. There are countless ways to make fool more interesting, often by including herbs, spices, or other ingredients.
For example, one version is called fool bi tahini and includes tahini sauce. Using cream instead creates fool bil ishta. Variations like these often have a different texture and flavor than the basic fool recipe.
Hummus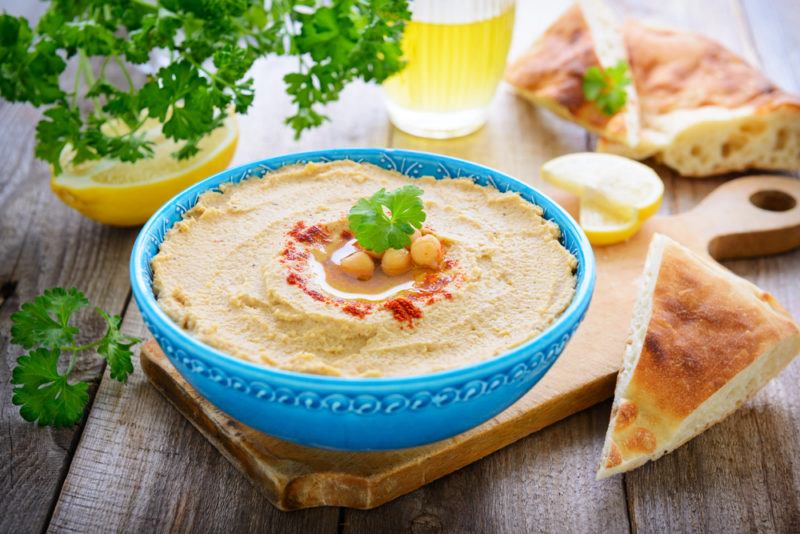 Hummus doesn't need much explanation. It's a classic Middle Eastern spread or dip that's made using chickpeas, tahini, lemon juice, and spices. It's something that you could easily prepare yourself and many people do.
Of course, hummus isn't just a breakfast food. It can be served at many times of the day.
It also does happen to go well with a Middle Eastern breakfast, especially if fool and falafel are being featured at the same time. In fact, these three items aren't just things you might eat at home. They can often be ordered together at local restaurants.
Falafel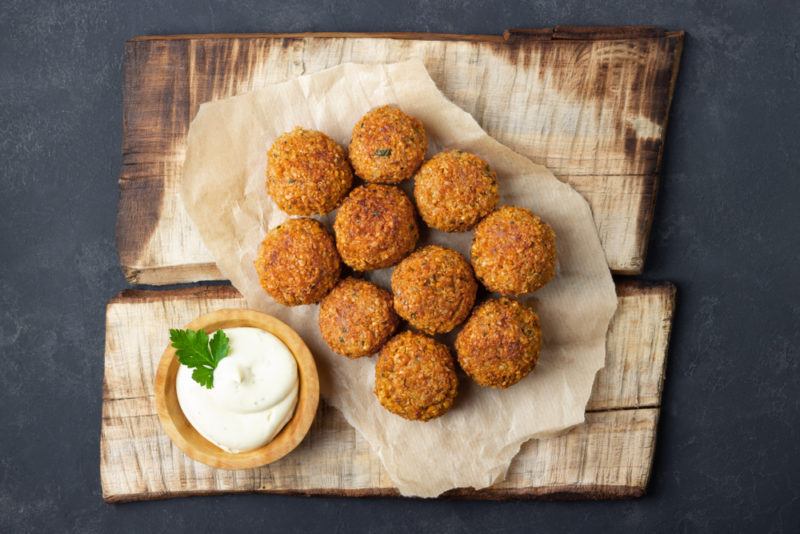 Falafel is another addition that you might already be familiar with. It is made from chickpeas and tends to be deep fried. The deep frying makes falafel less healthy than it would have been otherwise, but it remains popular and deep frying is the most common way to serve it.
If you're making falafel at home, you could try baking or pan frying it instead. Doing so reduces the amount of oil used and should make the dish healthier.
You'll also see the name tameya pop up from time-to-time. This is what falafel is called in Egypt. However, the Egyptian version tends to rely on fava beans or a combination of half fava beans and half chickpeas.
Fresh Ingredients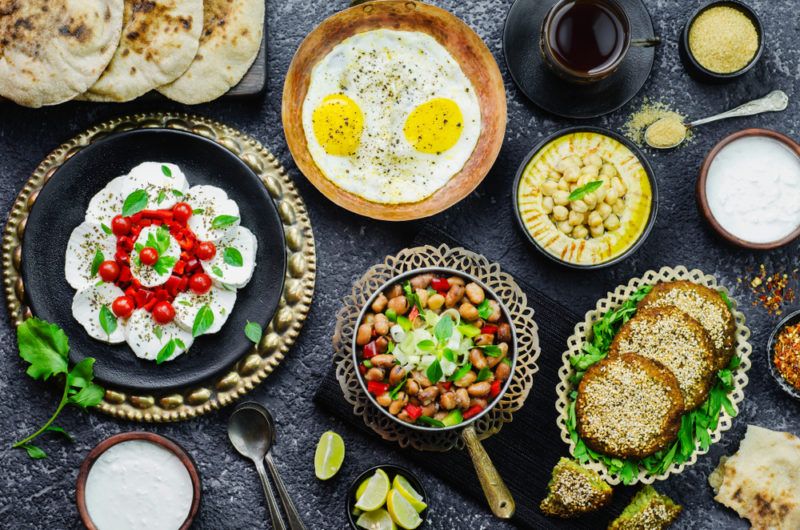 Many fresh ingredients turn up as part of a Middle Eastern breakfast too, such as olives and olive oil, nuts, homemade jam, cheese, salad, and fresh tomatoes. Tahini may feature too. This pairs fantastically with crisp falafel.
Other homemade foods might feature too, including a variety of different types of bread.
None of these ingredients are served as breakfast on their own. Instead, a breakfast table might contain a large number of them, perhaps on a platter or in individual containers. Guests are then free to choose which components they focus on. Serving breakfast like this is a delicious way to satisfy different appetites and preferences all at once.
The exact combination of items will depend on exactly where you are in the Middle East, as there is plenty of variation from area to area.
Zaatar Manouche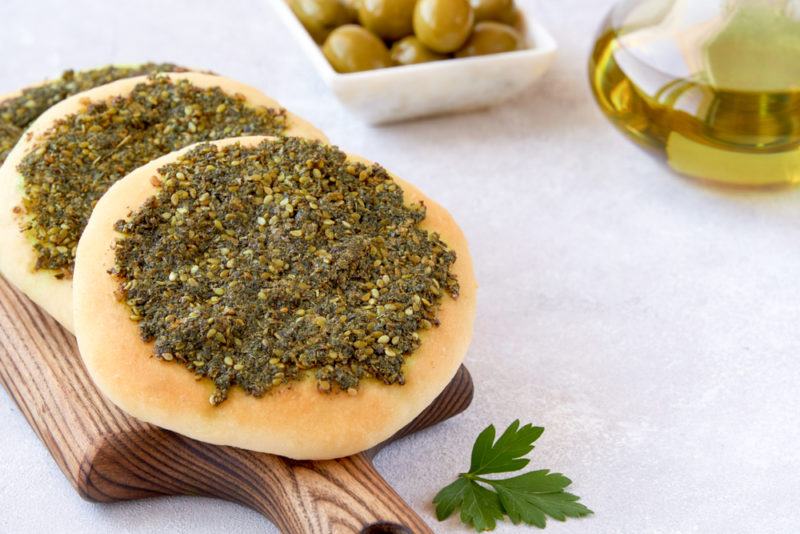 This dish is another exciting choice found in Lebanon and some other parts of the Middle East. The first word, zaatar, refers to an herb and spice blend. The blend is most notable for the use of sumac. The sumac provides the zaatar with a distinct tanginess that is often lacking in other spice blends.
Manouche, or sometimes manakish, is a type of flatbread.
So, this Lebanese breakfast consists of herbed flatbread, but don't think that it is simple or boring. The bread can be made in many different shapes and styles, giving you plenty of delicious variety.
Not surprisingly, the bread combines perfectly with many of the other Middle Eastern breakfast components that we've highlighted so far.
In fact, you'll see the flatbread served with other toppings too, including cheese and ground meat. If you're lucky enough to try fresh and authentic manakish, it could even change how you see bread entirely.
Samoon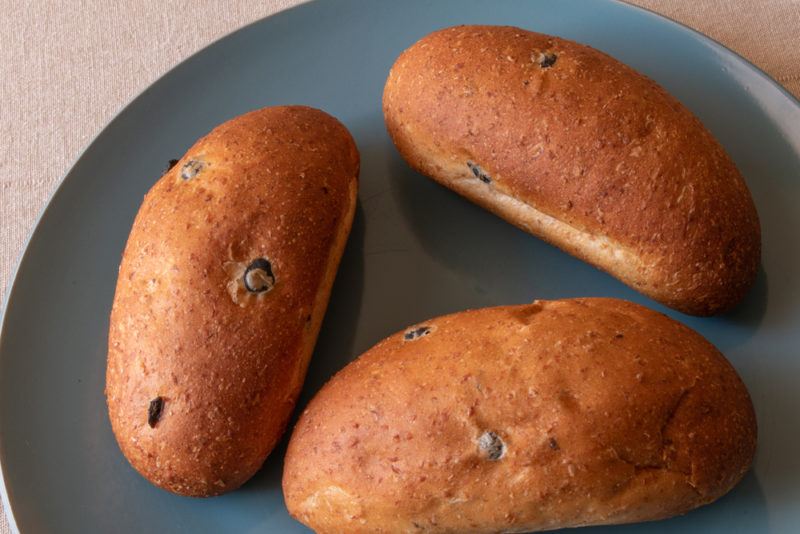 If you're in Iraq, you're likely to see samoon instead of zaatar manouche. Samoon is another type of bread. It's often served with jam and a type of thick white cream called gaymer.
Labneh is sometimes served as well. Labneh is sometimes called yogurt cheese and it is made by straining yogurt much more than normal (labneh is even strained more than Greek yogurt).
With a type of jam, cream, yogurt, and bread, this breakfast has similar flavors to many Western audiences will be familiar with. Still, the components all have their differences and the breakfast retains a distinct Middle Eastern flair.
Pita Bread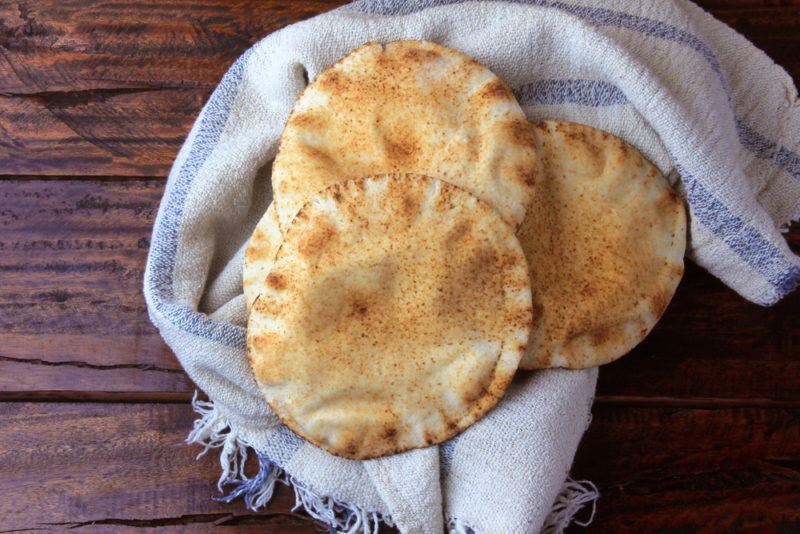 No surprises here. Pita bread features heavily in Middle Eastern breakfasts, regardless of what you're serving. The bread is versatile enough to work well with countless dishes. For example, you can use pita bread as the base for a sandwich or to dip in your fool and hummus.
The thinness of pita bread makes it less carb-heavy than sandwich bread or toast.
Shakshuka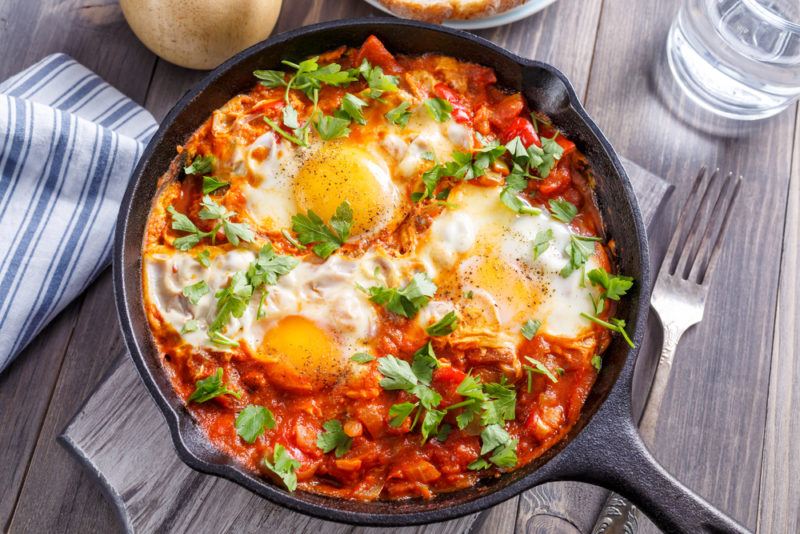 Shakshuka is a traditional dish in the Middle East and also in North Africa. The traditional version of the meal relies on a base of tomatoes, cooked onions, and various spices. Eggs are then poached on top of this base.
The eggs provide you with some protein while you get an antioxidant boost from the tomatoes. Some versions of the recipe add beans in for extra protein.
Plus, the spices used often mean that the tomato base is on the spicy side. Because of this, the breakfast offers a decent kick that will help to wake you up in the morning.
Falafel Sandwich

We've already mentioned some types of bread, dips, and fillings, so it shouldn't be surprising that stuffed sandwiches feature as part of a Middle Eastern breakfast. These will often heavily rely on falafel and vegetables as the ingredients, so they provide plenty of nutrients.
A falafel sandwich is also a filling start to the day, as falafel is made of chickpeas, making it an easy source of vegan protein.
Pan Seared Liver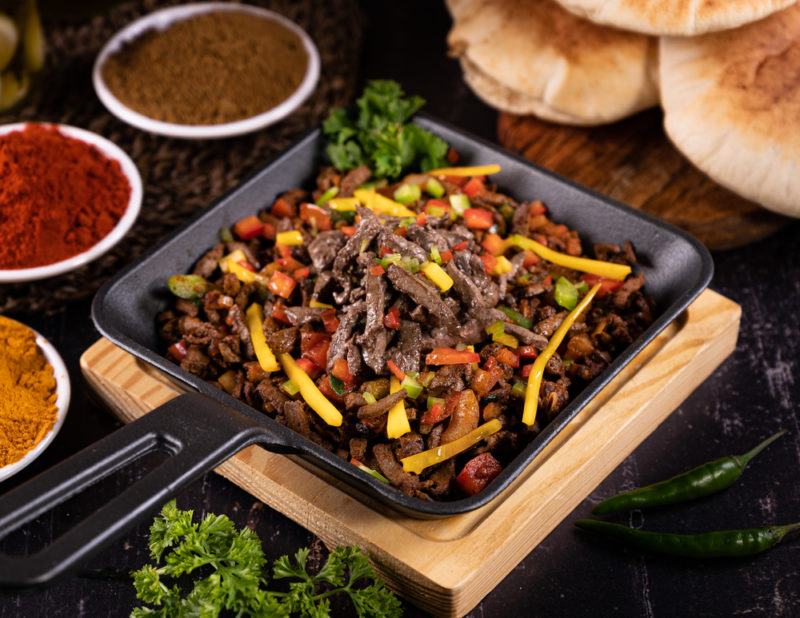 While many Middle Eastern breakfasts are plant-based, there are plenty of exceptions too. Pan seared liver is a classic example. This is a traditional Yemen breakfast that is often made with chilis, tomatoes, bell peppers, and a variety of spices.
Malawah commonly accompanies the meal. This is a type of flatbread and one of many different breads that you can find in Yemen.
Awarma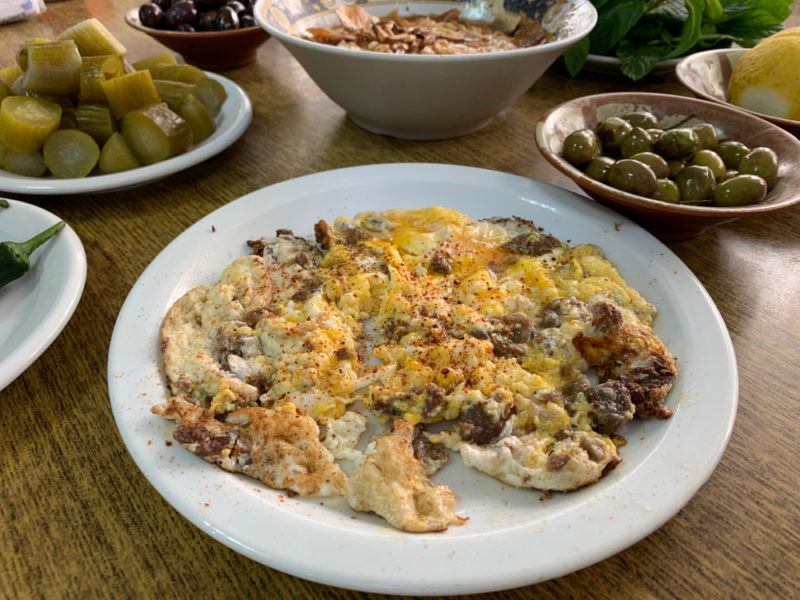 Speaking of meat, here's another option to try. Awarma is lamb confit that is traditionally made of lamb that have been preserved using lamb fat.
Only a little is used at a time, as the awarma provides flavor to other ingredients. A popular breakfast involves cooking eggs in lamb fat, using a clay skillet. The approach provides you with the flavor of lamb, even though the meal often doesn't use any other lamb meat.
Awarma is one Middle Eastern breakfast that would be difficult to make in the United States, as the lamb confit relies on fat from lamb tails. This type of fat might not be easy to source.
Medames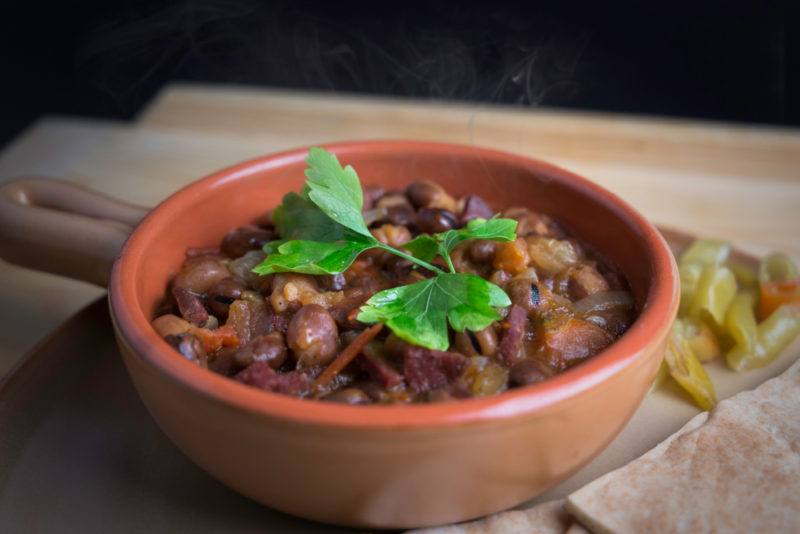 This Egyptian dish is another one that relies on fava beans as a key ingredient. There's nothing complicated here, as the beans are simply cooked in their own juice, along with some flavoring ingredients.
Sometimes you'll see eggs served with the meal. Bread or tomatoes can feature too.
And, like many of the dishes on this list, medames isn't just a breakfast food. You'll find it served at any time of the day in countless parts of Egypt. It's simply one of those dishes that's perfect for almost any situation.
Persian Omelet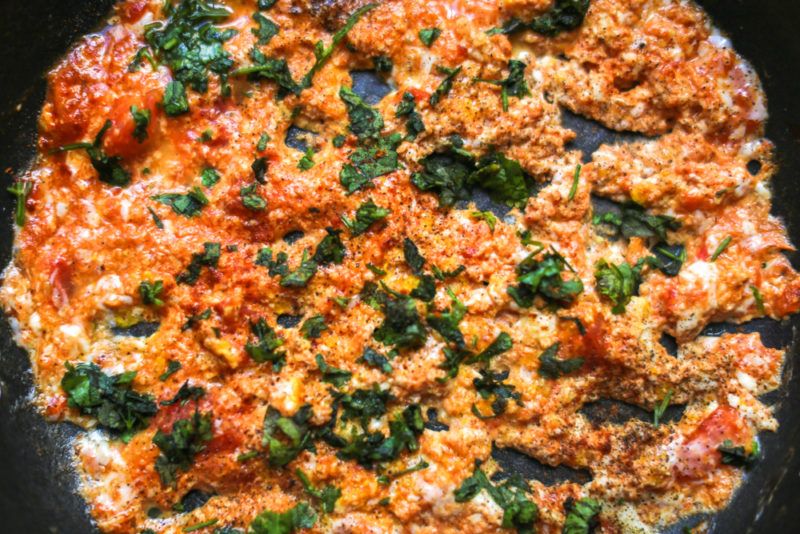 This type of omelet is as famous as it is unusual. While eggs feature, they're far from the main ingredient. Instead, the dish heavily relies on tomatoes and tomato paste, which give it a distinct flavor and color.
Spices help to change the flavor profile even further. The omelet ends up with a much more intense flavor than any other omelet that you've tried. The focus on eggs makes it a filling breakfast too, so it's an ideal way to start your day.