One of the best things about chicken is that there are so many different ways to prepare it. Chicken nuggets are a popular snack, grilled chicken makes for a healthy additive to any salad (including fast food salads), and fried chicken is fantastic when you want a flavorful, satisfying crunch.
While fried chicken is a simple concept, there's much you can do with it to create different flavors, textures, and even levels of crispiness. Many enjoy playing around with fried chicken at home and coming up with new flavors using different combinations of herbs and spices. It's not surprising that fried chicken is such a popular choice.
Fried chicken is commonly deep fried but can also be pan fried, pressure fried, or cooked in an air fryer. While deep fried chicken tastes amazing, using an alternate method like air frying can cut down the calories by about 70%. This is significant to anyone trying to lose weight or just eat healthier in general.
When done correctly, the crispy, crunchy, flavorful outside gives way to a tender, juicy piece of chicken on the inside and it's a deliciously perfect combination of textures. It's also a pretty easy thing to achieve, especially once you've got your seasoning down. This makes it a common menu item in fast food restaurants.
The great thing about this is that this gives you so many different options to try. Most restaurants try to create their own signature seasoning to stand out from the rest. Some also play around with different levels of crispiness as they attempt to cater to those with different preferences. This means you've got plenty of contenders for your new favorite fried chicken. These ten are among the very best.
And, if fried chicken isn't your thing, you could always check out other types of chicken on fast food menus, including chicken sandwiches.
Top Ten Best Fast Food Fried Chicken
Church's Chicken
Jollibee Chickenjoy
Chick-Fil-A Fried Chicken Strips
Popeyes Signature Chicken
KFC's Classic Fried Chicken
Hattie B's Hot Chicken
Bojangles Chicken
Raising Cane's
Zaxby's Fried Chicken
Lee's Famous Chicken Recipe
1. Church's Chicken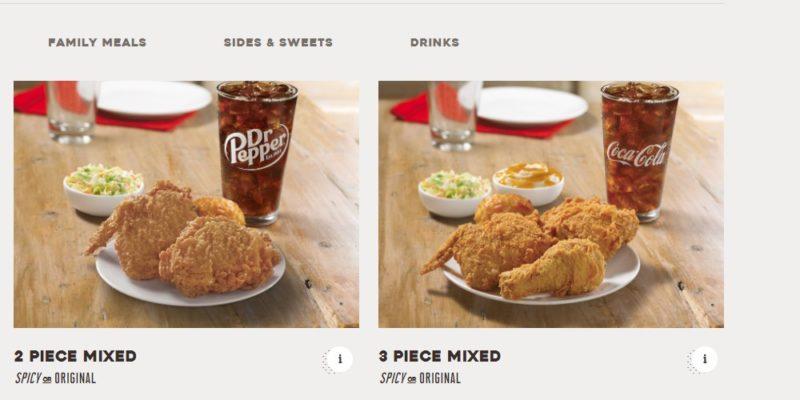 Church's Chicken is the place to go for classic, traditional fried chicken with no fuss. The pieces are bone-in, hand-battered, and deep-fried just like the best of them. They're served in notoriously large portions and are always delicious.
Church's Chicken is also known for frying the chicken in some pretty thick batter, though, and the breading will retain a lot of it. All this means is that the chicken is best enjoyed fresh before the batter has time to sink too deeply into the breading.
2. Jollibee Chickenjoy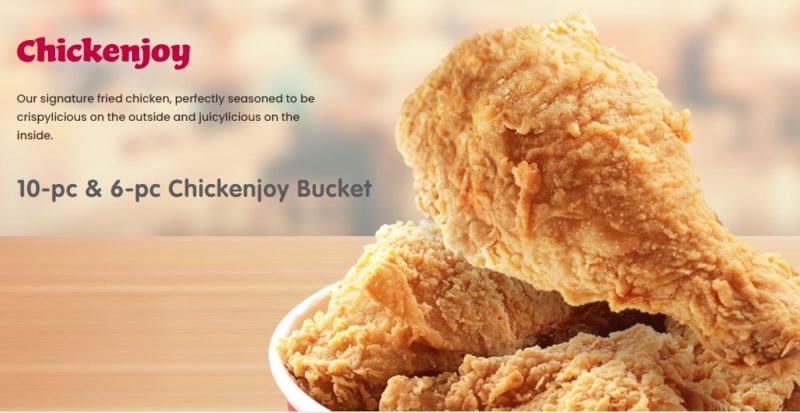 Jollibee's Chickenjoy is the name they've given their signature fried chicken with an expertly crafted seasoning and the perfect crunch. In addition to perfectly crispy, they promise a piece of perfectly juicy and flavorful chicken on the inside.
Their menu includes many different ways for you to enjoy the fried chicken, whether you're on your own or sharing with friends. They have several bucket deals, ranging from six to ten pieces. They also have meal deals with sides like rice or mashed potatoes on the side. Lastly, they have several family meal deals that come with a bucket of chicken and either six steak burgers or a family-sized serving of spaghetti and three peach mango pies for dessert.
3. Chick-Fil-A Fried Chicken Strips

No chicken-themed list is complete without something from the masters of chicken, Chick-Fil-A themselves. In this case, it's their delicious boneless chicken strips. Their strips are marinated in their special signature seasoning and freshly breaded. They are then pressure-cooked in 100% refined peanut oil.
As fried chicken goes, these are a fairly healthy choice due to the pressure cooking and peanut oil. You order anywhere from one to four pieces, with the full order of four coming in at 310 calories. To top it off, you can pick from any one of their available dipping sauces. This includes their special Chick-Fil-A sauce as well as other staples like BBQ, honey mustard, Buffalo, and more.
4. Popeyes Signature Chicken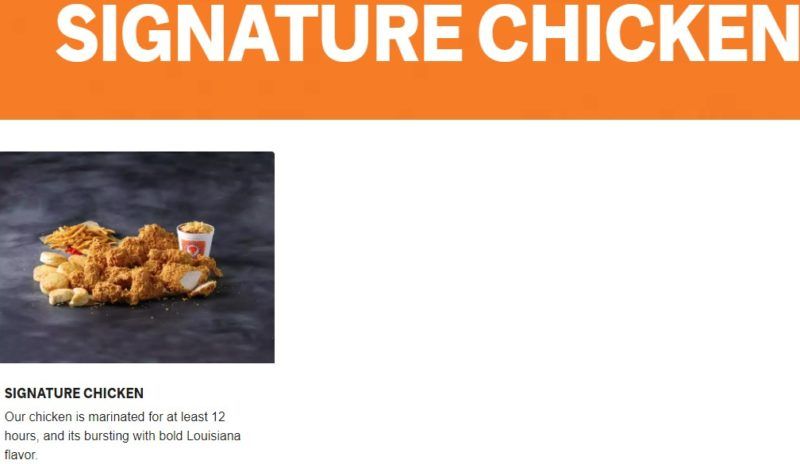 Also widely known for their amazing chicken is Popeyes. Originating in Louisiana, they offer chicken with the perfect crunch and a bold Louisiana-style flavor. They achieve their signature flavor by marinating their fried chicken for – at least – 12 full hours. Their unique and amazing flavor has garnered them many loyal customers who rarely go anywhere else to satisfy their craving for some good, old-fashioned fried chicken.
You can order the basic fried chicken, or have a similar experience with their chicken tenders. They also offer a crispy chicken sandwich which is equally as delicious.
5. KFC's Classic Fried Chicken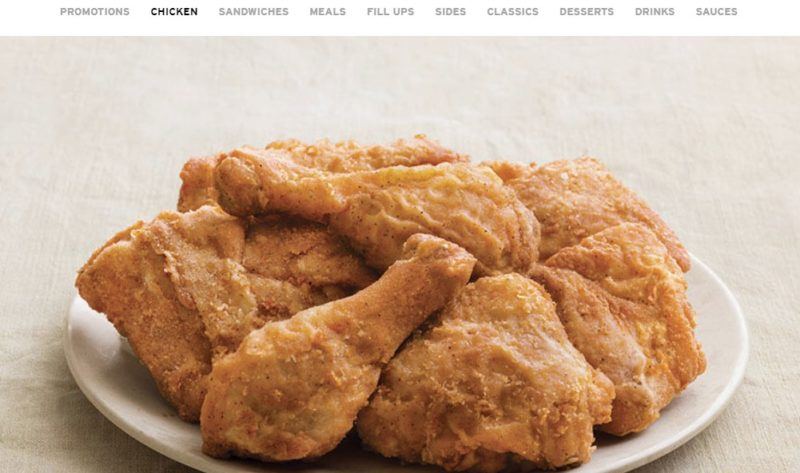 Kentucky Fried Chicken has been a chicken staple for many years, and always for good reason. With both a classic and extra-crispy option, you really can't go wrong with their fried chicken. Most widely known for their super-secret blend of "eleven herbs and spices" it's a flavor you just can't beat.
Many have tried to determine what's in there and several self-proclaimed culinary sleuths have guessed at some combination of black pepper, white pepper, basil, oregano, thyme, dried mustard, ground ginger, paprika, celery salt, garlic salt, and regular salt, but the exact spices have never been confirmed.
6. Hattie B's Hot Chicken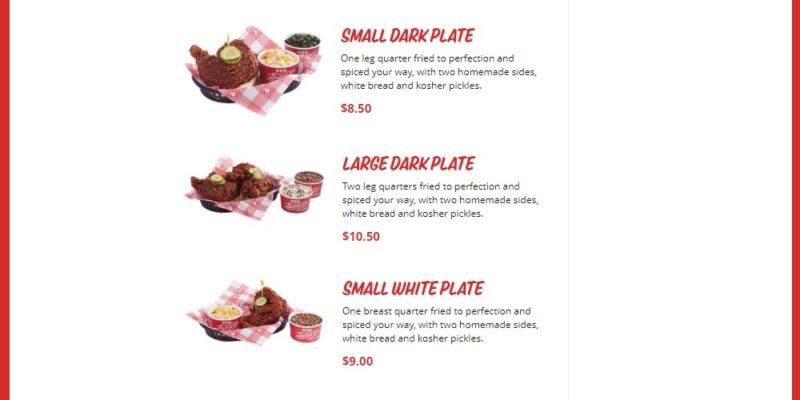 While it's not the most widespread fast-food chain, Hattie B is famous for their exceptionally hot chicken, which enjoyed by spicy food enthusiasts from all over. Legend has it that the recipe was created when an angry wife poured excessive amounts of cayenne pepper into her husband's serving of fried chicken after finding out he'd been unfaithful.
Unfortunately, the vengeful plan backfired when he loved it. Regardless of how true the story is, there's no denying the delicious fire that comes with Hattie B's chicken. For those that don't live within a reasonable distance, they've begun shipping their products nationwide through Goldbelly.
7. Bojangles Chicken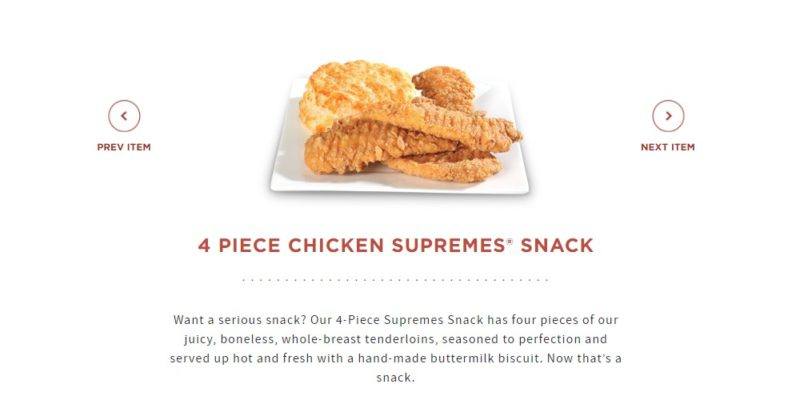 Bojangles is known for their famous "chicken and biscuits" deal where they serve up their juicy, whole breast tenderloins with their signature buttermilk biscuit. This combination has become so beloved, Bojangles has become known for this specifically. You can actually get a biscuit pillow from the company's website if you really want to commemorate your love for this delicious little snack.
As for the chicken, the tenderloins are seasoned to perfection with their signature seasoning and served hot and fresh every day. You can get a basic four-piece snack (with a biscuit, of course) or you can opt for a meal with fries and a drink. Lastly, if you love their seasoning, you can purchase a bottle of it from their website.
8. Raising Cane's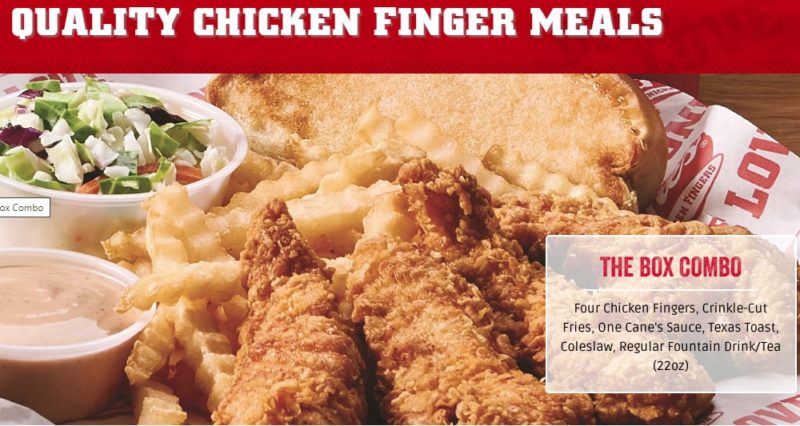 Raising Cane's began as a vision to create an entire restaurant dedicated to chicken fingers. Despite the versatility and popularity of the food, everyone told the founder that it would never work. He spent time working a few other jobs for a while but ultimately decided to realize his vision anyway and of course, it was a resounding success.
Staying true to character, the fast food joint still focuses on chicken fingers, offering different sized meal deals and a handful of sides. The only true deviation is the sandwich – which still contains three chicken fingers as the main ingredient. The lack of variety in available dishes should tell you that these chicken fingers are really good since it's all people keep coming back for.
9. Zaxby's Fried Chicken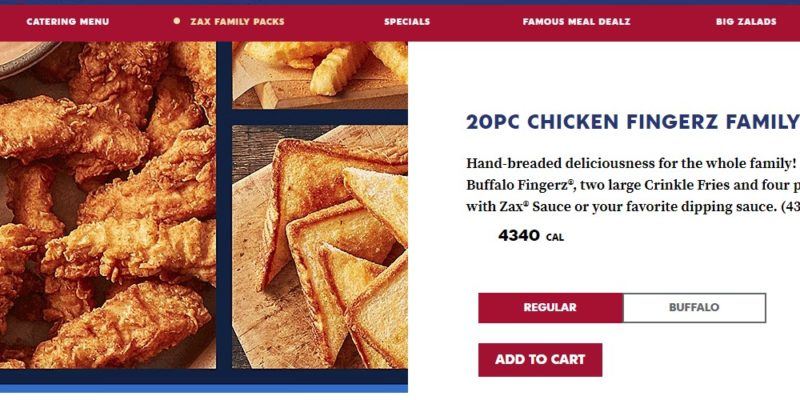 While not the most widespread fast food joint, Zaxby's takes pride in their delicious, high-quality fried chicken. They are expertly hand-breaded to create a perfectly crispy exterior that reveals a tender, juicy interior with every bite. Each order is served with their signature Zax sauce for dipping.
The chicken fingers are available in orders of five, ten, or twenty fingers on their own, or you can get any number of meal deals or family packs. The chicken fingers family back comes with twenty chicken fingers, two large orders of their crinkle fries, and four pieces of Texas toast. Similar meal deals exist with their boneless chicken wings too, if that's more your style.
10. Lee's Famous Recipe Chicken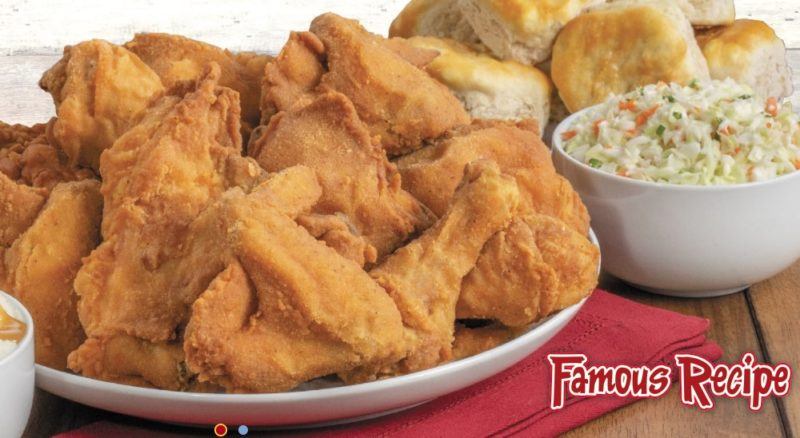 This place's name is fairly self-explanatory – their chicken is famous because of their incredible recipe. Their method includes cooking their chicken fresh every time, never from frozen. Then, it's honey-dipped and hand-breaded in their signature blend of herbs and spices. Finally, it's pressure-cooked to perfectly seal in the amazing flavor.
Their chicken comes in several forms, including their basic, classic fried chicken, chicken breast strips, and their spicy jumbo dippers. The spicy jumbo dippers are essentially just big, round bites of boneless fried chicken that are perfect for dipping. They're also seasoned with the perfect amount of spice to give you the kick you want without overwhelming the taste buds.