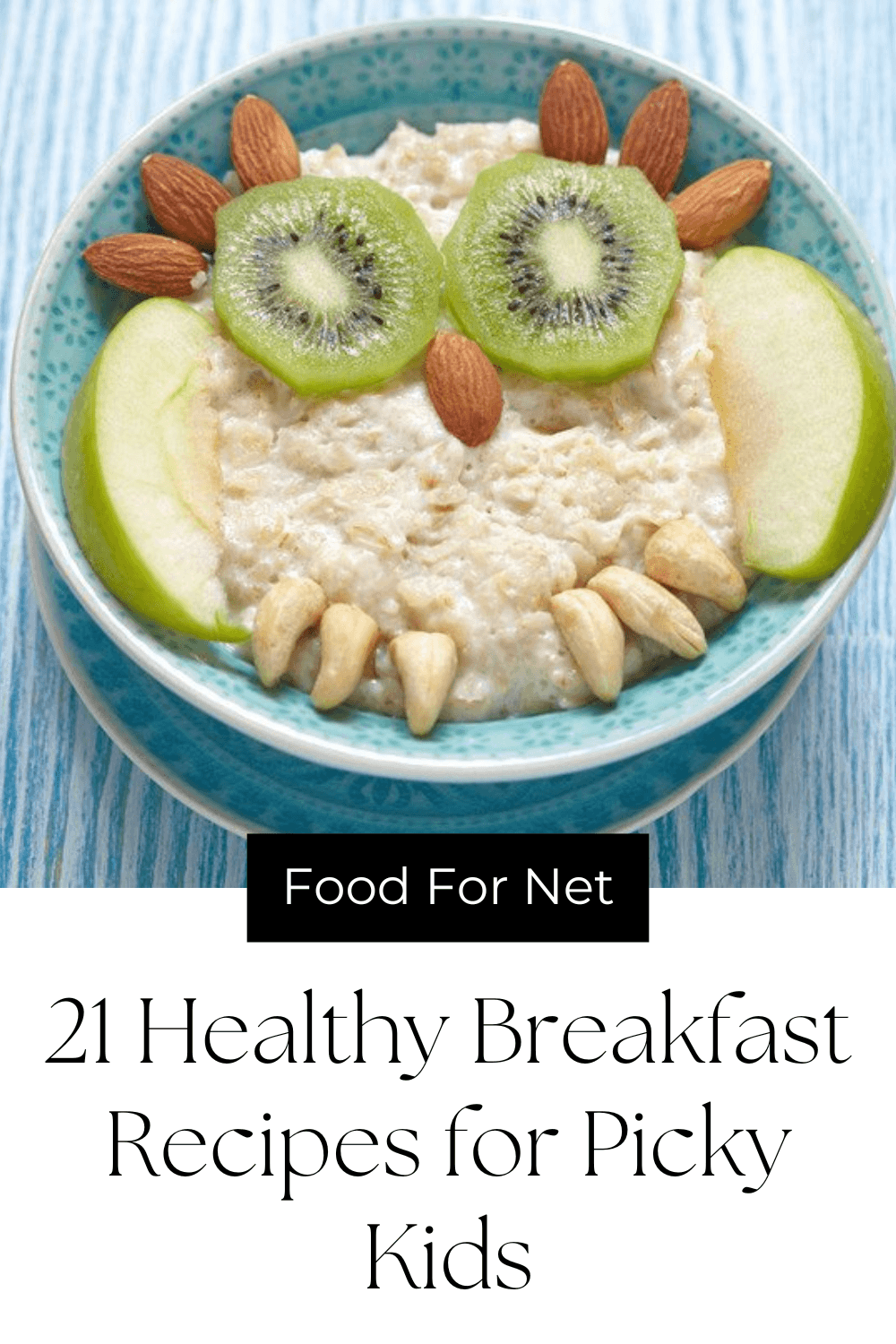 Kids are notoriously picky when it comes to food at the best of times and somehow that issue always seems worse at breakfast time. Finding a healthy breakfast for your kids every day is important, but it's pretty hard to find healthy breakfast recipes for picky kids who just want sugary cereal.
Not only that, but you are often short on time and patience first thing in the morning. To make matters worse, classic breakfast foods can get boring quickly for kids and treats like pancakes certainly aren't suitable for every morning.
Thankfully, kids are still predictable. This means that there are still approaches you can take to get them interested in healthy breakfasts for picky kids. In fact, if you do it right, you can even get kids to be excited about healthy food.
One approach simply comes down to how you serve the food. If you can make a meal exciting and fun, then kids are much more likely to be excited about it. Making faces in food or using bright colors are both examples of doing this.
Of course, choosing appealing food to start off with also helps.
This list highlights recipes that make great healthy breakfast options for kids. In some cases, it might be the presentation of the dish that really gets their attention, while in other cases it may be the combination of flavors or even the portions. Whatever the specific reason, all of the recipes are great options for any young picky eater that you have at your table.
Healthy Breakfast Recipes For Picky Kids (With Pictures!)
Easy Breakfast Roll-ups Recipe
Fun colors are often a good way to go with breakfast food for kids and this particular recipe is a good example of this. Essentially, the breakfast is a version of a breakfast burrito but the creator doesn't use scrambled eggs. In doing so, the roll-ups end up being a lot more portable and fun to eat.
That's a particularly great feature if you are running late and need your kids to eat breakfast on the go. You can find the full recipe at homecookingmemories.com along with great instructions about how to make the roll-ups. It's also worth noting that you can change the ingredients up, particularly if you have kids that wouldn't eat greens as part of their breakfast.
Five Minute Chocolate Oatmeal
If you want to get a child's attention, chocolate is certainly one way to do it. In fact, chocolate is a great way to make sure your kids start the day on a good note and this recipe also manages to be a healthy breakfast option.
Plus, oatmeal tends to be fast to prepare, which is great for busy mornings. In this case, the recipe comes from chocolatecoveredkatie.com and it is very easy to create.
Breakfast Pizzas
Chocolate might work well to get kids interested in breakfast but pizza is certainly another approach. In general, pizza tends to be viewed as a dinner food and a fairly unhealthy one at that.
Yet, this recipe from the-girl-who-ate-everything.com shows that this really doesn't have to be the case. Instead, these mini pizzas are full of breakfast flavors and are also a pretty good source of protein first thing in the morning. They can even be made and then frozen if you wanted a ready-made breakfast for another day.
Creamy Chocolate Breakfast Shake
A chocolate milkshake doesn't seem like the most suitable breakfast food but protein shakes can actually be a great way to get protein and nutrients first thing in the morning (for adults as well as for kids). This recipe, from minimalistbaker.com, is one example of this approach and the recipe is also a lot healthier than it first looks.
In fact, you can even include spinach as one of the ingredients because the taste gets entirely drowned out by the chocolate and the fruit. Personally, I think this recipe is a perfect option if you want to give a kid a healthy 'treat' for breakfast.
Ham and Cheese Breakfast Casserole
Ham and cheese are pretty classic as flavors for breakfast, which is partly why I love this breakfast casserole recipe so much. The recipe itself comes from tasteandtellblog.com and it's a good choice if you're trying to make breakfast for a large number of people.
Unlike some of the other recipes on this list, this one isn't fast to prepare and takes an hour to bake, in addition to the need to prepare the recipe the night before. However, most of the hard work is done the night before, so it's a pretty hands-off dish to make in the morning. Besides, the recipe looks great and offers a combination of flavors that kids are bound to love.
Pancake in a Mug
As long as you don't go overboard with the toppings, pancakes are actually a fairly healthy addition to breakfast. However, pancakes are also labor intensive, which is one reason why they often get saved for weekends and special occasions. I love this recipe, which is hosted at fromcalculustocupcakes.com, because it is a perfect way around that issue.
The recipe only takes five minutes to make, from start to finish, and it still has the same taste as a regular pancake. In fact, the recipe is also less messy to eat, even if the kids load it down with toppings. Plus, it's just fun to eat from a mug.
Healthy Carrot Cake Cookies
One of the best ways to make breakfast interesting for kids is to vary up what you make. After all, breakfast does tend to get pretty repetitive but there are actually a lot of different options out there. These breakfast cookies are one example of that. The recipe comes from wholesomelicious.com and they are healthier than most other cookies out there.
In fact, many of the ingredients in the recipe are things that you would normally be having for breakfast if you were having granola or oatmeal. On a side note, the cookies would work equally well as after school snacks or as part of a lunch.
Peanut Butter Banana Roll-ups
This recipe is a simple one but it is a bit of fun. I love the way that the roll-ups are bite sized, as that always seems to go down well with kids. The recipe comes from chocolateslopes.com and it's another one that you could use at multiple times during the day.
In fact, the recipe might work better as one component of a breakfast rather than the whole meal. But, regardless of when or how you serve it, the recipe would certainly appeal to kids.
Baked Ham and Cheese Omelet
Omelets are another fairly common breakfast option but they don't always work for kids. For one thing, making individual omelets can be time-consuming if you're trying to feed multiple people in the morning. Plus, I've noticed that some kids don't like the texture of an omelet.
This baked omelet gets around both of these issues. The recipe for the omelet comes from life-in-the-lofthouse.com and it's a great way to make breakfast for a number of people at once. It's also really easy to vary the recipe, so you can add in other ingredients if you like, like tomato and spinach.
What you choose to add into it would probably end up being based on who you were serving the omelet to. After all, ham and cheese work well for kids but they often don't like breakfasts with veggies added in.
More Breakfast Cookies
This recipe comes from lovelylittlekitchen.com and it's another example of serving cookies for breakfast. The recipe is both healthy and filling, so you could serve the cookies as breakfast in their own right.
Alternatively, the cookies would make a great treat straight after breakfast, especially as many kids probably wouldn't realize that the cookies are good for them.
Hot Chocolate Breakfast Smoothie
I've always loved breakfast smoothies, partly because they are great on days where eating simply feels like too much effort. This recipe is a little different than most because, as the name suggests, it is actually designed to be warm. That approach would work exceptionally well in winter or on very early mornings, because there is something very comforting about hot chocolate.
It is also a healthy and filling recipe, so it will give your kids much more energy than you might expect. In this case, the recipe for the smoothie comes from runningwithspoons.com and I'd recommend taking the time to give it a try.
American Flag Toast
When it comes to kids and breakfast, anything visually appealing is going to work well – and that certainly applies to this recipe from cuteasafox.com. Now, the recipe is themed towards the Fourth of July but you really could make it anytime if you wanted to.
After all, the combination of colors on the toast works well and it certainly is a way to make toast seem a bit more interesting. The author does also link to her recipe for homemade bread, so you could make the toast on that or you could just use whatever bread you have handy. Either way, this recipe does seem like a fun way to start the day.
Blueberry Oat Breakfast Bars
These breakfast bars are another way to go if you want something a little bit different for breakfast. The recipe comes from myfussyeater.com and it's another recipe that you can prepare in advance and even freeze if you want to. The use of blueberries in the recipe is a particularly good choice.
After all, blueberries are thought to be good for the brain and they do give a pretty appealing sharp taste to any dish. The taste alone is a great way to get kids actually eating the bars.
Vegetable Savory Muffins
Savory muffins are a great breakfast treat for kids, partly because they can pick them up and eat them. They're perfect for busy mornings too, as the muffins can be prepped the day before.
Plus, kids can simply grab the muffin and eat it on the run. What could be better for the days they don't want to sit still and eat?
There are countless savory muffin recipes out there, but these ones from healthylittlefoodies.com are too good to pass up. The recipe relies on four different types of vegetables, so you know they're healthy.
Plus, the recipe is easy to tweak. You might focus on the vegetables your child loves the most and avoid any problematic ones. Or, perhaps just focus on whatever you have in the cupboard.
Easy Basic Overnight Oats
Oats need to be either cooked or soaked to make them easy to digest. Overnight oats take the latter approach, where you're combining oats with liquid and flavoring ingredients to create a delicious breakfast.
Overnight oat recipes normally focus on adults, but many of the same recipes work well with kids. After all, you can create almost any flavor combo you want with overnight oats. Why not lean into your child's favorites?
This recipe, from eatingbirdfood.com, is the ideal introduction to the world of overnight oats. In it, Brittany highlights the basic features of overnight oats, along with plenty of ideas about ingredients so you can make the oats taste amazing.
Savory Muffins With Cheese And Vegetables
Here's another example of savory muffins. This time the recipe comes from hungryhealthyhappy.com and features plenty of cheese along with all the veggies.
The muffins freeze well too. So, you could make a large batch, use some for breakfast and freeze the rest.
As Dannii points out, the cheese could be a lifesaver. It buries the flavor of the veggies enough that most picky kids should still love the muffins.
Chocolate Chia Seed Pudding
Here's another trending dish – chia seed pudding. The recipe comes from Lee at fitfoodiefinds.com and tastes just like a chocolate pudding.
Yet, despite the flavor, this is actually a very healthy dish and can be an excellent breakfast. This is because chia seeds make up the bulk of the recipe. Chia seeds are nutrient dense and contain plenty of protein, so you get a filling breakfast that's hard to pass up.
I mean, honestly, what kid wouldn't love the idea of dessert for breakfast?
Another cool thing is the timing. Chia pudding is best left for 12 hours or so. This means you can prepare it the night before. Then you have an amazing breakfast that's ready to go on a busy morning.
Protein Waffles
Waffles are popular as a kid-friendly breakfast, but they're not the healthiest option. Most versions are high in carbs and don't contain many nutrients at all.
This recipe, from thebigmansworld.com, changes things entirely. The waffles only use a handful of ingredients, but they get up to 20 grams of protein per serving. As a result, they're very filling waffles.
You could easily tweak the recipe too. For example, adding some cocoa powder would give you chocolate waffles, which could be even more popular.
Healthy Breakfast Burrito
What about a breakfast burrito? These are always popular and tend to be easy to make as well.
Breakfast burritos aren't always healthy, but this recipe from kimscravings.com certainly is. There are plenty of nutritious ingredients in the mix, along with some tasty ones – enough to make this popular for kids.
It's a very customizable recipe too. You could even change most of the ingredients and still create a delicious breakfast. Kim offers plenty of ideas about ingredients that you can include.
Kid-Friendly Charcuterie Board
This entry is a little different. It comes from sixsistersstuff.com and isn't really a recipe at all. Instead, it's a detailed post about how you can make a charcuterie board for kids.
Why does this matter? Making a full charcuterie board like this wouldn't be great for breakfast. There's too much work.
However, you could easily use the ideas and create a smaller version of the board, one that uses just some of the ingredients. This idea works well, as many kids will pick at food, even if they won't eat a full meal. So, why not make a meal that can be easily picked at?
Plus, any leftovers can easily be repurposed into another meal. Many aspects of this breakfast could be prepped in advance too, giving you an easy meal first thing in the morning. If you have multiple kids, why not make a large board and let the kids choose their favorite parts?
Light And Fluffy Banana Protein Pancakes
Like waffles, pancakes aren't normally that healthy. But, add some protein into the mix, and you have a much healthier recipe. That's exactly what's happening with this recipe from thecreativebite.com.
The pancakes aren't difficult to make either. There are only five ingredients and these are all easy to find.
Another cool feature is that these aren't your typical pancakes at all. Not only are they high in protein, but they also avoid wheat flour entirely.
Tips For Stress-Free Breakfasts
One aspect of making breakfasts stress free is remembering that mornings are tricky for everyone. Parents and kids alike tend to be still waking up and there's normally time pressure to get ready and get out the door.
Many of us adults struggle with food in this window. Our bodies are still waking up and sometimes it's hard to find foods that we can eat, much less enjoy.
So, with kids, it often helps to be lenient. Focus on foods that they enjoy that will keep them going. Getting them involved in breakfast prep can help too. This takes some pressure off you and kids are more likely to eat food that they prepared.
Also think about their preferences. What textures do they enjoy? Which ones do they hate? What about different ingredients?
Sometimes you'll need to think outside of the box. For example, if your kid doesn't like eggs or the texture of oatmeal, many breakfasts won't be an option. But, they might be content with a different type of breakfast – even leftovers, lunch recipes, and dinner recipes are viable. Seriously. Who said that we can only eat breakfast foods first thing in the morning?