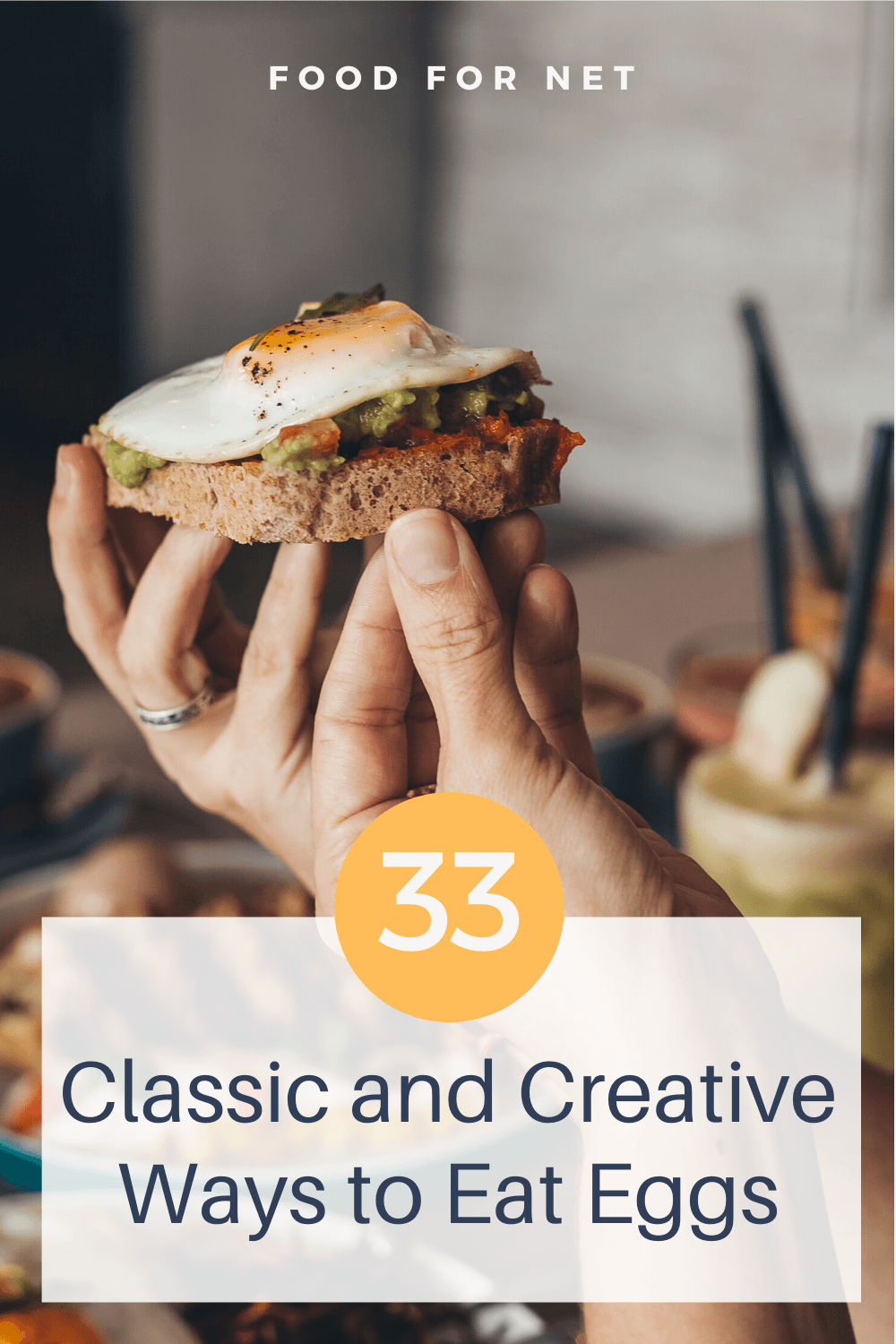 Eggs are almost the perfect food. They're packed full of nutrition, while also coming in their own little package. You're not just stuck with one or two ways of preparing them either. There are many ways to eat eggs – and that's our focus with this post.
After all, having poached eggs every morning can get boring fast. Why do that to yourself when there are so many different options?
Before we dive into ways that you can eat eggs, let's talk a little bit about eggs themselves. Eggs include a variety of nutrients, like choline, selenium and vitamin B12. They're also a fantastic source of protein, so they'll keep you satisfied for hours.
Even so, eggs have been the center of considerable debate.
At one point, they were considered unhealthy, as they are high in cholesterol. Cutting down eggs was thought to be a way to protect against heart disease.
Modern research suggests that this isn't the case at all. Your cholesterol levels are more strongly influenced by other things, such as your trans fat intake. Cholesterol is something that our body produces itself anyway, so dietary cholesterol doesn't matter as much as you might think.
Eggs are fairly high in calories, which means that you don't want to overdo it. Still, you're getting a lot of nutrients and protein for those calories, making eggs a great choice in many situations.
This all means that there's no reason not to enjoy eggs regularly, even if you're vegan. In this list, we're showing you plenty of ways to do so.
Ways To Eat Eggs
Hard Boiled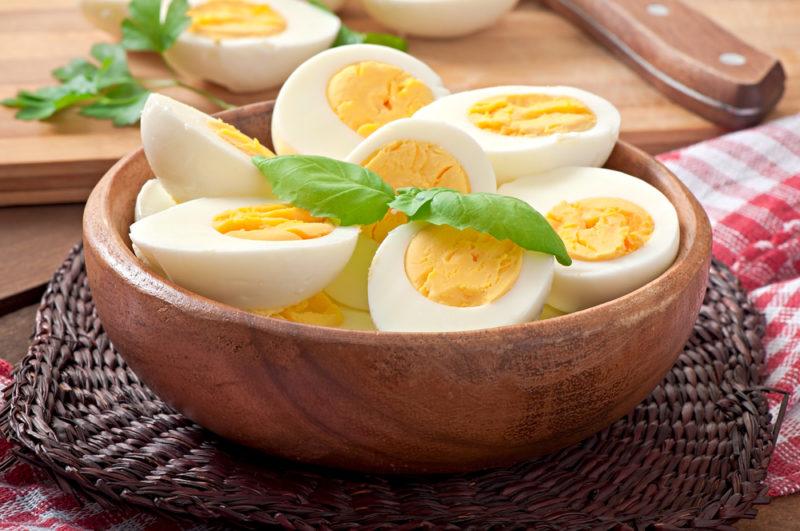 Boiling eggs may be the healthiest ways to prepare them, simply because you're not adding in any calories. Instead, you're simply cooking the egg in hot boiling water.
The process isn't difficult either – as long as you pay attention to a few things.
First, you need to be careful when placing eggs into the water, as a crack in the shell means that some of your egg will escape. An easy trick is to place your eggs in the saucepan first and then add cold water.
Boiling time matters too. Boiling for around 8 to 9 minutes will generally give you the perfect hard boiled eggs. You may need to play around with the time a little, depending on exactly how you like your egg yolk.
Once you've boiled the eggs, there is plenty you can do, including making egg sandwiches or pickled eggs. You can even make pickled eggs using pickle juice!
Soft Boiled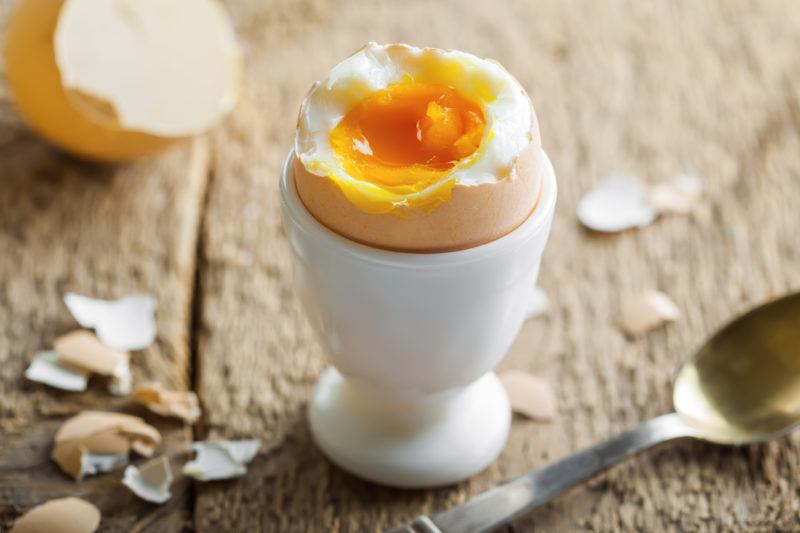 Soft boiled eggs simply require less cooking time than hard boiled eggs. The goal is to leave the yolk softer, while still making sure that the egg white is fully cooked. Soft boiled eggs are perfect if you enjoy dipping things into your egg,
However, there is some debate about food safety, especially if your egg is runny.
Cooking your egg for around 5 to 6 minutes is a good middle ground. This creates an interior that is still cooked, but isn't as solid as a traditional hard boiled egg.
Scrambled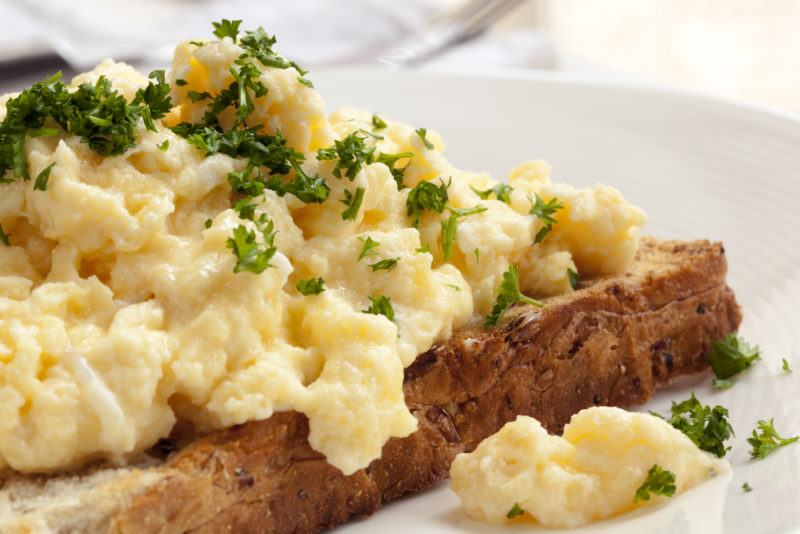 Scrambled eggs are another go-to way to prepare eggs. I mean honestly, how can you get them wrong? Scrambling eggs simply means that you're mixing them all up over heat.
Many people add in some extra ingredients too, like cheese, ham or chives. Even just adding milk and some spices can kick your scrambled eggs up a notch.
There are actually two different styles of scrambled eggs. Hard scrambled eggs are when the eggs are cooked all the way through. This style can be delicious, but the eggs can sometimes feel a little dry and overdone.
Soft scrambled eggs still retain some moisture. Using some milk while you scramble them can help to keep the eggs soft, but the biggest trick is to keep a close eye on the eggs – they overcook quickly.
Scotch Eggs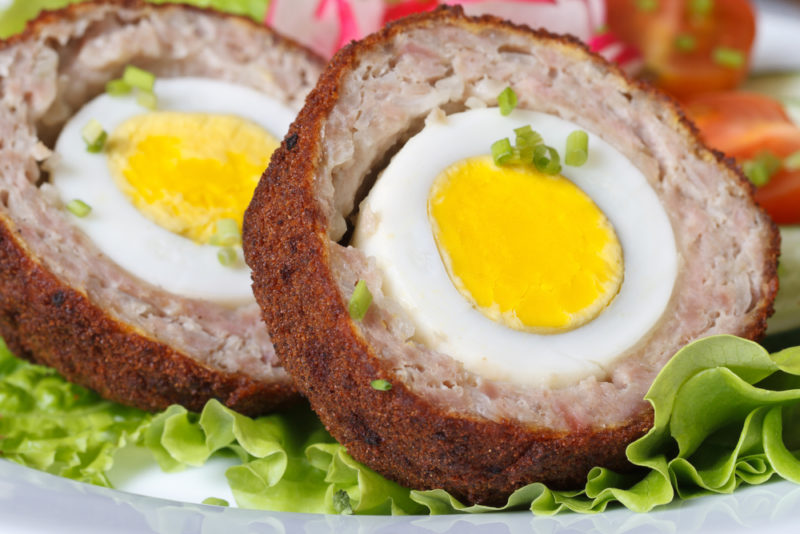 A Scotch egg is a hard boiled egg that has been covered in sausage meat, coated in bread crumbs and then, typically, deep fried. The dish isn't as unhealthy as it might sound, as the eggs and the meat are both powerful sources of protein.
Deep frying isn't essential either. There are plenty of recipes for baking the Scotch egg instead. Doing so gives you all the same nutrients, without the hassle that comes with deep frying.
Shoyu Tamago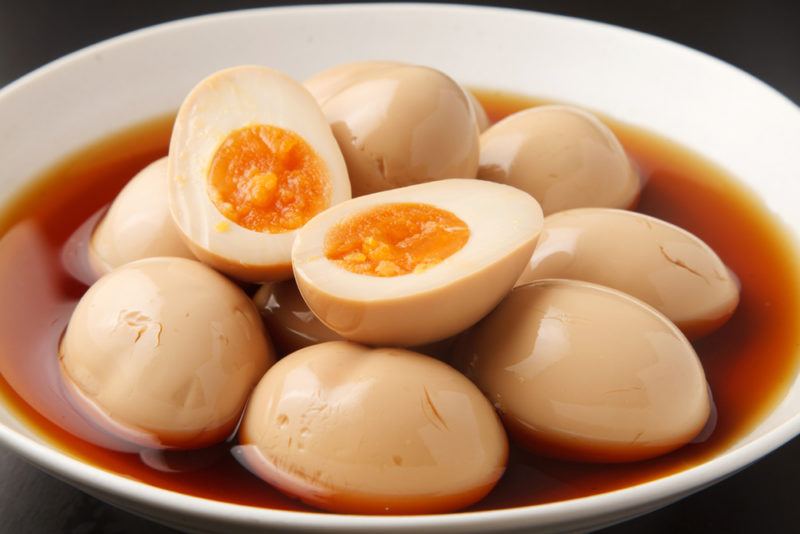 Shoyu Tamago is a simple way to make boiled eggs more interesting. This Japanese recipe is a common bento box addition, but you can use it in plenty of other situations too.
The basic idea is that you're marinating eggs in soy sauce. The eggs are hard boiled first and then left to marinate for at least an hour. Some users recommend marinating the eggs for a day or more. This allows the soy sauce flavors to seep throughout the egg.
Here's one recipe to try. The marinate includes a few extra ingredients to create an appealing flavor balance.
Poached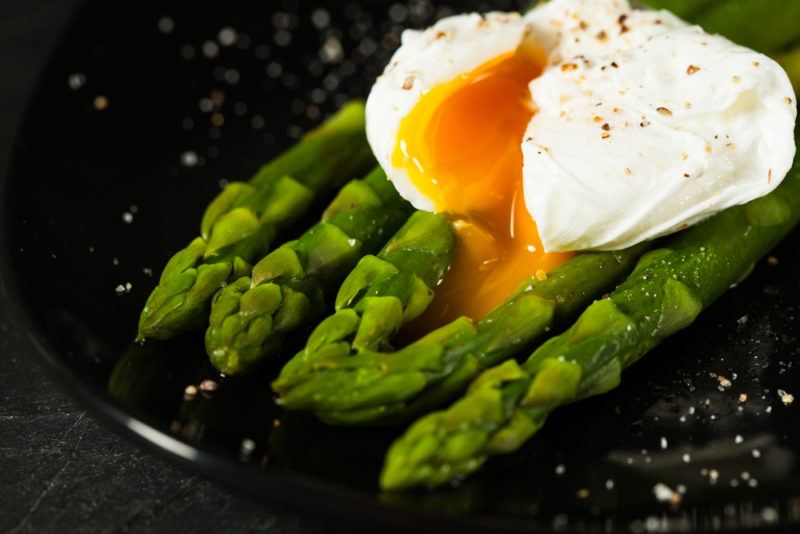 Poaching eggs simply involves boiling them in water. The process avoids contact with the pan, so there are no extra ingredients or hard edges to worry about.
Ideally, a poached egg will have a fully cooked egg white with runny egg yolk.
Making poached eggs is as simple as cracking an egg into boiled water and letting it cook. A slotted spoon can be used to get the egg out without breaking it apart.
There are more complex methods that may yield a better result. One involves adding a little vinegar to the water and swirling the water in your pan before dropping the egg in. if you get this right, the swirling motion helps to pull the egg whites together.
Another trick is to crack the egg into a strainer first and strain out the watery portion of the whites. The egg can then be carefully transferred to your boiling water.
Sunny Side Up Fried Egg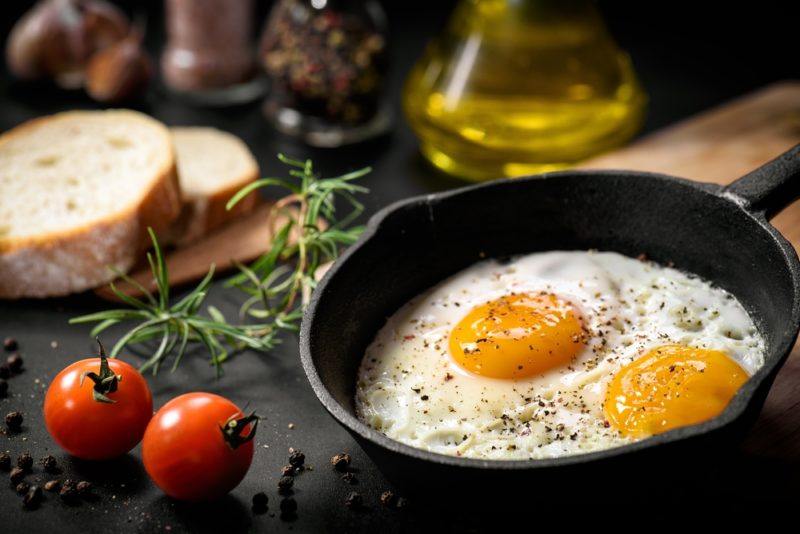 Fried eggs are fantastic. They're easy to make and the only extra ingredient is the oil or fat that you use to cook in.
You can use the eggs in many ways too. We're not just talking about fried eggs on toast either. You can add a fried egg on top of many different meals for an extra hit of protein and flavor. For example, a fried egg goes surprisingly well with pasta or with a quinoa salad.
Making a fried egg sunny side up simply means that you're not flipping it. This can leave the yolk soft, which is ideal if you plan to use the yolk for dipping or if you want it to run onto the rest of your meal.
Cooking the egg through without burning the bottom can take a little practice. You'll need to stop the egg from sticking to your pan and make sure that the temperature isn't too high.
Over Easy Fried Egg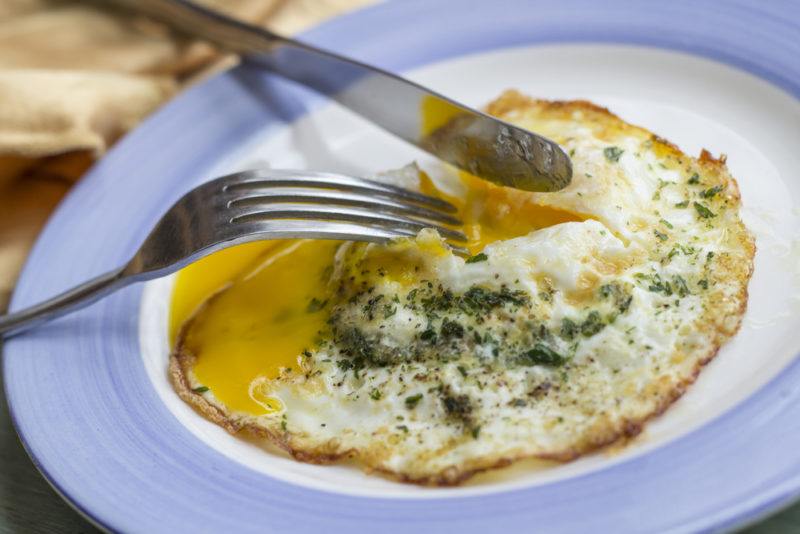 The over easy style means that you're flipping your egg part way through the cooking process. It's easier to fully cook the egg this way, but flipping it without breaking the yolk can be challenging.
Over easy eggs can still have a runny yolk, as long as you don't cook them for too long. Getting it right can take some practice. Still, once you know how you like your eggs, it should be easy enough to repeat the process.
Other Types Of Fried Egg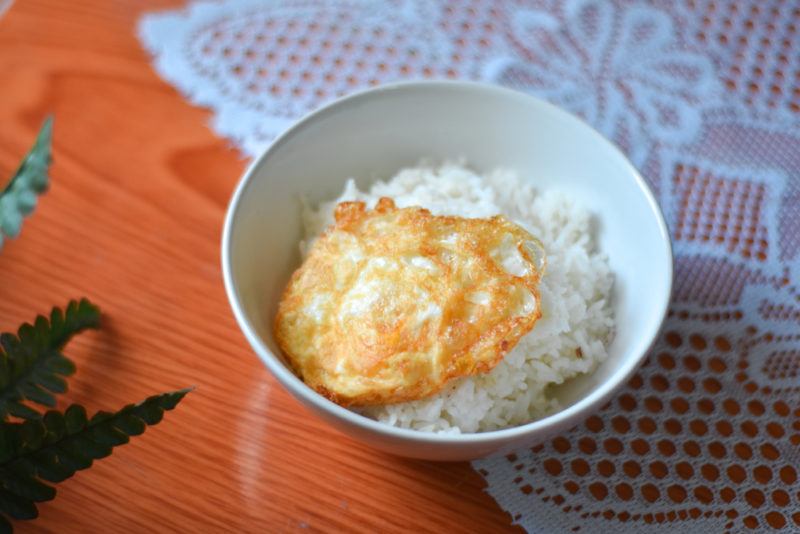 Fried eggs can also be over medium or over hard. The difference is how well cooked the egg is. With an over medium egg, the egg white is cooked fully and the edges of the egg are often browned a little. The yolk still ends up being soft enough for dipping.
On the other hand, over hard is a fried egg where the yolk and white are fully cooked. This may involve turning the eggs multiple times. Just make sure you don't overcook them, as eggs don't taste as good when they're dried out.
Frying an egg over hard can be useful if you're planning to make a bacon and egg sandwich or something similar. After all, a runny egg yolk is less appealing if you're going to be eating the sandwich cold later in the day.
Omelet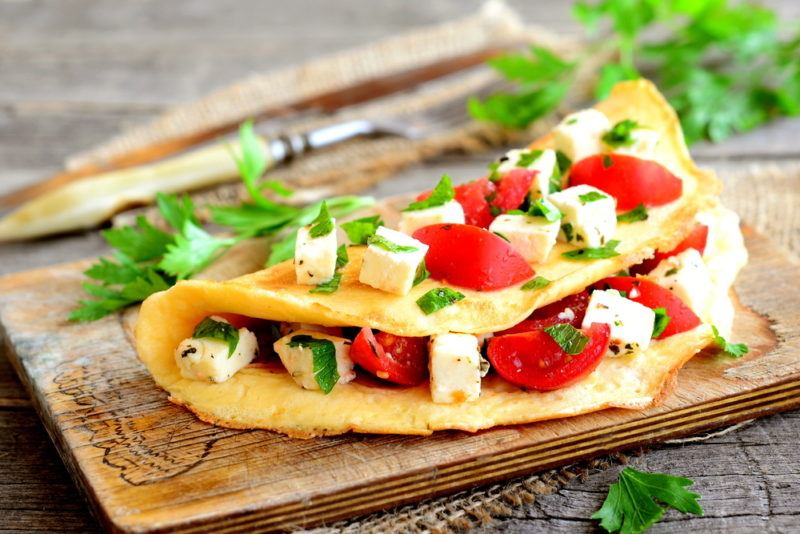 Omelets are a classic approach if you want a little bit more than just eggs. You're generally frying a mixture of egg, milk, and herbs in a non-stick pan, then adding on toppings as cooking progresses and finally folding the whole thing in half.
Omelets are incredibly flexible. You can make up your own combination of ingredients. I've even seen omelets that use pineapple, cubed potatoes or hash browns.
Microwaved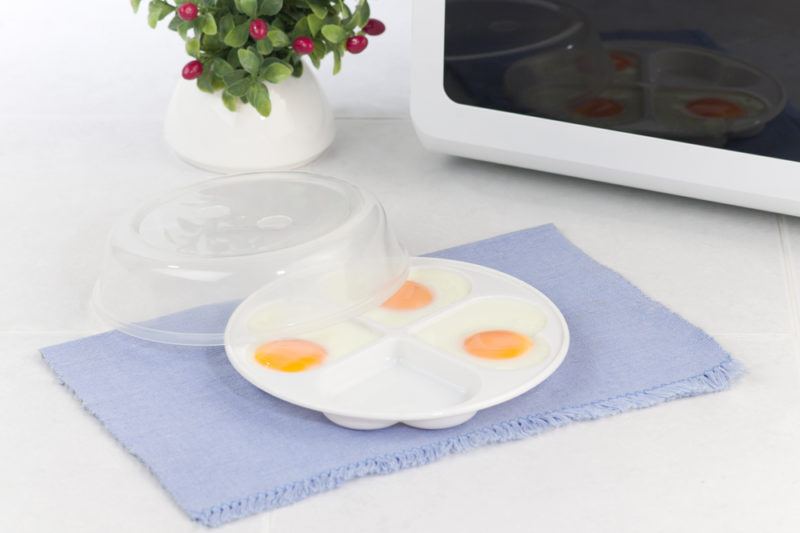 Microwaving eggs tends to be faster and easier than cooking them on the stovetop.
Just be careful if you plan to microwave eggs in their shells. Pressure in the egg can build up easily, which may make your egg explode. That's a mistake you'll only make once.
If you want to make a hard boiled egg in a microwave, you'll need to prick the bottom of the egg before you cook it. It's best to pay close attention to the process too, especially the first time.
Make A Mug Omelet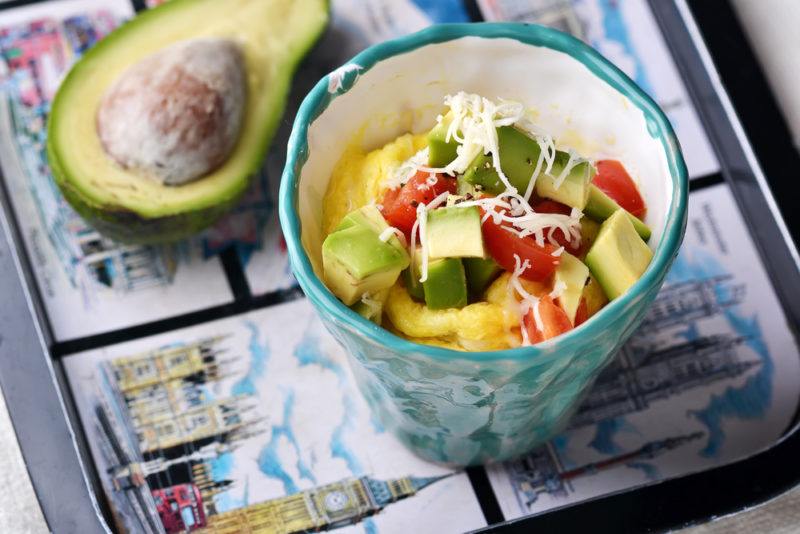 A mug omelet is a slightly more complex way to enjoy eggs in the microwave. All you need to do is mix together eggs, milk, and seasonings, along with ingredients like ham, cheese, and bell peppers.
The whole thing then goes in the microwave for about a minute. Give it a stir and then put it back in for another 30 seconds to a minute.
Just make sure that you choose your mug well. You need to leave enough space for the eggs to expand as they cook.
Huevos Rancheros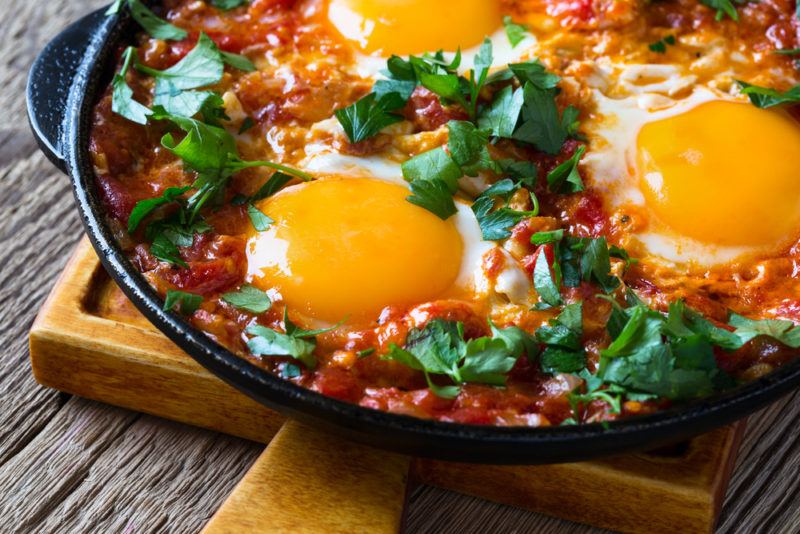 Huevos Rancheros also goes by the name rancher's eggs. It is a fast and easy Mexican breakfast that fantastically combines flavors. The dish tends to feature fried eggs, corn tortillas, and warm salsa.
To be fair, Huevos Rancheros does take more work than many of the other breakfast recipes on this list. Even so, the individual steps get faster and easier the more familiar you become with the recipe.
Steamed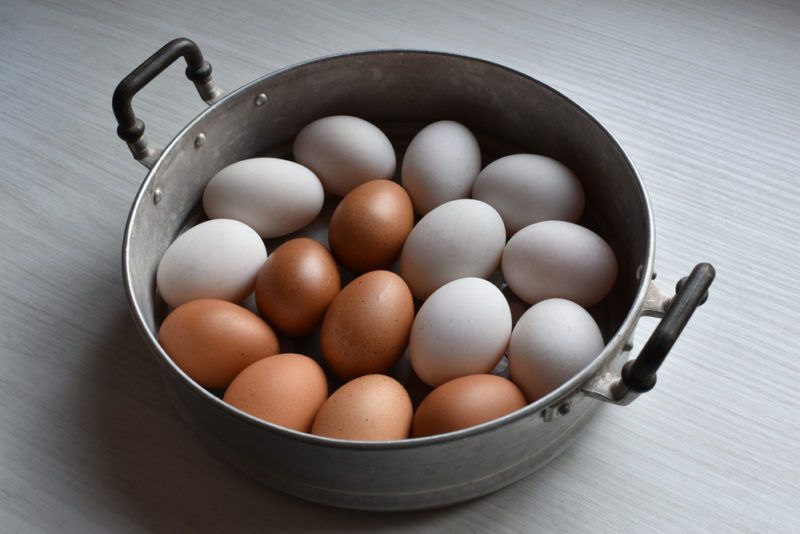 Steamed eggs basically involves cooking eggs in a steamer, rather than a pot of boiling water. You end up with something similar to a hard boiled egg, except that the egg is often more tender, as the cooking approach is gentler.
An added bonus is that steamed eggs are generally easier to peel.
The process for cooking steamed eggs is simple. You add around an inch of water to your pot, then put the steamer in and bring it to temperature. Once the pot is steaming, you can gently add your eggs to the steamer using tongs (be careful, you can easily burn yourself on the steam).
Cook the eggs for around 6 minutes if you want them to still be soft or 11 to 12 minutes for hard eggs. Once the time is up, drop the eggs into cold water. This stops them from cooking further and cools them down enough for you to peel them.
Instant Pot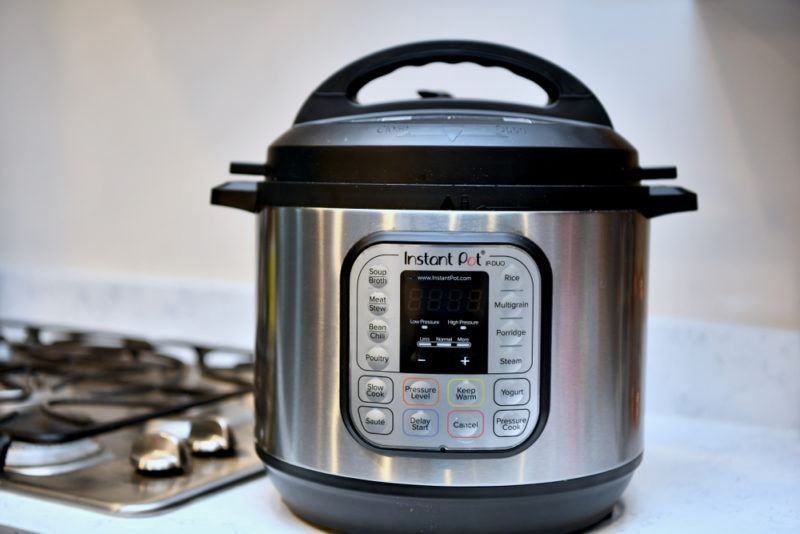 The Instant Pot is an even easier way to make eggs. The device literally has an egg setting, which uses steam to cook your eggs.
If you use the default setting, your eggs are cooked for five minutes, which gives you hard boiled eggs. You can notch this down to four minutes to get soft boiled eggs instead.
The approach is simple and foolproof. Plus, the eggs are incredibly easy to peel. Just remember that it takes around five minutes to warm up the Instant Pot and the same to cool it down, so this technique is slower than boiling your eggs in a pot of water.
Cooked Via Sous Vide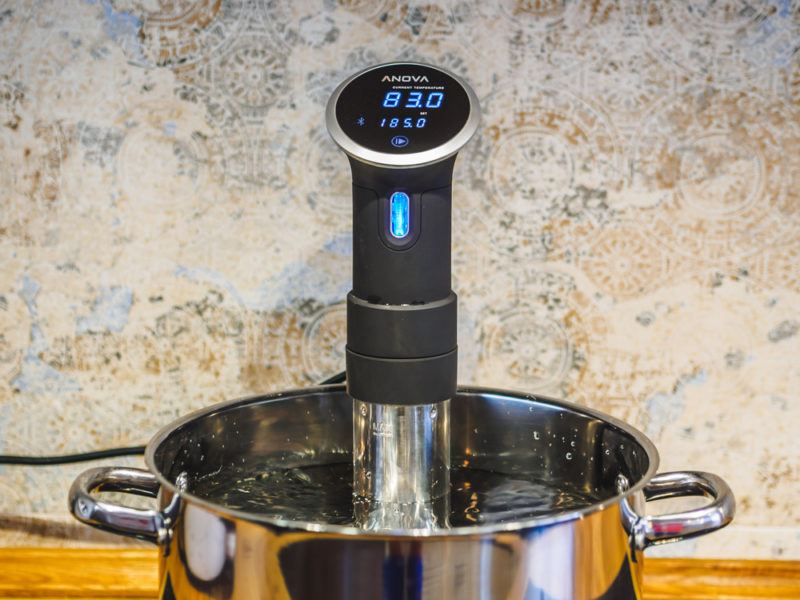 Sous vide translates to 'under pressure' and generally means that you're cooking food that has been packed in bags without air in a warm water bath for an extended period of time.
Eggs can be cooked sous vide too, albeit in a slightly different manner. You're simply placing the eggs in the sous vide in their shell. No need to stuff around with bags or anything like that (not that bags would work well with eggs anyway).
The advantage of sous vide is predictability. You're able to get precisely the outcome you want repeatedly without much stuffing around. The same can't be said of most other methods of cooking eggs, which tend to produce inconsistent results,
Besides, sous vide eggs end up having an amazing texture – one that you simply can't get any other way.
Sous vide is generally a slow way to cook, but eggs can be made in less than 15 minutes. You'll need to play around with the timing a little, as the time will influence the way that your eggs turn out.
Egg Muffins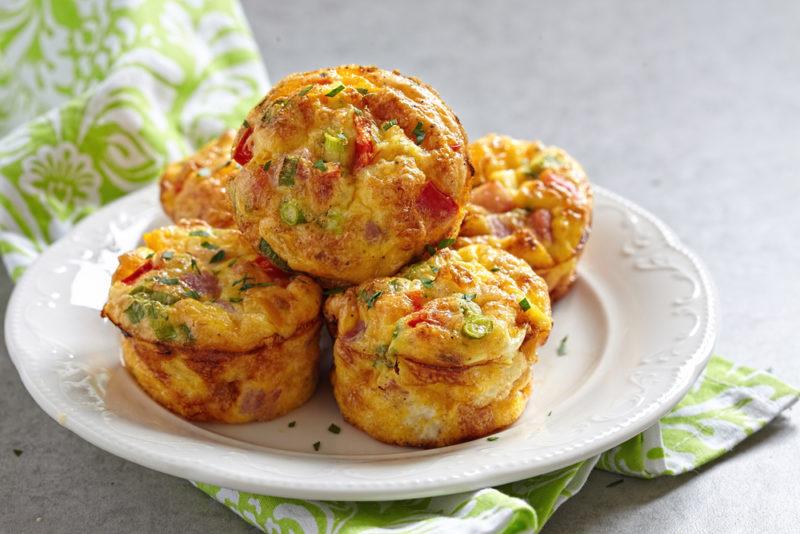 Egg muffins are one of the easiest ways to prepare a portable egg snack. You're basically just baking them in the oven, along with a variety of other ingredients, such as ham, cheese, and tomato.
There are no set rules about what you can and cannot put in egg muffins, so you're free to vary them based on your own personal preferences.
Regardless of the ingredients, egg muffins make for an easy source of protein, one that you can enjoy hot or cold.
Frittata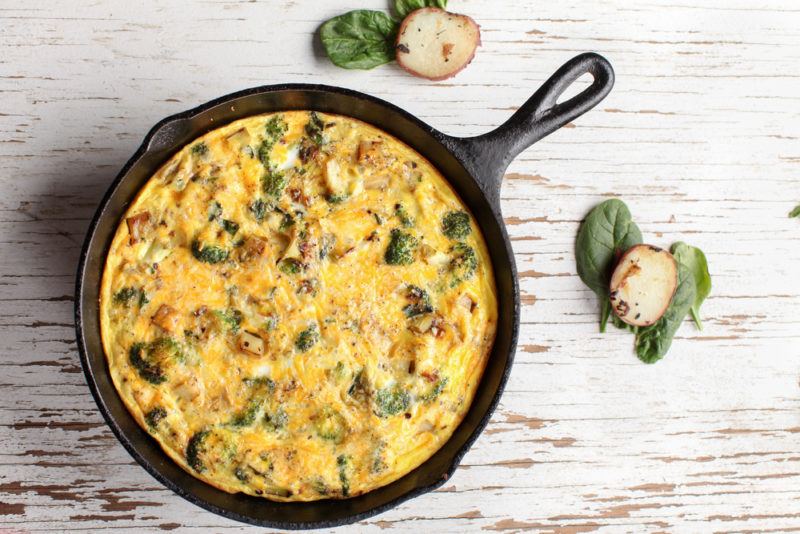 A frittata is a little bit like an egg pancake, except that it tends to be thick and loaded with ingredients. As with an omelet, you can basically throw anything into a frittata, and it will work well.
Frittatas are generally baked in the oven. They're far too thick to work well frying on a stovetop.
However, you might need to sauté some of the ingredients first, like onions or peppers. If you have one, a cast iron fry pan works perfectly for the job. You can do all of the sautéing that you need and then mix together the frittata in the same pan. The whole thing can then go in the oven – keeping your dishes to a minimum.
Baked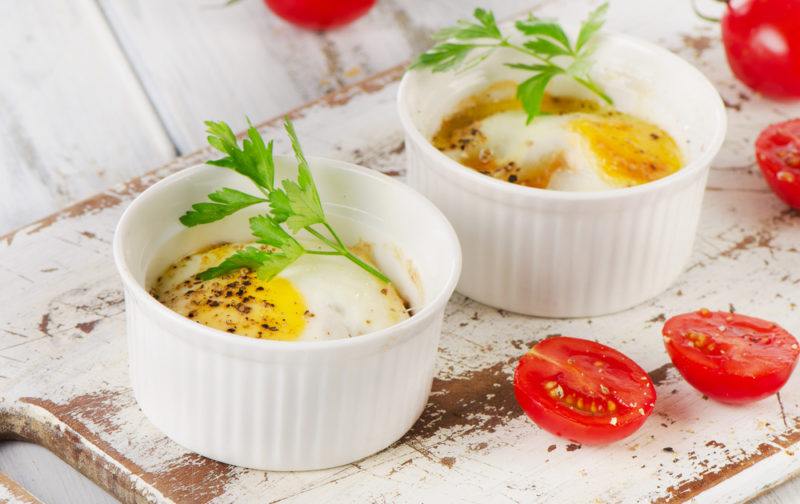 Baked eggs are simple. You're just cracking the egg into a dish and baking it.
Most of the time you'll be adding in other ingredients too. A simple approach is to add an egg, some cream, herbs, salt, and pepper into a ramekin, then bake this in a water bath. The finished dish tastes delicious and has a similar consistency to custard.
Deviled Eggs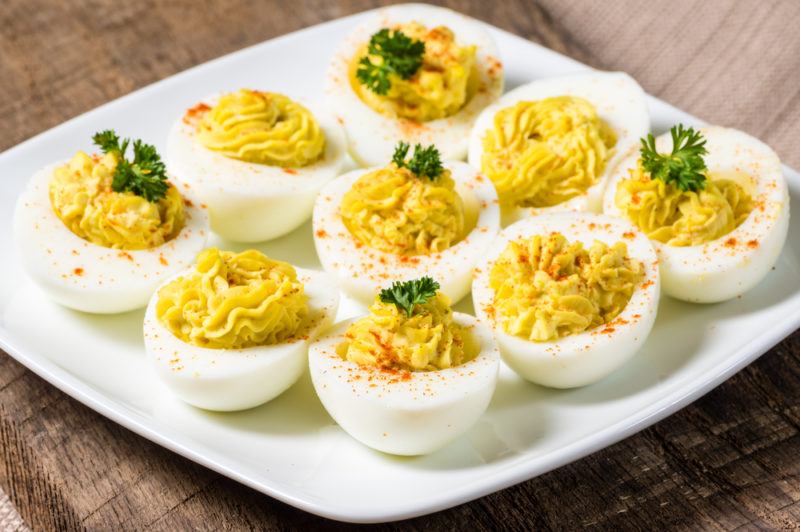 Here's another classic. Deviled eggs are simply hard boiled eggs, where the yolks have been scooped out, mixed with other ingredients and then placed back into the eggs.
Deviled eggs are a great way to make hard boiled eggs more interesting. The egg yolks are generally mixed with mayonnaise and possibly mustard, but there are many other variations that you can make.
Some people add in various spices that help the eggs to stand out or use different dressings. The eggs can also be toped with items like bacon, chives, smoked salmon or whatever else looks good.
Breakfast Tray Bake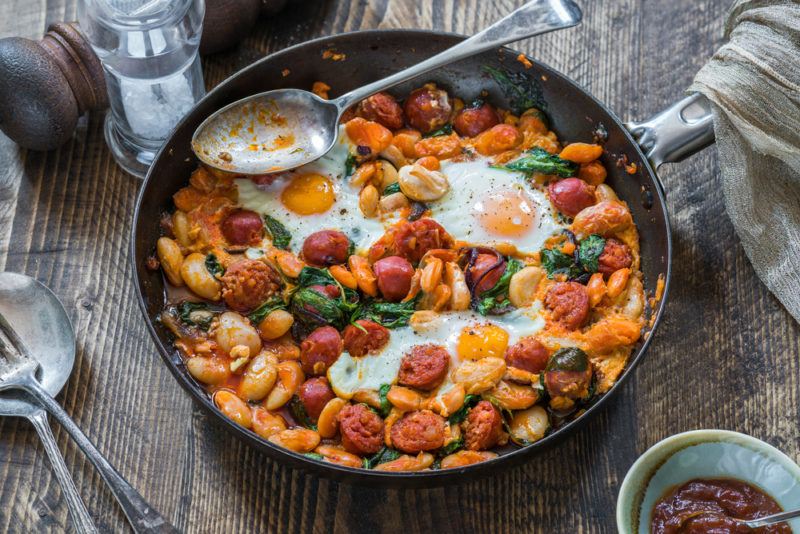 Baking tray recipes are an easy way to make an entire meal without much mess, fuss or planning. You're basically just setting out your entire meal and then baking it all at once. Many different such recipes involve eggs.
One example is a sweet potato hash recipe from Kitchn. This recipe involves cooking sweet potatoes with sausages ahead of time and then laying them out on a sheet pan. The entire meal can be reheated in the oven, while you bake a few eggs on top of it at the same time.
Another example is this full breakfast tray bake from Every Last Bite. While the style is similar, there are distinct differences too.
You can easily follow the themes of these recipes and create your own bake. For example, you might use cubed potatoes or even hash browns, rather than sweet potatoes.
You don't need to use a sheet pan either. Some people make bakes using cast iron pans instead. Cast iron pans are fantastic, as you can do some of the cooking on the stovetop and the rest in the oven.
Basted Eggs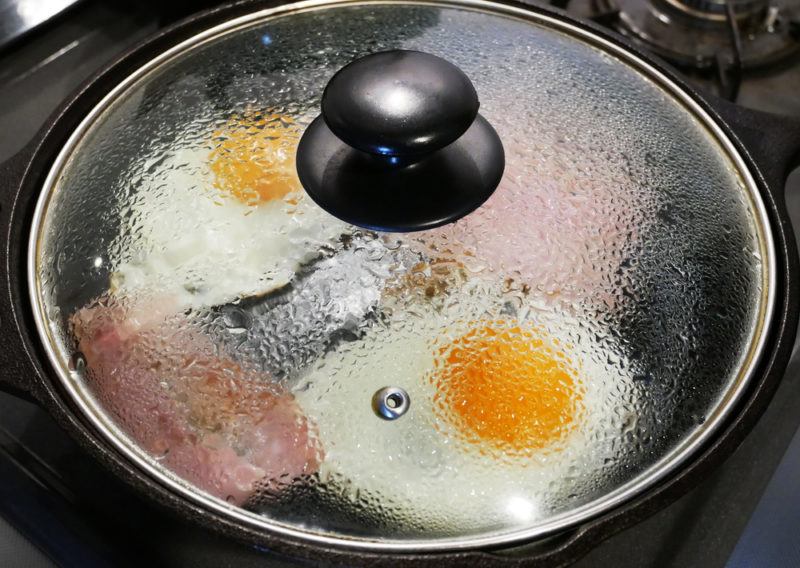 Basting is an unusual cooking variation (and isn't the same as poaching your eggs!). A basted egg is largely fried, except that you're using liquid or steam to cook the egg white faster.
One technique is to repeatedly scoop the fat that you're cooking with over the egg. This works well if you're cooking with butter. Alternatively, you can add a little water to the pan and then cover the egg with a lid to steam it slightly.
The end result is similar to a sunny side up fried egg with softer edges.
Egg Pepper Rings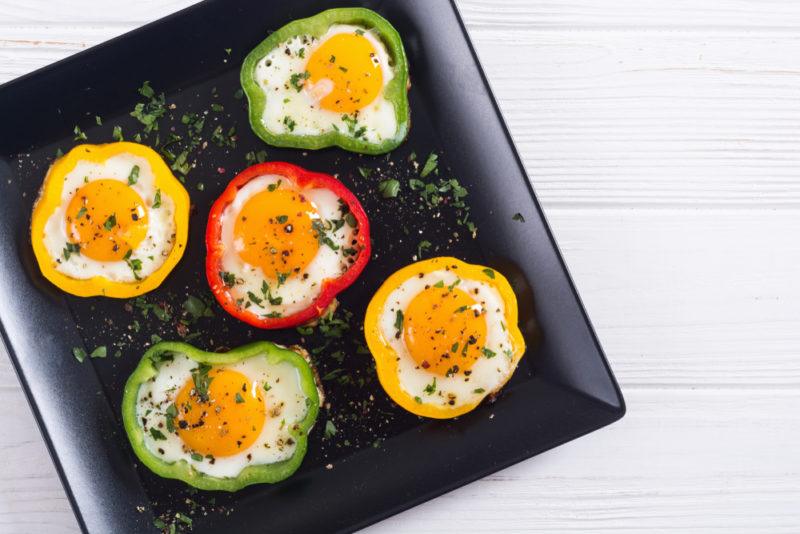 Egg pepper rings are an easy way to make fried eggs. You're simply slicing a pepper so that you get a cross-section. This becomes a perfect way to hold the shape of an egg when you are frying it.
Any color of pepper will work here. Each color has its own distinct flavor, so you may want to choose your favorite.
Egg Drop Soup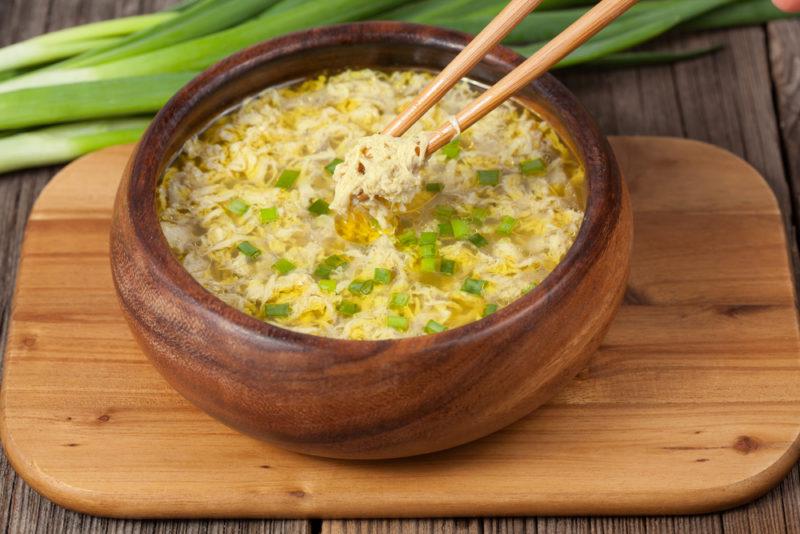 While egg drop soup might seem a little unusual to Western audiences, it is a tasty soup that is easy to prepare. The basic recipe just relies on boiled chicken broth, beaten eggs, and some flavoring ingredients.
The soup is also viewed as healthy, as it is low in calories.
In the United States and some other countries, egg drop soup may be thick. This is because thickeners like cornflour are used. However, the traditional version of the soup tends to be thinner and clearer, as thickening agents aren't used.
Spanish Tortilla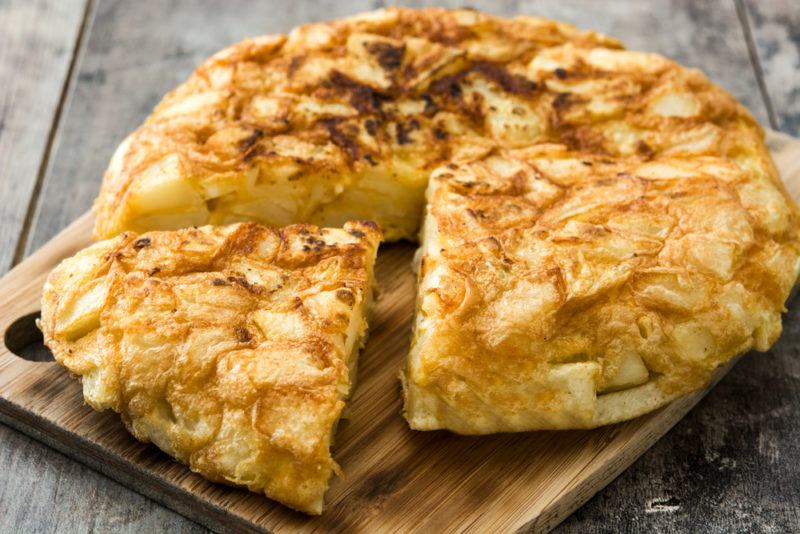 A Spanish tortilla (or Spanish omelet) is a variation on a traditional omelet. It tends to be much thicker than other types of omelets and isn't folded either.
The ingredients are unusual too, as a Spanish omelet includes potatoes. Onion is often present too and other ingredients may be added in to create a more complex flavor profile.
Quiche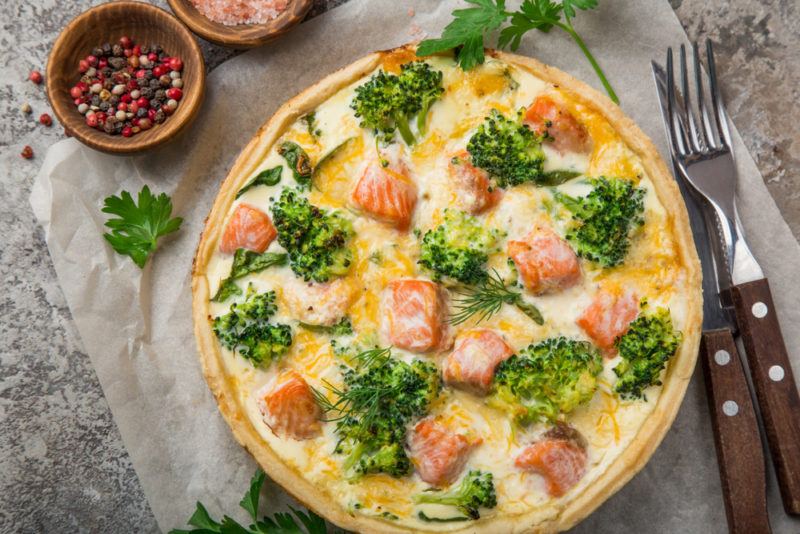 There are countless quiche recipes out there, all with their own quirks. Some have a crust that needs to be prepared separately, others are self-crusting, while still others have no crust at all.
The ingredients vary dramatically too. Eggs, ham, and cheese are a classic combination, but there are plenty of others too. In fact, the recipe for a basic quiche is quite forgiving, so you can easily experiment with different ingredient combinations.
Egg Salad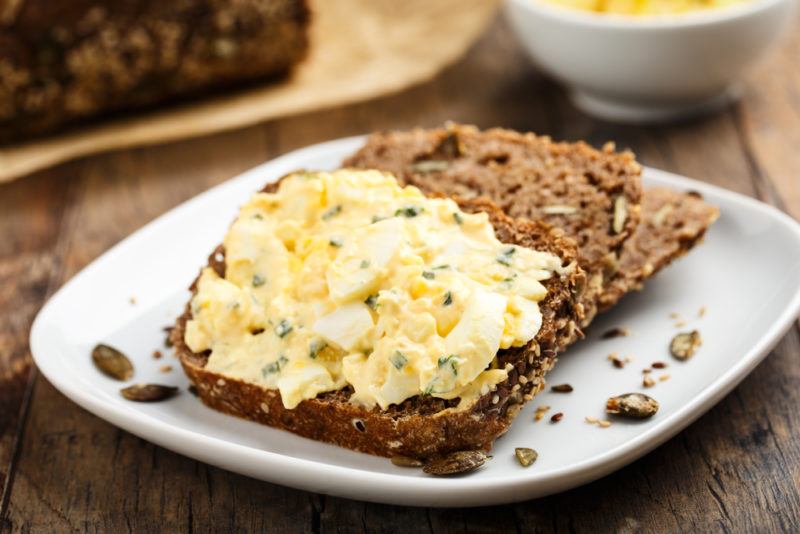 If you want something simple, egg salad is the way to go. Classic recipes just rely on hard boiled eggs, mayonnaise, salt, and pepper. Of course, you can easily expand from this to create a more complex dish.
For example, chopped ham and chives are sometimes included in egg salad. You could also consider red onion or even a tiny bit of mustard.
Spices can be included too, which help the salad to stand out a bit more. Paprika is a particularly good spice to use. You can easily experiment to find a combination of herbs and spices that work for you.
Custard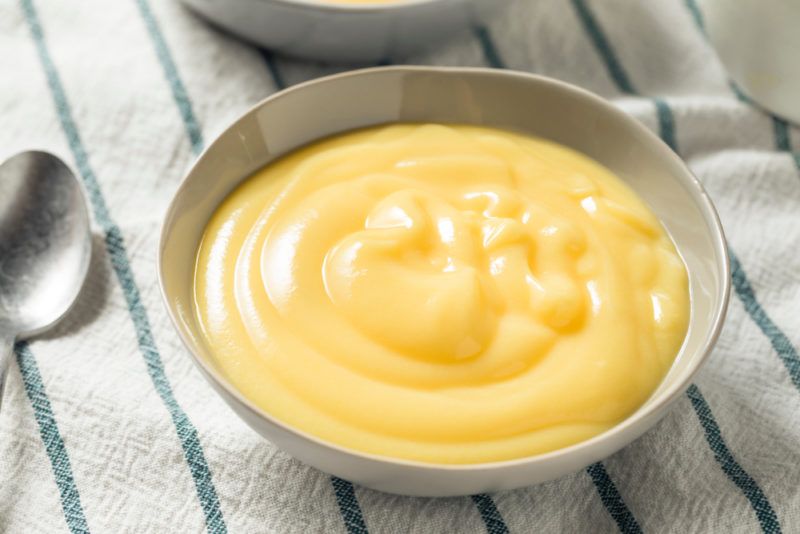 Recipes for custard vary, but many rely on an egg yolk to thicken the milk or cream recipe (of course, this isn't the case if you're relying on custard powder).
This approach does mean that egg is a secondary ingredient in custard. It often doesn't even contribute to the flavor all that much.
Eggs Benedict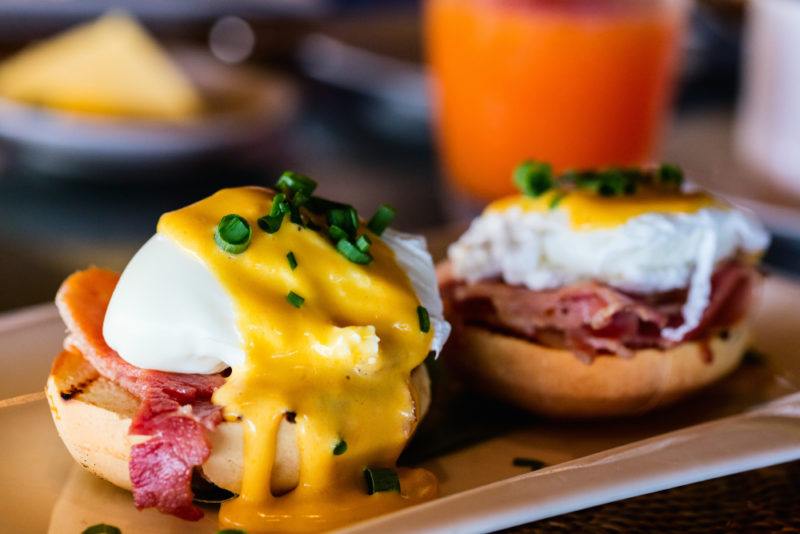 Eggs Benedict is another classic way to eat eggs. The recipe is generally made with poached eggs and ham, served on toast with hollandaise sauce.
Creating the sauce is probably the hardest part, You need to be sure that it doesn't split. Even so, the finished dish is certainly worth the effort.
There are also variations you can focus on, such as Eggs Florentine, which uses spinach instead of ham and Mornay sauce instead of hollandaise sauce, or Benedict Royale, where the ham is replaced with smoked salmon.
Baked Egg Avocado Boats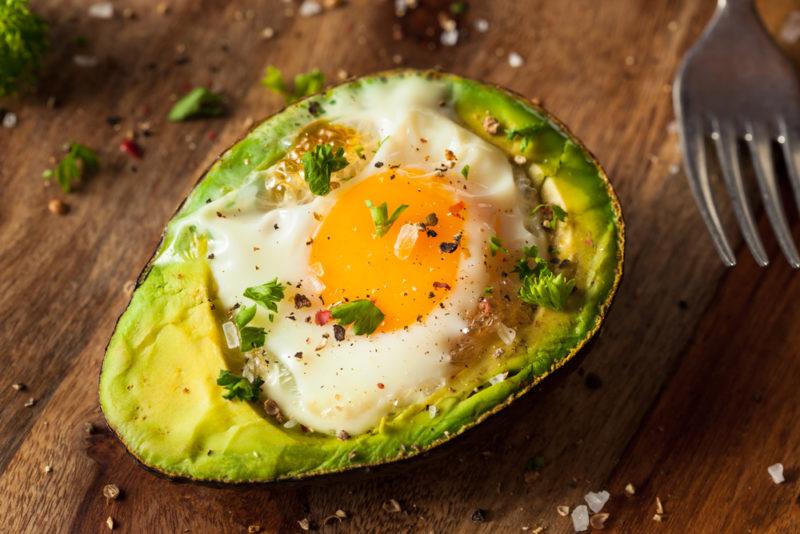 Avocados also work well as a vehicle for eggs. You simply use the avocado seed hole as a place to place the egg and then bake the whole thing in the oven.
The end result is an amazing combination of flavors and textures. You're also getting access to plenty of healthy fats. Besides, who doesn't love avocados?
Eggnog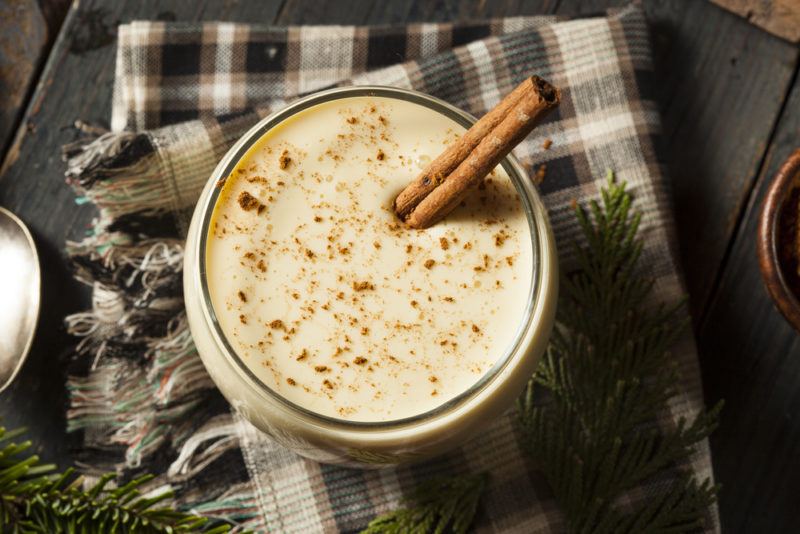 As the name suggests, eggs (specifically, raw eggs) are a key ingredient of eggnog. The eggs are sometimes separated and the whites are then whipped, but this step isn't present in all recipes.
Other key ingredients include milk or cream, sugar, an alcoholic spirit, and spices. While the raw egg might seem a little off-putting, you should generally be safe using pasteurized eggs.
Prosciutto And Egg Cups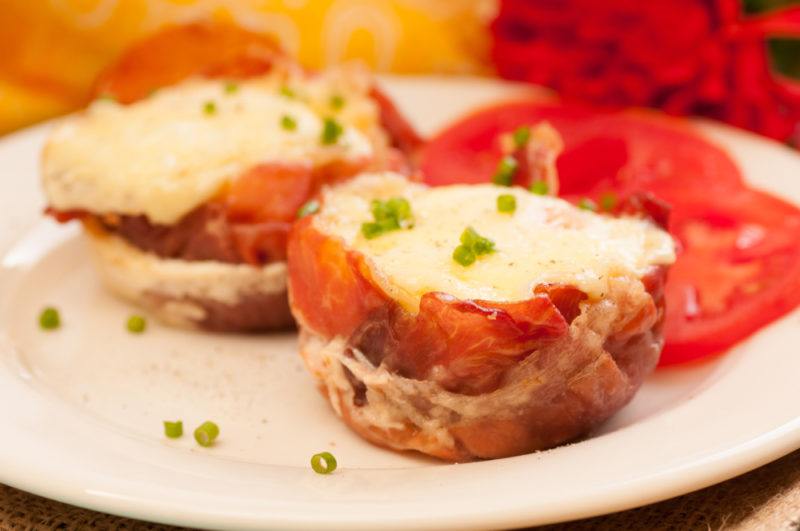 With this breakfast option, you're creating a prosciutto shell in a muffin tin and then baking the egg inside it.
This is a simple way to make sure that your eggs hold their shape while cooking. They're also much easier to get out than if you baked an egg on its own in a muffin tin.
The flavor contrast between prosciutto and egg works well too. Of course, you're not just limited to prosciutto. Other variations are common too, such as using ham or bacon.
Breakfast Burritos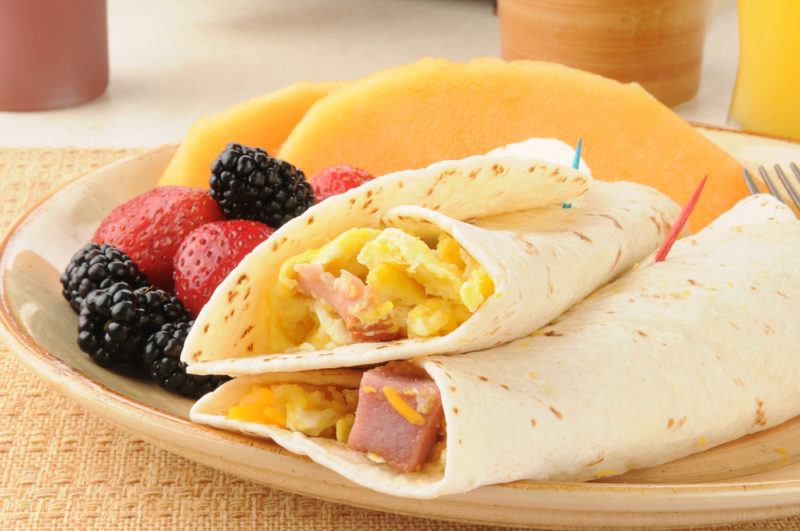 Breakfast burritos are another popular way to use eggs. You get all the classic flavors of breakfast, in a wrap that you can easily eat on the go.
Most breakfast burritos rely on scrambled eggs, so the egg part is simple to prepare. Many other parts of the wrap can be prepared ahead of time and either used cold or quickly reheated.
Breakfast burritos are popular because you can choose the ingredients based on your own preferences (and what you have at hand). This gives you the chance to include your favorites and exclude any ingredients that you're not fond of.
In A Whiskey Sour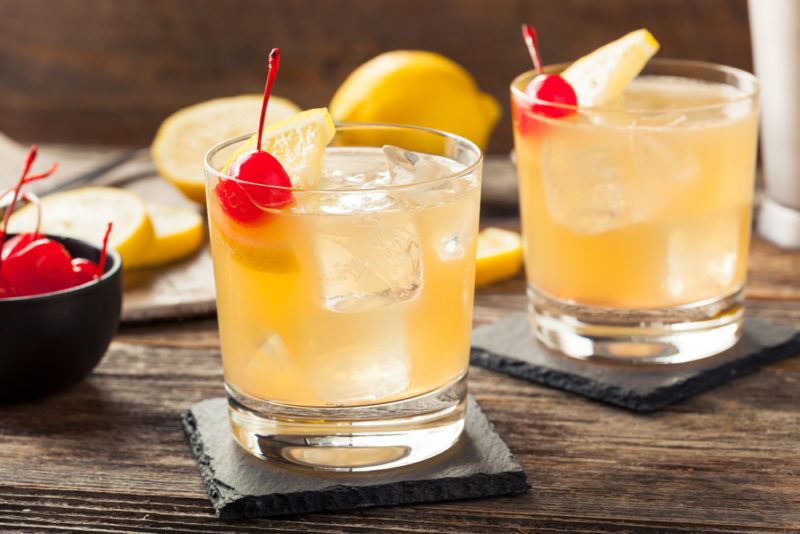 A whiskey sour is a classic cocktail recipe. It includes whiskey, sugar, lemon juice, and egg white. The egg white is optional and it doesn't alter the flavor dramatically.
Instead, the egg helps to bind the flavors of the drink. It can make the citrus seem a little less acidic too, which is another appealing feature.
In A Smoothie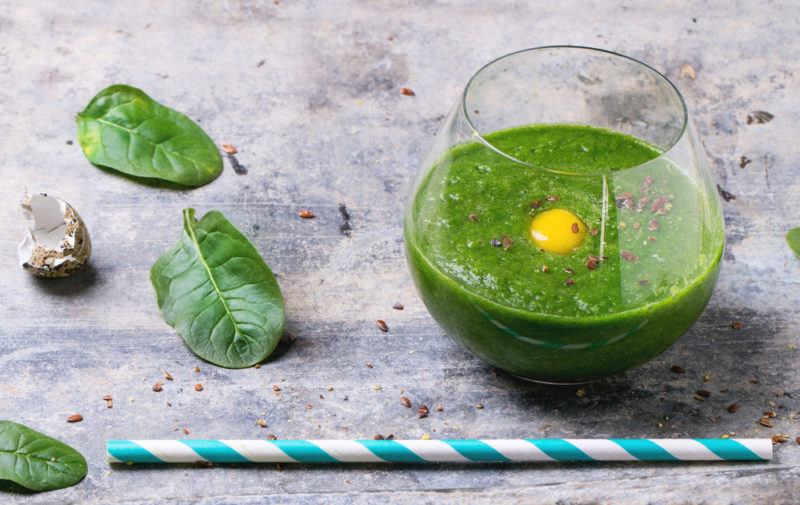 Finally, you'll sometimes see a raw egg included in a smoothie (or even chocolate milk, for that matter). The idea is simply that you're getting the nutrients from the egg.
There is the risk of salmonella poisoning from eating raw eggs, however, raw eggs do potentially contain more nutrients too, so there's a tradeoff to consider. Using pasteurized eggs can reduce the risk.