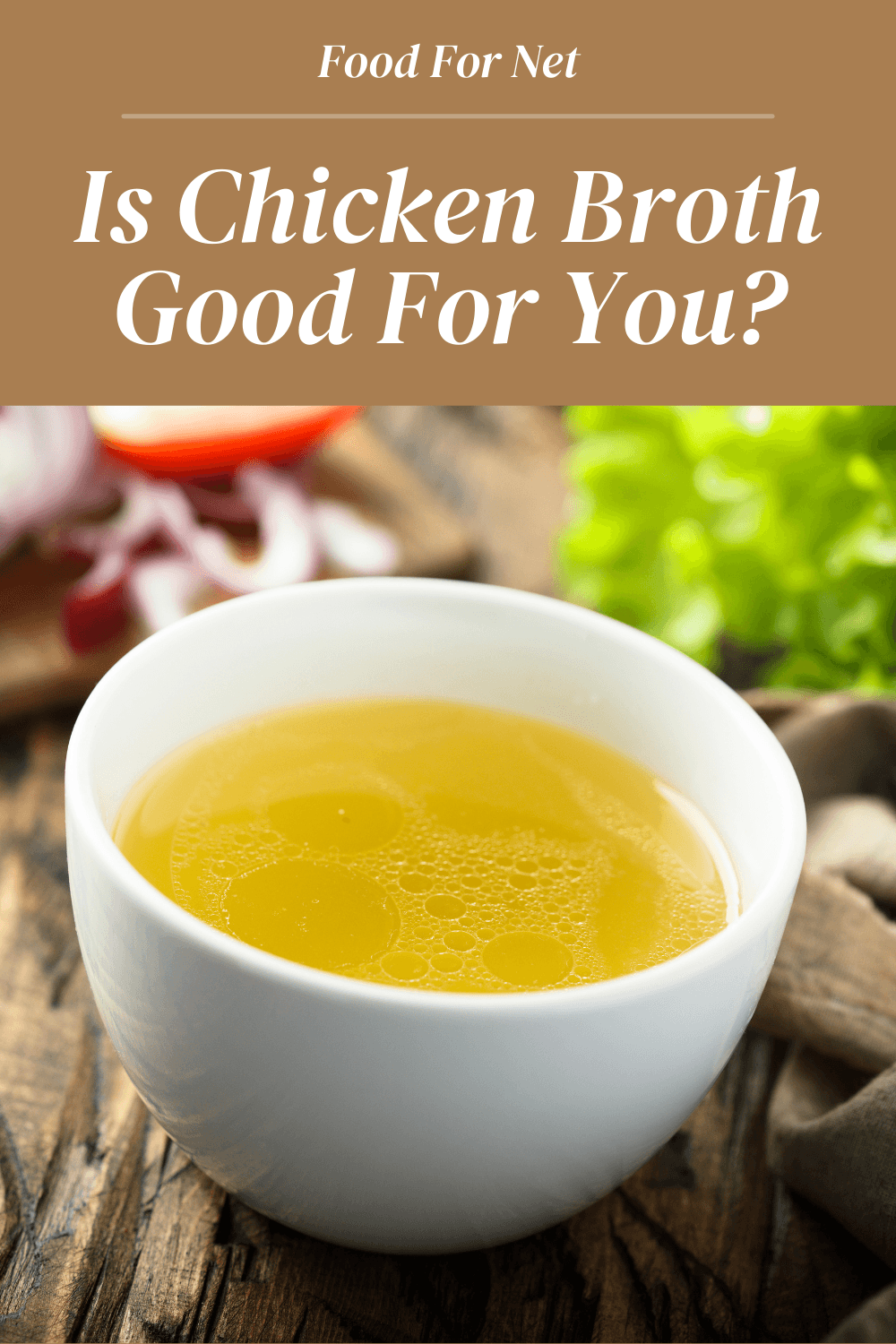 Chicken broth was once just a commonplace ingredient, one that was often used as the base of various soups and stews, or even as something to drink on its own. It's become even more popular these days, as we've started to recognize all the benefits of bone broth. So what about chicken broth – is chicken broth good for you?
The idea behind modern chicken broth is simple. You're simmering chicken bones, often with meat still attached, for hours at a time. Doing so gives you plenty of nutrients from the bones themselves, including some that aren't common in modern diets. You're often getting plenty of collagen as well.
Still, is chicken broth good for you? It's easy to see how it might be, yet there are also some potential risks to talk about.
As part of this discussion, we need to answer a common question – what's the difference between stock and broth? The terms are used interchangeably, as if they were the exact same thing. Yet, there are differences, and you might sometimes choose one type over the other.
Is Chicken Broth Good For You?
Chicken Broth Versus Chicken Stock
Benefits Of Chicken Broth
Problems With Chicken Broths
How Do You Use Chicken Broth?
Chicken Broth Versus Bone Broth
Ways To Make Chicken Broth Even Better
Is Packaged Chicken Broth Any Good?
Final Thoughts
Chicken Broth Versus Chicken Stock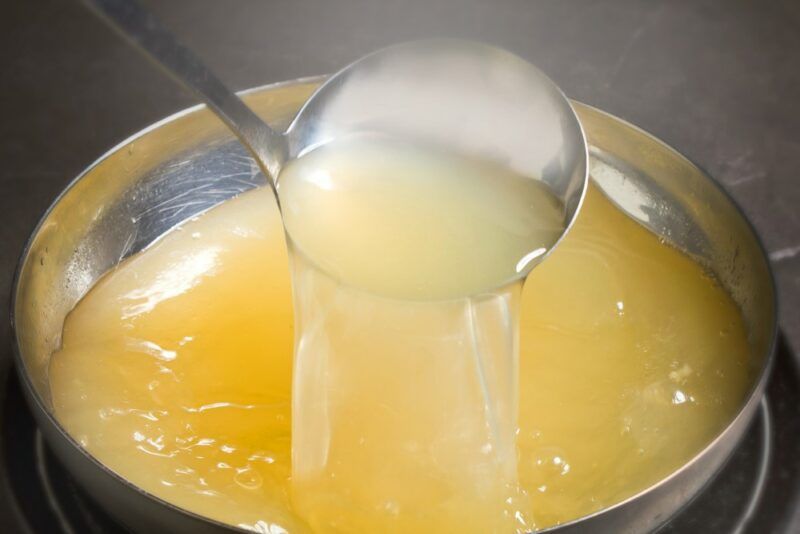 You'll often see chicken broth and chicken stock in the same section of the grocery store. The terms are often used interchangeably too, even in some recipes. So, how do the two compare?
The answer is surprisingly complex, mostly because different people vary in how they use the two terms.
For the most part, though, chicken stock is made by simmering the chicken bones with water. Stock traditionally involves simmering the chicken for hours at a time. The bones are sometimes roasted first, but other times they're left as-is.
There often isn't much seasoning because stock is used as a base ingredient in many recipes. Seasoning it too heavily would give you much less flexibility in your meals.
If there is skin or meat as well, then you're looking at chicken broth. Broth also tends to include seasoning, which boosts the flavor and means you can even drink chicken broth on its own.
Interestingly, stock is traditionally simmered for hours, while broth is cooked for a much shorter period. That's the traditional approach, at least. These days we often prepare bone broth, which is similar stock, except that it is often seasoned.
While the terms can get confusing, broth and stock are pretty similar, especially if you're simmering the chicken for hours. Doing so means that gelatin and other healthy compounds seep out from the bones, offering many potential health benefits.
It doesn't even matter whether you say you're making broth or stock. Either way, you're getting a delicious and healthy ingredient, one that can be used in many ways.
Benefits Of Chicken Broth
Helpful For Digestion And Your Gut
Broth is often linked to improved gut health. This may be because of the amino acids present, particularly as bone broth is very easy to digest.
Bone broth is also a gentle dish. It's something that most people can eat without a problem, even when they're feeling sick or nauseous. That's a powerful effect, one that shouldn't be underestimated.
There could also be hidden features of bone broth, ones that are even more powerful for gut health. After all, the long simmer time means that you're getting some unusual compounds from the bones, like glucosamine.
Could Help With Joints Too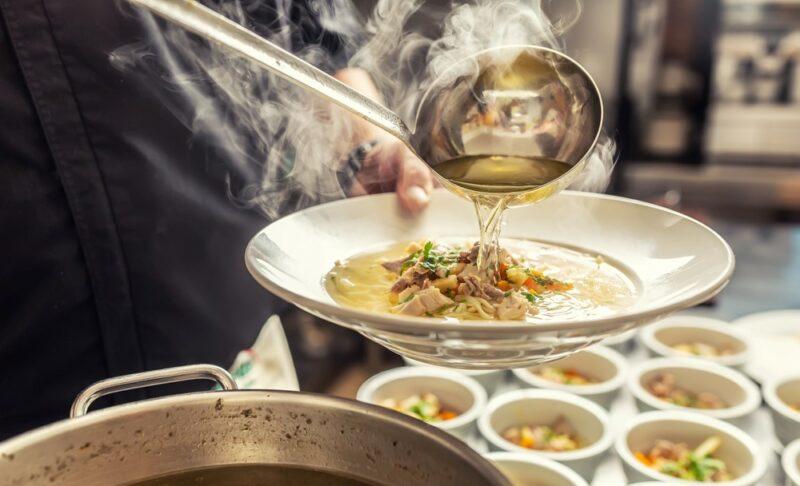 Chicken broth could be relevant for your joints too, particularly because of its collagen content. Nutrients in the broth may be helpful as well, along with compounds like hyaluronic acid.
There's also the chance that broth decreases inflammation. This is very relevant for your joints and could even decrease your disease risk.
The digestion and joint health effects haven't been proven – largely because bone broth research is still in its early stages. There are also countless differences in how bone broth is prepared and the ingredients used, which makes patterns harder to identify.
Still, there are plenty of anecdotes about digestion and joint improvements. The best solution may be to experiment for yourself. Try chicken broth for a while and see whether it helps.
Great When You're Sick
Chicken soup is famous as a cold remedy, an effect that applies to chicken broth too.
There's nothing magical about chicken broth here. It helps to clear up congestion and briefly reduce your symptoms mostly because it is a warm and steamy dish.
The comforting nature of chicken soup helps too, especially if you're feeling awful and struggling to eat.
Plus, because chicken broth is mostly water, it's excellent for keeping you hydrated. You're even getting some electrolytes, which help to replace any lost through vomiting or diarrhea. You may also find chicken broth easier to consume than a glass of water.
Can Be A Great Way To Use Leftovers
Some recipes suggest that you should buy soup bones specifically or use the entire chicken to make your broth. Both approaches work well, but you can also simply use the bones leftover from your roast chicken to make bone broth.
This is a fantastic approach, as you get so much value out of your chicken. You can even make chicken broth from rotisserie chicken, which reduces the amount of work you need to do.
Contains Some Nutrients
On its own, chicken broth isn't nutrient dense. Instead, you're just getting small amounts of essential nutrients, including potassium, iron, zinc, and selenium. The most stand out nutrient is riboflavin and even here, you're only getting roughly 10% of your daily needs.
While the levels are low, these nutrients are still relevant and help you to hit your daily targets.
Plus, you often won't have bone broth on its own. If you're including it in a recipe with vegetables, meat, and herbs, then you'll be getting plenty of other nutrients.
Fits Into Most Diets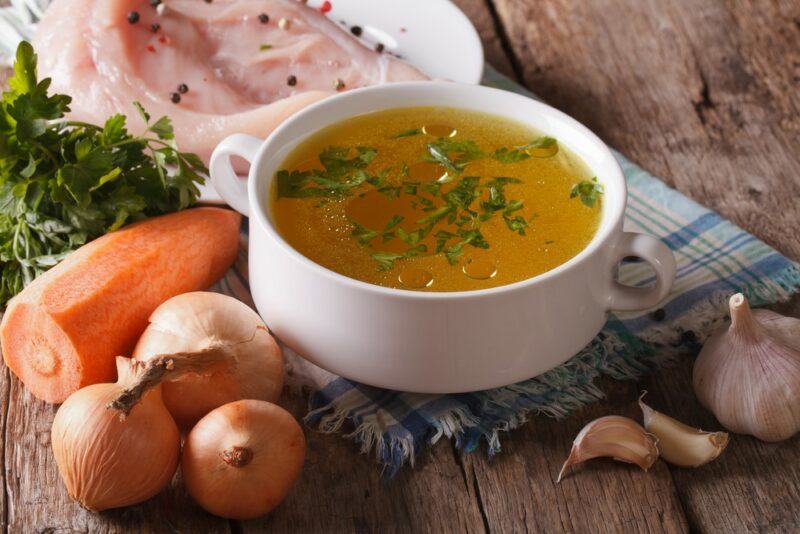 While vegetarians and vegans can't rely on chicken broth, pretty much everyone else can. For example, paleo and keto dieters can both eat bone broth without a problem. So too can anyone trying to keep their fat or calorie intake low.
Chicken broth could even help with weight loss, as liquid tends to be filling. Having a bowl of broth before a meal may even decrease the amount that you eat and help keep your calorie intake balanced.
What's more, chicken broth is free from almost all major allergens. It can even work well for people with irritable bowel syndrome. Some find that the broth makes them less sensitive and appears to help their body to heal.
Problems With Chicken Broth
The Sodium Content
Salt is often used as a seasoning in chicken broth. It does add to the flavor, but can also be problematic, as many of us are already consuming far too much sodium.
This matters, as high sodium intake can really mess with your body. Among other things, the sodium can promote fluid retention and raise your blood pressure. The blood pressure effect also increases your risk of heart disease, which is concerning.
Sodium is a particular problem if you're relying on packaged chicken broth. Some products seriously overdo with the salt, sometimes giving you upwards of 700 mg of sodium in a single serving.
The Glutamate Content
Bone broth is often rich in glutamate. This is an important amino acid that even acts as a neurotransmitter.
While this glutamate can be helpful, some people are sensitive to it. In these situations, the glutamate can lead to side effects, like anger, agitation, and anxiety. This is an even bigger problem if you're also getting artificial glutamate in your diet as well, like MSG.
If you are sensitive to glutamate, you could try having smaller servings of bone broth. Decreasing the simmering time can help as well, as this lowers the amount of glutamate that leaches out from the bones.
The Histamine
Bone broth often contains histamine as well. Again, the levels are highest if your bone broth has been simmered for a long time.
Now, histamine isn't a big deal for everyone. You mightn't see any effects from it at all. However, if you are sensitive to histamine, then you may need to be cautious with chicken broth.
Could Cause Side Effects
Even people who aren't sensitive to glutamate or histamine sometimes find that chicken broth makes them feel nauseous, bloats them, increases bowel movements, or causes other problems.
Such side effects are rare and they're not a serious cause for concern. After all, there's the potential for side effects or allergic reactions from every type of food out there. The trick is simply to pay attention to your body. Look for the foods that help you to feel good, rather than those that make you queasy.
It Isn't As Great As You Might Expect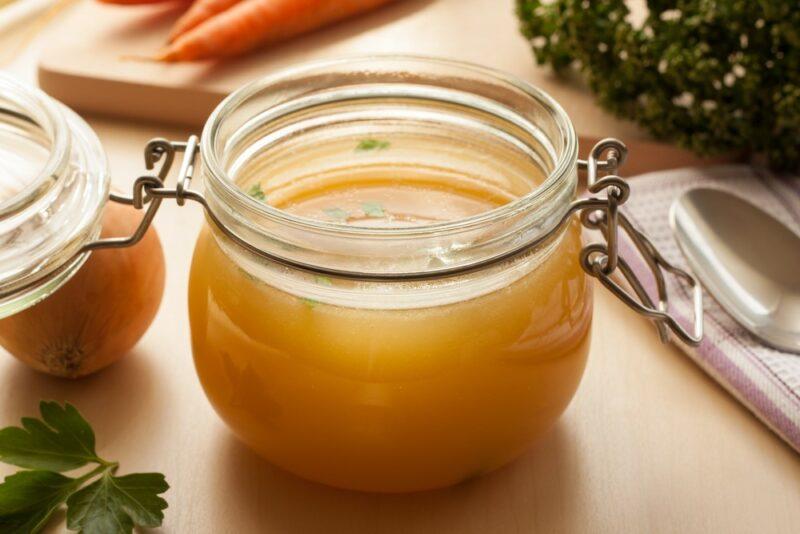 The biggest problem with bone broth is simply the way people talk about it. Bone broth is sometimes seen as being incredible, something that can improve your skin health, reduce wrinkles, repair your joints, and even act like a collagen supplement.
The idea is easy to understand. After all, chicken broth gives you plenty of important compounds, including collagen, hyaluronic acid, and glucosamine.
However, these compounds don't behave as you might expect. Take collagen as an example. Our bodies break down the collagen we consume into amino acids, which are then used to create proteins where our bodies need it.
Sometimes this means that our bodies use the collagen in our food to make collagen. Other times, the amino acids might be used for something entirely different.
Research has also failed to prove most of the benefits associated with bone broth, including improvements to your skin or the ability to help you detox.
Now, the components of bone broth could still improve your health in some ways. There's no denying that. Just don't expect it to cause radical changes overnight. Like most healthy foods, bone broth tends to have subtle effects instead.
How Do You Use Chicken Broth?
Chicken broth has enough flavor that you can sometimes eat it on its own or even drink it out of a mug. However, this isn't your only option.
Bone broth is also fantastic as the base for any type of stew or soup. The broth provides rich extra flavor, along with plenty of nutrients.
You can even use broth to cook grains or vegetables, rather than water. This is an easy way to ramp up the flavor, especially for ingredients like couscous or quinoa, which don't have much flavor of their own.
Such approaches are even more powerful than using chicken broth on its own. For example, a soup rich in fresh vegetables that uses chicken broth as a base would be packed with nutrients and antioxidants – many more than you'd find in chicken broth itself.
If you're not sure where to begin, check out these chicken broth recipes. They're all delicious and are surprisingly easy to prepare.
Chicken Broth Versus Bone Broth
When simmered for hours, chicken broth is essentially a type of bone broth and gives you plenty of benefits. Other bone broths may rely on beef bones instead or perhaps use a combination of beef and chicken bones.
The nutritional profile and benefits are similar regardless of the type of broth you choose. However, there may be some differences.
Beef bones are also often larger than chicken bones and it's easier to find ones rich in connective tissue. The larger size means you can simmer the bones for longer, while increased connective tissue could offer more benefits.
Such patterns suggest that chicken bone broth mightn't be quite as powerful as the other types. Honestly though, the differences aren't dramatic. You'll still get plenty of benefits from chicken bone broth.
That said, there is a flavor difference. Beef broth tends to be richer than chicken broth and imparts much more flavor. Because of this, the best type of broth will vary depending on the meal you're preparing.
Ways To Make Chicken Broth Even Better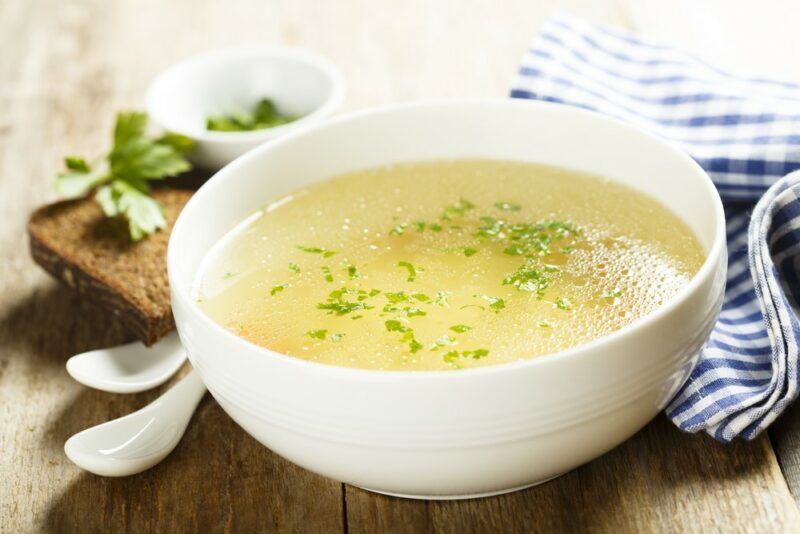 Chicken broth isn't difficult to make at home and it's so much more delicious than the store-bought version. Plus, you get to choose the amount of sodium, along with any other seasoning ingredients that you use.
Making chicken broth at home is as easy as simmering a chicken carcass in water for at least a few hours. You can even use a slow cooker, which makes it easy to cook the broth overnight or for even longer.
However, there are a few tips and tricks that can make your homemade bone broth that much better.
Blanch the bones first. This step helps to stop your broth from tasting funky. This is particularly important if you're using high collagen parts of the chicken, like chicken feet and cartilage.
Roast your bones. Once you've blanched your bones, you should roast them. This browns them, giving your stock a much richer flavor. Bones are resilient, so you can roast them at higher temperatures and for longer than you might expect.
Add vegetables too. You can actually simmer vegetables like carrots and potatoes at the same time as your chicken carcass. These vegetables aren't for eating because of how long you simmer them. However, they're a fantastic way to impart extra flavor.
Don't forget about herbs. These provide extra flavor and some nutrients as well. As with vegetables, you won't eat the herbs that you simmer for hours. Instead, you'll strain the herbs and vegetables out towards the end of the simmering time. If you want to make soup, you can add fresh herbs and vegetables once the broth is done.
Simmer for a long time. You need to simmer your bones for at least a few hours. If the bones are large, you might need to do so for even longer. The long simmering time is where your chicken stock gets all its nutrients and flavor from.
Cool your broth quickly. This might seem counter-intuitive, but quickly cooling your broth is important for keeping it fresh. Doing so also reduces the risk of bacterial contamination. Don't just stick this in the fridge though, as the stock won't cool fast enough. Surrounding the pot in cold water or even adding some ice cubes to the stock is a much better approach.
Don't use too much water. The ratio of bones to water influences your bone broth as well. Keeping the amount of water relatively low gives you a more concentrated broth, one that may even be gelatinous at room temperature. If you're new to making bone broth, look for a recipe that provides details about how much water to include.
Also, chicken broth sometimes ends up with an unexpectedly gelatinous texture when it's at room temperature. This isn't a problem. It's simply the collagen at work and mostly happens when you focus on collagen heavy parts of the chicken.
If steps like blanching and roasting your bones feel like too much work, don't worry, you can take an easier approach. The simplest is to start off with a whole chicken and simmer this in water for roughly two hours. Then you can take it out, remove the meat, and add the chicken carcass back in for anywhere from two to 24 hours.
Is Packaged Chicken Broth Any Good?
You can also buy chicken broth from the grocery store. This is a practical option if you want all the benefits of broth, but don't have the time or energy needed to make it for yourself.
If you're going to take this approach, look for boxed chicken broth. This tends to be the closest to the real thing. However, the homemade version will always taste better.
You need to be cautious about the product that you choose as well, because there are plenty of differences. In particular, some companies don't simmer bones for long at all. They may also use additives and too much sodium to create the desired flavor.
One trick is to look for companies that use the term "chicken bone broth", rather than just chicken broth. Such companies should be focused on the power of bone broth and take steps to create a high-quality product.
Kettle & Fire is one of the most famous companies that does this. Their chicken bone broth provides 10 grams of protein and four grams of collagen per serving. It's a great introduction to the world of bone broth, although it does contain 310 mg of sodium per serving, which isn't ideal.
When choosing a chicken broth brand, keep an eye out for the sodium content, any additives, and added sugar. Sugar is rare, thankfully, but added sodium is incredibly common. Sometimes you get more than 700 mg of sodium in a single serving.
Final Thoughts
Chicken broth is interesting when it comes to health. On one hand, many of the proposed benefits are entirely overblown and don't may not happen in practice at all. The broth certainly won't give you smooth skin or act like a collagen supplement, even if you simmer the bones for 24 hours or more.
Yet, there are benefits to be had, as chicken broth does contain some nutrients and collagen, is hydrating, and is a healthy whole food dish that you can easily make at home.
There aren't many risks either, so bone broth could easily help you and isn't likely to cause harm. This is reason enough to rely on it regularly.
Also, if you're making chicken broth yourself, you don't need to go overboard.
Some bone broth recipes suggest you should simmer your bones for 24 hours or more and that you have a perfect ratio of bones to water so that your broth gelatinizes. Others suggest that you should buy bones specifically for broth and roast them first.
Those approaches all have their benefits, but they're not essential. You'll get plenty of benefits by simply buying a rotisserie chicken, then simmering the bones once you've finished with the meat. Seriously. Chicken broth doesn't need to be complicated.
You can also cut down the simmering time to a few hours. Doing so still gives you plenty of benefits. That approach may even be healthier for some people, as your bone broth ends up being lower in histamine and glutamate.
Frequently Asked Questions
Does Chicken Broth Go Bad?
Chicken broth will certainly go bad and could make you sick if you use it after this point. So, how long will it last?
Well, boxed chicken broth from the store gives you around 6 months to a year, while jarred versions last even longer than this. Both types can even be used months after their expiration dates, if unopened and undamaged.
Fresh chicken broth is a different story. This normally lasts just a few days. The same is true for store-bought chicken broth after it's been opened.
Is Chicken Broth Gluten Free?
The common ingredients in chicken broth are all naturally gluten free, so chicken broth is naturally gluten free as well. However, many processed versions use flavorings and preservatives and some of those can include gluten.
As such, it's important to check the ingredients label. If you're still unsure, try talking to the company instead.
How Many Ounces In A Can Of Chicken Broth?
Chicken broth cans generally 14.5 ounces of chicken broth. However, you will see other sizes as well, like 10.75 ounces or 28 ounces.
Does Chicken Broth Contain Protein?
Chicken broth does generally contain protein, some in the form of collagen. For example, a serving of Kettle & Fire's chicken broth contains 10 grams of protein.
The protein content varies depending on how the broth was made. So, if you're buying commercially prepared chicken broth, be sure to check the labels.
What Can You Use Instead Of Chicken Broth?
Any other type of broth will work instead of chicken broth. Vegetable broth is a fantastic choice, as the flavor isn't too intense. You can also use a bouillon cube in water or the liquid from a can of beans or chickpeas.
If all else fails, try using water with herbs or even just water on its own. Water doesn't provide the same rich flavor you get with chicken broth, but it still works well in most situations.