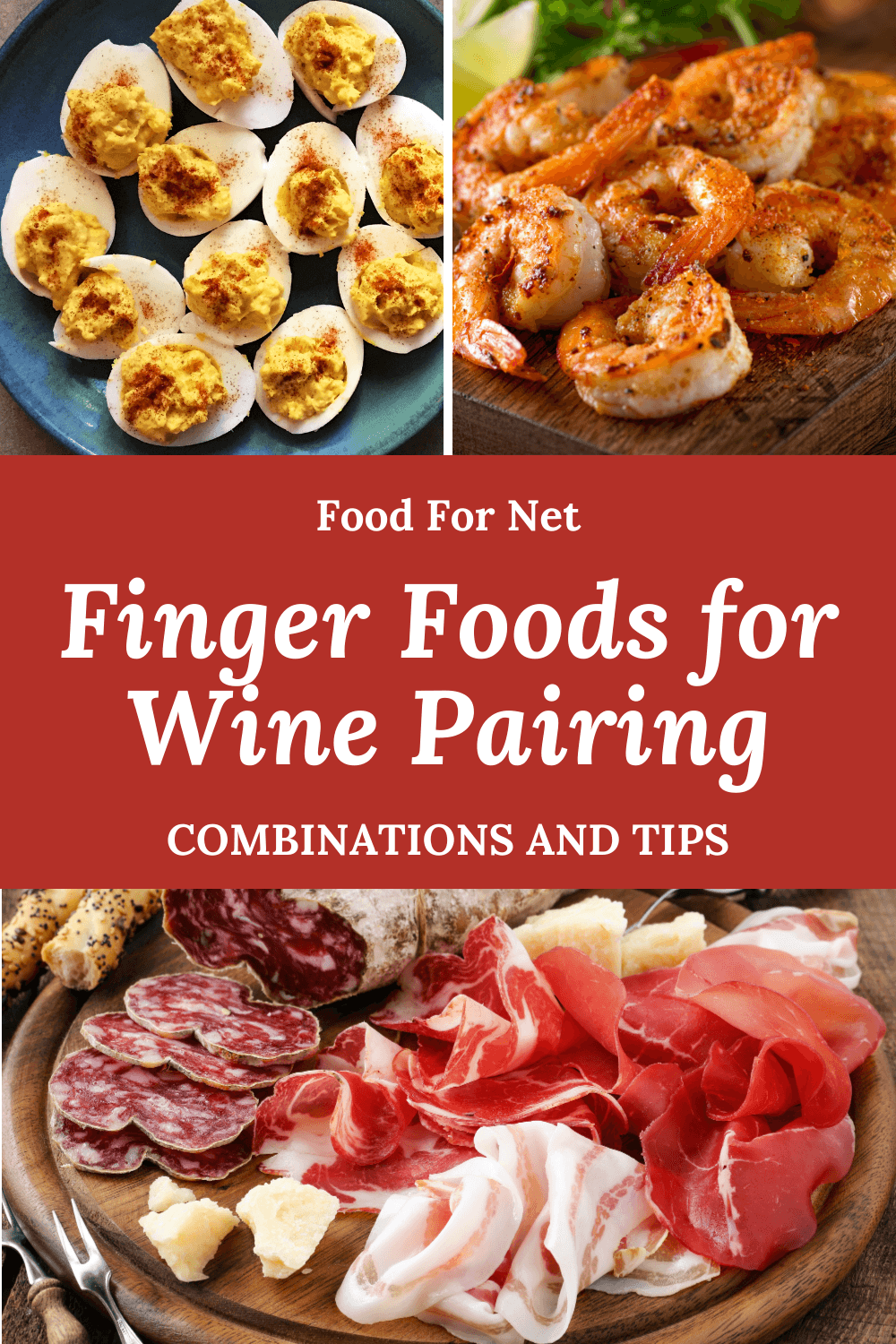 The world of wine pairing. Where should we begin? The whole idea can seem pretty confusing at times, but thankfully you don't need to know a lot to get started. Even just knowing a few good food and wine pairings can help you to understand the principles and start experimenting for yourself. So, in this post, we're taking a close look at the best finger foods for wine pairing.
The foods we're highlighting in the list are all easy to pick up and eat – things that you might serve at a party or some other occasion. Some of them are simple, like pieces of cheese, while others require some cooking or prep work first.
All of these foods pair well with at least one type of wine (often more than one). The wine helps to bring out the flavors of the food, while the food makes your experience of the wine better too.
For the newbies, try not to stress too much about the ideal bottle of wine for your finger foods. While there are some amazing combinations out there, the best part of food and wine pairing is the experimenting. Use the ideas in this list as general guidelines for what works and what doesn't, then play around for yourself.
You might be surprised at what you find. After all, wine and food pairing isn't an exact science. There are general guidelines about which foods and wines you should serve together, but there are also amazing combinations out there that break every apparent rule.
For more ideas, check out our list of dessert and drink pairings. That list doesn't just focus on wine, but includes plenty of other drinks that you might pair with your desserts.
Best Finger Foods For Wine Pairing (With Pictures!)
Cheese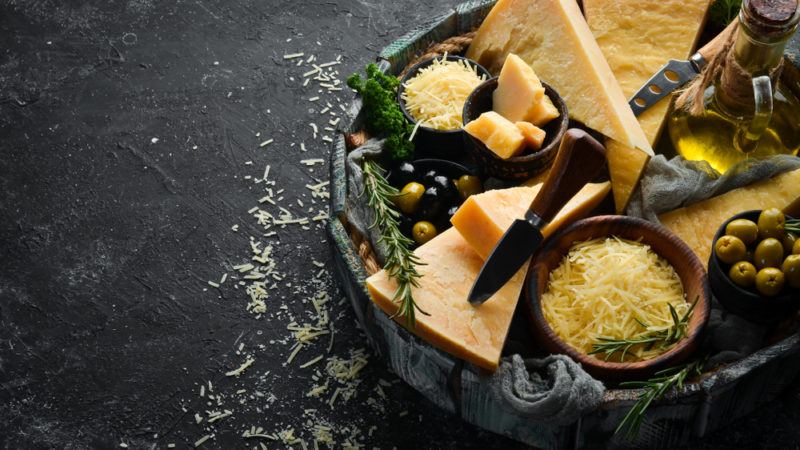 What could be more classic than cheese and wine? This pairing is as old as the hills and there are countless combinations that you can try for yourself.
Cheese is also a perfect choice for finger food. Or you can take the idea one step further and create a cheeseboard. Fruit, nuts, bread, crackers, cured meats, and olives are all common additions.
Of course, the best type of wine is going to depend on the cheese that you choose. A dry white wine is ideal for soft cheeses, complementing their texture and their rinds. Look for a white wine that has high acidity to get the most out of this combination.
For stronger cheese, like a pungent blue or aged cheddar, you could try port. Most types of cheese can't stand up well to the intensity of port, but these to choices hold their ground.
If you already have the wine on hand, gouda is one of the easiest types of cheese to look for. This one pairs with many different types of wine – to the extent that it's hard to find a wine that doesn't taste good next to gouda.
In practice, you'll often be serving a few different types of wine with a cheeseboard, as you'll never find a single type of wine that matches everything. This isn't a bad thing at all. Experimenting is the best part of wine pairing anyway.
Goat's Cheese Appetizers

Serving a cheese board isn't the only way to feature cheese as finger food. Try making mini appetizers using bread or crackers, then topped with goat's cheese, some herbs, and possibly tomatoes.
Many types of white wine will pair well with this combination and sauvignon blanc is one of the best places to begin. The wine tends to be dry and fruity, which makes it a refreshing choice.
Nuts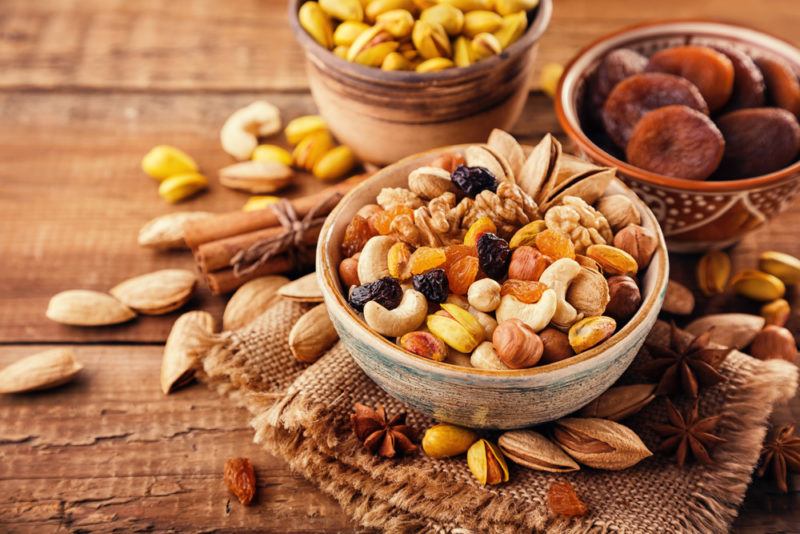 Nuts are another classic finger food. You'll often see them served at the same time as wine, even though nuts and wine aren't classically paired together.
For serving mixed nuts, you'll need a versatile wine, as each type of nut has its own flavor profile. A versatile wine is even more important if you're serving dried fruit at the same time. Red wines are good choices here, such as a chianti or a Beaujolais.
Chardonnay can be appealing too, as the wine matches the flavor profile of many individual types of nuts. You could also look for a port. Port pairs well with various types of cheese too, which is a useful feature.
Sushi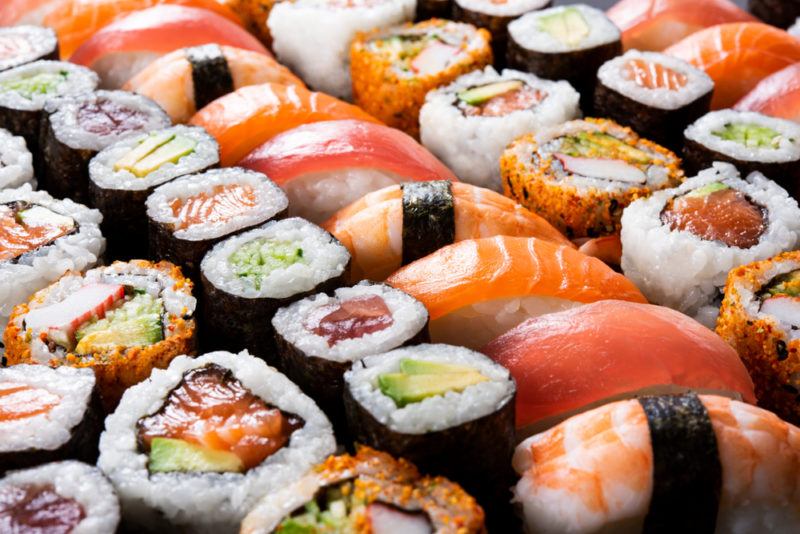 While sushi is generally served with sake or beer, this finger food can be served with wine as well. The right wine will complement all the delicate flavors of the dish, without taking your focus too far off your food.
A riesling is often a good place to begin, as this dry white wine is often refreshing. If your sushi has a strong spicy kick, then you could try an off-dry riesling instead of a dry one, as the extra sweetness helps to cool your palate somewhat.
You can also turn to pinot noir. While most people recommend pairing fish with a white wine, some reds can be pretty good too. In fact, pinot noir complements many of the same dishes that you would normally choose a white wine for, partly because a pinot noir is less robust than most reds.
Or, if you want something entirely different, try champagne, dry prosecco, or a similar white bubbly. Sparkling white wines always go down a treat and they're normally an excellent choice for any occasion where you will be serving finger food. Besides that, a sparkling white wine tends to enhance most seafood dishes.
Sashimi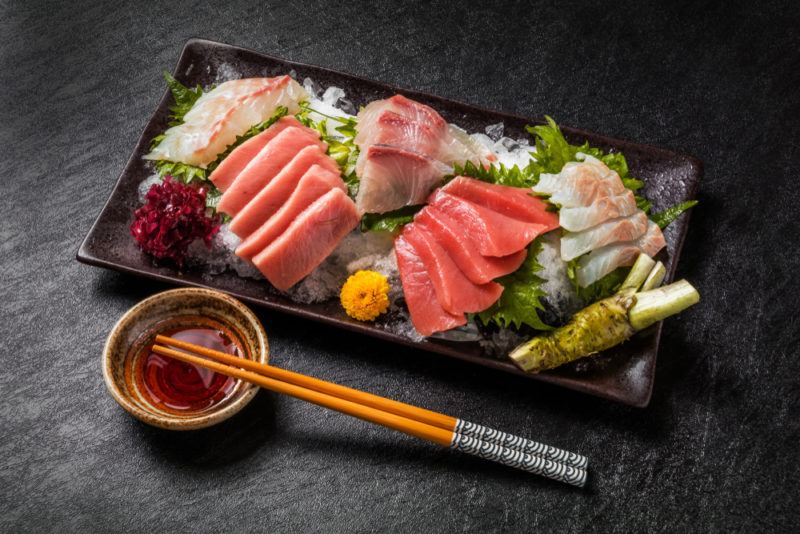 While sashimi and sushi can seem similar, the two types of finger food have some distinct differences. Sashimi is generally sliced raw meat, often fish, while sushi is a more structured dish that often includes rice as well, along with other ingredients.
Raw seafood tends to have delicate flavors that are easily overwhelmed, so you're going to need a subtle wine for pairing. Unoaked chardonnay is a good choice here and the creaminess of the chardonnay is a nice contrast to the sashimi flavors.
Just be sure to steer clear of heavily oaked chardonnay. Aging in oak changes the flavor profile of the wine and can make it too intense for serving with sashimi.
Cold Cut Meats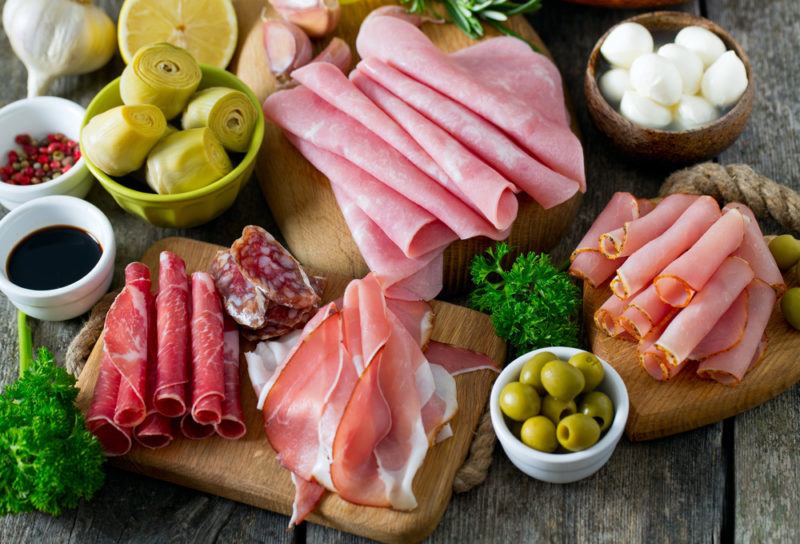 Cold cut meats are an easy finger food, either on their own or combined with other ingredients. Try serving them as part of a cheeseboard or perhaps wrapped around mozzarella cheese.
Either way, a Beaujolais nouveau or a pinot noir can be a good red wine choice. Beaujolais is an interesting wine that tends to have low tannins and high acidity. Beaujolais nouveau tends to be a lighter version of the wine, making it a red wine that isn't overly complex.
Beaujolais nouveau is also famous for another reason – it's an early release wine. Very early, in fact, as the wine tends to hit shelves around the world within 60 days of the grapes being harvested. The wine owes much of its history to vineyards trying to be the fastest to produce new wine after harvest.
Beaujolais nouveau isn't universally loved, but it's interesting enough to try at least once for yourself. And, what better occasion than at an event with finger foods?
If neither of those options has you convinced, then consider a chianti or a cabernet franc. That's just scratching the surface. Many other light or medium bodied red wines will pair just as well with cold cut meats, so there's no need to stress at all.
Veggies and Hummus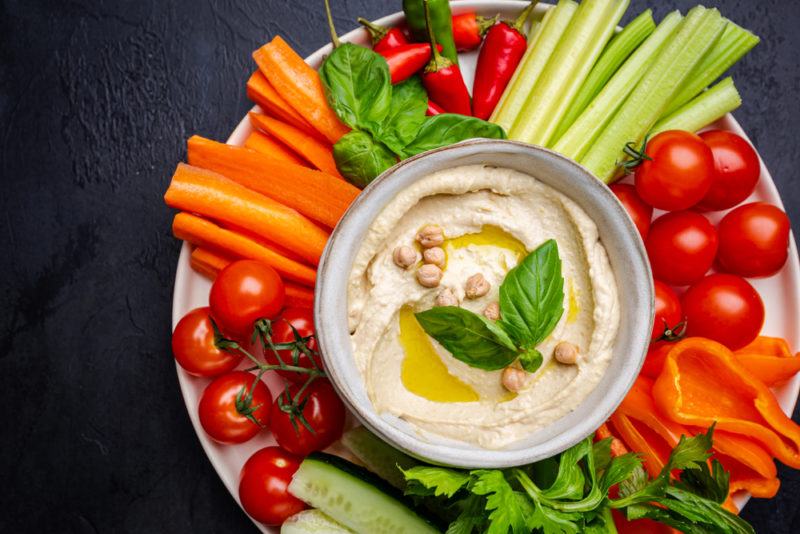 Fresh veggies like bell peppers and carrot sticks are always delicious finger food choices, giving you plenty of vibrant flavors and interesting textures to go around. Serve the veggies with hummus and you have an easy option that is certain to be popular.
This type of finger food is great for wine pairing too, as it will pair well with most types of white wine, including sparking white wine and even some rosés. A sauvignon blanc is a good place to start, as there are herbaceous notes in the wine that always work well with vegetables.
You could try your hand at other types of white wine too, such as a pinot gris or perhaps a dry riesling. If you're serving a slightly smoky hummus instead, such as one that uses paprika as a key ingredient, then a red wine can be a good alternative, such as a pinot noir.
Deviled Eggs

Deviled eggs might be a little fiddly to make, but this doesn't stop them from being a popular party choice. After all, they're easy to pick up and eat. They're tasty too.
There is also plenty of flexibility in how you make the eggs. Perhaps you follow the traditional approach or perhaps you add some extra ingredients to make the flavors pop a bit more.
Either way, a dry prosecco can be a good choice here. The bubbly nature of the wine goes well with many finger foods and the lightness of the wine is exactly what you want for deviled eggs.
You could also look for another type of dry white wine – either sparkling or still. Pinot grigio is one style that can work especially well here, while chardonnay is another.
Shrimp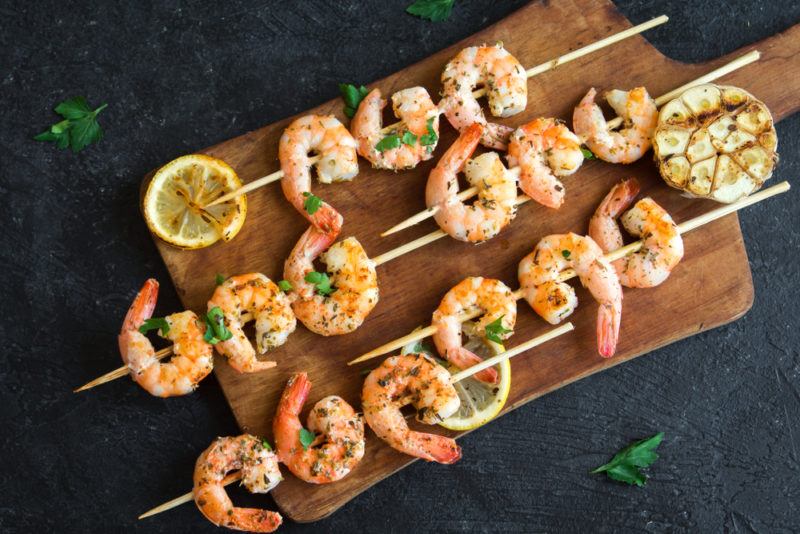 A dish of shrimp (or prawns for that matter) always feels decadent and can be a delicious finger food at countless events. You also have plenty of flexibility about the wine that you choose.
The easiest choice is a bottle of sparkling white wine, perhaps prosecco or even champagne. A sparkling white is always fresh and vibrant, and you're giving the flavors of your shrimp plenty of chance to shine.
You could also look for a neutral type of white wine, such as pinot grigio or perhaps a Chablis.
When you're including a sauce or some seasoning with your shrimp, the pairing changes again. With a classic shrimp cocktail, for example, a fruity rosé or an off-dry riesling can be excellent. In both cases, you're getting a little sweetness that mirrors the sweetness in your shrimps.
Fried Chicken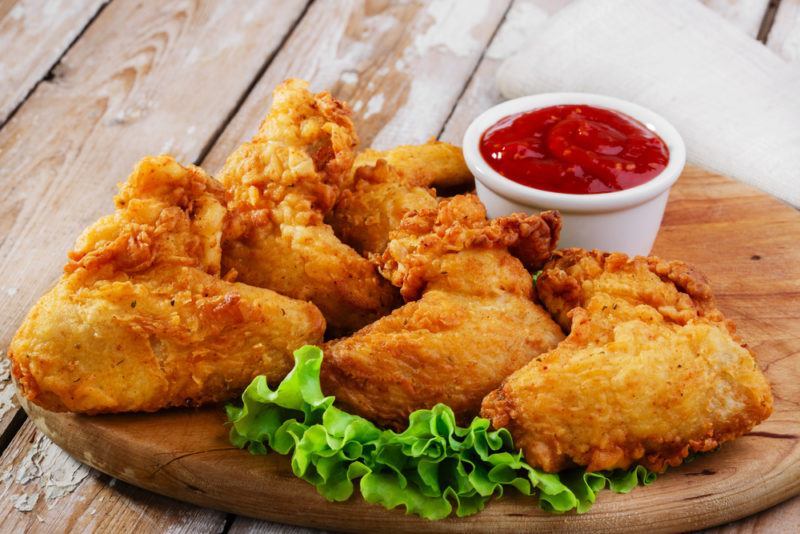 Fried chicken might not be the most elegant type of finger food, but it remains an incredibly popular one. So, why not pair your fried chicken with wine? The idea isn't as strange as you might think. Some types of match with the chicken extremely well.
A riesling is a great place to begin, especially if you're looking at one from Germany. This type of riesling has a great balance of sweetness and acidity, which creates an interesting contrast to the crunchy, salty, and fatty nature of fried chicken.
You could also turn to any type of dry sparkling white wine, including prosecco.
This type of wine still has a little sweetness and, even more importantly, acts as a palate cleanser. Sipping a wine like this between bites is an ideal way to make your chicken even more enjoyable.
Buffalo Wings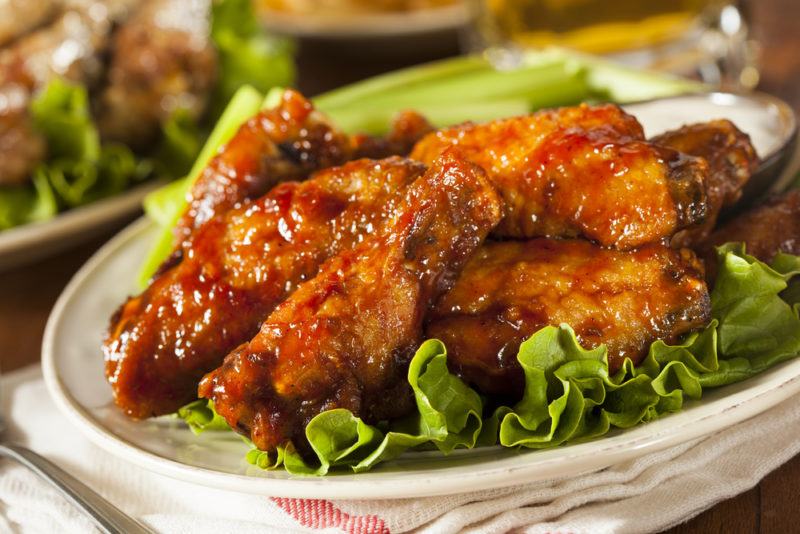 Pairing buffalo wings with wine can be quite tricky, as the sauce has so much going on. It often ends up being a little tangy, with some heat (but not too much), and a little salt. Then there's the variation from one buffalo sauce to the next, as no two are ever quite the same.
Too much sweetness in your wine doesn't work well with this savory finger food, while a strong wine can overpower the flavors. Your best bet is to look for a slightly sweet white wine. A riesling can work well here, along with Moscato, or perhaps champagne.
You might also look for a red wine. If so, focus on fruity reds, as these can taste sweet too. A red zinfandel is a surprisingly good choice, despite the high alcohol content. You could try a Beaujolais too.
Scallops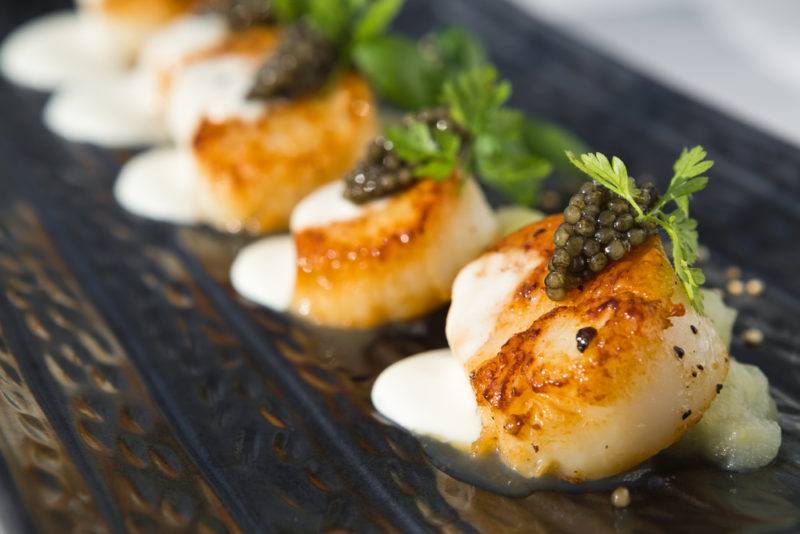 We can't skip scallops, as they are often found as part of an appetizer. You'll often be looking for a bright wine to pair with the scallops, especially if you're serving them with few other ingredients.
A pinot gris or a dry riesling can work well here. Both wines are vibrant and have enough interesting flavors to complement the scallops nicely. If you're searing the scallops, you might look for a richer wine too, like a Beaujolais. Or, for a different approach entirely, how about serving your scallops with champagne?
For more ideas about pairing with scallops, check out our wine pairing with scallops post.
Fried Wings with a Blue Cheese Dressing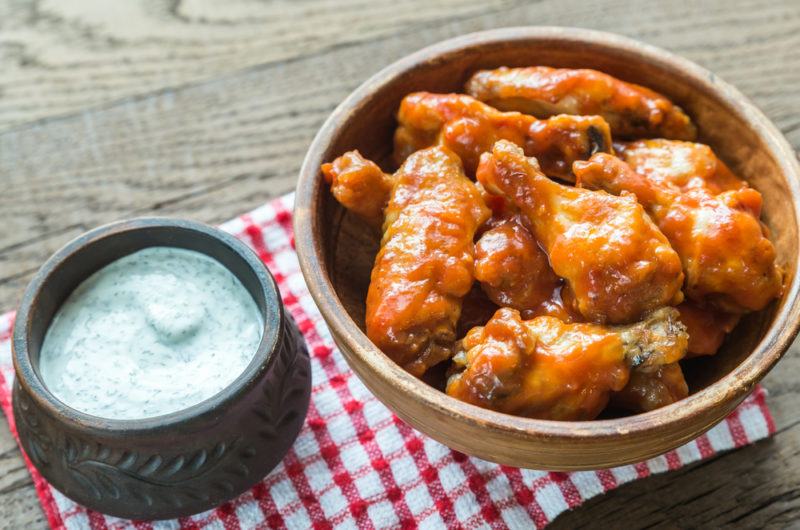 Of course, buffalo sauce isn't the only way to serve wings. You can use a blue cheese dressing too, which creates a very different balance of flavors.
The white wine Chenin blanc can be a good choice for this type of dressing. The wine tends to be quite acidic and a little sweet, a combination that contrasts well against the blue cheeses.
Spicy Egg Rolls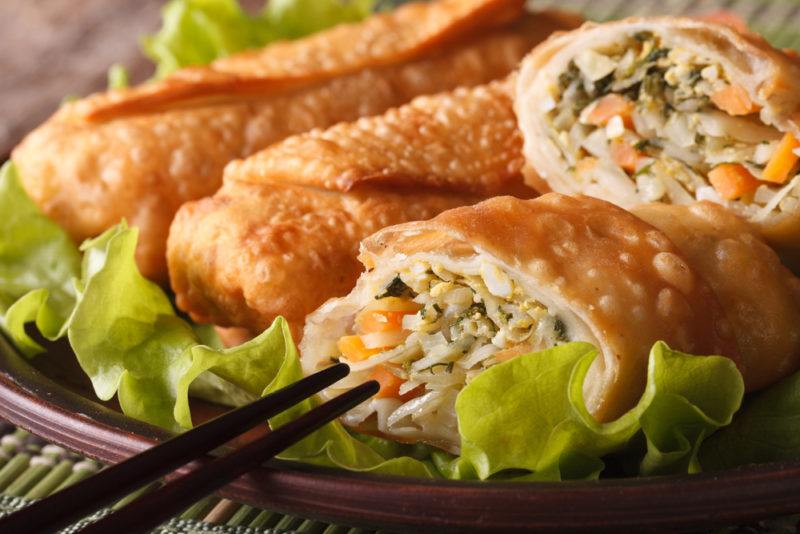 Egg rolls make the perfect finger food at many events. If yours are on the spicy side, then riesling could be the perfect wine to serve.
Riesling works because it is often relatively low in alcohol, has notable acidity, and a bright flavor profile. The combination gives you just the contrast that you need with any spicy food.
Once again, you could also try a sparkling white wine. The bubbles can be an excellent contrast, but only if your appetizer isn't too spicy. If the spiciness is intense then the riesling may be a better choice.
Olives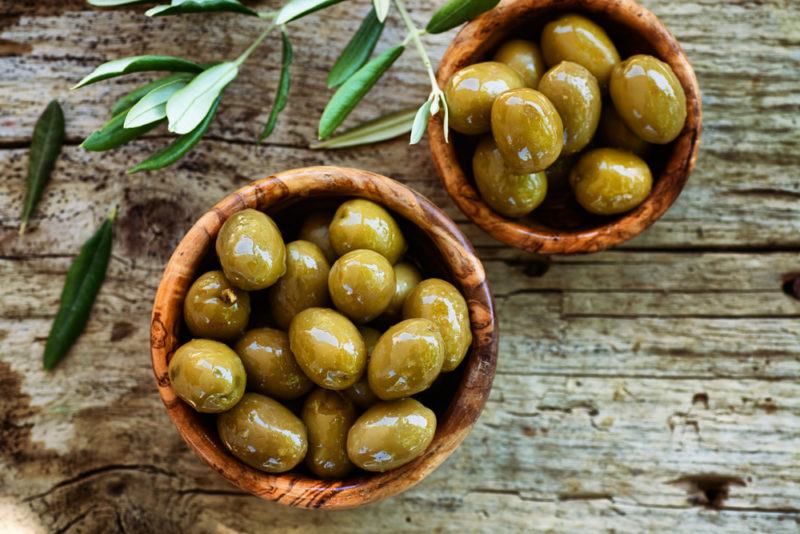 The strong flavor and saltiness of olives is a surprisingly good match for a fino sherry. This type of sherry is unusual, as it tends to have less alcohol content than other sherries and is dry rather than sweet.
The pairing works best when the sherry has been well-chilled first. Of course, this might not be a pairing that you serve your guests, as it's a perfect choice for the cook who is preparing the finger foods for everyone else.
Tortilla Chips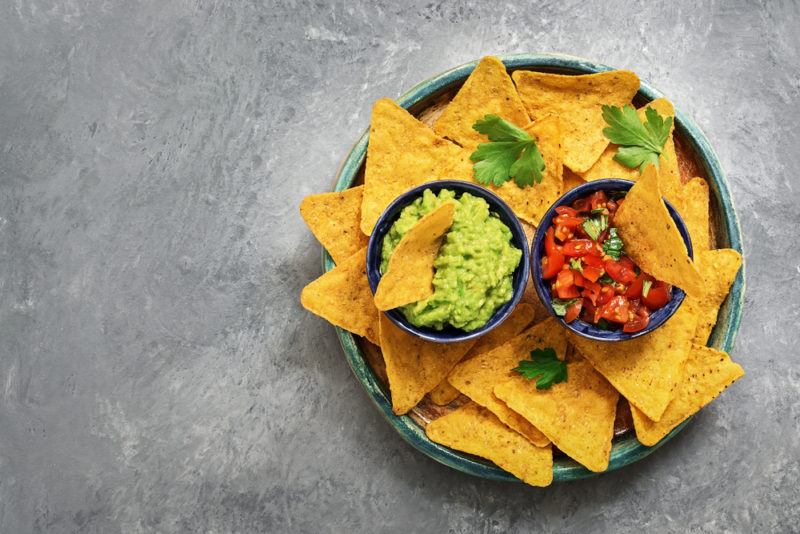 If you're serving tortilla chips on their own, then a simple pinot gris or pinot grigio, is an easy choice, as either type of wine is light and balances out the saltiness of the chips. For that matter, pinot gris and pinot grigio are largely the same type of wine.
The difference in name is a reference to slight style variations and where the wine initially comes from. Pinot gris tends to be richer and has more alcohol, while pinot grigio is lighter and has simpler flavors.
If the nachos are being served with salsa, then a chardonnay could be a useful choice. The fruitiness of the wine works well with the tomato in your salsa.
For guacamole, consider a sauvignon blanc, particularly one from New Zealand. Sauvignon blanc tends to be zesty with appealing acidity, so it pairs well with the flavors of avocado. Plus, you still have that nice balance between crisp wine and salty chips.
Sausage Balls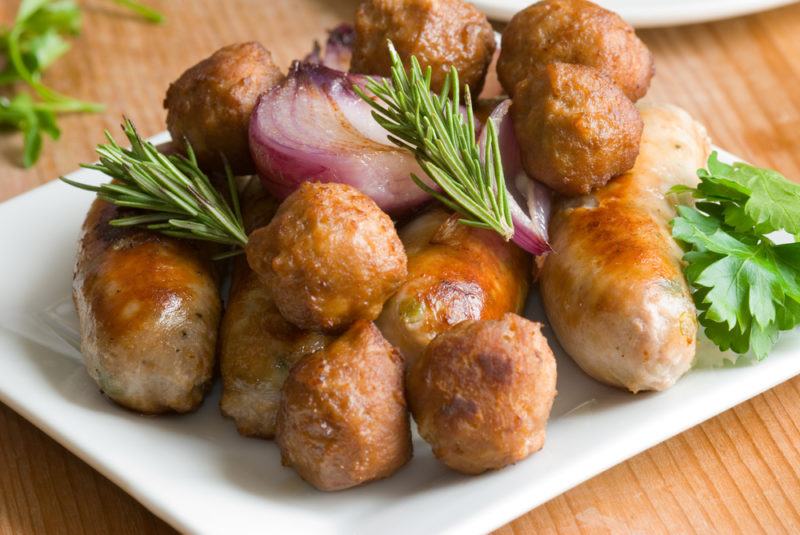 When you want something casual, sausage balls can be a fun finger food. They're often made using pork and are savory, so a white wine is the best choice here.
Many white wines will go well, particularly dry whites and off-dry styles, but why not try a sparkling white wine instead? The bubbles add an element of interest to your experience and tend to be very refreshing.
Cava, from Spain, is an appealing sparkling white wine to try out. It isn't as well-known as champagne, but this doesn't stop it from being delicious.
Pigs in a Blanket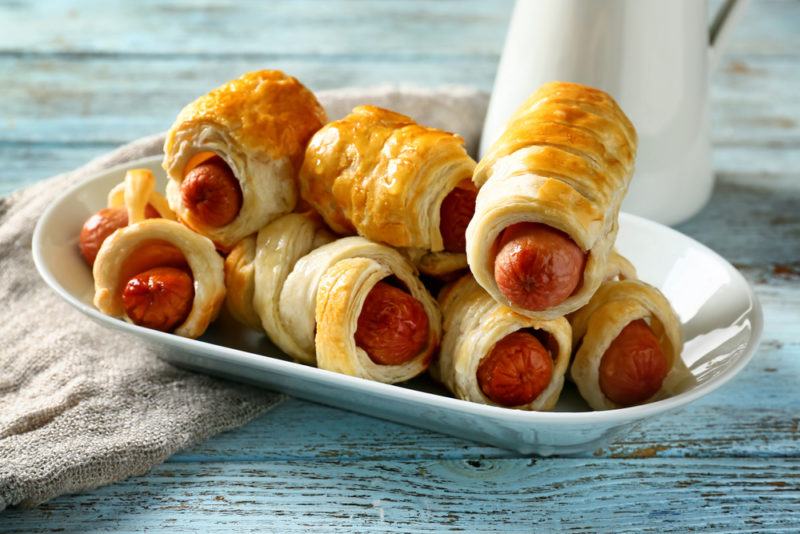 Speaking of savory dishes, pigs in a blanket is a straightforward appetizer that is always popular. The similarity between sausage balls and pigs in a blanket means that you could easily rely on a sparkling white wine once again, but this isn't your only option.
Why not try for something different and serve a medium-bodied red wine with the finger food instead? The tannins in the wine are perfect with fatty dishes like this, helping to mellow out the fattiness while creating a richer experience all around.
Cabernet sauvignon is an ideal wine for this effect. It happens to be a popular one too, so you can easily find it at local stores. For something more unusual, you could try Barbera D'Asti, which is a red wine from northern Italy. This wine has some similarities to cabernet sauvignon, but it interesting enough to try on its own too.
Soft Pretzels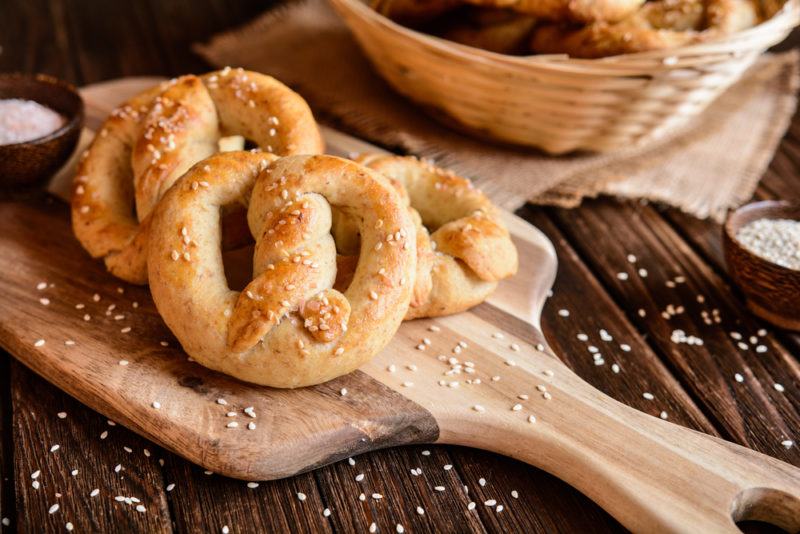 Beer is normally the drink of choice for soft pretzels, but many Californian wines end up working well with the pretzels too. These wines often aren't expensive either, making this a good combination for a casual event.
A pinot noir is a good choice here, as the wine is relatively light-bodied and doesn't tend to overwhelm many foods. Pinot noir works regardless of whether you're serving plain pretzels or ones with mustard.
On the other hand, if you're serving nacho cheese with the pretzels, then chardonnay is a better choice. Chardonnay tends to pair well with cheesy and buttery foods, as it is more creamy than other types of white wine. There's also enough acidity present to stop the combination from becoming overwhelming.
Prosciutto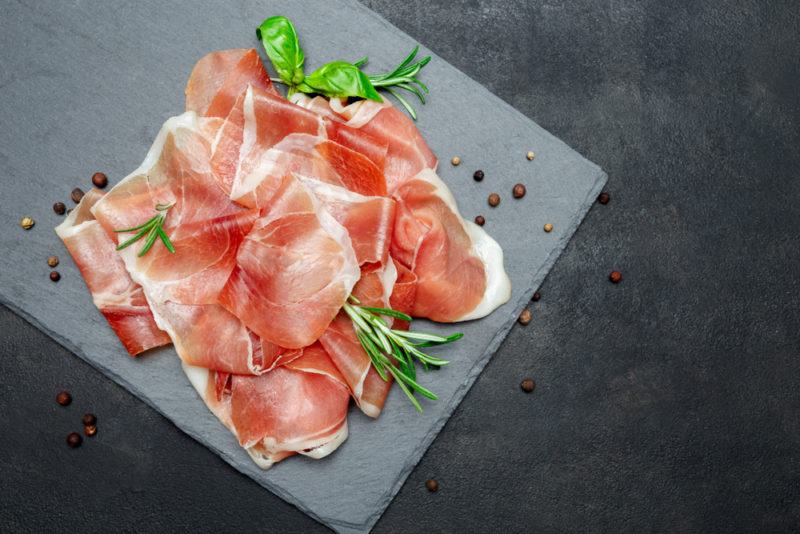 Prosciutto is an interesting type of cured meat, as it tends to be sliced very thinly and is largely uncooked. Prosciutto tends to be sweet and salty, with a distinctive flavor profile that is hard to miss.
You need an interesting wine to balance this combination of features and a lighter style of chianti does so perfectly. Chianti and prosciutto both come from Italy, so it shouldn't be too surprising that the pairing works well.
Buttered Popcorn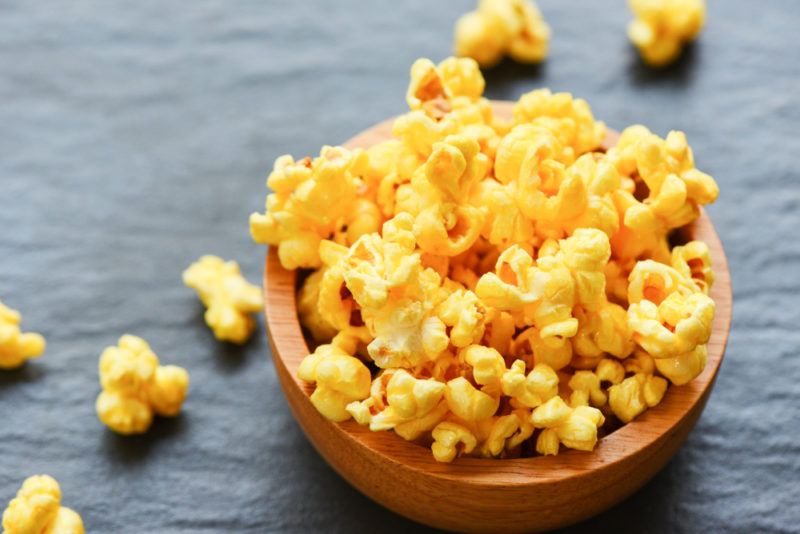 Here's a fascinating option. Did you know that buttered popcorn pairs well with wine? And, not just any wine either – champagne. The bubbly freshness of champagne lifts the popcorn to an entirely new level, while also refreshing your palate between bites.
Other types of sparking white wine will work well too. Still, there's something fun about combining expensive champagne with such a run-of-the-mill snack.
If you're not convinced about sparkling white wine, then you could consider a chardonnay instead. Chardonnay is known for its buttery flavors, so the way that the wine complements buttered popcorn isn't surprising at all.
Potato Chips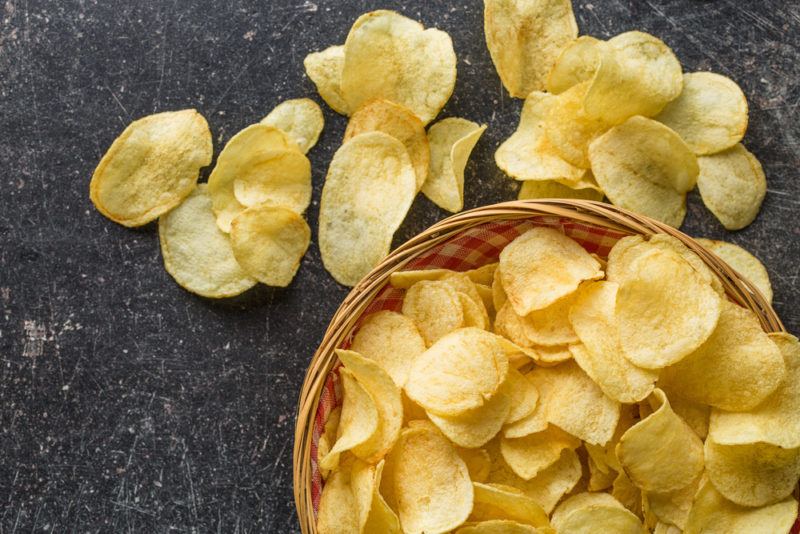 Now that we're on the topic of casual finger foods, let's talk about potato chips. They're another snack that you might not normally pair with wine. Yet, the combination can work well, as long as you pay attention to the flavor of the chips.
If you're looking at salted chips with little other flavors, then a pinot gris can work well. This bright wine helps to balance the oiliness of the chips and the salt, without adding too much flavor to the pairing.
For barbecue chips, on the other hand, a stronger wine is needed. A rich zinfandel can do the trick, as the fruit in the wine delightfully contrasts against the spicy sweetness of barbecue flavoring. The effect isn't too surprising, as zinfandel also pairs well with barbecue sauces and meats.
If your chips have an onion flavor instead or you're using a sour cream-based dip, then merlot could be a better choice. This red wine isn't as fruity as zinfandel, so you end up with a smoother combination.
Cheese Curls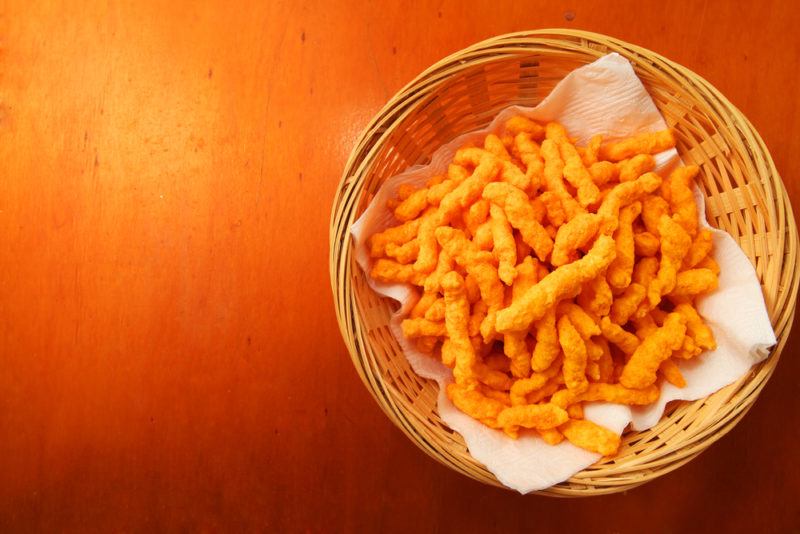 While cheese curls come in many styles, most types retain the classic crunchy and cheesy characteristics. Cabernet sauvignon ends up being a surprisingly good pairing, as the blackcurrant and cherry flavors in the wine contrast nicely against the cheesiness of the snacks.
Chocolate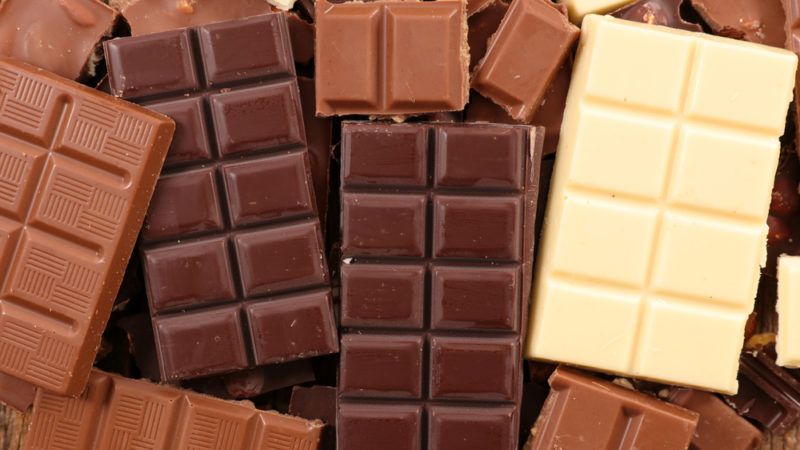 Chocolate is one of the best finger foods for wine pairing because chocolate is popular and we all want to enjoy it with wine. Even if you're not serving pieces of chocolate at your event, there's a good chance that something is chocolate flavored.
We've covered chocolate and wine pairing in a separate post, as there is a lot to think about. But, in general, white chocolate pairs well with wines that are slightly sweet, like sherry or an off-dry riesling. Milk chocolate is flexible and can be served with many types of wine., with pinot noir being a simple choice.
Dark chocolate, on the other hand, is tricky. Some people enjoy it with a full-bodied red wine, while others find that the tannins in the red wine clash too much with the flavanols in the dark chocolate. If you fall into the latter camp, then zinfandel or pinot noir could be a good alternative red wine.
Bruschetta with Basil and Tomato Sauce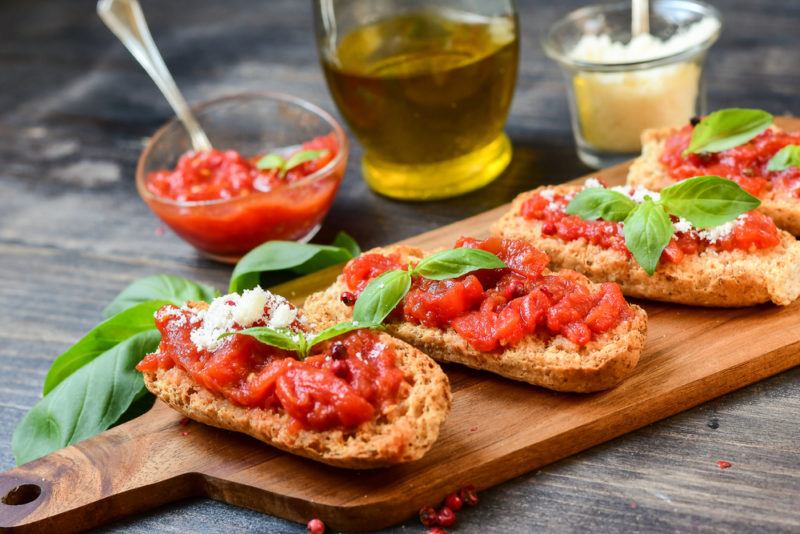 Bruschetta makes an easy base for countless finger foods and appetizers. Of course, it's the toppings that you use on the bruschetta that determine the best wines to match with the finger food.
When you use basil and tomato sauce, you end up with similar flavors to a margherita pizza, with much less effort. Because the finger food is Italian themed anyway, you could easily pair it with an Italian red wine blend. Or, if you want something different, how about a cabernet sauvignon or merlot?
Pizza

Pizza is a great finger food, as it's cheesy, comforting, and incredibly popular. You can also make it in thousands of different ways and make the pieces as big or small as you want them.
So, what about wine?
This is strongly influenced by the flavors of your pizza. For example, pepperoni pizza pairs well with strong red wines, including a Cabernet Franc. Something similar is true for sausage pizza as well. You could stick with the same or try a syrah instead.
Not surprisingly, pizzas with white sauce tend to do well with white wines, like chardonnay. You could also turn to a pinot noir, as this is lighter than most other reds and won't overwhelm the flavors of your pizza.
And, if all else fails, try a dry sparkling white wine. This works well with most types of pizza, as the bubbles cut through the fattiness and saltiness, acting as a fantastic palate cleanser. Honestly, a sparkling white is one of your best choices for pairing with finger foods anyway.
Mini Burgers

What about mini burgers? They're a cute type of finger food at most parties and can be easily tweaked to your liking.
A cabernet sauvignon is an excellent choice here, especially if you're including mini burger patties and sauce with the burgers. After certainly need a robust wine to work with the strong flavors of the burger.
A lighter wine might be needed if your burgers are less intense, like chicken or fish mini burgers. Try serving the burgers with either a pinot noir or a chenin blanc. Both have enough body to stand against the burger without overwhelming any of its flavors.
Cheese Fondue

White wines tend to be best with cheese fondue, due to their high acidity. This cuts all the way through the fattiness of the cheese, regardless of the type of cheese you're using.
White wine is also excellent for balancing the saltiness of your meal, an effect you don't see as strongly with rich red wines. This is particularly important for cheese fondue, as the treat can easily be salty.
A vibrant sauvignon blanc is an easy choice here. You could also turn to a pinot gris or a riesling. For something different, why not experiment with sparkling white wine? Bubbly wine is always a good choice with a fatty meal and provides an excellent contrast of textures.
Guacamole

Guacamole isn't served as a finger food on its own. Still, it does feature at many parties – often paired with tortilla chips so that it is easy to eat.
A crisp white wine like sauvignon blanc is an excellent choice here. The vibrancy of the wine also contrasts well against the saltiness of tortilla chips, giving you an easy win.
Sauvignon blanc has another advantage too – it's a versatile wine for pairing. It will naturally pair with many finger foods for your party and doesn't create dramatic flavor clashes. So, if you're only serving one or two wines at your party, sauvignon blanc is a great choice.
Meatballs

Meatballs tend to be fatty and packed with flavor, so you'll need a wine that can hold its own. Red wines tend to be the best here, particularly medium-bodied reds.
However, you could also look for a full bodied red like cabernet sauvignon or a lighter red like pinot noir. The best red is partly influenced by the sauce served with your meatballs. If this has an intense flavor, then the full bodied wines are the way to go.
But, if the sauce is more subtle or if you don't have a sauce, then try out a bottle of pinot noir. The balance of flavors really does work well, giving you a pairing that's tough to ignore.
Choosing Your Wines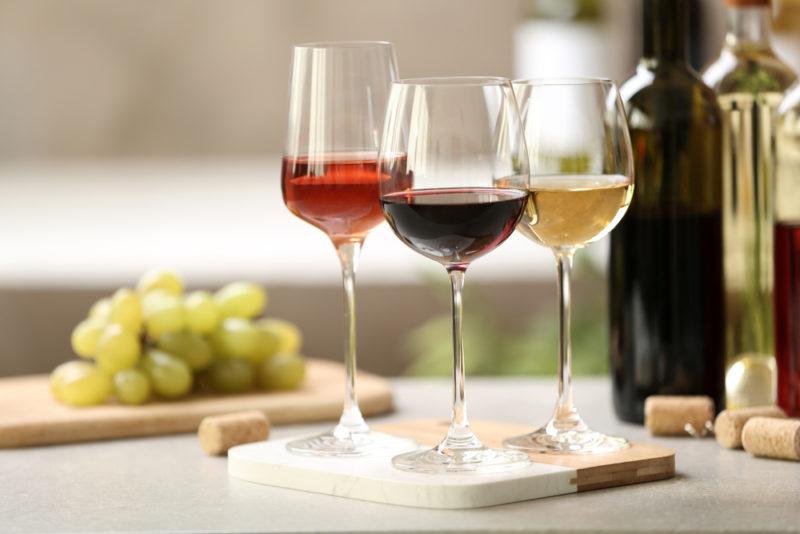 This list has focused on individual types of food and the wines that go with them. The pairings are often powerful, where the flavors in the wine help to complement or contrast the flavor and texture of your food.
But, the process becomes a bit trickier in practice, as most of the time you're not going to be serving one finger food at a time. Finger foods are normally served at gatherings or events, where you'll generally have many different options for people to choose from. So, you'll probably want to serve multiple types of wine as well.
You could, possibly, set up a system where it's very clear which wines pair with which types of food. That approach could work well at an event where wine and food pairing is the main focus, as people will be interested in that part of the experience.
On the other hand, if you're serving finger food and wine casually or at some type of party, you can't really control the wine and food combinations that people will end up with. In these situations, you may need to choose a few versatile types of wine.
A sparkling white wine is a good place to begin here, as sparkling wines do well with so many different foods. They're particularly good with anything that has been deep fried, is crisp, or is crunchy. Sparkling whites can also be perfect with some soft cheeses and other creamy foods.
Champagne or a dry prosecco is a good choice here, but any type of dry sparkling white should work well. You could also look for a rosé. Whether the wine is sparkling or still rosé remains popular. The wines often have enough body to stand up against even complex flavors.
Still white wines are popular for pairing too. It's best to focus on whites that are fresh and unoaked, as these have the widest appeal and are versatile. Pinot grigio and sauvignon blanc are both good pairing choices that also happen to be crowd-pleasers.
Finally, we get to red wine. Reds are trickier. Many people don't enjoy them and some combinations of red wine and food just taste 'off'. With finger foods, it's generally best to focus on lighter reds, especially in the afternoon or early evening. Pinot noir can be an easy place to begin, as it is popular and complements so many different foods.