Breakfast might be essential but honestly, sometimes, it can be a little boring. It's easy to get stuck in a rut of the same old foods time and time again, with cereal, toast, and eggs often topping that list. Thankfully, there are countless other options out there too – ranging from the familiar to the eclectic. In this post, we're looking at traditional Mexican breakfast foods.
Whether you're in Mexico or not, these meals are all ones that you can enjoy yourself. You'll often be able to source all the ingredients that you need locally or find similar local ingredients that work just as well.
Mexico is also the perfect place to turn if you want breakfast inspiration, as Mexicans tend to focus on a heavy breakfast and a light lunch. This means that the foods on offer are often very satisfying. They're certain to keep you full for hours.
And honestly, having a filling breakfast is a powerful idea. Options like cereal and toast are often high in carbs. They might give you a fast release of energy, but that energy isn't going to last. You're likely to get a sugar crash before too long and might even end up shaky.
If you're looking for other ideas, you can also check out our other breakfast food lists, including German breakfast foods, Russian breakfast foods, and diabetic breakfast foods.
Traditional Mexican Breakfast Foods
Guajalota
Huevos Motulenos
Huevos Divorciados
Huevos Rancheros
Chilaquiles
Migas
Quesadillas Fritas
Molletes
Enchiladas
Huevos a la Mexicana
Pan Dulce
Fresh Fruit
Street Food
Guajalota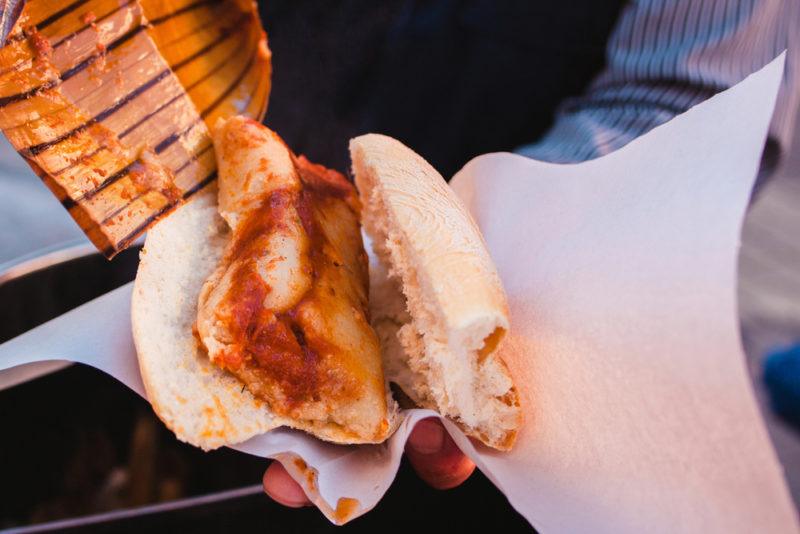 This meal also goes by the name torta de tamal. It is a Mexican classic that can be enjoyed at all times of the day – including first thing in the morning. The phrase torta de tamal can be translated as tamale sandwich, which describes the breakfast well.
For those unfamiliar, a tamal consists of corn masa dough with a filling. Common fillings include meat, vegetables, or cheese, or a combination of these options. So, a tamale sandwich is literally a tamale in bread.
The meal is high in carbs, which could make it unappealing. A simple solution is to just have a tamale for breakfast – skip the bread entirely. Either way, you end up with a portable and filling breakfast. What could be better?
Huevos Motulenos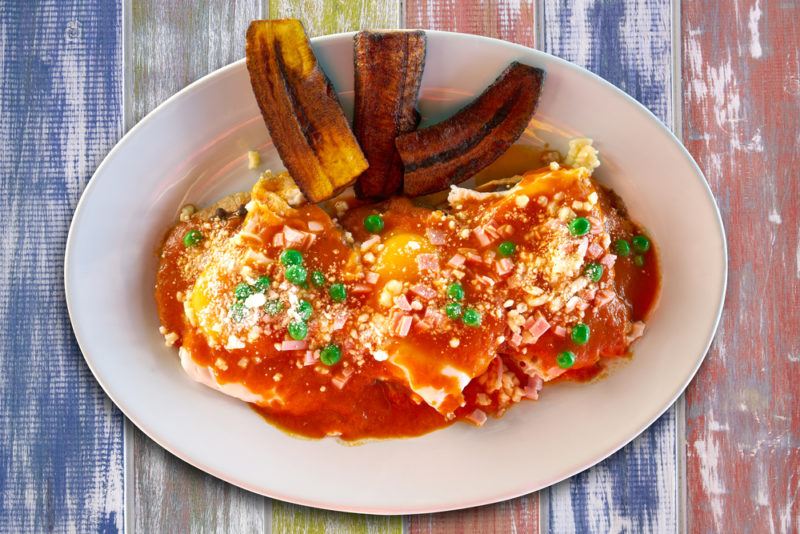 This breakfast is a regional choice. You'll mostly find it in Yucatán, although the meal is popular enough that you can now find it in other cities as well. Some of the features of this dish should be familiar, as it starts with crispy tortillas, with black beans, eggs, and a tomato-based sauce.
Other toppings can include ham, peas, and cheese, which gives you a delicious and well-rounded meal.
Huevos Divorciados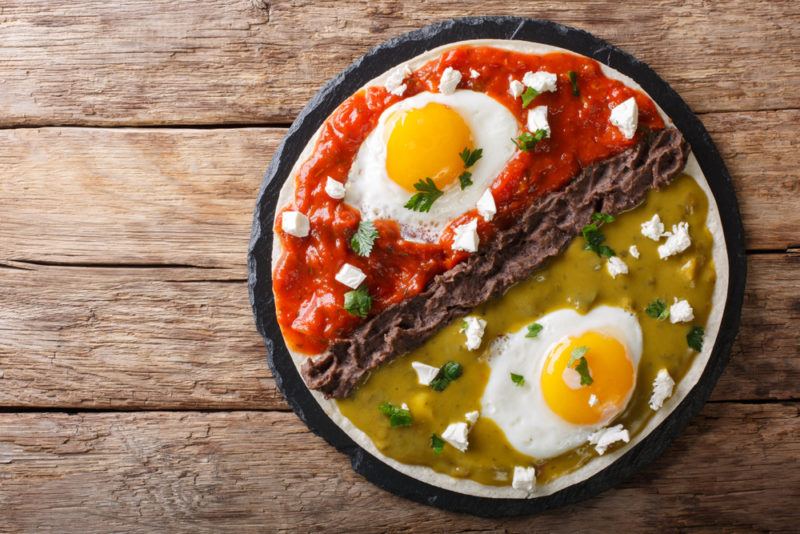 Huevos divorciados translates to divorced eggs. The dish is an interesting version of fried eggs, as you have two fried eggs that are served with different sauces.
The eggs are often each on a tortilla, with a different type of salsa or sauce. A wall of refried beans serves to separate the two sides of the meal. It's easy to see where the dish got its name from and this is a fun way to make fried eggs a bit more interesting.
Huevos Rancheros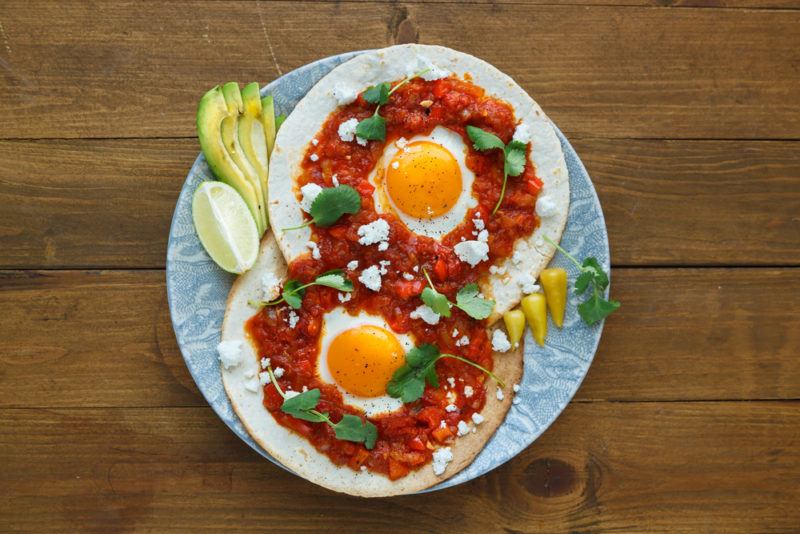 This Mexican breakfast dish is now enjoyed in many parts of America. There are probably many fans elsewhere in the world too. Because of this, you'll see plenty of variations in the way that the meal is made.
As with the previous example, huevos rancheros tends to rely on fried eggs that are served on a lightly fried tortilla. The meal often features salsa and refried beans as well. Some versions use a large amount of salsa, to the point that it looks like the eggs are swimming in it. Other versions decrease the amount of salsa dramatically.
As some writers point out, there isn't necessarily one authentic version of the recipe anyway. Traditional meals often have multiple variations depending on the part of the country that you are in.
Chilaquiles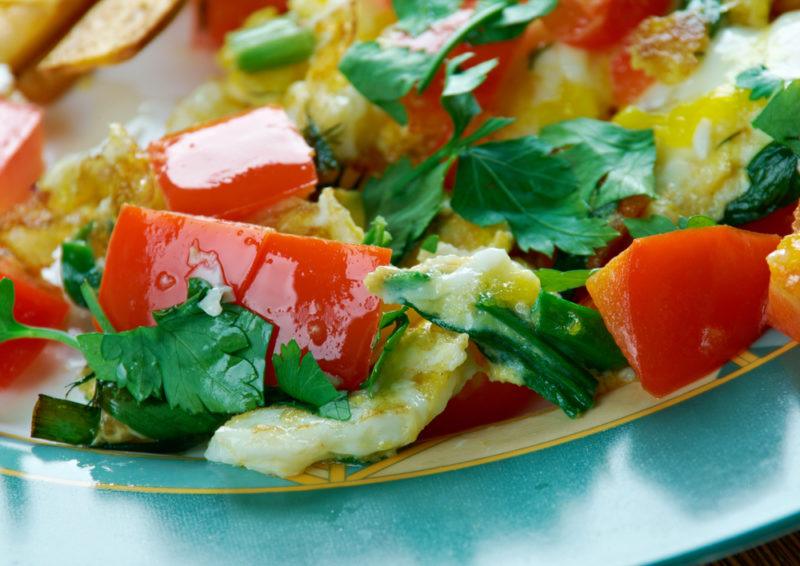 Here's another classic Mexican breakfast that uses either fried tortilla chips. The basic idea is that these are simmered in a broth-based sauce, which provides an amazing flavor to the entire meal. Ideally, you should be making the tortilla chips yourself from fresh corn tortillas, but at pinch, tortilla chips from the store will do the job.
From there, the meal can be customized in many different ways. Serving it with an egg on top is a common choice, along with cheese and shredded chicken. Some people simply rely on leftovers, including leftover vegetables, to top the meal.
There are two common variations on the dish, called chilaquiles verdes and chilaquiles rojos. The first uses a green salsa that relies on ingredients like tomatillos, cilantro, and jalapenos, while the second uses a red salsa instead. The approaches are both good. You can choose whichever you prefer.
Migas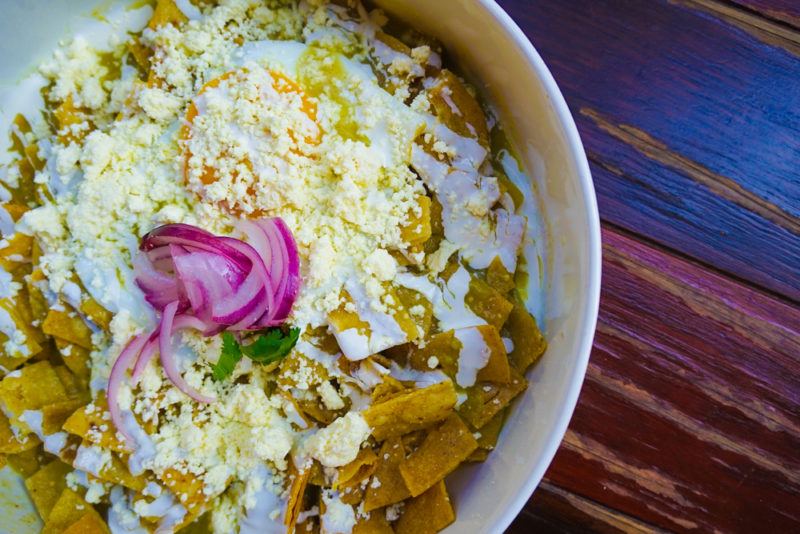 Migas have some similarities to chilaquiles, partly because both recipes rely on tortilla chips. However, migas focuses on eggs as the main ingredient. The word translates to either crumbs or scraps, which fits in well with the economical nature of the meal.
With migas, the tortilla chips are cooked with the egg, which creates a more complex variation on scrambled eggs. In some parts of the country, salsa is added during the cooking process, while people in other places serve the cooked meal with salsa instead.
Refried beans are often served with migas too. Tex-Mex variations on this dish tend to add in many more ingredients, such as cheese, tomatoes, and avocado, although such additions tend to be less authentic.
Quesadillas Fritas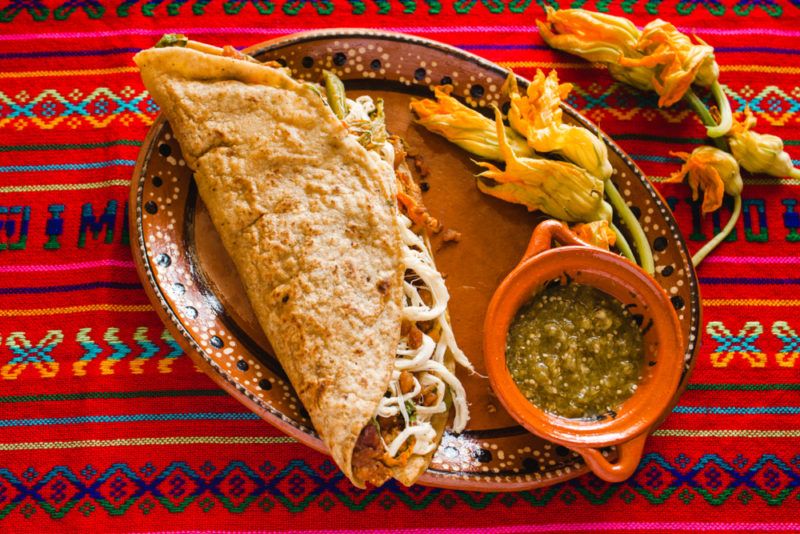 Regular quesadillas work well as a breakfast meal and there are countless variations on them. In general, you'll looking at a doubled tortilla, with ingredients like chicken, beef, mushrooms, onions, and tomatoes.
There is generally a decent amount of cheese too (although this isn't always a given, especially if you're ordering quesadillas in Mexico city).
Quesadillas fritas is an interesting variation on the meal – one that can be ideal for breakfast. The name simply means fried quesadillas, which should tell you exactly what you can expect.
Toppings often include crema and salsa. You may also find the quesadillas served with a green sauce or a red sauce.
Molletes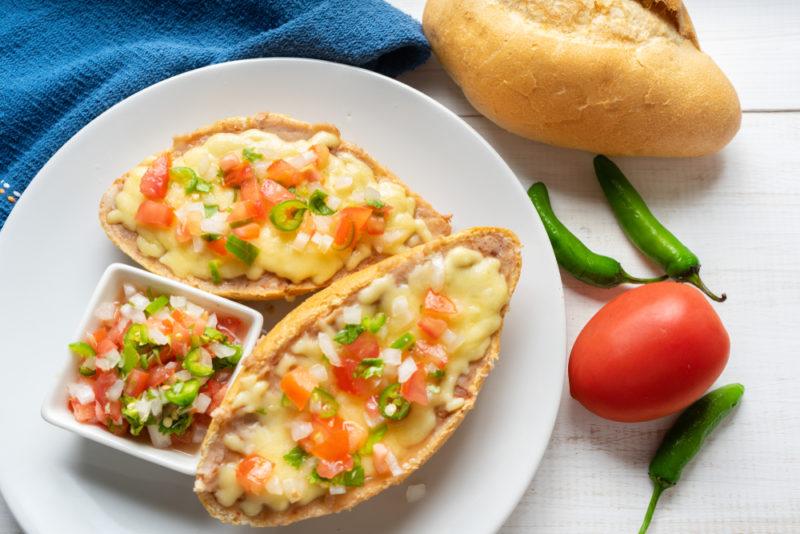 This meal is a little like an open-faced sandwich and a little like a breakfast pizza. It relies on a bread roll that has been sliced and then toasted. Toppings include beans and cheese, along with possible additions like ham, eggs, or perhaps salsa.
This is, however, a very flexible dish, so you'll see countless variations on the theme. You could easily choose your own toppings based on your preferences and the ingredients that you have at home.
Enchiladas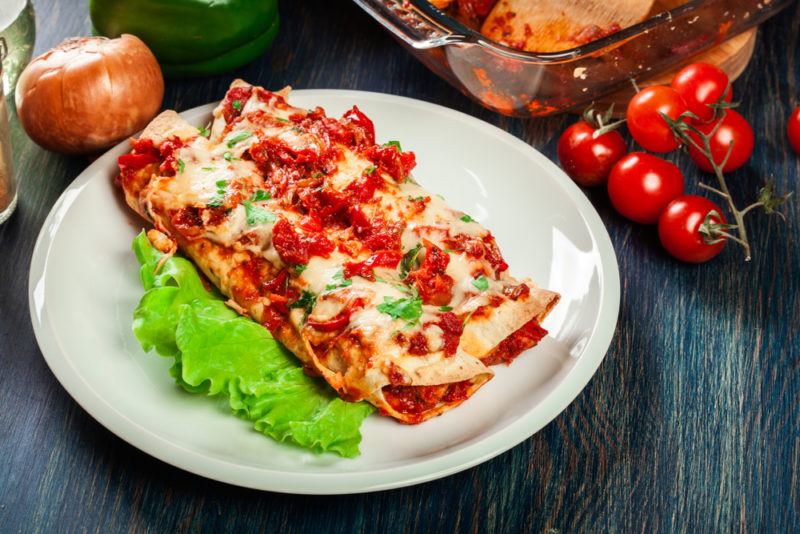 You're probably already familiar with enchiladas, but the version that you find in Mexico might be slightly different than you expect. The meal generally involves four corn tortillas that have been rolled and covered in red sauce.
They're served with crema, salsa, and perhaps lettuce. There are fillings too, with chicken being the most popular choice (perhaps not surprisingly). Variations on the dish sometimes change out the type of sauce or the toppings.
Huevos a la Mexicana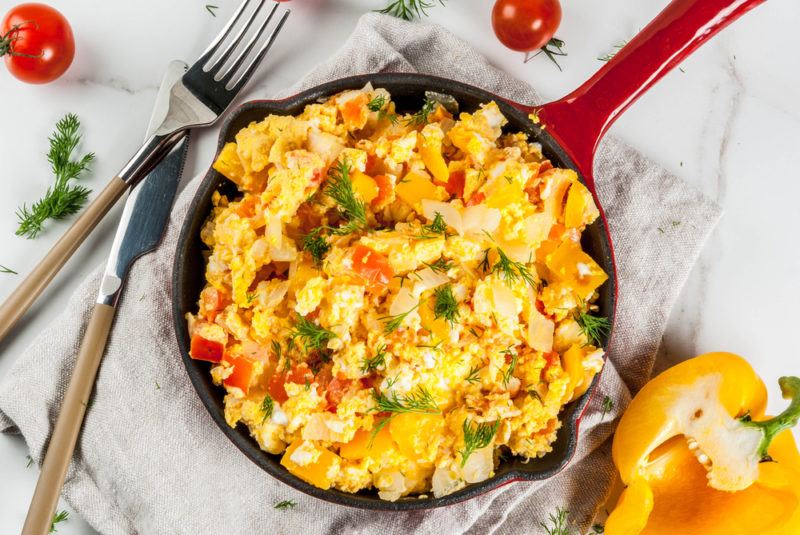 This meal should look somewhat familiar, as it is essentially scrambled eggs. Common additions include tomato, onion, and chili, which gives the entire dish a Mexican theme. Not surprisingly, the meal tends to come with warm tortillas and often with refried beans as well.
Pan Dulce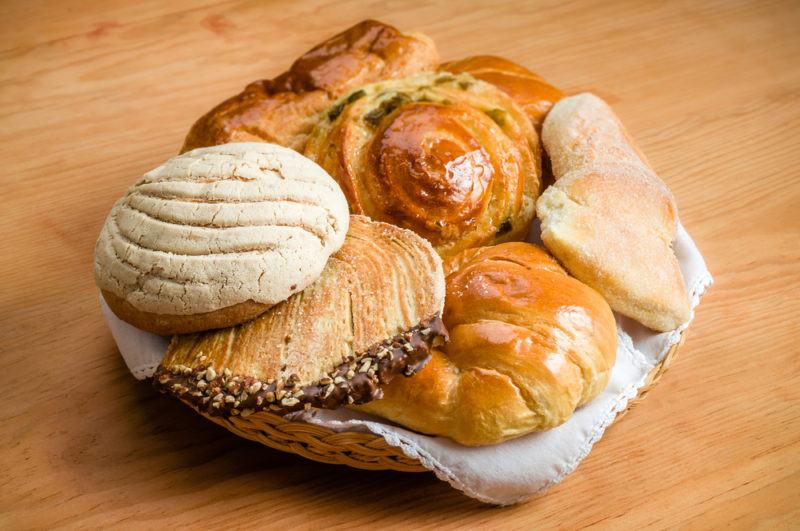 Pan dulce translates to sweet bread, meaning that this breakfast is essentially pastries, like you find in so many other places. The sweet bread will often be purchased from street vendors and many people will order sweet coffee at the same time.
The combination of pastries and coffee is best considered a pre-breakfast, as you're not getting enough nutrients to keep you going for very long at all. Still, such a combination can be popular, especially if you're out in the city early in the day.
Besides, you can have pan dulce at home too and it isn't unusual for a Mexican breakfast to involve multiple courses. You could start with pan dulce and coffee, then move to something more substantial a little later on.
Fresh Fruit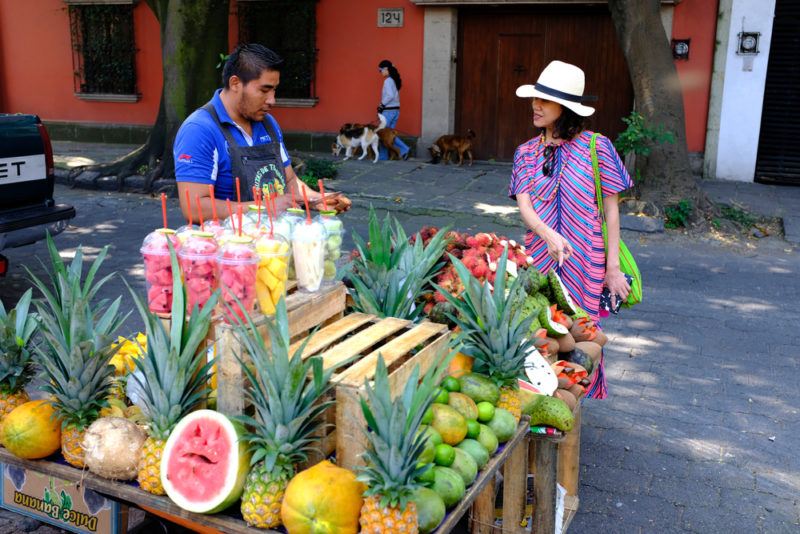 Fresh fruit is a common sight in Mexico, especially options like papaya, pineapple, and cantaloupe. So, it's not unusual to see the fruit feature on the breakfast table.
This might be in the form of the fruit on its own, a fruit salad, or fruit juice. Whatever the approach, fruit is a vibrant way to begin the day and there are some delicious flavors to experience.
Street Food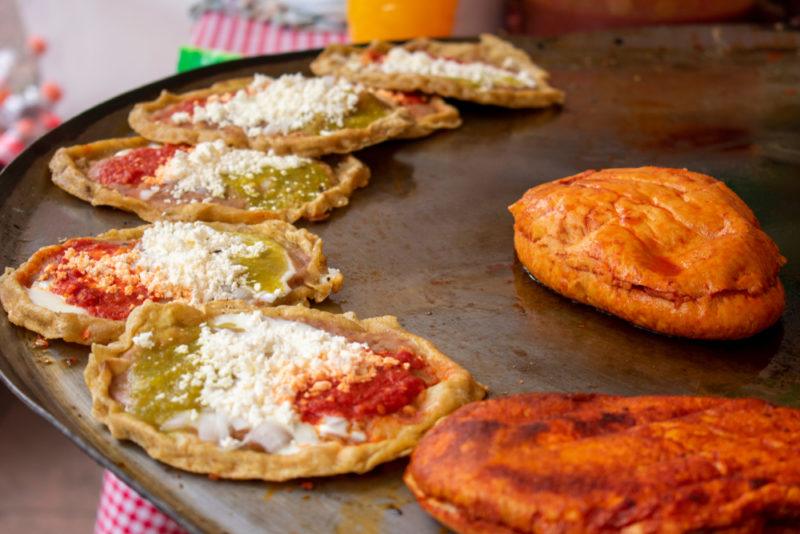 There are far too many types of street food to list them all here – and that's not even counting the variations across Mexico. But, one common theme is tortillas that are topped with ingredients like meats, beans, cheese, and sometimes vegetables.
These tortillas tend to be thick and round, although there are some oblong versions too, along with ones that act as pockets that can be stuffed. Common names for such foods include picaditas, sopes, or memelas.