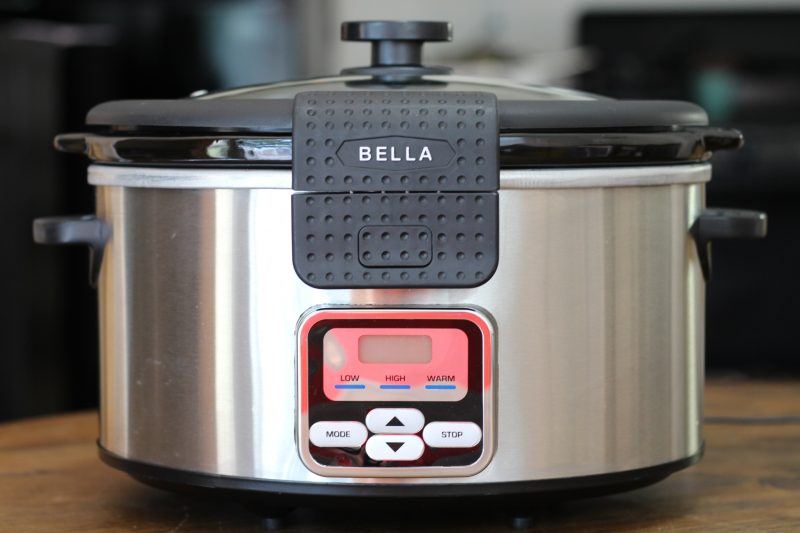 Bella Programmable 6-Quart Slow Cooker with Locking Lid Review
Quality - 93%
Features - 94%
Price - 94%
Personal Experience - 93%
Value - 97%
This Bella slow cooker was able to cook up some delicious, chocolatey dessert! The digital interface made it easy to cook (really, bake) my dish for the perfect amount of time. Though I didn't make use of the locking lid feature to take it anywhere, with such a gooey, chocolatey dish a locking lid would definitely come in handy on the road!
Introduction
Bella makes a variety of small kitchen appliances, including pressure cookers, griddles, toasters, fondue pots, and of course slow cookers. Though you may be more familiar with brands like Crock Pot and Hamilton Beach when it comes to slow cooking, Bella can hold it's own, and offers a good variety of sizes, price ranges, and uniquely designs.
Last week I bought, tested, and reviewed the Bella 6 Quart Stainless Steel Programmable Slow Cooker with Locking Lid. This is model #13722.
This device fits in the category of 6 quart mid-priced slow cookers, which happens to be my favorite category of devices to recommend – middle of the road. You get a few extra features that makes cooking easy, but don't go over the top with things that sound cool but you'll never use. It's also the right size for making dinner for a small family.
Standard Features
This model of Bella slow cookers of course comes with a locking lid. Not all cookers have this, but it's quite a common feature. I tend to not use any type of locking system because I don't take my meals anywhere, but if you travel to pot locks at company/school functions, then a locking lid is worth getting.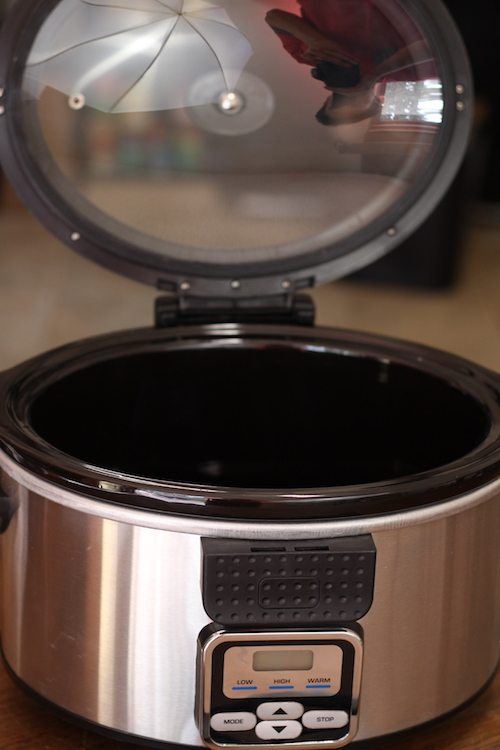 You'll also get the standard dishwasher safe crock and lid, as well as head-resistant carrying handles.
Standard to this price category, the programmable six quart model also comes with an easily programmable timer and high/low/warm option. This is another reason I like the mid-priced category! It means you can leave the house with dinner or dessert cooking and not have to worry about burning the dish, or your house down!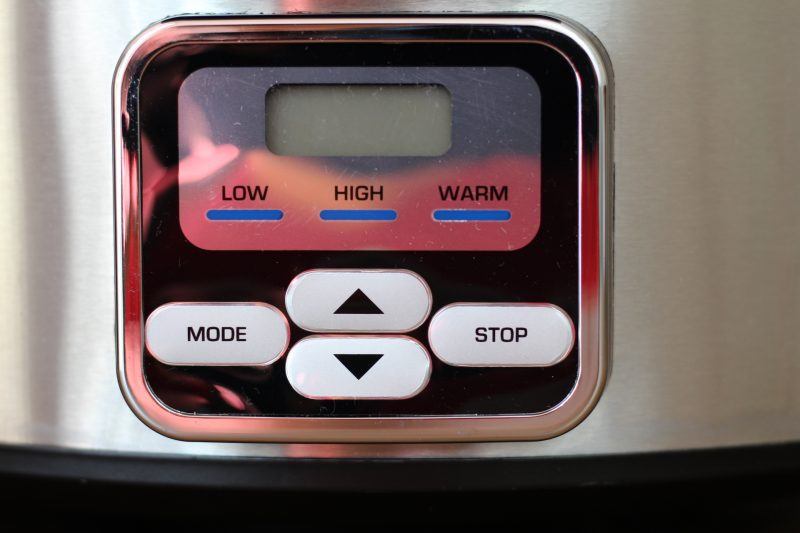 Extra Features
There aren't a lot of "extra" features to discuss, but there were two main design points I wanted to mention. The first, is that this cooker seemed quite bulky. Perhaps because the lid was attached in a funny way (more below), but I just felt that I enjoyed the more streamlined 6 quart cookers like the Programmable 6-Quart Crock Pot.
You can see in this photo, that the locking lid almost makes it look like a military grade crock pot! You might like this style though, but it's not something I was crazy about.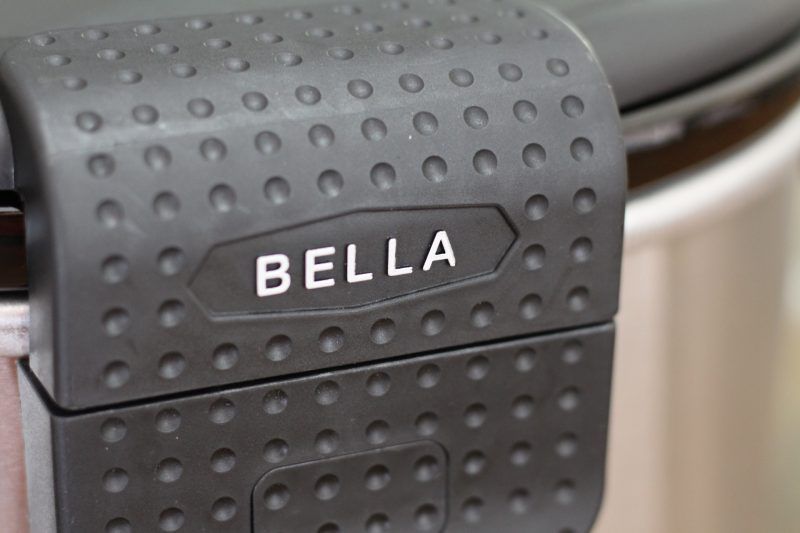 However, I did like the display! It was a cool blue background and nice, futuristic glowing lights for each setting. These are just minor design things, but with so many similarly priced devices with similar functions, they can make a difference in your buying decision!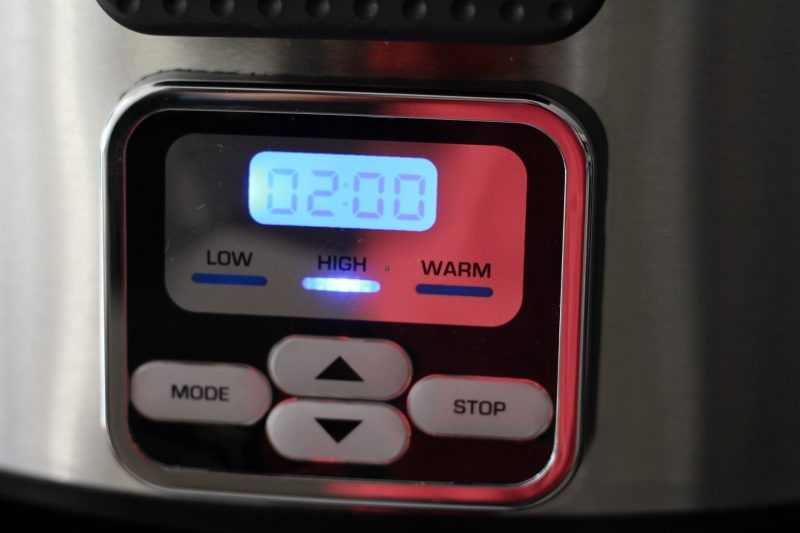 Cooking Experience
To test out the Bella model 13722 I cooked a dessert! I made a slow cooker chocolate molten lava cake. This was definitely my all time favorite slow cooker dessert that I've ever created because it was shockingly simple, and incredibly delicious. Actually, I think you'll also enjoy the "surprise" element to it.
When you first make the dish, it looks like a watery mess, but in just two hours it turns into a gooey, warm, chocolate dessert that's great for cold fall or winter nights.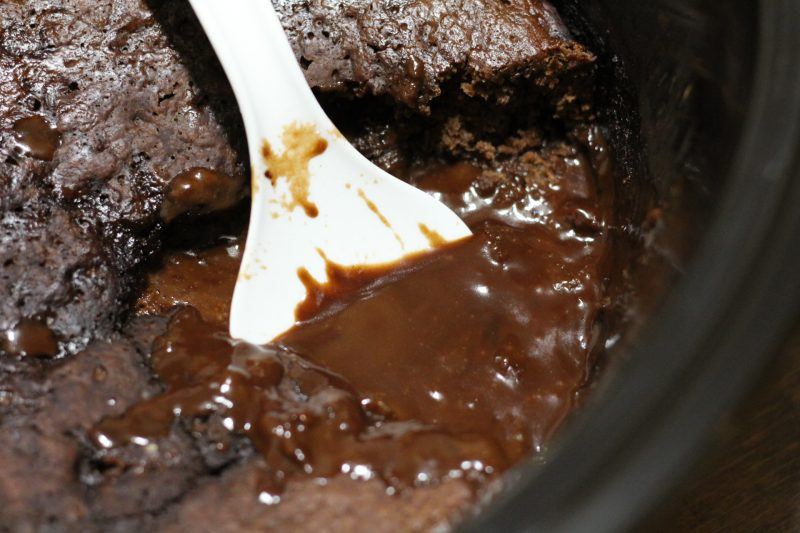 So in terms of performance, the Bella 6 quart slow cooker with locking lid did great. No issues there! The programming worked, and the level of heat was what I expected.
My only complaint was the design, but that doesn't affect the flavor of the final dish of course! My issue with the design is that the locking lid is complicated to remove. The button you push to release the lid is in a spot that's awkward to reach. For example, while pushing the button near the back, you have to press it all the way in to release the lid. However, that tends to push the cooker forward at the same time. So you end up pushing the cooker towards you. Anyway, the process was a bit awkward.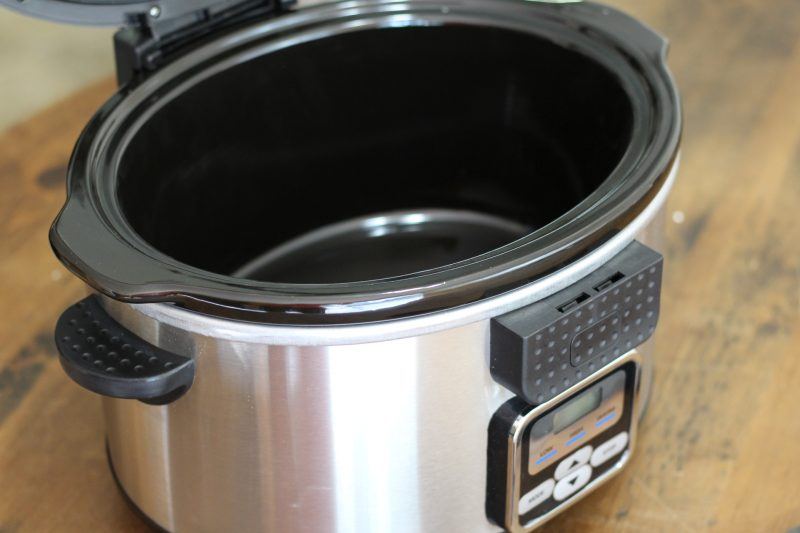 Also, the lid-clips lock down the crock, so if you want to leave the lid on, but take the crock out, it's pretty impossible, You need to completely remove the lid, then remove the crock. I thought the advantage of having the lid attached to the back was to hold it up and not need to remove it and set it on the counter/table?
This also means you can't remove the crock and lid together if you need to.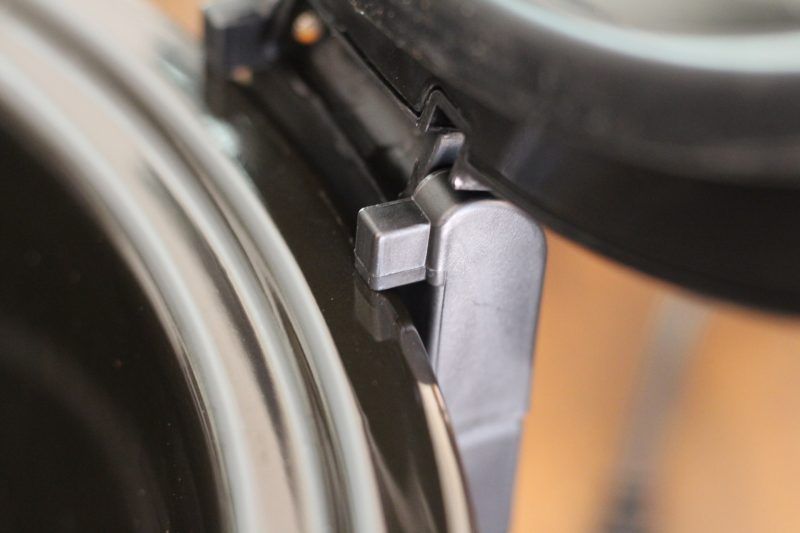 Comparing The Bella To Other Slow Cookers
Depending on what type of cooker you're looking for, you may want to pick another brand or model in the same price category. If you are planning on cooking larger items like roasts or chickens, then you probably want to consider the Hamilton Beach Set 'n Forget. It comes with a temperature sensing probe so you can make sure your meats are cooked all the way through.
Not everyone needs a probe though! And for transportability, the Crock Pot Cook 'n Carry is another incredible choice.
However, I do like that Bella style slow cookers have a very reliable-looking seal. The bulky lid and lock may not look as sleek or minimal as the other brands, but it does instill confidence in the seal. If you plan on knocking this cooker around on the way somewhere, I think it would be a good choice to go with Bella.
I also really liked the display and buttons compared to some other brands, and size-wise, although appearing bulky, it was not the largest 6 quart slow cooker I tested!
It's a solid buy for the 6 quart mid priced category. Another, similar looking slow cooker available for a cheaper price was the Chefman 5-Quart which is in the inexpensive category.
Who Is The Bella Programmable 6-Quart Best For?
If you plan on traveling a lot and like this particular design, then this is the model for you.
Conclusion
Maybe because I was jus so impressed with the dish I made in this cooker, but I really like the Bella slow cooker. It was not my favorite of the bunch I tried in this category, but it was a solid one. I'm looking forward to trying other Bella models in the future, and branching out into their pressure cooking appliances as well.
Pros/Cons
Pros
Reasonably Priced
Reliable Brand
Easy Travel, Locking Lid
Dishwasher Safe Stoneware/Lid
Easy To Clean
Nice Program Display
Cons
Awkward Removing Lid With Release Buttons
Must Remove Lid To Remove Crock
General Design Isn't For Everyone