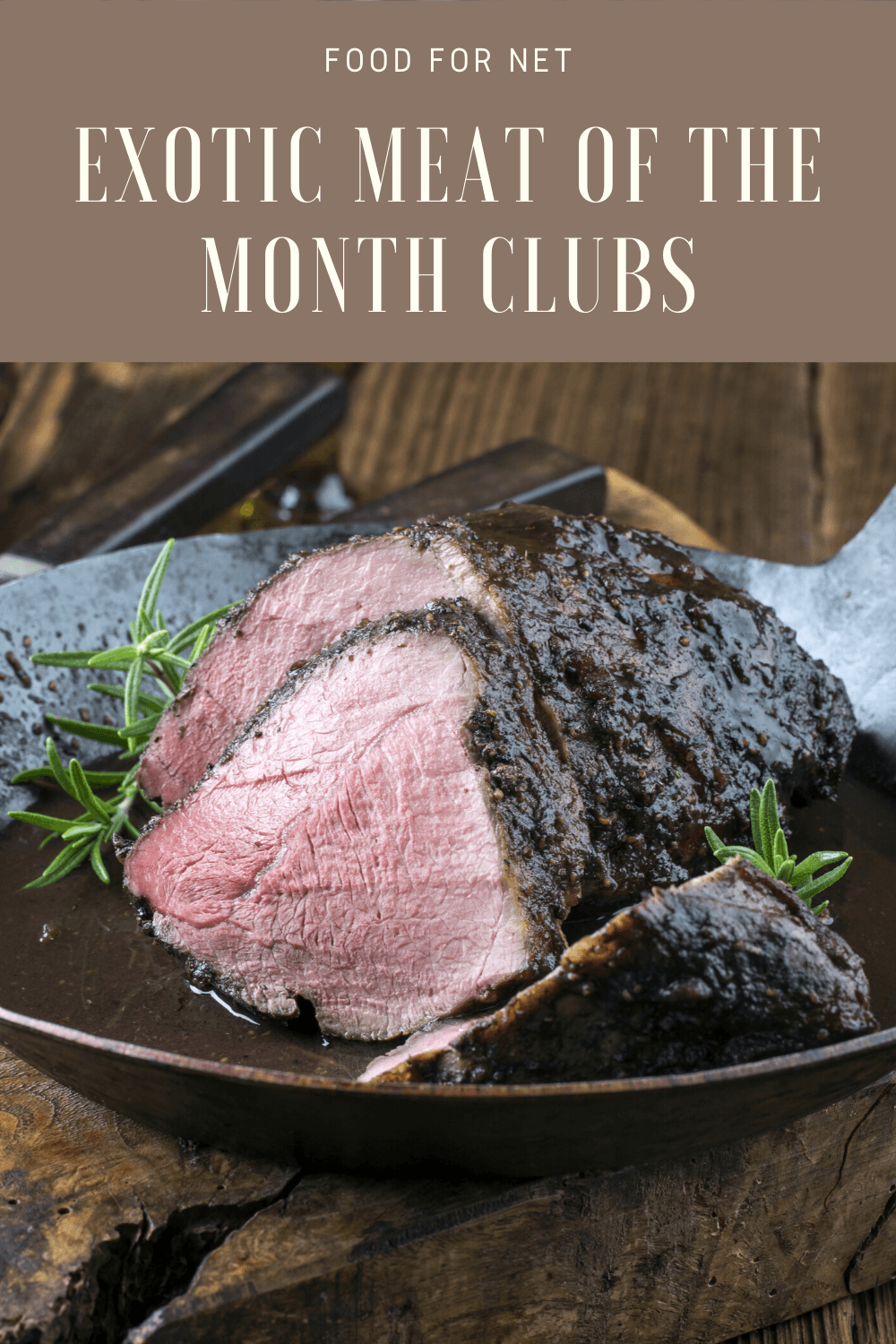 For those who are new to the exotic meat world, exotic meat of the month club might be just what you need. Exotic meat subscriptions allow you to try a wide range of choices so you can better determine which ones you prefer.
And, why not? Exotic meats are gaining in popularity both at the local butcher shop as well as at our favorite restaurants. Americans are beginning to look for healthier and more sustainable animal protein alternatives, so they are turning to the less common meats such as:
Goat – Consumed by 63% of the world's population, just primarily in other regions of the world, is a nutritionally dense protein
Ostrich – A healthy lean meat alternative that is lower in cholesterol and fat than most traditional skinless poultry option
Alligator – Another low-calorie protein, alligator meat contains zero saturated fat, which is significant when compared to a 3.5 oz top sirloin that contains 6 grams of saturated fat
In addition to often being a leaner and healthier meat choice, exotic meats are also high in protein, and often higher than more conventional options.
Another reason to consider exotic meats so to keep from getting bored with the same lean meats you eat all the time. Many people who eat a healthy diet complain of culinary boredom.
However, by adding other meats such as elk, quail, or rabbit, you can liven up your menu without adding calories or fat. And in some cases, you may actually be reducing your calorie and cholesterol intake with some of these meat options.
But there are two drawbacks when choosing exotic meats. The first is the cost since many unique types of meat carry a higher price tag than more conventional choices. However, if you compare it to organic options, there isn't always that big of a difference.
The second problem is accessibility. Though it is becoming more common to see meats such as bison and elk at the local market or natural foods store, it is still more challenging to find other exotic options such as goat or ostrich. One way around the problem of finding a good retailer for these meats is buying online.

Exotic Meat of the Month Clubs
Jerky.com
Buy Wild Game Meats
Exotic Meat USA
Armadillo Pepper
Exotic Meat Market
Jerky.com

Jerky.com, founded in 2008, has four locations, three in Oklahoma, and the fourth in Texas. The company started with five varieties of beef jerky, but over the years has expanded to offer more than 100 different jerky choices.
Jerky.com prides itself on giving its customers optimal online shopping experience, with the largest jerky selection online. In addition to creating a secure online ordering system, Jerky.com provides flat rate shipping for all orders anywhere in the US. Their low-cost shipping is only $4.95 per delivery.
Jerky.com sells their variety of jerky, but also offer other brands such as Bricktown Jerky, Oklahoma Jerky Company, and Buffalo Bills.
Also, Jerky.com offers a small variety of non-jerky snacks like roasted peanuts, sunflower seeds, and licorice. And just like their jerky, some are made under their brand and some from the brands listed above.
Plus, this snack haven even has an exotic jerky of the month club which is available in:
3 Months starting at $32.99
6 Months starting at $65.99
12 Months starting at $131.99
Each duration option comes with a size choice of 2 oz, two packs, or four packs. The meat variety selections may include elk, venison, buffalo, alligator, wild boar, and lamb.
If you sign up for a more extended subscription option, there are more choices that you will be able to try. Each of the different jerkies has a unique flavor and texture profile, all worth experiencing.
After you place your initial order, you can expect to receive your first bag of jerky the first week of the following month.
Buy Wild Game Meats

Buy Wild Game Meats, a US-based company prides itself on only selling meats that are free from antibiotics, hormones, growth stimulants, and pesticides.
Buy Wild Game Meats strives to provide excellent customer service experience. They stand behind all of their meats and offer a 7-day money-back guarantee. You can choose to return any of their products within the seven-day window for any reason if you are not satisfied with what you received.
Buy Wild Game Meats offers a variety of organic meat choices including coyote, bobcat, dove, frog, python, and yak.
There are more than thirty different exotic meat choices and that doesn't even include their prepared options like burgers, sausages, milk, brain, and bone marrow.
Plus, Buy Wild Game Meats offers some more traditional organic choices such as turkey, a variety of chicken, goose, and lamb.
For those looking to try a variety of exotic meats, their exotic meat club subscription is a perfect choice. It comes in a wide selection of duration choices starting at one month for $89.99 up to 12 months for $839.99. The different clubs increase at a one month increment.
Each month the recipient will receive one type of meat:
January – Yak
February – Buffalo
March – Axis Deer
April – Elk
May – Llama
June – Goat
July – Alpaca
August – Alligator
September – Iguana
October – Beaver
November – Camel
December – Wild Boar
Exotic Meat USA

Exotic Meat USA flash freezes, then vacuum seals all of their meats to lock in the natural flavors and quality of the meat. When you order from them, they ship all of their products packed in dry ice, so when the meat arrives at your door, it will still be frozen.
If for any reason, you receive your shipment and are not happy with it, you may return the meat frozen via fed-ex or UPS for a full refund or exchange. Exotic Meat USA does all it can to ensure that the products delivered to you arrive in perfect condition, which is why it is critical you provide a valid and full address to where you want it shipped.
Incomplete addresses will void their satisfaction guarantee and possibly cause the package to arrive late. Exotic Meat USA ships overnight anywhere in the US but is unable to ship internationally.
Exotic Meat USA offers a wide range of products including several sampler boxes like:
12 Gamebird
Wild Game Buffalo, Red Deer, Elk, Wild Boar, Venison
Pheasant, Duck, Quail, Squab
Exotic Burger
Camel, Elk, Buffalo, Alligator, Wild Boar, Wagyu Meat
Exotic Meats Special Sampler
Exotic Hot Dog
Plus they have several subscription choices:
Exotic Meat Club 1-12 months – $89.99-$839.99
Exotic Burger Club

3 Months $199.99
6 Months $399.99
9 Months $599.99
12 Months $799.99

Exotic Sausage Club

3 Months $199.99
6 Months $399.99
9 Months $599.99
12 Months $799.99
Armadillo Pepper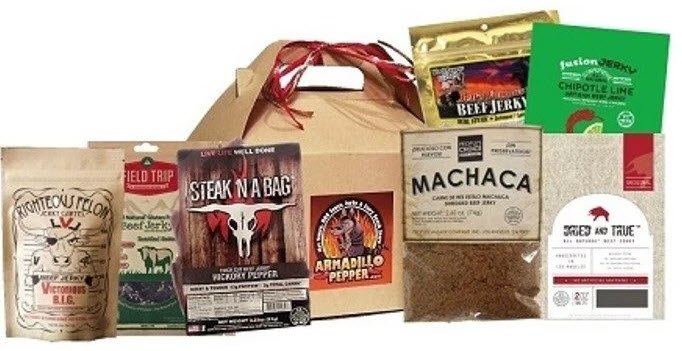 The Armadillo Pepper company, founded in the south, is owned and operated by foodies who strive to bring their customers the best sauces, seasonings, and snacks from all around the US.
Armadillo Pepper offers a wide variety of products, many of which are BBQ focused, such as their extensive selection of BBQ sauces and rubs:
Fat Bastard Bite The Big One
Historic Lynchburg Tennessee Whiskey Swineapple
I Like Pig Butts
Bone Suckin' Sauce
Bourbon Q Distiller's Choice
Plus, they have a ton of artisanal hot sauces like:
Armadillo Pepper Ghost Pepper Hot Sauce
Artifact Severe Burn 3 Million Scoville Pepper Extract
Blair's After Death Hot Sauce
African Rhino Peri-Peri Pepper Sauce
Angry Cock Sauce
Additionally, Armadillo Pepper has almost 50 different gift options from the grenade shape hot sauce bottle to the "Ultimate Man's Gift Basket 11 Gourmet Treats and Tools" for $89.95. This unique gift is full of seasonings, rubs, sauces, and jerky.
Of course, the Armadillo Pepper offers a variety of subscription boxes, one of which is their Exotic Jerky of the Month Club. There are three duration choices: three months for $49.95, six months for $94.95, and 12 months for $184.95.
Each month the recipient will receive a new jerky flavor. This superior club is the one jerky club that doesn't include beef. Each delivery contains a 2-3.5 oz bag of jerky each month. Because they offer a large selection of choices, you will never have to worry about receiving duplicate jerky varieties.
Some of the types of jerky you can expect to see in your monthly subscription are elk, buffalo, wild boar, venison, and salmon.
Shipping is included in the club prices listed above.
Exotic Meat Markets

The Exotic Meat Market is located in Las Vegas, Nevada, though they are strictly an online business. They have been open since 1989, providing exotic meats to people all over the nation.
The Exotic Meat Market's goal is to offer one of the largest selections of exotic meats found online. But they also work hard to respect and follow the beliefs of the American Indians in regards to how they treat animals. They feel that harvesting animals should only be done for food and self-identify as "custodians of Mother Nature."
Exotic Meat Market has choices not found at any local market such as guinea pig, muskrat, nutria, opossum, python, raccoon, and turtle.
They also have several meat subscriptions, including their exotic burger, sausage, or hot dog club, which cost:
$199.99 for 3 Months
$399.99 for 6 Months
$599.99 for 9 Months
$799.99 for 12 Months
Each shipment includes three pounds of whichever meat club you selected. The club options are pre-chosen and include meats such as yak, llama, goat, beaver, and camel.
There is also the exotic meat of the month club, which ranges from 1-12 months, $89.99-$839.99. Each month the recipient receives two pounds of meat, enough for four servings.
The Exotic Meat Market has posted their calendar online, so you know what you will be getting each month. Some of the selections you can expect to see include:
Alligator Tenderloin
Camel Filet Mignon Steaks
Alpaca Tenderloin
Goat Leg Roast
Rattlesnake – Whole
Rack of Venison
Antelope Roast
Turtle Meat
Wild Boar Tenderloin