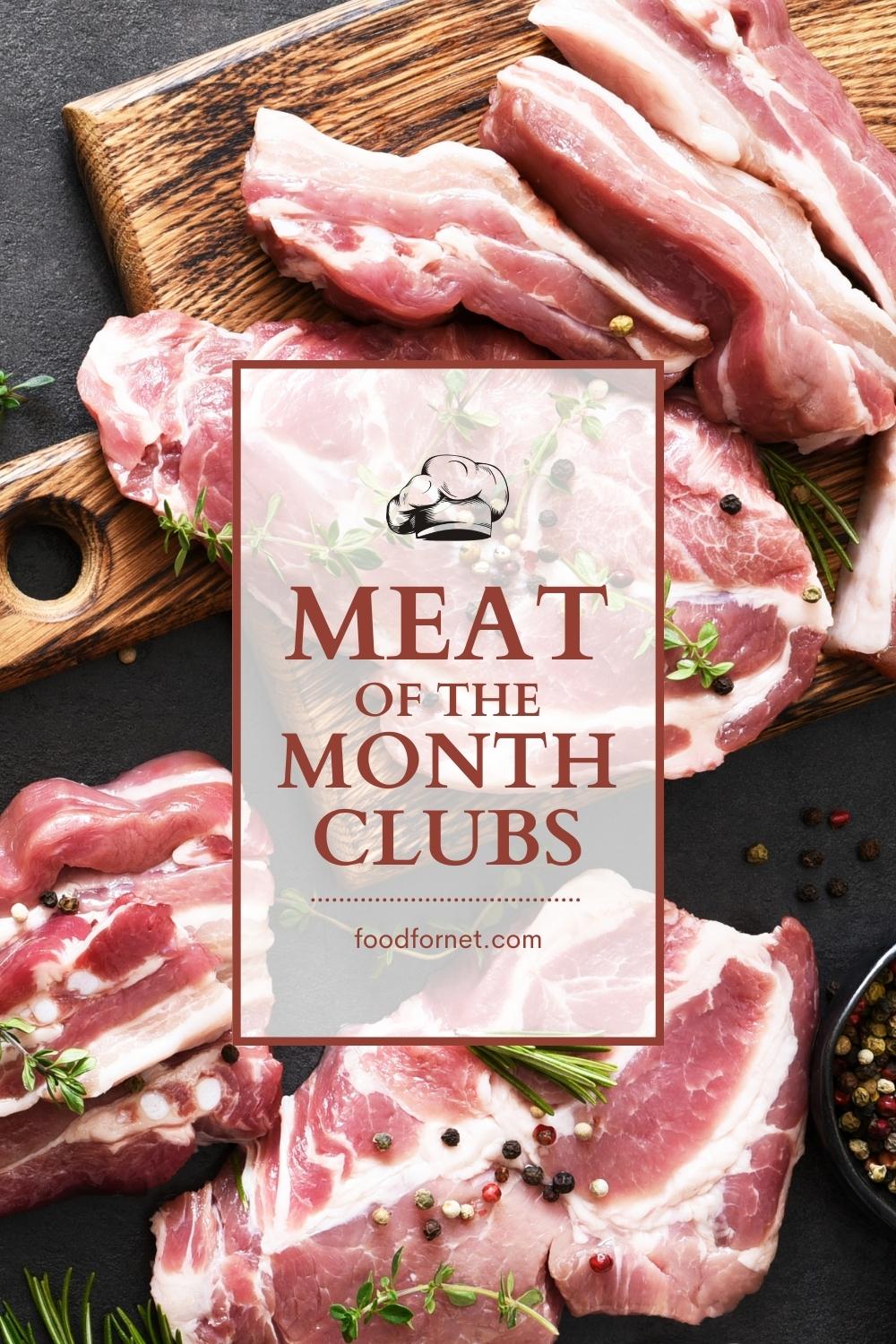 Subscription boxes often focus on snacks, beer, candy, cakes, and the like, but you shouldn't overlook regular ol' meat. The meat of the month clubs is particularly in high demand. Most adults aren't candy-obsessed, but there are tons of people out there that simply love (and can't get enough) meat!
There are various styles to choose from within the realm of monthly meat delivery.
Some boxes focus entirely on meat-based snacks, with jerky being the most popular variation. Others provide meat in a different form, like packets of bacon or meat for the grill. Oh, and did I say bacon?
We're covering all of the styles in this list. Check out the different areas to find the perfect box for you. For me, my favorite clubs so far are Crowd Cow for a steak subscription box. All steak, all the time. I don't really care about pork, chicken, or even ground beef. That's just me.
If you want more options for customization, Butcher Box is good too.
For cured meats, Carnivore Club is the best. I like to snack on meat and cheese when I drink beer.
As for the other clubs, I don't really get why you'd order BBQ online. It just won't taste the same. And jerky? Get outta here. Who really needs jerky delivered? I guess some people like it though since these clubs have been around a while, so I've included them in this meat club list.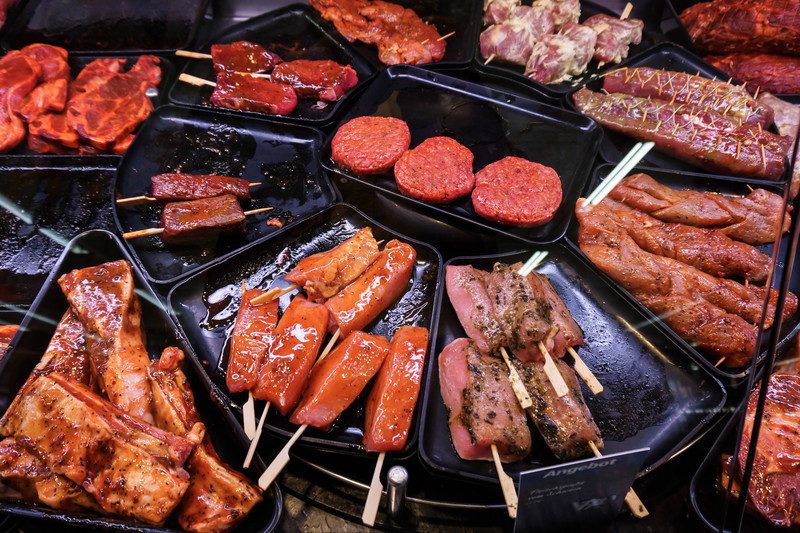 Meat Of The Month Clubs
PS. since you like meat, check out our manly food subscription boxes. Why not cook some of this meat on a USA made grill?
PPS. Here's the breakdown of some themed meat clubs by category, each in their own list. The links below will take you directly to the full list of all clubs.
Meat Subscription Clubs
Mountain Primal Meat Meat Subscription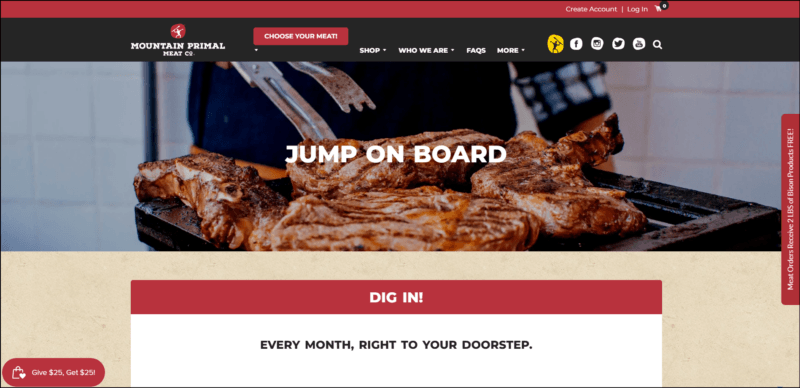 Mountain Primal focuses on high-quality meat that is flash-frozen so that it is as fresh as possible when it gets to you. All of the meat sold comes from the Mountain Primal ranch. This gives them the ability to control the quality of their products and means that you have nothing to worry about.
The Mountain Primal site offers a wide selection of meat that you can order separately, along with three meat boxes. Two of these boxes are marked as stockpile packages and can be ordered on subscription.
The first is the Ground Beef Subscription. This package contains five 1-pound packages of ground meat for $65 per month. The second one is the Breakfast Sausage Subscription containing five 1-pound of breakfast sausages for $75 per month. Pork Chorizo Pack on the other hand has ten 1-pound of Chorizo pork for $175 per month. And lastly, the Pork Sausage Combo Pack, which costs $160 per month for two packages of Brats, Hot Italian, and Andouille sausages.
Crowd Cow Monthly Boxes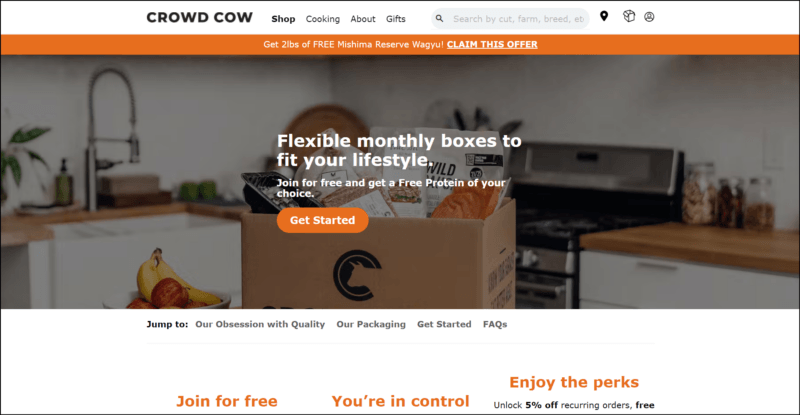 I'm a huge fan of Crowd Cow. Basically, it's like crowdsourcing your beef. You team up with other buyers to get meat directly from local, small ranches. This way, you don't have to buy and store a whole cow in your freezer!
This is cool because you get to know where your meat is coming from. They feature small ranches from around the US, and you can learn the background of where your beef came from. You know – getting more connected to what you eat.
The beef they feature comes from different ranches. I've ordered a few times from them, and never been disappointed. They now have their own subscription box services, including Best of Crowd Cow, Best of Beef, and Best of Japanese Wagyu, each box costs $150.
They also have a Custom Box where you can build your own box and fill it with your favorite items from their wide selection of craft meat, seafood, artisan sides, and even desserts. Crowd Cow will even add a free 2 lbs of Mishima Ground Wagyu if your Custom Box order is over $149.
Butcher Box Meat Delivery Subscription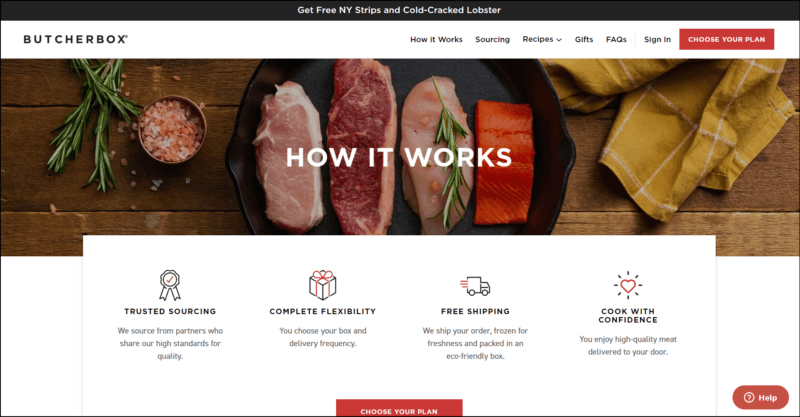 Many people rely on Butcher Box regularly and the service always gets good reviews. The basic idea is simple – meat. Nothing more, nothing less. Members can order 5 different types of boxes, which are all shipped out monthly. Each box contains a selection of raw meat. The specific types of meat and cuts that are included vary depending on the box that you choose.
The 4 main options are the Mixed Box, Beef & Pork, Beef & Chicken, or All Beef. Each of these costs $146 with free shipping. Each box contains 8 to 11 lbs of high-quality meat of either or a combination of grass-fed, grass-finished beef, free-range organic chicken, and pork raised crate-free.
There is also a custom box. This costs $169 for a 9 to 14 pound box and $306 for an 18 to 26-pound box. While this version is a little more expensive, it does provide full control over the cuts of meat that you receive. It's the perfect style for people who know what they want. You can also add additional items to fill the box out more.
Omaha Steaks Gift Boxes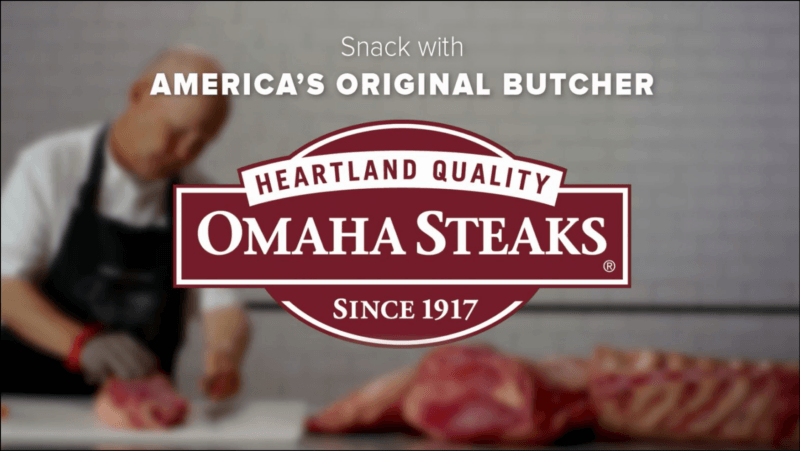 There's always a risk that meat clubs will look the same, but Omaha Steaks does stand out from the crowd. The site is one of the best places to look online for meat. They even sell other foods that you might need, like starters, sides, and desserts.
They offer 4 types of gift boxes, which can all be ordered as a shipment every 1, 2, or 3 months. The price per shipment is best if you're ordering monthly, but you might find that you want the food less frequently.
The monthly subscription costs $129.99 which is perfect for a big family because the subscription gets you up to 8 weeks of steaks every month. The Bi-Monthly Steak Box on the other hand costs $149.99 and is ideal for smaller families. And lastly, the Quarterly Steak Box is perfect for when hosting a get-together for $169.99 per shipment.
Heritage Foods Monthly Subscriptions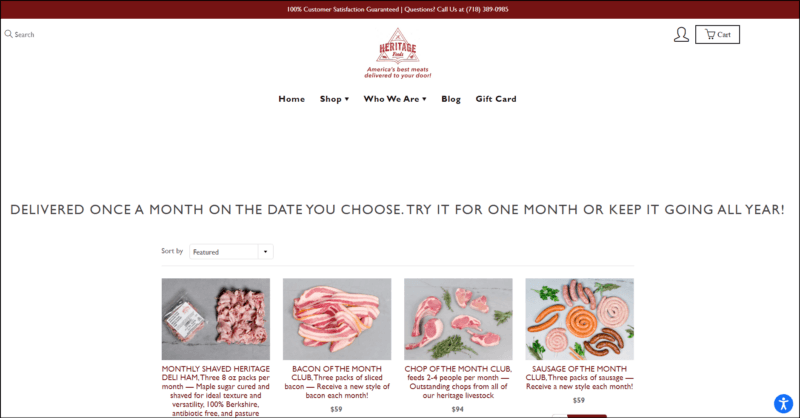 Heritage Foods is another powerful site if you want to order meat online. They provide a considerable selection of high-quality meat, including plenty of meat clubs. In fact, there are five distinctive clubs to choose from, including a bacon subscription, ham subscription, chop subscription, steak subscription, and sausage subscription.
Their Steak of the Month Club will particularly get you enough steak for 3 to 6 people every month. As a subscriber, you'll get a different variety of steaks – ribeye, strip, hanger, short rib, tenderloin, porterhouse, and more from the best breeds raised by independent farmers.
All of the subscriptions are month-to-month, ranging in price from $25 to $145. They are sent out on the first of each month unless you choose a date that you prefer. The month-to-month style means you're only ever paying for one month at a time and the subscription is easy to cancel.
Mr. Steak Curated Boxes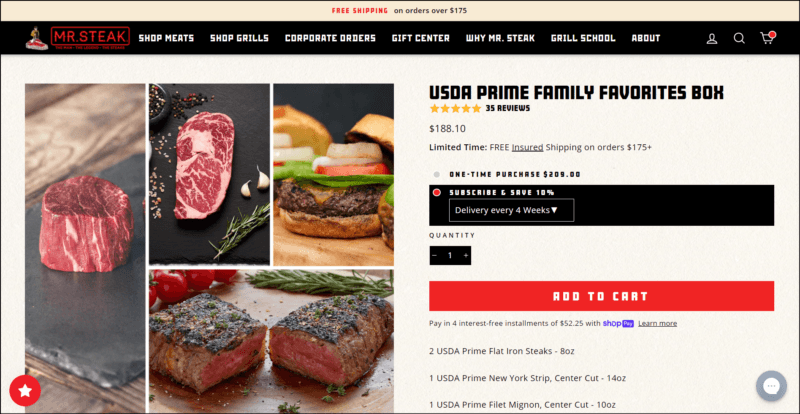 As the name suggests, Mr. Steak mostly focuses on steak. The company provides 11 different cuts of meat for you to choose from, including options like bone-in ribeye, boneless ribeye, flat iron steak, and craft brisket burger.
There are two ways to order through the company. The first is to build your own box, where you select the cuts that you want, their USDA grades and sizes (where appropriate), and the quantity.
Alternatively, you can order one of the curated boxes from Mr. Steak. These include options like the USDA Prime Family Favorites Box for $188.10 and the USDA Prime Big Boys Bone-In Box for $336.60. The different prices are based on the USDA grade that you choose.
In both cases, you can order as a one-time purchase or subscribe to the box instead. A subscription will ship out your box every four, six, or eight weeks. If you choose the subscription, you save up to 10% off the retail price.
Stock Yards Monthly Meat Clubs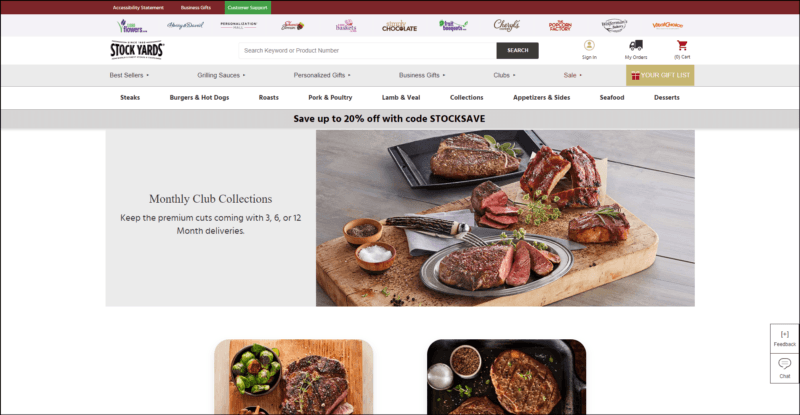 Stock Yards in its first 107 years is a family-owned business, then from the year 2000 up until today, it was acquired by US Foods. They continuously provide exceptionally good quality steaks, meat, and beef – USDA Prime and USDA Choice, as well as the Certified Angus Beef Brand. All these to ensure that they're giving you the widest selection possible.
They offer Monthly Club Collections that are available in 3, 6, or 12 months subscription lengths. They have the Stock Yards Club with pricing starting at $199.99 – it will get you steaks, chops, ribs, and more. The Steakhouse Club on the other hand will get you USDA Prime or Choice steaks, racks of lamb, bone-in chops, and more with prices starting at $349.99.
Aside from their fine meat, they also have sides, appetizers, and desserts. Check out their website to see all the delicious options there.
Campbells Meat Box Subscriptions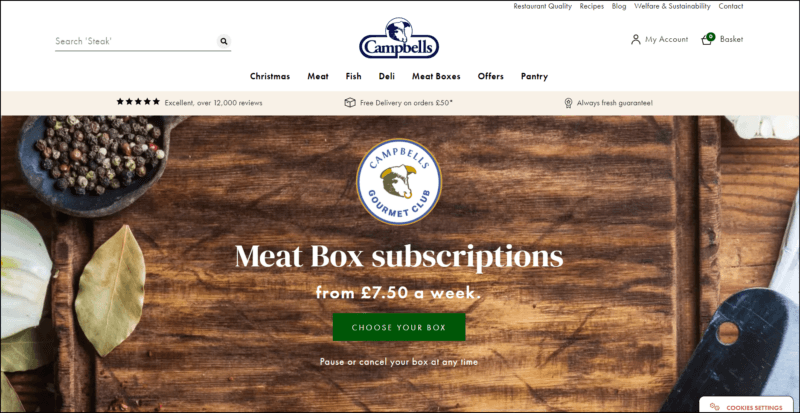 Campbells up to this day still embodies the values of the original master butcher, Thomas Campbell. They're still providing the highest quality products with the help of Scotland's finest master butchers and fishmongers.
They have three Meat Box Subscriptions – all of which you can opt for every 2 weeks or every 4 weeks deliveries (within the UK only):
Taster Plan, £29.00
Pork Box
Lamb Essentials Box
Beef Taster Box
The Family Plan, £59.00
Cook with the Finest Box
Healthy Meat and Fish Box
Custom Plan
you can build your own box with 20% savings
Any of the subscription plans will get you free meat or fish box (the price worth of which varies depending on the plan). All meat orders are vacuum packed and kept cool in transit with the use of recyclable foil-insulated cardboard boxes packed along with ice packs.
Buck Creek Meat Box Subscription Plan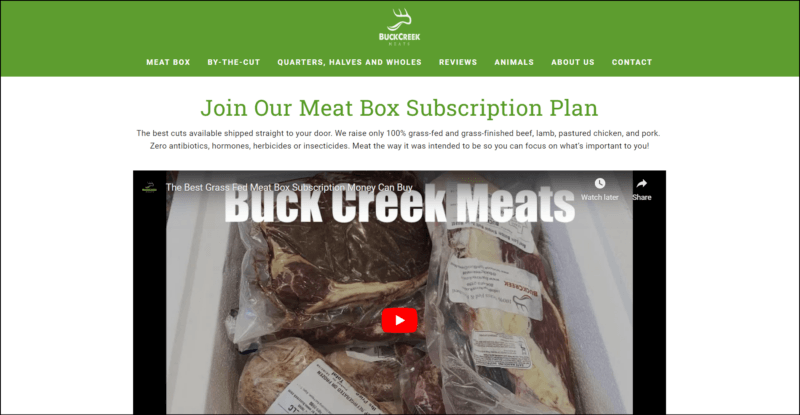 Buck Creek is a third-generation family farm – they are very determined in providing the best meat and eggs out there with their artisanal approach. They strive for sustainability and make sure that their animals are well taken care of in a stress-free environment.
They raise only 100% grass-fed and grass-finished beef, lamb, pork, and pastured chicken. All animals are free from antibiotics, hormones, herbicides, or insecticides. You can avail of their meats by the cut or in quarters, halves, and even wholes.
Their Meat Subscription Plan is customizable. You can choose the price, from $149.99, $269.99, or $399.99. You can choose the schedule for when you want your box delivered. And lastly, you can indicate which cuts in particular you prefer.
Porter Road Butcher's Choice Subscriptions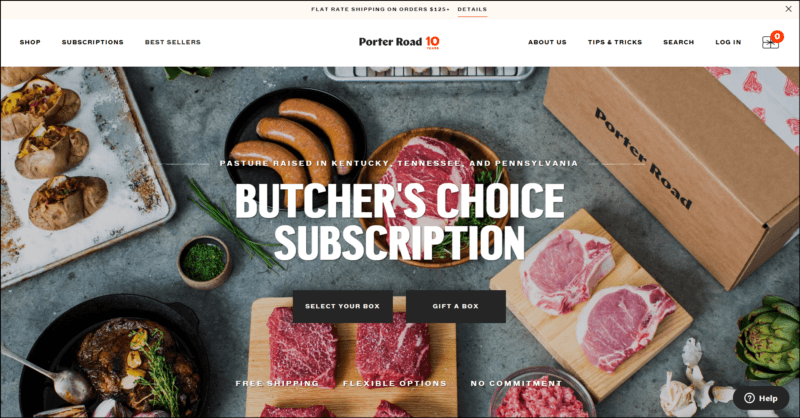 Porter Road's shop is a cult favorite for people around their area but they decided to bring it online so that more people will have access to quality meats. Their offerings are sourced from select farmers that they themselves cut into custom orders.
Their Butcher's Choice Subscriptions can be delivered every 2, 4, or 8 weeks depending on your preference. You can choose from Butcher's Choice Box, Weeknight Heroes, Best of Porter Road Box, Beef Box, and Beef & Pork Basics. Price ranges from $120 to $165.
Sample contents of the box, particularly the Butcher's Choice Box, contains:
2 premium dry-aged steaks (Ribeyes or Strips)
2 Sirloin Filets
2 Pork Chops
1 lb of Dry Aged Ground Beef
1 lb of Pork Bacon
plus an additional assortment that changes each month
Stay Classy Meats Subscription Boxes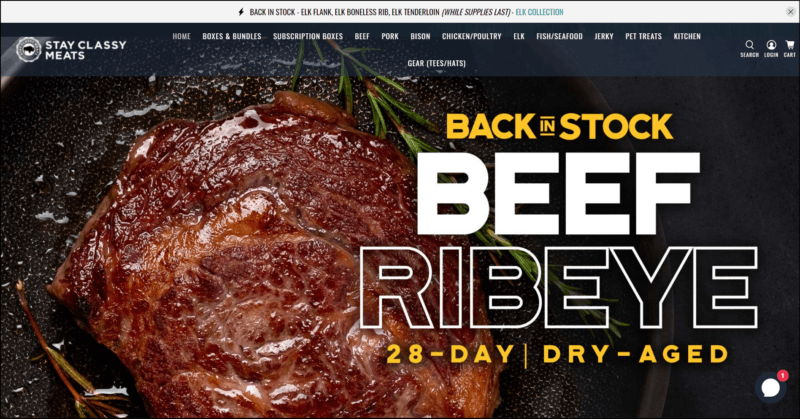 Stay Classy Meats work with farmers and ranchers who values time-honored traditions. Together they offer high-quality meat from Montana-style farming – animals that are grown from nutrient-rich grasses and without the use of hormones and antibiotics. They've come a long way and are now also carrying quality pork, bison, poultry, elk, and even seafood for their product offerings.
You can choose from their 3 Meat Subscription Boxes: the Core II Box at $198, Premium II Box at $284.05, and Elite II Box at $379.05. Sample contents include Grass-fed Beef T-Bone Steak, Beef Blade Steak, Bison and Pork Hotdogs, Berkshire Pork Schnitzel, and Boneless Berkshire Pork Schnitzel.
You can definitely make your favorite meat dishes – sloppy joes, chili, ground beef casseroles, tacos, or whatever recipe you may be fancying, with their quality meats.
Bacon Subscription Clubs
Amazing Clubs Bacon Of The Month Club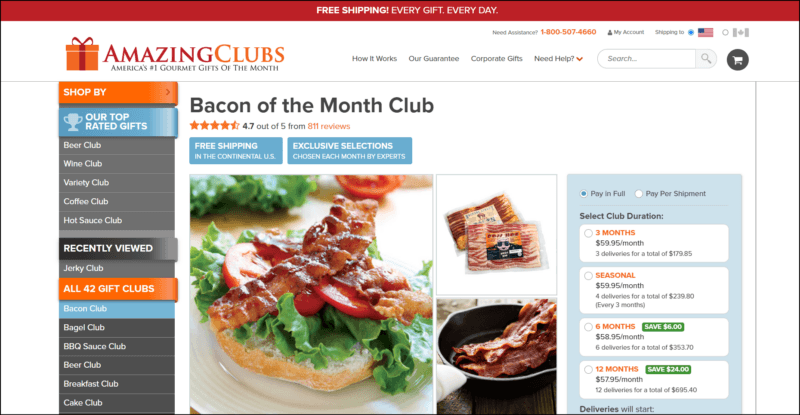 We all know that bacon is the king of meat, right? There's something about it that is simply amazing – and it suits almost any occasion. If you agree, then this Bacon of the Month Club could be what you're looking for. The club provides you with 2 new packages of bacon each month (each is a 1-pound selection).
The bacon itself is sourced from gourmet butchers throughout the United States. This means that there is plenty of variety. You may even find flavors and styles that you didn't know existed.
Bacon Freak Bacon of the Month Club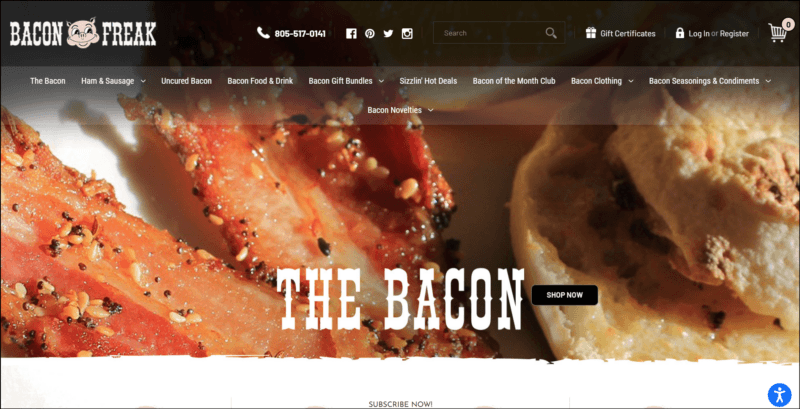 With a name like Bacon Freak, it's easy to guess what this company focuses on. Their site sells a wide range of bacon-related products, including some that you mightn't have seen before. There are also multiple bacon of the month clubs to choose from. The most significant is their Bacon is Meat Candy Club. This can be joined for 3, 6, or 12 months. It provides you with 2 packets of bacon each month. Your first order also contains a t-shirt.
There are variations on the club too, including a wedding edition, a gluten-free version, and a no-pepper option. Subscribers will also receive a 100% cotton tagless t-shirt on their first monthly bacon subscription delivery. The t-shirt bears their trademark "Bacon is Meat Candy" emblazoned across the front along with our Pork Lord & Master "Boss Hog."
You're not limited to bacon either. The site also offers a Sausage of the Month Club. This is a 3-month subscription only. This subscription provides you with 2 packages of pork sausage each month.
Zingerman's Bacon Club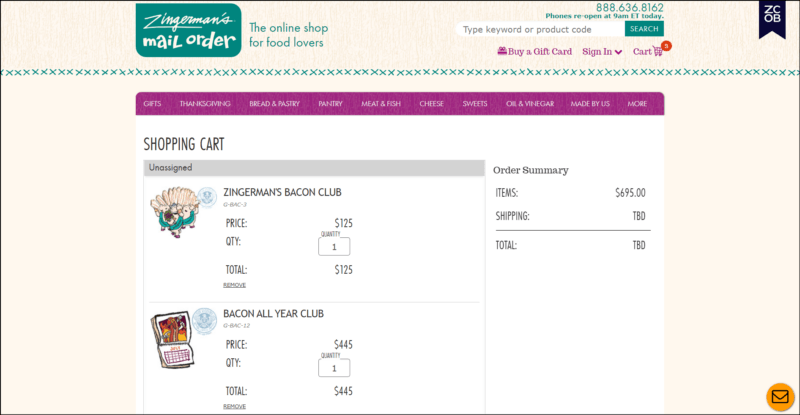 Most bacon subscriptions state that they will provide you with high-quality bacon in various styles, but don't give you many details. The Zingerman's Bacon Club takes an entirely different approach. Instead of keeping things a surprise, the site provides a list of what bacon you'll get each month for each different subscription length.
The style takes the surprise out of the process, but it could still be appealing. If nothing else, you can get a sense of whether you'll enjoy the subscription before you spend any money.
iGourmet Bacon Of The Month Club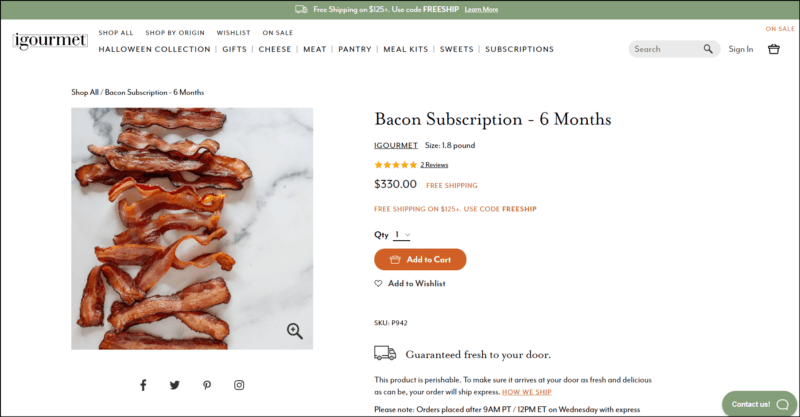 iGourmet doesn't focus on bacon, but the company is a popular choice for gifts and subscriptions. Their Bacon of the Month Club is one such example. This club offers 2 different pouches of bacon each month. These contain somewhere between 12 ounces and 16 ounces of bacon per pouch.
As well as the bacon itself, the iGourmet club provides you with a detailed newsletter. The newsletter includes details about the bacon in the shipment, focusing on details like the styles of smoking, information about the bacon maker, and the types of spices that are applied.
Because the subscription provides bacon from many different companies, it's also a fantastic way to experience how bacon taste and texture can vary between manufacturers. The subscription is simple to join. It costs $55 and $54 per month for a 6 and 12-month membership. These memberships do need to be paid for up-front, but they're worth the price.
Gold Belly Monthly Bacon Subscription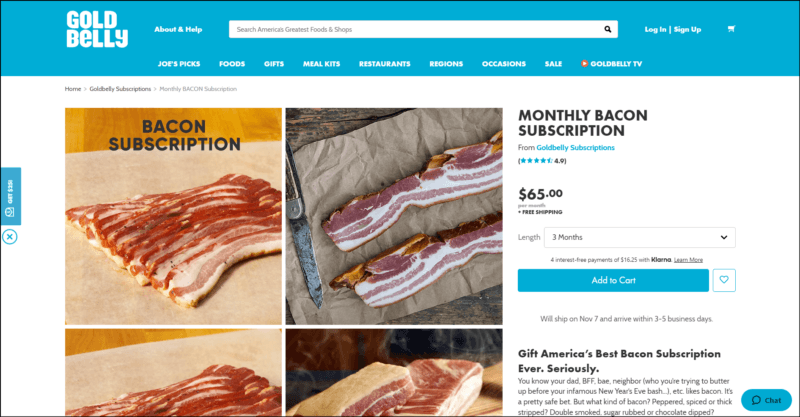 There are multiple monthly clubs offered on the Goldbelly site, including this Monthly Bacon Subscription. The idea is simple. Members receive a variety of bacon each month. Goldbelly focuses on including many different types of bacon, such as double-smoked, spiced, or peppered bacon.
The site provides few specifics about the bacon and there are no details about how many packages of bacon you will get. Even so, members will get enough bacon to serve 6 people, so it's not a tiny amount.
Tender Belly Bacon Of The Month Club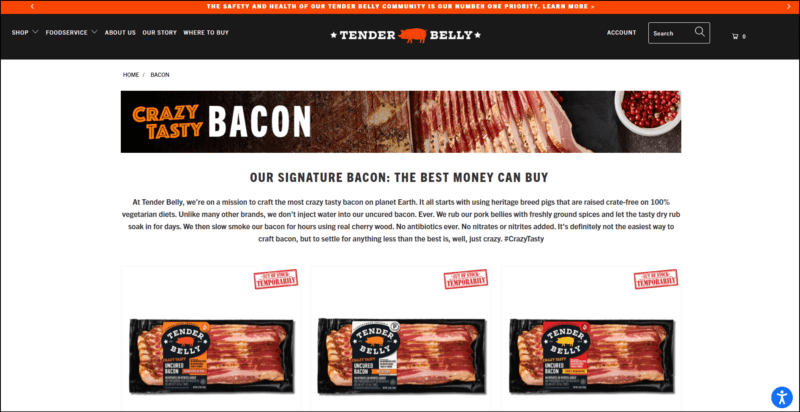 Most bacon subscriptions send you a selection of bacon flavors, often from different companies. The idea works well if you want to experience new types of bacon. It's good for anyone who gets easily bored too. On the flip side, some people prefer predictability. If you want more control over your subscription, then the Tender Belly Bacon of the Month Club could be a very good choice.
This club sends you 4 packets of bacon each month. The bacon is produced by the Tender Belly brand itself. The bacon packages tend to contain 1 pound of bacon each. However, you will get 12-ounce packets instead if you choose java-rubbed or no-sugar bacon.
The difference in size brings up an interesting point – choice. Tender Belly gives you the unusual ability to select which bacon flavor you receive each month. Some of the options include Java Signature Dry Rub Uncured Bacon, Signature Dry Rub Cured Maple Bacon, and No Sugar Dry Rub Uncured Bacon.
The subscription is currently sold out as of this writing, but you can click on 'Notify Me When Available' so that you'll know as soon as they re-stocked.
Heritage Foods Bacon of the Month Club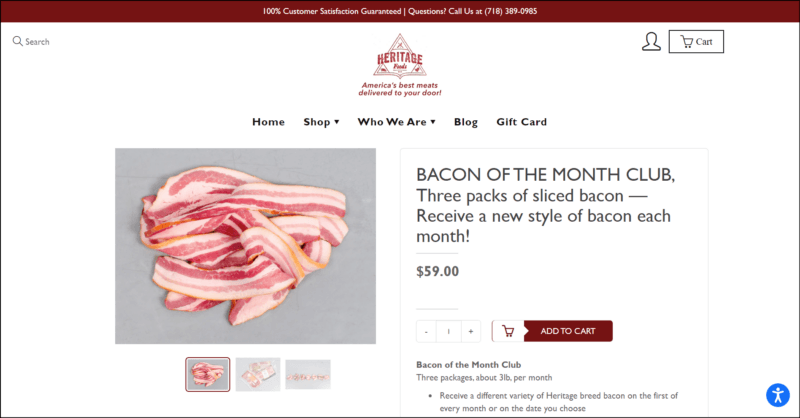 If 2 pounds of bacon a month isn't enough, what about 3? That's exactly what this Heritage Foods Bacon Subscription offers. Each month's subscription provides 3 packages of bacon, typically from different producers. This approach gives you the chance to experience the way that bacon can differ from one producer to the next.
To make matters even more interesting, Heritage Foods focuses on a combination of new and old curemasters. This creates even more variation and is a powerful approach.
The subscription itself is simple. You pay $59 per month for your membership. There is no pre-payment to worry about and you can cancel at any time.
Jerky Clubs
JerkyGent Beef Jerky Subscription Box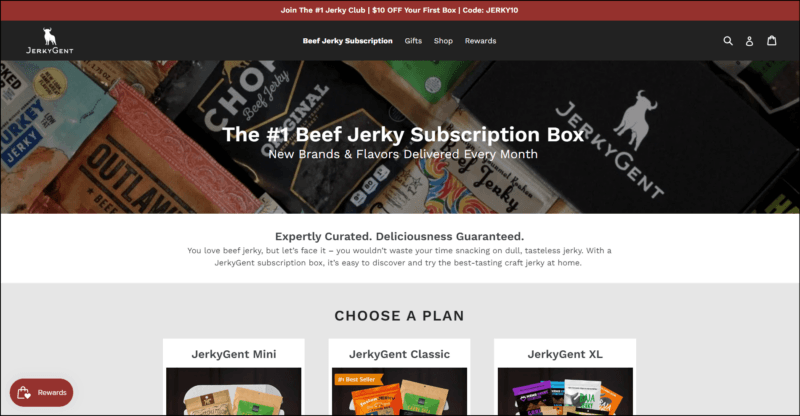 If you want amazing jerky, JerkyGent is a club to seriously consider. The service focuses on artisan jerky creators from across the United States. Jerky products are carefully tasted, reviewed, and evaluated, with only the very best making their way into the subscription program.
This isn't your typical subscription program either. JerkyGent provides more control than most clubs, allowing you to select a spiciness preference and a flavor preference. As part of this, you can choose to receive non-traditional jerky flavors, an option that few other clubs provide.
The subscription itself costs $29.99 each month and is charged on a month-to-month basis. You receive 4 bags of jerky every month, adding up to between 6 ounces and 10 ounces of jerky per box.
Jerky.com Jerky Of The Month Club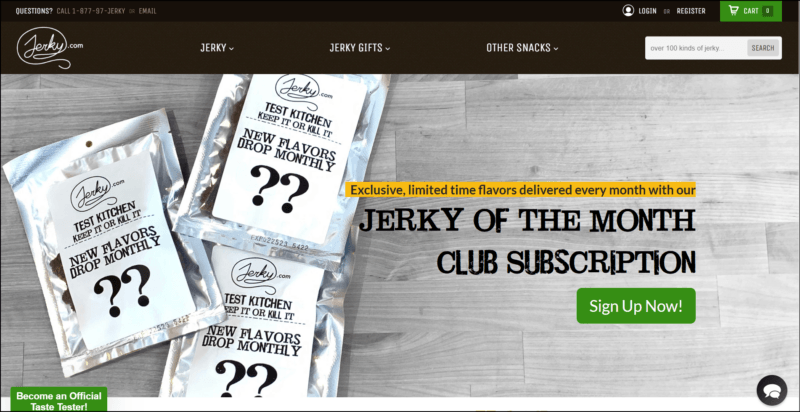 This Jerky of the Month Club is promoted as a gift. You can even download a gift card that tells recipients exactly what they can expect. Of course, there's nothing stopping you from buying the subscription for yourself too.
The subscription is three packs of jerky each month. The bags range between 2 and 4 ounces. As a general rule, any conventional meats come in 3 to 4-ounce bags, while exotic meats are in 2 to 3-ounce bags.
Unfortunately, there is no month-to-month option with this subscription. You can only order for 3, 6, or 12 months at a time. Still, that style works well in many situations, especially if you do plan to give the subscription as a gift.
LOLJerky Jerky of the Month Club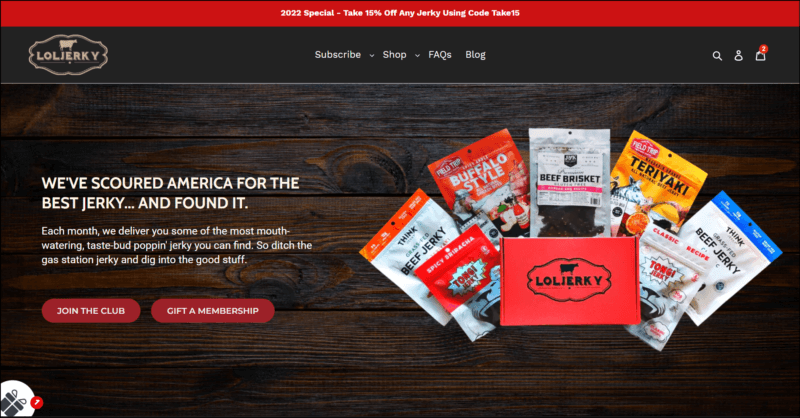 LOLJerky is a great choice if you're a fan of natural and American-made products. The jerky is even paleo-friendly, low in carbs, and high in protein making it especially relevant for your health. LOLJerky has plenty of supplying brands, so you can be certain of variety in your shipment each month.
The subscription provides more variation than most, giving you 4 different shipment sizes to choose from. A single bag per month will cost you $9.95, 2 bags will cost $18.95, 3 bags will cost $24.95 and 6 bags will cost $39.95. Each version also offers the chance to pre-pay for your subscription. The smaller variations also provide bonus samples on occasion.
One other thing to mention is the flavors. Like many companies, LOLJerky focuses on traditional jerky flavors. This style is often appealing, as you can be confident that you'll enjoy most (if not all) of the jerky that you receive. While non-traditional flavors are more adventurous, there is a greater risk that some won't suit your taste preferences.
Stick In A Box Monthly Beef Jerky Subscription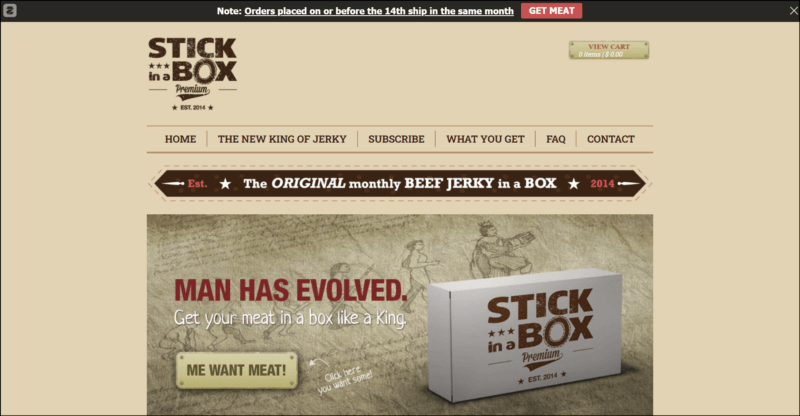 If you want something a little unusual, Stick in a Box is worth considering. For the most part, this is a jerky club, offering various bags of jerky each month. Still, that's only part of the story. The full monthly subscription contains 6 to 8 items. Some of these are bags of jerky, while others are meat sticks or similar items.
The style means that you're getting more products each month. This is perfect if you want snacks on the go or if you want to share some of the products around. The club doesn't provide details about what you can expect each month, but you can be certain that the jerky will taste amazing.
When it comes to subscribing, there are a few different options. You can order month-to-month, The Lite Knight – Partial Box, for $18 per month, The Gladiator – Full box, which costs $42, and The Office Jerk – Triple box for $85.
Amazing Clubs' Jerky Of The Month Club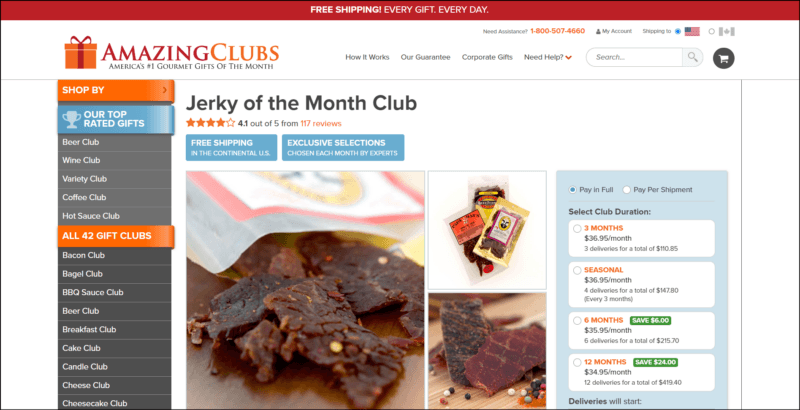 Most jerky clubs come from companies that specialize in jerky, but that's not the case here. This Jerky of the Month Club comes from Amazing Clubs instead. As the name implies, Amazing Clubs offers a variety of different clubs for you to choose from. This includes some common styles and other more unusual options.
Their jerky version focuses on artisan jerky products from across the United States. These all rely on natural ingredients. The subscription even comes with a 'They'll Love It!' guarantee. This guarantee helps ensure that you'll get decent jerky each month.
You have the choice of paying for the subscription month-to-month or pre-paying for 3, 6, or 12 months. The price is roughly the same each time, around $35. Amazing Clubs also runs specials from time to time. These can decrease the price further.
Jerky Snob Subscription Boxes

Jerky Snob is a good choice if you want to be certain that your jerky is high-quality. The subscription provides you with jerky from artisan producers throughout the United States. This is much better than the conventional mass-produced products that you find in local grocery stores.
The company has plenty of suppliers to choose from, so you won't just be receiving the same jerky time and time again. You'll also get plenty of interesting flavors in the mix.
A particularly good feature is the subscription box size. You can select between 3 different sizes, giving you control over how much jerky you get every month. The smallest option is 2 bags per month, for $15.99 The next step up is 4 bags (around half a pound) for $27.99, or you can receive 8 bags (around 1 pound) for $54.
Other Meat-Based Clubs
Goldbelly Monthly BBQ Subscription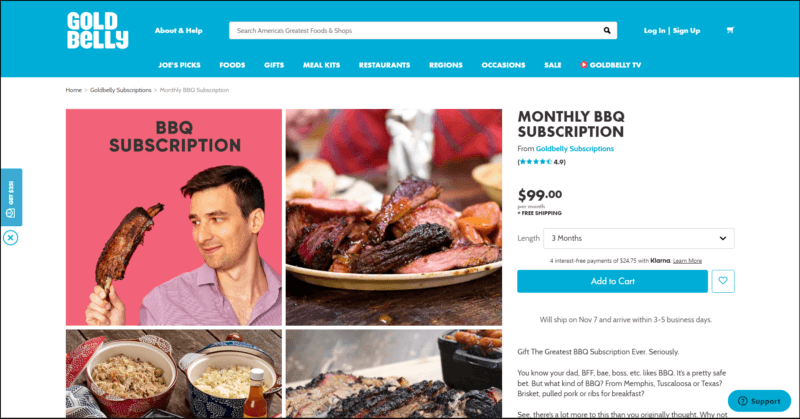 This unusual subscription is light on the details but still looks great.
This Monthly BBQ Subscription is described in an odd manner. It comes from Goldbelly and the site talks about how members will receive 'hand-selected BBQ on a monthly basis.' BBQ isn't exactly a product type and the term could mean anything from BBQ sauces, rubs, wood chips, or meat, not to mention plenty of other options.
From the images and list of previous items, it looks like you're getting BBQ meat every month, enough to feed 4 or more people. The subscription would be a fun way to get meat for grilling. You could even combine this with a BBQ sauce subscription or something similar.
Zingerman's Cured Meat Club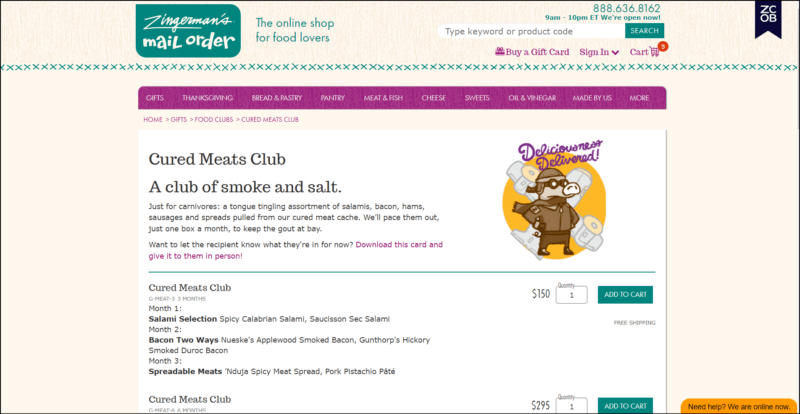 This Cured Meat of the Month Club is an interesting alternative to consider. The club provides you with 2 types of cured meat each month. The boxes can include bacon, ham, sausages, spread, and salamis. This approach means you're not getting the same type of food every month. That's a plus in many situations.
The club costs $150 if you want to join for 3 months or $295 for 6 months. There's another aspect to consider too. This club provides you with a list of what you'll get each month before you sign up. While this means that the order is always the same, the style can help you figure out whether the club would be right for you.
Carnivore Club Box Subscription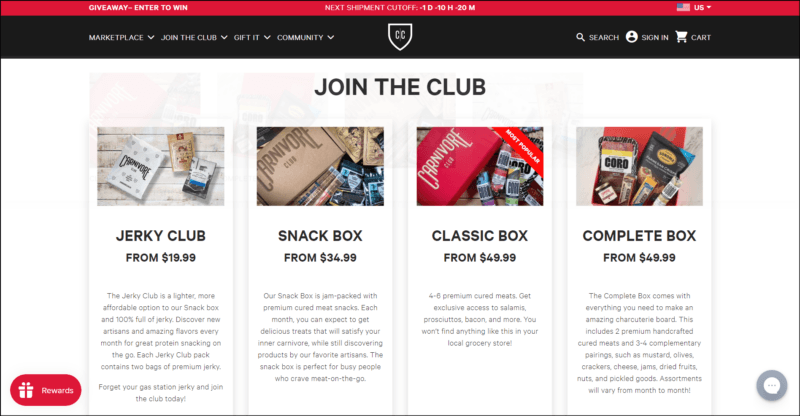 The name Carnivore Club really says it all. This club is targeted at anyone who loves their red meat. Don't worry though, you're not just getting a box of meat. The Carnivore Club goes to great lengths to keep their boxes interesting and engaging.
To do this, they offer a Snack Box and a Classic Box. The Snack Box costs $24.99 per month and contains 4 to 6 different meat snacks. The Classic Box costs $39.99 per month. It still contains 4 to 6 items, but there is a greater focus on quality cured meats, rather than meat snacks. Most of the items can be eaten as-is, which helps to make the box a popular one.
Pig of the Month BBQ Of The Month Club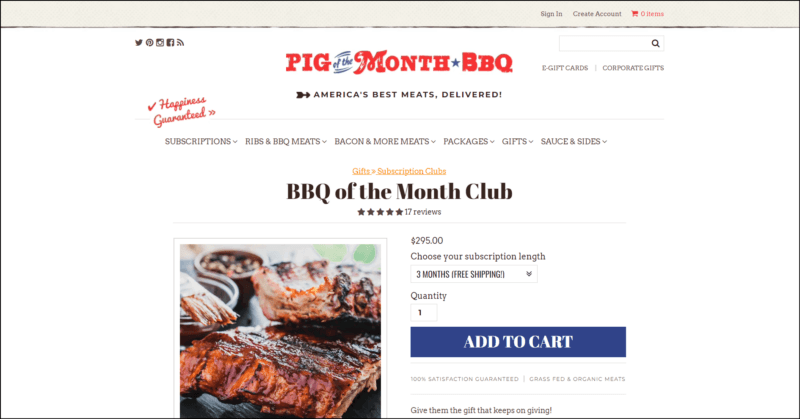 The BBQ of the Month Club from Pig of the Month makes its product selection very clear. Each month you receive a box that contains cooked BBQ products (like Memphis-style ribs and brisket), along with some bonus items (like spicy candied pecans and Thousand Island Dressing).
The site even offers a full list of the different selections that are sent out each month. This makes it easy to decide whether the subscription is worth your time. If nothing else, it's worth checking out that list, as some of the items sound amazing.
Subscription ranges from $295 (for 3 months) to $955 (for 12 months). While that price is high, the amount of meat per month is significant. The food is tasty too.
Vital Choice Seafood Subscription Boxes

Fish is often considered in a separate category from meat, but it does offer many of the same advantages. It's a key source of protein and a common ingredient in many meals. This Vital Box from Vital Choice is one of the best fish subscription choices on the market. Vital Choice itself is also a good company to order meat from – as they provide a wide range of amazing grass-fed cuts of meat.
That being said, their subscription boxes all focus on fish. There is a Wild Salmon Box, for $129.99/box, which feeds at least 14 people. There is also a Wild Fish Box. This comes in at $169.99/box and feeds 15+ people. Finally, there is a Wild Seafood Box. The seafood version feeds 17 or more people and costs $199.99/box. The price isn't surprising, as the seafood box includes the widest range of items. There is even shellfish present.
There are plenty of images on the Vital Choice website to show you exactly what you can expect. Even if you're more interested in meat than fish, the site is worth checking out. They have some amazing products.
Lowry Hill Meats Club Subscriptions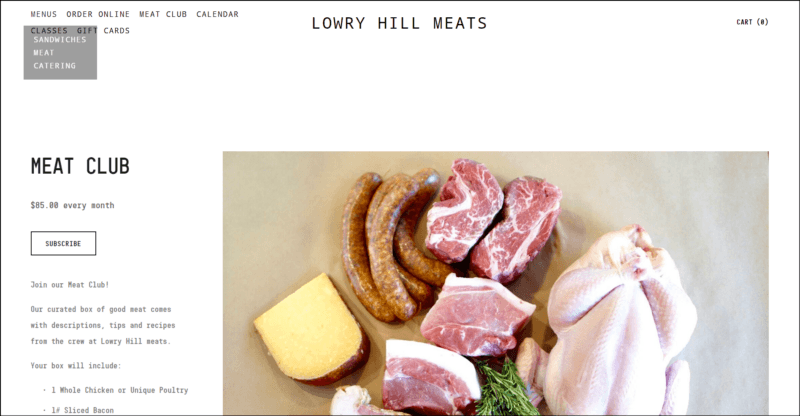 Lowry Hill Meats provides regionally source, ethically raised, clean, and quality meats and also takes pride in its dry-aged beef, and house-made sausages. Aside from the meat, they also offer catering services and a menu of sandwiches.
Their Meat Club memberships are priced at $85 per month. The curated box contains:
1 Whole Chicken or Unique Poultry
1 Sliced Bacon
1 House-Made Sausage
3 Butcher's Choice Cuts
1 New or Favorite pantry Item
Unfortunately, these are only available for pick up (1934 Hennepin Ave, Minneapolis, MN) and they also limit the orders to 40 each month. So you better sign up early to secure a slot.
Related Content