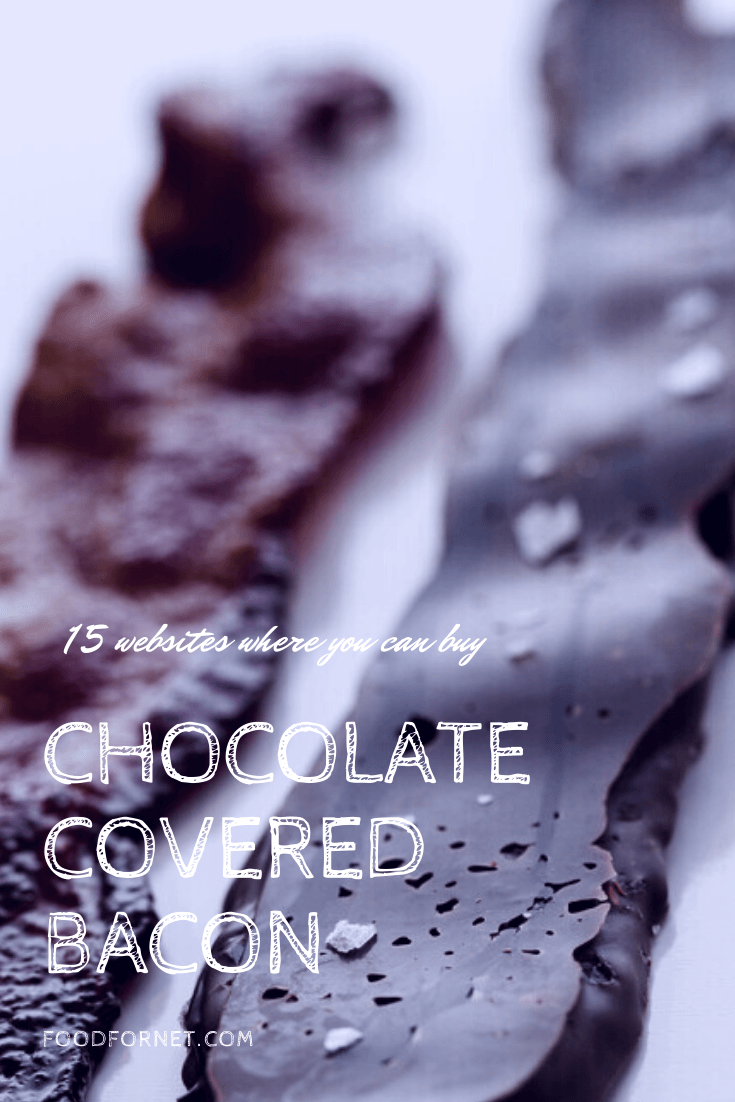 To a lot of people who aren't familiar with chocolate-covered bacon, its very name can easily cause them to either laugh or cringe in disgust because of the unconventional (and arguably unholy) combination. But for those of us who have actually tried the stuff, we know it's a real guilty pleasure, and it's a lot better than what many people are assuming it tastes like.
Fortunately for us, there are many different places online to get our fix of some chocolate-covered bacon without having to leave the comfort of your own home. Now that's some next-level comfort food.
We've compiled some sites we've found that sell this somewhat controversial snack, so you don't have to. There's bound to be a site listed here that you'll find has exactly what you want, so read on.
Assuming you love just regular bacon (without the chocolate), then you should also try one of these bacon of the month clubs. Discover new types of bacon, new brands, new styles, and even just monthly deliveries of fresh, tasty, delicious, bacon.
Where To Buy Chocolate-Covered Bacon Online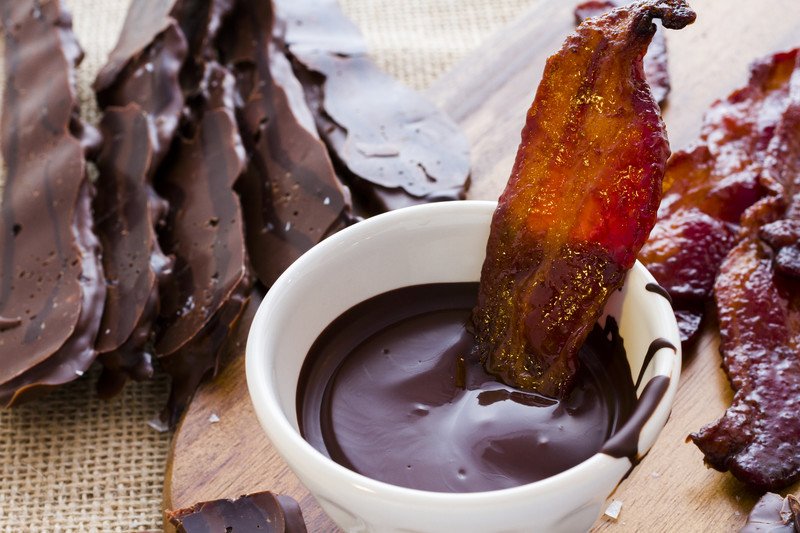 Creative Sweet Treats
For those who doubted that this snack was considered as a sweet at all, prepare to change your minds. This website sells nothing but sweets such as cookies, cupcakes, and of course, chocolate-covered bacon. You can order yourself a pound of this treat for $15.95. The pound is typically comprised of six of these strips.
What's great about Creative Sweet Treats is that they've got options for those who want extra chocolate on the bacon, or want to add different flavors. You can have the bacon drizzled with dark, white, milk, and mint chocolate, as well as sugar-free alternatives of milk and dark.
You can even add some nuts/legumes on it, and wrap it nicely in a gift bag alongside a customized gift card. So whether you want to gift someone a half dozen or just prefer ordering for yourself, there are plenty of choices available for you to make.
David Bradley Chocolatier
David Bradley's chocolates are both well-made and delicious, and that holds true for their chocolate-covered bacon as well. Instead of offering them in packs of half a dozen, though, the website sells them in packs of four, as well as options for packs of 10 and 20.
The 4-pack will cost you $11.00, while the 10 and 20-strip packs will set you back $27.50 and $50.00, respectively. You get the most value out of the 20-pack, so it's worth considering if you have the money for it. The strips come in milk chocolate and dark chocolate flavors, and you can select an option that gives you half the amount for both flavors too.
While we haven't personally tried their bacon, at least 20 people have, and they all gave a 5-star review for it, so that's a plus. And if you'd rather have it prepared differently, David Bradley also sells bacon brittle for a more bite-sized treat.
Bacon Freak
With a website name like this, you know they're bound to offer everything that's related to bacon, including its chocolate-coated variant. Bacon Freak sells some of its chocolate-covered bacon at $12.95 (though the original price listed was $16.95 before they discounted it).
You can cut the costs even lower, though, by buying in bulk – purchasing at least two of these packs allow you to buy them for only $11.99 each. They're sold in packs of three ounces, so it isn't as plentiful as some of the other options available on this list.
They don't offer any customized flavors either, so you won't be able to get any different varieties from the website.
Chocolate Story
With the largest package offered on this list, Chocolate Story sells a lot of chocolate-covered bacon. Its Muddy Pigs box comes in both 12 and 24-strip options, a lot more than what's offered by some other websites out there. The prices listed on the website state that these boxes sell for $25.00-$49.00 apiece.
While it isn't explicitly mentioned, the $25.00 price tag is likely for the regular, 12-strip pack, and the $49.00 amount refers to the double dozen option. Other than the large servings, though, the website offers no customization options for your order, other than the quantity of boxes you'd like to purchase.
Go for this website if you just want to buy some big boxes full of bacon.
Zingerman's
This may not technically be the classic chocolate-coated bacon, but it's close. Joining this list of sites selling chocolate-covered bacon is Zingerman's. You should know them from one of our other articles, as they also offer services such as food-of-the-month club subscriptions too.
This time, however, we're focusing on the bars of chocolate bacon they sell on their website. Instead of coating some pork meat in chocolate, though, Zingerman's makes entire bars of chocolate, then adds bits of pork into the bar. It's paired with a dash of sea salt, making it a delicious sweet-and-salty combination you won't find anywhere else.
There isn't as much bacon as you'd normally get from other packs on this list, but it's still worth a try. Their bars cost $10 per 85 grams and come in both regular and dark chocolate variants.
Marini's Candies
Marini's Candies sells a lot of traditional confectioneries for those with a sweet tooth looking for a sugar fix online. Aside from the usual candy apples and licorice, however, they also sell less common sweets like their chocolate-covered bacon.
You can purchase a box for yourself or for a friend for $22.98 if you're going for half a pound. They cost $36.98 for a full pound as well, so you can save quite a bit of money by purchasing the larger package.
The site doesn't have many options other than the size you're ordering, though, so don't expect that many options to customize your order like some of the other sites on this list.
Big R Online Store
With the smallest serving option available on this list, Big R's Online Store allows you to buy yourself some chocolate-covered bacon by the strip. Yes, this website sells the sweet in packages of one, with each strip costing $1.99 per piece.
According to the site, it's also the only USDA-certified chocolate-covered bacon, and it's gluten-free too. These reasons should be enough to convince you to buy from them, other than the fact that they sell the sweet at the lowest possible price (and amount).
Go for this website if you just want a few strips instead of entire boxes of the stuff.
Sweet & Savory
With chocolate-covered bacon being both a sweet and savory experience, it's no wonder Sweet & Savory sells the snack as part of their collection. There are quite a few options for potential buyers on this website, with there being options to buy them in packs of ½ pounds, 1 pound, or a case of 40 pieces (which is a LOT).
The price of these bad boys can range anywhere from $9.99 to $59.99, with the latter price likely being the one for the case option. You're also able to pick the kind of chocolate they use for the bacon, with milk, white, and dark chocolate options available.
There's a minimum amount for delivery on this website ($29.00) so buy at least that amount to get some of their chocolate-covered bacon delivered right to your doorstep.
Roni-Sue
Roni-Sue sells chocolate-covered bacon (or pig candy, as they like to call it) in an assortment of both milk and dark chocolate, as you can't buy them in individual flavors.
They offer their bacon in three sizes – ½ lb, 1 lb, and a 9-ounce tin can. They list the price of the bacon as $39.99, though we don't know whether this price refers to any one of the size options available (it's most likely for the 9-ounce tin can).
Chocollazo
To round up the entire list, why not end with a website that lets you order an entire bouquet of some chocolate-covered bacon? You read that right – Chocollazo has the option of letting you purchase a bouquet of a bunch of bacon strips dipped in their Belgian chocolate and topped with different treats like nuts and toffee.
The entire bouquet rests in a mug and comes with a personalized message if you're sending the bouquet to someone special. It takes around 2 days for them to prepare everything, which isn't too long of a timeframe.
You can get yourself or a friend a bouquet of this sweet for $39.99, and they've got a promo that lets you add 6 chocolate-dipped strawberries to complement the bacon for only $12. (though they're currently sold out on that offer).
If you know someone who loves this bacon treat just as much as you do, this is probably one of the best ways to gift them some of the treats on this list.