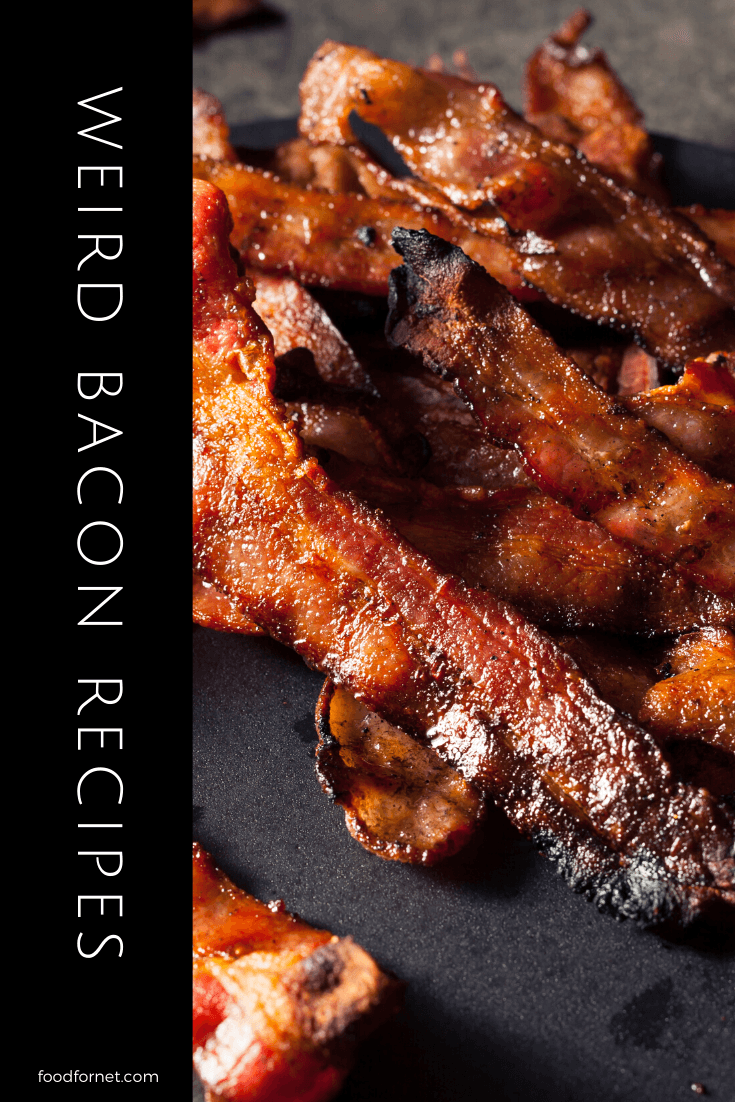 A lot of people love bacon. Some love it a lot more than others. And some love it so much that they take pretty much anything and slap bacon on it. In fact, there's a whole "bacon subculture" out there, with bacon memes, and creative food bloggers creating weird bacon recipes.
So I decided to find some cool ones to share.
Prepare to have your horizons broadened, your palate widened and, at the very least, your interest piqued. Here are 20 weird bacon recipes that really solidify British author Jasper Fforde's statement: "Almost anything can be improved with an addition of bacon."
And if you really love bacon, then a bacon of the month club is something you can't miss out on. Artisanal cuts, unique flavors, and new styles make a bacon of the month club a super unique gift as well.
Weird Bacon Recipes

Bacon Brownies
A lot of the recipes on this list involve some form of chocolate, because of the sweet and savory combination you get from eating both. That's the case with bacon brownies too, and they're deceptively tasty. This is also one of those recipes where you're actually baking bacon (why didn't they name it "cookon" instead?).
Here's a recipe for how to make yourself a batch of these treats.
Bacon Tacos
If you thought tacos were an unhealthy snack, then a.) you should definitely reconsider and b.) you likely haven't heard of bacon tacos. No, this isn't just bacon stuffed in a tortilla shell – the whole damn shell is made of bacon and is stuffed with the usual veggies and cheese inside. You'll probably have a heart attack just looking at the thing, but the taste doesn't disappoint.
Learn how to weave bacon into a tortilla and more here.
Bacon Mozzarella Sticks
There are plenty of divine food combinations that are used in various recipes, but very few can top the underrated flavor of bacon and cheese. So instead of adding it to your sandwich or burger, why not just eat them by themselves, in the form of juicy, cheesy bacon mozzarella sticks? There isn't any breading involved here, and the only thing that keeps the mozzarella from dripping out of the sticks is the fried goodness of bacon.
Cook up some of these bad boys using a recipe found here.
Salad with Bacon
Who said salads tasted too green? You don't need to be a vegetarian to enjoy a good salad, especially when it's got some quality meat mixed in it. Bacon makes for a surprisingly ideal addition to any salad – it's like croutons, but better. Toss some bacon-rich salad of your own with this recipe right here.
This doesn't count as cheating your diet, right?
Bacon-Wrapped Hotdogs
If you're like some people who prefer not wrapping their meat in a bacon-laced taco shell, there's an option for you too. Instead of tacos, though, you can have yourself a hotdog wrapped with glorious bacon. Don't worry, in this recipe right here, only bread is used to hold the entire thing together. And of course, add more bacon as needed.
There's no such thing as too much bacon (we think). The recipe can be found here.
Bacon Sushi
Some people consider bacon sushi as a sacrilege to authentic Japanese culinary tradition. We consider it a damn good meal. Seriously though, bacon sushi isn't too far off the classic fish-based edibles. But instead of wrapping it in seafood nori, the entire thing is held together with bacon.
You don't even need to add fish to the sushi – some egg, rice, and veggies should do the trick, as the bacon's more than enough meat for the dish. Here's a recipe for this bacon-rich take on a Japanese favorite.
Bacon Cookies
Have you ever hated how bacon is cooked, but cookies are baked? Well, this recipe will at least deal with one of these paradoxes. Bacon cookies are your favorite baked snacks, with a savory twist inside each one.
Instead of going for chocolate chips, you'll be biting into some bacon goodness. Or, you can even have both together, since bacon and chocolate are surprisingly good together, as we've learned from this list. Bake some bacon-cooked cookies (try saying that 10 times fast) with the help of this recipe.
Bacon-Wrapped Dates
Now, dates may sound like food for older generations, and while it's more preferred by a lot of the elderly, you can add some zing to this preserved fruit by covering it in a blanket of bacon. It's a lot better than you think it tastes – the sweet flavors of dates make for a wonderful pair alongside the savory taste of bacon, just like how bacon and chocolate work really well together.
It's also bite-sized, making it a good snack if you want some bacon goodness without having to eat a full meal. Check out a recipe for this somewhat healthy snack right here.
Pig Candy/Candied Bacon
With all the wild recipes we've seen on this list so far, pig candy is one of the more reasonable bacon recipes by comparison, but don't let that fool you – pig candy is pretty addicting. Made from bacon strips coated with sugar and syrup, it's really easy to make, and even easier to bring along as a snack on the go. Think of beef jerky, but instead of beef it's pork, and instead of salty, dry flavors it's a sweet and savory combination.
Prepare yourself a batch of these protein-rich candies using this recipe.
Chocolate-covered bacon
Similar to the pig candy you can coat with sugar and syrup, chocolate-covered bacon follows a similar concept, only this time it's coated in chocolate instead. And because of the different variants of chocolate out there, such as milk, white, dark, and other flavors, there are plenty of ways to enjoy this treat in particular. For those who want to take it a step further, you can sprinkle some nuts, almonds, and other tasty toppings, and the end product will look indistinguishable from regular chocolate.
You can find a recipe for this treat here, or check out our article we made that features sites selling this delicacy online if you'd rather just buy them.
Bacon Cup Salad
Remember the bacon salad recipe from earlier? Well, this is its meatier cousin. It turns out bacon doesn't just make for a good topping, but great material for bowls too. You get to enjoy your healthy, nutritious salad full of vitamins and minerals and finish off by eating an actual bowl of crispy bacon.
That way, you save yourself a lot of the guilt that comes from binging on strips of fried pork meat. And hey, at least you don't have to wash the dishes anymore when you can just eat the whole thing. Check out a recipe for this innovative salad bowl right here.
Bacon Milkshakes
For many bacon enthusiasts out there, this may be where the draw the line on wild recipes. But give bacon milkshakes a try, and you'll wonder why savory milkshakes aren't a thing in the first place. And it's not as bad as it sounds – bacon milkshakes aren't just blended bacon strips mixed with tons of milk.
Almost every bacon milkshake is made with some form of sweet flavor to pair with it, such as maple syrup, vanilla ice cream, and many others. And when served cold, you'll get to enjoy bacon without even having to eat it! Here's a recipe we think will do the job for you.
Bacon Butter
This isn't a dish in itself, but rather a great spread to your breakfast toast or a topping to many other dishes. As the name suggests, it's butter with bacon mixed into it. It doesn't take too long to prepare, either – all you need are freshly cooked bacon, a stick of your favorite butter and a food processor to mix it all together.
In less than half an hour, you'll have a homemade spread that'll last you for quite a while. For more details on this recipe, click here.
Bacon Pancakes
Okay, this recipe may not be as weird as the others on this list (in fact, it might just be the most "normal" one yet), but we figured it'd be a great meal to end this list. If you've ever had pancakes with a side of bacon and eggs for breakfast, you've probably wondered what it'd taste like when eaten together.
Well, this bacon pancake recipe has the answer for you. It's just your favorite pancakes with a strip of bacon placed right at the center and covered in a layer of maple syrup. Yum.
Conclusion
We went through a lot of unique and interesting bacon recipes on this list, ranging from bacon pancakes and bacon candies to some of the crazier ones like bacon milkshakes and bacon brownies. If you're a true bacon connoisseur, however, then this list should serve as more of a challenge than anything else.
With Christmas just around the corner, you can surprise your friends and relatives with these recipes, and introduce them to the wonderful world of bacon. Just don't tell them that the salty milkshake they're drinking is mixed with bacon, for both your and their sakes.