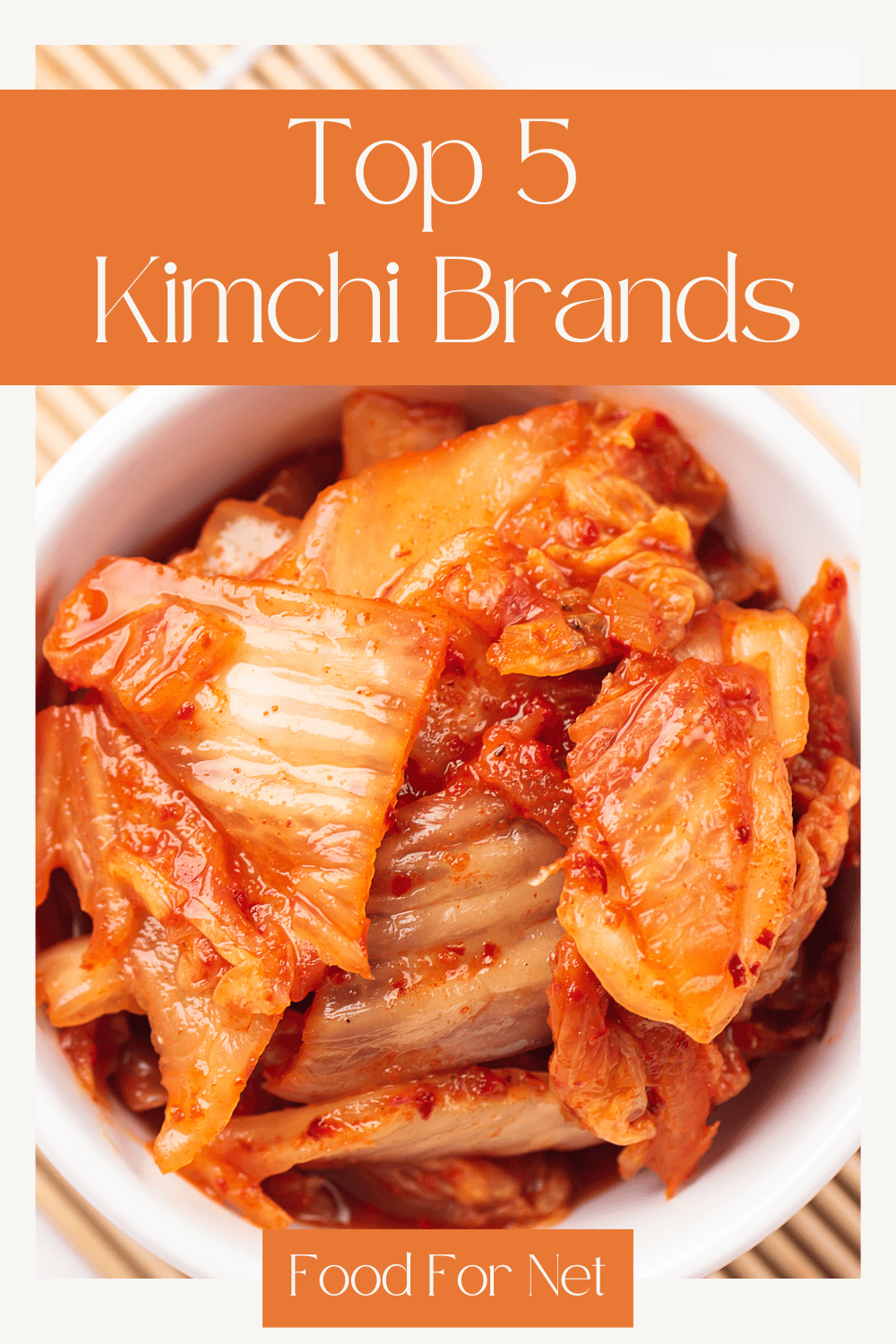 Fermented food and drinks like kimchi and kombucha have made significant waves in recent years as we learn more about probiotics. These are the good bacteria that live in your gut and help regulate your system and keep things moving. The best kimchi brands deliver a healthy dose of those healthy probiotics along with amazing and authentic flavor.
Good-quality probiotic supplements can be quite pricey, though, and some people prefer to keep things natural anyway! If you're looking to get more probiotics through your diet, you must be intentional and deliberate about it. You'll likely need to incorporate more than one source each day, and kimchi is a great place to start.
The best kimchi brands offer a healthy and well-made product with all the nutrients and none of the unhealthy filler and preservatives. Kimchi is the national food of South Korea and is usually made from a combination of cabbage, radishes, and/or scallions. The brine is made with garlic, chili pepper, ginger, and fish sauce. It sounds simple, but there's an art to getting it right. For the best taste, best experience, and most potent nutrients, look for an authentic kimchi shop and not someone mass producing a watered-down version of it.
When enjoyed to its full extent, kimchi offers health benefits like improved digestive health, immune system support, heart health, and a long list of vitamins, minerals, and nutrients.
The Best Kimchi Brands
1. Mother in Law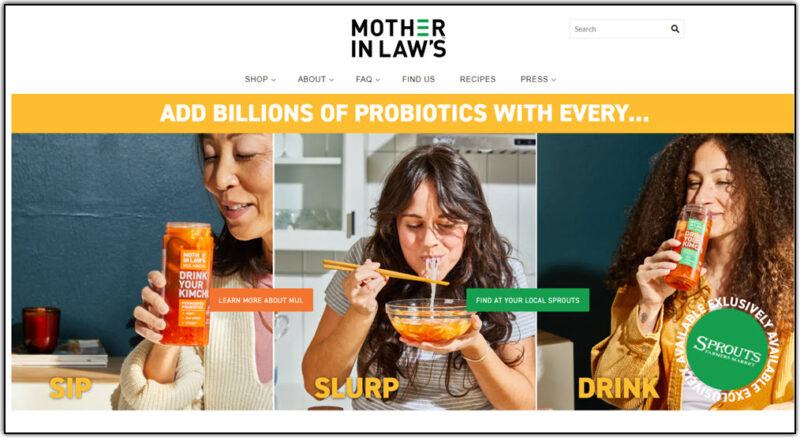 Mother in Law's is dedicated to not only producing quality kimchi with lots of healthy probiotics but they want to make it as versatile as possible. Kimchi can be eaten alone as a snack but they want the world to see how many other things it can do. For example, they've made a fermented drink, sauce, and paste that offer similar benefits.
These things can be used in a variety of recipes such as pasta or meat. The variety makes the products easier and more interesting to work into your daily life and enjoy the many benefits kimchi offers your gut and your health.
The company officially launched in 2014 but their passion for authentic and delicious kimchi goes back much further. They remain committed to authentic and handcrafted practices and only the best ingredients. This gives customers true kimchi offering maximum health benefits.
If the idea of fermented foods is intimidating or you're not sure about the taste, their "water" kimchi is a great place to start. This is a fermented drink with a lighter and more refreshing flavor. It can be enjoyed straight or added to cold noodles. The drink has zero calories and zero sugar, so it's perfect for almost any diet!
2. Madge's Food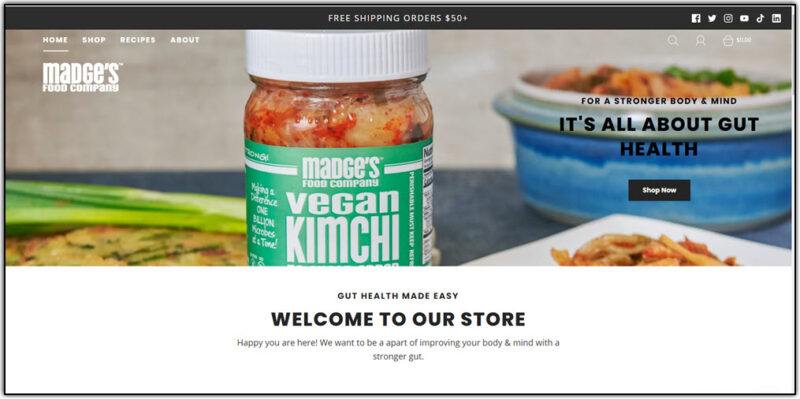 Madge's Food is a family company that was named to honor the matriarch of the family, known affectionately as Grandma Madge. Madge herself made a delicious tomato jam that the founders credit as their inspiration for starting the company. The jam can be used in many tasty snacks and it's a legacy left behind by Grandma Madge.
That said, they eventually expanded the company as they learned more about healthier eating and the benefits of fermented foods. They set out to make the best quality fermented foods and drinks that they could.
Their current product lineup includes kimchi and sauerkraut, plus a variety of culture shots and other fermented beverages. The kimchi comes in two varieties – regular and spicy. Both are also vegan and the regular version has no added sugar.
The ingredients include napa cabbage, radish, green onions, chives, red pepper, garlic, ginger, sweet rice flower, and umami mix. There are only eight calories per serving, with two grams of carbs and a variety of nutrients including vitamin C, vitamin A, potassium, calcium, and a small amount of iron.
Their culture shots are an interesting creation. Instead of a snack or a larger beverage to sip and enjoy, these drinks are a small, single shot of nutrients and cultures. They have a few flavors including carrot, ginger, and pickle. These are great for maintaining a daily dose of probiotics.
3. Simply Seoul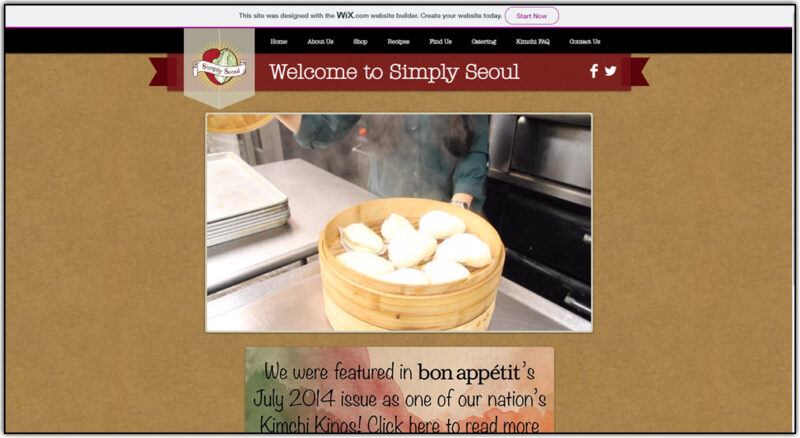 Simply Seoul is a small business in Atlanta that makes all-natural vegan kimchi along with BBQ steam buns and sauces. They focus on making their products as healthy and authentic as possible, using only the finest organic ingredients, sourced locally as much as possible.
Outside of shipping out online orders once a week, they are most often only found at farmer's markets. Despite being a little tougher to get your hands on, they are one of the most coveted and popular brands for kimchi.
They offer a good variety of kimchi, including napa cabbage, white napa cabbage, cucumber, radish, and seasonal. The seasonal kimchi will depend on what's in season at their local farms! Each flavor is made with the same level of quality but will offer different flavors and nuances.
If you want to enjoy their kimchi and sauces to the fullest extent, they have a handful of signature recipes posted on the website as well, with easy-to-follow instructions. They cover all meals here, including kimchi omelets and pancakes for breakfast!
4. Jongga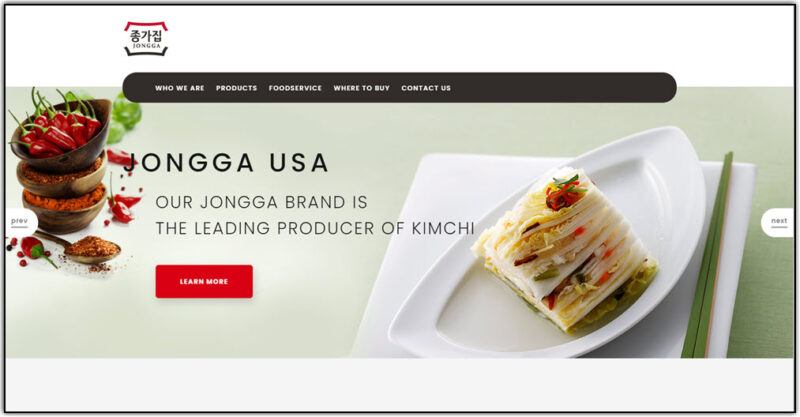 Jongga is named after the Korean tradition of passing recipes down through generations. As a brand, Jongga began as a local endeavor and now has locations in many countries including China, Japan, Europe, Russia, Vietnam, Myanmar, Indonesia, Thailand, and the Philippines. More recently, they've expanded into the American market.
They have a diverse collection of authentic kimchi and related products. In addition to their classic kimchi, they offer kimchi ramen, kimchi pancake mix, and kimchi seaweed. They also offer a vegan kimchi option if you don't want any fish products.
Their regular, shelf-stable kimchi uses napa cabbage, radish, red pepper powder, onion, garlic, sugar, and yeast to create its classic flavor. It's vegan, gluten-free, keto0friendly, and made with no added preservatives. It comes in convenient, portable pouches that you can use easily both at home or on the go. It makes a great side dish or as an ingredient in a larger meal!
5. Eden Foods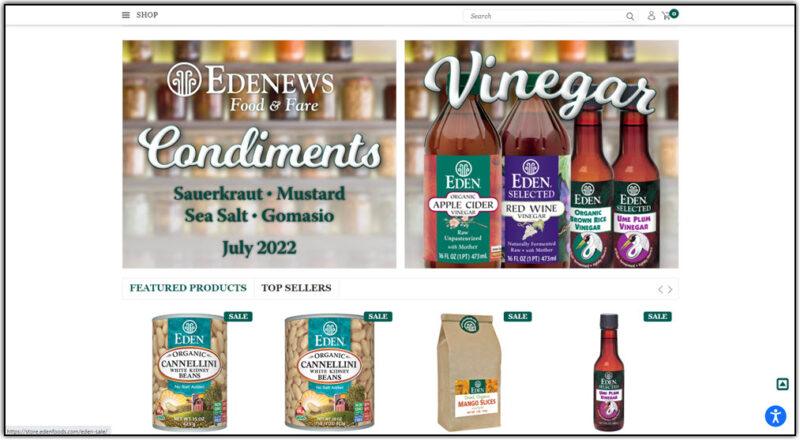 Eden Foods began in the late 1960s as a group of friends sourcing natural food together. They were young and passionate about eating healthy, but natural food was hard to find at the time. So, they started Eden Foods and began sourcing healthy, natural foods as a co-op.
What began as a door-to-door endeavor eventually became a store where others could come and get the simple ingredients they needed like whole grains, beans, vegetables, miso, cereals, oils, nuts, and butters.
Today, this legacy of healthy and natural foods continues, but on a much larger and more accessible scale. Their online store has a seemingly endless supply of amazing, healthy foods, snacks, and ingredients. It's a great place to be for eating a natural diet and living a healthy lifestyle.
Their kimchi is simple but diverse, made with cabbage, red bell peppers, onion, garlic, ginger root, cayenne paper, mustard seed, and chili pepper. All of this is organic and one serving contains only ten calories. It also offers a small amount of fiber and two grams of carbs.
Homemade Kimchi
Kimchi is a traditional food that's deeply rooted in Korean culture – this is important to remember if you're going for the most authentic flavors and recipes. But, that doesn't mean you can't make your own! Going DIY often saves money and it allows you to customize the recipe to your personal taste.
Fast and Easy
This recipe is an amazing place to start as it offers quick and easy DIY kimchi instructions, but it also gives plenty of information on variations and substitutions.
The basic recipe calls for cabbage, ginger, garlic, scallions, fish sauce, and Korean chili flakes. The creator and commenters are quick to offer suggestions for other options, though. For example, some people like adding sugar, carrots, or other veggies. This recipe is pliable and you can customize it!
Vegan Kimchi
Fish sauce is a common ingredient in kimchi, but it's still easy to replace if you're vegan or simply don't want it. This recipe is a great example, using only veggies, spices, and miso paste for flavor.
You can use any miso paste, but this recipe went through several rounds of trial and error and concludes red miso paste is the best. The shrimp flavor in traditional kimchi is a staple of the dish and they found red miso paste to most closely mimic the taste.
This recipe makes about 24 servings of kimchi which sounds like a lot, but it does last in the fridge for several weeks. You can scale it down if you want, but making lots ahead of time means it's easy to get in your daily dose!