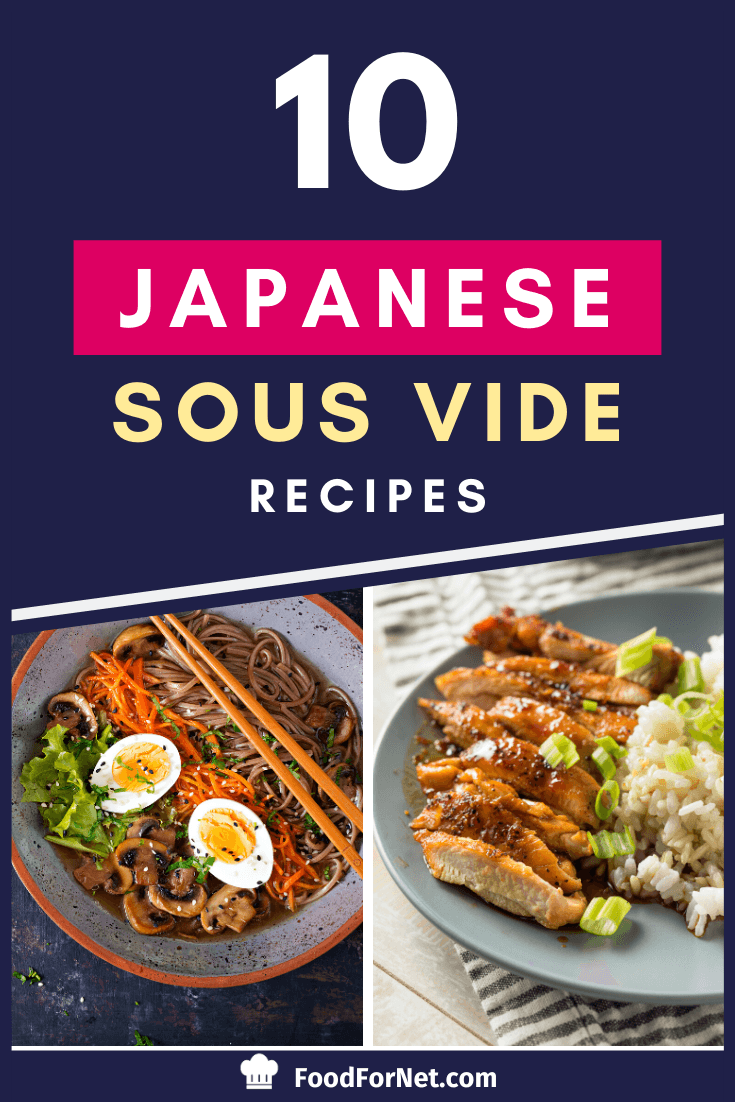 Sous vide cooking works well for so many different types of meals, including Japanese and Asian dishes. Even though this isn't a traditional cooking style, sous vide is powerful as a way to infuse extra flavor and ensure that the dish is perfectly cooked with just the right texture. In many cases, the finished meal tastes much better than anything cooked with conventional methods.
Here, we're focusing on Japanese sous vide recipes. All of the recipes below have some relationship to Japanese food. In some cases, they may be a traditional Japanese meal or a variation of one. But, other recipes simply take advantage of Japanese flavors and use them in entirely new ways.
These various styles all work well and result in a varied selection of recipes to try out. If nothing else, the recipes here can offer new inspiration about using your sous vide, including different directions that you can consider.
And when you're done, don't forget to check out the Joule review to see what our favorite sous vide immersion circulator looks like and why we love it so much!
Japanese Sous Vide Recipes
Miso-Glazed Sous Vide BBQ Beef Steaks
Sous Vide Albacore Confit
Sous Vide Chawanmushi
Sous Vide Tomato Sushi
Sous Vide Soy-Ginger Bacalao Loins
Sous Vide Beef Shogayaki
Sous Vide Ramen Eggs
Sous Vide Wasabi-Beer Bockwursts with Teriyaki Onion Marmalade
Sous Vide Teriyaki Chicken
Tender and Silky Sous Vide Octopus
Sweet Sesame Ginger Salmon
Miso-Glazed Sous Vide BBQ Beef Steaks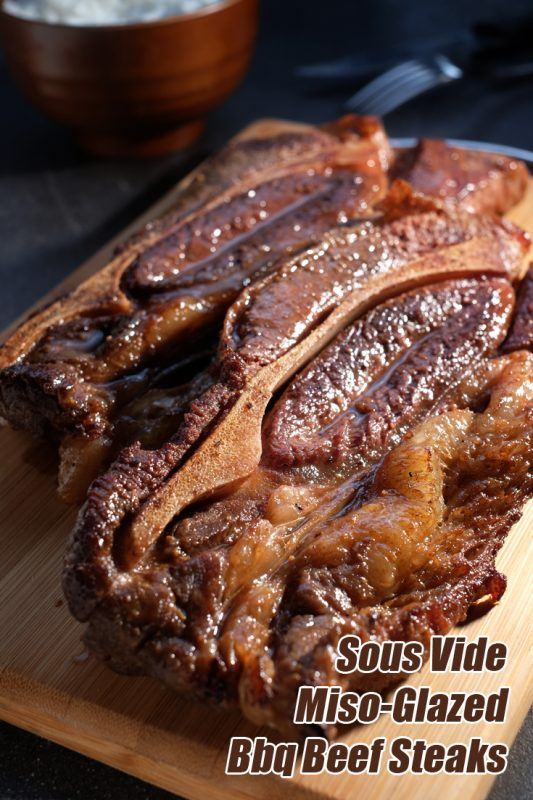 I love the way these Miso-Glazed BBQ Beef Steaks turned out, especially as I wasn't sure about the cut of meat before I began. Realistically, this type of steak often doesn't turn out well and is rarely the first choice regardless of how you're cooking.
But, the steaks do showcase the power of sous vide, as they ended up tender and packed with flavor. This makes the recipe a great way to turn inexpensive meat into an impressive meal. Doing so can be a key reason for using the sous vide, as it makes a good way to save money.
Sous Vide Albacore Confit
This Sous Vide Albacore Confit recipe from www.chefsteps.com isn't Japanese in terms of the overall taste. In fact, the recipe itself uses fairly muted flavors. Instead, the recipe simply provides a way to create perfectly cooked tuna confit, which is so much better than anything that comes out of a can.
By doing so, you have the ability to make many Japanese dishes in the comfort of your own home. For example, the fish works perfectly with homemade sushi and sashimi, along with countless other types of meal.
Sous Vide Chawanmushi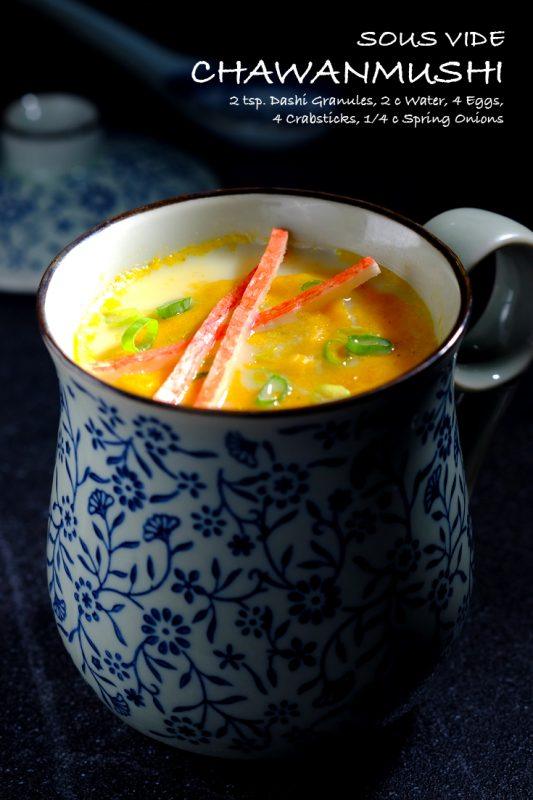 Chawanmushi is a type of savory custard that is traditionally steamed within tea cups. A key feature of the dish is how smooth it ends up being, which also makes it an impressive entrée to serve guess. This Sous Vide Chawanmushi uses the same concepts and ingredients as the traditional version but is designed for the sous vide instead.
The end result here simply works well and isn't difficult to pull off. In fact, the recipe is a good example of how sous vide meals can be so much more than simply meat.
Sous Vide Tomato Sushi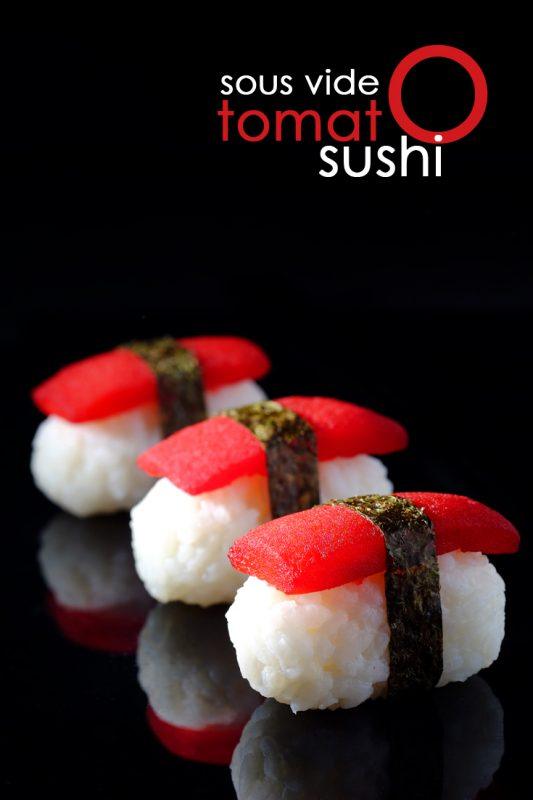 This Sous Vide Tomato Sushi is a little unusual but it is also very interesting. The idea here is to mimic the taste, texture and appearance of fish sushi, using tomato instead of the fish. The choice of ingredients also means this is a vegan recipe, making it a perfect alternative to conventional sushi.
The end result is perfect – although it has to be tried to be believed. After all, it's hard to imagine that tomato could ever end up with the taste and texture of fish, even though that's exactly what happens here.
Sous Vide Soy-Ginger Bacalao Loins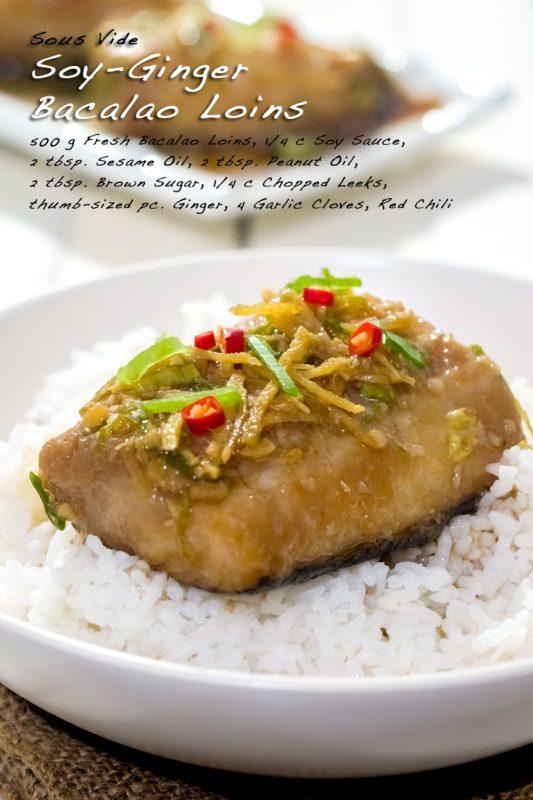 Soy and ginger are both fairly common ingredients, which are associated with Asian cooking in general and also with Japanese meals. This recipe for Soy-Ginger Bacalao Loins lets you take advantage of those flavors, without having to create an extremely complex dish.
Instead, you're cooking the bacalao (or any other fish) in the sous vide along with all of the flavoring ingredients. This creates the color that you see in the image, along with a fairly intense flavor profile. The fish is also ready to serve straight from the bag, making this an easy meal all around.
Sous Vide Beef Shogayaki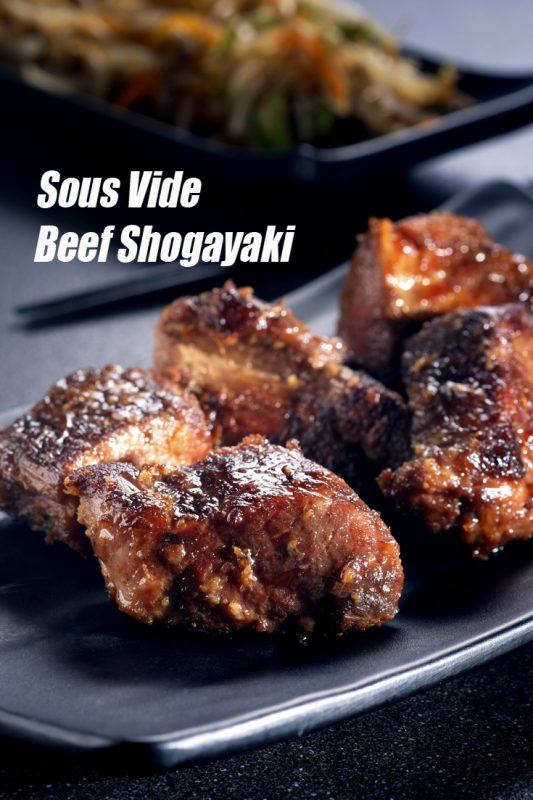 Beef Shogayaki is a popular Japanese dish and I was determined to make a Sous Vide Beef Shogayaki version that takes advantage of all the same flavors.
The idea here is basically a less sweet alternative to teriyaki, so the flavor naturally pairs with beef, along with other types of meat. The recipe is perfect as an easy, yet impressive, meal to prepare. Plus, you could serve it with pretty much anything.
Sous Vide Ramen Eggs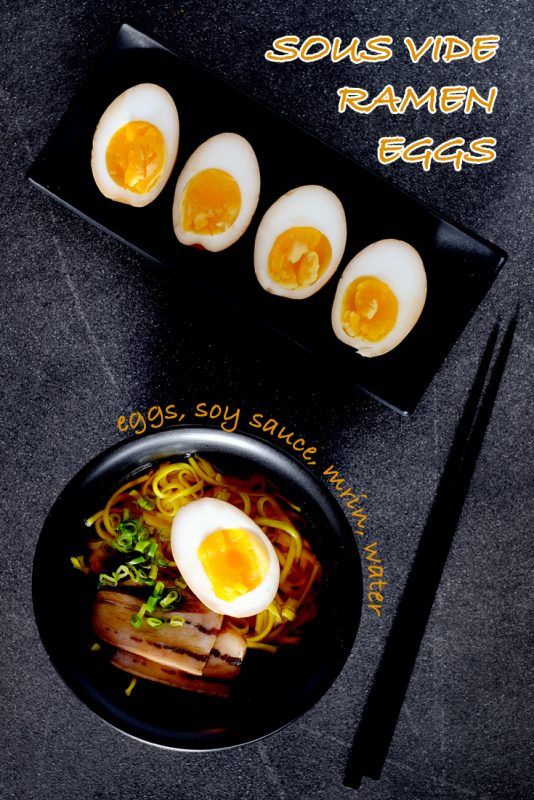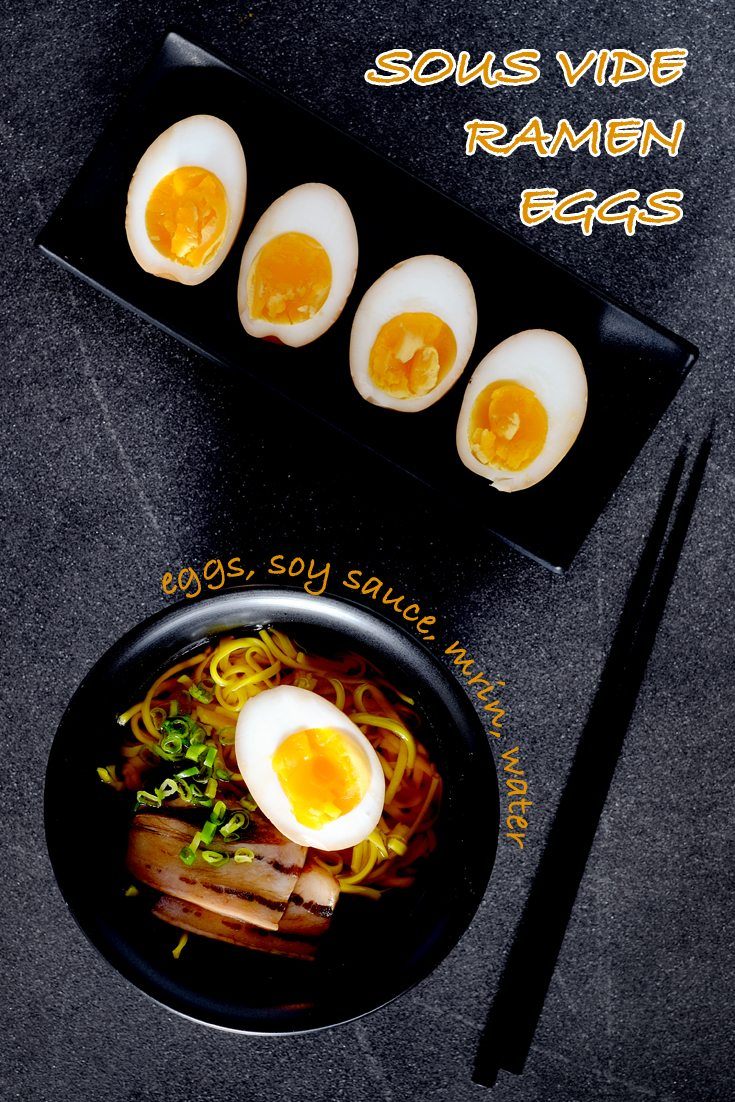 A key characteristic of Japanese ramen is eggs that are always cooked exactly right. Doing this conventionally is extremely difficult because you still want the yolk to be slightly runny and not overcooked. That's where these Sous Vide Ramen Eggs come in.
Sous vide cooking works so well for eggs because you have precise control. This means you can be sure about how a recipe is going to turn out every time, without having to guess. The recipe here shows you how to get the right consistency for the eggs, regardless of whether you are cooking a single egg or making batches of them.
Sous Vide Wasabi-Beer Bockwursts with Teriyaki Onion Marmalade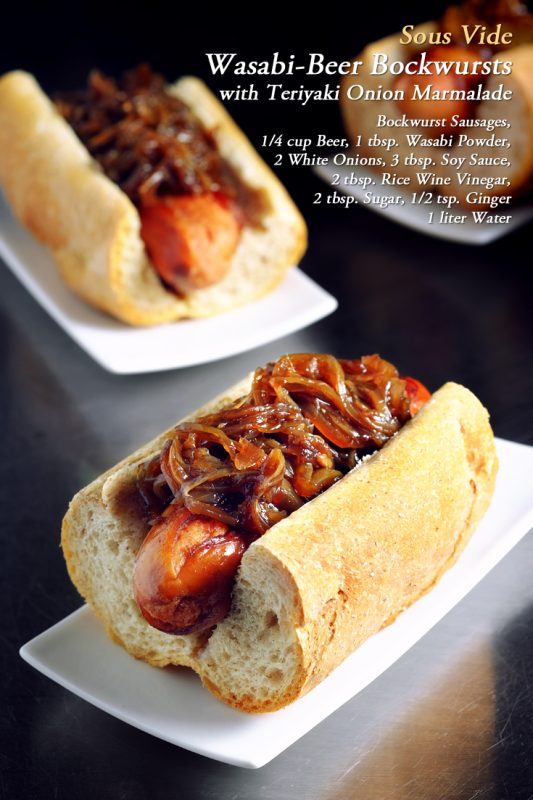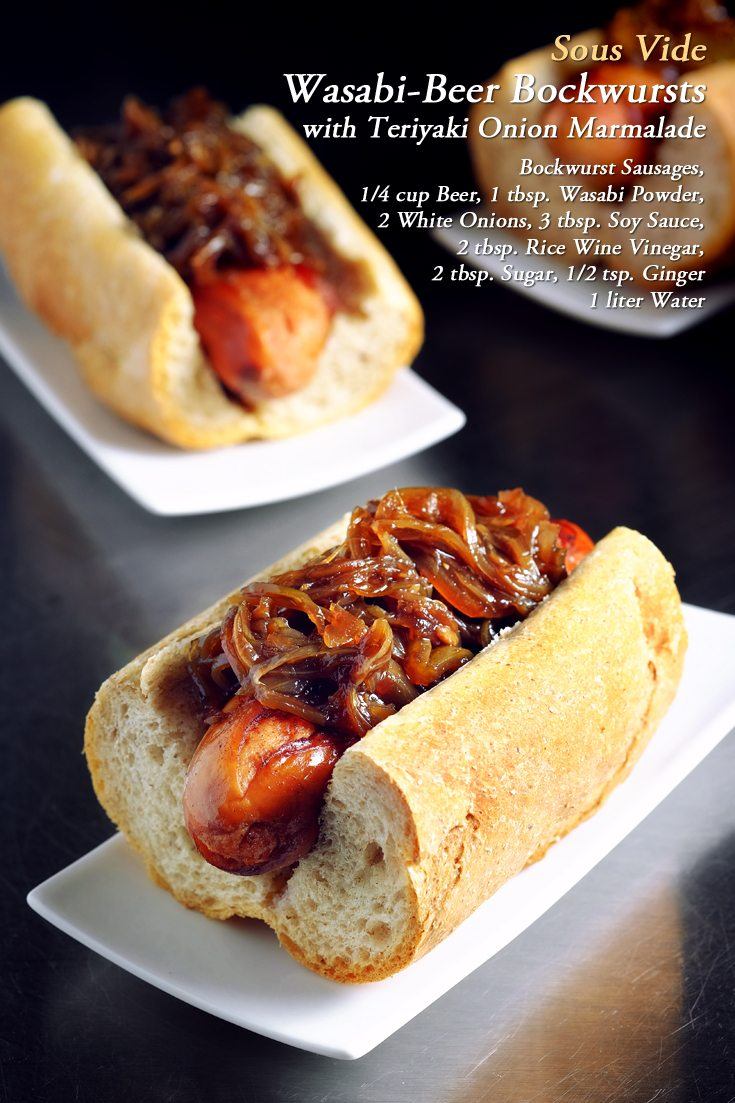 Bockwursts may be a fairly traditional American choice but these Wasabi-Beer Bockwursts are a completely different idea. Both the marmalade and the bockwursts themselves take advantage of Japanese flavors, resulting in a dish that is much more interesting. I love the flavor profile and these are great if you want something different.
Sous Vide Teriyaki Chicken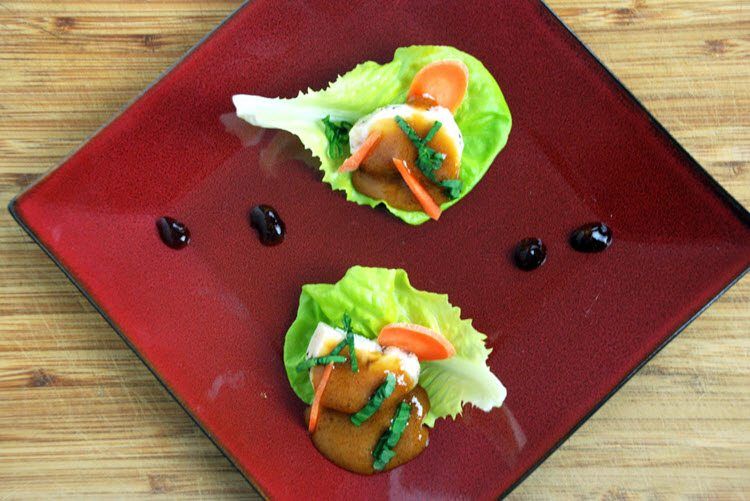 Teriyaki chicken is a fairly common dish but this recipe from amazingfoodmadeeasy.com is a different interpretation of the idea. In this case, the emphasis is on modernist cooking techniques, resulting in Chicken with Teriyaki Froth. You could skip froth component if you wanted to and just put the teriyaki sauce on the chicken itself. But, either way, the recipe is interesting and is something a little bit unusual.
Tender and Silky Sous Vide Octopus
With this Sous Vide Octopus recipe from www.chefsteps.com, the focus is mostly on the choice of seafood, rather than the flavors. In fact, the recipe is designed to bring the taste of the octopus to the fore, rather than burying it amongst other ingredients. The style also means that you could then take the finished octopus and use it in other dishes, including Japanese-style ones.
If nothing else, the recipe here is a good option for anybody who has never cooked octopus before and the information provided is extremely easy to follow.
Sweet Sesame Ginger Salmon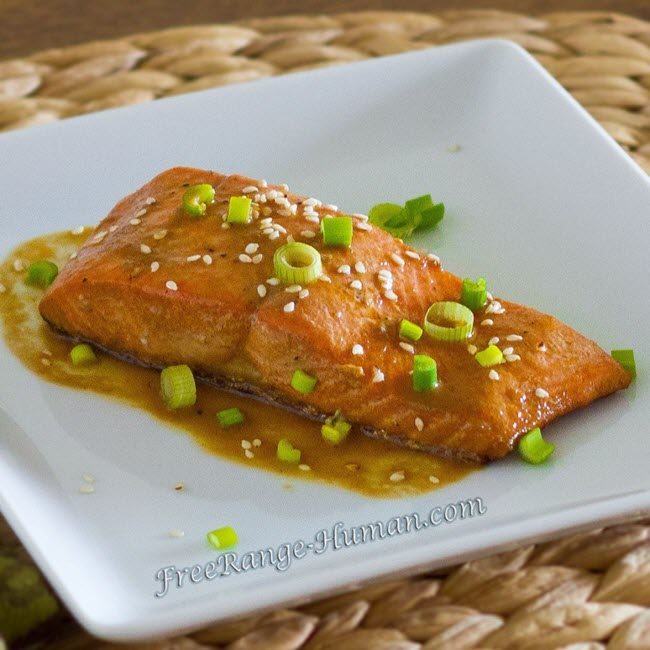 This Sweet Sesame Ginger Salmon comes from pasturedkitchen.com and it is a final option if you want some Japanese flavors with your fish. One of the main advantages here is that the recipe is extremely simple. Plus, like other sous vide fish recipes, you can't really get it wrong. Those aspects are great for beginners in the kitchen and for anybody that wants an easy and flavorful meal.

Related Content