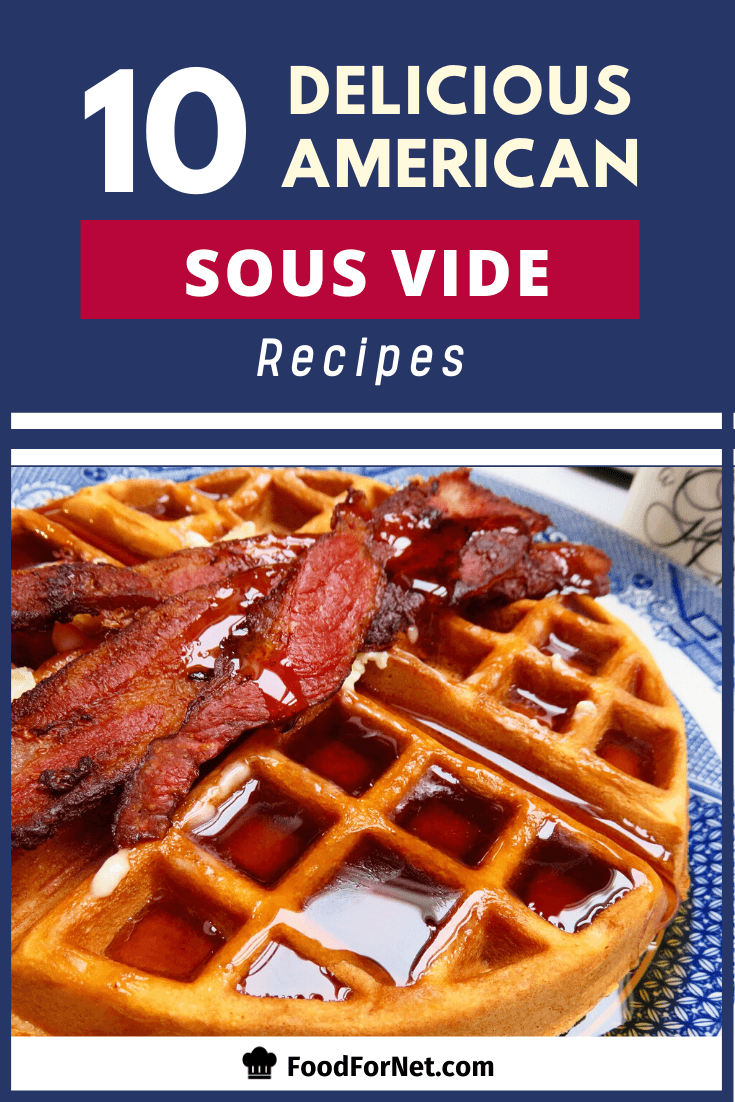 When people think about sous vide recipes, meat tends to be the most common idea. And yes, you can create wonderful cooked meat dishes with a sous vide, including juicy medium-rare steak and cuts of pork that are perfect. But, sous vide is also a surprisingly versatile tool – and it can be used to create some unexpected meals.
In this case, we're considering sous vide as a way of recreating some American classics. And, don't worry, the idea isn't to simply use a sous vide setup because it is possible. Instead, sous vide plays a key role in the flavor and texture of the finished dish. You may even find that you don't want to go back to cooking the dish normally.
At the same time, many of these recipes decrease the energy and effort needed to prepare the food – which is always a plus if you have a busy household.
American Sous Vide Recipes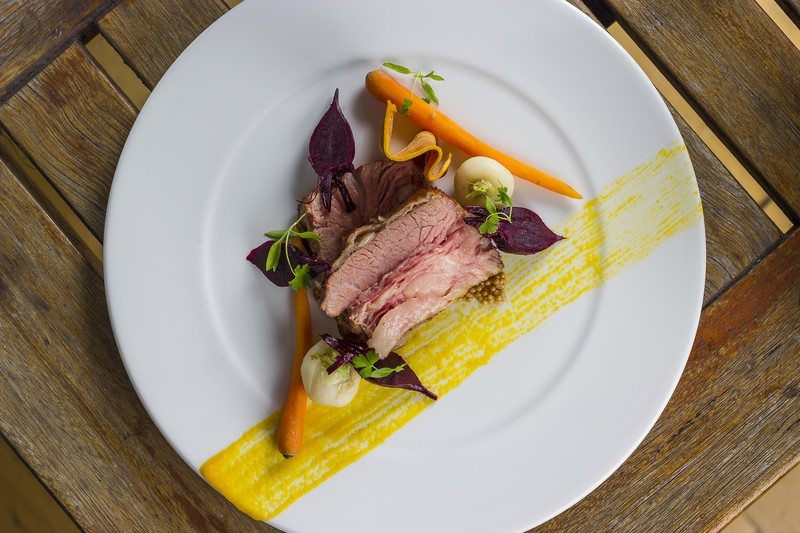 Overnight Bacon with Chili-Bacon-Fat Waffles
Smoky Sous Vide Meatballs
Sous Vide French Fries
Sous Vide Garlic Cilantro Chicken
Sous Vide French Toast
Smoky BBQ Butter Corn
Cajun-Spiced Chicken Breast
Honey Sriracha Wings
Wasabi-Beer Bockwursts with Teriyaki Onion Marmalade
Mustard and Molasses Pork Belly Strips
Overnight Bacon with Chili-Bacon-Fat Waffles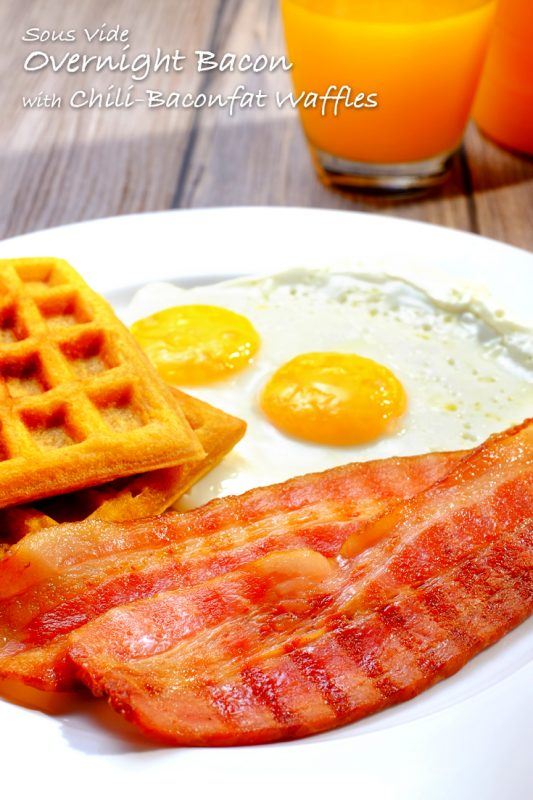 Without a doubt, this has become my favorite way to prep bacon, simply because it is so fast and easy. But, the bacon itself also ends up perfectly cooked and full of flavor, ready to use in any way that you can see fit. In fact, you could even just complete the first part of this recipe and then use the bacon in an entirely different manner.
But, the entire recipe is for Overnight Bacon with Chili-Bacon-Fat Waffles and it truly is worth trying the whole thing at least once. The flavors work together so well, especially as you are using the leftover juices from cooking the bacon as part of your waffles.
The end result is waffles with a significant bacon flavor. Combine that with the cooked bacon and you have a perfect American breakfast.
Smoky Sous Vide Meatballs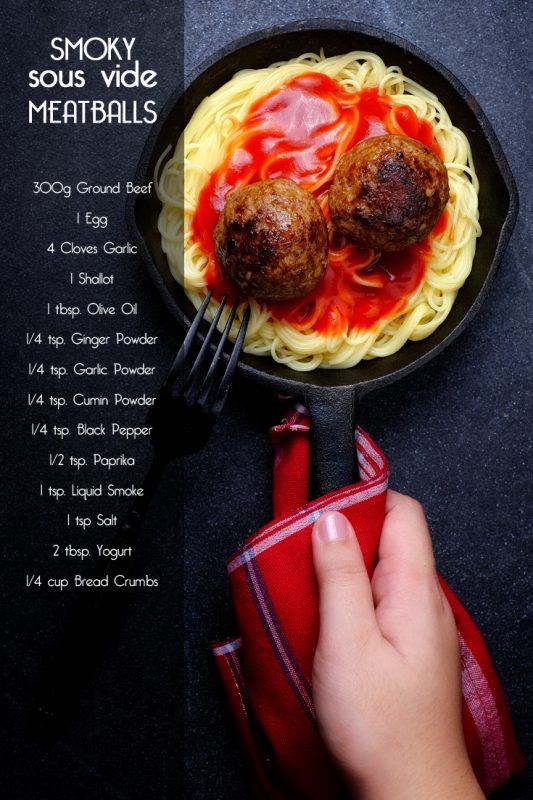 This recipe for Smoky Sous Vide Meatballs offers that attractive smoky flavor, without the use of any barbecue sauce. This makes them perfect for many different dishes, including simple and complex ones. The sous vide approach is really what makes these meatballs stand out. Making them this way means that you have perfectly cooked meatballs each time, without the risk of overcooking or undercooking them.
I don't know about you but I find that to be a major advantage. After all, meatballs can be tricky and you often have to break one open to see if they are ready. Sous vide gets around all of that and makes the entire process easy from start to finish.
Sous Vide French Fries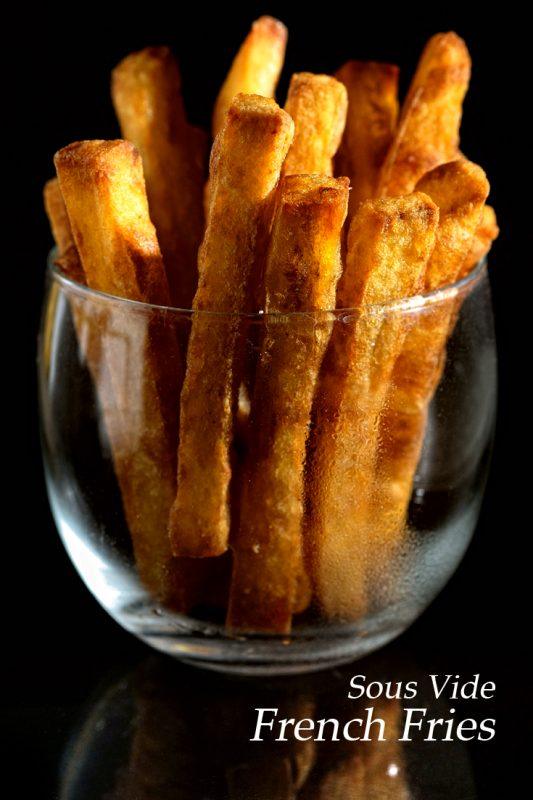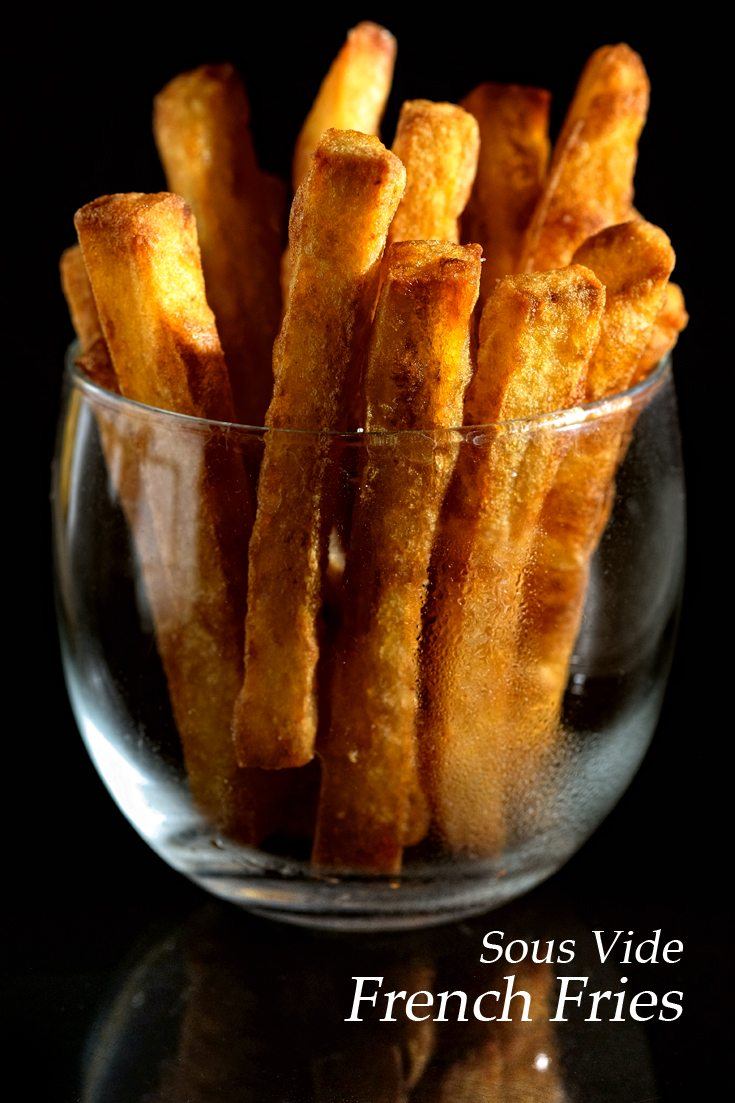 French fries are incredibly easy to make normally and aren't a typically sous vide food. So, why a recipe for Sous Vide French Fries? The reason is simple – these French fries are just better. In fact, most French fries that people make tend to be fairly average and getting the right balance of soft potato and crispy outer edges is surprisingly difficult to manage.
That's where sous vide comes in. The process ensures that your French fries are perfect, every single time. This means that the inside stays nice and fluffy, while the outside of the fries are crisp. And, as a result, the fries simply taste amazing. The cook time for the recipe is also fairly fast, so you can make these at short notice if you want to.
Sous Vide Garlic Cilantro Chicken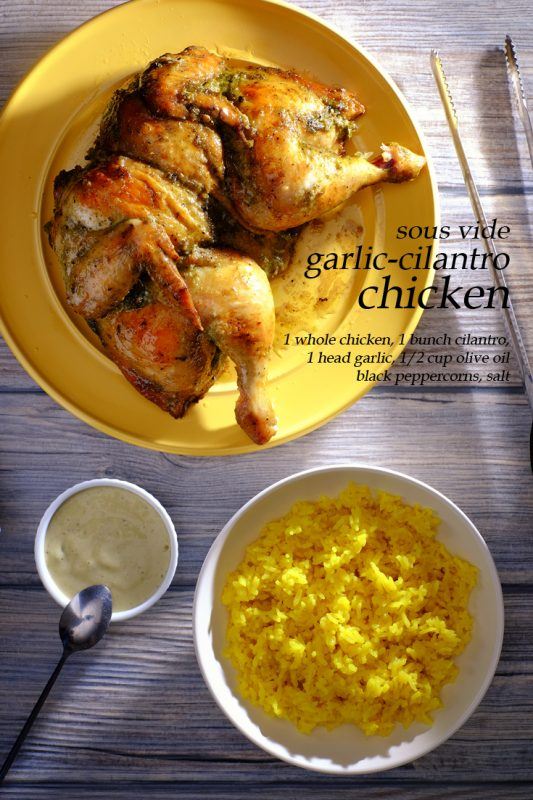 Roast chicken is a very common meal choice, especially as you can easily feed a family in one go. And, with the popularity of chicken, there is no shortage of different recipes out there. But, this Garlic Cilantro Chicken is one of my personal favorites.
One reason is simply that the chicken has much more flavor than other versions I've tried, without being overwhelming. Realistically, roast chicken often ends up being boring but that's not the case here. But, the secret isn't just in the marinade used. Instead, the cooking method plays a key role as well.
Sous Vide French Toast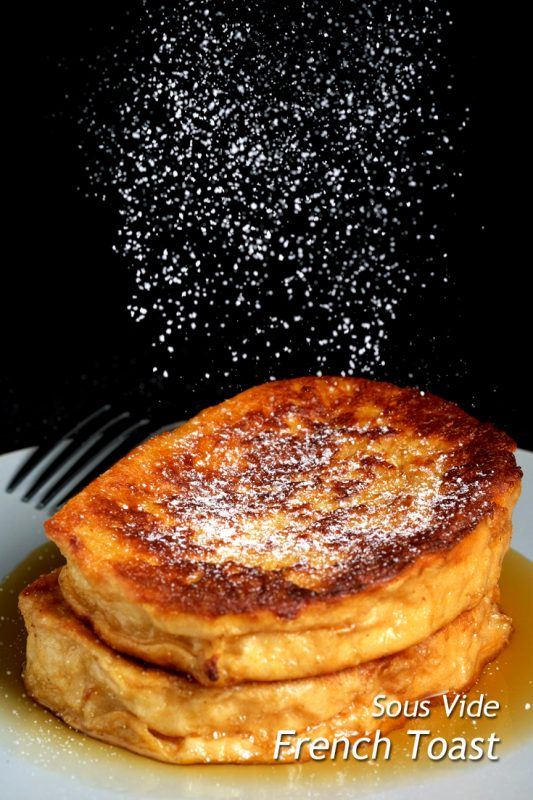 French toast is a classic that I simply can't go past, especially on special occasions. And, this Sous Vide French Toast recipe makes the whole process foolproof. What's more, you can easily tweak the ingredients to add in your own flavors, such as citrus components or other spices.
Honestly, this recipe is so good that it's worth trying even if you're not a big fan of French toast. I know, I know, I'm a little biased as this is my recipe. But still, the approach leads to French toast that is second-to-one.
Smoky BBQ Butter Corn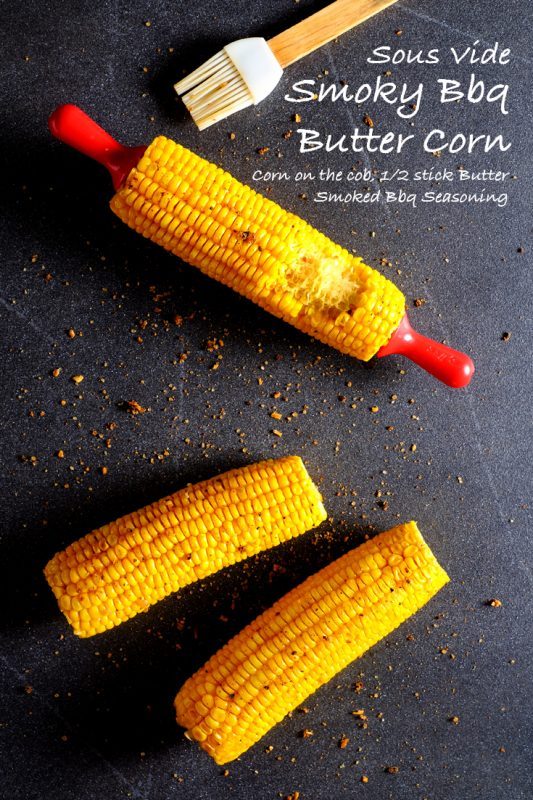 This Smoky BBQ Butter Corn recipe is a simple one but it would make a perfect side for Thanksgiving or any family dinner. You can also easily change up the flavors involved in this recipe, either by using your own spice mix or skipping the spice altogether. For that matter, the technique will work with most combinations of ingredients and flavors.
Regardless of whether you stick with the recipe as written or try your own variation, the end result is flavor-packed corn that is much juicier than traditional cooking methods.
More Vegetarian Sous Vide Recipes.
Cajun-Spiced Chicken Breast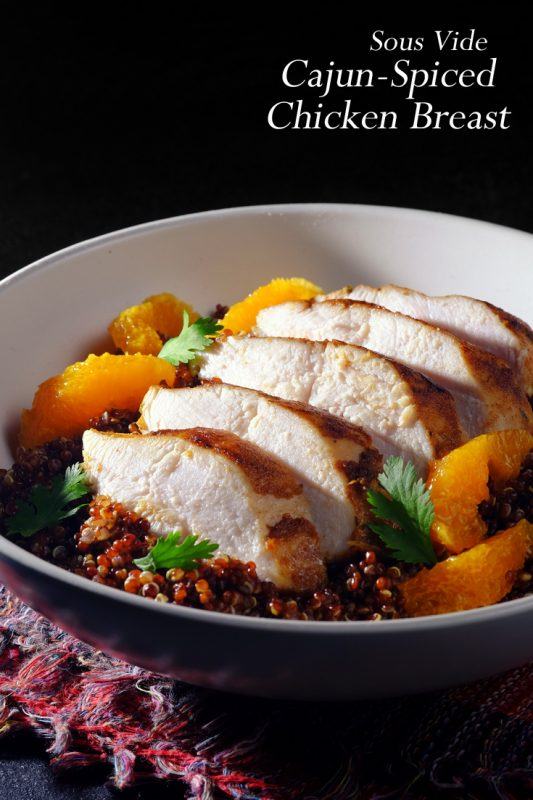 As I mentioned before, chicken really has become a traditional dish and there are many different ways to prepare it. In this case, the recipe is for Cajun-Spiced Chicken Breast and the end result really is as good as it sounds (and looks).
Even though it seems simple, chicken breast is often fairly difficult to prepare – mostly because it dries out so easily. Making sure the chicken breast stays moist and flavorful, without undercooking it, becomes a major challenge that even experienced cooks struggle with. Cooking with sous vide helps you get around that issue and this particular recipe turns out extremely well.
Honey Sriracha Wings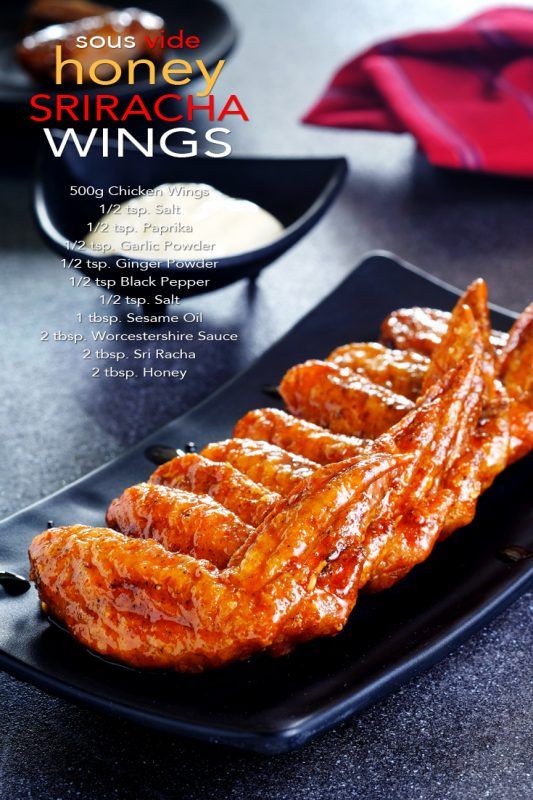 Speaking of American food and chicken, I have to include at least one recipe for chicken wings – like these Honey Sriracha Wings. As with some of the other recipes, you do still have to crisp these up after cooking in sous vide. But, don't worry, that process is easy.
This simply results in the juiciest chicken wings you will have tasted, with no risk that they'll dry out during cooking. I like to use this recipe then tweak it with my favorite hot sauces to get a different flavor every time.
Wasabi-Beer Bockwursts with Teriyaki Onion Marmalade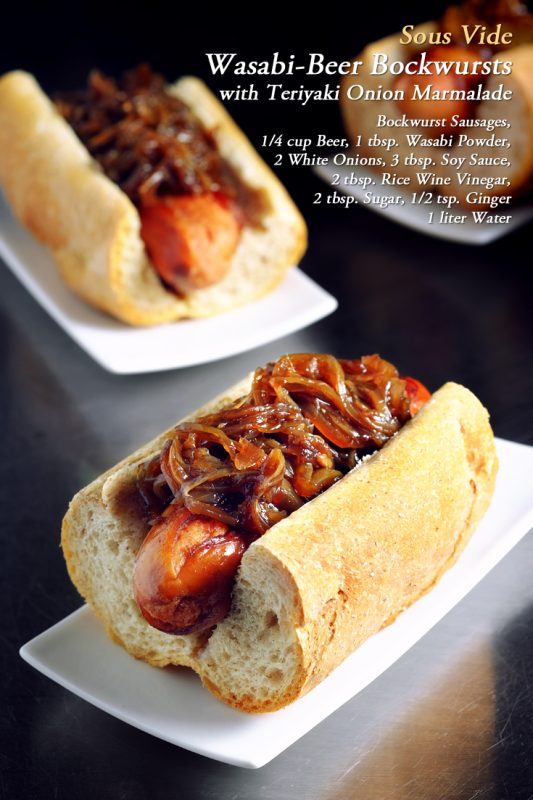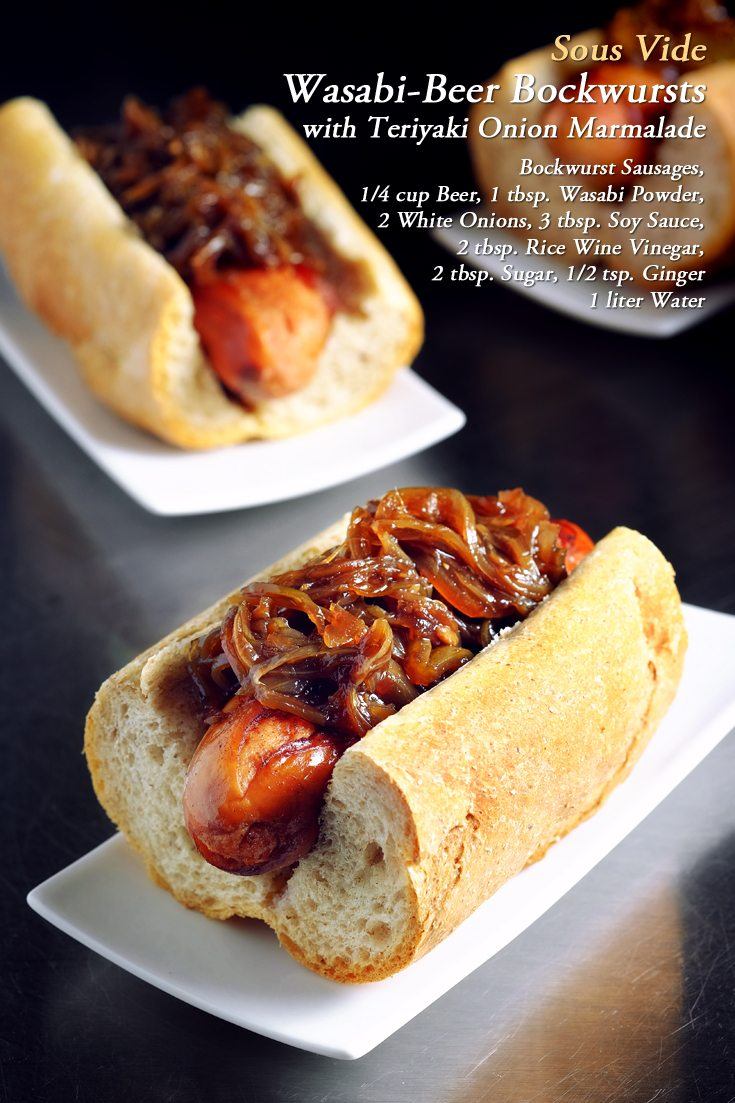 Bockworsts are a common American tradition, especially when eaten in hotdogs. But, the flavors of these Wasabi-Beer Bockwursts make take you by surprise. Certainly, the choice of ingredients here is unusual but that's not a bad thing. For that matter, you often find the best recipes when you step outside of your comfort zone a little and that's certainly the case here.
The recipe does also work well if you're not a fan of wasabi. You can simply substitute in any other spice or herb instead. This means the base recipe will work well regardless of your preferences – although I do recommend trying the wasabi and beer variation at least once.
Mustard and Molasses Pork Belly Strips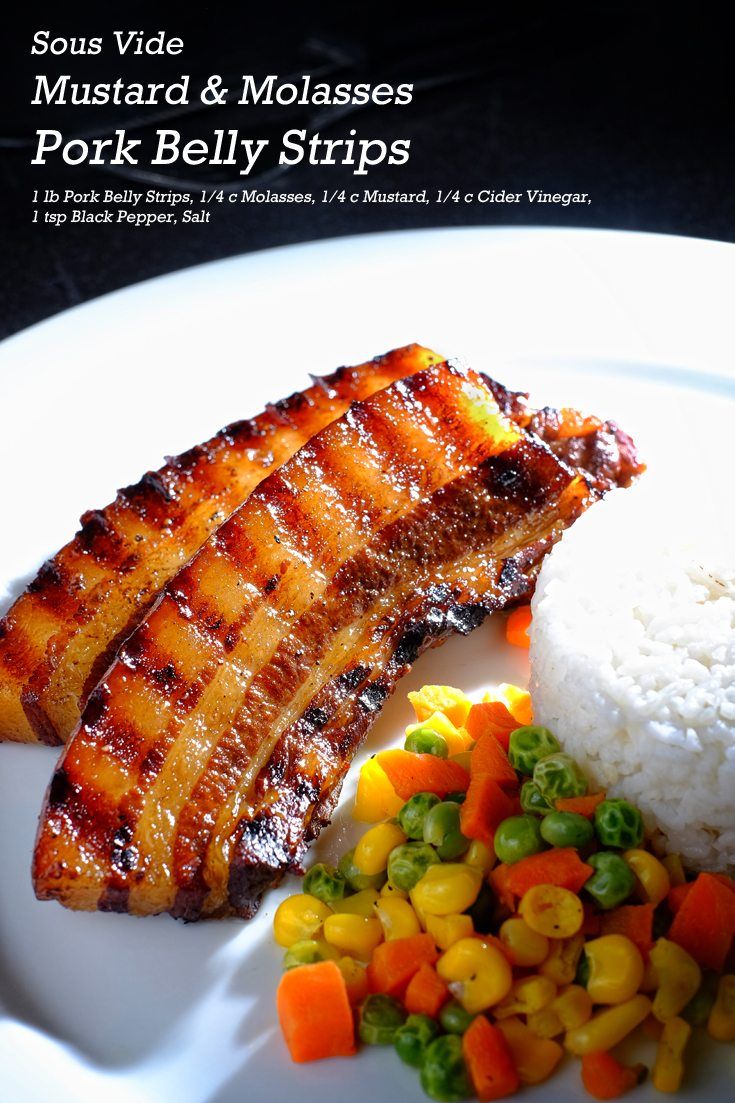 If you're new to the concept, pork belly strips end up being fairly similar to bacon, with a bit more substance on offer. I find them a perfect choice for any bacon fan and the strips work extremely well with sous vide cooking.
The recipe here is for Mustard and Molasses Pork Belly Strips and the dish is surprisingly simple to make. The main thing to be aware of is that you do need to marinate your pork belly strips first, so allow time for this. The marinade would actually work well with many other types of meat as well, if pork belly isn't your style.