Edamame might not be instantly familiar, yet this classic Japanese snack is rapidly growing in popularity. This isn't surprising either, as edamame is delicious, full of nutrition, and unprocessed. Even so, there are some serious questions we need to answer, including is edamame good for you?
It might seem obvious that edamame should be healthy. The snack is natural, after all, so there are no additives to worry about and little processing.
Much of the problem comes from the fact that edamame is simply young soybeans that have been boiled and salted. That's right, soybeans. You've doubtlessly heard all of the debate surrounding soybeans and soy products by now. Some people avoid soybeans entirely, while others eat them regularly.
So then, what about edamame itself? Does it have benefits or is it best to give the snack a hard pass?
Is Edamame Good For You?
What Is Edamame
Edamame Nutrition Facts
Can You Eat Raw Edamame Beans?
Is Soy Good For You?
Benefits Of Edamame
How Edamame Could Be Harmful
Is Edamame Keto Friendly?
Final Thoughts
What Is Edamame?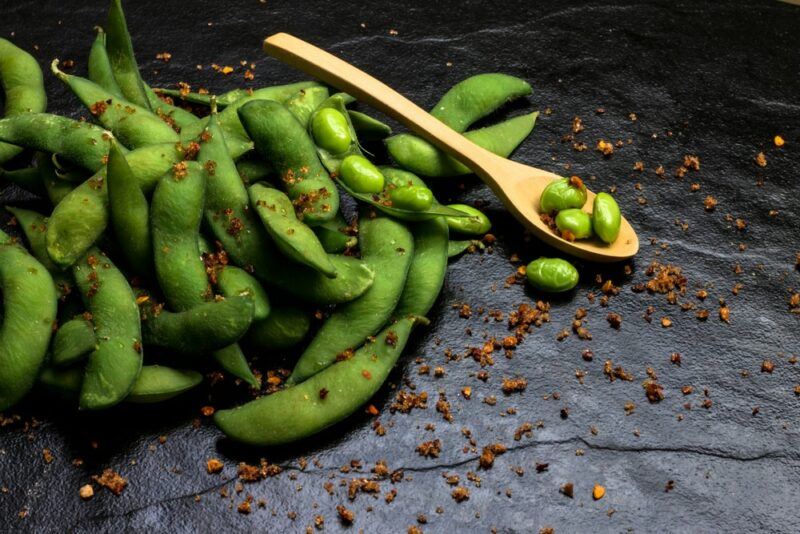 The name edamame itself simply refers to immature soybeans. They're harvested before the beans fully ripen and become hard. Don't worry though, once cooked, the beans are still completely edible.
There are two to three beans in a small pod. The pod itself is incredibly difficult to eat (and there's little benefit to doing so). Instead, it's the beans themselves that people enjoy.
Sometimes you'll see the little beans served on their own. Other times they're served in the pod instead. Eating them is as simple as squeezing the beans out of the pod and straight into your mouth.
Edamame is often eaten on its own as a snack, but you can also include the beans in stir fries and a variety of vegetarian meals. It's an easy way to add extra protein and nutrients to your dish or to simply make things more interesting.
Edamame Nutrition Facts
If you're eating a full cup of shelled edamame beans, then the nutritional profile looks like this:
Calories: 188
Protein: 18.5 grams
Carbohydrates: 13.8 grams
Sugars: 3.3 grams
Fiber: 8.1 grams
Some of the main nutrients present include iron, calcium, magnesium, zinc, folate, and selenium. It's easy to see how the beans are powerful. In fact, this serving size gives you more than your daily intake of folate and roughly 20% of the iron that you need.
Can You Eat Raw Edamame Beans?
Here's a very important food safety tip – edamame does need to be cooked before being eaten. This is true of other soy products too, as soy is poisonous when raw.
Indeed, trying to eat edamame beans raw can make you feel very sick and have you running to the bathroom. Undercooking the beans isn't a good idea either.
Thankfully, edamame isn't difficult to cook. You can boil the whole beans in a pot of water with salt for around five minutes or steam the beans for five to ten minutes. It's even possible to pan fry edamame beans whole or cook them in the microwave.
You may be able to find pre-cooked edamame that is ready to eat, but please check the package carefully. Some customers have learned the hard way that their beans weren't precooked, even when they were sold in little snack pots.
Is Soy Good For You?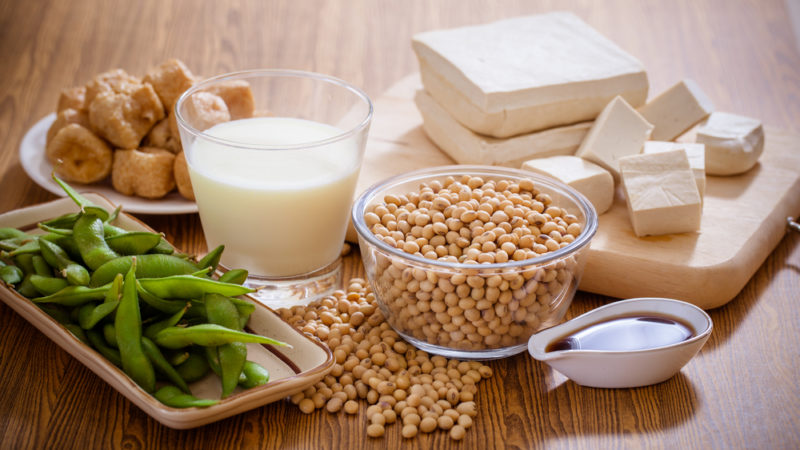 Before we get into the specifics of edamame and health, let's bite the bullet and get the discussion of soy out of the way. There is, after all, a decent amount of controversy surrounding soy, which is relevant to any product made from soybeans, including edamame.
So, what's the problem with soy anyway?
Most of the concerns come from the plant-based compounds that the beans contain, including antinutrients and phytoestrogens.
Antinutrients are common in legumes and include compounds like phytic acid, tannins, and some oligosaccharides. These compounds could, theoretically, decrease your absorption of other nutrients, making food less beneficial than it could be.
Still, the antinutrients merely decrease nutrient absorption. You do still get plenty of nutrients from soybeans. Many experts argue that the antinutrient effect isn't a big deal if you have a balanced and varied diet.
Then there are the phytoestrogens, which can have estrogen-like effects in some environments. These compounds are complicated, as they may be risky in some situations and improve health in others.
We won't dig into the topic much more here, as we do have a separate post on whether soy is good for you. For the moment, let's conclude by saying that while most studies have failed to find negative effects from soy, the concern is still out there.
And, if soy does have some concerning effects, those effects may be too subtle to be easily seen in studies. For many people, the healthiest approach may be to have soy products every so often, but keep an eye on the amount you consume. This way you get the potential benefits of soy, while avoiding most of the risks.
Benefits Of Edamame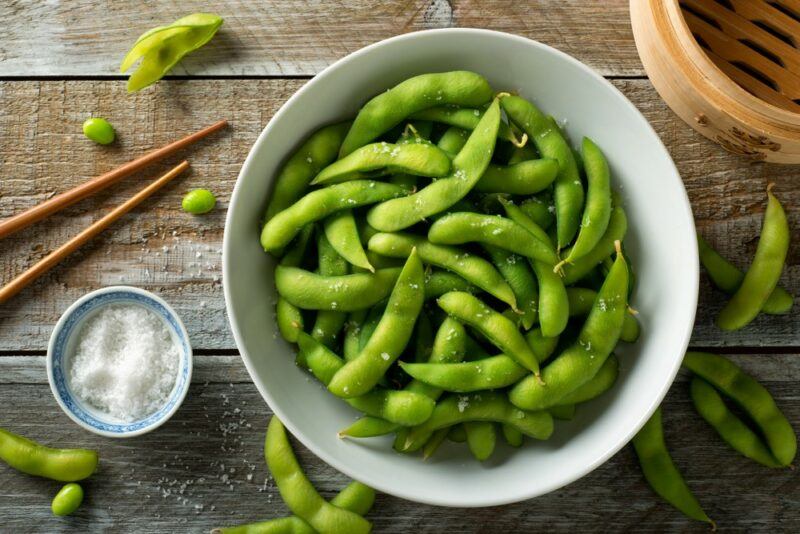 Is An Unprocessed Whole Food
Regardless of where you stand on soy, edamame is likely to be healthier than most other soy products. After all, we're just talking about soybeans themselves, there's no processing to worry about.
We also know that unprocessed foods tend to be healthy. How could they not be? You're getting plenty of nutrients, without any additives.
In contrast products like tofu, soy milk, and soy flour are often highly processed. They may be fortified too and manufacturers sometimes use additives to improve the flavor or texture.
Decent Source Of Fiber, Protein, And Nutrients
Edamame is powerful nutritionally. Not only is it relatively low in calories, but it also contains many important nutrients, including calcium, vitamin K, iron, and more.
The iron is particularly important, as many people end up iron deficient. You're at an even greater risk of deficiency if you follow a vegetarian or vegan diet, as you must rely on plant-based sources of iron.
The protein in edamame matters too.
Protein plays countless roles in our bodies, including balancing fluids, improving immune health, muscle development, and the structure and function of our organs and tissues. In short, you can't live without protein.
Protein is relevant for weight loss too, as it helps you to feel full. Having protein rich snacks often reduces your cravings for sugary food and can make weight loss much easier.
Then there's the fiber. Fiber is essential in your digestive system, helping to keep you regular and making sure your body digests foods well.
Finally, edamame is relatively low in calories. This makes the beans a low calorie and high protein snack, which is always very appealing for weight loss.
Might Improve Heart Health
Soy could improve your heart health in multiple ways, due to its high fiber and antioxidant content, along with all the nutrients that are present.
There's another factor too, the fact that you're relying on plant-based protein. Experts suggest that increasing your intake of plant-based protein and decreasing your use of ingredients like red meat could significantly improve heart health.
We're not suggesting that you cut out red meat entirely, unless you want to. But, even just swapping one or two meat-based meals out for ones that use plant protein instead could do you the world of good.
Provide Plant-Based Omega 3s
Edamame is also an excellent source of alpha-linolenic acid (ALA), giving you more than 500 mg of ALA in a cup of the beans. ALA is one of the three main types of omega 3 fatty acids. The other two types are DHA and EPA, which are found in fish.
While DHA and EPA are the most powerful types of omega 3, ALA is still important, especially for anyone following a vegetarian or vegan diet. Besides, the benefits of omega 3 are no secret.
Has A Low Blood Sugar Impact
Edamame is relatively low in carbs and contains a decent amount of protein and fiber. This combination of features means that it has a minimal effect on your blood sugar levels. You certainly won't get a sudden blood sugar increase and subsequent crash like you do with a candy bar.
The low blood sugar impact makes edamame ideal as a snack, especially for anyone with type 2 diabetes.
How Edamame Could Be Harmful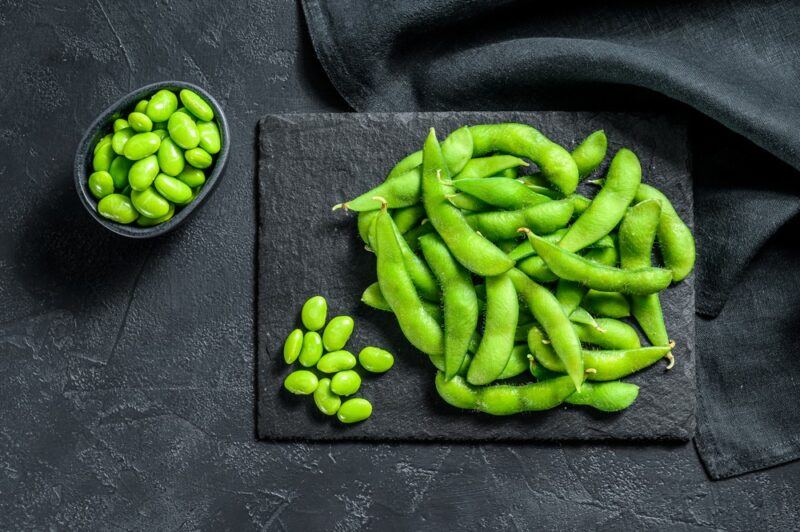 Some People Experience Side Effects
Side effects are fairly common with edamame for two separate reasons. The first, as we mentioned earlier, is that edamame needs to be fully cooked. If you eat edamame raw or undercook the beans, you're going to have some dramatic gastrointestinal side effects.
These side effects are generally short-lived. They might last a couple of days at the worst or perhaps just an evening. Still, they're not to be taken lightly, as there is the risk of long-term harm.
Other side effects come from the fiber, including stomach cramps and diarrhea. These side effects are most significant if you suddenly increase your fiber intake.
To avoid these issues, make sure that your edamame is well cooked, drink plenty of water, and start slowly. Beginning slowly gives your body time to adjust to the fiber. You might still get some side effects, but these should be minimal.
Can Be High In Sodium
Edamame itself isn't high in sodium. We are just talking about soybeans, after all.
Even so, edamame is often prepared by boiling the immature soybeans in salt. Sometimes the beans are even salted before they're served. Those practices provide you with a decent amount of sodium per serving, which can be a problem.
After all, many of us are consuming far too much sodium as-is. Adding more to our diets isn't a great plan.
Cooking edamame without sodium isn't difficult. The trick is to find ways to season the beans without using salt. You could look for a low sodium soy sauce or turn to coconut aminos as an ingredient.
Using spices to season your edamame may work well too, as this would give you plenty of flavor, without any salt.
Is Edamame Keto Friendly?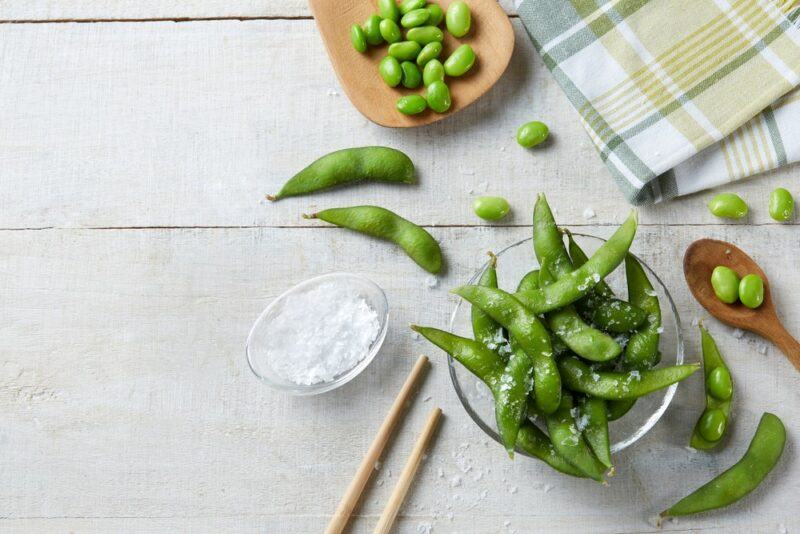 The carb content of edamame isn't terrible. For a half cup serving of the shelled soybeans, you end up with 9 grams of carbs. Of these, 4 grams are fiber, so you're left with 5 grams of net carbs.
The net carb content is low enough that you could include edamame on a keto diet, as long as you watch your portion size carefully. Indeed, some keto dieters do use edamame as a source of protein.
There is some controversy here though. Passionate keto followers sometimes say that you shouldn't just be keeping your carbs low, you should also be avoiding problematic ingredients, including legumes. If you feel that way too, then you'll need to skip edamame entirely.
Final Thoughts
Edamame relies on soybeans, so it will always be a little controversial. Still, for most people, edamame ends up being a healthy and delicious snack, one that's been through barely any processing. What could be better?
The most important thing is cooking your soybeans well.
Seriously. Some edamame products in the store look like they've already been cooked. While they may have a disclaimer telling you not to eat the beans raw, this is often written in small print and is easy to miss.
If you're at all unsure, cook the beans. It's much better to be eating overcooked edamame than to risk feeling sick for hours afterward.
Frequently Asked Questions
Can You Eat Edamame Pods?
There's little point in eating edamame pods, as they're incredibly tough and are indigestible anyway. That said, the pods aren't toxic, so you can eat them if you really want to.
What Does Edamame Taste Like?
Edamame has a mild flavor with only a touch of sweetness. They taste a little like peas but aren't quite as sweet.
Is Edamame Gluten Free?
Like other legumes, edamame is naturally gluten free. As such, edamame is an easy snack for any gluten free dieters, one you don't need to worry about.
Does Edamame Cause Gas?
Gas is a common side effect from edamame, particularly if you eat large amounts or they aren't fully cooked. The risk of side effects is also higher if you have irritable bowel syndrome or a similar condition.
Is Edamame Low FODMAP?
Interestingly, edamame is low in FODMAPs, largely because the soybeans are immature. If you're measuring beans in their pods, then you can consume a cup and stay within low FODMAP parameters. If they've been taken out of their pod, then you're looking at a half cup serving instead.