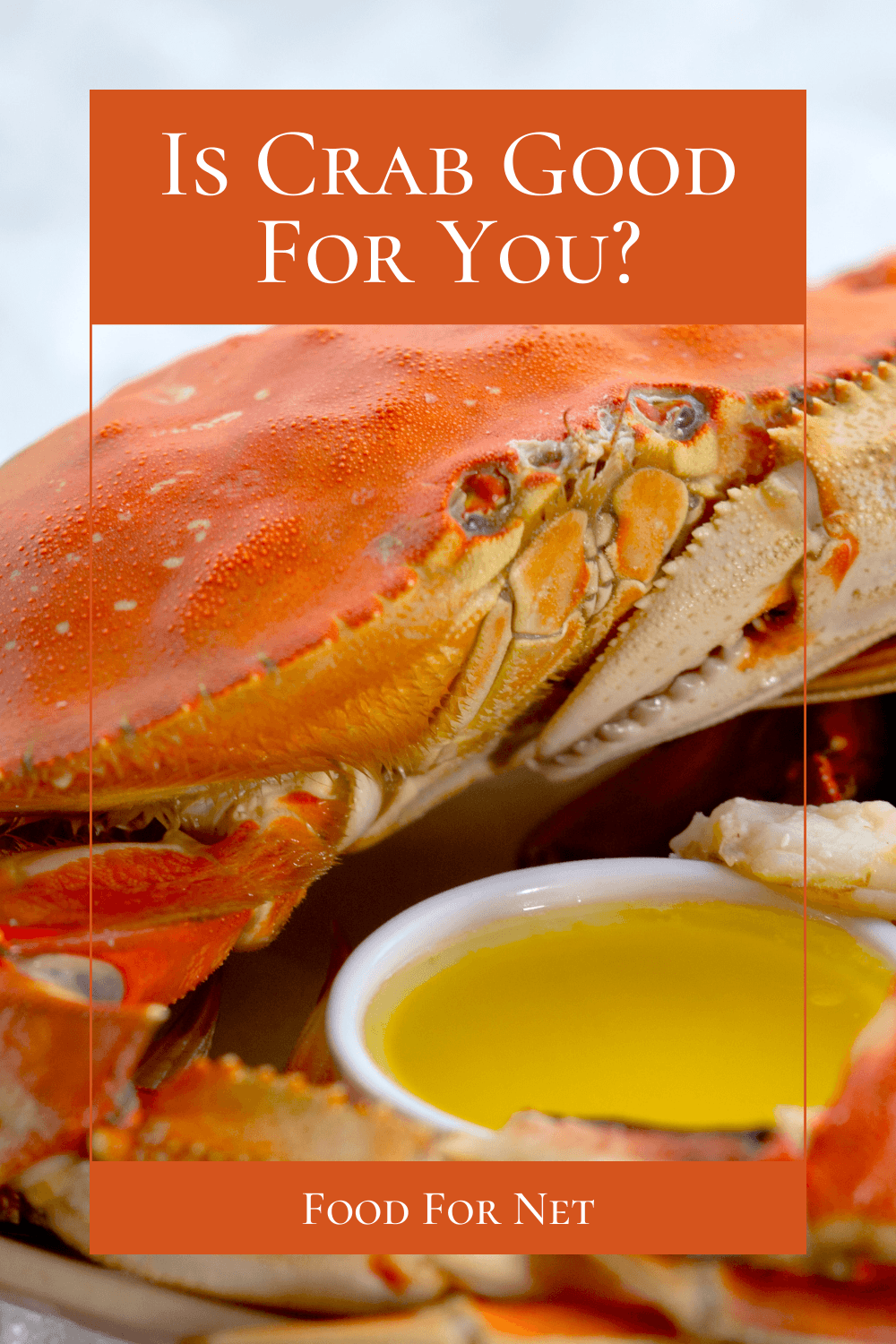 Seafood is famous for being both delicious and healthy. However, with so many different types to choose from, how do you ever know which are the best? We've talked about other types of seafood in the past, like oysters, mussels, and shrimp. Now it's time to take a look at crab and ask – is crab good for you?
Part of the answer comes from looking at the nutrient profile. This tells us a lot about what how crabs will impact your health. Of course, crab nutrition isn't the full story. There are some other things to think about as well.
Is Crab Good For You?
Crab Nutrition
Benefits Of Crab
Problems With Crab
Types Of Crab
What About Imitation Crab?
Final Thoughts
Crab Nutrition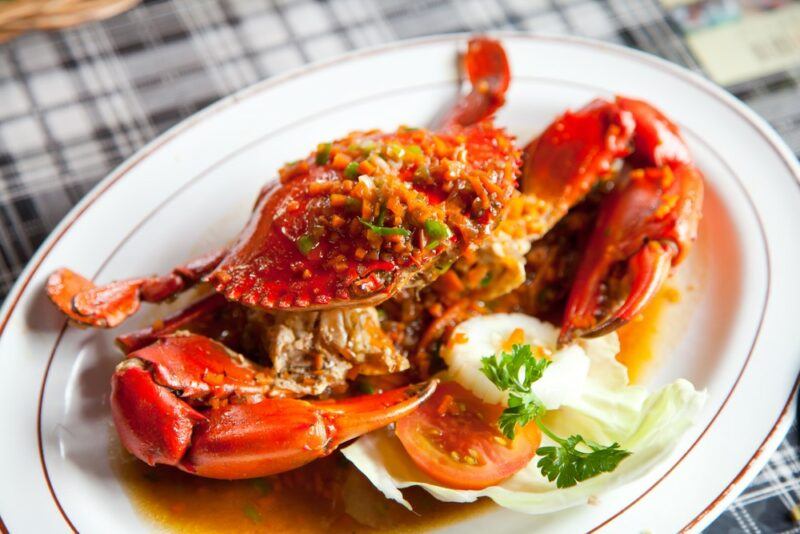 Let's begin with the most obvious topic – nutrition. For a full cup of cooked crab, you get this balance of nutrients:
97 calories
Protein: 21 grams
Fat: < 1 gram
Carbohydrates: 0 grams
Fiber: 0 grams
Sugar: 0 grams
The protein content of crab is simply exceptional, especially are crab is fairly low in calories and fat. For that matter, almost all of the calories in crab come from protein. The other macronutrients barely get a look in.
There are some interesting nutrients present too, including vitamin B12, folate, selenium, iron, and zinc. Not only are these vitamins and minerals all important for health, but it's also easy to be deficient in some of them.
What could be better than a protein rich ingredient that's high in nutrients and low in calories?
Benefits Of Crab
Can Promote Weight Loss
The fact that crab is high in protein, low in fat, and low in calories makes it an excellent choice for weight loss.
You could easily use crab as the protein part of a weight loss meal. Just make sure to pair your crab with low calorie sauces or toppings. Drenching it in butter certainly won't help you lose weight.
Could Promote Heart Health
Crab is relevant for your heart as well, partly because of the omega 3 fatty acids. These have been linked to decreased triglycerides and reducing the risk of heartbeat irregularities.
The fact that crab is low in fat helps as well. After all, eating large amounts of saturated fat is often linked to heart problems.
Relevant For Brain Health
Crabs are important for your brain as well. The omega 3s are key players here as well. They've even been linked to a lower risk of Alzheimer's disease and dementia.
Omega 3s help with healthy brains as well, supporting your memory and cognition. You might even find that you think more clearly if you're consuming fish and seafood regularly.
That's not all. Omega 3s can also help with your mental health. This includes decreasing your risk of conditions like depression and anxiety, while also helping people with such conditions to recover.
Could Lower Disease Risk
Crab has plenty going for it, including many vitamins and minerals, omega 3 fatty acids, and protein. All of these features are important for keeping you healthy and cutting down your disease risk.
Crab could offer even more benefits if you're eating it instead of a saturated fat rich source of protein, like red meat.
It's also no secret that whole food ingredients are much better for you than processed foods. This is another reason for turning to seafood regularly.
A Keto-Friendly Ingredient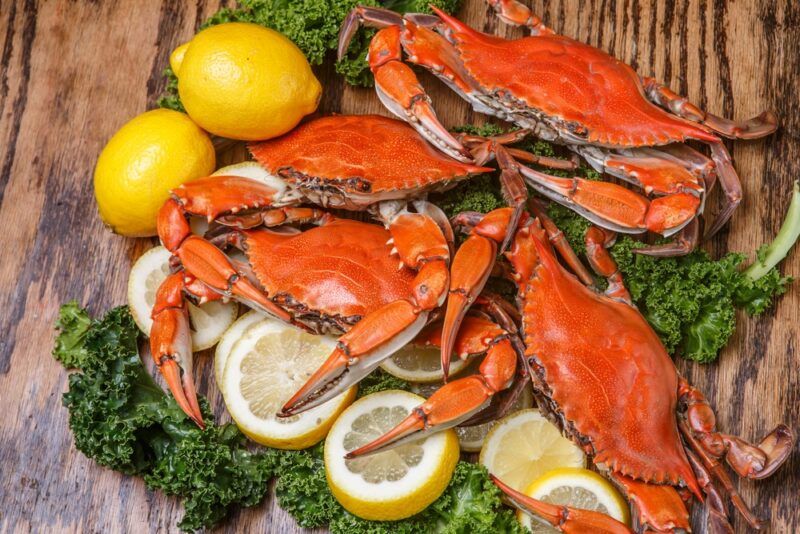 Crab is fantastic on a keto diet as you're getting very few carbs. In fact, a 100 gram serving often contains less than a gram of net carbs.
The only issue is that crab is low in fat. This isn't ideal on a keto diet, as you're trying to get most of your calories from fat, rather than protein.
Resolving the problem is as simple as serving crab with a high fat sauce or as part of a meal that contains plenty of fat.
Low In Mercury
If you're eating seafood, then you'll need to think about mercury. Too much mercury can lead to all types of problems, including negative effects on brain health, damage to the immune system, and kidney issues.
Mercury is most significant for young children and for pregnant women. However, even healthy adults need to be cautious with their mercury intake.
Shellfish like crabs are fantastic as they're naturally lower in mercury. They're also less likely to be contaminated by other chemicals.
Most people can easily fit two or three servings of crab into their diet every week.
The Flavor
There's one more powerful feature of crab to mention – the way that it tastes. Most types of seafood have a fishy aftertaste that puts some people off.
Crab avoids the problem entirely. Instead of being fishy, it mostly has a salty flavor, along with slight sweetness. The taste varies somewhat depending on the type you choose, but crab is delicious no matter what.
Problems With Crab
Often Served With High Calorie Ingredients
Earlier on, we mentioned that crab can help you to lose weight. That's true, but the way crab is prepared makes a huge difference.
If your crab is being served with a high fat sauce or plenty of butter, then the calorie content is going to be pretty high. This is enough to promote weight gain, particularly if you're also eating large portions.
Relatively High In Cholesterol
Crab meat does contain cholesterol, although the amount varies depending on the crab species . Alaska king crab is one of the best choices, giving you around 36 mg of cholesterol per serving. In contrast, steamed blue crab has more than 60 mg of cholesterol for the same serving.
Some recommendations suggest you should be having no more than 200 to 300 mg of cholesterol per day. A single serving of crab is a decent chunk of that target.
Thankfully, cholesterol in food doesn't have a dramatic impact on blood cholesterol for most people. So, if you're healthy, you don't need to worry about cholesterol much at all.
Crab is also interesting because it's high in cholesterol and low in fat. That's an unusual combination that should reduce the risk of any heart problems from eating crab.
Can Be High In Sodium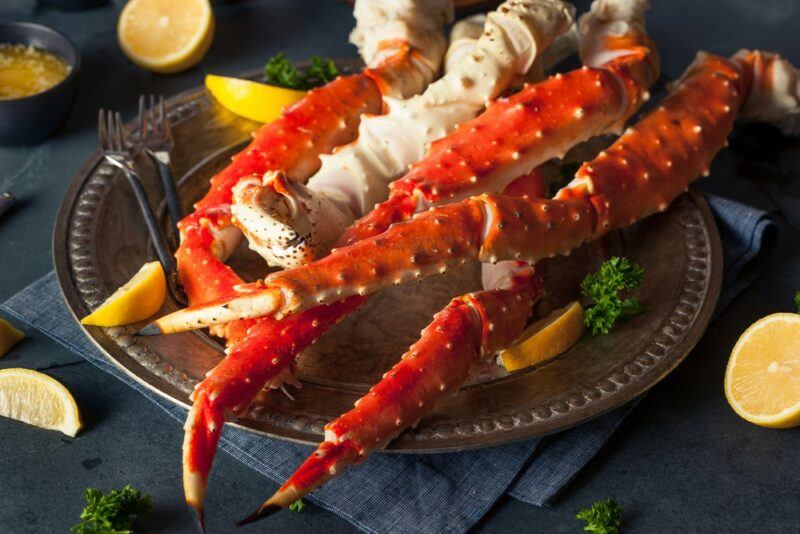 Crabs come from the sea, so it's not surprising that they contain a decent amount of sodium. This issue is even worse if you sprinkle salt on top of your crab as well.
Sometimes you might even be getting close to half of your daily sodium intake from a single serving of crab.
Now, sodium isn't all bad. You need some of this mineral to be healthy, especially as it's an electrolyte. The problem is that most of us are already consuming more sodium than we need.
Anyone needing to decrease their sodium intake may need to be cautious with crab, perhaps only having small servings. You could also turn to a different type of seafood instead. For example, most types of fish are naturally low in sodium and also provide plenty of omega 3 fatty acids.
It's Expensive
The benefits of crab can sometimes be hard to access, as crab is so expensive. The price comes down to economics, as demand for crab is high, but crabs aren't simple to catch and are highly perishable.
If you love the flavor and texture of crab, then it may well be worth the price. However, if you're mostly focused on health, then you could focus on lower priced type of seafood.
The Omega 3 Content Isn't Exceptional
Many of the benefits of crab come from the omega 3 fatty acids. While you do get a decent amount of these, the levels are much lower than with fatty fish like salmon, tuna, or anchovies.
In fact, a 2-ounce serving of anchovies contains 1,200 mg of omega 3s, while 6 ounces of farmed salmon contains more than 4,500 mg of omega 3. A 3-ounce serving of crab, on the other hand, contains just 351 mg of omega 3s.
The amounts of omega 3 do vary depending on the species of crab. There may also be differences between one individual crab and the next. Still, there's no denying that the omega 3 content of crab isn't that exciting.
Types Of Crab
We also need to talk about the types of crab, as these have plenty of differences. We're not just talking about size and flavor differences, either. The nutritional profiles can vary as well.
King crabs are one of the most famous types. These crabs have large claws, so it's easy to crack them open and eat the sweet meat.
Dungeness carbs are another large legged crab. The meat is sweet too and also quite meaty.
Blue crab is incredibly popular. The meat is often thought to be sweeter and more delicious than any other type of crab.
Snow crabs are a pain to eat, as they have thin legs that don't contain a large amount of meat.
Jonah crabs are small, but most of their shell is often removed before serving to make things easier for diners.
There are also soft shell crabs. These are actually blue crabs that are part way through the molting process. You'll normally see these fried rather than boiled, as boiling tends to make them fall apart.
This isn't a complete list of crab types, but you get the picture.
What About Imitation Crab?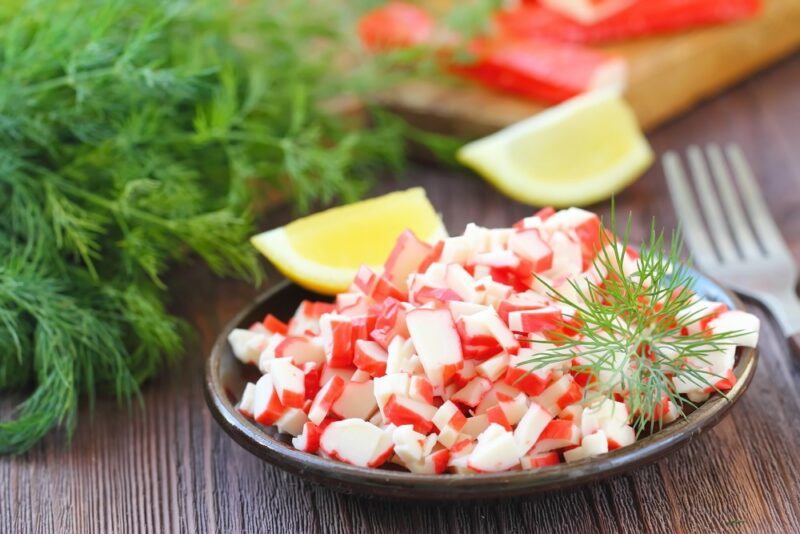 Not surprisingly, imitation crab isn't crab at all. Instead, the product is made from fish flesh that has been pulverized, heated, and shaped.
Because imitation crab is made from fish, it does still contain some omega 3 fatty acids, so it should offer some of the benefits you see with crab. However, the nutrient profile is very different and the omega 3 content is much lower.
Imitation crab also tends to be lower in protein and higher in carbs than regular crab. It may even contain added sugar.
We're also talking about a processed food, one that may also rely on additives. This isn't ideal. Sticking to whole foods is always a better idea for health.
Some restaurants and companies use the term 'krab' rather than 'crab' to show they're using an imitation product. Other times the term 'imitation crab' may be used somewhere.
You'll still need to check carefully though, as imitation crab isn't always obvious. This is particularly true if you're eating a seafood salad, sushi, or another dish with multiple ingredients.
Final Thoughts
Crab isn't just delicious. It's also incredibly healthy, offering plenty of protein and some omega 3 fatty acids, while being low in carbs and fat.
These features all help your body to function well and lower your risk of disease. Plus, crab lacks the fishy aftertaste that is found with many types of seafood – making it an easy way to boost your omega 3 intake.
The main problem is the sodium content. This isn't something you can easily avoid. But, if you love crab, you could try cutting down sodium elsewhere in your diet.
Or, go with a different type of seafood. Fish tends to be lower in sodium and offers many of the same benefits as crab.
Frequently Asked Questions
Is Crab High In Cholesterol?
Shellfish are often a poor choice for cholesterol, with a serving of king crab legs containing a whopping 71 mg of cholesterol in a serving. A 100 gram serving of crab meat itself isn't great either, at 53 mg of cholesterol.
These are concerning amounts, given some recommendations say you shouldn't be consuming more than 200 mg or 300 mg of cholesterol per day. It's important to talk to your doctor though, as dietary cholesterol isn't the whole story. Many people can even consume cholesterol regularly without it impacting their cholesterol levels much at all.
Is Crab Good For Weight Loss?
Crab can be a fantastic weight loss choice, as it's low in calories and fat, with a decent amount of protein per serving. This is perfect, as weight gain is normally associated with excess calories or sugar.
Is Imitation Crab Vegan?
While imitation crab isn't real crab, it's still made from fish. Because of this, it doesn't work for a vegan diet at all.
You can make your own vegan imitation crab, using an ingredient like artichoke hearts as the main ingredient. Doing so gives you some of the right texture, but the flavor won't be the same.
Is The Crab In Sushi Cooked?
Most of the time, crab sushi relies on imitation crab or fish that simply looks like crab. Crab meat isn't used as often, as the risk of food poisoning is too high. Regardless, the crab is always cooked. You're not going to see raw crab on your sushi.
Is Crab A Fish?
Crabs aren't considered fish at all. They're crustaceans instead and have many differences biologically and nutritionally. Crabs are also classified as shellfish, which is still a distinct group from fish. Still, you will get many of the same benefits from crabs that you do from fish, as they offer omega 3 fatty acids and plenty of nutrients.